---
June 29, 2015     To Not Go Into the Woods Is To Not Live
I've now photographed most of two dress rehearsals and, without my camera, watched and reviewed the Shuler Theater's current production of "Into the Woods" and I want to say, Wow!  This morning, two days after we enjoyed Saturday night's performance, Christina said that she wants to see it again. I agree, so it looks like we'll be going again later this week.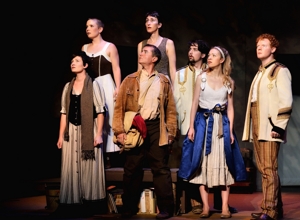 You can see in my photos, here and below, how beautiful the show is to look at. (Click any image to enlarge it; if you copy and post an image elsewhere, please give photographer credit and link to this page. Thanks.)
Read my review in today's Chronicle-News to see what I have to say and why I'm raving about this show. One thing I didn't include in the review is how under-attended this summer's shows have been. The Shuler seats 450 people but audiences have ranged from 12 to 60. In Denver or Albuquerque, a show this good would cost $60 and be sold out; here it costs $20 and you get your choice of seats. Even in such a small town as Raton, there should be at least 200 seeing each performance of "Into the Woods," and the theater should be jumping with children for this show, too. It's an adult show that children will love, and their tickets are only $5. I'm just sayin'.
---
June 24, 2015     Into the Woods Merrily We Go
It's a hundred times better for both the photographer and the audience when I photograph a show's full-dress rehearsal instead of opening night where my camera clicks can be a distraction and my movements limited. At Monday's rehearsal of Into the Woods at the Shuler Theater, I was able to race around to position myself for any shot. The image above right is the best example of a shot I wouldn't have been able to get during a public performance: I ran down to get close and tight, from just where I wanted to be.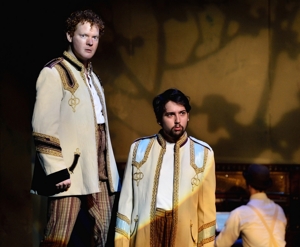 My preview in today's Chronicle-News doesn't include the full-cast photo above (click to enlarge): from left to right are Mike Danovich, Cassie Thompson, pianist/music director Nathan Blustein, Stephen Peebles, Eileen Jennings, Tamara Todres, Nick Pappas, Bussy Gower, Darren Hill, Jim Stark, and Nora Leahy. The musical is directed by Ian McCabe. Words and music are by Stephen Sondheim, who wrote the lyrics to "Officer Krupke" and the rest of West Side Story--among his oeuvre that's considered a relatively minor accomplishment but it's huge in my book. (Speaking of books, James Lapine wrote the story "book" for Into the Woods.)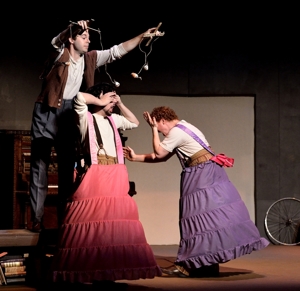 Production assistant Kate Little was my student last year and she insisted that I take home and watch her copy of the Into the Woods film with Meryl Streep. I appreciated the sumptuous production but fell asleep intermittently, maybe because it was a school night. But this slightly stripped-down stage version was great fun, maybe because I had a camera in my hands. As I hope my photos show, the Shuler production looks fabulous; as my preview says, the musical sounds fabulous, too. The immediacy of live theater on stage can't be compared to watching a DVD on a work night when the alarm clock is set to 5 a.m. (And FYI, yes, I'm enjoying my retirement from teaching!)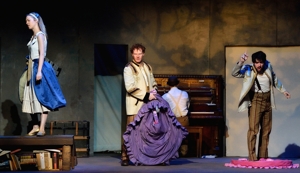 Into the Woods weaves classic fairytale characters--including Cinderella, Rapunzel, and Little Red Riding Hood--into a new fairytale musical with Stephen Sondheim songs--nuff said about that. Ian McCabe's casting and direction bring out the comedy at every turn so I had a great time watching it. So great, in fact, that I'm planning to photograph another rehearsal tonight, then attend a public performance this weekend. Highly recommended.
---
June 18, 2015     Hiking Away from Home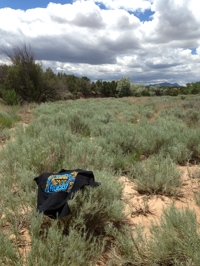 I've been away from home for a week, first in Santa Fe and then my hometown of Pacific Palisades, California. I've enjoyed hiking almost every day, first up Climax Canyon before leaving home, then the next day in the big arroyo (right) behind my in-laws' house near Lone Butte on the Turquoise Trail south of Santa Fe. Finally, here in California, I've been hiking high above Rustic Canyon, through Will Rogers State Park to the trails of Topanga State Park. Up there, I like to go long--10, 11, and 14 mile hikes. They're all uphill until I turn around, then they're all downhill. I climb up over the Riviera section of the Palisades where, I just learned, President Obama will arrive today, so I'll look for those helicopters on my way down the mountain. When I hike to the top, the temperature shoots up 20 degrees and I look out over the San Fernando Valley (below left). That's the 14-mile hike, and coming back down, I appreciate the cool ocean breezes wafting up from the sweeping ocean view below me.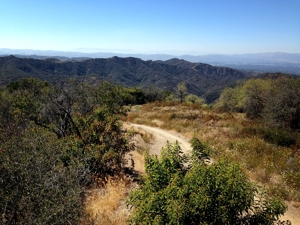 These are iPhone photos. I brought my Nikon D4 with the 24-70mm and 85mm lenses, but I haven't used them. It's been a low-key vacation, mostly reading and hiking and meals with family, and eight or nine hours sleep each night. Sweet. My ambition has been limited to reading whole books and making my first web posts from my laptop computer. Mission accomplished. I'm headed back up the mountain this morning as far as Lone Oak, a turn in the trail five miles above where I'm sitting in Rustic Canyon, my last hike before flying home to New Mexico tomorrow.
---
June 7, 2015     Shooting Strangers in Public Places
Last summer I posted notes and four photos from just inside the east glass door of the post office in Trinidad, Colorado, showing one of my two favorite places (the other is by the door to Bella Luna, shooting down the richly colorful "alley" beside it) to shoot portraits of strangers that I interview briefly for my weekly "Over the Pass" (OTP) feature in The Chronicle-News, which has since been adopted in part by both Raton Comet and now the new Wheeler Peak Press.
Yesterday I got nine more interviews and photos to cover the next three weeks. The Saturday afternoon bustle was such that I never had to move from the main block of Main Street, and I discovered this new location (above) to add to my list of favorites. There's a temporary construction wall and path on the east side of Main Street, with wood painted plain gray but holding a children's mural along much of its length. I photographed Randy "Brother" Sandoval and Madison Pappan within a few feet of the same wall and got two great but different looks. I'll be using that spot again!
---
June 3, 2015     Actors Ride in on a Rail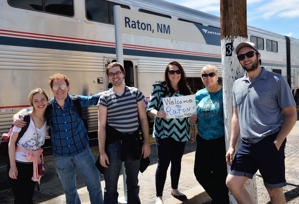 Returning producer-director-actor Ian McCabe arrived in Raton from Chicago yesterday with three actors for this year's summerstock season at the Shuler Theater. From left, at the train that brung 'em in, are Cassie Thompson, Stephen Peebles, and Mike Danovich, with Ratonians Brenda Ferri and Nancy Poe as the welcoming committee and McCabe at far right. The first big production will be the musical Into the Woods June 25 through July 5, directed by McCabe and featuring Thompson as Cinderella and Rapunzel, Peebles as the Wolf, Cinderella's Prince, and Florinda, and Danovich as Jack and Steward. The entire Two Pigs Productions company numbers 18 players and technical staff. Most of them will be involved, along with some Raton locals, in the opening comedy variety show June 19-20, A Variety of Errors! I'll be posting regular news and photos here and at my TKA Blog as well as features in The Chronicle-News and Raton Comet. It feels like an exciting season. Even as it continues to suffer shrinking pains, Raton continues to amaze.
---
May 25, 2015     Street Photography: Shooting Strangers
Among the steady jobs that have kept me from posting here as regularly as I'd like is my "Over the Pass" (a.k.a. OTP) feature for every Tuesday edition of The Chronicle-News. Now in its second year, I ask six people the same question (three in Trinidad, three in Raton), then publish their answers with their street portraits. As a photographer it's been a great boon and improved my skills immensely. The feature has grown popular in Trinidad, where it's found on the top half of the back page every Tuesday. The Raton Comet more recently has been publishing the three Raton portraits each week as "Around Raton." Above are four portraits I took in Trinidad a few days ago. They include, clockwise from top left (click to enlarge any image), Amanda W. of Denver, (name withdrawn by request), John Castellano of Trinidad, and Judy Fuentes at the A.R. Mitchell Museum of the American West in Trinidad. As I retire from full-time teaching this week, I'll have time to do all of this and post to my blogs regularly.
---
May 5, 2015     Poetry Rocks!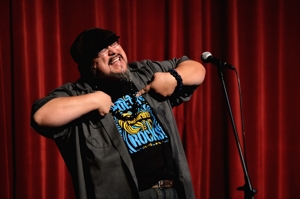 The fifth annual Poetry Rocks! program of student poetry at the Shuler Theater was another inspiring success and it kicked off a rich slate of performances in celebration of the Shuler's centennial weekend. In past years I've posted a lot of photos from Poetry Rocks! but this year I've just been too slammed with magazine features, newspaper features, and teaching, so we're just going to have to settle here for this pair showing our returning poets Manuel Gonzalez (above) and Esme Rodriguez Vaandrager (below). I did take plenty of photos, and many of them are posted in a Facebook gallery of this year's Poets in the Schools program. Check it out.
The Shuler's a great setting for photography. Some years ago the Poetry Rocks! program was performed under reddish copper light gels that pretty much destroyed the images--they looked horrible. A chat with Billy D, the Shuler's lighting master, resulted in neutral light every year since, and the photography couldn't be better. (As always here, click any image to enlarge it.) For portraits of Manuel and Esme, just scroll down a little. When I retire from teaching at the end of this month, I'll again be able to keep up with this TKP blog and my TKA blog, even as I use that extra time to produce far more writing and photgraphy.
---
May 3, 2015     Poets' Portraits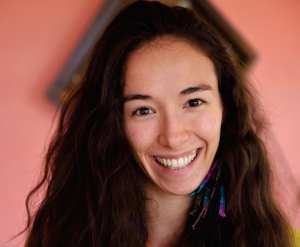 I was so happy with last fall's sunroom portrait of my friend Frank Young that I'm looking for more opportunities to put our sunroom to such good uses. It's a magical room with a variety of looks. I even hang backdrops (black, charcoal, white) at the end and use window light for studio portraits. But since my portrait of Frank, I like using the room itself as a backdrop. With three poets visiting for our Poets in the Schools program at Raton High School, we had them over for our annual poets' dinner, but before they could eat I insisted that they let me take their portraits.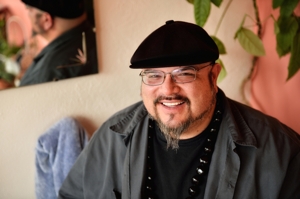 I wanted each of the three to look different, so it didn't look like they were all taken in the same place, yet all three portraits were shot within a few feet of each other. Above, Esme Rodriguez Vaandrager is framed by a wooden artwork by my sister-in-law Karyna Boyce Swing. At right, Manuel Gonzalez repeats the position I used for Frank Young. (Since this shot, I've been careful to remove that blue shawl near Manuel's right shoulder. See Helen Boyce below to see the difference.)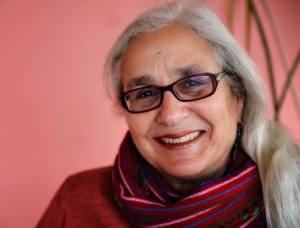 For Joan Logghe, former poet laureate of Santa Fe, I used the same wall as Esme to take advantage of that luscious wall color, but I moved Joan slightly so there's a plant in her background instead of a wooden frame. She was the most reluctant--none of the three had expected that I'd shoot their portraits--but the next day she gathered hundreds of likes when she posted it to her Facebook page, so I guess it turned out well. (Joan wrote a lovely blog post, "April in Raton: Vitamin W," a Valentine to Raton and her experiences here, right down the ticket she got for speeding at 20 mph.)
Thanks to all three for being willing participants, and to the sunroom for doubling as such a lovely studio.
---
May 3, 2015     Sunroom Portraits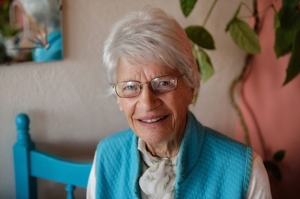 My friend and mother-in-law Helen Boyce visited from Santa Fe for the weekend of shows at the Shuler. She's not often a willing sitter for a portrait but I was able to get her to pose in our sunroom, where I've been getting some great portraits lately. (See above, and also here.) I took this full view of Helen as well as this profile. You won't believe this, but in two weeks Helen will turn 81. She's so full of vitality that it can be hard to keep up with her. She drove solo to Hobbs last month for a symphony concert, spending the night and driving home. She travels New Mexico and the world with no sign of slowing down, truly an inspiration.
---
May 2, 2015     Centennial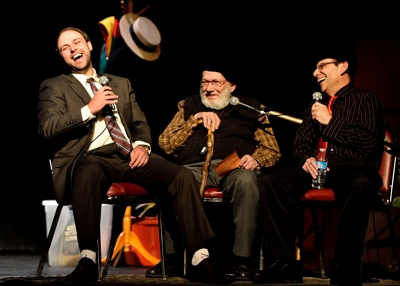 Last weekend's festive slate of shows at Raton's Shuler Theater was topped by the three evenings in celebration of the Shuler's 100-year birthday. The theater opened April 27, 1915, with a big touring musical called "The Red Rose." Last weekend's "The Centennial Rose" presented a musical variety show composed of performers that have been regulars on the Shuler stage at various times over the last half century. Bill Fegan, above center, first came to the theater in 1963 and he remains as the impresario/soul of the theater. (See my April 2015 feature on Bill and the Shuler Centennial in New Mexico Magazine.) Above, he's flanked by Alun Kinlund (left) and Billy D Donati.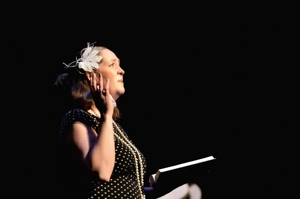 I enjoyed Kelly Jones (left) giving a comic singing of "Adelaide's Lament" from Guys and Dolls, and a classical duet she sang with Adrianne Coleman. Coleman's solo "You'll Never Walk Alone" from Carousel was also gorgeous and a moving tribute to the deep relationship she's built with the Shuler and Raton in her five years here. Another highlight was hearing pianist Carol Simmons, the Shuler's go-to accompanist on the Steinway grand, sing an original song. Actually, there were lots of highlights. Read my Chronicle-News review for more words and photos, then check out the Shuler Theater the next chance you get.
---