---
June 30, 2015    Rare Breed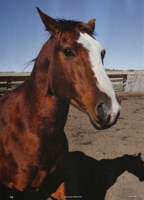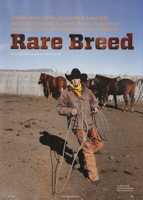 My feature on Landon Berry arrived in the mail over the weekend and I'll post it to my Western Horseman page soon. Although I remember Landon as a Raton High School student (class of 2011), he's now about as "old school" as could be. The sixth generation of his family to run cattle and horses up on Johnson Mesa and down in Yankee and Bear Canyons, Landon and his family don't even own a 4-wheeler. The family brand was registered with New Mexico Territory in July 1896. For its great story and strong images, check out "Rare Breed" in the July issue of Western Horseman.

---
June 22, 2015    A Variety of Errors
The Shuler Theater's 2015 summer season opened last weekend with a fun and frivolous show called "A Variety of Errors," in which host (and writer and producer) Ian McCabe kept insisting that there be no errors and of course there were errors a-plenty, and thus fun a-plenty. A panel of well-known Raton citizens (top) served as judges of improvisational skits by the professional actors and contestants on classic TV game shows, including The Match Game and "The Not So Newlywed Game." Above, from left to right and top down, are Mike & Sara Kowalski, Sandy & Frank Ferri, Tamara Todres & Ian McCabe, and Eileen Jennings & Stephen Peebles.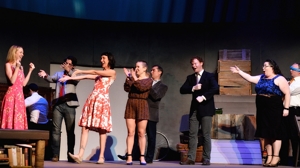 The show served as a warm-up, summer preview, and introduction to the professional company that will mount three plays over the next several weeks. Among the many musical numbers was the cast surprising Cassie Thompson with "Happy Birthday." From left (click to enlarge) are Thompson, pianist/music director Nathan Blustein, Nick Pappas, Tamara Todres, Bussy Gower, Jim Stark, Stephen Peebles, Eileen Jennings, and Darren Hill. Outside the frame are Mike Danovich and Nora Leahy. More details are available in my Chronicle-News preview and, especially, today's review. The summer ahead looks promising!

---
June 21, 2015    A Good Father's Day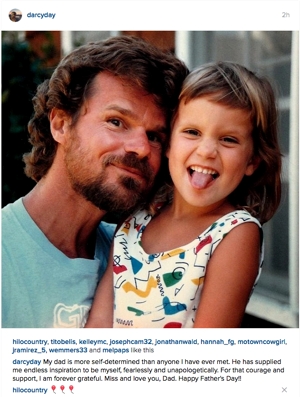 My daughter, Darcy Day Keller, called from London to wish me a happy fathers day and catch up on each others' news. (The highlight of hers is an Austin wedding April 23!) Then she did something really special: she posted this photo and comment to Instagram (left, click to enlarge) and Facebook. Darcy didn't always like my self-determination, with good reason, so it's especially gratifying to read these words under this photo all these years later. Thank you for your patience with me and your tenacity in life, Darcy. I admire you. And thanks for the special fathers day post!

---
June 18, 2015    Old Dog, New Tricks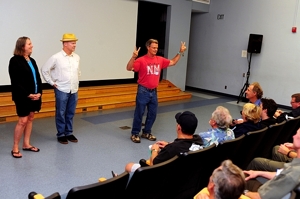 I've been in California for the first Palisades High School screening of Skateboarding's First Wave where I introduced the film, then followed the film with Q&A joined by Colleen Boyd Turner and my brother Terry Keller, shown here in a photo courtesy of Palisadian-Post photographer Rich Schmitt. I've stuck around for a week's quiet vacation of reading, long mountain hikes, and wonderful meals with family. Yesterday Terry took me to Olvera Street in downtown LA for the best taquitos either of us can remember in more than 50 years of going there for that. (Terry's photo below is from our dinner at Paco's Tacos on the way home from the airport several nights earlier.)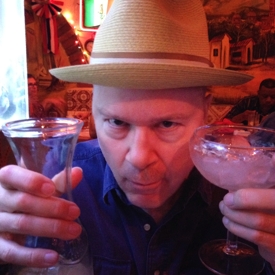 I finally felt ready yesterday, after having my first laptop computer (Macbook Pro) for eight months, to post material to my website from the road. I posted this week's two Chronicle-News features yesterday morning, nervous at coordinating the home Mac Pro desktop computer, the laptop, and the web server. Two things happened: the posting didn't work, producing an error message, and then my entire website crashed. Although illogical, I feared that I had broken it. Turned out that Earthlink was down for five hours yesterday (very rare) and of course it had nothing to do with me. Here I am this morning making my first blog post from the road, full of confidence and starting the morning's second mug of coffee. Life is good and I'm moving straight ahead into the future. Old dog, new tricks.

---
June 6, 2015    The Long Way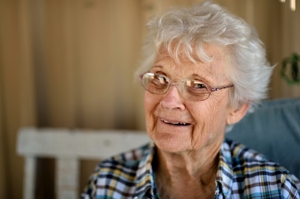 The Raton Comet's on-again, off-again staggering during these past two weeks led to them using my Dino Cornay feature, something I'd already written for Western Horseman and could offer to the Comet on short notice. That led to my looking into another older magazine piece, on Sadie Renfro, where I discovered that her 92nd birthday is next Thursday. A call confirmed that she's still going just as strong as she was when I wrote about her two years ago. I've updated the original manuscript and the revised story is coming out in The Chronicle-News on Sadie's birthday. I felt that someone would come fill the void left by the Comet's demise; lo and behold, without missing a week, the new Wheeler Peak Press arrives next week, and they'll carry my Sadie Renfro profile, too! Happy birthday, Sadie!

---
May 31, 2015    Meet the Director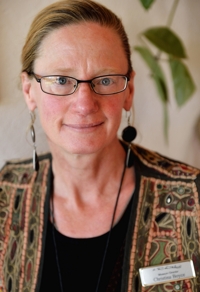 Arriving home at the end of the second week in her new position as Director of the A.R. Mitchell Museum of Western Art in Trinidad, Colorado, my wife Christina Boyce was wearing a new name badge yesterday evening. I thought it was a good occasion to get a photo (although the end of a work day isn't everyone's idea of a good photo opportunity). The new job is a great fit for Christina with her background in arts administration and running her own gallery/artspace for many years. "The Mitch" is an impressive museum both in size and quality; Christina and the board of directors are excited about the potential for dynamic new events and shows, built around the existing displays and memorabilia of the great Western artist, Trinidad native A.R. Mitchell. One goal is to elevate the museum's reputation at the national level. It's already a must-see stop for many tourists, and I know from my man-on-the-street interviews for my Over the Pass weekly feature that Trinidad is bustling with tourists.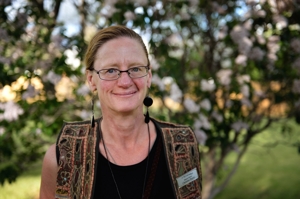 An hour after departing her job last fall as Raton's tourism coordinator, Christina was asked to apply for the director's position at the Mitch. She was so committed to Raton and its growth that she spent months pursuing options to rebuild Raton's tourism operation. When it became clear that Raton will take far longer than just months to effectively tackle its tourism mission, Christina finally looked seriously at the Mitchell offer and found a great fit. I'm thrilled to see her coming home again each day with new successes and exciting goals for an impressive and deserving organization.

---
May 28, 2015    And the World Turns
As I head into school to give my last final exam and then turn in my key--the first time in 12 years the Raton High School key won't be in my pocket--I've just received word that the Raton Comet has folded, effective with the issue just released. My student, Kate Little, has been a regular paid contributor for months with her weekly Q&A feature. This week, she's featured...me. It's fun so I'm going to share it below. Thanks, Kate, and thanks to the Comet, too, for a fun ride.


---
May 26, 2015    Moving Forward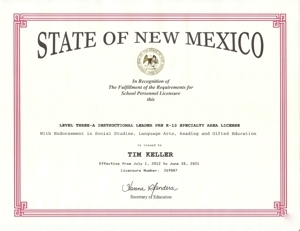 I took this framed license down from my classroom wall over the weekend, removed the license from the frame and put it into a file folder tucked away in a closet cabinet. After 34 accredited years of public school teaching (and 40 years in the profession in one form or another), I'm moving on, moving forward, leaving teaching behind to have more time for writing, photography, travel, hiking, gardening, visiting with people...and sleeping way past the 5 a.m. alarm I've used for so many years. The license goes in the cabinet but the memories stay vibrant and present, especially since my students from the past 14 years are all around--I see some every week.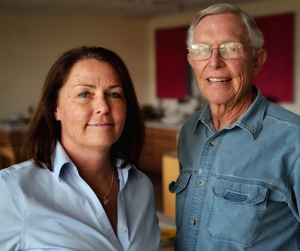 My Raton High School colleague, Kathy Vertovec, is retiring at the same time. When I learned a couple of weeks ago that the last 46 years of RHS art education has been delivered by just Kathy and her former teacher Marv Newton, the big flashing "newspaper story" light went on in my head. Marv started the program in 1969. He and Kathy overlapped, each part-time, in 1996-1998 until Marv retired to focus on his renowned watercolor painting. I got Marv and Kathy together for a photo and interview: my feature will run this week in The Chronicle-News and the Raton Comet.

---
May 18, 2015    First Writing Awards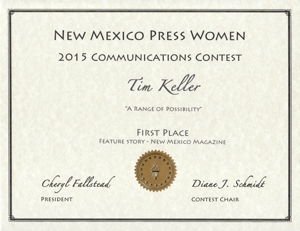 I was thrilled to receive the New Mexico Press Women's 2015 First Place for a magazine feature story, awarded for my February 2014 New Mexico Magazine feature, "A Range of Possibility." The story is now being judged with the best story from each state for the annual National Federation of Press Women contest, whose winners will be announced in September at the organization's annual conference in Alaska. Another of my New Mexico Magazine features, "Nine Nights a Week" in the August 2014 issue, received honorable mention. Although the organization won't identify him, I'm told that the judge is a Pulitzer Prize winner who lives in Chicago. He sent along his comments on my stories--undoubtedly the most gratifying reviews I've ever had! More details are available in the press release published by The Chronicle-News and Raton Comet.

---
May 17, 2015    A Whale of a Job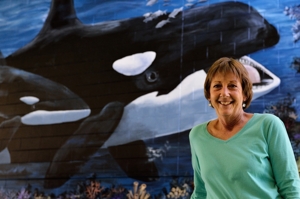 Raton's parks director Jared Chatterley asked whether I'd like to write a feature on a huge new mural at Raton Regional Aquatic Center, and profile the artist who made it. Sure! That's one of the joys of my local newspaper career now: many of the stories come to me. This one turned out to be great fun, and picturesque. Muralist Melinda Marlowe turned out to be a kindred spirit who takes great joy in painting on such huge "canvases."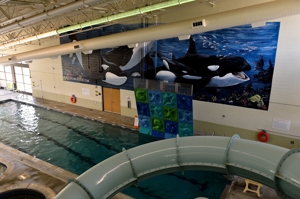 Almost all of my newspaper stories now appear in both The Chronicle-News and Raton Comet, but I usually link here to the Chronicle because it publishes to the web its entire paper and all of its pages. My long story on Melinda and her 20'x60' undersea mural includes Melinda's background as well as the planning, design, and painting of the new mural. Here it is in The Chronicle-News. Give it a read, then go see the mural in person.

---
May 16, 2015    July Second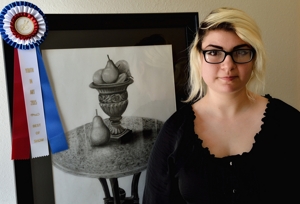 My May 12 Chronicle-News feature celebrates the second Best of Show award won already this year by Raton High School junior July Hunnicutt. (See her here four months earlier in my first feature, on her first win of the year.) July's charcoal still life won over more than 200 other entries in the 45th annual Youth in Art show. July's sister, Autumn Hunnicutt, won the same show four years earlier. July cites Autumn as her biggest inspiration.

---
May 2, 2015    Six Appeal
Six Appeal was a rip-roaring success in its Shuler Theater concert last weekend, combining great rhythm from two vocalists, four-layer harmony from four other vocalists, and laugh-out-loud humor from all six. For details and more photos, read my review in The Chronicle-News--great act.

---