---
October 30, 2011     A Surprise Visit on the Mountain Top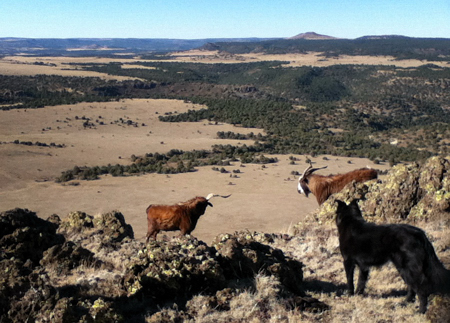 For weeks, on virtually every day that I've not been teaching, I've hiked to the top of Carr Mountain, a modest volcano about five miles due north of Des Moines, New Mexico. Although to look at it you'd think it was a 3-4 mile hike from the dirt road, it only takes me 45 minutes to hike to the peak so it can't be much more than two miles. I usually take both dogs but at 11 years old, red heeler Pearl has joint problems so I left her home today to recover from yesterday's hike.
18-month-old border collie Django, though, topped the mountain with me, then raced all the way down the other side to chase a herd of pronghorn antelope across the plain, then ran all the way back up the mountain. I was lost in thought -- I usually sit up top for a half hour before hiking back -- when Django let out a single bark. That seemed odd so I got up to investigate.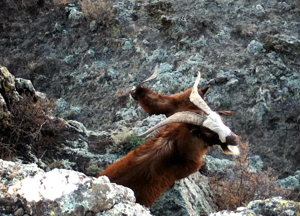 Lo and behold, we had a visit from these two beautiful animals which, until someone tells me different, I'm assuming are mountain goats, although they're very different than anything I find through a web search for "New Mexico mountain goats."
It didn't take me long before I was wishing I'd lugged my camera up the mountain, when suddenly I realized that I had my iPod Touch with me and it has a camera in it which I've never used. I'll be darned, it worked! The goats were not afraid of me or Django: they proved to be very cooperative photographic subjects. And they're great climbers: those rocks in the second picture (click to enlarge), they climbed straight down those.
I was already enchanted with this hike and mountain. Now I'm in love.

P.S. Some hours later: I sent out e-mails to some friends I thought would be likely to know. It's looking like these are...regular goats, probably escaped from some yard where they'd tired of being "roping goats" on which local kids practiced roping. I'm feeling a little red faced and fanciful, but hey, I thought I'd seen plenty of garden variety goats but I don't recall seeing anything like these in anyone's yard. I guess it's better that my wild goats were escapees from someone's yard than that they were kin to "Mountain goat attack kills hiker".
Thanks to Tom and Nathan for my lesson in animal husbandry.
---
October 29, 2011     A New Eye -- and Voice -- for the Hi Lo Country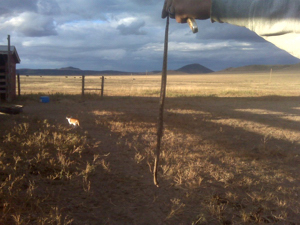 Our distant northeast corner of New Mexico, tagged "The Hi Lo Country" by novelist Max Evans, has a new voice -- and a good photographer's eye -- in a daily blog by my friend and neighbor Janice Morrow. Titled "Morrow Family Ranch: Photos and Thoughts from a City Girl's Life on a Cattle Ranch," it reveals Janice to be an attentive observer with a photographer's eye and a poet's way with detail and symmetry: she creates pithy titles and her endings often circle back with a cute nod to the openings.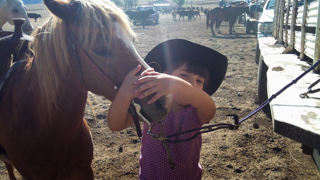 Her autobiographical About page outlines how she left her hometown of Albuquerque to earn a degree in broadcast journalism at Eastern New Mexico University in Portales, a quintessential cowtown. To her surprise, she found herself sticking around and marrying a cowboy whose family has ranched between Folsom and Capulin since 1891. Her game plan of earning her way step by step through local news programs until she reached New York City (and Katie Couric's chair) was reconfigured. The best laid schemes of mice and men go oft awry.
The photos above are recent ones from Janice's blog. (I don't have my own good photo of Janice -- we have to remedy that! -- in fact, all I have is this shot of her being a school mom.) Her images show a unique world through the eyes of an artist: her point of view and framing are often creative and engaging. She's already outside at dawn and dusk anyway, and she takes good advantage of our area's great light. In fact, she's good enough that her cowboy needs to sell off a cow or two and buy Janice a great digital SLR camera and some lenses to replace the point-and-shoot she's using to make do.
I don't know how long Janice can keep up a daily blog -- she's been at it for four weeks. I admired the early ones for their concision -- my favorite so far is October 14's "Good Hair Day" -- but now many are just downright short, like little clips. It's not like she's going to lack for subject matter anytime soon. As she finds her groove while steering clear of ruts, I hope she'll create a body of material that in a couple of years will make a great first book.
At the bottom of her blog is a checkbox that says "Notify me of new posts by e-mail." Since checking that box early on, I've received each of Janice's daily blogs right there in my e-mail, handy as could be. Even the longer ones are short enough to read and enjoy in the midst of a busy day. I recommend it.
---
October 22, 2011     Celebration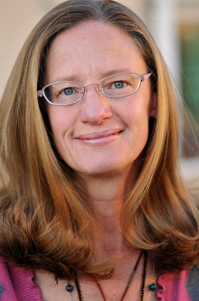 In a development I see as being wondrous, Christina and I find ourselves being increasingly collaborative in our respective works. She just wrote and submitted a grant application to support the Poets-in-the-Schools program that I direct at Raton High School. Last week she was my photographer's assistant, effectively wielding a reflector to put needed light on a subject's face while also acting as a stylist. I edit Christina's writing projects and contribute photos for the KRTN Radio website she's been creating.
Although I didn't take any pictures to share, last night we hosted a great bash -- an art opening and artist's reception -- at my show "Tim Keller's New Mexico" at Raton's Holiday Inn Express. Christina gets much of the credit for the show's existence. Then she helped hang the show. She helped with promotion. And last night she was the one to see if you wanted a glass of burgundy wine or a bottle of Santa Fe Pale Ale on ice.
Ten pounds of beef, slowly roasted all day, did not last the full two hours, served on Anna's Tortillas with diced tomatoes and bell peppers from my garden (harvested just before our first deep freeze when the overnight temperature fell to 21 degrees Wednesday). I'll hazard a rough guess and say nearly 100 people came through during the two-hour reception. Most were locals, but some were hotel guests -- including a San Clemente surfer with whom I exchanged surfing stories. We threw open the door to the patio to take advantage of Indian Summer weather, and I think it really started feeling like a party when Roy Pillmore brought the hotel's CD player and put on my "Little Miracles" album. I ended up selling CDs, and some books of poetry, too -- along with one of the show's 28 framed photographs.
The previous evening, Christina stopped for a haircut on the way home. She looked and felt great, so we went out back of the house and took some pictures of her. (She turned the camera on me, too.) It's a good thing we did: it's provided me some images to accompany today's blog about a celebratory reception at which I took no pictures.
---
October 15, 2011     A Fun Portrait Project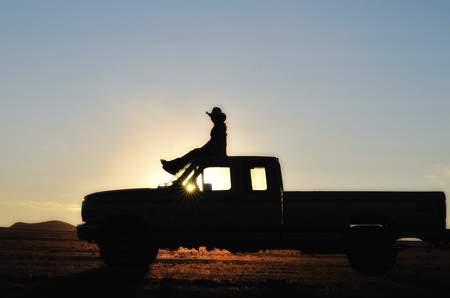 I'm in the midst of a wonderful portrait project with my neighbor Shayla Martin, who needs "senior pictures" when she finishes high school next spring but doesn't like the stereotypical senior pictures that most students get. Fine with me: that's why I don't seek work doing school pictures. But portraits -- that's another story. I love doing portraits!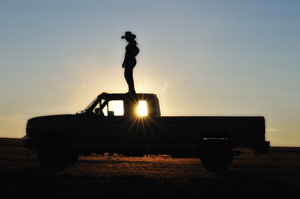 What's the difference? I don't think most of the senior pictures you might see are particularly good portraits; on the other hand, great portraits can double handily as senior pictures. I've done this for Laekyn Reust, but Shayla's are entirely different, as any portrait shoot should be. Because a portrait shoot is a collaboration between the photographer and the subject, no two projects should produce any two sets of portraits remotely similar to each other.
Shayla claimed to be nervous about her time in front of the camera, but that sure wasn't apparent either in person or in the photographs. She didn't think to bring a comb or brush, so she managed her hair with her fingers, but the pictures didn't suffer for it.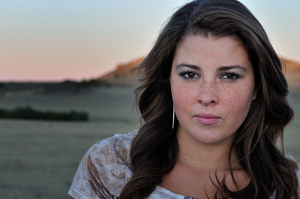 Because we were going to be crossing a pasture in my pickup truck near sundown, I thought of the truck silhouette shot a couple days before the shoot and asked Shayla to bring a long skirt for the shot. We ended up not using the skirt -- not enough time for a costume change in the brief window of golden light -- but we did get some cool silhouettes!
We're only halfway done: we're going back out with Shayla's horse for a second series of shots of them together. By the time we're done, Shayla's not only going to have some great senior pictures, but some great portraits to boot.
++ ++ ++ ++
Meantime, the artist's reception for my show at Raton's Holiday Inn Express is rapidly approaching. Friday afternoon from 4 to 6, I look forward to greeting friends and sharing my photography. Christina and I are bringing some beer and wine to go with the spicy northern New Mexico food provided by Raton High School's Culinary Arts Group. The Raton Chamber of Commerce gave my show and reception a nice notice last week, and yesterday's Raton Range featured them in both print and web editions. Thanks to both! And as for you -- those of you in northeastern New Mexico -- I hope you'll join us Friday!

P.S. See more details about the show below -- September 24 and October 1.
---
October 1, 2011     You're Invited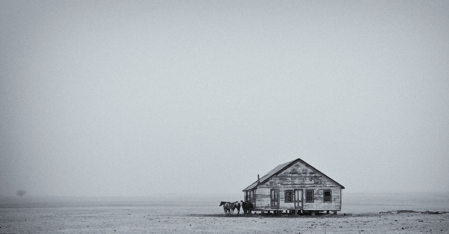 Please join me for the artist's reception at my show, "Tim Keller's New Mexico" at the Holiday Inn Express Hotel & Suites in Raton, New Mexico, Friday, October 21, from 4:00 to 6:00 p.m. Catering will be provided by Raton High School's fabulous Culinary Arts Group. As I detailed in an e-mail invitation this morning:
"All day, the students will be slow-roasting a ten-pound northern New Mexico beef roast which they've given a spicy dry rub. Then they'll shred the beef and thicken its juices into a spicy salsa. They'll bring it over to the hotel to serve on Anna's Tortillas with fresh-grated cheddar, diced onions, and -- from my own garden -- homegrown tomatoes, bell peppers, and green chile! Christina and I are even bringing some wine and Santa Fe Pale Ale to help you wash it down. The hotel's snacks, juices, and sodas will also be available."
For those of you within reach, I hope you'll drop by and say hi. It'll be good to see you.

P.S. See more details about the show below at September 24.
---
September 25, 2011      Running 'Round & Round, Up & Down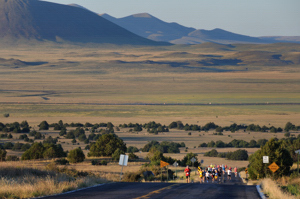 I set my regular 5 a.m. weekday alarm this morning and was up on Capulin Volcano at dawn for the start of the 4th Annual Capulin Volcano Run Around the Rim, a fundraiser for the Folsom Museum. Race staffer Mike Schoonover drafted me as official photographer the first year and he hasn't let go of me yet. I get to zip around the course in a car, playing leap-frog with the runners as I shoot photos from one great photography spot, then I race ahead to catch them going by again at the next great spot. As a way to spend an autumn Sunday morning, it's not half bad.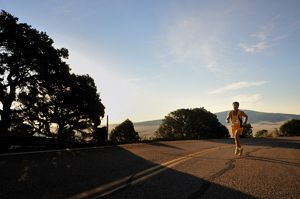 Driving a car through a half marathon might raise questions of safety, but like Marty Mayfield photographing bullriding from inside the ring, I feel well qualified: I know all the race organizers, I was a longtime EMT with those stationed along the route, I know the course well, and -- most important -- I ran dozens of races myself from 10 kilometers to marathons: the half marathon was my most competitive distance. I understand that the runners can be in a zone which makes speeding cars seem irrelevant. Been there, done that. So I'm careful: I don't assume they'll make way for me. (By the way, I don't drive our truck -- too big -- and I don't drive my Prius -- too quiet, so runners can't hear me coming; I borrowed my wife's silver Kia Optima.)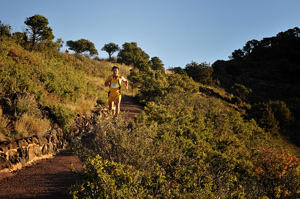 Besides, I think the people most happy to have me driving the course are the runners themselves: if I couldn't shoot from various places on the route, they wouldn't have access to all the photos I'm able to get. I agree with Mike: the photos are for the runners. Speaking of which, I assembled a photo album of 48 photos for the Capulin Volcano Run website, and it's already posted on the race Facebook page. Because I don't have a Facebook page (don't get me started), I posted the album via my wife Christina Boyce's page.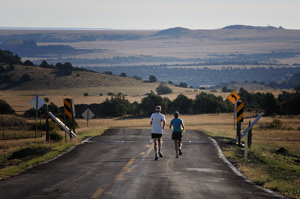 I've never heard of a race doing this: Mike actually posts at least one photo of each runner on the race website. I got about 30, or about the first half of the contestants. Mike's son Hunter gets them all with his camera on a tripod on the long downhill run into Folsom; for the runners I miss, Mike draws from Hunter's shots.
The runners rave about the race for far more reasons than the free photography. Few have ever run a more beautiful course. The dozens of volunteers along the route are friendly, and at the end there's free food and goody bags...what one participant termed bling. In addition to the half marathon, there's a 10K, a 5K, and a short fun run -- something for everyone. And a good time was had by all.
---
September 24, 2011      A Hanging -- One That Feels Good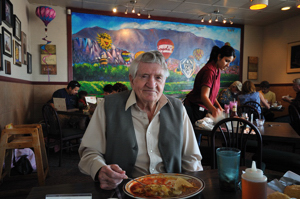 Christina and I spent more than four hours this week hanging a new show of my photography at the Holiday Inn Express Hotel and Suites, the popular luxury hotel on the south outskirts of Raton, New Mexico. I was lucky to have Christina's expertise as a gallery owner -- it's the first time I've hung such a big show, 28 framed works in a full range of sizes from small to large.
We enjoyed hanging this photo of our friend Max Evans, New Mexico's beloved raconteur and novelist (The Rounders, The Hi Lo Country), right over one of the dining tables in the hotel's breakfast room. It feels like Max is having breakfast with you. We tried, and often succeeded, in having that much fun with the placement and hanging of each of the other 27 images.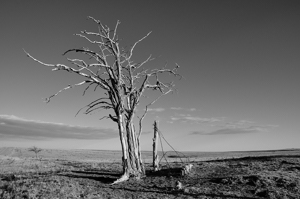 The show comes at the invitation of owner Roy Pillmore who, in addition to running the hotel, is a lover of horses, land, family, and the arts. We're working with Roy and assistant manager Catharine Walker to produce a Friday evening artist's reception in mid-October catered by Myra Baird's wonderful Raton High School Culinary Arts group.
Meantime, the show is available to enjoy. It starts just inside the lobby and winds its way into the breakfast area where it fills both rooms. On your way in, tell the friendly desk crew what you're there for, ask for a brochure, and ask them to show you where all the photos are so you don't miss any!
---
September 18, 2011      Gravestones and Heartstrings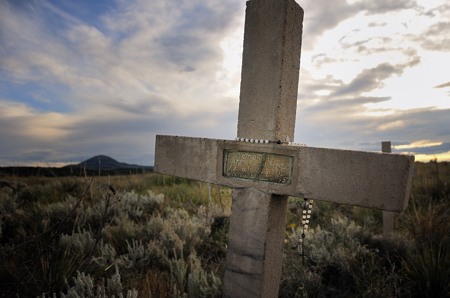 After my young border collie Django and I ran some copies of Ranch & Reata out to the Brown Ranch down the Dry Cimarron yesterday, we stopped at the cemetery on the knoll north of Folsom. My eye was drawn to the grave in the corner by the road: it's Mike Devoy, who right after the Civil War established what since his 1914 death has been the Brown Ranch. I hadn't noticed Devoy there when I walked the graveyard with my camera some years ago.
Part of the attraction of old graveyards is reading the tombstones and trying to piece together stories. Sometimes they're poignant, even the old ones where nothing is left but worn stones, broken or fallen or both. Two brothers, both born in 1860: one died in 1860, the other in 1861. Another, identified only as "Son" with a single 1973 date designating both birth and death, the 18-year-old father's stone nearby: he reached the age of 44.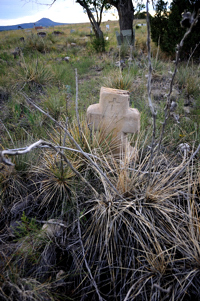 Although it's been only a few years since I last visited, the cemetery has added three people whom I'd known for years. Having reached the age of 60 myself, that felt a little unsettling. Even more unsettling, none of the three I knew ever got near the age of 60. Stormy Cornay, Chastity Russell, and Vikki Ebell all had their lives cut short.
I wondered whether there's something about life out here in the remote and sometimes harsh beauty of northeastern New Mexico that takes a disproportionate number of lives prematurely. I know two vital young men who each came a hair's breadth from being in the cemetery, each the result of driving drunk on our treacherous roads; both now lead greatly diminished lives. I've known others who have passed on and now populate other cemeteries scattered around our area, with several in the Des Moines Cemetery. Of them all, three took their own lives by gunshot. This in the sparsely populated far corner of a county with only 4000 people in an area larger than Delaware and Rhode Island combined.
These sobering stories come partly from gravestones set among others whose birth and death dates span 80 or more years; in many cases, husbands and wives are together, both having lived long lives. Like the Des Moines Cemetery and others out here, including many graveyards unmarked and almost lost among scattered pastures, the Folsom cemetery is a beautiful and thought-provoking hallowed ground.
---
September 11, 2011      The Big Time? Not So Much.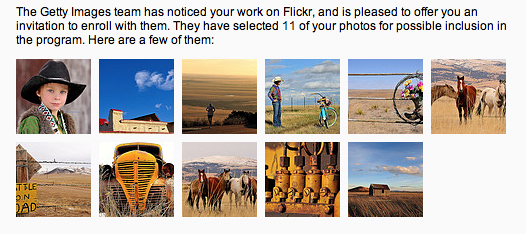 At first glance it was pleasing to receive the invitation from famed Getty Images to contract several of my photographs to them for marketing to companies for both commercial and editorial uses. You don't have to look any further than your daily newspaper or TIME Magazine to find Getty Images cited in the small-print image credits; if you look closely, you'll see them every day.
This is called stock photography, the use by publishers of databases of millions of images to find the one that's just right to illustrate some article or advertisement. Today, most stock photography databases are online, and Getty is one of the largest with millions of copyrighted images. One reason I stay with Flickr is that companies use it as a source of stock photography. National Geographic Traveler licensed two of my images earlier this year, shots they found by searching keywords ("tags") on Flickr. It was quick easy money for me, and it added a prestigious magazine to my credits.
But Getty, like its competitors, requires that I give them exclusive rights to my images. If National Geographic Traveler, for example, wants to use an image of mine, I'm required to refer them to Getty. Worse, I can't even place my own image in a magazine article or on a magazine's calendar, for example: I no longer have the right to shop my own images around. I have to refer all interested parties to Getty, and it's Getty that gets paid.
Then Getty pays me. Getty's payments are very small, probably less than 10% of the $475 I was paid by National Geographic Traveler for their using my pair of images in very small format. For amateurs posting photographs on Flickr, Getty's offer would be irresistable, and any income earned would be more than they'd receive otherwise. But for me and other professionals already successfully marketing their images, it's a feel-good offer that ultimately makes no business sense.
---
September 4, 2011      Photographing Souls on Hard Ground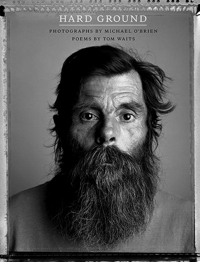 A mesmerizing new photography collection was published six months ago by the University of Texas Press. Master photographer Michael O'Brien opens his Hard Ground with a moving essay on how, as a fledgling photojournalist in Miami circa 1975, he reluctantly befriended a homeless man named John Madden who was living under the expressway by the onramp O'Brien used to traverse the city from the nearby offices of The Miami News.
Jump ahead 30+ years to Austin, Texas, where O'Brien has landed while enduring the technological and economic changes wrought by the digital revolution and long deep recession -- changes which continue to roil the business of newspaper and magazine publishing. His extensive freelance credits include National Geographic, Life, the New York Times Sunday Magazine, Esquire, and Texas Monthly. His work is included in the permanent collections of the National Portrait Gallery and the International Center for Photography. He and his wife have three children in Austin.
Of the past decade, O'Brien writes, "Newspapers were dying, magazines struggling in earnest. There were fewer assignments. My career was changing: I was looking for a way to stay busy."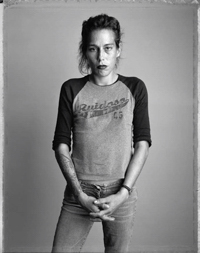 He met Alan Graham, the founder and president of Mobile Loaves & Fishes, an Austin-based ministry that provides food, clothing, and shelter to the homeless around Austin. The organization needed some photographs of the people it served, to help in its fundraising. O'Brien volunteered.
Every Tuesday night, the Mission Possible Community Center in East Austin offered a sermon, a good meal, and a place to sleep. O'Brien planned to mingle, then take individual portraits in a side room he'd set up as a quick temporary studio. "I figured I could finish in a session or two," he recalls. "I was wrong."
He spent four years of Tuesday nights building an extraordinary body of work, choosing to use an old 4"x5" view camera on a heavy tripod, the kind that requires he duck his head under a black cloth to carefully focus each image. Each subject had to hold perfectly still. "I used a Polaroid film called 'Type 55,' a black-and-white film that instantly produces a negative and a print at the same time. I gave each subject a print and I kept the negative, from which I made the prints for this book." The project ended when Polaroid went bankrupt and stopped producing the film.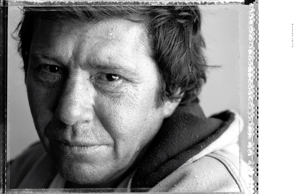 I find a stunning intimacy in the portraits. The work draws inevitable comparisons to Richard Avedon's In the American West of the early 1980s and photographer Walker Evans's groundbreaking late-1930s collaboration with writer James Agee, Let Us Now Praise Famous Men (a book I've owned for 40 years). O'Brien's Hard Ground holds its own in this vaunted company, an easy fit. (See other reviews from Pentagram and Kirk Tuck.)
Under a thumbnail photo of each subject, notes at the back provide name, age, and hometown of each person. For most, O'Brien has also included a paragraph of the person's own words. He asked questions in getting to know each subject, and he wrote down what they said.
I spent more than three hours on my first "reading": yes, I read the excellent opening essay, and with each portrait I read the accompanying notes at the back, but each of the images requires its own reading, too. They're that rich.
Some of the people are obviously crazy. Many are longtime abusers of alcohol, marijuana, methamphetamine, crack cocaine, and/or heroin. But their humanity comes through unmistakably. And then there are the many who could be your neighbors, and nothing wrong with them at all. It's humbling.
Back on January 22, I reviewed Laura Wilson's wonderful 2003 book, Avedon at Work: In the American West, also published by the University of Texas Press. That book retails for $60, is about 2/3 the size of Hard Ground, and has far fewer photos. Moreover, the finer quality of the photographic reproduction in Hard Ground is equivalent to museum-quality prints. At a $40 list price, it's an irresistible steal, and Amazon currently discounts that further to $26.40 plus free shipping. Talk about a no-brainer.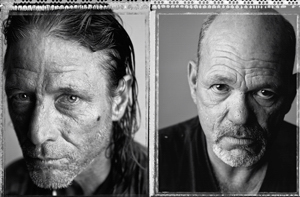 Before closing, I should say something about Tom Waits's contribution to Hard Ground. His name is being used to sell books, and bless him for that. He's always had an affinity for life's downtrodden, the "nighthawks at the diner," and he was one of the greatest influences on my own songwriting. Since the arrival of Closing Time in 1973, he's been one of my holy quartet of most profound songwriting influences (alongside Bob Dylan, Leonard Cohen, and Hank Williams). The people in Hard Ground could have stepped right out of Waits's songs. I'll have to give them more time to be fair, but so far, the short nursery-rhyme poems that Waits has contributed haven't been able to gain my attention, much less fascination, the way Michael O'Brien's astonishing photographs have.

P.S. As luck would have it, Michael O'Brien is teaching his portraiture skills in a 4-day class at Santa Fe Photographic Workshops October 26-29 this year. Check it out here.
---