---
February 26, 2011      Lutherans Seem to Have More Fun
Between Garrison Keillor's Lake Wobegon Lutherans and those of the musical comedy "Church Basement Ladies", Lutherans appear to have a great publicist.
Monday night I photographed a touring production of the sequel to the latter, "A Second Helping", at Raton's Shuler Theater, for my review in The Chronicle-News. I shot from my usual front-center seat, with a program in my lap that read, "The operating of cameras or recording devices is strictly prohibited by copyright law."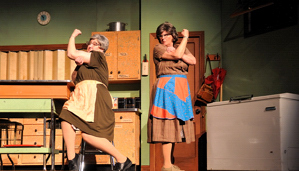 Trying to tell a story through photography is fun. I always select and process my photos before I begin writing. The photos lead me into the article, providing both story and momentum. I know the photos will accompany the words in the newspaper, so I write to accompany the photos as much as the other way around.
I enjoy photographing theatre: instead of going all over creation searching for fresh images, I just sit there front and center, letting the images come to me. The stories come right along with the images. And I've got a front row seat.
---
February 19, 2011      If Chocolate Is a Sin...I'm a Sinner
When you're going to photograph a story, it helps to conceptualize it ahead of time. Besides carrying the right set-up (which lens? flash?), you might get ideas that elude you if you simply arrive on scene and take pictures of whatever's in front of you.
Raton High School's FCCLA (Family, Career, and Community Leaders of America) chapter held an innovative fundraiser on Valentine's Day evening: all the chocolates you could eat, with more than 26 recipes available plus a chocolate fountain for dipping fruits and other foods. 256 people bought $6 tickets and indulged themselves.
I thought a picture of people eating chocolate would be about all I could get published with my story in The Chronicle-News. How else might I portray the event?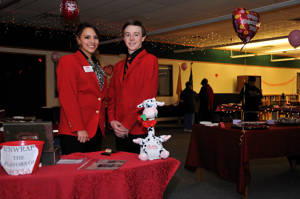 I decided to arrive early, just after the chocolates had been set up but before people arrived to eat them. Though I rarely choose to use flash, here was a case where I needed flash to create dramatic lighting. Using off-camera flash with a Cactus radio trigger, so the light would come from the side, I took close-ups of the chocolates.
It worked! I'm not generally attracted to food photography, but here I had fun and the results make me hungry for chocolate! It worked for the editor, too: she responded that she's a chocoholic herself, and she ran several of my shots in yesterday's paper. Check it out.
---
February 13, 2011      The Gods Must Be Crazy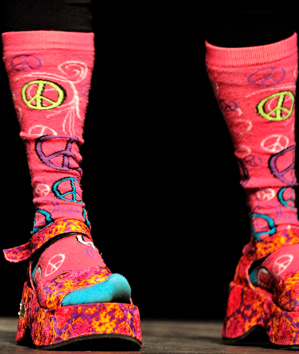 We had a mild winter until February, but from February 1 to this weekend it's been winter all the way, with lows to minus 19 degrees and snow upon snow. One day the high temperature never got up to zero.
Our two cords of firewood along the fence were holding up so well, too -- until February. Now it looks like we may need to load in another cord to get through the cold nights of spring.
Photographically, it has me hankering to get outdoors. The shots I've been posting are all from indoors or they're several weeks old. The lengthening days, and the early daylight savings time just around the corner, will help.
Last night I photographed and reviewed a student comedy, "The Greek Mythology Olympiaganza", for The Chronicle-News. This photo, the lower end of Ila Raine Medina's electric 1970s go-go girl costume, was the last shot I took. It keeps me smiling a little until I can get outside.
---
February 5, 2011      Winter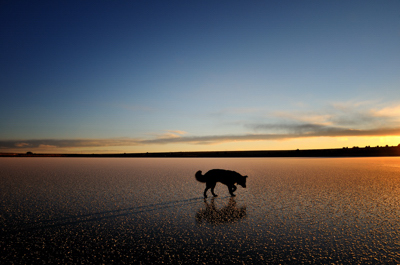 Last month I photographed my young border collie Django walking across the ice of frozen Weatherly Lake, and we've had mostly white doses of winter ever since. After a weak start, we've finally had our share of winter, and enough to send each storm on across the country east of us for their strongest winter in decades. Having grown up along the beaches of southern California, I love getting all four seasons here in northeastern New Mexico.
The forecast shows snow after snow lined up for days. Christina and I are planning to get up the mountain for a hike with Django and Pearl before this afternoon's snow arrives. If it catches us still out, well, all the more fun...especially once we're here in front of the woodstove looking back on it.
Over at my TKA Blog this morning, I wrote about how I photograph subject matter to convey a story, using the photos to complement my written stories. I always shoot and process the photos first, then use the photos to lead me into creating the text. If you go over there, scroll down to January 8 to find another pair of photos of Django out crossing lakes. With its extraordinary light, and the ability to walk on water, winter's a great time for photography!
---
January 30, 2011      Home on the Range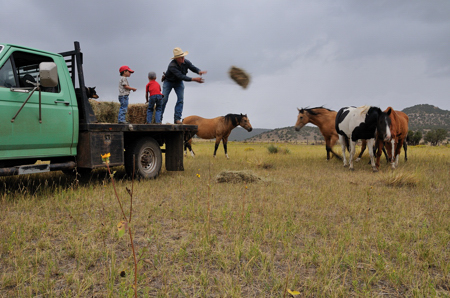 It's been a thrill to receive so much great feedback on my "Max Evans's New Mexico" feature in the February 2011 issue of New Mexico Magazine. Today I thought I'd give a little sneak preview of my next feature for the magazine. The Brown Ranch is down on the Dry Cimarron River in the far northeast corner of the state, snugged up against the Colorado border not far from the Oklahoma panhandle.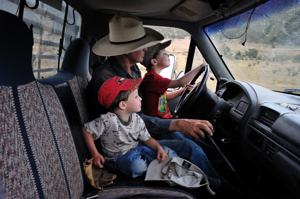 My story and photography will appear in the magazine's May 2011 issue to coincide with the Folsom Museum's annual Dry Cimarron Tour, where the Brown Ranch is always a featured stop. Because May is the magazine's annual Home issue, we've decided to title my story "Home on the Range".
I made six trips over to the Brown Ranch, taking more than a thousand photographs and getting some great interviews and experiences. The magazine is choosing from 40 photographs that I submitted and has already asked permission to post them as a May slideshow on their website, just as they've done with ten photos this month from the Max Evans story.
My manuscript will provide an intimate portrait of life on a family ranch currently training the sixth generation -- even teaching them early to drive the pickup -- and it will examine the effects of the 21st century as technology and economics transform ranching.
Sit tight: it arrives around Tax Day, April 15, still ten weeks away.
---
January 22, 2011      Learning from a Master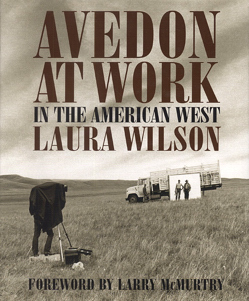 Becoming a good photographer is largely a matter of training one's eye to see. Beautiful subject matter does not by itself make a beautiful photograph, which always requires an effective composition. Regularly studying the photographs of others is invaluable. The image that jumps out at you and takes hold: how does it do that? What makes that happen? As you find answers, you train your eye to look for these qualities when framing your own images.
I'm increasingly intrigued by portrait photography. No one has been better at portraiture than the late Richard Avedon (1923-2004), who began in fashion photography and branched out to make riveting portraiture his own. I vividly remember when Rolling Stone commissioned Avedon to take portraits of Americans of great power, right up the the President of the United States, then published 73 full-page portraits in a single October 1976 issue of the magazine.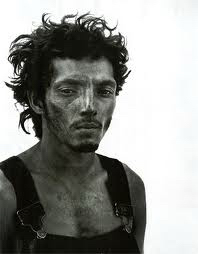 In 1979, the Amon Carter Museum commissioned Avedon, a lifelong New Yorker, to spend six summers traveling the 17 western states taking portraits against his signature white background. In 1985 the museum mounted its landmark In the American West: Photographs by Richard Avedon show of 123 larger-than-lifesize black and white prints of drifters, carnies, waitresses, oil field workers, miners, prisoners, cowboys and other gritty westerners. It turned the stereotype of the noble westerner on its ear.
Photographer Laura Wilson was one of three assistants traveling with Avedon throughout the project. Her book, above, is mesmerizing. Besides sharing many of Avedon's portraits, alongside her own shots of Avedon making them, Wilson shows and tells how Avedon selected, enlisted, and worked with his subjects to get his remarkable portraits. That's why I bought the book; I can't put a price on how much I learned, reading it in one day last weekend. I'll return to it often.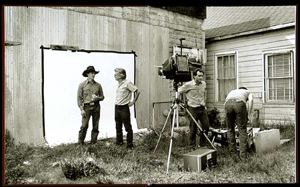 Avedon tried "environmental portraiture" in which the subject is pictured in his own environment, but found that it didn't work for him. Instead, he traveled with six-foot-wide rolls of white paper and had his assistants tape white backgrounds to the sides of stores, barns, trailers, or whatever else was available. He felt that the subject's environment showed in the clothing, skin, face, and expression -- that the landscape was, indeed, present. That's one reason he traveled only in the summers: he wanted skin and posture to show, unhidden by bulky clothing.
He shot this project exclusively with natural light -- no flash -- working in open shade to avoid the sun's harsh shadows. Wilson noted later, as she studied her photos of Avedon in action, that as the assistants set up the shot, Avedon would converse with the subject and, unconsciously, stand in their same posture -- hands in pockets, or arms folded -- developing an empathy and sense of his subject.
When you're out shooting, there's rarely time for thorough planning or thought. Studying thousands of photographs -- and studying the masters -- prepares you to shoot instinctually and get great results. It's a never-ending process. I enjoy it.
---
January 17, 2011      The One Where Everything Went Right
Art director Fabian West chose this image for the opening two-page spread of my six-page "Max Evans's New Mexico" feature in the February issue of New Mexico Magazine, which has just hit newstands. Max is thrilled and so am I; in fact, I'm going to frame a large print and call the image "Taos Valley for Max Evans".
Throughout my five-hour interview with Max at his Albuquerque home last October, he'd mention that, when it comes to "Max Evans's New Mexico", no single place could top the first view of the Taos Valley when you drive from Santa Fe north through Pilar and top out after the big sweeping horseshoe. I knew the place, but by the time I got what I needed in the interview it was after 3:00 and there was a black storm sitting right on Santa Fe.
I decided to make a run for it -- both Max and I believe in magic -- and I made it just in time. I had about five minutes to park my car, run across the highway, climb the fence, set up my tripod and get the shot before I lost the light. I used the wide-angle Sigma 10-20mm lens at 20mm, using aperture priority at f/16 for maximum depth of field. (The shutter speed was 1/40 second.)
You can see it a little bigger by clicking on it, but I hope you'll get a copy of the magazine -- it really looks glorious there in Fabian's typically brilliant layout. While you're there, of course, you get to read my feature, too! Win/Win.
P.S. In the process of posting this and linking to the magazine, I discovered that they've selected my feature for this month's Photo Tour! Cool beans! Take the tour!
---
January 9, 2011      Gratuitous Kitten Portrait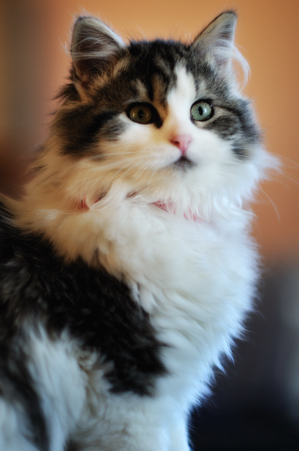 I actually had a portrait sitting planned for late yesterday afternoon with Sonrisa, newly converted from feral Studio C wildcat to purring adorable house kitty. (All credit goes to Christina, wildcat tamer.) I ran late, out in the boonies with Tom Pryor and my pups, and got home just in time to catch the last sunlight coming through the west-facing window.
Sonrisa must have been a model in a former life: she held poses and made faces and acted just like a model should. The biggest problem I had was when she came toward the lens and got too close to be in focus. I used my beloved "portrait lens", a Nikon 85mm, and I shot it wide open at f/1.8. See that beautiful "bokeh", the lovely warm creamy background tones? It's the great lens which produces that.
As for Sonrisa, she's quickly made a place for herself in a house with two older cats and two rambunctious dogs. The big borrowed cage she started in is today being broken down and moved out. Meanwhile, Sonrisa may have a future as a cat model. She's in the right house for it.
---
January 8, 2011      AWOL

I left my computer in a Santa Fe repair shop when we went down there for the Christmas holidays, expecting to bring it home with me December 26. My 5-month old Mac Pro developed an odd hardware glitch which they've had a hard time diagnosing. Christina finally picked it up for me after almost three weeks of work and I'm back online as of last night. If the problem re-emerges, Apple has promised to replace the computer with a new one. The repair guy said hardware flaws are rare with Macs, but they do happen.
So, for the past three weeks I haven't been able to process photographs, update the website, blog, submit or post Chronicle articles, slog through end-of-year accounting tasks in QuickBooks, or any of a number of other important functions. I was patient during the first week -- enjoying the holidays in a country guest loft outside Santa Fe -- then aimless, depressed, and angry (at Apple) during the second week. By the third week I was back to teaching, busy, and accepting of my fate. Now, it's great be able to work again!
As I emerged from the aimless depression last weekend, I took the dogs for a drive down long country backroads, stopping so they could run and I could take photographs. That's Weatherly Lake above (click the photo to enlarge), at sunset, frozen solid. The dogs, slipping and sliding, "walked on water" out across the frozen lake: I'm posting a photo of Django over on my TKA blog today.
I'm back in action. It feels good.
Want to see November/December?