---
August 27, 2011      The Role of Luck in Photography and Bullriding
There's a good photographers' movie just out on DVD called "The Bang Bang Club," documenting the courage and friendship of four great photographers during the civil war that led to the end of Apartheid in South Africa in the 1990s. In an early scene, Kevin Carter tells newcomer Greg Marinovich (both earned Pulitzer Prizes) to forget his long lens: Carter says combat photography only works when it's close. As I prepared to go shoot my first rodeo photos, I studied some online rodeo photography and drew the same conclusion: I didn't see photos shot close enough. As usual, Robert Capa's axiom holds true: "If your pictures aren't good enough, you're not close enough." I was able to arrange to perch myself last night on the arena rail just 20 feet from the chute releasing the bucking stock. With the conflicting requirements of a slow shutter speed for the low light but a fast shutter speed to capture the rapidfire movement, even 20 feet wasn't good enough to get great photos. Until I got lucky.
As did 18-year-old Guytin Tsosie, a Navajo from Farmington, New Mexico. He got a 90-point bull ride, the highest score in the 33-year history of the Raton Rodeo. And he got it right in front of me.
Brothers Dan and Pat Curtin of Show Low, Arizona, had asked me to try to get good photos of their bull rides. I wish I'd said, "Sure, boys, just ride your bulls on down in front of me!" They didn't, and I didn't get good shots of them. But Tsosie's ride came so close in front of me that I lost three seconds of the ride while leaping off the rail and repositioning myself to shoot through the fence. You can see the position change above, between images 4 and 5. You can also see the man who threw open the gate understanding, before I did, the need to fly out of harm's way: those first four images show him in various stages of flight. And then I moved.
My camera's time stamp shows that Tsosie's 8-second ride lasted 11 seconds before he dove off. I fired 22 frames even with the three-second gap. I've assembled a sequence of ten above -- you can click on any image to enlarge it. (I've tried and failed to get them to load in a grid, two across, alas.) As for the advice of Robert Capa and Kevin Carter, I was so close that I began the sequence with my 18-200mm Nikon lens wide at 22mm and quickly opened it fully to 18mm, with the lens aperture at f/3.5 for maximum light. I shot in shutter priority at 1/50 second, which gave me an ISO of 900. If I could do it over, I'd double the shutter speed to 1/100 second to better freeze the action; the D300 would have easily handled the resultant doubling of the ISO to 1800.
It's the need to get close that caused me to wait this long to shoot a rodeo. I'd shot the youth rodeo at Des Moines, but its nickname -- it's called a "play day" -- is apt: it's barely rodeo, or not. With help from my wife Christina Boyce, and from Sally Lemons and Melissa Mack, I found my way to the bulls and the bullriders and great access for photography. Now that I've done it once, I'm sure I'll do it again. The rodeo gallery here at TKP is bound to grow.
---
August 21, 2011      Team Work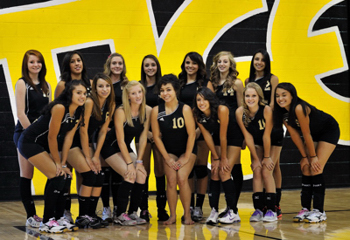 It's been fine with me that Raton's Marty Mayfield specializes in sports photography and team photos. He does it well, he's done it for many years, and I have little interest in it. I've taken many Raton High School photos for my own articles in The Chronicle-News, but otherwise I've left these to Marty.
Due to the deep budget cuts affecting schools throughout the country, RHS lost its assistant principal and athletic director position this year, so principal Mike Sparaco has had to take over a lot of new duties.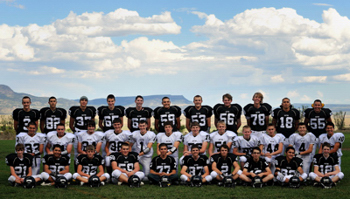 He discovered this week that the New Mexico Activities Association (NMAA) requires that photos of all teams be in its hands by this weekend. Hurried, Mike asked me if I'd take these photos for him. I'm there every day, and I always have my camera. I was glad to help out.
Of course the football team was the biggest production -- more people to wrangle -- but coach Brian Saccamano, in particular, did a great job assembling them and creating a polished look. I was thrilled to be able to pose them against Johnson Mesa and a cloud-filled New Mexico August sky. The players all wore what I called their "game faces": snarly gnarly looks like the ball was about to be snapped. (I've posted that picture here. To enlarge the others, just click an image.) I wanted to get them to lighten up and give me a shot of them smiling -- I've no idea which look the coaches or players might prefer -- so I asked all the guys to think of the pretty girls in school and give their best smiles. That's the one I've posted above.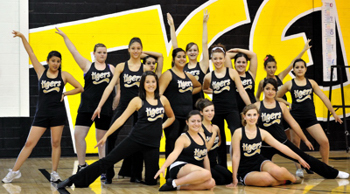 I took the other two team photos in the school gym to take advantage of the dynamic school colors spelling out TIGERS on the wall behind them. The artificial light in the gym makes it challenging to get a good photo -- I shun flash whenever possible -- but the background made it worth the trade-off.
That's the volleyball team at the top, and below is the first picture I took in the series, the Tiger Cats dance team. I've provided large images here so the students can capture a photo -- no sense wasting the photos by letting them disappear into an NMAA office file, never to be seen again.
---
August 13, 2011      Marcia Hefker: Doctoring Cowboys
I've been uncharacteristically long between blogs, outside Santa Fe without Internet and then back home checking off a list of things I need to finish before I report back Monday for the start of a new school year. My favorite accomplishment is always the writing of a new magazine feature and I did that yesterday for Ranch & Reata, a 1300-word piece with a working title of "Marcia Hefker: Doctoring Cowboys." It'll be published in about four months, just in time for Christmas.
We had a rare rapid-fire turnaround for another feature with Marcia. I just worked on my piece on the Hindi Arabian horses in late June, into July, and it's already due to reach subscribers' mailboxes early next week when the September issue of Western Horseman arrives. Marcia has three Hindi Arabians (well, two and a half, but you'll have to read the article to figure that out) and she figures prominently in the WH article. It was Marcia, who for 12 years has doctored me and my wife whenever we've needed it, that steered me to the Hindi family and their wonderful horses. (There's a lot more on Marcia in earlier blogs below, and over at my TKA Blog.)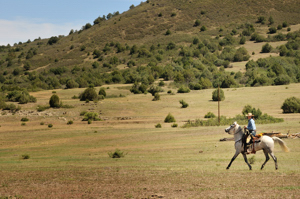 That's Marcia above with her team-roping horse, Hindi Aziz, and below on her son Cy's endurance racing horse, Hindi Fawaz, aka "Goose", who she rode during a cattle drive of Texas Longhorns in Trinchera Canyon (The Goodnight-Loving Trail) two weeks ago -- which I used as the lead-in for the new Ranch & Reata feature.
Speaking of Ranch & Reata, the new magazine edited by A.J. Mangum (who left the editorship of Western Horseman to start this new online & print project), the third issue is just out and features my photography in a big way -- on the cover, then pages 3, 4, and 5, then pages 70-82. (Click on my feature in the Table of Contents to jump straight to it. In fact, it has lots of fun tools: full screen viewing, sending the whole magazine to a friend, and so on.) It's a beautifully-designed art-quality magazine. You can read it now, here.
Finally, speaking of Arabian horses, I got an e-mail Thursday afternoon from Hilary Nixon, the communications coordinator of the Arabian Horse Association. She wondered if I'd be comfortable with her "using social media" to send her readers here to my website to look at my photos and read my blogs on Marcia and the Hindis and their Arabian horses. The next day, Friday, the site got 123 U.S. visitors from 37 states, 89% of whom had never visited the site before. 53 came via Facebook. I'm pretty sure that a lot of those new viewers have Arabian horses: thanks for the referrals, Hilary!
---
August 4, 2011      A Picturesque Sunday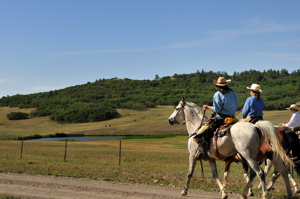 As promised, I'm sharing some more photos today (here and on the TKA Blog; click images to enlarge) from Sunday's Texas Longhorn cattle drive with Kyle Bell and his family, moving a herd up Trinchera Canyon back toward Folsom, New Mexico. In this first image, Marcia Hefker rides along well behind the herd with Kyle's kids Melissa and Ben. In the background is the small lake at the Paloma Ranch headquarters at the top of the canyon.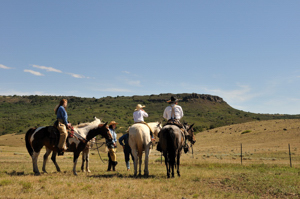 The second image was captured a little later, after the cattle were penned and everyone sat back to consider a job well done. I find both images attractive -- and they give an idea of the wonderful lifestyle many people get to live out here in the ranchlands of far northeastern New Mexico. It's my good fortune to be able to tag along taking pictures.


---
August 2, 2011      Back to Mountains and Horses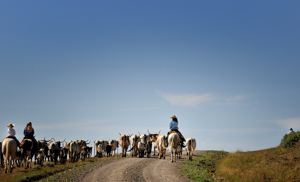 After a couple weeks of blogging with photos from my new New York City Gallery, I return today to the mountains and horses. The New York gallery created a big spike in web traffic, which was nice, but the truth is that you can only write and photograph what's around you: what's around me is virtually endless beautiful land, and on that land are lots of horses and the life that surrounds them. I'm lucky, because the great stories and photographs here are limitless and unending.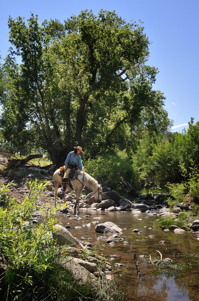 Kyle Bell and his family moved about 100 of their Texas Longhorn cattle Sunday from behind my friend Abbie Reaves's home at the bottom of Trinchera Canyon up to the top toward Folsom, New Mexico. Kyle invited me along and I got a wealth of great photos, some of which I'll continue sharing here and on the TimKellerArts blog over the coming days. Kyle's got other stories in mind, too, and I'm hoping to work with him to develop some great magazine material.
I'm currently working on a profile of Marcia Hefker for Ranch & Reata, and I needed some new photos of her working cattle. Marcia came over from Raton early Sunday morning and helped Kyle and his family move the longhorns up the hill. I got the pictures I needed and more, shooting hundreds of images throughout the morning. Up above you can see Marcia near the top of the hill, with Ben, Melissa, Kyle, and the longhorns. Below, Marcia lets her Hindi Arabian, "Goose", drink from Trinchera Creek right behind Abbie's house -- which is a little slice of paradise, but that's another story altogether.
---
July 30, 2011      Color Versus Black & White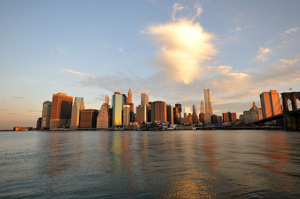 Inspired by the long rich heritage of black & white photography produced in New York City, I decided before I went that I would create a gallery of B&W images from my trip. Of course, in digital photography the camera captures everything, including the colors, and the photographer decides later, in processing, what to do with all of that information, or data.
I completed my usual workflow first, sorting and culling in Nikon's View NX2 software, then processing the best images in Capture NX2. Only then did I take the selected and processed images into black and white via NIK Software's Silver Efex Pro plug-in filters used within Adobe Photoshop CS5. Once I was finished and had an image I knew I would share, I took it through Photoshop: File: File Info to add metadata such as my copyright and contact information, a title, tags, and so on. I've learned to always do this: the data I add stays embedded in every subsequent resizing or posting I make, including Flickr's photostream and even the images here: capture an image to your own computer, then open it in Photoshop, and my copyright is there.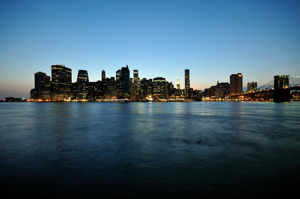 Some images that looked good in color simply didn't work in B&W. This pair of almost identical shots of the Lower Manhattan skyline from Brooklyn Bridge Park -- at opposite ends of the day -- provides good examples. The effects of the sunrise on the water, cloud, bridge, and buildings are subtle and all about color. They're mostly lost in B&W. (Note the tilt of the buildings, an effect of the wide angle lens.) Similarly, I didn't feel that the evening skyline worked well without the yellow lights and subtle gradations of color and light in the water. I did post a similar shot in B&W, called Nightfall, which worked a little better but the point remains: there is some subject matter which needs color. Look at the Brooklyn Still Life below (July 19) for an obvious example, but even these New York skylines needed their colors before I felt that they were worth sharing.
---
July 27, 2011      On Becoming an Invisible Photographer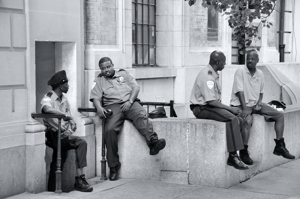 Upon viewing my new NYC Gallery, my Flickr friend and native New Yorker Pam Williams commented, "You're brave to take your camera into the unknown places of NYC...something I don't dare do by myself." But I found the opposite to be true: I often felt that my camera and I were invisible.
The usual method of getting good natural photographs of people is to spend so much time around them that they stop paying attention to the camera's presence. The people of New York City are so constantly surrounded by so many other people that I think they develop what horsemen call blinders: they develop a sort of cocoon of personal space and shut out distractions...such as cameras. I watched a photographer work a street fair crowd with an imposing camera, lens, and equipment bag -- but no one paid him any attention.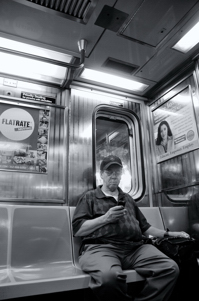 Walking across the Upper East Side one evening, I fired off two shots of off-duty Madison Avenue security guards from only 30 feet away -- the zoom lens is at 65mm on the Nikon D300 -- and they never looked at me. (Among the pleasures of examining this image enlarged is that the diminutive man at left is wearing no socks.) To a great extent, I felt invisible shooting pictures in New York.
Being closed into a subway car was an exception: pointing a camera at someone there would have been noticed, and probably been a problem. On subway cars, I shot people from my lap, such as this image in which I was sitting directly across from a man on an uncrowded train. Luckily the train is loud enough to mask the rather loud shutter release. I did something similar from a standing position on a crowded train, everything blurred from motion but getting an image I like of a man who appears to have just spotted my camera from behind his dark glasses and thought, perhaps menacingly, Is that honky taking my picture? I call the image "Ghost."
---
July 23, 2011      Songs in the Key of B Minor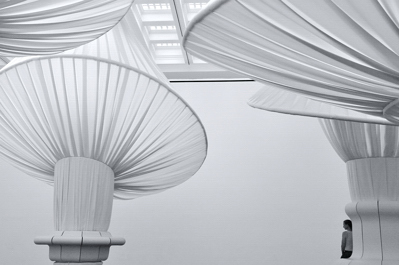 One week ago today Christina and I flew home to northeastern New Mexico from New York City where we visited my daughter and where I spent six days wandering streets, subways, and buildings hunting for images to create a new gallery here at TKP. I've spent the week, about 48 hours, processing photographs, culling, and working with computer code to install the images in the website.
As I completed the work and the gallery went online, we received our first deep soaking rain of the year, 1.1" over a couple hours that dropped the temperature to the mid-60s and left it there all night; at the same moment, New York City broke records with a temperature of 104.
I hope you'll visit the new gallery, beginning with the image above which I've titled "B Minor." As Christina and I entered the Great Hall of the Brooklyn Museum, I envisioned this photograph and grew excited. It was a classic case of an image needing something placed in it to give the viewer a sense of scale: I asked Christina to sit at the far corner, taking off the bright colorful top she was wearing in favor of the more muted tank top underneath. (The exhibition is "reOrder: An Architectural Environment by Situ Studio," in place to January 15, 2012.)
I'll probably have more to say here on another day, with other images; meantime, I'm going to write now about street photography, "the decisive moment," and the narrative aspects of my NYC project, over at the TKA blog -- with an elevator photo from the Brooklyn Museum. I invite you to follow me over there.
---
July 19, 2011      A Photographer's Holiday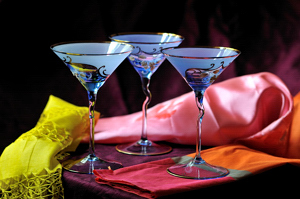 I've been home from New York City for almost two days and -- aside from unpacking, sleeping, and watering very thirsty trees -- I've been immersed in processing new photographs. New York is an exciting venue for photography; in fact, the countless iconic images made on New York's streets can both attract and intimidate. As a tourist for only one week, it became increasingly evident that getting classic images would require not just immersion in photography, but immersion in the city itself, which one can get only by living there.
I'm processing an entire gallery of new black and white NYC photography that's likely to take several days before it appears as the newest addition to my web galleries. Meantime, I've processed some color images for my wife and daughter. The image above was taken in the afternoon window light of my daughter's fourth-floor Brooklyn Heights apartment. The tableau was created by my wife, Christina, the proceeds of one afternoon's shopping in neighborhood thrift shops while I was away taking photographs somewhere else. She'll be making fine arts from the silks, while the goblets are going into a glass case at Studio C, though not before the three of us enjoyed drinking a toast from them.
---
July 7, 2011      A Breakaway Hit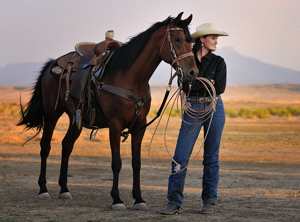 Last week I took a photograph that excited me so much that I immediately posted it here at the TKP Blog: see it below, under June 29. The next morning I posted it to my photostream at Flickr. That afternoon it was selected by Flickr for its vaunted Explore page, which put it on Fluidr. Seven days later, it's had 450 viewers from around the world, 29 of whom have posted complimentary comments and 39 of whom have placed the image in their own Favorites pages.
The photos feature Marcia Hefker (above; click to enlarge) team roping on her Hindi Arabian horse, Aziz, for my upcoming feature on the Hindi horses in the September issue of Western Horseman. We took the photos late in the day at Roy Sanders' place outside Hoehne, Colorado -- that's Roy partnering with Marcia in both photos below.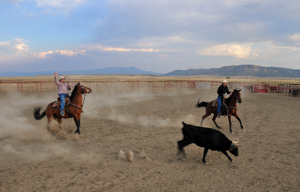 I always submit far more photos with my features than the editors can ever use; that way, they get to make some choices in shaping the feature. It's always exciting, with a great sense of anticipation, as I wait to see the published feature. Which photos did they use, and how did their graphic artist design the layouts? In this case, I'm hoping Western Horseman will consider using "Breakaway" as the opening two-page spread. We'll see.
My blog has been mighty horsey lately! Don't worry: next up will be portfolios of photos of New York City! I'm planning to do a lot in black & white for The Big Apple...and I'll sure be surprised if there are any horses in the new images.
---
June 29, 2011      Breaking Away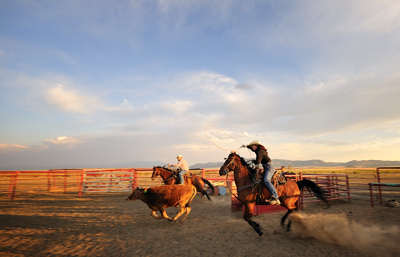 Since I turned the bulk of my photographic attention to storytelling almost three years ago, the exciting images tend to come in surges, lots of great images in a short spell. That's certainly been the case with the photos I've taken of Marcia Hefker for my upcoming Western Horseman feature on the Hindi Arabian horses of New Mexico -- and I seem to have saved the best for last.
Marcia drove all the way down to the Hindi Ranch in Duran to bring Aziz, her roping horse, 250 miles up to Trinidad, Colorado, for me to photograph them roping with Roy Sanders in his home practice ring north of town. The theme of my article is that the Hindi Arabians are not "elegant, flighty" animals unsuited to ranch work; in fact, the Hindi horses do it all: 100-mile endurance racing, high-mountain hunting trips, and cattle ranching.
The photo above was taken as the sun set last night. I'd started far back with a telephoto zoom lens. By the time I took this, one of my last shots, I'd moved in close and changed to a 10mm wide angle lens. Click to blow it up: Marcia's loop is in motion but Aziz seems to have stopped for a moment to put himself at just the right place: he's left a dust trail but now his feet look like he's waiting suspended in mid air.
Can you tell that I'm excited about this one?
---