---
June 20, 2016    A Colorful Evening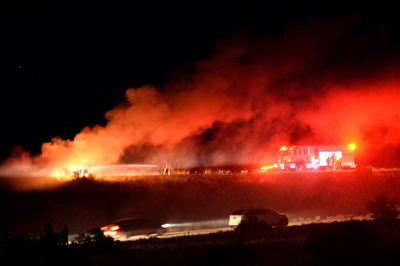 Driving north from Albuquerque to Santa Fe Friday night after a baseball game, I crested La Bajada Hill on I-25 only to see too much light at my exit, the first exit atop the hill, Waldo Canyon Road. A dramatic wreck was fully ablaze right on the overpass, so cars could detour down the offramp and right back up the onramp to resume their northbound travel. I took the frontage road, my regular route to my Santa Fe home base near Lone Butte on the Turquoise Trail, Highway 14, but I stopped to get this shot (click to enlarge). You can see the cars on the onramp below, while above them you can see firemen holding a firehose to spray a burning vehicle.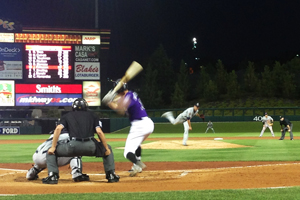 I thought I'd already had plenty of drama that night! For the first time in my life, I got to sit in the first row behind the plate of a pro game, in this case the AAA Albuquerque Isotopes versus Reno. I was able to hold my iPhone between the mesh of the protective net and get this shot of my view. (No, the fiery crash photo wasn't taken with the iPhone: That's the Nikon D5 with 70-200mm lens.) By going alone, I was able to snag a single free seat up front. I did that once long ago, getting 7th row center for Bob Dylan and the Rolling Thunder Review at Austin's Palmer Auditorium in 1976. I like company, but there are advantages to going solo.

---
June 19, 2016    Happy Father's Day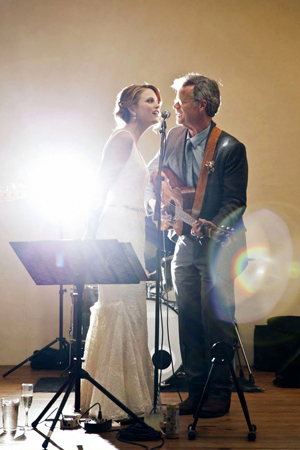 For Father's Day, my fabulous daughter Darcy Day Keller posted to Instagram and Facebook this magical photo of the two of us performing my "Darcy's Song" at her wedding dance in Austin in April. (They're out of the frame to the right, but we're backed by Rosie and the Ramblers, with bass, drums and electric guitar.) I also got my first look today at the extensive wedding photography by Carli (and her partner Johnny) at Inked Fingers. Wow. I'm over-the-top impressed with Carli's eye and skills -- look at her work! I don't know what's going on with all the crazed light in this performance shot, but it adds to the magic of this father-daughter duet photo by Inked Fingers. Magic upon magic.

---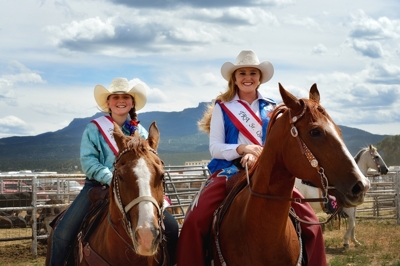 I've just posted "Sweet Hearts of the Rodeo" from this month's Western Horseman magazine, a little early with both the blessing and request of the editor: Whenever it's come up, editors have agreed that posting a feature here is more likely to increase than decrease magazine sales. Every published feature I've done is posted here at TKA -- Tim Keller Arts.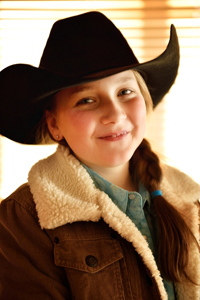 This month's feature, about the state of rodeo queen programs around the country, is my first feature collaboration with my wife, Christina Boyce, and her first byline in a national publication. The project began with her Op/Ed essay, "Tough Enough to Compete," in The Chronicle-News last September. I sent that as a pitch to WH, whose editor promptly commissioned an expanded national look at the subject. We all agreed that June publication would be best, for the start of this year's rodeo and queen season, although that resulted in most of my photography showing young women riding horses in snow, in June--an issue I'm addressing separately here in my blog at TKP -- Tim Keller Photography. Here, I'll look at the manuscript, its creation and revision, including revision done by the editors--at least three editors worked on it--after it left my hands.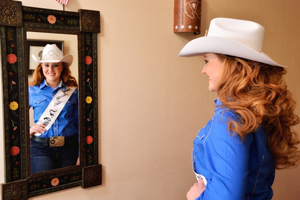 Christina's essay opened with Trinidad Round-up Rodeo Queen Anne Sporleder (in mirror, left) and Junior Queen Micheli Walton (above), then wove in Christina's inspiring experiences with sisters Janna and Ashlee Rose Mills, New Mexico rodeo queens. (That's Ashlee Rose below right, then Janna below left, at home with their horses in Eagle Nest.)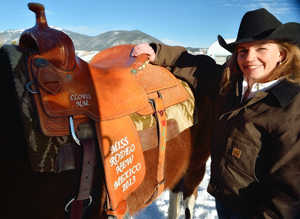 Christina and I visited and photographed the gals at home around New Year's; meantime, we'd been working the phones and email, making contact with rodeo queens and program coordinators as widely around the country as possible. Together, we conducted many interviews, took extensive notes, and shaped the story during in countless discussions. Finally, in late January, I sat alone at my keyboard and wrote the 1800-word manuscript.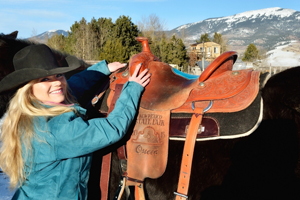 The better the magazine, the more a manuscript goes through editors, including at least one copy editor. In March, I received the manuscript back as revised by three editors, marked up in MS Word's "Track Changes" tool with questions and comments. I responded with my own revisions and comments, then sent it back. Mostly, I feel, editors' revisions improve a manuscript. The editors represent the readers, and the editors are certainly as qualified as I am to work on the text. The finished product is always a collaboration. When I post my features, I always include both the magazine copy and my original manuscript, so anyone interested can compare and see what changes were made by the editors.
Not atypically (for any magazine), the published revision had two minor problems. A photo of Anne taken by her mother, Alice Sporleder, was incorrectly credited to me. (The editor took responsibility and apologized directly to Alice.) Christina and I wrote that the A.R. Mitchell Museum "mounted" a show of past rodeo queens but the published version changed that to "created" a show, when in fact the show was created by the rodeo committee, not the museum (where Christina is the director). Christina sent the rodeo committee an explanation and apology for that one.
All in all, we couldn't be prouder of "Sweet Hearts of the Rodeo" and our association with these impressive women and with Western Horseman, one of our country's great magazines.

---
June 5, 2016    Tunneling Through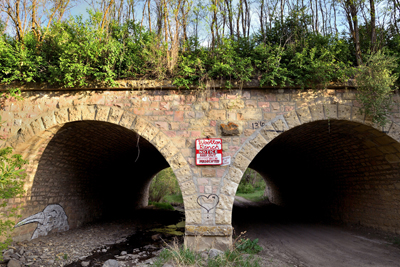 I've had my eyes on these tunnels for months and waited to photograph them until I found myself there in the right light, late in the day. After a couple hours in Trinidad yesterday getting the next three weeks' of man-on-the-street interviews for my weekly Over the Pass (OTP) feature in The Chronicle-News, I realized that the light was just right. I departed I-25 South at Exit 2, Wooten Ranch, and enjoyed getting a series of photos where these two tunnels enter the historic Wooten Ranch, high atop Raton Pass, under the railroad tracks that still carry two Amtrak trains daily. For a feature titled "Over the Pass," this feels like a perfect illustration.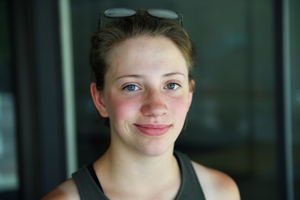 Midway through its third year, my OTP feature poses a question of the week to four randomly encountered people. I like creating questions that bring insights from people we'd otherwise just pass on the street. I also enjoy the opportunity to take so many "stranger portraits," a challenging genre tried by many photographers. I've taken almost 400 quick portraits of strangers for this feature so far. This portrait of a young Colorado woman named Ingrid is one of my favorites gathered yesterday, an hour or two before I returned over the pass and took my photo of the old rock tunnels high up in the Raton Pass.

---
May 30, 2016    A Word with the Director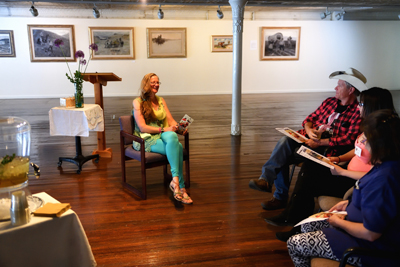 Memorial Day weekend signals the annual season opening for Trinidad's A.R. Mitchell Museum of Western Art where my wife, Christina Boyce, is the director. With our friend Peter Burg, in the hat above, I've spent some time at the Mitch both Friday and Sunday this weekend. For the monthly Art Trek, which coincided with Friday's opening day, the Mitch presented a pop-up show by three of Trinidad's best-known painters. Yesterday afternoon, Christina inaugurated a new monthly "director's chat." She plans to have other museum and gallery directors, and other guests, for informal chats on the upstairs mezzanine at the Mitch. I took this photo to help Christina and the Mitch publicize this summer's remaining director's chats. Summer is here, up and rolling.

---
May 25, 2016    From Coal to Diamonds: Joe Spicola Rocks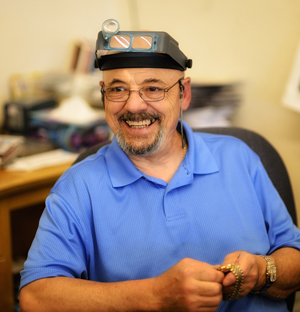 I've increasingly found Joe Spicola to be one of the nicest guys in town so when The Chronicle-News asked whether it could interest me in creating a big feature on Joe and his Raton business, Anthony's Jewelers, I was happy to say yes and excited because I already knew just enough to assume that there was a good story there. That's what attracts me these days, a good story that I can research and then enjoy writing. I'm turning away lesser stories. Having good photographic potential helps, but as a writer I'm looking for a meaty story with a strong narrative. I was right about Joe: He's a great story.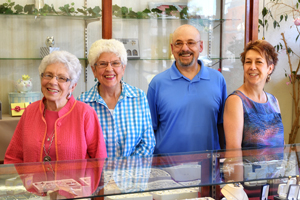 The Chronicle wanted the feature as a thank-you to Joe for his many years as a regular advertiser with the paper. In my interview with Joe I learned that his uncle was for decades a typesetter for The Chronicle-News, long ago, and even lived in downtown Trinidad, eschewing cars, walking to work each day. Joe's mom and dad were born in or around Trinidad, as well, moving to Raton in 1948 to start their own business, Anthony's Jewelers. Joe was born in downtown Raton two years later--three months before I was born far far away.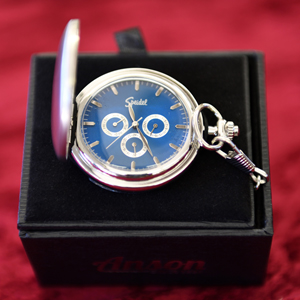 My feature "From Coal to Diamonds: Joe Spicola Makes Anthony's Jewelers Shine" was published yesterday. I interviewed Joe over cappucinos one morning at Enchanted Grounds Espresso Bar & Cafe, then more at the store where I also scheduled a photo shoot with his staff--above from left, Joyce Frew, Gerry Davis, Joe, and Jeannie Kamm. With only a few years there, Joyce is the only one that hasn't been there for 25 years or more. Jeannie helped me set up a series of product still-lifes, including these two on a lush red-velvet background that didn't make the paper. A rich diptych that did make the paper but I'm not including here shows Joe doing detail work inside a retired railroader's pocket watch.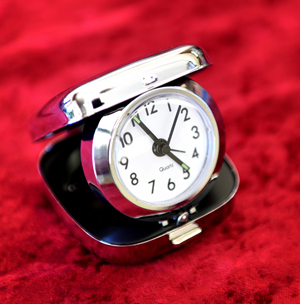 Straight out of Raton High School in 1968, Joe went to work in the Kaiser coal mine in York Canyon west of town. He was temporarily laid off in 1976 just as his father closed the store while enduring cancer treatments. Joe kept the store open for his dad. When the mine called Joe back months later, he decided to stick with the jewelry business. There were five jewelry stores in Raton and Trinidad at the time. Today, Anthony's Jewelers is the only jewelry store for 300 miles between Pueblo and Santa Fe, and Joe Spicola is still going strong.

---
May 18, 2016    Get Your Kicks on Route 66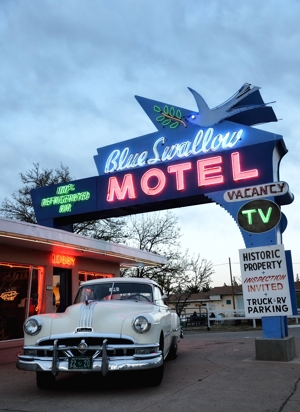 I'd passed through Tucumcari plenty of times, sometimes getting off I-40 to drive down the old Route 66 section through town, but I'd never spent more time there than picking up some food and continuing on. I was eager to change that and a travelogue feature for The Chronicle-News gave me my chance. I booked a room at the Blue Swallow Motel, a 1940 motor court and now a mecca for photographers who get iconic shots with lots of neon ("100% Refrigerated Air"). Because the Chronicle had already run my Rawhide Days preview and a full review feature, they put my Tucumcari travelogue on their website where I think you'll have enough trouble finding it now that I've posted the manuscript here, and some of the pictures right here in the blog.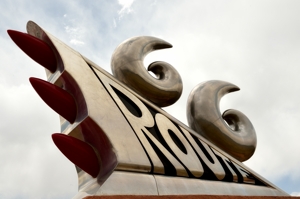 Tucumcari has long done a great job capitalizing on its place along Route 66. Growing out of that, the number of places using neon signs has apparently increased over the years, while a movement to fill the town with big beautiful murals is a newer development. The chamber of commerce distributes a heavy high-gloss map-brochure, Tucumcari: City of Murals, identifying 31 murals in town, with name, subject matter, artist, and location.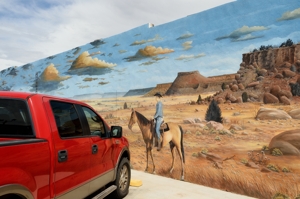 I'm pretty sure that this mural to the right is one of many by Sharon and Doug Quarles, the husband & wife team that came from Louisiana and sparked a mural frenzy in Tucumcari before continuing west to Arizona, where they live today. (Doug appeared prominently in my March 2014 New Mexico Magazine feature on Mosquero's mural program.) Like many murals around Tucumcari, this one takes up an entire long wall, an immense expanse for a mural. I like it juxtaposed against the late-model red pickup. (As always, click any image to enlarge it.)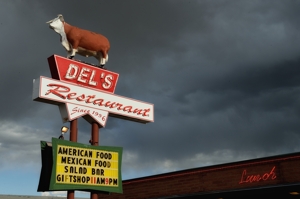 I enjoyed meals at Del's Restaurant ("Since 1956") and its adjacent sibling breakfast-and-lunch place, Kix on 66, both owned and really well managed by a pair of Tucumcari sisters. I also enjoyed a Mexican dinner--I've gotta have my Mexican fix--at Pow Wow Restaurant a mile west on Route 66, where each booth has some of the restaurant's regular customers painted in murals--so even though I sat alone, I was never alone. When I texted a photo home to Christina, she asked who the gal was sitting next to me.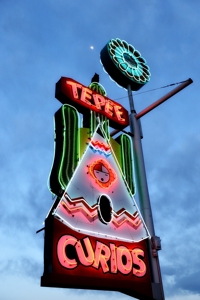 The Blue Swallow proved the perfect home base for exploring Tucumcari, Route 66, and the inaugural Tucumcari Rawhide Days (see May 16, just below). The Rawhide Days parade went right by the motel, and much of the city's best neon signs are clustered within a few blocks around the Blue Swallow. Tepee Curios is just across the street, where the moon was nice enough to pose just over the great neon sign (right), and Del's and Kix are just beyond that. Each room at the Blue Swallow comes with a garage right next to it--even the garage interiors are covered in murals, and each room has a working 1939 rotary-dial telephone complete with instructions for those too young to know how they work. Me, I remember, though nowadays who even needs a motel phone. It was a nice touch, though. And the motel has four classic cars that the manager moves around each day, all the better for me (see top photo) and all the other photographers that flock to Tucumcari for the murals and the neon and the Blue Swallow.

---
May 16, 2016    Head 'Em Up, Move 'Em Out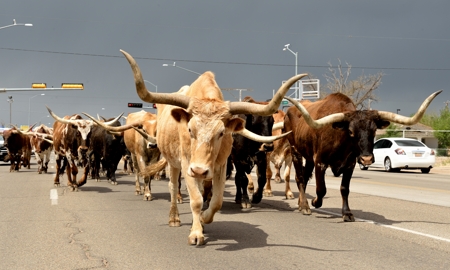 Neither the police nor the cowboys stepped in to stop me from taking this picture. What were they thinking! I guess cultivating my working look as a professional photographer has its advantages. Or disadvantages if I get run over.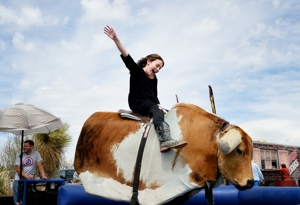 I have just enough experience shooting real cattle drives that I got the photo above without mishap, staking out my spot as close to center as I dared and shooting to the last moment before I would have caused a mess. Two mounted cowboys and two accompanying police officers in their cars watched as I worked. Most of the credit goes to the Texas Longhorns, who were entirely civil and apparently accustomed to parades, such as this one on Route 66 for Rawhide Days in Tucumcari, New Mexico.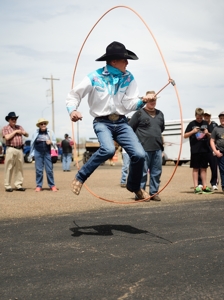 Young Lanie Hammer fared well, too, above, when she rode the mechanical bull at Tucumcari Convention Center. Some of the other kids that tried the same bull were driven to tears.
Lubbock trick roper Brice Chapman performed a couple shows each day during the Rawhide Days festivities that also included live music, a Saturday night dance, food, and a variety of entertainers and booths, many of which had Western themes befitting a festival built around Tucumcari's connection to the classic TV show "Rawhide" that filmed in and around the town for six weeks in 1959, its first of eight seasons on the air. Tucumcari's 1937 art deco movie house, the Odeon, showed first-season Rawhide shows for three afternoons, for free. I enjoyed those on two afternoons, then ordered the first season from Amazon on DVD.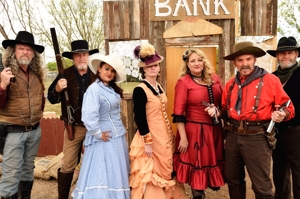 New Mexico Gunfighters, a comic theatrical troupe, came from Albuquerque to present its shows at both the convention center and Tucumcari's history museum, another site of Rawhide Days festivities. Their well-written ten-minute shows were more about laughter than gunfire, although there was some of that, too. A Miss Rawhide Days pageant was held before one of the gunfighter shows and it could have been part of that show, three gals in their 30s and 40s dressed to the Western nines. One of them even fired a pistol; coincidence or not, she won Miss Rawhide Days.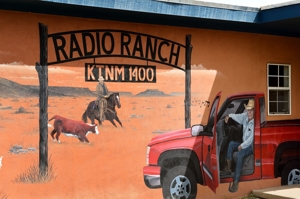 The idea for Rawhide Days was hatched last summer on the air during a program on Tucumcari's Radio Ranch KTNM 1400. The town did an amazing job pooling its resources to produce a great three-day inaugural event--and great publicity. After seeing a notice in True West magazine, I contributed a Chronicle-News preview of the event, then a full-fledged follow-up feature that included these photos and much more. I enjoyed my stay in Tucumcari at the classic Blue Swallow Motel--but I'm going to save that story for my next blog post (above).

---
May 14, 2016    Fort Garland, Kit Carson, and Buffalo Soldiers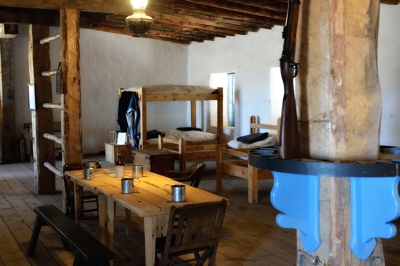 Although Fort Garland ran fourth in my series of five San Luis Valley travelogues in The Chronicle-News, I actually visited it first--and last. It's the first settlement when entering the valley from Walsenburg, but late the next day I discovered a software problem with Nikon's new flagship pro camera, the D5, which I'd used for the first time at Fort Garland. Having discovered the problem, I re-shot Fort Garland with my D4 on the way home. (I got more creative for another lost set of photos, Colorado Gators, which ran fifth in the newspaper series.)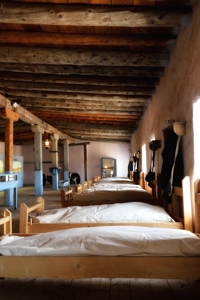 Not only was the Fort Garland Museum worth a second visit, but it's actually worth a third, a dedicated trip Memorial Day weekend for the old fort's annual Living History Encampment all day (9 to 5) Saturday and Sunday. I'm planning to make a day trip out of it, going for a full day of fun and photography one of those days, as re-enactors--men, women, children and animals--camp and bring back to life the frontier fort that was once home to the Ninth Cavalry--the Buffalo Soldiers--as well as Kit Carson and his entire family when he commanded the fort north of Taos in Colorado. For 25 years, from 1858 to 1883--relatively long for a frontier fort--Fort Garland's soldiers negotiated agreements, and disagreements, with the valley's longtime residents, the Ute, who weren't entirely happy about the increasing arrivals of new people in the valley.
Turned into a museum in 1950, much of the fort is still intact, while other parts have been rebuilt. The commandant's house has been furnished to replicate its time as home to Kit Carson and his family, including Carson's front office and this beautiful dining room, set for a Carson family dinner. Josefa Carson would have had help preparing dinner as all the commandants had servants, but young women servants were hard to keep in frontier forts because sooner than later they'd marry resident soldiers.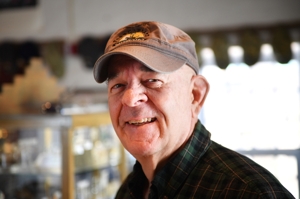 I enjoyed visiting with Jerry Phillips who took my $5 admission and ushered me into the museum's impressive bookstore and gift shop. Jerry and his wife Rita moved to Fort Garland, population 400, ten years ago when their town of Nampa, Idaho, grew too big too fast for their taste. Now they both work at the Fort Garland Museum and explore the region on motorcycles, including occasional trips to Raton where we have mutual friends.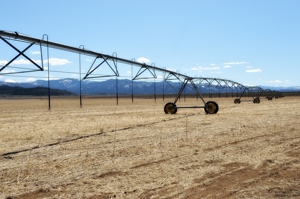 Fort Garland was built near the base of four "14ers"--mountains that top out above 14,000 feet in elevation, so it's a gorgeous site, surrounded on the other side by a valley that produces grains used to make Colorado beers, including Coors. Center-pivot irrigation combines with acequias from the many streams carrying snowmelt into the valley from the Sangre de Cristo Mountains to the east and San Juan Mountains to the west. Just beyond those distant Sangre de Cristo Mountains above are Trinidad, Colorado, and Raton, New Mexico--just a short hop for when I drive back Memorial Day weekend, a great weekend day trip.

---
May 11, 2016    Great Sand Dunes!

My original intention in visiting the Colorado's San Luis Valley was simply to enjoy and photograph Great Sand Dunes National Park & Preserve for a single travelogue feature in The Chronicle-News, but when I learned that the only restaurant within 30 miles didn't open for the season until May 1, I decided against a stay at the park.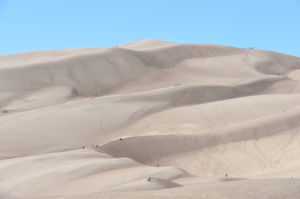 Getting a hotel room in Alamosa, I fanned out from there to explore more of the valley itself, with a full afternoon at Great Sand Dunes. Due to software issues with my new D5, Nikon's flagship pro camera, I wasn't able to use the photos I shot with the 24-70mm lens through the D5 (at both Great Sand Dunes and the next day at Colorado Gators, an issue I'll be exploring at my photography blog this month), so everything here and in my Chronicle-News travelogues--I ended up with five from San Luis Valley!--were shot with the D4. For Great Sand Dunes, that means they were all shot through the long 70-200mm lens--and I lost a lot of great D5 shots thanks to Nikon's software ineptitude.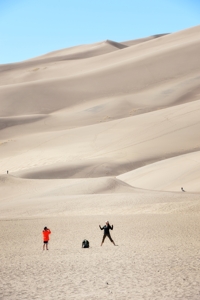 People look like ants in the distance at Great Sand Dunes! Click these images to enlarge them and see the people a little better. The image above has two-dozen people in it, all climbing High Dune that stands 699 feet higher than Medano Creek its base, where I took the photo. There's one dune even higher, Star Dune, but it's beyond High Dune so the only way to see it is to reach High Dune's ridge, a two-hour round-trip hike from the parking area across Medano Creek.
I'm fond of this photo, at left, of a mother and son taking photos of each other with High Dune as their backdrop. With my telephoto lens, I was a couple hundred yards away across fine sand or I would have offered to take a picture of the two of them with their phone camera. As it is, I like this one a lot, though they're unlikely to ever see it. (I did post it to Instagram, where I'm hilocountry and where it got a lot of likes.)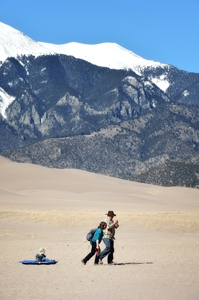 How I love this shot at the right. It would have been a lot harder to take if I'd been close. The long lens pulls the mountains in close but it also allows me to sneak an intimate glimpse of the family--the woman carrying their heavy daypack and a second bag while towing their child on a sand sled, all while the man carries only the cell phone that has his full attention. On Instagram I captioned this "American Family: Division of Labor." I wonder whether this marriage will last long.
My Chronicle-News feature includes a photo of a young man skiing at high speed down a steep dune, obscured by a cloud of sand he's kicking up as he crashes. There's also a photo of a sand ski I designed and made 53 years ago (!) for skiing down the dunes at Broome's Beach between Malibu and Ventura, near where I grew up in Pacific Palisades. It's still up in the rafters above the family garage, where my brother pulled it down and photographed it for me.
In the parking lot, I counted license plates from 17 states, fully one third of the United States--and this was weeks before the only restaurant even opened for the season. I lingered after the parking lot started emptying, people heading home or to Alamosa, so that I could photograph the park in the long shadows and golden light of late afternoon. Here I put chamisa in the foreground to catch the light and balance the shadowed dunes in the distance. It gives a good view of the park: Shot from the north parking area, it shows Medano Creek and the dunes beyond. During the spring everyone has to cross Medano Creek to get to the dunes. The rest of the year the creek is dry. The creek in spring varies by the hour but I had no trouble crossing it in hiking boots, while others seemed to especially enjoy crossing barefoot. Whether looking or playing, Great Sand Dunes is a great place to see and enjoy.

---
May 9, 2016    Why Photographers Need Alarm Clocks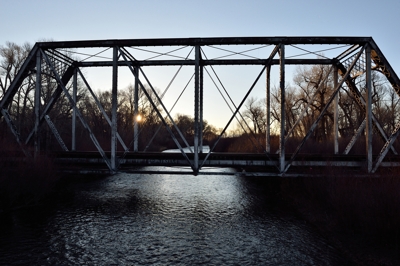 A landscape photographer said, in an interview I saw last week in a photography magazine, that his most important photographer's tool is his alarm clock. Not a camera or a lens, but an alarm clock. He professed to like being up and out before dawn to catch the day's first light. I don't particularly like awaking in the dark to an alarm, but I do it. Often.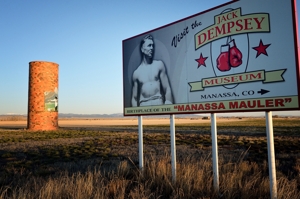 The low sun of first or last light is warm and golden and lovely. It throws long shadows. Since photography is literally "light writing," it behooves us to set an alarm and be out where the pictures are before the sun comes up. That's where I was for these first three shots on a Monday morning after leaving Alamosa to drive southward to Antonito, then west to San Luis, a magical drive--especially at that early hour--and my favorite of three days exploring southern Colorado's San Luis Valley.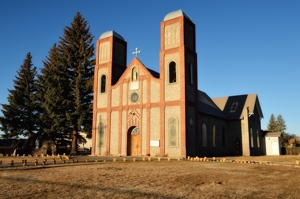 I'd been watching for the sunrise when it arrived as I sped southward over a low bridge beside a railroad trestle over the Conejos River. I braked and backed up for the sunrise photo. Minutes later I turned around and drove back to get the Jack Dempsey Museum billboard, a photo that works only because of the great light. And then I saw a modest sign pointing west down a small lane to Conejos, Colorado, population 58. It said "Colorado's oldest church." There, across from a small square with post office and county courthouse, was the magnificent Our Lady of Guadalupe Church (est. 1858) catching the early morning sun.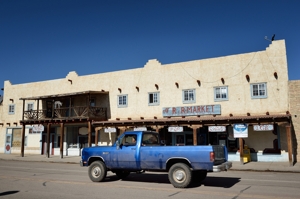 After an enjoyable early-morning amble around Antonitio--see my Chronicle-News travelogue for many more photos and stories including Antonitio--I headed west, past world heavyweight boxing champion Jack Dempsey's boyhood home and museum at Manassa, past a herd of 15 wild horses (whose photo I posted here on April 11), to the bucolic farming town of San Luis, population 629--where I found lots of old men in old pickup trucks. This one's cruising by R&R Market, established in 1857, making it Colorado's oldest business.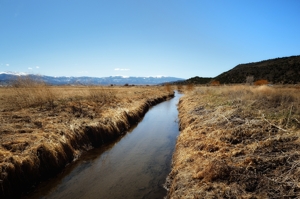 The state's oldest acequia is San Luis' "People's Ditch," dug by the first settlers in 1852, a year before they established their church. A huge wide valley nestled between the Sangre de Cristo and San Juan Mountains, the San Luis Valley benefits from many rivers, like the Conejos, that roar down from the mountains with snowmelt every spring, just in time for the planting season. This entire Monday morning drive across the southern reaches of the valley is only two hours from my home across the New Mexico line in Raton. I can hardly believe that it took me so long to get there--my whole life--but I'm already looking forward to getting back.

---
May 7, 2016    Among the Cottonwoods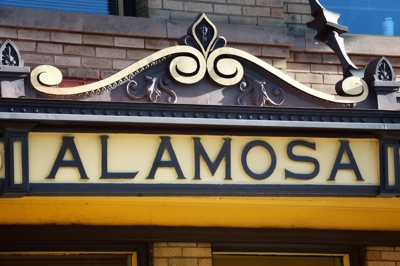 Although my Raton home is only 130 miles and two hours from Alamosa, Colorado, I'd never been to Alamosa until last month. My bad! But now that I know, I'll be back--sooner, and many times. Alamosa is a Spanish word meaning "rich with cottonwoods," and the big trees line the wide river running right through downtown--the Rio Grande River near its headwaters in the Colorado Rockies. I had no idea that the Rio Grande started so far north of New Mexico.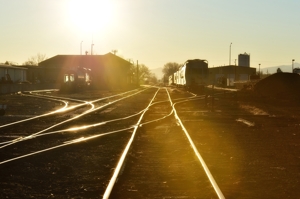 The sign above faces the railyard from the city building in the left distance here as the sun rises over it. In summer the yard comes to life as the Rio Grande Scenic Railroad runs a daily tourist train to La Veta and back, but in April I found the yard deserted. A sign said "Stop: Men at Work," but I was the only one around until a homeless man named Barry ambled through. We had an enjoyable conversation about which San Luis Valley sights I shouldn't miss, and I gave him $2 that he walked a block to Main Street for a coffee at Milagros.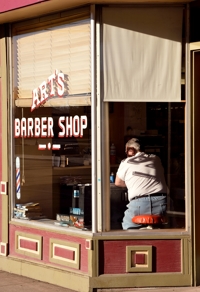 I'd set a pre-dawn alarm at my hotel in order to get photographs in the golden light of morning, which worked well for the railyard shot above. (Click any photo to enlarge it.) My favorite is this quiet photo of a man, presumably Art, working at his counter in Art's Barber Shop at 7 o'clock on a Sunday morning, the streets outside absolutely deserted. My guess is that he was preparing his tax return, which was due a week later, but I didn't stop to ask. I kept walking, looking, shooting.
With 9500 people, Alamosa is the heart of the San Luis Valley, located in its center and the only town with more than a few hundred people in an agricultural valley 120 miles long and 70 miles wide, 8000 square miles bounded by the Sangre de Cristo Mountains to the east and the San Juan Mountains to the west.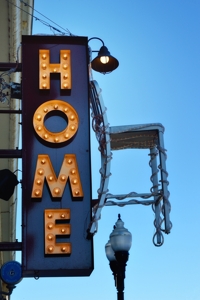 As I drove south toward Antonito and San Luis at dawn the next morning, long lines of cars were inbound to the city as people commuted to Alamosa to start their new work weeks. The jobs are in Alamosa. So are the restaurants and stores, including Alamosa Home, a home furnishings business that still had its sign lit on Main Street at eight on Sunday morning, which made this photo work. Saturday night Main Street's three one-way lanes were packed and parking was at a premium as I found my way to San Luis Brewing Company for a late dinner after shooting photos in the valley until after sundown. Their own amber ale was the perfect cap to the long day, and a harbinger of more good things to come as I continued to explore the San Luis Valley. By the time I got home, three days in the valley had given me enough good material to create five big Weekend Edition travelogue features for The Chronicle-News, which are available here.

---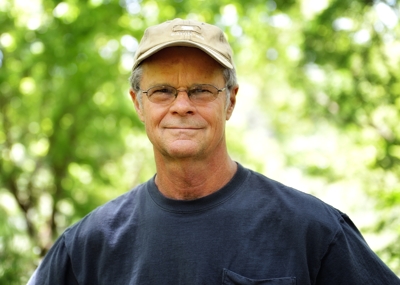 My wife Christina Boyce and I each have new portraits thanks to her turning my camera on me after I'd photographed her last week alongside the Colorado River in East Austin, a short trail walk below our lovely Airbnb casita. Christina shot my last good portrait, too--just before we moved to Raton almost four years ago! It was time for a new one.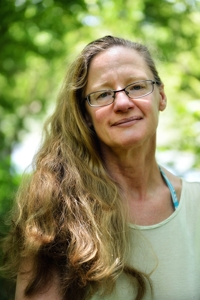 It was 82 degrees under all the trees, the Colorado perhaps 80 yards wide and carrying an immense amount of water by us as turtles sunned themselves on downed trees. Back home in Raton it was probably in the 70s, but that was then, this is now: May Day has given us a blizzard with high winds carrying snow and the midday temperature hovering around 30. We grilled steaks on the deck a few days ago. Today the red tulips and blue grape hyacinth look lovely standing in the white snow, in a normal northern New Mexico spring. It's fun looking at these new portraits as they recall last week's warm riverside Austin afternoon, although in a few days it'll be just as nice here, again.

---