---
June 22, 2016    Unauthorized Use: Image Copyright Infringement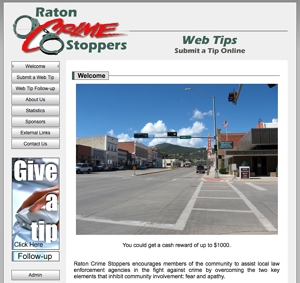 The same digital technology that revolutionized photography has also led to a fiasco in copyright management: people casually take any image they want and put it to their own use, without permisson of the creator-owner of the image. It's easier than shoplifting and prosecuted less often, but it's still theft and potentially far more risky given the legal costs, legal penalties, and the certainty of losing a lawsuit.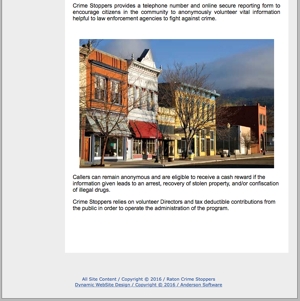 It's easy for a photographer to prove that an image is his. In my case, I have the original digital file with date and time stamp, then I have processed versions and emails and web posts sending them into the world, all with date and time stamps. I also embed EXIF data in every digital file that includes copyright, camera data, title, tags/keywords, and more. I don't usually watermark my copyright because most of my work is published in magazines and newspapers.
Photos in publications shouldn't, and generally don't, show watermarks. Watermarked copyrights are easily removed through cropping or cloning, so I prefer not to apply them to my photos except in limited instances.
I work hard to produce my work, with investments in equipment most people couldn't imagine and huge investments of time, including countless predawn alarms or lost dinners spent out catching the light, then countless hours at the computer. I take entire trips to far-flung places, spending days, just to get my photographs. One might see it as a compliment or a recognition of talent, but my photographs are increasingly being used without request, permission, credit or payment. The new Raton Crime Stoppers website uses my increasingly iconic photograph of Raton's Historic First Street, shot originally for my 2012 "The Heart of Raton" feature in New Mexico Magazine and published in the magazine three more times just this year. It spent 2014 as the cover of the local telephone directory, the cover of the Raton portion of Enchantment: Visitors Guide to Northern New Mexico, Winter 2014-15, and it's been licensed other times by New Mexico True and other clients. Each use was requested, credited, and the license paid.
The man who used my photo for Raton Crime Stoppers responded to my letter by saying, "We were under the mistaken impression that the photograph in question was 'in the public domain.'" He is a local man who knows me, knows I'm an actively working professional photographer, and knows that I took this photograph. Because my photo has been so successful that he's seen it many times, always credited to me, he apparently decided he could simply take it. He even added his own copyright notice, claiming ownership of my image. I quoted him my standard rate to license his use of the photo in his website, and gave him the choice of licensing it or removing it. He did not reply. Two weeks later, he's still using the photo.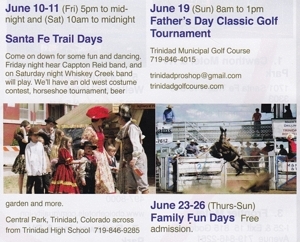 Earlier this month New Legends Magazine used my photo of an airborne saddle bronc rider and his airborne horse at last September's Trinidad Round-up Rodeo. Again no request, no permission, no credit, and no payment. But this case went better: the editor of the new magazine--who said the local newspaper manager told him that he could use my image from the newspaper's files (that's another story)--negotiated a fix that adds my credit to future printings and will lead to some paid projects that I'll do for future issues.
Other cases of unauthorized use have not gone so well--Raton MainStreet, Raton Arts & Humanities Council, and Albuquerque-The Magazine come to mind. No doubt there are others farther away that I simply haven't discovered. The aforementioned newspaper manager told one of the offending groups about the lawsuit that her newspaper defended and lost. A local photographer sued for $100,000 for unauthorized use of her photograph, provided to the newspaper by the local junior college. After piling up four years of legal fees, the newspaper had to pay the photographer $1000. Ever since, it's been extremely careful to avoid image copyright infringement.
Discussing all of this with Michelle Monroe last week at Santa Fe's Monroe Gallery of Photography, she told of a photographer she knows who received $50,000 in an image copyright infringement case. The web has many other cases (this one for $8000); my longtime membership in National Press Photographers Association (NPPA) comes with a monthly subscription to the great News Photographer magazine that catalogs such violations and court awards every month.
I'm meeting with an attorney in early July to discuss the growing dilemma of the theft of my work. My first goal will be proactive, how best to prevent unauthorized use from happening. Then I'll ask how to respond when it does happen. Finally, I'll ask how a image copyright infringement lawsuit will work if or when it reaches that point.
That gives Raton Crime Stoppers twice as much time, two more weeks on top of the two they've had, to decide what they're going to do about my photograph on their website.

P.S. - "In 2013, a federal court jury found that Getty and Agence France-Press had 'willfully infringed' a photographer's copyright on eight photos from the 2010 Haiti earthquake that the photographer posted on Twitter, but had been reposted without permission by another photographer. Getty conceded liability and, along with AFP, was slapped with $1.5 million in damages."  In a new case, Getty is being sued for one billion dollars for another copyright infringement. See the LA Times feature July 29, 2016, here.
---
My "Clovis Train Yard" was installed months ago in the waiting room of the Orthopaedic Clinic at UNM Hospital in Albuquerque but, as often as I get to Santa Fe, I don't often get to Albuquerque. I finally made the trip Friday, two birds with one stone: I'd photograph my photograph inside the waiting room, then I'd go to an Albuquerque Isotopes pro baseball game. I arrived at the Orthopaedic Clinic at 4:55 p.m. Friday afternoon--only to find the clinic looked up tight. It's open only M-F 8:00-4:30. Who knew? I arranged for Security to come open it for a quick picture, but the boss then said it wasn't allowed without the director's order. Alas.
I was able to shoot through a window toward my photo down there to the left, above the chairs. The print is 20"x30" in a 32"x42" frame. The sale was accomplished through New Mexico Arts (NMA)'s Art in Public Places (AIPP) program, my fifth sale and public installation through the unique and wonderful program.
I'd hoped to put two children in front of the photograph, looking up at it so they'd be seen from behind. I'll still hope to get that photo--next time I'm in Albuquerque. During a weekday.
---
June 20, 2016    An American Block...and Gallery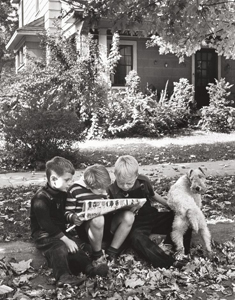 Several times each year, every time I'm in downtown Santa Fe, I make a point to visit Monroe Gallery of Photography where there's always a new show of classic black-and-white photojournalism. When the 9/11 World Trade Center bombing closed their NYC gallery in 2001, Michelle and Sid Monroe moved from NYC to establish this absolutely unique gallery in Santa Fe's ever-thriving art market. They take a booth to all the big national photo conferences and exhibitions, but one of them is always there at the gallery on Don Gaspar Street.
I visited twice last week for the Alfred Eisenstaedt show. Actually, once for the show and a return visit just to spend more time savoring Eisenstaedt's "An American Block, Hamilton, Ohio, 1943." I'd never seen the image; it's not in my big bookcase full of photography books, not even in the four-pound 1980 coffee table book Eisenstaedt: Witness to Our Time. Click the image above to see how rich it is, each of the three boys fixed with different levels of intensity on the shared newspaper (they're reading the comics!) while the dog looks over his shoulder at the boys, all framed on an American block with sidewalk, parkway, lush trees (in autumn, fallen leaves everywhere) and an American house. It's a gift that keeps on giving, and a perfect photograph. You can look at it here, a small digital representation, but for six more days, through January 26, you can still see the glorious 16x20 silver gelatin print at Monroe Gallery.
---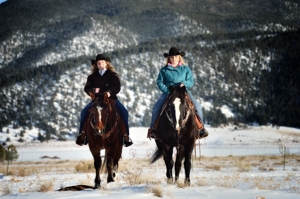 Years ago I had much of my garden wiped out by a June 8 freeze (and this year already by three hailstorms), but I've never seen June snow in Colorado or New Mexico. Nonetheless, most of my photography for June's "Sweet Hearts of the Rodeo" had to be shot over the winter when there was no escaping the snow. Rodeo queen programs occur throughout the summer so Western Horseman editor Ross Hecox and I agreed that June is the perfect time for our feature examining the state of rodeo queen programs nationally. It wasn't conceived and assigned, though, until late fall, so my photography has snow--lots of it.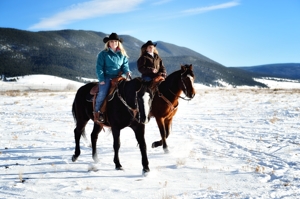 My first feature collaboration with my wife, Christina Boyce, and her first byline in a national publication, I've just posted "Sweet Hearts of the Rodeo" here at Tim Keller Arts, and blogged about the manuscript and revision process, with additional photos, here at my arts blog. Here on my photography blog I want to share the photos that were too snowy to make the cut and talk about how the editors handled all that snow for a summer issue of the magazine.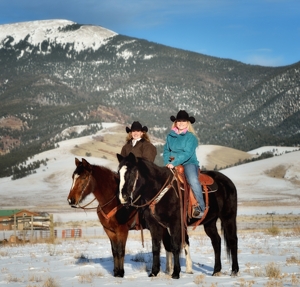 I offered to shoot the Miss Rodeo New Mexico contest in Clovis the first weekend in June, but that would have delayed the feature until fall when most of the rodeos and queen programs would already be past. Instead, the editors worked their archives and phones, coming up with photos by other photographers to supplement my photography. That made a better feature, although it lost me the "Photography by Tim Keller" byline, putting tiny individual photo credits down in the fold instead. I read all of those photo credits when I read magazines, but I doubt that many others do. (My experience is that most people don't look at the bylines under the titles, either.)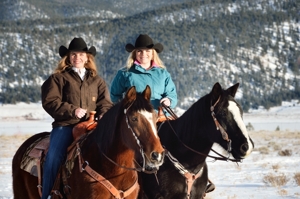 The photo at left, of sisters Ashlee Rose Mills and Janna Mills horseback at home in Eagle Nest, is the only one of the snowy photos here that made it into the Western Horseman feature. My Labor Day photo of Trinidad Round-up Rodeo queens Anne Sporleder and Micheli Walton made the magazine (and my TKA blog here) but their snow photos below didn't. I took them at the Walton ranch high in the mountains along the Colorado-New Mexico border. To help them fit a June feature, I purposely opened and closed the narrative there with the girls riding over the snow. For that reason alone--matching photos to text--I was surprised to find these photos missing.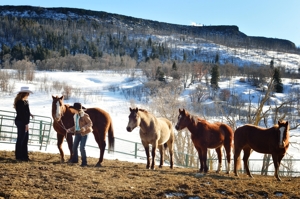 Ironically, Western Horseman always has trouble getting enough good submissions of winter photos for its annual wall calendar, so I've submitted the best of these and with a little luck the girls and I may get ourselves into the 2017 calendar.
Another strategy the editors tried was for me to stage photos to look like they were taken at an actual summer rodeo. In March, Christina and I met Ashlee Rose and Janna Mills at the Trinidad arena for another try. I discussed that shoot and posted four of those photos here on the TKP blog.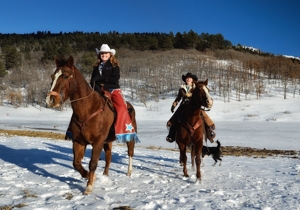 My "summer" queen shots of Janna weren't published the way we'd envisioned, but I love what the graphic designer did with them. Every page of the feature has a queen of hearts playing card: that's Janna on the card, the queen of hearts! That typifies the work of both art and editorial staff at WH, making it one of the country's great magazines and making me always proud to be published in Western Horseman.
---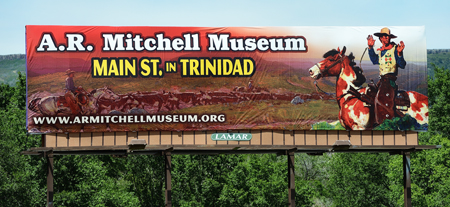 This new billboard went up along I-25 last week, the last billboard heading north out of Raton toward Trinidad, and that very afternoon the A.R. Mitchell Museum received a call and a visit from a French painter of American Western scenes who was headed north and saw the spanking-new billboard. He posted a photo to his Instagram account where he has 27,000 followers.
The Trinidad Trolley now makes regular stops outside the museum as the tour guide tells tourists about "the Mitch." I'm proud of the work my wife, museum director Christina Boyce, is doing for the Mitch and Trinidad, along with her great and active staff, volunteers, and board led by president Suz Porterfield who is responsible for the great new billboard here in Raton.
---
May 30, 2016    Packing Up the Past at Fort Garland
My friend Peter Burg and I enjoyed a Sunday drive yesterday to Fort Garland where we waited in line for Old West Cafe's chile relleno plates before heading over to the old fort, now the impressive Fort Garland Museum, for its annual weekend Living History Encampment where re-enactors recreate life at the fort circa 1858-1883.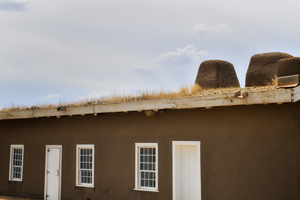 We were disappointed to discover that most of the action took place Saturday; by the time we arrived shortly after noon on Sunday, many of the re-enactors had already left and the others were either packing up or hanging out. That was unfortunate for an event billed as two days, and one which I promoted in my feature last month on Fort Garland. We made the most of it, Peter touring the various buildings while I snagged a few stock photographs, and then we returned to the two-lane highway for a perfect spring-to-summer day trip by two best friends.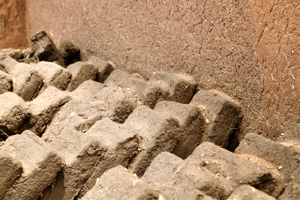 With only a few re-enactors around to photograph (top), I looked closer for images missed when I visited twice before, two months ago, in a very different season. I like how the cactus and grasses are growing on the rooftop, above, as though they were on the surrounding high-desert prairie itself. Across the courtyard, past a cannon that had been recently fired, I found a stack of old adobe bricks trying unsuccessfully to join an adobe wall but instead returning inexorably back to earth. Even while re-enactors packed up and adobe bricks returned to dirt, the rest of our 200-mile day trip was characterized by joy and new growth and the arrival of summer, my favorite season.
---
May 27, 2016    Nikon Software -- Comparing Old to New
Capture NX2 vs. Capture NX-D
View NX2 vs. View NX-i
I resisted writing about this transition until I emerged from a long and frustrating morass, complicated by the fact that I'm a working photographer who had no idea when he bought the new Nikon D5 that he'd be thrown into installing entirely new photo-processing softwares--and doing that first required uninstalling all of the old Nikon softwares from my workstation. I had to dedicate a retired Mac Pro desktop computer to the old software in order to still have access to it. I had to clear my schedule of work, which took two to three weeks before I could make the transitions to the new softwares and then the new camera. The softwares were initially unstable and the D5 so new that Nikon software support took weeks to solve the problems. The images above are the first two published images from my D5, four months after prepaying for it and two months after receiving it. (May 13 and 19 posts immediately below share some of the path. Additional D5 jeweler shots and discussion are here.)
In a nutshell, I'm using View NX-i about the same as I did its predecessor View NX2, which is for sorting and selecting images, and occasionally accessing information about an image--date, time, camera, exposure, and so on. I got mired in studying the manual trying to make View NX-i into more. Once I found this Nikon India video, I jumped instead to Capture NX-D for everything beyond sorting. Both new softwares abandoned their predecessors--and neither is backward compatible, creating a mess for my work of the past eight years--so I had to start from scratch with each, reading the manuals and learning by trial and error.
Here's what appears to have happened at Nikon. Capture NX and then Capture NX2 were developed in collaboration with NIK Software, using NIK's control points and accessing NIK's Color Efex Pro filters. Almost four years ago, Google bought NIK. I assume that Google gave Nikon a time period in which to pull all of the NIK tools from Nikon's software. That's why the new softwares can't be backward compatible, and not really Nikon's fault. Additionally, I was told by a great Nikon software tech (Dave B.), the new cameras have capabilities, especially in 4K video and the like, that simply can't be supported on the framework of the old softwares. They had to start from scratch. I wish they'd kept more of the old design to aid the transition for photographers like me--I've been using Capture NX and NX2 for almost nine years.
Capture NX-D has lost control points and access to Color Efex Pro filters. I used the control points extensively: You select a spot and determine a circle radius small or large from that spot, then you can increase or decrease brightness, contrast, and/or saturation on everything of that center color within the circle. The dark shadow on a face under a cowboy hat is a great example. Because I've abandoned the use of flash, I'm often able to use control points to help direct light in post-processing.
In Color Efex Pro, I tried its dozens of filters and rejected all but two, which I use extensively. Darken/Lighten Center works similarly to a control point but is essentially a broader brush. I use it like post-processing flash, to control light. Secondly, about half my images get Glamour Glow at 15%, or sometimes adjusting between 8% and 25%: It provides a soft subtle glow that can be quite attractive. My goal is to use it sparingly enough that no one sees it and immediately recognizes that I've used a filter. It shouldn't draw attention to itself. And on the other half of my images, it doesn't look good at all.
With Capture NX-D, I export each image and now have to use Photoshop for control points and/or Color Efex Pro (NIK filters are now available in Photoshop at no charge), or I can network it into my old Mac Pro and finish the images in Capture NX2 where I'm more nimble and comfortable. In the long run, though, Capture NX2 is no longer supported by Nikon and its days (or I hope years) are numbered, so I expect to transition more to Photoshop. On August 1, Adobe is releasing a "classroom in a book" for its Lightroom + Photoshop CC for photographers. At that point, I think I'll make the leap to Lightroom and transition my Adobe CS5 to their subscription web-based Adobe CC. Meantime, I take every image through Photoshop before it leaves my computer, but usually only to add EXIF data (File: File Info) like copyright, title, caption, identities, and keywords / tags.
Finally, there's much that I like about Capture NX-D. Adjustment of exposure and white balance are the only two that really need to be done here for Nikon's NEF RAW images, and they now join some other adjustments with quick easy sliders. Exposure of RAW images could previously be adjusted up or down two steps--indispensible--but now they can be adjusted up or down five steps, simply amazing. I wish auto white balance was more accurate in the Nikon cameras, but it's inaccurate often enough that I use Capture's white balance adjustment on more than a quarter of my images. Tools for straightening and cropping are much advanced in NX-D, with cropping now able to keep any designated aspect ratio, or free crop as you had to do in NX2. Holding an aspect ratio is helpful in laying out web images, and would help people who buy pre-made frames.
So, I've made my peace with Nikon's new softwares. I'm now working in both and have a workflow that will improve and evolve over the coming months. I'm ready to update my Macbook Pro laptop computer to the new Nikon softwares for travel, which will leave only my 2009 Mac Pro with the NX2 softwares for working with my past images (see below) -- but I have to wait for Nikon to update its new softwares to Apple's recent OS X 10.11.5 El Capitan update. Nikon should respond to each Apple OS X update within days but no. They take weeks, or more. As I said below, Nikon is dedicated to its cameras and lenses but doesn't see itself as a software company. That's another reason I'm looking ahead to the Adobe Lightroom + Photoshop CC subscription -- Adobe is dedicated to software and has a great record of keeping every advancement backward compatible.
Me and Nikon, it's sometimes a shaky marriage, but we're married for life.
(P.S. January 2018 - Jump ahead 20 months: We're divorced. Click to learn why no Nikon photographer should stick with Nikon software. Get Adobe Lightroom with Photoshop...much much better.)
---
May 19, 2016    Nikon Software -- Back to Square One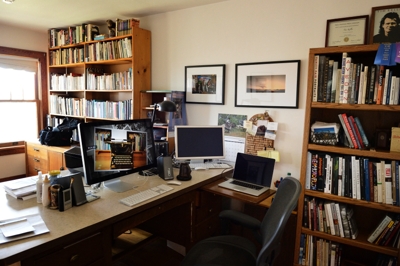 Look closely and you'll see three computers. (As always, click any image to enlarge it.) I had only a desktop computer until, 18 months ago, I added the Macbook Pro for the road. Five months ago I replaced my 2009 Mac Pro, giving me a hint of what was to come when I couldn't upload Nikon images directly into the new Mac Pro running El Capitan OS X 11. I created a work-around, uploading through the laptop running Mavericks OS X 9, then networking into the new Mac Pro where I was able to process photos on my big monitor in Capture NX2.
In late March I took the just-released Nikon D5 to work on a San Luis Valley road trip, shooting two cards of images before I discovered, in my hotel room, that they wouldn't open at all in Capture NX2, which I'd used for eight years. I'd tested the D5 at home through Transfer 2 and View NX2 but not into the final step, Capture NX2. Bummer.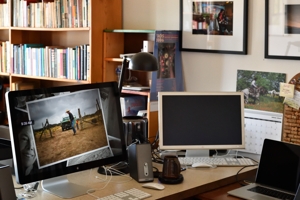 Long story short(er), I lost those initial images and only this week, almost two months later, have I finally been able to use the D5 for work, shooting a feature I'm preparing for next week's Chronicle-News. I worked my way up the ladder at Nikon software tech support, finally reaching the highly competent Dave B. who wasn't able to retrieve the lost images, even though I could see them in View NX2 (see May 13 below to see how I jury-rigged and used some gator images in the newspaper after all), but eventually he was able to help me create a new workflow. It tooks weeks and help from "Japan" (Nikon corporate) and adding my old Mac Pro (with OS X 10) so I now have a workstation that relies on three computers.
I'd seen or heard nothing to warn me that I'd encounter this mess when I bought the D5. Nothing in the D5 sales literature warns that it won't work with anything but the new Nikon software. Luckily I'd planned to keep the D4. The plan all along has been to carry the 24-70mm lens on the D5, the 70-200mm lens on the D4, so I have both ready and avoid lots of lens changing.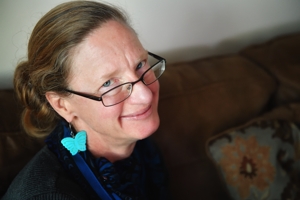 Here's what happened at Nikon. It collaborated with NIK Software in designing Nikon's original NX software, incorporating NIK's control points and filters. Almost four years ago (I didn't know until last month), Google bought NIK and apparently forced Nikon to strip the NIK tools from Nikon software. Last year Nikon switched to View NX-i and Capture NX-D, fully abandoning the old software. Necessarily, the new softwares are not "backward compatible" (a term I learned last month) with the old, because of the NIK tools. So, the new software won't let me work with any images I've shot over the last eight years, unless I strip them back to the RAW image and start over. Worse, the new software can't work in the same computer where the old software still resides. I've had to strip the old from my new Mac Pro. I was exasperated trying to learn the new software, actually a three-software suite, until I found a YouTube demonstration video from Nikon India that suddenly made it clear and relatively easy.
Dave had me resurrect my 2009 Mac Pro to run the old NX2 softwares so I can work with my past photos there. Also, since the new softwares lack NIK's control points and filters, I can network partially processed new images (in TIFF or JPEG form) to the old Mac Pro and get the NIK features in Capture NX2 there. I also have the NIK tools in Photoshop CS5, where I take each image to embed EXIF data (copyright, caption, tags/keywords, etc.) and usually little else. For the future, I'm considering adding Adobe's subscription Photoshop with Lightroom. I find Capture NX2 more user-friendly for the time being.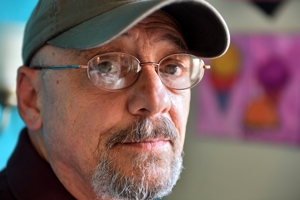 What I've learned is that Nikon corporation is dedicated to (great) cameras, and secondly to lenses, and barely at all to software. It's not a software company. That's why I'll be wise to learn Lightroom and Photoshop. Adobe is dedicated solely to software and has a great record for supporting its past softwares: each step forward is backwards-compatible. And it has all of the NIK tools available with no added cost. I'm about to update my laptop to El Capitan and the new Nikon softwares so I can upload and process images from any of my three Nikon cameras (I still use the D300, too) while on the road--where I'll have Photoshop but not Nikon's NX2 for control points and filters. The 2009 Mac Pro will be my only option for working with my old images, which is important: I average one license per week where someone pays to use one or more of my images, and of course so far they're all images made with the old Nikon software. After newspaper and magazine work, licensing images is the next biggest part of my business.
The portrait above of my wife, Christina Boyce, was one of the countless quickie test shots made along the path to having the D5 online and ready to go to work. The portrait of Joe Spicola will be my first D5 shot to be published, and the first I dared to rely on the D5 for work. I shot Joe and his business, Anthony's Jewelers in Raton, for a feature in next week's Chronicle-News. It's been a long, exasperating path--two months!--but the D5 and I are finally working together. I'm well along the path to a new workflow that includes the new (and old) Nikon softwares. I've been angry as hell with Nikon but we've made up and we're moving forward together.
(P.S. Read the post immediately above this one, on May 27, and also this January 2018 post on why I finally bailed on Nikon software and arrived happily at Adobe Lightroom, with Photoshop.)
---
May 13, 2016    Nikon & Jury-Rigging & Alligators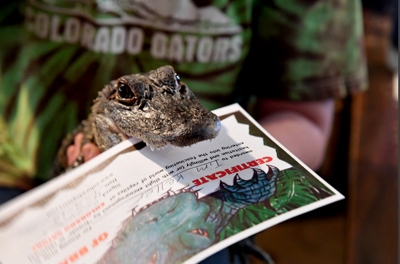 This is a first. The photos in today's Chronicle-News travelogue to Colorado Gators almost didn't happen. Colorado's San Luis Valley was my first trip with the new Nikon D5 flagship pro camera. I shot at Fort Garland and Colorado Gators before I tried processing this one (above, Stumpy "validating" my Certificate of Bravery) in my Alamosa hotel room to send to Cathy Moser, the Chronicle's features editor who'd giddily suggested Colorado Gators.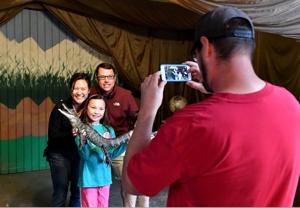 The image wouldn't open in Nikon's Capture NX2 processing software that I'd used for eight years. Panic. Panic that modulated but didn't end for six weeks, until Nikon and I finally seem to have resolved a host of problems -- yesterday. I'd uploaded these images via Nikon Transfer 2 and View NX2, which I'd tested before leaving home with the new camera. I hadn't thought to process the test images all the way through Capture NX2, alas. I could now see the images in View NX2, but couldn't do anything with them.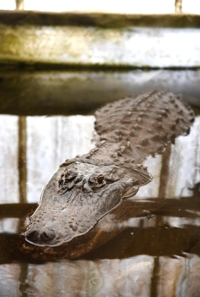 Long story (six weeks) short, I worked my way up to Dave B. at the top of Nikon's software support staff outside Philadelphia but even he was never able to help me save the two cards of images, despite the fact that the RAW digital files looked identical to ones shot with my D4, with .NEF suffixes, and despite the fact that in View NX2 I could see the images and their digital data such as exposure and time. Dave even got help "from Japan"--Nikon headquarters. Not enough.
I was vaguely aware that Nikon had replaced View NX2 and Capture NX2 with what turned out to be View NX-i and Capture NX-D (go figure). The old softwares still work fine in my computers. What I didn't know was that the D5 is not "backward compatible" (a term I've since learned) with the old software. Once I ran its images through View NX2, I'd never be able to process them in the new, or the old, Capture software. Of course I'd cleared the memory cards after each gig. I tried recovery software for the Sony XQD cards but it worked only with PC computers.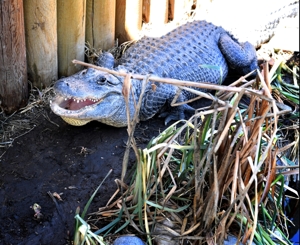 In my next blog post (above), I'll talk about the new Nikon software and my hellish six-week transition to it; here I want to tell how I freed these photos to be seen both here and in today's newpaper. It's a triumph of jury-rigging (and should be an embarrassment to Nikon).
In order to save a good feature, I was planning to spend an entire day driving back to Colorado Gators just to re-photograph it, losing money and a day. (I'd re-shot Fort Garland with the D4 on my way home from the original trip, saving that feature. See my TKA blog posts on the other four features here.) Then I got an idea, and it worked, sort of. I'd already had to clear my primary MacPro desktop computer of all the previous software in order to move toward using the D5, but I've kept the old software on my Macbook Pro laptop and I called out of retirement my 2009 MacPro desktop computer to run the old software, too.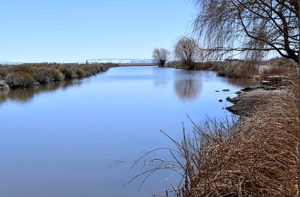 I expanded each image to fill the screen in View NX2, then I used Grab to get a screen capture of the image. I converted each of those to JPGs. I could only get about 1 megabyte from each, and they weren't very sharp, but I ran them by Cathy and she said they'd do fine in the newspaper. Voila. Usually my images move from NEF/RAW to 92MB TIFF images that I reduce to 2-3MB JPGs for the newspaper. (For magazines, I send the full-size TIFFs.) These screen-grab gator images are lo-res but good enough. Good enough to have saved me an all-day drive and a feature that Cathy says is her favorite of the five-part series. Praise jury-rigging.
---
May 11, 2016    ATX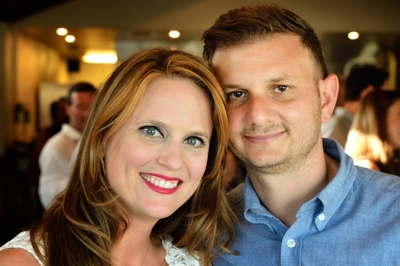 Since I took this photo of my daughter Darcy Day Keller and her beau Jarrett Lambo at their wedding-rehearsal dinner at Austin's El Meson last month, they've married, honeymooned in Greece, and become homeowners of the top two floors of a beautiful old brownstone in their Brooklyn neighborhood--with full roof privileges where they plan to immediately plant a garden after they move in June 1. (I'll be planting mine in northern New Mexico a few days before them, despite the fact that one year I lost a lot to starters to a late freeze on June 8.)
Among Darcy's longtime best friends and bridesmaids at the wedding rehearsal at Austin's Barr Mansion were Sophie Sutherland, who was one of several people that flew in from London, and Austin local Emily Van Eck (right). I didn't take my camera on wedding day--I had some official roles that day--so I'm looking forward to seeing the photos from wedding photographer Carli Rene of Inked Fingers Photography, including ones of me walking Darcy down the aisle and, later, our first dance and our singing two duets in front of Austin alt-country band Rosie and the Ramblers on the stage.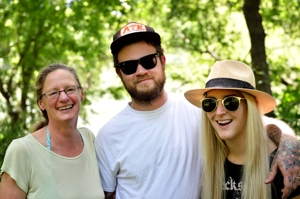 My wife Christina and I enjoyed four days in an Airbnb casita above the Colorado River in East Austin, where I practiced singing and dancing with Darcy on the night we got in (after dinner at Fonda San Miguel), and where my only nephew--my brother's son Killian Keller--visited earlier on wedding day with his wife Brooke Keller. Like Darcy, both Killian and Brooke grew up in Austin. I enjoyed getting this portrait along the river--Christina, Killian and Brooke. I took individual portraits, too, including one of Christina. Then she turned the camera on me. You can see our his-and-her portraits here at my arts blog, from deep in heart of Texas.
---
May 9, 2016    Change Happens
I didn't know when I bought Nikon's new flagship pro camera, the D5--prepaid in January and delivered in March--that it required a new Nikon software that is not backwards-compatible with the Nikon software I've used for eight years; in fact, the new can't even co-exist in the same computer with the old. Rather than being an improvement, the new software is actually a retreat, demonstrating Nikon's lack of interest in software. Meantime, I still haven't been able to use the D5 as I've used up countless hours working toward that ability. Much more will follow here as I finally get up and running with the D5--soon, I hope.
I had to leave the D5 home and take the D4 to Austin to shoot my daughter Darcy's wedding preparations. I posted some initial images at the end of April on both blogs (photography, arts) and immediately below on May 1; I'll be posting a few more here this week, beginning with this gallery of beautiful women, Darcy and her friends gathered from around the country. Clockwise from top left are Darcy's former University of Texas roommate and best friend Sara O'Leary with Darcy; Darcy's new sister-in-law Catalina Lambo; Darcy's wedding photographer and friend Carli Rene of Austin's Inked Fingers Photography; and another of Darcy's best Austin friends dating back to UT, Crystal.
---
May 1, 2016    Happy May Day!  And Blizzard.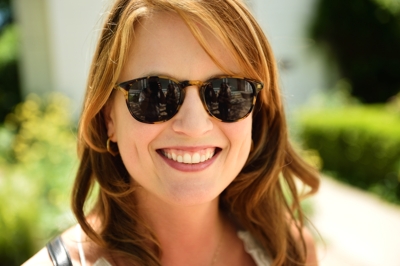 May Day dawned at home in northeastern New Mexico with a blizzard carrying snow horizontally past all the new spring growth and color outside. It's gorgeous. And I'm happy to hibernate indoors after the month of April spent traveling more than half the time, in three states, and writing seven full-page travel features for The Chronicle-News, each with about ten new photos reproduced beautifully in the newspaper's web editions, available here.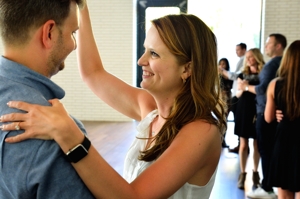 Last week Christina and I enjoyed four days in an Airbnb casita along the Colorado River in East Austin for all the festivities as my daughter Darcy Day Keller married our new son-in-law Jarrett Lambo, practicing with Darcy at right in a two-step dance class they threw at South Congress Hotel the day before their wedding. They'd hired Rosie and the Ramblers to play after the wedding and they wanted to make sure everyone was ready for some Austin two-steppin'.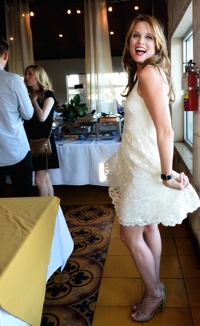 I left my camera home on the wedding day as I escorted the bride and later sang two duets with her, backed by the band, but Darcy asked me to photograph the other events. Besides this little starter set, I hope to post many more in coming days, as I decompress from an over-busy April, and I also hope to include a couple of shots--including me and Darcy singing together--from Carli Rene, the wonderful and official wedding photographer. Those photos should come along when Darcy and Jarrett get home to Brooklyn from Santorini, their Greek Isle honeymoon. (Dozens of wedding photos have been posted on Instagram at #lamboed.) Meantime, as the snow clears in the coming days, I look forward to getting to yardwork and hiking outside, while devoting some work time to learning the new Nikon Capture NX-D software required by the Nikon D5 I bought a month ago but haven't been able to use because I've been too busy to learn the new software. That itself is a sign that I need to slow down. Message received. I'm on it.
---