---
December 24, 2015    Marcia Hefker
In the fall of 1999, living in Des Moines but teaching 75 miles away in Springer, I came down with flu symptoms (typical when starting in a new school) and used my planning period to race down to the Springer clinic for help. I got a new "doctor," family nurse practitioner Marcia Hefker. She's been our family doctor ever since. We would sometimes drive 150 miles round trip just to see her. Fortunately, she's now based in Raton.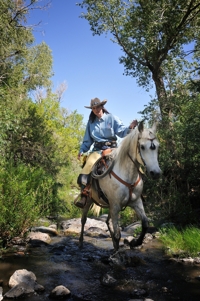 Over the years, I've written two wonderful magazine features about Marcia. The first was on the Hindi Arabian horses that she rides, and the Hindi family that breeds and raises them at Duran, NM. "Arabian Wind" was a major feature in the September 2011 issue of Western Horseman.
That was followed months later with "Doctoring Cowboys" in Ranch & Reata, a feature that focused on Marcia's love of horses and ranching and ranchers, and how her medical practice often focuses on the needs of ranchers and cowboys. Both stories told of Marcia's ranching, barrel racing and team roping, but neither delved deeply into her passion of the last few years, endurance racing on horseback. She often rides 100-mile endurance races, and often wins them. Racing her Hindi Arabians, she's built a national reputation that is bringing her exciting new opportunities.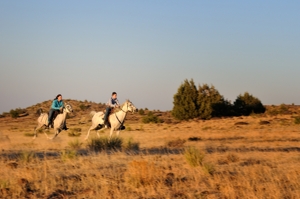 Besides being chosen to ride a legendary horse from the eastern United States in races across the country, Marcia is currently preparing to ride a race ABC Nightline has termed "the longest, toughest, most insane race on Earth," the 620-mile Mongol Derby that follows Genghis Khan's route across Outer Mongolia. Half the starters don't make it to the finish; the winner makes it in just under a week, riding daily from first light to last. Like a Pony Express run, riders change horses every 25 miles, riding local horses supplied by the local people. Marcia will spend the first half of August in Mongolia. She'll be busy.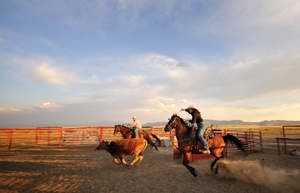 I've started helping Marcia build her promotional materials for 2016 and that's led to The Chronicle-News reprinting "Doctoring Cowboys" in its Christmas Day edition, with additional photography. I'm hoping to find ways to cover some of Marcia's 2016 racing in person. Anyone going to Outer Mongolia? Meantime, I'll see Marcia in the off season: I'm due for a regular physical exam next month, the start of a good year for all.

---
December 19, 2015    The Road Ahead

A season of transition and transformation followed my retirement from full-time teaching at the end of May. My writing-and-photography business faced more uncertainty and change than usual. Any freelance artist is dependent on editors and ever-shifting directions at magazines, newspapers, and other venues. The prospects and assignments rise and fall with the seasons: One year I'll have five major features at New Mexico Magazine, the next I'll have two. And so it goes.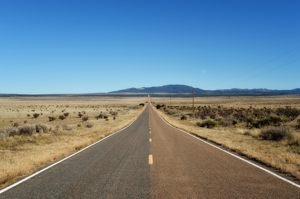 Autumn arrived before I knew what the financial picture would look like with retirement income; meantime, Raton's increasingly feckless and dysfunctional leadership led me to look elsewhere for stories and photography. Beginning Labor Day weekend, I photographed stories in Trinidad, Taos, and Red River on consecutive weekends. I haven't covered Raton since. Instead, I've continued traveling, exploring New Mexico. Over the coming months I'm planning photo trips to northwest and southwest New Mexico, plus Georgia O'Keeffe's Abiquiú and Ghost Ranch.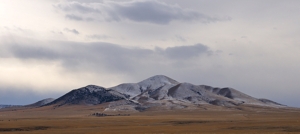 Throughout the autumn, I focused on stock photography--building a collection of new photos to be licensed by New Mexico Magazine, New Mexico True, and others--while doing precious little writing. For six weeks my only contributions to my bread-and-butter client, The Chronicle-News (TCN), were my weekly man-on-the-street, question-of-the-week features called "Over the Pass (OTP)."
I pondered where to focus my writing. Eventually I expect to write a book. Now? I'd rather have clients paying me for features in periodicals at this point, but what to write? What would publications pay for? And then The Chronicle-News provided my answer. Features editor Cathy Moser suggested that I write about my Billy the Kid - Pat Garrett chase. She suggested three consecutive Fridays in January, full-page with lots of photos. Now "Chasing Billy the Kid: A New Mexico Travelogue" is in Cathy's hands awaiting January publication; she and I both think a magazine will want it, too. TCN has given me the green light to keep traveling and they'll keep publishing my photos and "personal travel essays"--the genre that gave me an award for best magazine feature of 2014.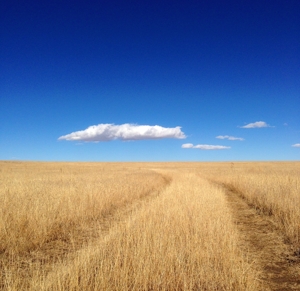 So I'm engaged in creative writing and taking periodic road trips to fuel it. Retirement income has turned out to be plenty, freeing me of having to depend on writing and photography for income. Suddenly I feel free, and supported, to write whatever I want. Even before the next New Mexico trips, I'm planning a shorter outing to Colorado's La Junta and Bent's Fort, plus others around Colorado's Highway of Legends. I'm also planning a series of profiles. I feel ambitious about my writing, aiming for magazine-quality "creative non-fiction," excited to spin engaging stories. Excited to sit here at the keyboard every morning doing that. ("Keep typing until it turns into writing"--David Carr.) The writing I've done over the past seven years has become a lovely addiction. I'm excited to finally feel free to write, and drive, to my heart's content. The road ahead looks good.

---
December 11, 2015    Chasing Billy the Kid
My November road trip was intended entirely for photography with no writing projects in mind, but it turned out that Cathy Moser, my editor at The Chronicle-News, is a big Billy the Kid fan (who knew?) and a week ago she proposed a big three-part series to run in January, a full page for each of three consecutive Fridays with front-page promo running during the week. We'd include about ten photos each week. Turning my photography trip into a combined travelogue and Billy the Kid history presented huge writing challenges...but I like that. I've spent the past week building it.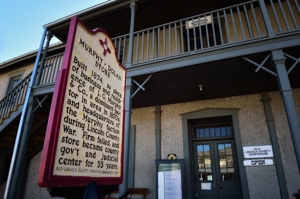 "Chasing Billy the Kid: A New Mexico Travelogue" clocks in at 4000 words, to run in three parts--Mesilla, Lincoln, and Fort Sumner. Forty-three submitted photos carry another 2000 words in captions. I'm delivering the complete project when I meet Cathy for lunch in Trinidad today. One of many peaks in the story occurs here at Lincoln's Murphy-Dolan Store, which had just been converted to the new Lincoln County Courthouse when Pat Garrett brought Billy the Kid back from his Mesilla murder trial and imprisoned him upstairs in the new courthouse, which didn't yet have cells or bars installed.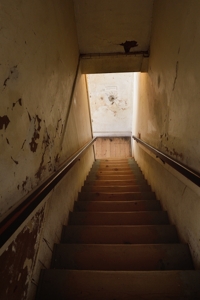 When one of his two guards walked across the street for dinner at Wortley's Hotel, the kid talked the other into escorting him to the outhouse out back. As they returned up this staircase, the Kid turned and shot Deputy James Bell. You can still see the bullet hole in the wall downstairs. Bell died just outside as the Kid ran back upstairs and got the other deputy's shotgun. As Deputy Bob Olinger heard the shot and raced back across the street, the Kid awaited him in the corner window, calling out, "Hello Bob," then emptying both barrels of Olinger's own shotgun into him. Olinger dropped dead right there.
Lincoln's a rich part of the Billy the Kid story but there are many others. I enjoyed following his trail and then, unexpectedly, combining Billy's tale with my own travel story built around my photographs. Big fun. Now I have to wait for January to see it in print.

---
November 30, 2015    Road Trip II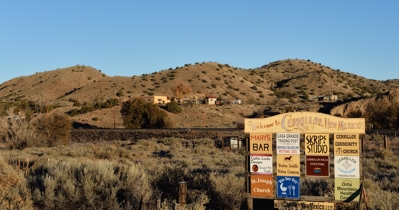 Following a 1300-mile southern New Mexico photographer's road trip that I wrote about briefly below on November 10, I hankered for another and set out to follow the tracks of Billy the Kid and Pat Garrett as they did their dance from 1879 to 1881 across what was then the biggest county on the continent, Lincoln. Now adding another 1000 miles, within a span of 24 days I spent ten days on the pair of photography road trips. I'm posting the photos daily at this point, over on my photography blog. The photo here shows the village of Cerrillos just after I set out from my wife Christina's family home along the Turquoise Trail, headed south along narrow two-lane roads all the way to White Oaks and Lincoln. I hope you'll follow along and see my best shots from the two trips. Thanks!

---
November 28, 2015    Django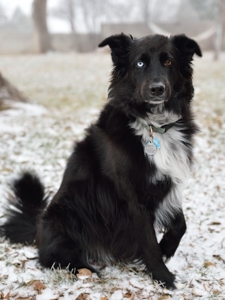 Thanksgiving brought snow and deep overcast skies of this white and gray, now three days running and cold, as demonstrated this morning by my model, five-year-old Django, my best friend and hiking partner par excellence. The low-contrast light allowed me to get a rare photo of him that shows his brown eye, which usually merges into his black hair in photos taken in sunlight. He was uncomfortable looking directly at the camera. In the backround, behind his left ear, you can see our hammock covered in snow. This snow, only an inch, was nothing compared to the sixteen inches we got the previous week. I spent six hours digging out over two days, a tribute to the value of the gym workouts I've been doing: previously, I've never been able to shovel heavy snow for more than an hour.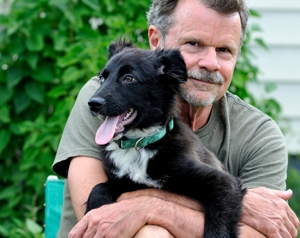 We found Django at the animal shelter in Las Vegas, New Mexico, in August 2010, when he was about five months old. On the way home, we bought his adjustable green collar at K-Mart in Raton, and the next morning, in front of our house in Des Moines, NM, Christina took these first photos of Django. He's still wearing the same collar today, although it now has a lot of miles on it. As for Christina's photos, they played a direct role in my becoming a regular features contributor to New Mexico Magazine.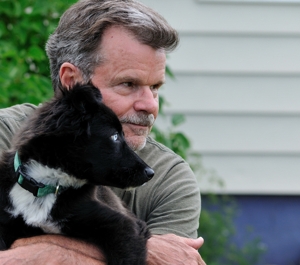 I emailed the photos to a group of friends and included a new friend, Fabian West, who at the time was art director at New Mexico Magazine. I'd done two one-page featurettes for the magazine. Fabian and I learned that we had much in common, and Christina and I had met her and her husband, photographer Chuck West, for dinner at Harry's Roadhouse, but I didn't know how much Fabian would melt over these photos. She said, We have to get you a feature in the magazine so I can put one of these pictures on the Contributors page! Next thing I knew, I was assigned two major features, first "Max Evans's New Mexico," then Folsom's Brown Ranch in "Home on the Range." And Fabian had included Django in this profile on the Contributor's page.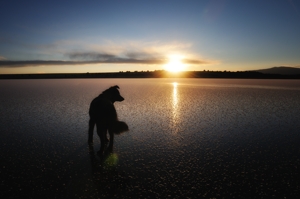 Five years later, New Mexico Magazine has published a dozen more of my features and Django and I have had adventures beyond count. When I photographed frozen Weatherly Lake some years ago, Django walked far out across the ice toward the setting sun. He loves the cold and the snow, so he's outside in it right now as I type, his choice. I took him hiking up Climax Canyon three days ago and I couldn't get far, the snow was so deep, but I lingered so he could play, running straight up and down the mountain, kicking up plumes of snow, happy as could be.

---
November 15, 2015    Red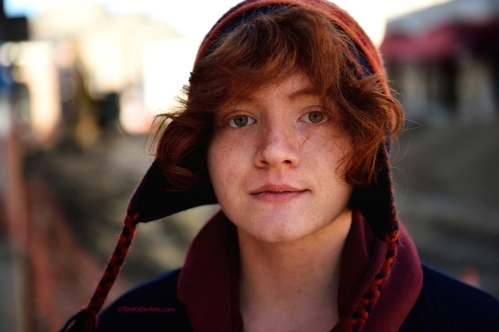 I'm excited about this portrait, one of nine "stranger portraits" I got walking the streets of Trinidad, Colorado, yesterday afternoon doing the "man on the street" interviews for my weekly Over the Pass (OTP) feature in The Chronicle-News. The red hair, the reddish cap, and the view down Commercial Street under construction with its own accents of red--I sensed a great portrait before Lukas Velazquez even made it to the corner and I requested his participation. This winter I'll be adding new images to my Galleries and this one will definitely be included atop the Portraits Gallery.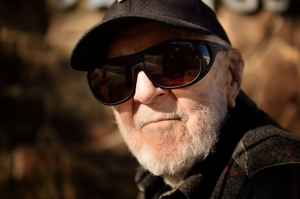 I also enjoyed interviewing and photographing 92-year-old Chet Haneman, who was walking down Main Street on his way to lunch. When I showed him my three notepads with the weekly OTP questions, he grumbled, "I can't read that, I'm blind!" And then he gave me a great interview--including, "I'm a gypsy, I travel a lot"--and a wonderful portrait. Gathering these interviews can sometimes be frustrating as some people are dismissive or uncooperative, but the ones who do stop to talk often make the enterprise feel deeply rewarding.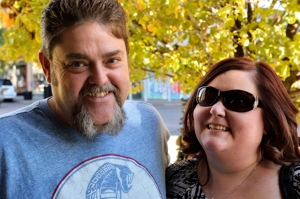 This couple--Kenneth Sides and Jennifer Smith of Amarillo, Texas--were positively bubbling over with joy, and it was contagious. It turned out that they'd just gotten engaged and even showed me their rings. We talked about their plans for Thanksgiving which they'll spend "with family new and old," and, Kenneth said, "we're adding smiles" to the gathering. They asked me to send them their photo, all full of joy.

---
November 12, 2015    Cowboy Candy Store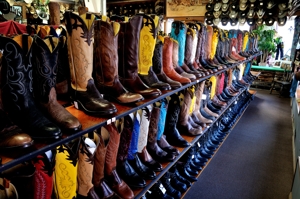 I just spent two enjoyable hours posting the November Western Horseman feature on Raton's own Solano's Boot & Western Wear, which is about to celebrate its 60th birthday. I have to credit the magazine staff with a great title, "Cowboy Candy Store." The title I suggested was "Boots on the Ground." Titles are their own art form and my own suggestions make it to print in fewer than half of my published features. (An exception is newspaper headlines: The Chronicle-News leaves most of those intact.)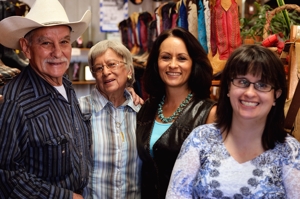 Exactly three years ago, in the November 2012 issue of New Mexico Magazine, I featured Solano's in "The Heart of Raton," which led to a visit from New Mexico True Television, which I featured in The Chronicle-News. Western Horseman used some of the 2012 photos, but I enjoyed adding this new Solano family portrait taken just for WH. From left are Andy, Fabie, Sandy, and Tiffany. They tell me that the phone's been ringing off the hook with Western Horseman readers asking questions and placing orders. Yea team!

---
November 10, 2015    One Thing at a Time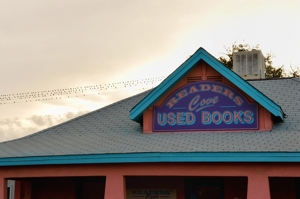 Following a 1300-mile road trip where I spent several days photographing my way across the southern parts of New Mexico, I've been immersed in processing the photos and sharing them with New Mexico Magazine and the state's remarkable New Mexico True tourism promotion campaign. The project has kept me from writing. One thing at a time. I'm in the process of posting the new photos to my photography blog. I made the trip with my friend Peter Burg, affording us many long conversations that included new writing projects that I'm developing. The photo trip isn't all that's kept me from writing: in my retirement from full-time teaching, I've been enjoying daily afternoon hikes of 3 to 6 miles, gym workouts a couple times a week, and reading lots of whole books, something I missed while so busy with teaching.

---
November 4, 2015    The Sands of Time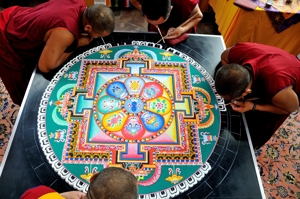 I've been working with the editor and art director of Living Peace, the biannual publication of The Congregation of the Sisters of St. Joseph of Peace, as they incorporate three of my photos into a feature for their next issue, due in January. The international organization has offices in England as well as New Jersey and Washington state. A web search for images led them to my photos taken at The Mandala Center's International Day of Peace ceremonies in September, 2010, where a group of Tibetan monks spent four days meticulously making an exquisite sand mandala.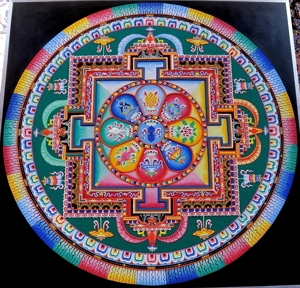 As a business model, that's the biggest value of this website: web searches regularly bring me customers that license my photos, usually for magazines or corporate purposes such as websites, ads or, most recently, training employees (at the Axis Agency). These three mandala photos haven't gotten as far into the world as I'd like, so I'm pleased that Living Peace found them. Watching the monks apply their colored sands for four days was an awe-inspiring experience. When they finished, I was able to stand over the sand mandala on a high ladder to get this second photo, which is a little tilted because I couldn't get directly over it without falling onto it. (Now, five years later, a photographer might have used a drone or a selfie stick.)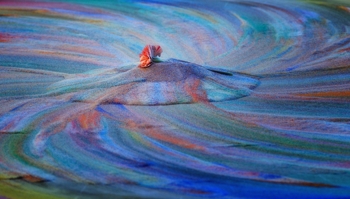 Symbolizing life's ephemeral nature--all things must pass--the monks then destroyed their sand mandala, ceremoniously swirling the colored sands into their own new beauty, then dispersing the sands across the countryside. They're still out there, blowing across the volcanic rocks of Sierra Grande.

---