---
December 28, 2015    Collaboration with an Art Director

Cathy Moser started at The Chronicle-News around the same time I did seven years ago. Along with her title as Features Editor, she also makes all of the page layouts (using Adobe CS InDesign). She doesn't have the title, but anywhere else that work would be done by the Art Director, who juggles many variables to make each page look great. This involves selecting, sizing, placing and sometimes cropping the work of photographers, and sometimes even inverting the images to face into the fold.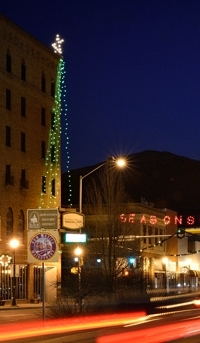 As Cathy made up today's front page yesterday, Sunday, she decided to make extreme crops of two of my photos, taking more than 50% of each, something she tries to avoid and which I certainly don't encourage. (I try to shoot and use the full frame, but when I do crop an image, it's with careful consideration.) In this case, though, Cathy nailed it: I like her crops better than mine. They're posted right here, and mine are immediately below, posted Christmas Eve. See? Cathy's crops have more impact because they zoom right in to accentuate the most dynamic part of each frame. These were shot for a December 2016 feature in New Mexico Magazine. I'll be submitting Cathy's crops, not mine. This is the strength of working with editors and art directors: It's a collaboration that brings out the best in all involved, and I couldn't ask for a better editor and art director than Cathy Moser.
---
December 24, 2015    How a Photographer Spends Christmas Eve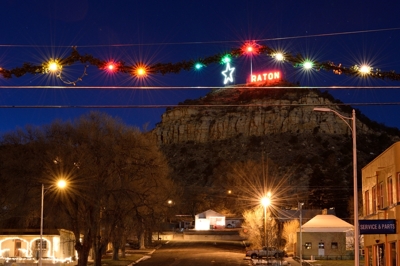 I'd originally planned to photograph the jam-packed farolita walk around Canyon Road in Santa Fe tonight but when it turned out we'd be home instead, I went after Plan B, spending an hour in late twilight shooting in downtown Raton, a little later than the December 19 shoot so the lights would be brighter, but still early enough to have some blue in the sky during long exposures, such as this shot of the Raton sign on Goat Hill taken with a 20-second exposure. All of tonight's shots used a tripod, and the long 70-200mm lens to compress distance, using manual exposures on the Nikon D4 and a fixed 1600 ISO.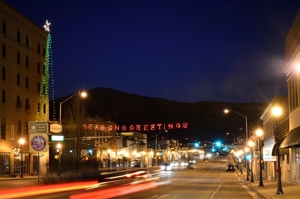 This shot of Main Street worked much better than one I took with my models crossing the street exactly 45 minutes earlier last Saturday. This one still has some blue in the sky (and now stars are out--click to enlarge any photo) but the electric lights stand out much more and the slow shutter speed allows the car lights to blur, adding drama. I've lost the people, usually important in photos for New Mexico True and New Mexico Magazine, but the cars give a sense of bustle--everyone's driving to be with family on Christmas Eve.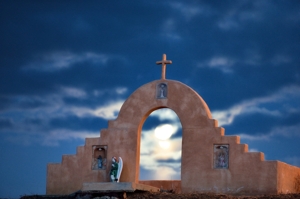 The Joe E. Vigil Law Enforcement Memorial receives little notice on Raton's east side. I've had my eye on it for a year, sizing up what turned out to be this photo. I knew I'd need just the right conditions and tonight, with the clouds and full moon, I got them. As with many good photographs, it's all about the light. I wanted to transform the modest memorial into something dramatic. Although there are no Christmas lights, in some ways this one feels the most reverent of all, the most appropriate for this Christmas Eve.
Merry Christmas. Enjoy.
---
December 21, 2015    Making Merry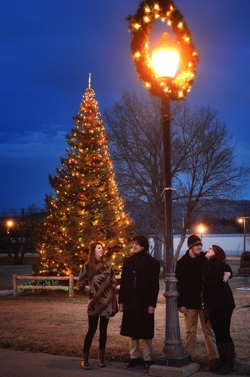 Tis the season, but New Mexico Magazine is already preparing for the next Christmas season. Its December 2016 issue will have a feature on small-town Main Street Christmases. Art director Edie Dillman asked me to get some photos from Raton. In addition to sending her some great images from a past production of "A Christmas Carol" at the Shuler Theater, I shot some new images downtown Saturday using Raton's Christmas lights. Kristina Jansen, James Neary, Jacob Peterman, and Tess Neary (from left) were kind enough to give me an hour's work as models. Afterwards we all sat by the crackling fireplace at Bruno's for big pizzas before going to see the new Star Wars movie at our vintage El Raton Movie Theatre. Tis the season to make merry and Saturday night was merry merry, indeed.
---
December 18, 2015    Puerto de Luna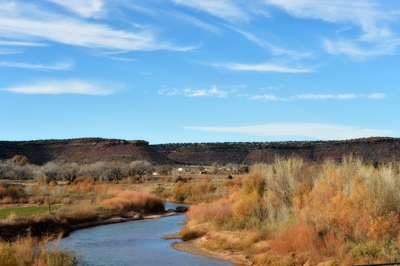 Puerto de Luna occupies a peaceful and mystical place in my heart thanks to its serene but powerful presence in one of my long-favorite novels, Rudolfo Anaya's classic Bless Me, Ultima. A dozen miles south of Santa Rosa, I've visited Puerto a couple times before, decades ago, on Bless Me, Ultima pilgrimages. A tiny agricultural village (population 140) on the Pecos River below Santa Rosa, Puerto de Luna was Anaya's mother's hometown. In the novel, it symbolizes quiet strength, time-honored ways, and goodness. Its name is Spanish for 'port of the moon' or 'the moon's refuge.' In the book, its people plant by the cycles of the moon.
Billy the Kid liked Puerto de Luna. He probably ate his last Christmas Eve dinner here as Pat Garrett transported him north from Stinking Spring and Fort Sumner to the railroad at Las Vegas for the longer trip south to Mesilla for his trial for gunning down Sheriff William Brady in Lincoln. Billy escaped his hanging by killing two of Garrett's deputies and running back to Fort Sumner, where Garrett caught up again, this time taking no chances, shooting him dead in the dark of Pete Maxwell's bedroom.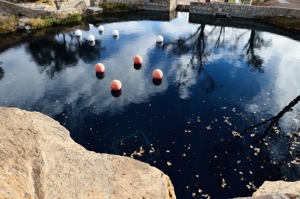 Heading home from "Chasing Billy the Kid," I drove from Fort Sumner through Puerto de Luna to Santa Rosa, where I finally looked up the famed Blue Hole. Seeing a large body of water northeast of town on maps, I'd always assumed Blue Hole was out there. I was surprised to find it right in town, surrounded by a parking lot and buildings. Nonetheless, it's an oasis and most picturesque if you control your angles and backgrounds. I climbed to the top of the rocks behind the 81'-deep crystaline pool for these shots.
It was cold, right before Thanksgiving, so I was alone most of the time, and certainly there were none of the scuba divers that are common in summer, although the water temperature holds steady all year at a chilly 61° F. Divers are attracted by Blue Hole's 60' depth, the deep blue water, and the fact that there's nothing remotely like it within hundreds of miles.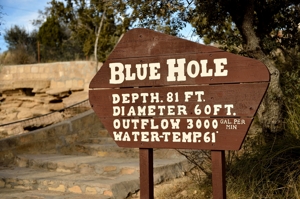 The most dramatic of a series of natural sinkholes along the Pecos River basin, Blue Hole is constantly replenished by underground springs at a rate of 3000 gallons per minute, so basically all of the water is replaced every six hours--thus the pool's crystaline clarity, deep blue color, and steady temperature. All that 3000 gallons per minute has to go somewhere and it does, exiting the pool via a waterfall that fills a creek feeding the Pecos River headed down to Puerto de Luna and Fort Sumner.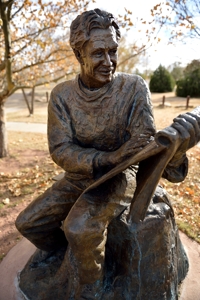 Adjacent to Blue Hole is another, bigger pool--Park Lake--and Bless Me Ultima Landscape Park with Reynaldo "Sonny" Rivera's sculpture of Rudolfo Anaya writing his most famous novel, surrounded by bronze pages embedded in the walkways with passages from the book. The coming-of-age tale's protagonist, Antonio, grows up in Guadalupe, a stand-in for Anaya's hometown of Santa Rosa. Anaya wrote the book while a teacher at Albuquerque High School. He later taught at UNM where he remains Professor Emeritus. A 2013 film version of Bless Me, Ultima is good enough to watch but a pale, inadequate representation of such a rich book. I was excited to finally get to Santa Rosa and see the sculpture garden, created in 2007 and funded, I think, at least in part by New Mexico Arts' (NMA) innovative Art in Public Places (AIPP) program that has benefitted me so much by placing my work around the state. As a resident of Raton, I was heartened to see another small northeastern New Mexico town be so progressive, honoring one of its native sons with such a lovely tribute, and giving its people such a wonderful park.
---
December 17, 2015    Fort Sumner
Henry McCarty, using the alias William H. Bonney, Jr., made many impressive escapes between the ages of 15 and 21, but none were more dramatic than the two he made from Lincoln. On the night of July 19, 1878, the night of "The Big Killing" that effectively ended the Lincoln County War, "Billy" escaped into the darkness, across the Rio Bonito and into the hills lining the north side of town. From there he made his way to Fort Sumner.
Though a dangerous killer, Billy was also immensely likeable. He developed many friendships in Fort Sumner, and he and Pete Maxwell's daughter appear to have been in love. He often danced, had drinks, and gambled at Beaver Smith's Saloon where one of his friends was the bartender, Pat Garrett. Some people called the two Little Casino and Big Casino. By the time Billy killed two deputies April 28, 1881, to escape his confinement and hanging in Lincoln, Garrett was the sheriff. Billy should have ridden south to safety in Mexico. Instead, he rode north, to home, to his girl, to Fort Sumner. Garrett waited three months, then he followed.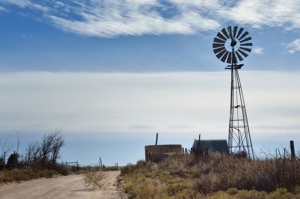 Garrett had captured Billy just before the previous Christmas, in a rough building 12 miles east of Fort Sumner. Although there's nothing there today, Stinking Spring is on Google Maps, two miles down this road near Taiban. When Garrett and his deputies got Billy and three of his compadres to Las Vegas (NM), the Vegas newspaper gave the diminutive 21-year-old the nickname that quickly took hold, spread around the world, and by which he will always be known: Billy the Kid. He only had that name seven months before Garrett returned to Fort Sumner and killed him in the dark of Pete Maxwell's big house.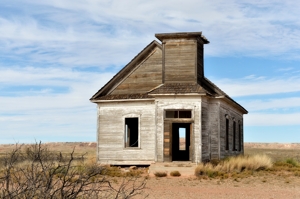 This abandoned church along Highway 60 at Taiban is oft-photographed. It's three miles from Stinking Spring where Garrett captured Billy. Old Fort Sumner is gone, just a historic site with a museum and markers to show where each step of the local Billy the Kid-Pat Garrett saga unfolded. The 1936 WPA mural above, painted by Vernon Russell Hunter, takes up much of a second-floor wall in the De Baca County Courthouse in today's Fort Sumner, located along the railroad three miles northwest of the historic Fort Sumner. Like so many towns along the western edge of America's Great Plains today, Fort Sumner is struggling, its population down 20%, to 1000 people, since 2000. But boy, that mural is wonderful, showing Billy and his friends, Garrett and his posse, even Pete Maxwell's family and house, back when Fort Sumner was a thriving locale etching itself into the rich history of the West.
---
December 16, 2015    Fort Stanton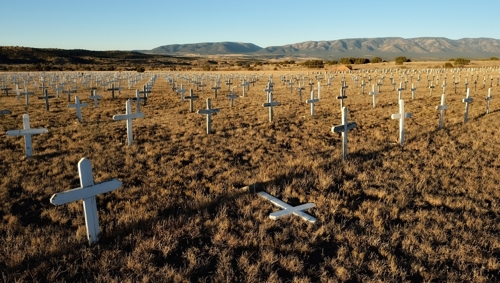 One reason "The Big Killing" in Lincoln the night of July 19, 1878, was so big was the arrival of Lt. Col. Nathan Dudley with a dozen African-American Buffalo Soldiers, two dozen white infantrymen, a 12-pound howitzer (below) and a Gatling gun. Dudley's entourage came from Fort Stanton, ten miles downstream along Rio Bonito southwest of downtown Lincoln where all the killing went on. The U.S. Army--Dudley--picked a side, the side of the Murphy-Dolan money monopoly with whom it had extensive business dealings. The howitzer and Gatling gun were pointed at Billy the Kid and his group. (See December 13 below.)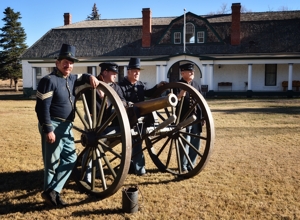 Fort Stanton today is impressive. A national monument with an extensive light-filled museum and store, the entire grounds remain intact. Horsemen rode across the parade grounds while I was there photographing re-enactors, who make regular appearances. (They were nice enough to walk out to the howitzer to pose for me.) Established 160 years ago as part of the U.S. campaign to claim the West and make it safe for white people, Fort Stanton initially served to control the nearby Mescalero Apaches. About the time they accomplished that, the Civil War broke out, reaching all the way to New Mexico. Then came the Lincoln County War. The fort kept finding work to do until 1896, when the U.S. Army decommissioned it.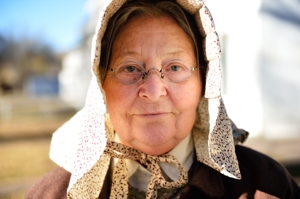 I visited with Victoria Davis of Alamogordo, who spent her day demonstrating how women did the laundry at Fort Stanton. There was one laundress for every 25 soldiers. Victoria contrasts her work to that of the "re-enactors" who tend to be men that spend a lot of time enacting battles. She says, " I prefer to think of myself as a living historian. That's a little gentler sport." Like the others, Victoria spends one day a month at Fort Stanton, plus additional days for school groups. They had been there three days for school groups the week that I visited.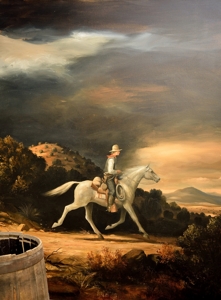 The fort languished only three years before it was recommissioned in 1899 as a TB hospital. During World War II, 410 German survivors of a shipwreck were kept at Fort Stanton where they established their own agriculture and even built themselves a big swimming pool, all while awaiting the war's end.
South of the fort and up a hill, I enjoyed photographing the cemetery at sunset (top). The crosses are made of wood and many had rotted enough to fall. The town of Lincoln sits at the base of the distant mountain, ten miles back up Rio Bonito, where 18-year-old Billy the Kid arrived on his gray mare in late 1877, on the run from charges farther west. He had ditched his given name, Henry McCarty, in favor of an alias, William H. Bonney Jr. He was 5' 3" tall, 126 pounds. People had been calling him "the kid." Now in Lincoln, his friends knew him as Billy. Only seven months before his July 1881 death in Fort Sumner did a Las Vegas (NM) newspaper give him the name that stuck, Billy the Kid.
(I photographed Peter Rogers's wonderful painting of Billy riding his gray mare toward Lincoln, displayed at Lincoln's Anderson-Freeman Museum.)
---
December 15, 2015    White Oaks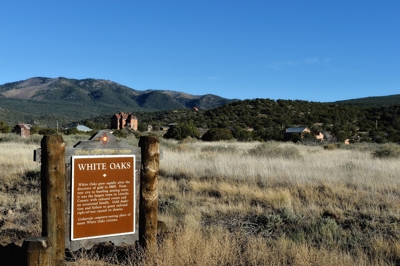 Pat Garrett was a day's ride over the mountain in White Oaks when he learned that Billy the Kid had escaped his custody in Lincoln, killing two of Garrett's deputies in the process. Garrett got right on his horse and returned to Lincoln to clean up the mess.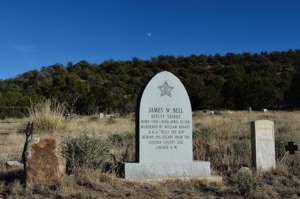 Deputy James Bell was buried in the cemetery at White Oaks, where a neighboring gravesite today holds Susan McSween, wife of attorney Alex McSween who was shot dead the night of "The Big Killing," which the Kid, and Susan, escaped. Susan McSween went on to become a cattle baron rivaling her neighbor John Chisum. Killing the deputies bought Billy the Kid only three months before Garrett hunted him down and ambushed him in the night at Fort Sumner.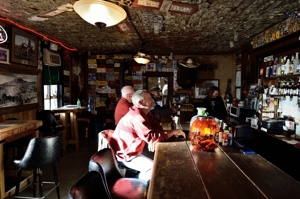 White Oaks was then one of the biggest towns in New Mexico Territory, a mining boom town. Today it's a sleepy enclave of only a few people at the end of a remote road. I found only one business open, the No Scum Allowed Saloon. I don't typically go into bars, much less spend time in them (my years as a singer/songwriter being the big exception), but of course I had to experience this one, given its name and location. I enjoyed a Shiner Bock at the bar and everyone said, yes, they'd be fine with my taking a photo.

---
December 13, 2015    Breaking Free - At Any Cost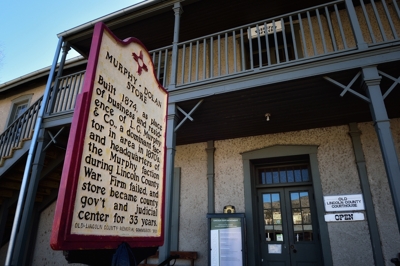 Pat Garrett brought Billy the Kid from his Mesilla trial and deposited him upstairs here in Lincoln to await his hanging. Recently converted to county courthouse and jail from the Murphy-Dolan Store, the cells and bars had not yet been installed but Garrett left the Kid under guard by two deputies, James Bell and Bob Olinger. Garrett headed off to White Oaks on other business.
Olinger took a dinner break across the street at Wortley's Hotel, just visible through the window here. Billy requested a bathroom break in the outhouse out back. Coming back up the staircase, he turned and shot Bell. No one's sure where he got the gun, but the bullet hole has been left in the bottom wall. Bell dropped dead just outside while the Kid raced back upstairs, got Olinger's shotgun, and waited at the corner window beside where he'd been held.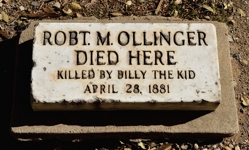 Ollinger heard the gunshot and raced back across Lincoln's only street to the courthhouse. From the upstairs window, Billy called out to him. "Hello Bob." As Olinger looked up, Billy emptied both barrels into him with his Olinger's own shotgun. Olinger dropped dead on the spot--a spot now memorialized with a historical marker that misspells poor Bob's last name. The Kid commandeered a horse and lit out for Fort Sumner and his girlfriend, 140 miles away. After a spell, Garrett went after him.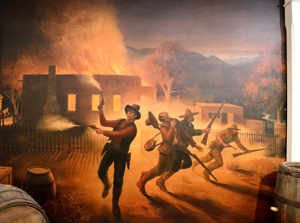 It was the second time that Billy had dramatically escaped Lincoln and run away to Fort Sumner. Earlier he'd escaped a five-day standoff between the two factions of the Lincoln County War. The night of "The Big Killing," the U.S. Army arrived and took the side against the Kid, burning him and others out, killing their attorney. The Kid managed to reach and cross Rio Bonito behind town, then disappeared into the hills. He'd be back though. (I photographed Peter Rogers's wonderful 1984 painting in Lincoln's Anderson-Freeman Museum.)
In January, The Chronicle-News will publish the whole story, wrapped into travelogue, in my "Chasing Billy the Kid: A New Mexico Travelogue," running three consecutive Fridays. Meantime, I've still got more to share here. Stay tuned.
---
December 11, 2015    La Mesilla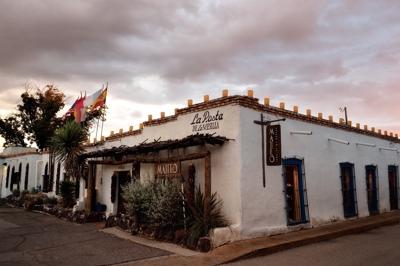 After my second road trip I was on a roll posting images here (below) every day or two from along the route. Then, a week ago, my editor at The Chronicle-News proposed a three-part series on my Billy the Kid quest, to run full page with ten photos on each of three consecutive Fridays in January, with front page promotions all week. I'd been shooting strictly for stock photography with New Mexico Magazine and New Mexico True in mind. This was a writing challenge but I like that and abandoned the blog here to spend the past week developing "Chasing Billy the Kid: A New Mexico Travelogue," a 4000-word manuscript in three parts (Mesilla, Lincoln, Fort Sumner), with 13-15 photos submitted with each part, the captions totalling another 2000 words. I'm delivering the whole package to the editor when I'm in Trinidad today. I've been focused on photography lately and it felt great to dig deep back into writing, plus the writing, as usual, grew from the photographs and accompanies them.
I'd caught scent of Billy the Kid's trail while visiting and photographing Old Mesilla, now essentially a suburb of Las Cruces. The Kid's only court trial was held right here on the Mesilla plaza, through those doors above right and across a narrow lane from La Posta, the famed restaurant pictured above. The Kid was found guilty of murdering Lincoln County Sheriff William Brady and taken back by Pat Garrett to Lincoln to hang. He killed two more sheriff's deputies to escape from Lincoln.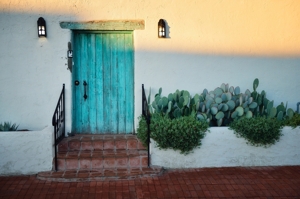 Everywhere Peter Burg and I went on that trip at the end of October, we kept seeing places Billy the Kid had been. I ended up buying Mark Lee Gardner's fabulous 2010 book, "To Hell on a Fast Horse: The Untold Story of Billy the Kid and Pat Garrett." By the time I finished, I was ready for another road trip, chasing the Kid and Garrett to Lincoln and Fort Sumner. That led to the January series I just completed. As you can see, Mesilla is a great visit and photographer's playground. La Posta dates back to when Mesilla was still part of Mexico, and Peter and I enjoyed great food and a pitcher of amber ale there, too. Billy the Kid and Kit Carson had both preceded us in the building; the history was tangible everywhere. It set its hook in me. I look forward to returning to La Mesilla.
---
December 4, 2015    Abó & Gran Quivira

My road from Cerrillos to Lincoln led to my first experiences with Quarai and Mountainair. I'd never even heard of Quarai but I'd heard of its sister pueblos Abó and Gran Quivira and I visited both on my way south. Abó was actually nine miles west, off my path, but a great stop (above). Quarai's equal, and just as photogenic, I like catching the morning sun on the walls with the Manzano Mountains in the background. The photo looks northwest toward Albuquerque beyond those mountains. You can barely make out the light dusting of snow on the mountains.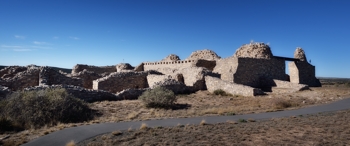 For engineering and size, Gran Quivira was every bit as impressive as its sister pueblos, but it wasn't as photogenic, partly because it was built with gray rocks rather than red. No walls stood as high as the others. Farther south, Gran Quivira was unique for being situated where there was no water source. Really strange. They dug catchment ponds for rainwater and snow but ultimately the location was untenable and they left. In contrast, both Quarai and Abó were built alongside year-round streams. From the middle of the triangle at Mountainair, site of the Salinas Pueblo Missions National Monument headquarters and visitor center, Quarai is 12 miles north, Gran Quivira 26 miles south, and Abó nine miles west. Mountainair is about 70 miles southeast of Albuquerque, the whole area a great day trip.
---
December 2, 2015    Manzano to Mountainair
To most New Mexicans, the name Manzano refers to the mountains stretching south from the Sandia Mountains east of Albuquerque. (In Spanish, manzano is an apple tree, sandia a watermelon.) But if you travel along the east side of the Manzano Mountains south from I-40 along the winding two-lane N.M. 337, a southern extension of N.M. 14, "The Turquoise Trail" from Santa Fe, you'll reach the tiny village of Manzano after passing through similarly sized villages at Escabosa, Chillili, Tajique, and Torreon. Don't the names alone make you want to take this drive?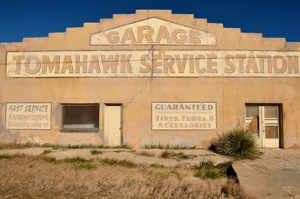 In the photo above, you can see the snow-dusted Manzano Mountains behind the Nuestra Señora de los Dolores church in Manzano, a village of 17 families with 54 people, according to the 2000 census. (If it's like all the other small towns I know in the region, that population has fallen since that census.) Just west of the village stands the magnificent Pueblo ruins at Quarai, pictured in my last post, immediately below. Quarai is one of three sites in the Salinas Pueblo Missions National Monument, although there's no entry fee. I highly recommend this trip.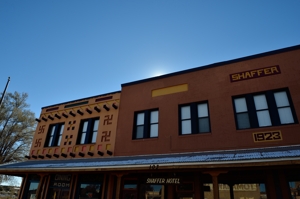 Thirteen miles south of Manzano you reach relative civilization at N.M. 60 and the town of Mountainair, which has, among other amenities, The Bakery and the Alpine Alley Coffee Shop, where I enjoyed a breakfast burrito and fabulous coffee in front of a crackling woodstove, surrounded by large cases filled with books. Down the street, Tomahawk Service Station Garage stands abandoned and picturesque, as does the Shaffer Hotel directly across from Tomahawk. The Shaffer is for sale: the primary reason I avoided the sidewalk in the photo at right was to frame out the For Sale sign.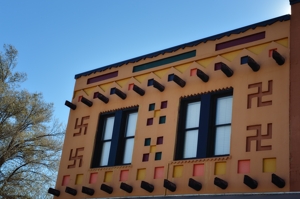 Swastika symbols are found throughout eastern New Mexico--Raton and Des Moines both have them --where they precede Hitler. (He kinda killed it, didn't he.) The Shaffer was built in 1923. The word swastika comes from Sanskrit (designating a lucky or auspicious object) and the symbol has been used in Hinduism, Buddhism, Jainism, and Native American religions.
From Mountainair I visited nearby Abó and Gran Quivira before continuing south through Claunch to White Oaks and the beginning of my Billy the Kid chase. But let's save all that for another day.
---
November 30, 2015    Quarai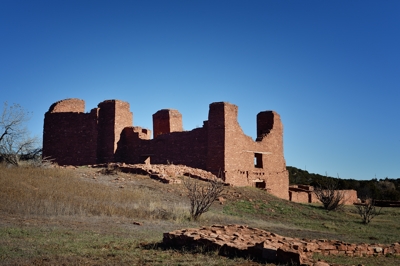 From Christina's family home on the Turquoise Trail at Lone Butte north of Cerrillos, I started my Billy the Kid chase by continuing straight south across I-40, skirting the eastern edges of Cibola National Forest through the Manzano Mountains. I'd follow the tiny jagged line on the map all the way to White Oaks and Lincoln that night. I had no idea of stopping at Indian ruins--that wasn't part of the conception of this trip--yet there stood the tops of the walls of Quarai just west of the tiny village of Manzano. I turned.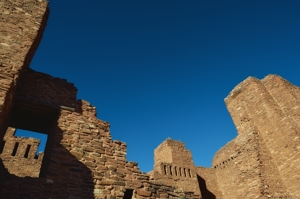 The sun was just making headway above the eastern horizon and the light couldn't have been more dramatic. Except for a solitary national-park ranger at headquarters by the parking lot, I was the only person there. There's no admission fee. I walked right in, ski cap snugged down over my ears against the cold. For that first shot, at the top, I ignored a sign and stepped a few feet wide of the gravel trail to get that angle. The ranger walked down to tell me to stay on the path. I pointed to the recent horse tracks that were deeper and farther than mine. Then I stuck to the official gravel trails. Mostly.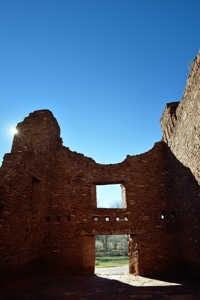 Now identified as one of three Salinas Pueblos--I'd continue to the other two as I proceeded south--Quarai was occupied by Pueblo Indians when the Spanish found them and moved right in to bring the Indians the benefits of the Catholic church and civilization. Coronado had blitzed through New Mexico searching for gold in 1540, but Oñate came in 1598 to colonize and found Quarai and its sister pueblos. One of the historical markers describes a loud altercation on that spot in June 1659 when a Spanish official took exception to a priest telling the Indians that their supreme obedience belonged to God, the official insisting that the primary allegiance was to the King of Spain. I was impressed with the degree of detail and great narrative that was available to accompany my awe-inspiring photographer's tour of the sprawling rooms, walls, and grounds that extended down to a cottonwood-lined creek. It was impressive enough that I resolved to include stops at Abó and Gran Quivira as I continued south toward Lincoln County.
---
November 29, 2015    Lincoln County Peace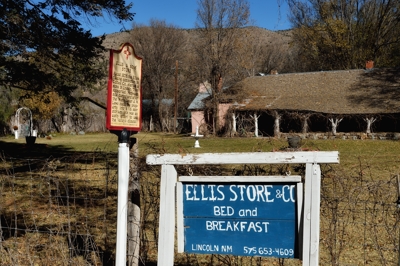 A week ago this morning I awoke for a second day in the Billy the Kid room under the awnings at the right of this photo, in the old Ellis Store at the east end of Lincoln, New Mexico, where Billy the Kid and his compadres took refuge during the Lincoln County War, 1879-1881. Now a delightful bed-and-breakfast country inn, I was the only guest during this off season, able to enjoy the peace and quiet along with immersion in New Mexico history.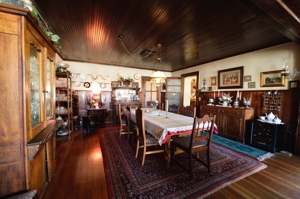 My southern New Mexico road trip with Peter Burg three weeks earlier had piqued my interest in Billy the Kid and Pat Garrett, who'd done their fatal dance across that land for two or three years. Back home, I bought and read Mark Lee Gardner's great 2010 To Hell on a Fast Horse: The Untold Story of Billy the Kid and Pat Garrett. At the same time, I finished processing, sending, and posting the photos (many of them directly below) from the earlier trip. I hankered to hit the road again before winter set in. Off I went, alone this time but with the same game plan: five days exploring the countryside, in this case following the trails of Garrett as he chased the Kid, and not deciding ahead of time where I'd stay or eat.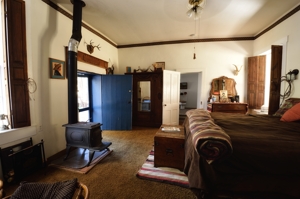 I pulled around the rear entrance to Ellis Store in deep dusk on Friday night and found David Vigil wielding his leaf blower, but there were no other cars or guests. I wasn't sure I was in the right place. I was. David led me through the big house where I met his wife Virginia--Jinny--in her professional kitchen: she was New Mexico's 2003 Chef of the Year for what she's produced in this kitchen. Before long I'd been given the tour of three lovely rooms and chosen this one, left, the Billy the Kid room, where I quickly settled in, lit a wood fire, and felt right at home. I stayed two nights, exploring Lincoln on foot and then the impressive Fort Stanton just ten miles up the Rio Bonito.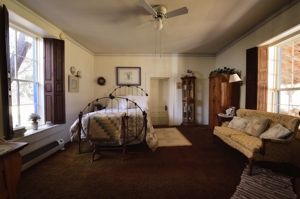 Morning breakfasts were served in an intimate dining room with crackling fireplace, but I visited Saturday evening with dinner guests in the formal dining room, above right. If you click to enlarge the photo, you can see Jinny cooking in the kitchen, as you can again in this shot looking the other way to the great room. Here at the right is Frodie's Room, a guest room adjoining the Billy the Kid room. The windows on the right of both rooms look across a sprawling yard to Lincoln's only street, while the left windows look out to the rear courtyard and Rio Bonita. Wood shutters effectively blocked out both light and cold during the nights.
The bridal suite, also called the James Law room, is on the far end, past the Billy the Kid room. As David offered me the choices, he acknowledged that this one "is a little froufrou." Some TripAdvisor contributors have said they appreciated this room for being on the end, and thus more secluded and private. In my case, as the weekend's only guest, I had all of that in the middle room, surrounded by thick adobe walls, woodstove and rich history. David and Jinny have been doing this a long time and are ready to retire; they're currently in negotiations to sell to someone that sounds perfect for keeping this good thing going. I look forward to returning, hopefully soon enough to again enjoy the company of the fascinating and gracious Vigils.
---
November 19, 2015    Cleanliness Is Next to Godliness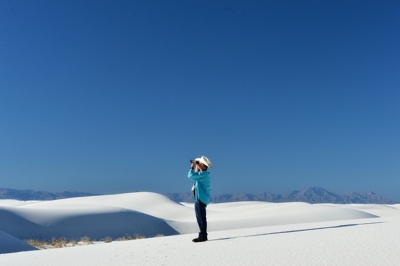 With this pair, I've posted nine photos from White Sands, including a pair that my travel partner/friend Peter Burg took of me shooting among the dunes three weeks ago. These last two are my favorites, beginning with the one above of Peter looking across the distance with his binoculars. Why is he centered in the frame, violating the "Rule of Thirds?" Because his long shadow takes up the right side of the frame. The colors are so crisp and clean, blue and white, that we can almost feel the air itself.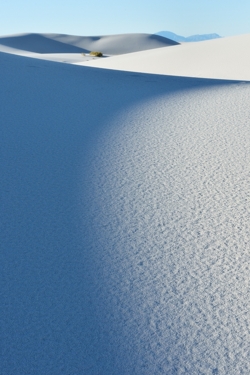 Similarly, the clean simplicitiy of this landscape photo makes it feel almost like an abstract image, grounded only by the distant tree and the curving mountaintops. The subtext is the sun, casting the soft curving shadow in the foreground.
I started shooting with the wider 24-70mm lens (on the Nikon D4) but quickly learned that, even at 70mm, it took in too much. I couldn't avoid the ever-present footprints of people who'd preceded me. I hiked back to the car and switched to the 70-200mm lens so I could be more selective in choosing my frames, get in tighter across a distance, and get fields free of footsteps. The blowing sands created dust spots in the skies of my finished images, quite a problem on the top image above Peter's head, for example, and I feared that the sands had gotten onto the sensor when I switched lenses but a test showed that the sensor's still relatively clean. I cloned the dust spots out of the skies, though it'll take more work if I ever print them large. Meantime, I get to enjoy these skies over these clean blue and white lines even as I plan my next photographer's road trip south.
---
November 18, 2015    White Snows, White Sands
Home in Raton this morning, the view out our windows looks a little like this. More than a foot of heavy wet snow fell yesterday, closing schools and highways, and we have some hours left of digging out after a start late yesterday afternoon as the sky opened and the sun emerged to start its work helping us clear paths.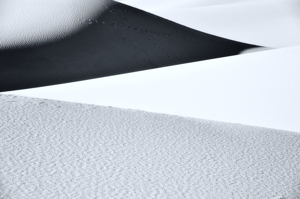 These photos are actually two weeks old, taken at White Sands National Monument in late afternoon as the sun's shadows began laying subtle shades across the curves of land. I'd been concerned that park hours might limit my ability to shoot before sunrise and after sunset--I typically want to take advantage of the great light to shoot for an hour or more around those times--but I found that the best shadows were when the sun was higher, throwing softer shadows, as seen here. The park offers photographers access before and after closing, but they charge $50 per hour or portion thereof, and a ranger accompanies the photographer.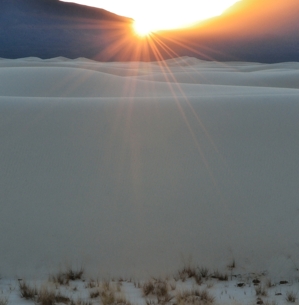 But there's a much better solution: overnight camping. Plenty of people camp inside the park, and once you're camped, there's no limit to how far you can walk and take photographs--although it's easy to get lost. People leave marks in the sand to retrace their paths back to their cars or tents. I've seen some great night photography from White Sands, usually shot during the golden hour when there's twilight to make the sky render as dark blue rather than pure black, but I was satisfied with this first session: In the morning, we left our (great) White Sands Motel and headed north for Tularosa, Carrizozo, and home. I have enough shots to feel no hurry to return for more, but eventually I will, and an overnight camping stay will be the way to do it.
---
November 13, 2015    Tularosa
I hit the brakes the moment I spotted the St. Francis de Paula Church in Tularosa. The church is a beauty, and posting photographs of it gives me a chance to type and say the word "Tularosa" some extra times. Beautiful word, beautiful church.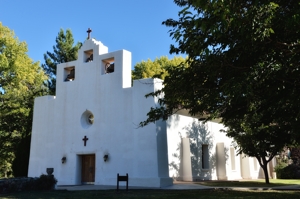 Peter Burg and I were driving north, homeward, from Alamogordo--where we'd photographed White Sands National Monument--toward Carizozo where we stopped for a much-appreciated brunch of huevos rancheros and breakfast burrito at Abuelita's, the only place in Carizozo open in late morning that Sunday. We caught the Tularosa church early Sunday morning, early enough for great light and apparently too early to catch Sunday worship services, although as I stepped inside, a woman had entered just ahead of me and she was deep in prayer.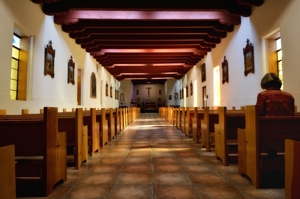 I had to photograph it, but I didn't want to be a jerk and disturb the woman's prayer. I squatted low, carefully framed my shot, and took the the one loud shutter click. Then I quietly backed out. The woman didn't move. Mission accomplished. And that's the beauty of a photo trip, or at least the way we did it without any advance planning: Just wander along, staying tuned to great images and stopping whenever and wherever you find them. After dark each evening we'd select a motel, and at dawn the next morning we'd be out hunting again. I'm already missing it, itching to do it again.
---
November 12, 2015    Portrait of the Artist as an Old Man
I've known Peter Burg for half a century. We met when I recruited him for the Palisades Skateboard Team (a story told in my feature and the resulting documentary short film Skateboarding's First Wave), and we've been best friends for three decades. He accompanied me on my photo trip across southern New Mexico and took these two photos of me at work in White Sands National Monument, along with a cool silhouette shot as well. So that's what I look like--I don't always know.
---
November 11, 2015    The Endless Summer
As snow fell at home in northern New Mexico, I enjoyed photographing the seemingly perpetual summer of southern New Mexico last week, including this cornfield near Gardner, north of Hatch, and this amazing tree (bush?) in a Mesilla front yard.
Those were both along the Rio Grande River Valley. An hour's drive west, the Luna County Courthouse in Deming was surrounded by the golden leaves of autumn, accentuated by the slanting rays of the setting sun. Beauty everywhere! As I take photo trips around the state, it makes sense to continue traveling the southern part of the state through our winter. The average daily high temperature in Las Cruces in February is 65 degrees, which is at least 30 degrees higher than our average along the state's northern boundary at home in Raton. Call me a snowbird if you like, but my camera and I will be headed south again soon.
---
November 9, 2015    Have Camera, Will Travel
After a five-day road trip across southern New Mexico, I've been home processing photos and sending them off to New Mexico Magazine and the remarkable New Mexico True tourism promotion program. Accompanied by my friend Peter Burg, we delivered large framed photos for public installations at UNM Hospital in Albuquerque and the Luna County Sheriff's Department in Deming, part of New Mexico Arts' generous grant program called Art in Public Places.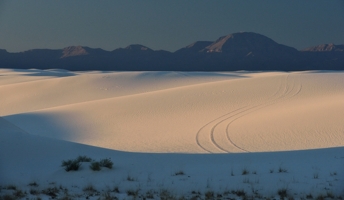 Then we continued around Deming, Hatch, Hillsboro, Las Cruces, Mesilla, White Sands, Alamogordo, Tularosa, and Carrizozo for three days devoted entirely to photography. I'll be posting some of my favorites here over the coming days, including two today from White Sands National Monument and one that I call "Wile E. Coyote" (Beep! Beep!) taken before sunrise between Deming and Hatch. The hook is set: I'm planning to continue making photo trips around New Mexico, sometimes with Peter and sometimes alone. I'm already looking at maps and getting excited about the next road trip.
---