---
October 26, 2015    God Moves in Mysterious Ways
Earlier this month I reported on Trinidad Skatepark's first Skateboarding Jam events and competition. Among the many people I met and photographed was this young man that placed third in the competition. When I asked his name, he replied, "Father Carl." I said, "You mean like a priest?" He said, "Yes, I'm a priest." I said, "Damn!" Then I said, "Let me rephrase that." I paused. "Darn!"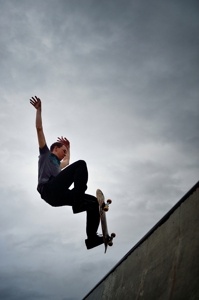 Knowing a good story when I see one, I interviewed and photographed Fr. Carl last week for a 1000-word profile in this Friday's The Chronicle-News. The five photos I submitted with the feature include these three. Although Carl looks young for his age--he'll turn 30 on November 12--he's completed his four-year college degree (in recreation at CSU Pueblo) and six years of seminary training in Indiana. Until my first article mentioned his third place (with a photo) in the competition, his parishioners had no idea that he was a skateboarder, and most of the many skaters at the park still have no idea that he's a priest. A talented skateboarder since he was 11, he says, "At the skatepark, it's not about what you do outside. It's skatepark culture. It's more about how good you are at skating. I don't go there for conversation; I go to skate."
The secret will be out when my profile appears this week. I happened to chat with Raton's Father John Trembley about Fr. Carl and his skateboarding. Delighted, Fr. John thought Fr. Carl should incorporate his skateboarding into his ministry. Fr. John even said he may ask Fr. Carl to come talk to some kids in Raton.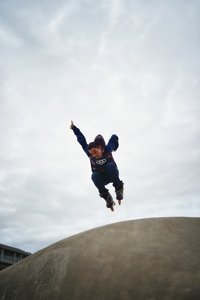 When Carl and I finished at the skatepark late Friday, I stayed and turned my attention to 19-year-old Brendan Watson as he nimbly negotiated the park's many high-speed bowls and jumps on his roller blades. I was a regular roller blader and street-hockey player when both enjoyed a decade of popularity in the 90s, so I recognized the difficulty of Brendan's impressive adaptation of roller blades to the steep slopes of the skatepark. He told me that he started roller blading at age three and has never stopped. He bought a skateboard along the way but it never took: He's always preferred blades. His years of experience show: He's smooth and agile as could be, with great style. He was happy to do some jumps for my camera, and I was happy to get a shot as good as this one. (As always here, click any image to enlarge it--you'll see that the straight line in the lower left corner of Brendan's photo is the second-story deck of the house across the street from the skatepark.) I've had some great photo sessions at the park and now I'm starting to get some great stories, so you can bet I'll be back.

---
October 18, 2015    How I Spend My Afternoons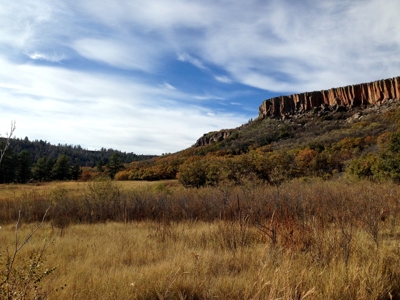 When I'm not busy with writing and photography projects, here's where you can find me. Ten miles from my house, this six-mile hike in Sugarite Canyon State Park circles Little Horse Mesa, in the right distance, while gaining and then losing 800 feet in elevation. The north side follows Segerstrom Creek for two miles. I hike almost every afternoon, alternating this one and the closer Climax Canyon Trail on the western edge of Raton, always with two dogs, Django and Jett, chasing around me. I shot this with my iPhone yesterday on a hike accompanied by my best friend, Peter Burg. Peter and I are planning a five-day photography trip, but I have time for several more hikes before we hit the road for that.

---
October 7, 2015    Over the Pass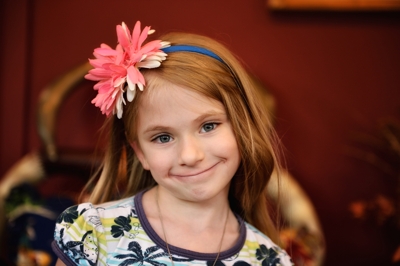 Last week's Trinidad interviews for "Over the Pass" (OTP) produced some photos that I'm fond of, including this pair. Kindergartener Ryan Allison Smith was enjoying the Mitchell Museum with her grandfather when I interviewed both of them. Ryan said that winter is her favorite season because "...you get to play with snowmans..."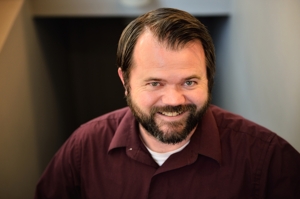 I found Brad Gordon in The Chronicle-News building where he works when he's not busy selling real estate for TLC. On the way outside for a portrait, I craned my neck to look down an interior staircase that runs along the front wall and descends to a basement. Immediately I saw this intriguing shot and, once we got it, I no longer felt the need to go outside for another shot. This was it.

---
October 3, 2015    A Friendly Portrait Session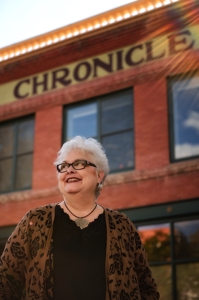 My weekly "Over the Pass" (OTP) feature in The Chronicle-News asks a Question of the Week of three people in Trinidad and three in Raton, then gives the six responses under six photo portraits. The series has grown popular since I started it a year and a half ago. Most of my respondents are literally "man on the street" strangers, but gradually I've gotten most of the employees of the newspaper itself--except the features editor who makes up the page in each Tuesday's newspaper. Cathy Moser has become a good friend and, due to a variety of circumstances, has never gotten into OTP--until now. (She'll be in Tuesday's feature.) Editor-in-chief Eric John Monson asked me to get a new staff photo of Cathy while I was at it, so Thursday I did a complete portrait session with Cathy in several spots within a hundred yards of her desk at the paper. (As always here, click any image to enlarge it.)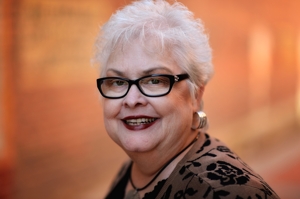 Cathy designs and makes the page layouts, so she's generally the person that decides what pictures of mine make the cut, and how big they are, where they're placed, and whether (and how) they're cropped. It's been my good fortune that she's become a fan of my work, both writing and photography, and we've become friends, working closely on stories. My work couldn't be in better hands, making me a lucky guy.

---
September 30, 2015    Silver & Steak
Best friend and former skateboard teammate Peter Burg joined me and my wife Christina Boyce at the 4th Annual Trinidad Independent Film Festival in Trinidad, Colorado, over the weekend. Affectionately known as TrindieFest, the little film festival ran films and speaking events in three locations over three days. Following a big front-page feature in The Chronicle-News, Skateboarding's First Wave was a hit with the audience and won the Silver Trindie Award for Documentary Film. The festival hosted filmmakers for a closing event with drinks and dinner by Brix. Peter and I accepted the film's award for our friend, Skateboarding's First Wave's director and producer Don Burgess. (Too bad Don and his wife Bonnie couldn't join us for the wine and steak!) Our admiration and thanks go to festival founder-organizers Julie and Kirk Loudon, and thanks, too, to Christina for taking this pair of photos for us.

---
September 22, 2015    Skateboarding Over Raton Pass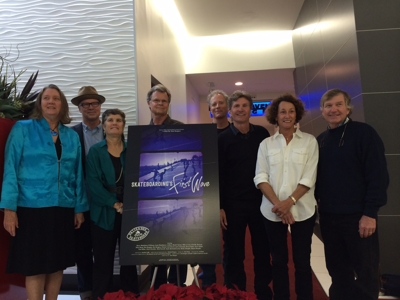 I'll finally be able to enjoy a screening of Skateboarding's First Wave close to home. After two trips to California for screenings, including the Santa Monica premiere in December (above) and Pacific Palisades showing in June, I'll just drive over Raton Pass Saturday to see the film in Trinidad, Colorado--at the Trinidad Independent Film Festival, better known as TrindieFest.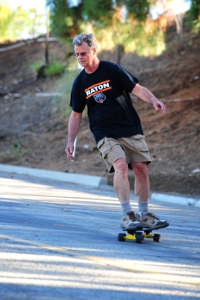 Saturday, September 26, at 1:00 p.m., Peter Burg and I will introduce the 22-minute documentary short film, then follow the screening with a Q&A session for the audience. Admission is $10 cash at the door, and that gets you in for all 14 hours of films that day, showing at Brix Sports Bar & Grill, 231 E. Main St. in downtown Trinidad. (Don't laugh: some of the films are showing a block up Main Street at Mullare-Murphy Funeral Home!) Skateboarding's First Wave is based on my November 2013 Palisadian-Post feature of the same name and made by my former teammate, Don Burgess, an Academy Award-nominated (for Forrest Gump) cinematographer. (Don starts filming a Brad Pitt movie in January in Morocco.) To see photos and my original article, or the many articles that have followed, or link to the film's own website with its 97-second film preview, jump here. Then, maybe I'll see you in Trinidad Saturday afternoon?

---
September 15, 2015    We Are Royals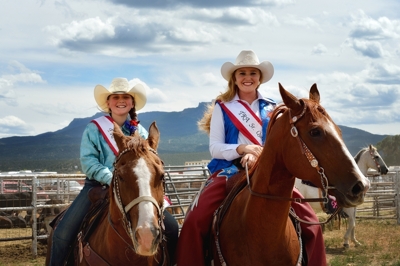 Christina Boyce, director of the A.R. Mitchell Museum of Western Art in Trinidad, Colorado--and my wife and partner of 28 years--made such a persuasive point over dinner last week that I challenged her to write it up and submit it to The Chronicle-News as an Op-Ed piece. If she'd do that, I'd drive to Trinidad the next day to get a photo for her article. She did and I did.
When the Trinidad Round-up Association organized its 105th annual rodeo and fair, it received only one entry each for its junior and senior queen competition. Christina was raised a Santa Fe hippie with little interest in or tolerance for queen competitions, but experience over recent years has changed her mind. She found Micheli Walton and Anne Sporleder to be heroic and admirable. The resulting Op-Ed piece is admirable, too. Titled "Tough Enough to Compete," click here to check it out--recommended reading. (For my complete rodeo and fair photography and coverage, click here.)

---
September 5, 2015    Friends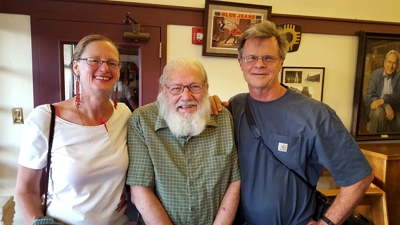 When our longtime friend Tom Noe passed through on his big BMW motorcycle en route from Seattle to Dallas, Christina and I took him to the Music from Angel Fire concert at the Shuler Theater where he posed us in the lobby with another longtime friend, Shuler Theater impresario Bill Fegan. I forgot all about that until we received this photo today in an email from Tom. What a joy: I've developed quite an affection for Bill over the years while covering a multitude of shows and stories. That's him in the portrait at back right. Bill and his portrait are featured together in my portrait of Bill on the occasion of the Shuler's 100th anniversary in this New Mexico Magazine feature. Thanks, Tom, for thinking to take this great photo; I will treasure it.

---