---
February 17, 2014     Writing About Hiking
I've been brainstorming to find new pitches to send the editor at New Mexico Magazine, hoping to land my next set of stories. Last week he suggested he'd like something for this summer, a closer lead than usual, and I suggested that I could create a feature on hiking in and around Raton. Then I realized that I don't have enough photography for that. I have 3-4 images good enough (1, 2) for the magazine, but all were shot on my iPhone 5: I've never carried either of my Nikons on a hike. The magazine generally needs higher resolution than I can get from a phone camera.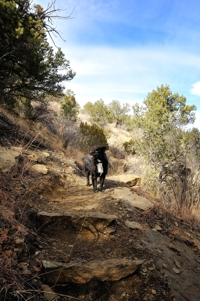 So Saturday I carried my Nikon D300 on Raton's own three-mile Climax Canyon Nature Trail! I saw right away that the bare gambel oak and other trailside shrubs would interfere with images destined for summer publication--I'll have to shoot hiking trails in earnest in mid-summer when everything's green--but meantime I shot around that reality as best I could. To have such a wonderful mountain hiking trail entirely within the city limits of Raton is simply extraordinary and worth the magazine's attention. Add to that the trails in Sugarite Canyon State Park and atop Bartlett Mesa, among other possibilities, and Raton is worth an extended stay by hiking buffs (like me!) from throughout the region. As the days get longer and daylight savings time arrives, my hiking partner Django (right) and I will be able to do more hiking--and now I'll sometimes be carrying a camera.

---
February 8, 2014     The Winter of My (Dis)Content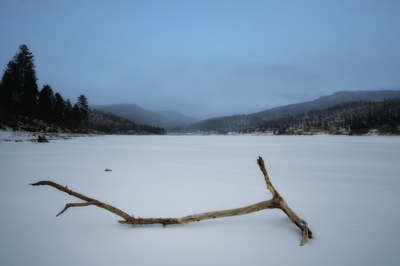 I naturally alternate productive periods of intensive work with fallow periods to rest and pursue other interests. Working for magazines reinforces these cycles; I generally have to come up with story ideas and pitch them to editors. It's challenging to come up with new ideas while living in a relatively remote and sparsely populated area. Producing daily features for The Chronicle-News kept me out finding stories, some of which I could grow into magazine features, but the Chronicle hasn't bought my work since last fall and there's no change in sight.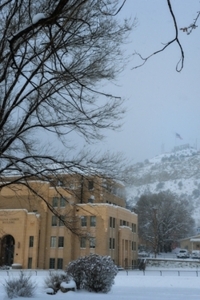 I haven't been out reporting, photographing, and writing a story for several months. Ironically, I have seven magazine features appearing in a five-month period from now through June, but they all reflect work done last summer. That's how magazines work. The only way for the second half of this year to see lots of my work published is if I get on those new stories right now. I've been content to lie fallow, but the itch has returned and I'm brainstorming new story ideas to pitch to editors, ready to get out and get to work. I'm also beginning to look ahead a year or two to retiring from teaching; that will allow me to get far more ambitious, to work for national magazines, to travel farther for stories and have the time to dive in more intensively. Meantime, teaching and winter are keeping me occupied even as I begin to turn my attention to finding the next round of stories to tell.

---
January 18, 2014     Pastures of Plenty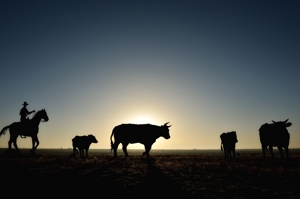 The February issue of New Mexico Magazine arrived yesterday with two of my features, the first time that's happened and a bit of a thrill. With a dozen photographs and 4500 words, it's my most prominent presence in a magazine so far. The bigger piece is "A Range of Possibility," using this image as a gorgeous two-page opening spread designed by art director Edie Dillman. Originally commissioned by Ranch & Reata, the "personal travel essay" found a new home where it enjoys a larger readership. A profile of Lea County, New Mexico, I'd originally called it "Eastern Plain." The editor wanted a different title and we brainstormed for days before he arrived at his title. A few days later I came up with what I think is an even better one--"Pastures of Plenty"--but alas, too late for publication. If Ranch & Reata publishes it later, I'll hope to use the later title, a perfect fit and a Woody Guthrie title to boot.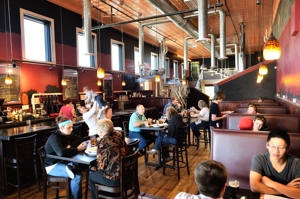 My other feature in the magazine is a 1500-word travel piece on the sister cities of Portales and Clovis called "Sisterhood Is Plentiful," another title created by the magazine over mine, which was "Treasures of the East." (Writing titles is an art in itself, one which I enjoy.) This one includes eight of my photographs, versus only four for the Lea County piece, which was so long that it didn't allow room for more images: I think it would have been a better feature if it was two pages longer to accommodate more photos. Alas.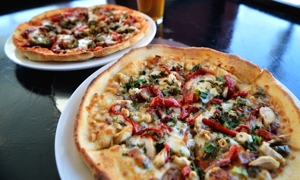 Roosevelt Brewing Company in Portales fared well with two photos (above and right), while its neighbor Vines Italian Restaurant got my full coverage and compliments in the text but struck out in the art department, though some of its photos were every bit as attractive. The luck of the draw, and dependent on someone else's expert eye. Almost Home B&B and Mom's Cafe also failed to get a photo; I loved both places. There's only so much room and I sent dozens of photos for the art director to choose from. I loved my time in Portales and Clovis--lots to see and do...and eat! And drink! I hope you'll check out my feature.

---
January 4, 2014     A Big Jump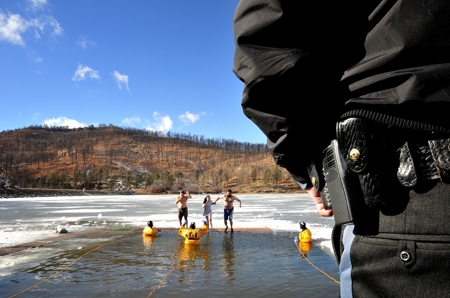 Hundreds of people transitioned into the new year by watching 40 stout souls do it more dramatically, taking Raton's first Polar Bear Plunge at Lake Maloya, where air and water temperatures were both 34 degrees. I marked the new year by photographing the Plunge, posting photos here and at today's TKP Blog and in a pdf file. I also added 100 images to the galleries at TKP, and I took a look backward, via Google Analytics, at my past year's web traffic: 43,703 of you visited my site 52,827 times!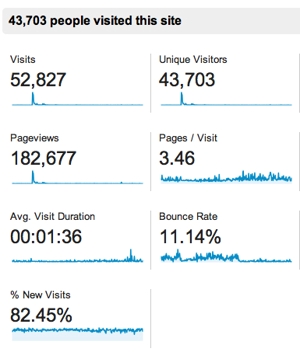 This is a big jump from previous years, which had seen steady growth as I added new content and people found it via Google searches and lots of referrals from people like you. Let's look closer.
Most of us arrive at most websites through a quick search. We arrive and quickly see enough to know that it's already time to move on: we "bounce" right out of the site. My bounce rate of 11% is amazing: 89% of people who arrive continue for at least one more page! More than 9000 people returned to my site after an earlier visit. That includes most of my regulars, probably you reading this blog, who come back time after time. Because I usually blog here and at TKP on a weekly basis, there are many who return weekly to see the new blog stories and photos.
During 2013 my viewers came from 129 countries, led by the U.S., Canada, United Kingdom, Germany, France, Mexico, Japan, Spain, and Australia, in that order. They came from 52 U.S. states and territories, led by New Mexico, California, Texas, Colorado, Florida, Arizona, and New York, in that order. Usually people come to find specific content, so it's not surprising to see New Mexico, Texas, and Colorado in the lead, since my content often relates to them. California edged out Texas this year by virtue of my skateboarding story published just six weeks before the end of the year but which is still bringing brisk web traffic in 2014.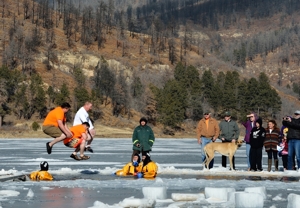 In fact, in just six weeks the skateboard story penetrated the year's top ten destinations on my site. In order, those were the Brown Ranch in New Mexico Magazine, the Raton Gallery, the TKA Biography, TKA News, the Ranches Gallery, the Women Gallery, the Writings department, the skateboarding story, TKP News, and (surprising me!) my poetry book, My Confession. Next came lots of blog pages along with magazine features on Max Evans, the Hindi Arabian horses, and The Fireballs.
Links and referrals came from 299 sources, with Google searches leading the pack, followed by "Direct," such as when you come here via a bookmark in your own computer. In order, those were followed by referrals via Bing, Yahoo, Facebook, AOL, Ask, Forrest Fenn's WordPress blog, Flickr, Comcast, and Raton's KRTN Radio. Right below those were a Southern California surfing site that's been spreading my skateboarding story; the Folsom Village site; the New York Times' amazing Lens Blog (wow!); and the websites of The Fireballs, Raton's M.O.M. adventure race, and Dino Cornay. (Worth noting: the 222 viewers who came from the Flickr photography site averaged more than 9 minutes viewing my site, far ahead of all others.)
The rear view looks so exciting that I may have to put a polarizing filter on my camera lenses to move forward into 2014! Thanks for your support and for being here, reading this today.

---