---
February 17, 2014     Bluegrass & Cornpone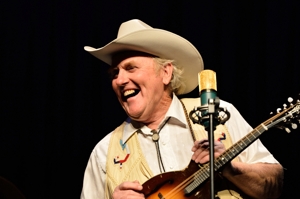 The billing was misleading--"Dedicated to their Native American heritage," (they donned headdresses for a comedy bit)--but Goldwing Express brought a two-set show of straightforward bluegrass to Raton's Shuler Theater Sunday afternoon, part of the annual performance series presented by Raton Arts & Humanities Council. The father-and-sons act from Okmulgee, Oklahoma, via their current home in Branson, Missouri, has been touring for a couple decades--so you'd think they'd be better than than they are. Front man and middle son Steven Baldridge joked at the break that he hoped we liked their first set, "because we're not going to get any better in the second." I think most of the audience liked it better than I did. I was spoiled living in southern West Virginia in the mid-1970s, seeing the best of the genre in shows presented at Princeton High School Auditorium--including Bill Monroe & The Bluegrass Boys and brothers Jim & Jesse McReynolds.
In fact, Goldwing Express reminded me of Jim & Jesse--as close to a compliment as I can give them. Father Bob Baldridge is no Jesse McReynolds on the mandolin, doing nothing but rhythm strumming after decades of playing the instrument on stages around the country. Sons Paul on acoustic guitar, Steven on banjo and dobro, and Shawn on upright bass were all much better players. Paul and Shawn were reserved, letting Dad and middle brother Steven front the show with an accent on old people's comedy: if you don't know the names Monica Lewinsky and Conway Twitty (i.e., if you're under 35), you'd miss a lot of the jokes. Which would be just as well: they were mostly corny and sometimes unpleasantly scatological.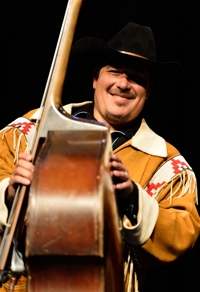 Despite the unsuccessful cornpone, I was gradually won over by the individual personalities of the four and by their playing. The shy ones won me first as it became clear that they were enjoying their musicianship and anchoring the sound. Bassist Shawn Baldridge sang several songs and wowed everyone with an amazing train whistle sound produced by nothing but his mouth and lungs. I thought Paul Baldridge's overloud and tinny guitar sound would drive me crazy but he got it adjusted quickly enough and, as he warmed up, played some solid country guitar. Steven Baldridge is a good banjo player who delighted the audience; I enjoyed him most, though, when he played dobro, which I can never get enough of. I enjoyed dad Bob's vocals on old gospel country songs. All in all, I saw that they could make me swoon all night if they'd just lean into great old-timey songs and play for their own enjoyment. Instead they've got an act that will perfectly fit daily 10 a.m. matinee shows in Branson, which is exactly what they'll be doing from April through December.
---
February 8, 2014     Maintenance Mode
It's partly winter and partly a lack of jobs, but my cameras have mostly laid in wait these past weeks. The business of being a photographer still keeps me busy, but that's mostly doing correspondence and processing at the computer--not as much fun as being out shooting.
Locally, my photos have gained a large presence through three websites--City of Raton Parks & Recreation (current home page captured above), the Raton Masters of the Mountains (M.O.M.) adventure race, and the approaching launch (late this month) of the redesigned City of Raton website, designed by a professional agency in Omaha and using many of my photos.
Rio Grande Books solicited several of my photos for an upcoming book on Max Evans (1, 2), scheduled for release on Max's 90th birthday in August. One of my close portraits is being considered for the book's cover.
Recent New Mexico Magazine projects have led to my providing photographs to Vines Italian Restaurant in Portales and Michael Martin Murphey's people in Red River.
I'm grateful to be busy with work grown from my photography projects, though as the days lengthen and daylight savings time approaches, I'm increasingly antsy to jump onto some new projects, brainstorming stories to pitch to magazines and looking for exciting portraiture prospects. It's time to get my cameras back to work.
---
January 18, 2014     Rains, Pours

Some days are better than others. Yesterday was special. My photographs just kept coming, from morning to night, on a website, in a magazine, and on a TV show. Then this morning I learned that my friends and neighbors Laura and Hal Brewer are looking to open a gallery on Raton's Historic First Street and include some of my framed works.
The montage above--four of my photos of last fall's inaugural Masters of the Mountains (M.O.M.) Adventure Race--was created by designer Lori Chatterley for the event's dynamic website, which now features 14 of my photos, all linked back to my own M.O.M. page and its 32-image narrative of the race. Check M.O.M.'s home page and Event Information page to see how Lori's used my photos to attract new race entrants and visitors for this year's September 13 race.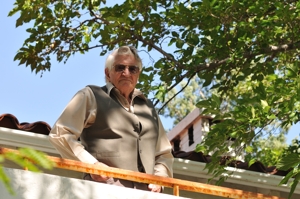 Last night, KNME-TV, Albuquerque's PBS affiliate, premiered the latest installment of its acclaimed Colores arts program, leading off with a profile of New Mexico novelist Max Evans that featured my portrait and a half dozen of Max's old photographs that I'd scanned and restored for my New Mexico Magazine and Western Horseman features. Max's 10-minute segment is already available online, for free, just by clicking here. Now 89 years old, Max remains as fascinating as ever.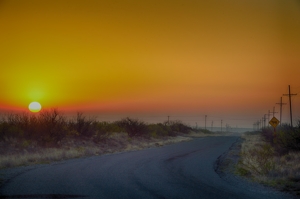 Yesterday afternoon the mailman brought the February issue of New Mexico Magazine, containing two of my features--a dozen photos and 4500 words. I was up late last night just reading it all. There's always a thrill in seeing work in print that I completed months earlier, and I enjoy reading it as though I've never seen it before. I'm going to save more specific comments about the contents for my TKA Blog; meantime, the magazine will be on sale throughout the next month, and later I'll be able to post the features here in the website.
---
January 4, 2014     Taking the Plunge
Raton's first New Year's Day Polar Bear Plunge at Lake Maloya punctuated my two-week project to add 100 photos--the best from the past two years--to the various galleries here at TKP. Both water and air temperatures in Sugarite Canyon were 34 degrees, though a stout wind made it colder standing above the water where I photographed 40 people taking the plunge, including my wife Christina Boyce above and, with her "posse" Barbara Neary, below. More photos are at today's TKA Blog; I've also posted a dozen on a pdf page here.
Although placing images in this blog and elsewhere in the website is quick and easy, placing them in the galleries is a long, tedious process that takes about an hour per image. That doesn't sound long on the surface, but it's 100 hours to add 100 images. There are various image sizes and everything has to be coded to work with the shopping carts. I can only immerse myself in such a project during extended vacations. Last year I added an entire Raton Gallery to supplement my New Mexico Magazine feature, but otherwise I hadn't added any photos to the galleries for two years.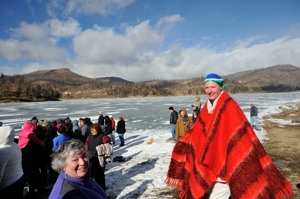 You can see the list of galleries in the left menu above. I added a new gallery called Music. I also added two-dozen new images to the Raton Gallery. The other additions are scattered throughout most of the other galleries.
Click any image in any gallery and you'll find another new feature: you can now move directly from picture to picture, or click on the slideshow feature to just sit back and watch them go by automatically, left to right and top to bottom. Kudos and an IOU for a Ferrari go to Hunter Schoonover, who's done all the software engineering to add this much-needed feature that didn't exist in photo sites when we started five years ago but has now become a common and expected convenience. Hunter and I are still tweaking--we may speed it up a little, but it's working well now. Check it out.
I have four magazine features coming out this month, so watch the News pages here and at TKA, where I'm headed now to write the year's first blog post there -- a discussion of last year's web traffic that totalled 52,827 visits from 43,703 different readers around the world. We're growing!