---
June 28, 2012     Things Are Looking Up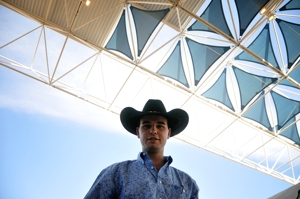 I'm going to finish out a run of Will Banister postings with this portrait which I took at Albuquerque's Centennial Summerfest celebration on Saturday, June 16. That's the canopy over the Main Stage on the city's civic plaza before Will and his band started their set.
The next day I flew to Los Angeles and returned home two days ago. I usually blog here every week, and more in the summer as I'm about to do: I have lots to post, and no signs of letting up through July, both here on the arts blog and over on the photography blog. It's good to be home with a full plate of enticing projects.

---
June 13, 2012     We're Talking Rural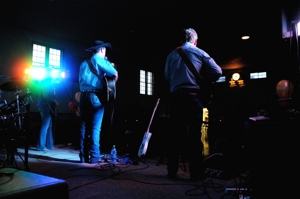 Christina and I had a great date Saturday night driving to Nara Visa, New Mexico, for a country dance in the old school gym featuring Will Banister and the Mulberry Band (left). The people in the community throw this dance annually as a rare social event, inviting a different band each year. Three years ago The Fireballs played. Will Banister and his band were a perfect fit.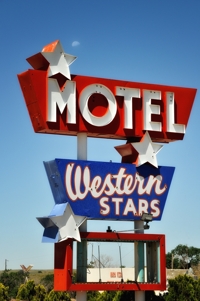 Nara Visa is too remote to stay anywhere else after the dance, and the village has just the one motel, Western Stars, so we and Will and his family and band all stayed there. I loved it, partly because I love the song "Western Stars," written by Chris Isaak and memorably recorded by k.d. lang. (I'd love to hear Will Banister sing it!) The motel and our room were clean and simple...we wouldn't hesitate to stay there again, maybe for next year's dance!
I'd been to Nara Visa two years ago to cover a sprawling country auction for The Chronicle-News; I posted more words and pictures in the TKP blog at the same time. Christina and I enjoyed driving around and exploring before we headed home Sunday afternoon, capping a perfect weekend.

---
June 9, 2012     Reclaiming Country Music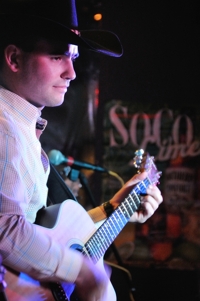 I'd never heard of Will Banister two weeks ago when New Mexico Magazine hired me to profile him for its September issue, but now I'm a fan. Unlike the pop dreck heard on contemporary "country radio," Will's music harks back to the classic eras of Hank Williams, Merle Haggard, and innumerable others who radio has shunted off into some niche where the label "country music" has become confusing. Will has a video of himself still in diapers singing "Your Cheatin' Heart." Four years ago, at 19 and already a veteran of stages, he started writing his own songs. A deep, resonant voice and a lifetime of listening to the real deal has produced a songwriter and performer who takes me back to the golden era of country music -- to the 16-year-old listening to my grandpa's Merle Haggard LP, and the 25-year-old newly-baptized Texan at Cheatham Street Warehouse watching and listening to Ace in the Hole with its college-student singer named George Strait.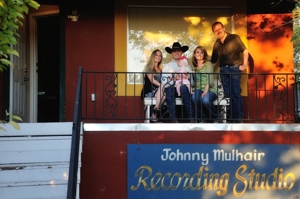 I interviewed Will and his wife Tessa in their Portales home, and with Jill & Johnny Mulhair at their recording studio, and over Mexican food at Leal's, and at a honky tonk dance at Kelly's Bar & Grill, all in Clovis. Later I saw that Will Banister and The Mulberry Band is playing tonight's annual dance in Nara Visa, New Mexico, so Christina and I have booked a room at Nara Visa's only motel, Western Stars Motel, and we're driving a hundred miles for some country music!

---
June 5, 2012     R.I.P.  Sam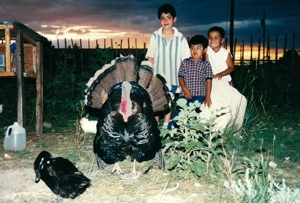 I buried Sam yesterday, out by Coltrane, Erin, and Serafina, the three dogs we've buried in our 13 years here. Like them, Sam was our pet, a fixture in our backyard. Sunday he lay down under the deep cool shade of a privet tree. He looked relaxed and comfortable when I saw him in the early afternoon, and again a couple hours later. But when I went out in the evening, I saw that Sam had lain down there to die. He'd been here with us since he was one day old, and that was almost 13 years ago. In memoriam, I pulled up these words written years ago:
 
Sam's a turkey, destined to be dinner
until Darcy visited for Thanksgiving
and gave him a name, Uncle Sam.
That was six or seven years ago. He's
survived a dog attack that tore him
apart. The hardest thing he's had
to survive is living with chickens
and ducks. Dogs threatened his life,
but living with birds threatens
his dignity.
Sam stands apart. He will not enter
the protection of the coop for any
winter temperature that is still in
double digits. In single digits, he
ducks in and stands absurdly in
the middle of the chicken perches,
displacing a dozen chickens.
When the gate is left open, Sam
will have nothing to do with the pen:
he waits by our back door, and
when we emerge, he follows us
to the garage or the clotheline or
even back to the pen. He likes
his neck rubbed and will let us
hold him, all 30 pounds.
Sam does not believe that he is
a bird, a member of the bird family.
He is probably an intransigent
reincarnation, wondering each day
what he did to deserve this fate.
 
I'm happy to think that Sam's awkward days as a turkey are over. He earned such good karma that he must be headed to something great.
By the way, the oldest boy in the photo above graduated from high school two weeks ago. Sam's been everyone's favorite all these years.

---
June 2, 2012     The Spirit(s) of Rock & Roll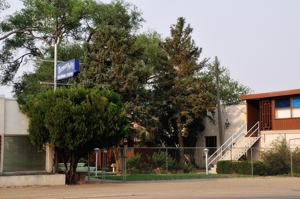 A midweek road trip took me to Clovis for three days of reporting for a pair of New Mexico Magazine features, one of which will be a profile of Raton's The Fireballs who recorded a series of hits at Norman Petty Studios circa 1958-1968. I'll be interviewing George Tomsco and Stan Lark next week, but last week I got to photograph the Petty studios and the downtown Norman & Vi Petty Rock & Roll Museum for images to accompany the Fireballs profile.
My tour of the Petty Studios was exhilarating, standing on the spot where George played his guitar on classic rock instrumentals and across the room where Buddy Holly played his guitar tracks, or in the reception area where Buddy Holly was isolated to record vocal tracks. Petty always recorded between midnight and dawn when there was little traffic noise from 7th Street and a more consistent electrical supply.
My host Ken Broad sat me in Petty's chair and turned on the reel-to-reel tape player. Buddy Holly came booming loudly from the big hanging Altec speakers. I was in the chair where Holly himself first listened to the playback of this song, "Heartbeat." I closed my eyes and went back in time. Transcendent. Then Ken cued The Fireballs' "Sugar Shack" and I enjoyed hearing the Hammond Solovox that Norman Petty played over the track. Afterward I asked Ken to turn on the Solovox so I could peck out the riff. Heaven.
Petty built an entire complex at this studios, including a spacious apartment for the visiting musicians and a lovely backyard and patio where everyone would sit to enjoy Norman's evening barbeques. I'm saving the best photographs for the magazine, but here are the pink lounge chairs once used by Roy Orbison, Buddy Holly, The Fireballs, Buddy Knox, and countless others right there in Clovis, New Mexico.

---
May 27, 2012     Distant Winds Reach Raton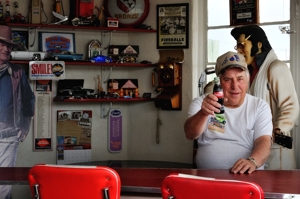 The glass is half full: both New Mexico Magazine and The Chronicle-News continue to spotlight Raton and northeast New Mexico.
The glass is half empty: both publications last week demoted Raton at least a bit.
New Mexico Magazine pushed back its major feature, "The Heart of Raton," from the September issue to the November issue. The feature was created to spotlight Raton's big "Art of the Great Outdoors" festival month and many people worked hard to assemble a complete calendar. All that has now been dropped. Raton will be happy come November, but the potential for the feature to draw visitors is diminished.
The Chronicle-News revisited its flailing days this week when it pronounced "we are not to run any stories about any Raton students at all since they don't buy the paper in Raton." No, they and their families drive to Trinidad to get copies for friends and relatives when they're featured in the paper, because the Chronicle withdrew its Raton sales last year. Four months ago the same person wrote to me, "We've got lots of room these days so anything else you can think of to write about, do it." Things change. They've changed before, and I'm pretty sure they'll change again.
Meantime, Frank Ferri's smiling, above, at his playhouse "The Station" in Raton (from the photos submitted for the New Mexico Magazine feature), and I'm smiling, too. New Mexico Magazine just gave me two more features that'll involve road trips to Clovis and Albuquerque. One will allow me to again spotlight Raton when I profile hometown heroes The Fireballs. And I'll be photographing their show, as well as that of Clovis's rising young country phenomenon Will Banister, from the stage at Albuquerque's Centennial Summerfest June 16.
Then I'll be off to Los Angeles for a business and pleasure trip, visiting my family while working on a freelance project. Last summer my plate was pretty empty of work; this summer it's so full that it's spilling over the sides. And I'm smiling.

---
May 20, 2012     A Destination Worth Visiting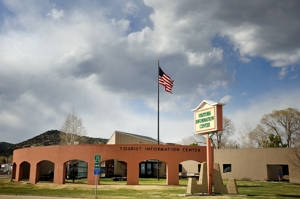 I love this photo and wanted to get it out into the world so Friday I visited Raton's New Mexico Visitor Information Center to develop a feature for The Chronicle-News; how's that for working backwards! With the help of 16-year veteran customer service representative Beverley Mark, it grew into a much longer, and better, article than I had envisioned. The visitor center is a remarkable place with more amenities and perks than I had imagined -- and I'd been inside several times before.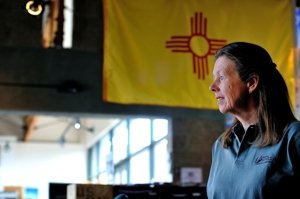 Beverley and her husband Dale have been our friends for years. Along with Dale's extraordinary collection of signs, they have a huge greenhouse at their home in Capulin: we have often bought fabulous tomatoes from them when my own tomato crops have faltered.
It was fun seeing Beverley greet the steady flow of visitors Friday. The visitor log averages one sign-in every five minutes, with hometowns listed from every state and many foreign countries. The visitor center turns out to be a great destination to visit.

P.S. -- Speaking of travel and travelers, my May New Mexico Magazine Road Trip featurette, "Heart of the Hi Lo," is now available right here.
---
May 12, 2012     Paean to Rain  (Ode to Sand Castles)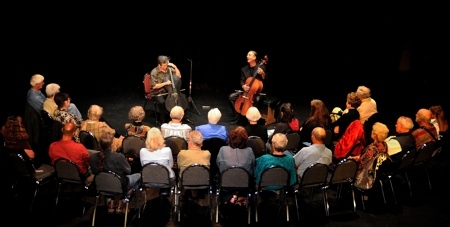 The first clue that this was going to be a very different concert experience for the Shuler Theater was stepping into the auditorium yesterday afternoon and discovering two rows of chairs set up in a semi-circle on the stage. The audience of 24 sat just in time for the arrival of two cellists with thunder and rain pounding on the Shuler roof above the stage. That was the beginning.
Master cellists Mark Dudrow (at left, above) and Michael Kott met just a few years ago, and they get together only every few months. They drive in from opposite directions to become, for an hour, Cellos Two, in a concert of musical improvisation.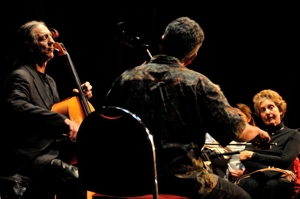 I just submitted my review for tomorrow's paper, so I'll be brief. In an unforgettable experience for an audience seated as close to the cellists as they were to each other, Mark and Michael created musical landscapes by layering ideas upon each other, communicatinig not in call and response but in one adding something new on top of what the other was playing. Compare it to building a sand castle. This castle could have been constructed for The Louvre.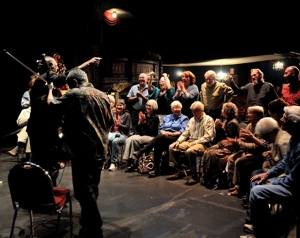 Like a sand castle, this music had never been created before. And, because no one recorded the concert, the loud applause of a standing ovation at concert's end was like a wave washing the castle away, never to be experienced again except in memory. At a lovely catered reception afterward, many people bought a CD of similar music -- I've been enjoying it all morning as I write -- but it's a different sand castle altogether, at a different beach.
Thanks to Landon Young, Bill Fegan, Mark Dudrow, Michael Kott, and the ShortGrass Music Festival for a one-of-a-kind experience that's holding up in memory very well.

---
May 6, 2012     The Music Makers Bring It On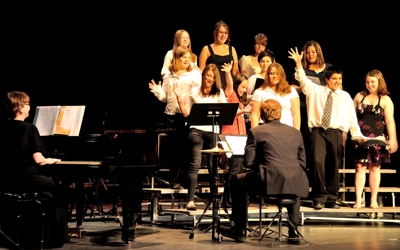 I love the photograph above because it succeeds in showing the joy created when an ensemble of young people creates music for an appreciative audience, in this case at the annual Raton Schools choir and band concert last Tuesday night at the Shuler Theater. That's new music director Nathaniel Ashbaugh directing the combined middle school and high school choirs while playing a little kit of snare drum and cymbal. Linda Trice's smile from the piano illustrates how infectious the fun was. The audience got it, too. (As always, click the photo to enlarge it.)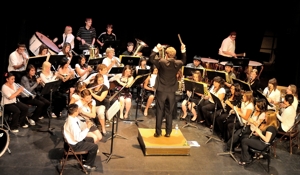 Nate came in at mid-term and has had only four months with the students. His enthusiastic nature showed all across the stage as the various groups responded to his positive approach to life and music. Burning the candle at both ends, I had planned to leave the show at intermission but then found that I couldn't. It was just too much fun. (Read full review here.)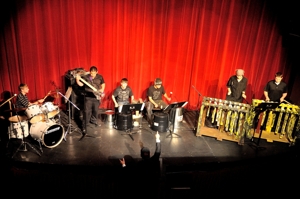 The Raton High School Uncommon Drumming group was one highlight of the show. Six teenage boys played an original ten-minute composition that featured each of them taking solo improvisations. Their instruments included a drum kit, an electric bass guitar, two homemade PVC xylophones, and two kits made up of various products from a hardward store. It was a banging good time.

---
May 5, 2012     Kids Say the Darnest Things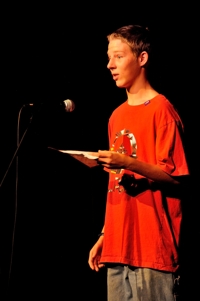 The second annual Poetry Rocks! program at Raton's Shuler Theater wove more than its share of magic. It amazes me to see the kids -- and somehow the poems themselves -- rise to the occasion of being on a public stage, at the magnificent 97-year-old Shuler no less, in front of a large community audience.
I saw the same phenomenon last year, but this year's program was even better. The students' own poems, heard earlier in the day at the Raton High School library during the school's 6th Annual Poetry Marathon, sounded better on the Shuler stage. More importantly, they tapped into deep expression and communication that succeeded in affecting the audience: many of the poems earned rousing and heartfelt applause.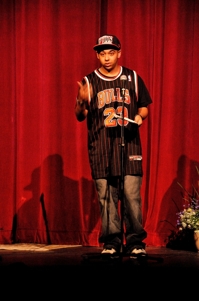 The Shuler event followed a two-week Poets-in-the-Schools program in which each student had 3-4 class periods with a poet in the English classroom. Albuquerque poet-educators Manuel Gonzalez and Tracey Dahl inspired and instructed the students, with each student producing a handful of new original poetry. I just noticed a coincidence: the two students I chose to picture here both happen to be from my own first period junior class. That's Austin Johnson above and Eli Romero at left. I submitted these same three photos with my review for The Chronicle-News, but only Eli made it into the paper. I can only imagine the impact the program and the performances will have on these young people -- and I like imagining it -- but only they can speak to that, and I think the impact will continue to unfold throughout their lives.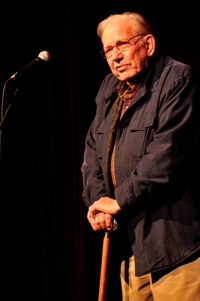 We closed the Shuler Theater program with Bill Fegan, who recited a Longfellow poem, and then we brought all the students back onstage to sing "Happy Birthday" to the Shuler, which opened 97 years earlier. Before reciting the poem, Bill brought tears to some eyes with his remarks about the student poetry and the Poetry Rocks! event itself. He noted that virtually all of the material showcased in the 60-some shows gracing the Shuler stage each year are written by professionals who are far removed. He urged the community to assure that the student poetry event continues long into the future, telling the audience how moving he found it to hear such poetry written and delivered by Raton's own youth. It's a role, he said, that the Shuler Theater appreciates and welcomes.
Then everyone walked next door to the Isabel Castillo Performing Arts Center to mingle and enjoy a reception catered by the Culinary Arts Group of Raton High School. As hard as it is to explain, I swear that each of the students stood two inches taller than before.

---