---
June 28, 2012     Stepping Out of Time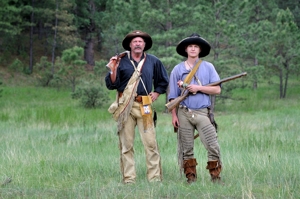 The day after shooting the Santa Fe Trail Mountain Man Rendezvous, I left northeast New Mexico for two weeks. I'm back with lots of photographs and stories to share, but as I get caught up I thought I'd start by adding one more pair of mountain man photos. They are all so darned picturesque!
All I learned of these two men was their names, Toby and Tom. I love their look. I believe Toby is from Redding in far northern California, and I didn't get Tom's hometown scribbled down on my scratch sheet. Thanks, guys. (As always, click any image to enlarge it.)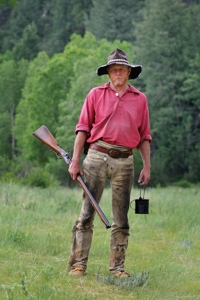 These people don't dress up for pictures and then go home; in fact, I saw no other camera out there than my own. They live primitively for a full week, and they include as many rendezvouses (Webster's Collegiate 11th edition) as they can: they enjoy leaving modern life behind in favor of the lives of pre-1840 trappers in the Amercan West. Part of the fun is rejecting any costuming or adornment that wouldn't have existed in 1840 -- making a close look at each picture that much more interesting.
This serious looking fellow is my friend and neighbor Tom Bobek who with his artist wife Inge manages Spahn & Friends Bison Ranch where Christina and I get a lot of our meat. My galleries have a portrait of Tom & Inge at home and a portrait of Tom taken at the rendezvous four years ago. Of course, there's another photo just below, taken at the same time as this one.
Photography was the last thing on their minds out there, and the first thing on mine.
---
June 14, 2012     Rendezvous
My friend and neighbor Kyle Bell invited me to take photos at this year's Santa Fe Trail Mountain Man Rendezvous, held every June in York Canyon west of Raton, New Mexico. Kyle will be next year's "booshway," or honcho, and he's already looking ahead to having good images to promote next year's event. Hopefully some of mine will do the trick.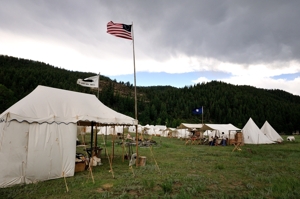 This is the third year I've taken pictures at the rendezvous. (Use the Search feature above left to find more from 2008 and 2009.) For a photographer who especially enjoys getting great portraits, the rendezvous is a fabulous opportunity. I just walk around with my portrait lens and take photos of everyone whose look interests me. No one declined my request yesterday.
Just look at these faces! A photographer's dream! Clockwise from top left, these are Dean from Kansas, Kyle Bell, Tom Bobek, and Joe from Andrews, Texas; click any image to enlarge it. The weeklong event continues for three more days and the public is encouraged to visit. I say give it a whirl!
---
June 13, 2012     Great Balls of Fire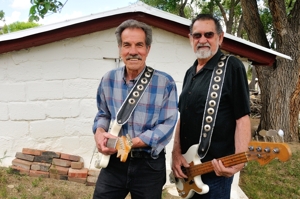 I'm having a great time working on The Fireballs' story, scanning George Tomsco's archival photographs to accompany my own new photos from Norman Petty's Clovis recording studio, a pair of sessions (right and below) at George Tomsco's home, and a 90-minute concert performance coming up Saturday at Albuquerque's Centennial Summerfest. As usual, I'm over-shooting for a magazine spread that is likely to include only two or three images. So it goes. But you get to benefit as I post the extras here. Besides, how can I make myself take fewer photographs? Not gonna happen.
---
June 9, 2012     Give the Band a Hand
Photographing a rehearsal of The Fireballs for a New Mexico Magazine profile, the rehearsal room was too cluttered and cramped, the combination of flourescent and incandescent light too unamenable for usable band shots so I opted for 50mm and 85mm prime lenses to concentrate on close-up detail shots, with wide apertures (f/3.2 and f/2.8 above) to blur the cluttered backgrounds and give me enough light without flash.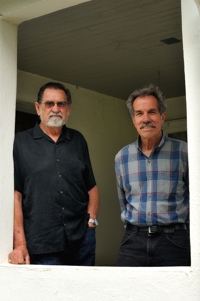 George Tomsco formed The Fireballs with Stan Lark in January, 1958, after their pickup band won the Raton High School PTA Talent Show with the one song they knew of the newfangled rock and roll music, Jerry Lee Lewis's "Great Balls of Fire." George and Stan had been friends since they were 8 or 9 years old. They'd been rehearsing in a room where Chuck Tharp was staying at the Robin Hood Motel but when they added drums they moved to the living room of George's house -- where they're still rehearsing today, more than 54 years later! That's George in the plaid shirt on the right, and his fretting hand on the Fender Jazzmaster above left. Stan's playing the same Fender P-Bass he bought in 1958. I love seeing these close-ups of hands that have been playing stringed instruments for six decades.
The day before the rehearsal, I took this portrait of Stan and George on the front porch of the Tomsco house where The Fireballs were born. I'm looking forward to shooting the band in concert a week from today at Albuquerque's Centennial Summerfest, then creating the magazine profile that is tentatively set for the October issue.
---
June 2, 2012     The Wind

This time of year it's windy more often than not here on the edge of the Great Plains, along the Front Range where the winds depart the Rocky Mountains and accelerate as they sweep east. It's prime real estate for burgeoning new wind farms. I counted more than a hundred big wind turbines down near the Hindi Ranch south of Santa Rosa on assignment for Western Horseman last summer.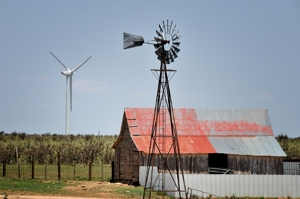 This week, on assignment for New Mexico Magazine, I crossed another wind farm with a similar number of turbines at Caprock, between San Jon and Clovis. I climbed the barb wire fence and crossed a field to get this one of the old windmill and barn juxtaposed with a modern wind turbine, enjoying the image for the contrast between old and new.
 
---
May 27, 2012     Noticing Graduation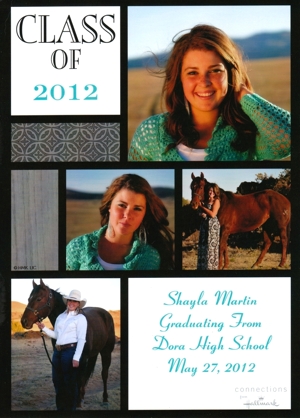 My neighbor Shayla Martin graduates from high school today and I'm pleased to see her graduation announcement with four of the senior pictures I shot for her last autumn. (For more, see my October 15 blog.)
Shayla's a great young horsewoman; in fact she's great with animals of any kind: for years she's taken care of our house, garden, and animals when we've been away, Shayla tending our two dogs, three cats, two hens, one duck, and Sam the turkey.
I've contributed four photos to one other announcement like Shayla's, for Laekyn Reust two years ago. Besides both being horsewomen, Laekyn and Shayla were both homeschooled. I guess I'm carving a niche for myself as the senior pictures photographer for homeschooled horsewomen in the far boonies of northeastern New Mexico.
---
May 20, 2012     Marking Transitions
High school graduation is not generally a good photo opportunity. Raton High School's graduation Friday night was held on the school's football field, the stands filled with friends and families of the graduates. Photography is encouraged at the rehearsal but prohibited during the actual ceremony.
Des Moines High School holds graduation in its gymnasium, which is even worse for photography. The artificial light and cluttered backgrounds make it difficult to get a great photograph.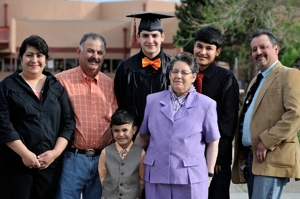 So when our neighbor Sylvia Cisneros called to ask whether I might photograph her son Emilio at graduation, I declined.
But Emilio started kindergarten the first autumn that we lived here: we've watched him grow up. And the Cisneros family has always been a good neighbor. (Tony gave us a tree stump to use as a much-needed firewood chopping block at the start of our first winter.)
So I called back and suggested an alternate plan, which worked out beautifully. I photographed Emilio and his family right on the street outside our house, which put the school in the background. I had walked around looking for a good location before they came by.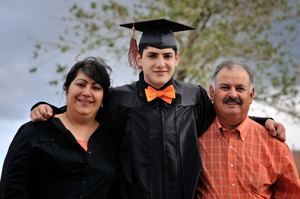 Putting them in a single spot in the middle of the street, I was able to move around to get different backgrounds, with some help from the dramatic sky. And it was fast: Christina went to pick some spinach and lettuce for dinner and by the time she joined us, we were finishing up.
I've been able to put 14 images on a disc for a graduation present which we'll deliver today when the Cisneros family celebrates Emilio's graduation with a big gathering and feast. Christina's taking her MacBook Pro to present a slideshow. For a fun bonus, we've ended the slideshow with a photograph Christina took a decade ago of Emilio and his brother Anthony and their friend Diego Martinez visiting with some of our animals -- a rabbit, a duck, and Sam the turkey who is still alive and lounging in the shade of the hammock in our back yard as I write.
Happy graduation this weekend to Emilio and to all of my own students from the Raton High School class of 2012. Good road!

P.S. -- I've just posted my "Heart of the Hi Lo" road trip featurette from the May issue of New Mexico Magazine. Check it out here.
---
May 12, 2012     Awards and Rewards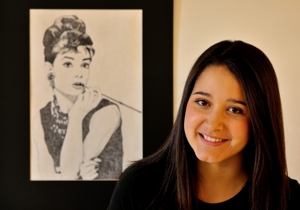 This is a rewarding time of year for a high school teacher. It's the awards season -- for arts, academics, and sports -- and I enjoy seeing many of my students reap the awards and rewards for their many efforts. As a reporter, I enjoy being able to recognize the students' achievements in print, bringing notice from the wider community. As a photographer, I enjoy the challenge of finding ways to picture these young people in dynamic images that bring attention to their deserving subjects.
 
Chelsea Chavez, above, won Best of Show in Raton's 42nd Annual Youth in Art show with her remarkable pointillist ink drawing of Audrey Hepburn (click image to enlarge). I'm pleased with my portrait for managing to effectively showcase both Chelsea and her winning drawing. Chelsea was also an impressive writer in my honors senior English class this year, although she left the writing to others in this year's Eye of the Tiger writing competition...
 
Where Marisa McCarty, at left, won a First Place award in poetry, while James Neary, above and below, was named Writer of the Year while winning awards in all three divisions of poetry, fiction, and non-fiction. (Callie Wilson and Tyler Coffey were other top winners.)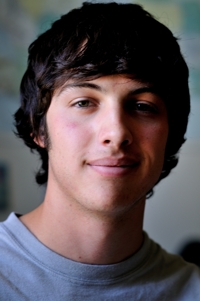 I took James's photograph two weeks ago for an upcoming article about his winning a four-year full-ride National Merit Scholarship to the University of New Mexico. When he came in for the photo with Marisa yesterday, he had a fresh haircut, thus the two different looks in close proximity.
The three students pictured here represent three years of my honors senior English course. James took it as a junior, last year, then took an independent study in creative writing with me this year. Chelsea's earned a hard-won A in this year's course, while Marisa was in my junior course this year: she'll take the senior honors course next year.
I'm blessed to know and teach so many fine young people. They're inspiring; I find it gratifying to be able to play a part in their development and trajectory.
---
May 6, 2012     Faster Than a Speeding Guitar Player?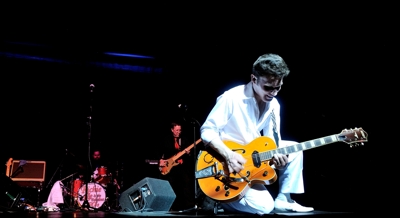 Four and a half years ago, I found the new Nikon D300 to have remarkable speed. Since then, the demands of getting good photos of fast moving subjects in dark rooms has frustrated me. Most of the resulting images have too much blur to be useful. The longtime solution for others has been the use of flash, but I don't like using flash and, besides, it's inappropriate or even disallowed in many places that I would need it, such as Thursday night's rollicking concert by Richie Lee at Raton's Shuler Theater.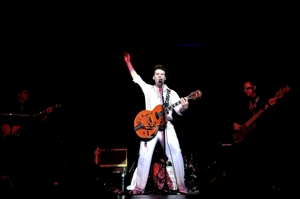 But now Nikon has released the D4, a fully professional camera that is effectively three times faster than the D300. It also costs three times more. Despite the cost, Nikon has not been able to keep up with demand and the D4 has had a waiting list since its release almost two months ago.
Just as well. Since I'll be investing in all new lenses for the full-frame camera, buying this rig will cost as much as a (modest) new car. I have a financial plan in place and will buy the D4 as soon as I can; hopefully, it won't have a waiting list by then.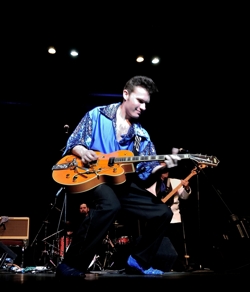 What will I gain for that investment? Well, lots of things, mostly modest improvements. (The big change is built-in state-of-the-art video capability -- news photographers in the online age are expected to send video along with their stills -- but that's a different blog.)
For me the big gain will be capturing motion without blur in dark rooms. Sports photographers need this to catch basketball or football in arenas and nighttime stadiums. I need it in a variety of settings, but most dramatically in theaters. Like many performers, Richie Lee wouldn't stand still. I got some classic shots, but they were all too blurry to work well. This blue shot is a good example: click to enlarge and you'll see the blur. Sometimes blur works, as perhaps it does here. But with the D4, I hope to finally have a camera that is faster than a speeding guitar player.
---