---
April 29, 2012     The Coolest Playhouse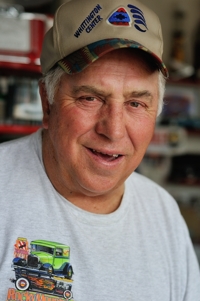 In exploring Raton for my upcoming magazine feature, I discovered the story behind the eye-catching old service station on the south end of downtown. Its sign simply says "The Station." There's activity yet it hasn't, for some years, appeared to be a business.
When I interviewed Brenda Ferri at her store, The Heirloom Shop, I met her dad, Frank Ferri, and discovered that The Station is essentially his playhouse. He works on his cars and trucks there amidst his collections of Elvis Presley and Coca Cola memorabilia.
His restorations have included his 1942 Chevy, his 1947 Hudson, and Brenda's 1968 Charger. The station itself was built by the Tomsco brothers in 1947.
 
Explaining The Station, Frank smiles, "It's an old man's hangout. Guys bring their cars down and we barbeque." He's there a lot the time and keeps the Coca Cola dispensers and refrigerators filled with bottles of Coke to offer visitors that drop in often throughout each day.
This was such a cool story that I had to include Frank and The Station in the September magazine feature. After that comes out, he may need to stock extra cases of Coke bottles.

---
April 22, 2012     Wrapping Up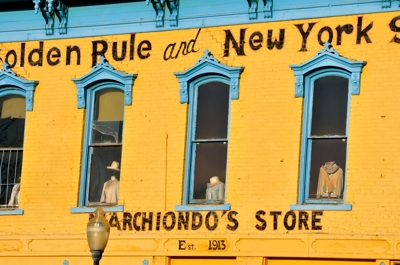 I was up at dawn both Saturday and Sunday to work on what's turned out to be a hard-won 1850-word manuscript titled "Diamond in the Rough" aimed at bringing travelers to Raton, for the September issue of New Mexico Magazine. Along with a 500-word sidebar and 70 hi-res photographs, I'll be sending it off the to editors on a DVD this week, just a little ahead of my April 30 deadline. I prefer to be further ahead of deadline than this.
The photo above of Marchiondo's Store on Raton's South First Street is an outtake, not among the 70 I'm sending: those are better. While I'm still tinkering with my text, I'm excited about the finished photography. It's going to feel good to send everything off after an intensive month of reporting, photography, and writing. I expect my editor to send the manuscript back for some revision -- that's normal -- but then I can relax and await the arrival of the magazine in mid-August. Like everyone else, I'll have no idea what it looks like until then.

P.S. New Mexico Magazine's May issue is out now, with my three-page Road Trip featurette titled "Heart of the Hi Lo." Look for it.
 

---
April 15, 2012     The Heartbeat of Raton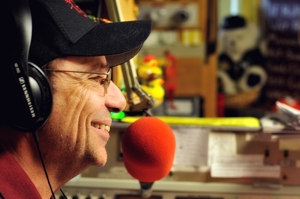 For the second weekend in a row, Christina and I overnighted at The Melody Lane in Raton so I could continue reporting and photographing the town for my feature in the September 2012 issue of New Mexico Magazine. Wherever we go in Raton, we hear radios tuned to KRTN FM 93.9; more often than not, we hear the familiar voice of Billy D, who first broadcast on KRTN about 43 years ago when he was a sophomore at Raton High School. Now he owns the station.
I often say that KRTN is the heartbeat of Raton, so I couldn't write a six-page feature on Raton and not include Bill Donati. I stopped by this week to photograph him in early-morning action, one of dozens of photos I'll be submitting to the magazine with my manuscript later this month.

---
April 7, 2012     Getting Steamed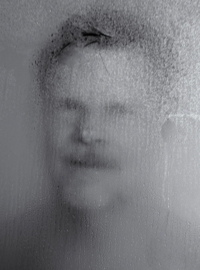 When Christina and I first came to explore the northeastern corner of New Mexico, circa 1997, we chose Raton's Melody Lane Motel from an online map of the town's lodging options: it was far from where all the other dots were crowded together (along the Clayton Highway and far south 2nd Street), and then there was its name.
We fell in love with the 1950s motor court, not the least for its in-room steam baths, and we've returned many times even though we've lived since 1999 just 38 miles away. Now we're spending a night on two consecutive weekends so I can be out shooting in the evening light and magical early morning light for my September feature in New Mexico Magazine, "Destination: Raton."
After wrapping up photography yesterday morning, I jumped in to enjoy one last steam bath before checking out of our room. My mind tuned to the photographic needs of my feature, it occurred to me to ask Christina to take a portrait of me in the steam. I like the result well enough that I'm planning to submit it, either for the feature itself (where the motel and steam baths will figure prominently) or for the Contributors page. Boy, they've never had anything like this on that page! Just the possibility makes me smile.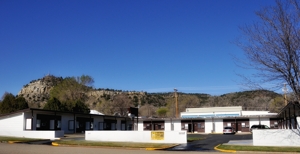 Although I did a lot of research, scouting, and preparation in March, I've had to wait until now, for the greening of the trees and grasses, before I could dive in and immerse myself in the project. That's where I'll be for the next three weeks, right where I like to be, immersed in a project.

---
April 1, 2012     A Restless Man for All Seasons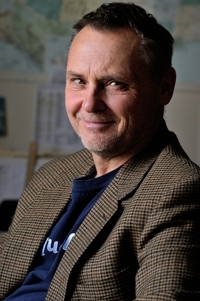 Due to state achievement testing at school last week, I had more time than usual to spend with my colleague and friend, Leo Linsky. The Chronicle-News needs me to contribute as much content as I can these days: as I watched Leo painting a sign Wednesday it suddenly dawned on me that he would make for a great profile feature.
And now, he did! I wrote and submitted a 1500-word feature yesterday which barely scratches the surface of Leo but is very long by Chronicle standards. There was so much material to wrangle into a cohesive essay that I had a ball making it work -- I love that process.
I could interview Leo again this week and stick entirely to new topics, then easily produce another 1500-word feature with no repetition. In fact, the only way to really cover the topic would be to write a book as thick as the one Leo just finished reading, and that clocked in at 1264 pages.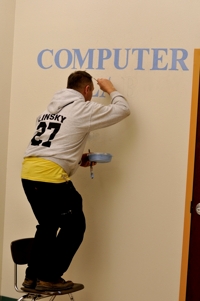 In fact, I've known Leo for a decade and my favorite part of preparing the profile was interviewing him and learning so much more than I ever knew. It just goes on and on.
Leo recently brought a roadkill dog for his students to disassemble, clean, bleach, and label every piece, then reassemble the skeleton. When they discovered that some pieces were missing, he took his students out to the road and they sifted dirt until they found every last toenail.
Another recent project involved learning how an internal combustion engine works. Leo brought in a lawnmower and they took the engine apart down to the last nut and bolt. Then they reassembled it.
When I asked him about his courses in world history, U.S. history, sociology, and philosophy, he said without hesitation, "Human relationships. That's all. They all come down to that."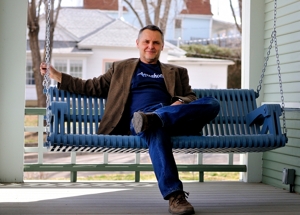 His pride and joy is the house he and Margaret bought four years ago and have been incessantly renovating. Leo enjoyed showing me the new porch swing which he designed and built of 176 separate pieces of pine and pipe.
And I enjoyed writing about Leo. I've posted another portrait today at my photography blog, and there's an intense earlier portrait posted in my photography galleries. Thanks for slowing down enough for me to take notes, Leo. Catching up with you for even a moment is an achievement.

---
March 25, 2012     All Hands in the Air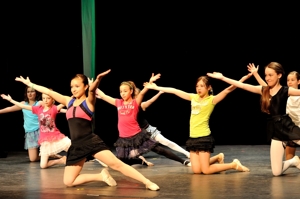 Raton School of Dance hosts its 22nd annual Shuler Theater dance concert next weekend. I went and shot pictures of a rehearsal on the Shuler stage to accompany my feature in this week's Chronicle-News. The 40-year-old dance studio has taught generations of Raton's girls, some of whom have continued to coach and teach there after growing up and having kids of their own.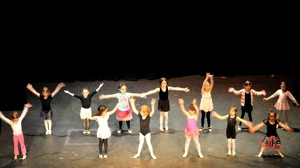 This year's 43 girls go barely up to middle school age. (They start as young as age four!) There used to be many more girls, including lots of high school girls, and the reason they're no longer participating turns out to be for a good reason: the Title IX law requiring equal educational opportunities for girls has resulted in a proliferation of choices that girls never used to have, including many competitive sports. Teenage girls now have a generous range of options from which to choose.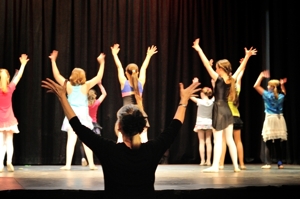 Kathy Honeyfield (pictured coaching at right) took over as RSD director in 1989 and she's seen most of the changes during her long tenure. Watching her direct 43 girls in dance routines, I marveled that she could do this at all after being a top-notch English teacher all day at Raton Middle School. Yet she does it energetically and well, as this weekend's dances will demonstrate. The Shuler Theater shows are at 7:30 p.m. Saturday and 2:30 p.m. Sunday. I'm afraid to say "Break a leg!" so I'll just say, "Enjoy."

---
March 18, 2012     The West, the Old Way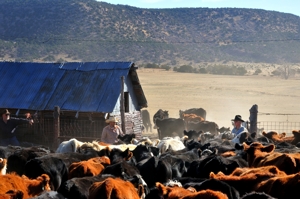 I count myself lucky that Darien Brown considers me a friend, and that he keeps inviting me to enjoy the picturesque doin's out at his ranch in the Dry Cimarron Valley downstream (east) from Folsom, New Mexico. Darien and I ran together countless times over a decade as rural volunteer EMTs, which we've both moved away from, but our friendship remains.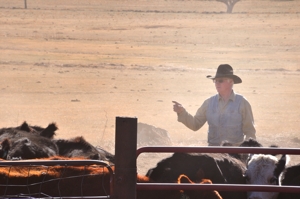 Darien and his family and ranch are so noteworthy that I've managed to feature them already in New Mexico Magazine, Ranch & Reata, and The Chronicle-News. Last week I e-mailed to Darien a note about something else and he came back at me with an invitation to this spring's branding of new calves, which took place all day yesterday.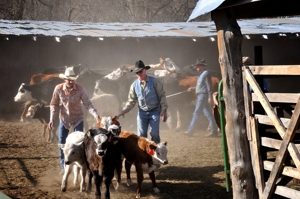 The Chronicle-News, after deciding last year that they no longer wanted New Mexico material, has rethought that decision and been clamoring for New Mexico content: they've found that they don't have enough material to fill the paper from the Colorado side alone so they've had to resort to lots of AP wire service filler from all over the U.S. The paper's readers are more interested in stories close to home, and northeastern New Mexico is that.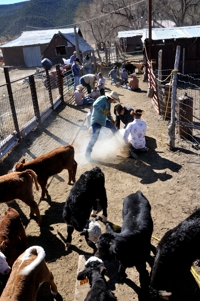 So I went out to the Brown Ranch yesterday morning to create a magazine-quality feature and photo essay for the Chronicle. The six photos here tell the story in sequence (click any image to enlarge it; the editor may or may not choose to use all of them), but you'll need to read my text to fill in the blanks.
It was a great show. I thought of all the readers of the New Mexico Magazine feature that would have given an arm and a leg to come watch. (40 of them came last May from as far as Albuquerque, Oklahoma, Texas, and even one from California, for the Dry Cimarron Tour which annually features Darien and his ranch.)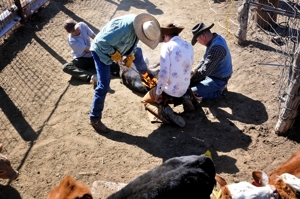 Besides Darien, whom I've featured in the first three photos, you'll find pictured a lot of his family, friends, and neighbors who lent a hand -- as he, in turn, will do for them when their own brandings come up. Darien's son Brian Brown and partner Lupe Machuca were joined by old-timers Carlos Cornay and Bill Burg and young bucks Conner Doherty, Jared Bannon, and Jason Machuca, all from the Folsom area. Brent and Canda Cruz came from Capulin to help, Rob Pickard from Des Moines, and Frank Silva from Trinchera. Brothers Cole Lewis and Jace Brown, of Branson, threw some muscle into holding down the struggling calves. Young Coy Pickard joined Kade and Kyle Brown on the outskirts, playing around on their ponies while, at the ranch house under the big trees a mile away, Dianne Brown fixed up supper for 24.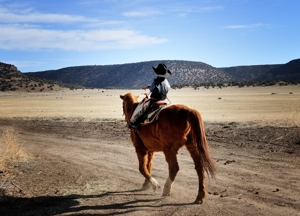 When I arrived, before I reached all the action, I found one lone sentry on horseback. I asked him, "Are you Kyle?" He said, "No, I'm Kade. But I like John Wayne better: call me John Wayne." Okay, Pilgrim. And then, on his trusty steed Peanut, John Wayne rode off into the sunset -- well, away from the sunrise, anyway.
 

---
March 11, 2012     The Sky's the Limit
 
To offset the dreary overcast monochrome of Colmor below, I'm finishing off my week of spring break by posting a pair of sky & cloud photos in bright colors. Can you identify where each was taken? (I'll post the answers below.)
In fact, the skies have remained overcast all the way through today, although not without good photographic potential (see today's TKP Blog). Except for a couple hours out hiking each afternoon, I've spent the past few days catching up on reading and sleeping, enjoying the endless flames through the glass window of the woodstove, from across the room on the long couch, a little sojourn in heaven.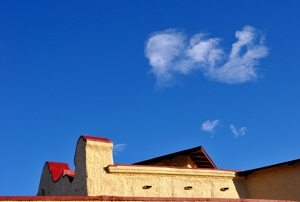 Still, I look forward to the arrival of spring and puffs of clouds like these, with the trees and grasses greening -- which will allow me to get to work photographing the outdoor shots for my "Destination: Raton" feature. Soon.
Meanwhile, it's back to the woodstove and a pair of books that I look forward to finishing before school starts back tomorrow. I can hear the woodstove crackling, calling.

1) Downtown Santa Fe    2) Raton Depot     
---
March 8, 2012     Colmor and More and More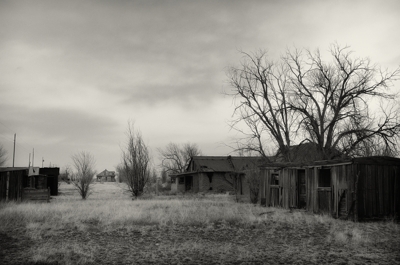 Christina and I were in Santa Fe yesterday afternoon for New Mexico Arts' grant review panel as our 2013 Raton High School Poets-in-the-Schools proposal was considered. We were able to listen to the panelists from the gallery chairs as we sat mute. We were thrilled to hear high accolades for our program which pairs "New Mexico's top poet-educators" (a panelist's words) with high-risk students to teach the latter "how to use words to express their feelings and their passions." (Again, a panelist's words.) The scores will be published in two weeks, and later in the spring we'll learn exactly how much grant money will come our program's way as a result of a score that we now feel confident will be high.
On the way home we stopped off at the abandoned village of Colmor on the Colfax-Mora county line, between Wagon Mound and Springer, so I could make some photographs, including the image above and another I posted today at my photography blog. I've long wanted to take this little detour in hopes of finding some strong images. Yesterday, the light of the setting sun and the incoming storm made it irresistible. Afterward, we continued northward toward home as the darkness descended on a perfect day.

---
March 4, 2012     Cookie Monsters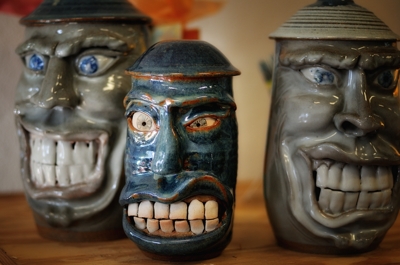 These fabulous cookie jars are made by Rusty Southard, a lifelong neighbor and friend of Christina's family down the Turquoise Trail south of Santa Fe. Christina stocked them at Studio C for years; now they're available at Chicorica Lane, Dorothy Best's kitchen & bath store in downtown Raton. The photo is among those I'm taking indoors around Raton while awaiting the green leaves of spring for exterior shots to accompany my "Destination: Raton" feature for the September issue of New Mexico Magazine.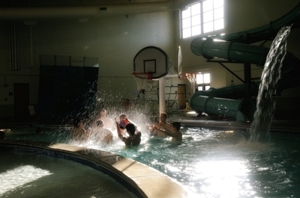 I've also been shooting indoors at the Raton Regional Aquatic Center, which I'm finding photogenic enough that I plan to keep going back for more. This week, though, I'm on an early spring break with no plans to write or photograph anything in Raton. Instead, I'll be taking my camera on the road for a spell. Being spring break, I'll bet the pool will be crowded while I'm gone!

---