---
August 26, 2012     To Bigger, To Better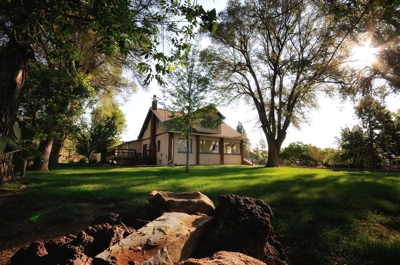 After thirteen years in Des Moines, New Mexico, including the entire history of Tim Keller Arts and Tim Keller Photography, we're picking up the whole operation and moving to Raton. One thing I told realtors back in the spring was that any move would have to be completed before the start of the new school year -- there's just no time once school starts. Instead, we're moving smack dab in the midst of the first three weeks of school.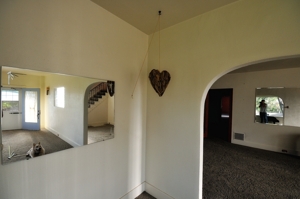 We're thrilled, though. For the first time, I'll have a writing and photography studio; in our tiny Des Moines house, I've been working in the open hall beside the kitchen. We never knew that the writing and photography were going to turn into such a large enterprise. Now, that south-facing second-floor room over the front yard (top photo) will be my new studio. I have emerging goals for writing, and I'm always finding new photography challenges: I'm excited to look forward to the work I'll be able to create in my new aerie.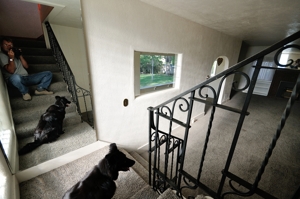 For now, though, the move and the busiest time of the new school year mean I may not get back to my blog for a couple weeks. An electrician is coming tomorrow to install grounded circuits upstairs, important for running my Mac desktop computer. The appraiser wrote, "This 102-year-old house looks like it's ten years old," but it still requires some work, including our move, before I'll be back on line. Pués, hasta la vista!

 
P.S. I'm posting more photos of the house on the photography blog today. As always, click any photo to enlarge it.
---
August 18, 2012     Some Morning Excitement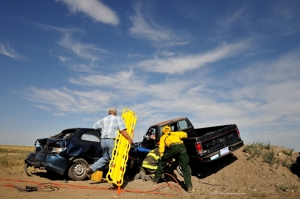 Every two years at the end of summer, our local volunteer EMS and fire departments conduct their required refresher courses, the highlight of which is a big morning-long MCI drill -- Multiple Casualty Incident. Services gather from Des Moines, Folsom, Capulin, and Grenville. This year participants also came from Cimarron and Mosquero.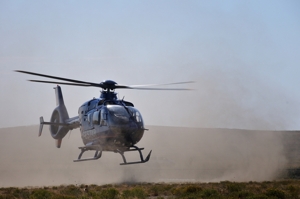 Last weekend was the second time I've been on hand to photograph it -- for the preceding five drills, I was one of the participating EMTs. I covered the 2010 drill for The Chronicle-News and posted the feature here at Tim Keller Arts with lots of extra photos. The event makes for an exciting morning, and my years of experience as a participant give me some advantages as a photographer: I know where and when I can get in close without unduly interfering with the emergency workers.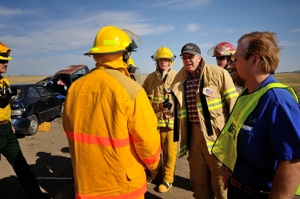 In communities as small as these (Des Moines is the biggest of the group with just under 150 residents), a large percentage of the population volunteers in the EMS and/or fire department; many do both. Racing to the scene carrying the yellow backboard in the top photo is my friend Tom Pryor. (As always, click any photo to enlarge it.) In this third photo, mayor/fire chief Lee Dixon barks orders as village councilor/school board member/EMT Scott Warner (in blue shirt) looks on.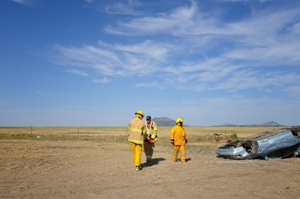 The Lifestar helicopter flew in from Lubbock to provide support. This year's drill was held at the Des Moines landfill north of town. It made for some great pictures. The Chronicle-News has not been interested in New Mexico stories (except the Shuler Theater) for the past few months, so they didn't get this story, but just this morning I received an e-mail from general manager Allyson Sheumaker saying "Let me know what you are up to. I do want to venture out into Raton," so it looks like I'm about to start covering local stories again. That's good.

---
August 12, 2012     A Scrumdidilyumptious Musical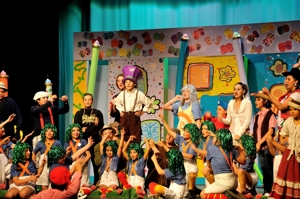 This weekend's annual Raton Youth Theater musical is fun and a half. "Willy Wonka Junior" puts dozens of kids on a brightly-colored Shuler Theater stage -- which they themselves have colored! -- and lets them play-act the beloved story of Charlie Bucket and of Willy Wonka and his chocolate factory. Under Gail Dixon-Willden's direction, with music director Bill Crary, the kids are well rehearsed and the story moves right along, pure delight all the way.
With 22 songs, there's lots of singing -- and some charming dance steps. When kids do comedy right, we laugh; when kids make mistakes doing comedy, we laugh even more. Friday night's opening performance was win/win for the audience. In my Chronicle-News review -- due out Monday or Tuesday -- I note that there was little sign of nervousness. I think that's because Gail Willden has made this all so much fun for the kids: they're just playing.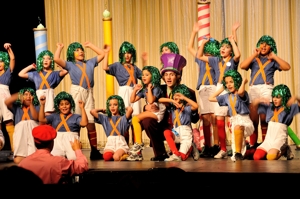 It wasn't just the stage that was packed with people Friday night: the auditorium was packed with the families of the young actors. Yes, they were an easy audience, but even jaded old guys with no kids or grandkids on stage would enjoy this show. With fabulous sets and costumes (kudos to all the parents that helped), it's a visual feast wrapped around an engaging story with winning performances. There's one performance remaining, the 2:30 p.m. Sunday matinee. I recommend it.

---
August 10, 2012     A High Mileage Artist & Teacher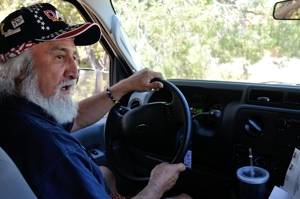 My friend Rey Gaytan is a fine artist and teacher who increasingly finds himself behind the wheel of a big van traversing I-25 between Raton and Albuquerque. He shuttles veterans to their Albuquerque medical appointments, carrying passengers not only from Trinidad and Raton, but from stops along the way such as Springer, Las Vegas, and Santa Fe. As a volunteer driver for the Disabled American Veterans Transportation Network, Rey makes the 450-mile round trip once each week, one of a cadre of volunteers that have driven the van almost 400,000 miles since it was purchased new five years ago.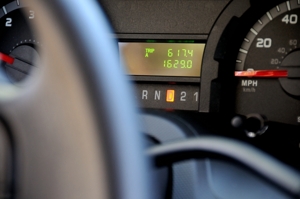 Last week, the DAV sent Rey back east to pick up its new van, purchased with donated funds raised by Raton's DAV Chapter #8, which has been running the shuttle service since 1952. My wife, Christina, is writing about the trip and the van for KRTN's website, as she's done before (and where I got a lot of my background information). We were staying at her family home outside of Santa Fe last week when Rey came through on his way home with the new van, which he'd driven 1617 miles at that point. I took some pictures to accompany Christina's KRTN feature.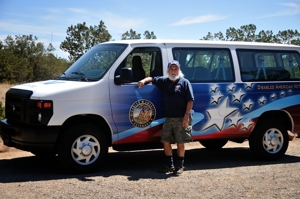 Christina and I have known Rey since 1999 when he and I were both teachers at Springer High School. When Springer used a Reduction in Force (RIF) to send us both packing in 2001, I went to Raton and Rey went to Cimarron. We've stayed in touch and always enjoy crossing paths. As much as Rey is driving these days, we're crossing paths with increasing frequency. Now that Christina and I are moving from Des Moines to Raton, we'll no doubt see Rey even more. That's a good thing.

---
August 1, 2012     A Creative Dynamo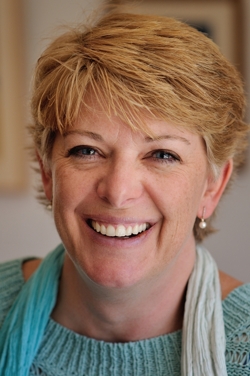 After writing and photographing a dozen July features on the various stories swirling around Raton's Shuler Theater this summer, I finally got to Gail Dixon-Willden this week. Monday's long profile in The Chronicle-News goes behind the scenes to get the backstory of the Shuler Theater's talented artistic director.
Gail, who directed four of the Shuler's five summer season productions, drove out to Des Moines on a perfect summer morning for an interview and photograph at Christina's artspace, Studio C.
I decided too late that the portrait I submitted to the Chronicle needed one more adjustment: the white balance was too cool (i.e., blue); I've warmed it up and like it better here. It joins other portraits I've taken in Studio C's wonderful window light, and an earlier image I got of Gail at work three years ago. I hope you'll read the new profile to learn more about Gail.

---
July 22, 2012     Whodunit?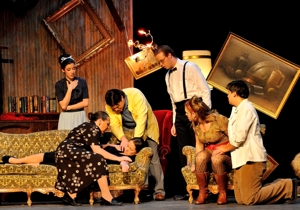 One by one people kept dying last night, and some of them surprised us by not staying dead. That's how it was on opening night of the Shuler Theater's final professional repertory production, "Web of Murder." It's the fourth play to open in as many weeks: how many towns of 6000 can say that? With the Shuler, Raton has a treasure not equaled by most towns ten times its size.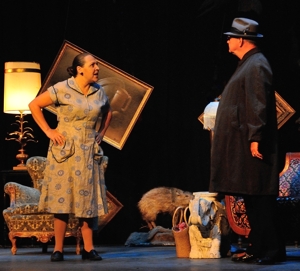 Next weekend will present a wonderful opportunity to see three of this summer's plays all in one weekend. Several of the actors are in all three: what fun they're going to have!
I just submitted my Chronicle-News review of "Web of Murder," which will probably run tomorrow, and now I turn my attention back to some immersion in school work. Just before I officially report back for the new school year in three weeks, the Shuler's annual children's theater production will present three performances of Roald Dahl's Willy Wonka, Jr. What a rich summer this has been for theater!

---
July 16, 2012     Breaking the Barrier to Laughter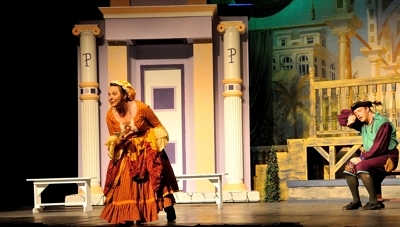 How anyone can stay home and watch television when there's a play like Servant of Two Masters live on stage downtown is a mystery. The Kaleidoscope Players production at Raton's Shuler Theater has such rollicking fun with the screwball plot and improvisational script that I'll likely find myself making the 38-mile drive into town to see it again over the next two weekends.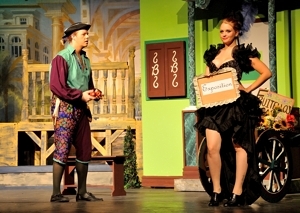 A big part of the fun is how often the characters, and sometimes the actors themselves, break "the fourth wall" of the stage to talk directly to, and sometimes with, the audience. Brenda Ferri does this the most and the best (above) -- she's fabulous (again) -- but most of the cast gets in on it. Jillian Solano even gets to give product-placement commercials for Solano's Boot & Western Wear (and I just did, too).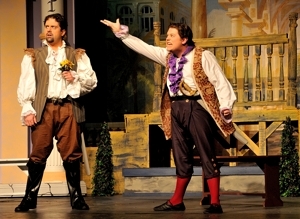 A couple other highlights of this barrier breaking bear mentioning. When a cell phone rings in the audience, David Trudeau's lead character (green shirt above) actually leaves the play to go confiscate it, then turns it over to the stage manager, Mariah Fleming, who walks onto the stage to get it, saying aloud, in dismay, the name of the offending patron, Billy Donati. (It was a plant.)
The other is costume designer Holli McFadden's part as Muffaleta (!), a burlesque saloon girl who, whenever the script slows to mere exposition, arrives on stage to hold a sign saying "Exposition." As you can see in the second photo above, the play sometimes stops as characters such as Trudeau's step out just to gawk at the incongruous -- and fetching -- Muffaleta.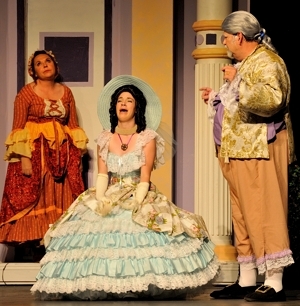 Everyone does a great job, and I've tried to spread the credit around in today's Chronicle review, but Jason Wells earns extra credit. Contrasting his earlier Scottish hit man Todd in "Unnecessary Farce" with his Silvio here (pointing, with T.J. Mendez, above) is a revelation: I've interviewed Jason the actor and I still have trouble finding him in either of these two characters. He thinks he's destined to become a history professor, but I think he's going to be wrong about that: his gift as an actor is too great for him -- or us -- to neglect.
Read my review for more (including Bethany Hernandez's spoiled Clarice dressed as a southern belle, exasperating her father Pantalone, played by Rick Trice, above -- click any photo to enlarge), but most important, if you're within reach, don't miss this play. (The TV will still be there when you get home.) There are four remaining performances -- July 19, 20, 28, and 29.

---
July 12, 2012     Where Confusion Reigns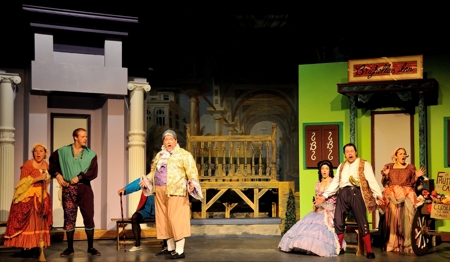 I shouldn't be so busy in the summer! I thought I'd be blogging twice as often as usual; instead, I've been so busy that I've blogged half as often. I shouldn't complain, though: two to three hours of that busyness every afternoon is spent on a long hike with my border collie, Django.
I'm rebuilding all of my courses to bolster the curricula and align them to the new Common Core standards. This week, and typically last minute, Luna Community College notified me that it's replacing the textbook for the course I teach for them, which adds another 75 hours of preparation; I've no idea whether that's possible at this point -- we'll see.
The rest of my "work," such that it is, has been focused on the Shuler Theater's summer repertory season, for which I've been preparing a series of features for The Chronicle-News. I also blogged about it today on the photography blog.
The photo above is this week's first dress rehearsal, without makeup, for Servant of Two Masters, a madcap farce that opens Saturday night. Christina and I are looking forward to seeing the opening night performance, and Sunday morning I get to process photos and write a review. It's hard to call this work.

---
July 1, 2012     A Necessary Farce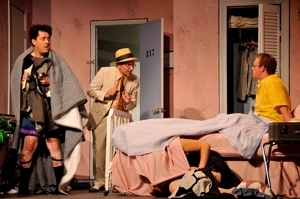 Away in Santa Fe, Albuquerque, and Los Angeles for a couple weeks, I missed the early performances of Unnecessary Farce, the first offering in this year's summer repertory season at Raton's Shuler Theater. The good news is that the cast has had the opportunity to hone its intricate comic timing to perfection; the bad news is that there are only two remaining performances, next Thursday and Friday. Don't miss this play.
The star billing here belongs to the writer, stage actor Paul Slade Smith. His 2006 script is brilliant; the fun comes fast and furious.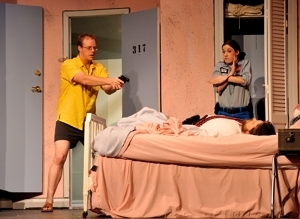 Director Gail Dixon-Willden has done wonders in making every beat click, coordinating intersecting comic lines between two sets of actors in adjoining motel rooms on opposite sides of the stage. The actors have nailed it all and it's obvious that they're having the most fun of anyone in the theater, which is saying a lot because the audience rarely gets a full minute without a laugh. Smith's script is full of ever-unfolding surprises.
Locals will enjoy seeing KRTN's Billy Donati (in hat, top) as the mayor that may have embezzled sixteen million dollars; what's certain is the mayor's penchant for entering rooms at embarrassing moments. The play's tagline is telling: "Two cops. Three crooks. Eight doors. Go." Every one of those doors is used often in a farce that owes something to the Marx Brothers.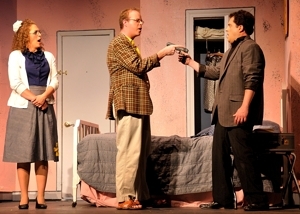 Others in the cast include David Trudeau (yellow shirt), Bethany Hernandez (cop at closet), Catherine Herrick (white sweater at left; hidden by covers at top), T.J. Mendez (top left and bottom right), Jason Wells (on bed, center photo), and Wanda Henson (unpictured). As always, click any photo to enlarge it.
Jason Wells deserves extra credit for his amazing comic Gaelic renderings (the bad guys here turn out to be "the Scottish Clan -- that's Clan with a C"), as does Hernandez when her character suddenly jumps in as his translator. You can't understand a word they're saying, but you can't stop laughing.
Watch for my review in The Chronicle-News, and make plans to be at the Shuler Thursday or Friday night -- where you might see me: I have a hankering to see it again.

---
July 1, 2012     Down in the Basement and Over the Top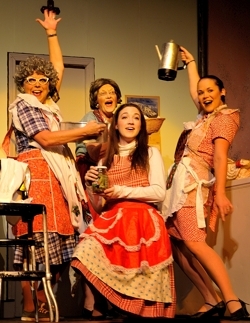 This year's annual summer repertory theater season has begun with bang (and laughter) at Raton's Shuler Theater. After the success of last year's touring production of the sequel, A Second Helping, Bill Fegan helped gain the rights for the Shuler's Kaleidoscope Players to be the first regional theater to produce the original musical comedy, Church Basement Ladies.
Raton actors Brenda Ferri, Adrianne Coleman, and Jillian Trice Solano (standing, left to right) are joined by Adams State University actor Bethany Hernandez (kneeling) and returning professional David Trudeau in a fun musical romp reminiscent of the stories spun by Garrison Keillor on his "A Prairie Home Companion" radio show. It's good to see David back after his hilarious performances in last summer's Red, White, and Tuna and Love, Sex, and the I.R.S.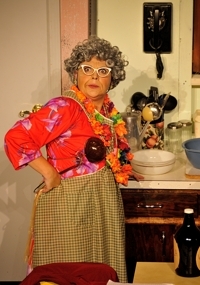 Although the performances were strong all around, Brenda Ferri took her performance as Mavis (left) over the top to virtually steal the show. She seemed to be having the time of her life. Mavis has the best lines in the play but Brenda has added heavy doses of hilarious physical comedy, using every part of her body to mine for laughs.
Every time I'd focus my attention on another actor, I'd miss a big laugh. It didn't take long to learn to keep my eyes on Brenda. She's been in most of the local productions for longer than I've been reviewing them; throughout my time she's just kept getting better and better.
Church Basement Ladies continues through August 4; if you're within driving distance, I recommend it. Meantime, watch for my review this week in The Chronicle-News.

---