---
August 26, 2012     An Inside Job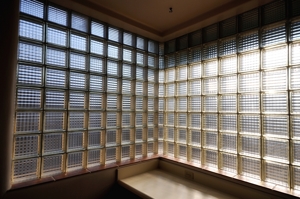 Inspired by a wonderful series of interiors that Christina photographed in our new house, I took advantage of an early morning solo visit Saturday to see whether I could equal her work. For some shots, I couldn't, but others worked out well. That's what I love about art: unlike sports and other competitions, art has all kinds of good but no such thing as best. This image of the 102-year-old home's kitchen corner looks...good!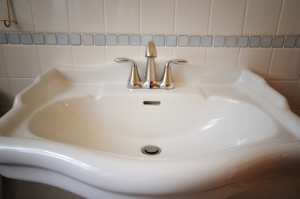 This bathroom sink reminds me of one of my first art photographs, taken of my family's sink for a photography class taught by Clare Frisch Steinberg at Palisades High School circa 1967. Most of what I'd done prior to that was skateboarding and surfing photography. I guess my entry to art consisted of the bathroom sink. This one in our new home is a doozy, isn't it. It's right around the corner from the kitchen and that glass-brick wall. You can see why we're excited about our move.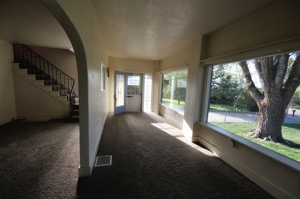 The move's going to keep me busy for the next couple weeks, though, so it'll be awhile before I can get the computer hooked up and the next blog posted. Meantime, I've just posted more photos of our new house on my arts blog. Frankly, I'm looking forward to hanging a hammock in the shade of the big trees -- Christina said today that we may want to hang three or four hammocks around the big yard -- but even if I lose my ambition, odds are good that I'll still be taking photographs of whatever it is that I'm not doing, even if it includes a hammock.
---
August 18, 2012     Head Shots
With my New Mexico Magazine September feature on Will Banister published this week and my October feature on The Fireballs at the printers, the magazine asked me to contribute a head shot for the contributors page of the November issue, which will carry my 8-page feature on Raton. I look different than last year's head shots (New Mexico, Western Horseman) so it was time to walk over behind Studio C for some new shots.
Christina and I took turns shooting each other with my Nikon D300 and Nikon's 85mm f/1.8 lens, my beloved portrait lens. The left image of me above is the one I submitted. With this week's sale of our land, we'll be buying our Raton house next week and moving over Labor Day weekend. Another benefit of the land sale: I'll be gearing up to the new Nikon D4 and some FX lenses. More on that will follow here, no doubt. It's an exciting time.
---
August 1, 2012     Paradigm Shift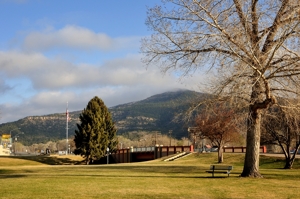 After more than 15 years of planning to live apart, out on the remote volcano lands in a home I'd designed and we would build ourselves, we've changed plans, sold the land, and bought a home within the city limits of Raton, New Mexico. Christina's referring to it as our paradigm shift. Now past are the ten years of being weighted down by monthly payments on 620 acres. After 13 years in Des Moines, we'll move next month into a big 1929 Craftsman home on more than an acre of tree-covered land near Raton's northeast corner and the base of Bartlett Mesa. Alongside tall aspen, pine, fir, and elm trees are mature fruit trees providing apples, plums, nectarines, peaches, and chokecherries, all of which make it a popular stop for deer and bears.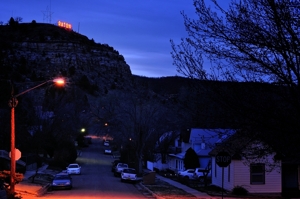 I'd been happily planning to be a hermit out on the land -- with a guitar, gardening tools, and hiking boots -- but nowadays I discover that I'm instead a photographer and writer; it's better for me to be closer to where I can get photographs and stories. In fact, these photographs are from the series I shot for the November 2012 issue of New Mexico Magazine, which will include my 8-page feature on Raton.
Another reason for the shift is that Raton has been good to Christina and to me: we've decided to throw in our lot with Raton. From my vantage points at Raton High School and the Shuler Theater, and from Christina's at KRTN radio (where she's KRisTiNa!), we've developed an affection for the people and the town with its charming old homes nestled into the crook of the Rocky Mountains along the Colorado border.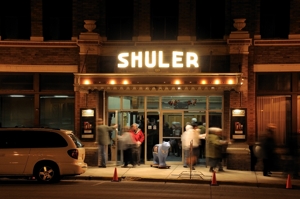 With just 6000 people, four traffic lights but no traffic, and beautiful mountain and volcano views in all directions, the size and location are just right. With four distinct seasons, at 7000 feet of elevation, there is enough winter to enjoy the heat of a woodstove but not enough summer to need artificial air conditioning: the air is just right the way it is, clean and fresh. Among the perks I'm looking forward to in the move is gaining my first dedicated studio for photography and writing, upstairs with three windows facing south under the canopy of the high trees. I'm good and ready.
---
July 19, 2012     Setting the Stage for Murder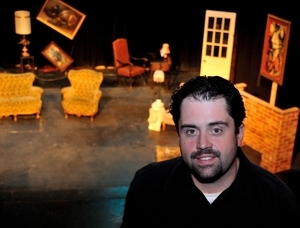 TJ Mendez, born and raised in Raton, has returned from his Colorado home to direct the Kaleidoscope Players' production of "Web of Murder," which opens this weekend. For a profile in tomorrow's Chronicle-News, I wanted to show both TJ and the unique set he designed for the edgy murder mystery. The Shuler Theater balcony provided just the right perch. I rarely use flash, but it was unavoidable here as TJ's face was otherwise in the darkness of the balcony. We brought up the stage lights down below and got a good photo!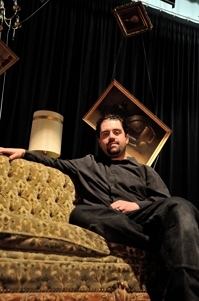 I like this second shot, too, taken right on the set without flash, but I chose not to use it because I have another profile coming up in the Chronicle next week that uses a too-similar photo taken in the same spot. (As always, click any image to enlarge it.) I interviewed stage managers Mariah Fleming and Stefani Milstrey right after TJ, then I photographed them on the same couch. I don't like the alternate shot I got of them on the street outside, so they get the couch photo and TJ gets the balcony photo. I think both of TJ's shots do a good job of conveying his role as director and set designer, and that's what I strive for: I want my photos to add to the narrative. Ideally, I want them to suggest further narrative of their own.
For an entirely different narrative on TJ, here's a pair of photos of him in the two roles he's played as an actor in comedies on the Shuler stage this summer:
At left he's Florindo in "Servant of Two Masters." On the right, he's Agent Frank in "Unnecessary Farce." Talented guy! Hopefully, the Chronicle will do him justice with a nice spread in tomorrow's paper. Meantime, check out his shows at the Shuler.
---
July 12, 2012     Half the Man He Used to Be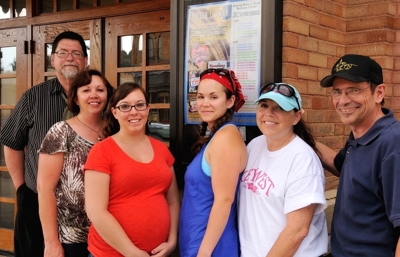 There's been some fun banter flying around the e-mail cyber waves since The Chronicle-News published this photo yesterday with half of Billy Donati cropped out on the right, his face split down the middle. I suggested that the editor perhaps thought of Billy as twice the man. Or perhaps too big for his britches. Billy suggested the editor thought "Rick Trice's right arm was more important than my head." My take? Rick's right arm is important in his roles as church pastor (pointing to heaven), bank loan officer (signing my loan), and guitar player (fingerpicking). On the other hand, as the voice of KRTN, Billy's voice is his best asset and the editor did leave Billy his mouth.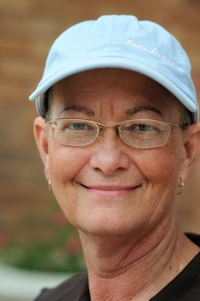 Meantime, I've enjoyed preparing a profile for the Chronicle on Adrianne Coleman who is the pastor of the Methodist church congregations in both Raton and Des Moines. After being active in theater both on and off stage throughout the 1970s and into the 1980s, Adrianne confined her stage work to the pulpit while raising kids in and around Farmington, NM. In January, Adrianne was diagnosed with breast cancer. In February, she decided to return to the stage to act in the musical comedy Church Basement Ladies as an adjunct to her medical treatments. It's a great story and one of my recent favorites to write.
I took Adrianne up to the Shuler Theater balcony so I could shoot downward and show the lit stage behind and below her. Alas, there was no light on her face. When I went to get a flash unit, I realized I didn't have one: this summer I decided to switch back to my smaller bag, at the expense of carrying flash everywhere. I so rarely use it anyway. It was my first case of needing flash and not having it. Adrianne said my predicament was one women face all the time as they switch from one purse to another.
---
July 2, 2012     Santa Monica Pier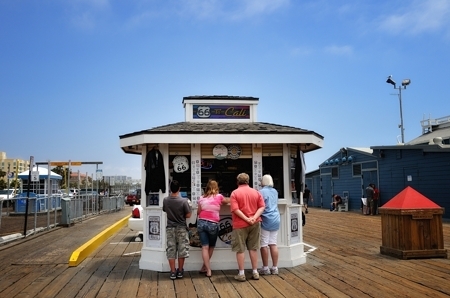 I'm developing a long-term project, in both photography and writing, on the growing economic disparities in our country. Santa Monica is good place for my purposes so I recently spent a week there. At dawn one overcast morning, I photographed homeless people sleeping in the beautiful Palisades Park along the bluffs over the ocean where I used to surf.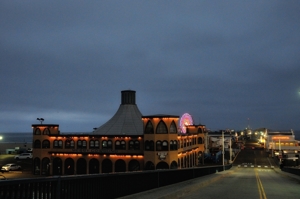 I also enjoyed shooting the adjacent Santa Monica Pier at that hour, including this shot looking straight down the ramp onto the deserted pier with its carousel and fully-lit spinning ferris wheel. Back in the park I shot the pier from farther away and included Pacific Coast Highway and the entry lane to the Santa Monica Tunnel. Despite the darkness, I shot these at f/8 for depth of field, and handheld (IS0 2000, 1/8 second) because I didn't bring my tripod on the plane; I wouldn't have carried it while shooting homeless people anyway.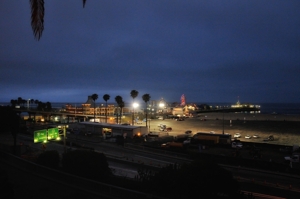 The photo at the top was taken on the pier in early afternoon. I like to walk the pier and get a great fish & chips lunch (where I took a self-portrait with my iPod) -- it's hard to get good fish & chips in northeastern New Mexico! When Christina and I visited the pier two years ago, I took a photo of the ferris wheel that made it into my Places Gallery. I never get many good photos at the pier, but I always get at least one.
Even if I didn't, there'd still be the fish & chips.
---
July 1, 2012     Gangbusters
On my last of eight days hiking the Santa Monica Mountains, shooting pictures around Santa Monica, and visiting with my family in my hometown of Pacific Palisades, I took some portraits as we gathered on the deck while my dad grilled steaks. The portraits turned out well: that's my dad, Jack Keller, and my brother Terry Keller. (As always, click any image to enlarge it.)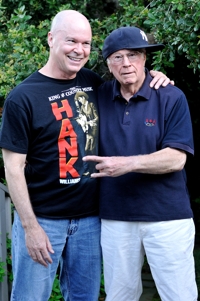 Then things went awry. Given Terry's specialized knowledge as a PE teacher at an inner city LA middle school, Dad asked Terry over dinner what some hand signs mean. Back on the deck after dinner and a nice pinot noir, Dad started cutting up, throwing gang signs. Fortunately my camera was ready.
I grew up in Pacific Palisades but left at 17 for college and never turned back except to visit. (I've lived in Sonoma County, California; southern West Virginia; San Marcos and Wimberley, Texas; Santa Fe and Bernal, New Mexico; Dallas; and rural northeastern New Mexico -- in that order.) Terry's now in our family home and Dad's with Helen in Rustic Canyon, a most idyllic home base for a vacation! With fresh-ground coffee brought from Studio C, I read in bed for three hours each morning, followed by my 20-minute floor exercise and stretching routine, my daily smoothie and whole grain toast, then off for the day's hike.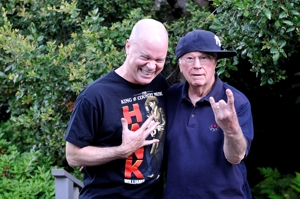 I started by hiking up the canyons along bucolic streets past opulent homes occupied by the likes of Tom Hanks, Steven Spielberg, and Sylvester Stallone. Soon, though, I discovered groomed hiking trails above Will Rogers' old house that led up to the wonderful Backbone Trail of the Santa Monica Mountains National Recreation Area. By the end of my stay I was up to 3 1/4 hours hiking, or 10-12 miles. It was heavenly. Now I'm back to hiking at home on sprawling open land, volcanic land where the trails are made by cows and antelope, volcanic rocks studded everywhere. I'm not complaining (nor about the heat wave I found at home), but it was good to get out to the old hometown for a little vacation!
---