---
August 24, 2014     Raton Gains a Singer/Songwriter
I met Matt Campbell two months ago as the actor prepared for his role in "The Importance of Being Earnest" at the Shuler Theater. Intrigued to learn that he was also a singer/songwriter working out of Nashville, I enjoyed talking with him and his gal, fellow actor Tamara Todres. It turned out that they fell in love with Raton--easy to do--and now Tamara is preparing to become the new director of Raton MainStreet. She and Matt are leaving Nashville for Raton. Yesterday evening at Ripley Park, Raton MainStreet presented a concert by Matt, wearing his solo singer/songwriter hat. It took me back: I did the same thing for years. I haven't seen much singer/songwriter fare since moving back to northeastern New Mexico fifteen years ago. My guitar strings are stiff with neglect. Having Matt in town may benefit those strings by inspiring me to put them back to work.
---
August 23, 2014     Prodigy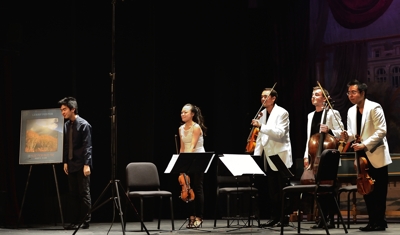 To call Andrew Hsu a prodigy seems too much an understatement. Immensely talented, the pianist and composer was born in 1994!  His accomplishments fill pages, but hearing two of his string quartets at the Shuler Theater last week was more convincing than any words on a page. I loved the playfulness and jazz elements of his "Aquarelle for String Quartet," performed by Valkyries Quartet--pictured above with Andrew after the performance. With so much accomplishment so young, I expected Andrew to be formal, lofty, and pompous; instead, he was exuberant and boyish, refreshingly fun. Music from Angel Fire deserves accolades for again bringing magnificent talents to Raton.
---
August 16, 2014     A Public Portrait Studio
My weekly "Over the Pass" feature in The Chronicle-News is a pleasure to produce, partly because my weekly "man-on-the-street" question provokes some wonderful responses that make me--and I hope the reader, too--feel like I've gotten a meaningful glimpse into a momentary friend. But as a photographer, the thrill is in taking instant portraits of strangers. They don't all succeed, but it's exciting when I can take a quick portrait of a stranger and have it work beautifully.
One trick is to put myself in a great spot for a portrait and wait for people to come by. The four photos above were all taken in a public place with great window light and a great rich wood background. The lower left photo was taken about four feet to my left of the others, giving a different background. Clockwise from top left, meet Steve Baker, Trin Sanchez, Jewel DeVolin, and Marlen Sherar. Trin and Marlen appeared in the August 6 edition of "Over the Pass." Jewel will be the next edition, August 19, and Steve will follow August 26. Meantime, if you can figure out where this is, keep an eye out and you'll see me there again sooner than later!
---
August 15, 2014     New Mexico True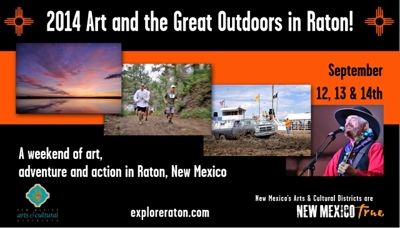 Yesterday I received this ad copy and hopefully you'll see it soon out in the world. It's my second time this summer for New Mexico Tourism Department to use my photographs in their statewide promotions. All four of the photos above are mine. New Mexico Magazine is part of the department and my work has appeared there regularly since 2010, but this is only my second time in the New Mexico True advertising campaign. It looks like there will be many more to come. I'm excited about it.
---
August 14, 2014     Sin Permiso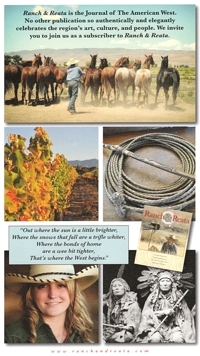 It's been a busy month and I've been away a lot. Now I'm trying to finish up a list of projects before I return for what I plan to be my second to last school year before turning my full-time attentions to writing and photography.
While I was gone, I found two examples of my photography being used without permission, credit, or payment. The second one is egregious, but this one at the right falls into a gray area. Ranch & Reata magazine sent me to photograph Sierra Pillmore (in the lower left corner of their promotion here), and they liked the results so much that they later asked whether I could build a feature around her. They published "If Horses Are In You" last summer (June/July 2013).
Like most of the magazines I work with, we used no written contract, just a relationship between me and an editor. I like it that way. Without exception, even with New Mexico Magazine that does use contracts, all rights to my work remain with me. A magazine essentially leases the right to use my manuscript exclusively for four months, then I can lease it somewhere else. In the case of photos, I can re-lease their use without limitation.
So basically Ranch & Reata developed a promotion based on photos from past issues. I'm honored that one of my portraits of Sierra was included. It would have been more proper, and appreciated, if they'd first asked; if they'd paid for the usage in an ad; and/or if they'd included my photographer's credit -- all of which are standard industry procedure.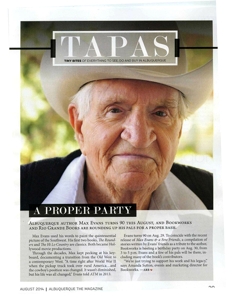 The only gray area in this second example is the text boxes. Albuquerque the Magazine used my portrait of Max Evans in a full-page editorial feature in the August issue. I'm glad to add yet another magazine where my work has been published. But they made no contact with me. They had no permission, made no payment, and gave no credit.
They might have rectified the situation by apologizing, running a credit in the next issue's corrections, and paying for their use of the image. It's been two weeks since I wrote to the editor. She hasn't replied.
---
August 1, 2014     Family Portraits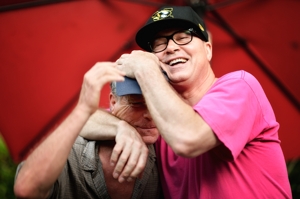 Each summer I enjoy a home visit to California, where I've established a ritual of making family portraits, usually in the late afternoon in Rustic Canyon. I always get some classic shots. Last week's portrait sessions were no exception.
Here's a sequence of my brother Terry Keller with our lifelong best friend, Peter Burg. The big red umbrella was new this year and I immediately spotted it as a great backdrop. Before I was done, I'd put everyone in front of it, along with some other nearby garden locations.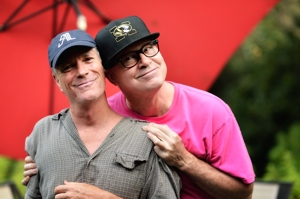 While in LA, Terry, Peter, and I went to the Annenberg Space for Photography to enjoy the current exhibit, "Country: Portraits of an American Sound," where I so flipped for the work of Michael Wilson that I went back alone the next day for a closer study of his images. (I spent a half hour fixed on this portrait of Emmylou Harris, tinted a little more red than this. Study the light and lines.) Then I sat in the courtyard researching Michael on the web, reading interviews and discovering his website. I learned a lot, and I also felt a real kinship: we're similar in some ways. One is an aversion to planned sessions with controlled backdrops and studio lighting. Michael says the world is full of fascinating locations and sights: When he travels to a job, he scouts around for a good spot and figures out when the light will be good. He says the improvisational approach makes art directors nervous, and it doesn't always work out as well as he'd like, but usually it does. I'm the same way, and I offer the red umbrella backdrop above as evidence of success.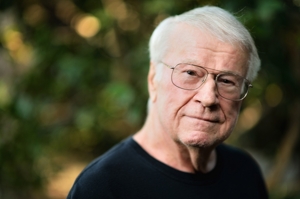 Twenty feet from the red umbrella was this shaded spot under trees, where I photographed my dad, Jack Keller, as well as Peter. The shimmering light on the leaves really brought out the best in the Nikon 85mm portrait lens, providing the magical bokeh it's known for. I set the aperture on the D4 wide open at f/1.4, explaining the soft focus everywhere except around the eyes. That aperture is tricky--the identical setup for Nora Leahy's tight portrait below (July 18) worked beautifully but here I didn't get enough sharpness at the eyes to be satisfied. Close but no cookie. No complaints about the shoot as a whole, though! In fact, I'm thrilled with most of portraits.
---
July 30, 2014     The Southwest Chief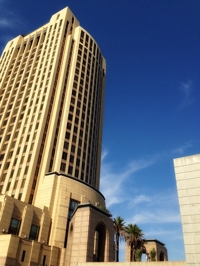 Standing on the Amtrak platform, beside the rails of Track 11, I pulled out my iPhone 5 to take this photo at Union Station in Los Angeles. Peter Burg and I had just taken a Metro Rail bus from Santa Monica to downtown LA, arriving at the bus stop under the palm trees at the base of the photo. We'd been in Pacific Palisades for a reunion of the Palisades Skateboard Team and accompanying skateboarding and filmmaking. I took a few photos on the trip west, but the keepers I got were these three from the return trip home to New Mexico on the Southwest Chief, which travels daily between Los Angeles and Chicago, passing near my home in Raton each day, one train in each direction, bringing thousands of passengers to Raton each year, a big boon to the local economy--and pretty handy for me!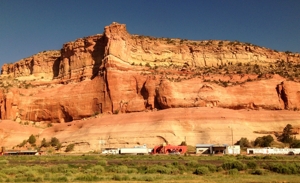 I continued using the iPhone camera along the way, including this shot as we entered New Mexico west of Gallup, the morning after the Union Station shot above. Riding the Southwest Chief is mostly fabulous, but trying to get a night's sleep is not. Morning couldn't be more beautiful, though, and it was good to get back to New Mexico--there's no place like it.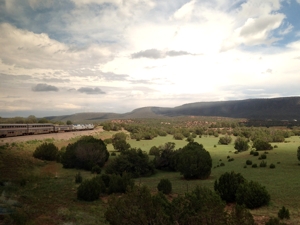 My favorite train shot, also with the iPhone, is this one along the S turn between San Jose and Serafina, New Mexico. I knew where to be ready with my camera because I used to live a mile from the spot, out to the right of the photo frame. When I jumped a freight train west long ago, I had to hide because the engineer went right by me when the front of the train passed near the rear on the S turn.
The iPhone camera is impressive, as is the Southwest Chief. Most impressive of all, though, is northern New Mexico.
---
July 18, 2014     A Portrait Studio Is Born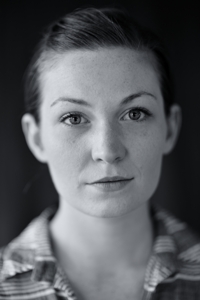 My first year of immersion in photography focused on landscapes, usually within a 30 mile radius of my then-home in remote Des Moines, New Mexico, population 150. At the center of an area that my friend, novelist Max Evans, named The Hi Lo Country, there was no shortage of powerful images that ended up launching this career and continue to sustain it with regular sales and licenses of those Hi Lo Country landscapes. You can see them in the galleries available in the left menu, especially Landscapes and Ranches. I'd typically set an alarm to drive out some far-flung dirt road to be able to shoot at dawn, or be out there at sunset and drive home in the dark. I shot 10,000 frames in the first year.
Then I started running out of options. I felt that I'd gotten what was there. The inevitable sacrifices paid off less and less. Considering my options, I gravitated toward two other kinds of photography--storytelling (see the results throughout the Writing section of this website, where my photos always accompany and support my writing), and portraiture.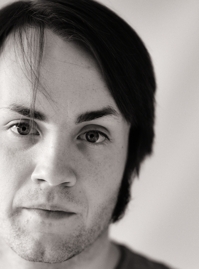 I've focused on what's called environmental portraits, portraying people naturally in their normal environment and look. Five years ago I bought some studio lighting and a dark backdrop, setting it up beside a west window at my wife's art studio/gallery. The keepers from that setup used only window light as I discovered I've no talent or taste for mastering flash. I've done little with that backdrop or semi-studio photography, preferring environmental portraiture (well represented in galleries available in the left menu above).
This summer, though, I've been reading and studying many books of great photographers, including Richard Avedon and the Marilyn Monroe photographs by Milton Greene. Simultaneously, I was photographing actors at the Shuler Theater when I got a hankering to do studio photos of the actors and directors you see here. Actors tend to be good portrait subjects. The artists here are also great looking and immensely talented. I'm always attracted by talent, increasing the chances I'll be drawn to photograph a subject.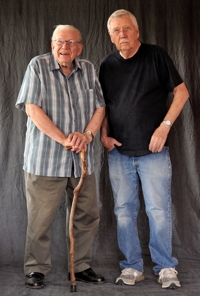 Hanging the dark backdrop at the end of our Raton sunroom provided me an entire west wall of windows--instant studio, no flash needed! The close soft-focus portrait of Nora Leahy is my favorite of hundreds we took here Monday. Click the thumbnail photo to see it enlarged: it's ethereal. (Both photos above were shot with the Nikon D4 using the 85mm portrait lens at f/1.4. The shot at right is the D300 with 50mm f/1.4 lens at f/4.) Among my other favorites of Nora, one is a profile; another evokes the 1950s movie star photos I've been studying, with Nora on a swing outside the sunroom studio windows. Similarly, I like many shots I got of Nora's partner, Ian McCabe. (Use the Search function above left to find my 2010 profile of Ian and my reviews of his many Shuler Theater performances.) For the portrait here, I hung a white sheet as a backdrop. (It wasn't good enough: I've just ordered a professional white backdrop.) Another favorite close portrait used the dark one. I also made a playful series of outdoor photos of Nora and Ian together.
I'd seen Bill Fegan and director Tom Evans sitting together at an artists' reception last month. Friends and collaborators since the 1950s, they immediately inspired me to get a portrait of them together. They were game enough to drop by Monday as I worked with Nora and Ian. The result is above. Wonderful! And a new portrait studio is born.
---
July 13, 2014     ... a thousand words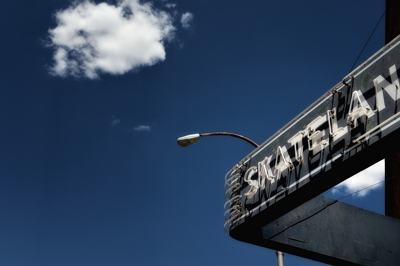 When Bruce Leonard took over the editorship of The Chronicle-News exactly a year ago, he implemented a regular front page photo feature called simply "...a thousand words." Although he's welcomed Raton shots, for various reasons I've had better success when providing him Trinidad shots.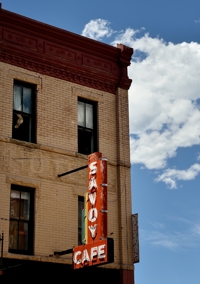 So, whenever I'm over the pass getting interviews and photographs for my weekly Tuesday feature, "Over the Pass," I keep my eyes open for potential images that Bruce might use for the front page photo feature. I've had a lot of success and it's been a fun way to get art photography published.
I just submitted these two shots, taken during my last two visits. The Savoy Cafe is no longer open at the bottom of Commercial Street, but there are occupied upstairs apartments whose windows are open to the fresh air in mid-summer. For me, the focal point becomes the open windows on the top floor. Skateland is a roller rink on Main Street, popular with kids and home to a roller derby league--how cool is that? Bruce already replied that he likes both shots so I'll watch in hopes of seeing one or both published this week. It'll be interesting to see whether the photo feature lasts: Bruce gave his notice last week and will soon be returning to our mutual hometown of West Los Angeles. I'll miss him here.
---
July 7, 2014     Mass Ascension  =  Harmonic Convergence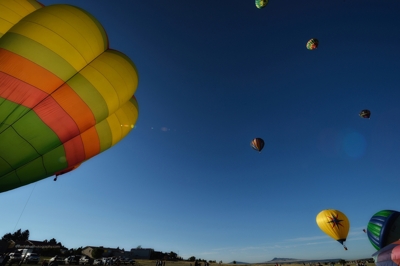 The holiday weekend's 20th anniversary edition of Raton's International Santa Fe Trail Balloon Rally was a wonderful success, particularly on Friday morning, the 4th of July (above), when sixteen balloons went up together and lingered there for more than an hour. Many used the light winds to steer a little north and west into York Canyon and over toward Raton's golf course, but Albuquerque's Tom Gardner showed off his skills by coming back and landing on his launch spot -- no small feat in a craft that depends on the wind for steering. He exchanged passengers and went back up.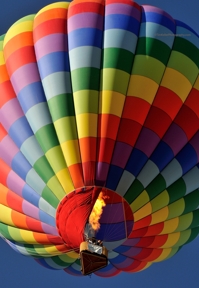 For the big panoramic picture above, I used my wide angle 14-24mm lens on the Nikon D4 (always click any image to enlarge). Even that wide, 14mm, I could only get half the balloons in the frame, though I got the bonus treat of lens flare. Photographers love lens flares for their magic. Some professional cinematographers study it and know how to use lenses and angles to bring it on at will.
Last year I rode three balloons myself (resulting in this month's feature in New Mexico Magazine), including one with Ken "Fergie" Ferguson that I used for a feature in The Chronicle-News. This year I opted to keep my feet on the ground, shooting Fergie and his passengers from below (left, using the 18-200mm superzoom at 112mm on the D300) and interviewing passengers--Clint Henson and Nina Zimmerman--from two other balloons. That'll run in the Chronicle later this week, along with three other features I created over the holiday weekend. I did a lot of photography and writing, my idea of fun!
---
July 5, 2014     Classic America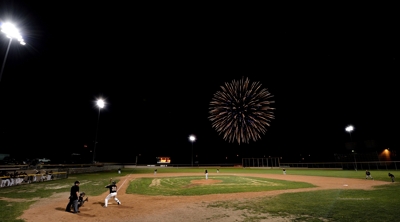 Raton's 4th of July celebration included hot-air balloons, a long downtown parade, live music in the park, a free city-sponsored fireworks show, and baseball! Surely one of the food booths in the park offered apple pie; I know for sure that one offered Blue Bell ice cream.
The fireworks show climaxed with the biggest starbursts just as the Raton Osos were going down to the Trinidad Triggers in their second game of the day. They played an afternoon game in Trinidad then drove over the pass to play the night game at Raton's Gabriele Field, above. It was a long and perfect 4th of July.
---