---
April 29, 2012     The Underappreciated Pleasures of Downtown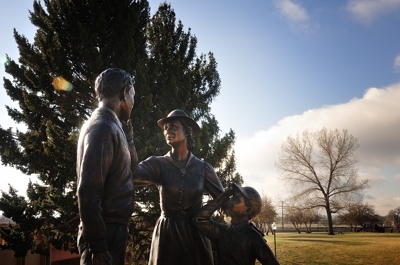 Much of my April has been spent exploring, photographing, and enjoying Raton's downtown historic district. Like many travelers and, I think, locals, I've underappreciated the pleasures of downtown. Processing the photos for New Mexico Magazine's September feature, I'm impressed by the charms and beauties of the downtown district. One of my hopes for the feature is that it awakens this realization in Raton's own residents and brings new travelers to enjoy downtown Raton for the first time.
---
April 22, 2012     Almost Done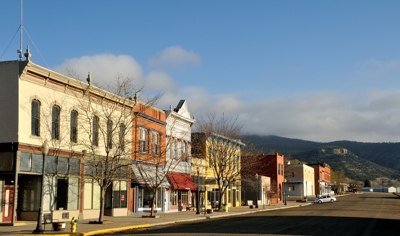 I'll be sending 70 new hi-res images on a DVD this week to accompany my manuscript on Raton for the September issue of New Mexico Magazine. With a new working title of "Diamond in the Rough," I've spent much of my weekend on the 1850-word manuscript and 500-word sidebar. I'm too exhausted to write more here, but I will say that the image above is an outtake not good enough to be among the 70 the magazine will be choosing from. I'm excited about the images that did make the cut. We'll all have to wait until mid-August to see which ones make the editor's cut.
---
April 15, 2012     There's Nothing Cold As Ashes After the Fire Is Gone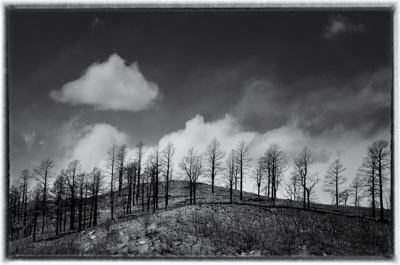 Busy preparing dozens of images for New Mexico Magazine to accompany my September 2012 "Destination Raton" feature, I swung through Sugarite Canyon State Park yesterday, almost in vain. Brisk winds carried a cold front which brought snow a few hours later. Fishermen huddled around their vehicles beside the wind-tossed waters. The only good photo I found was this one, of a burned out ridgeline above Lake Dorothey.
I won't submit it to the magazine for two reasons: it's taken on the Colorado side of the state line, and the image is hardly encouraging to visitors, showing as it does the struggle to recover from last year's devastating Track Fire.
Luckily, I've been successful in town, finding dozens of winning images over the past couple of weekends, especially. I'm saving those for the magazine and September. Meantime, I have a photo shoot scheduled in town tomorrow to finish up. I'll write the manuscript next weekend and send off words and images toward the end of the month, then settle into other projects during the four-month wait to see the results of my Raton work in print.
---
April 7, 2012     Depot, Depot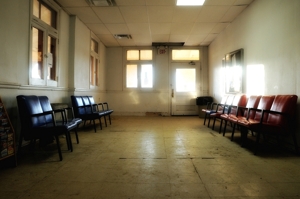 I've been a big fan of Tom Waits since the 1974 arrival of his second album, The Heart of Saturday Night, which included "Depot, Depot."
Depot, depot, what am I doing here?/Depot, depot, what am I doing here?/I ain't coming, I ain't going/My confusion is showing.
Although the song is set in the middle of an urban night, it's impossible to not think of Waits and his inspiration Edward Hopper as I examine this image of the empty waiting room at the Amtrak train depot in Raton, New Mexico.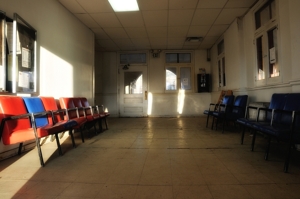 I was out before sunrise shooting images suitable for attracting tourists to Raton, for use in my upcoming feature in the September issue of New Mexico Magazine. These depot photographs will hardly attract tourists, so they won't go to the magazine, and that frees me to use them here. I'm glad, because I love all three. Along with their striking visual elements and light, they have a Tom Waits and Edward Hopper sense of loneliness and decay. It'll be interesting to see if this lasts for me, but right now I'm counting the top photo among the best of my fine arts photography. (Click to blow it up and you'll see a rack of travel brochures on the floor in the lower left corner. The two shots show the same waiting room taken from either end one minute apart.)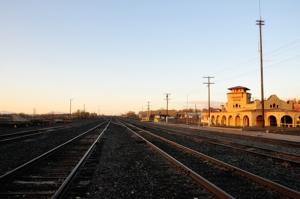 Although I work in Raton, I live 38 miles away. As a result, I've rarely been out shooting the town in the good light of morning or evening: I'm either hurrying to work or glad to be home cooking dinner and relaxing after a work day. I rarely drive to town on my days off. Now that the trees and grasses are greening up, I have only a couple weeks in which to get a rich store of great outdoor shots before deadline for the September feature. Christina and I stayed overnight at the Melody Lane Motel so I could shoot evening and early morning. We'll do it again next Friday night. It's best to not share here the images I'll send for the magazine feature (oh, but they're fabulous!), but these depot shots demonstrate that there will be plenty of images that won't fit the feature but which I find irresistable nonetheless. For the rest of this month I should have no shortage of Raton photographs that I'm excited to share here.
---
April 1, 2012     Holding On to Copyrights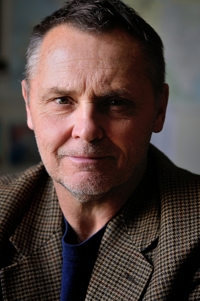 I'm going to start today by sharing this portrait of my friend Leo Linsky, which I took two days ago for a lengthy profile in this week's Chronicle-News, but then I want to focus on some issues of freelancing and copyrights.
When Thoreau wrote of dancing to one's own drummer, he couldn't have done any better at describing Leo. My 1500-word essay left out a lot, and as I interviewed Leo it became clear that nothing short of a very large book could ever really cover the topic.
I took a B&W portrait of Leo outside last year; for this one I turned off the fluorescent lights and sat Leo at my classroom desk for the window light, something I've done successfully with several students and one teacher. Over at my arts blog today I'm posting one more from this sitting plus a pair in other settings. Leo's a character and a half, and then some.
The cover story in the current issue of News Photographer (Jan/Feb 2012 - a rare magazine to publish behind instead of ahead of real time) is called "Freelancing in 2012: Who Would Want To? And What Does It Take?" The 16-page feature includes profiles of 18 professional freelance photographers -- almost all of whom used to be staff photographers for newspapers or magazines -- along with some in-depth commentary on the state of the profession. The digital revolution -- in computers, cameras, and publishing -- has turned the photographers' profession on its ear. The feature is a great report from the road to wherever it's all headed.
Publications have been shedding staff photographer positions as fast as they can, saving money by relying on freelancers. But their big hope is in UGC: User Generated Content. That means getting images for free from the publication's readers. Digital photography has made everyone a photographer, and many are quite good. Many are also thrilled just to see their images in print where they can show all their relatives and Facebook and Flickr friends. They're not concerned about building a professional practice.
Of course, if they grow and decide to try freelancing, they've already undercut the fees for their own images, and those of all freelancers. That's making the economics very difficult for the throngs of former staff photographers now out there freelancing. They're competing with an army of amateur digital photographers who are happy to offer their images for free, just for the credit.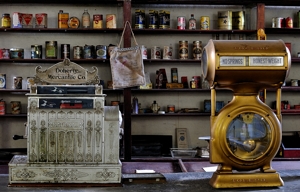 A constant refrain from the professional freelancers interviewed for the feature is the importance of holding onto the copyright for every image. You lose it in the small print. One photographer referred to this as "copyright grabs." If a buyer insists on having the copyright, be sure you're getting paid a whole lot more for that contract than if you are simply licensing your image's use to the buyer. You'll never again be able to earn income from the image, but the buyer will. (Most photography contests now grab your copyrights, and believe me, they keep using those images, for free. See my February 4 blog here.)
I've been lucky and had no problem holding onto my copyrights. Each time a magazine or corporation uses one of my images, it licenses that use and pays for that, but it doesn't buy ownership of my copyright. As a result, I've been able to continue licensing the same images for new uses. The Doherty Mercantile Company photo above, from inside the Folsom Museum, for example, has been published 3-4 times, and I've been paid each time. Photos I've taken during the past 12 months that have already each earned me multiple paychecks include Ridge Riders, Breakaway, and Big Boy. Older ones include Pryor's Horizon, The Long Gaze West, Shuler, Sancho & Dulcinea, and Horses at Sierra Grande, among others. In addition to publication, I'm also able to keep offering images for sale here as prints and in shows as framed works.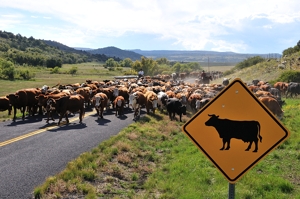 The May issue of New Mexico Magazine will arrive in two weeks with my three-page travel featurette, "Road Trip: Heart of the Hi Lo." The first page will include this photo, right, which I shot on what turned out to be my first professional outing, three and a half years ago. I've been making money on those images ever since, most prominently with Centerline, Fore & Aft, Pushing the Herd, and Trail's End.
For the magazines' purposes, these are called stock photos: a magazine doesn't have to pay me a day rate to go out and shoot for a specific feature; instead, it licenses from images I already have in stock. The longer I'm at this, the larger my stock, and the more potential I have for income. That wouldn't have been true if I'd let buyers get my copyrights.
---
March 18, 2012     Vivian Maier: Discovered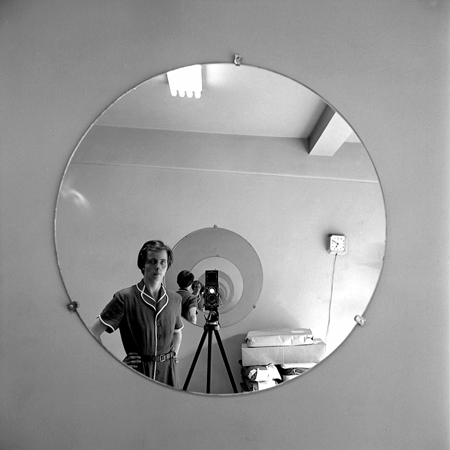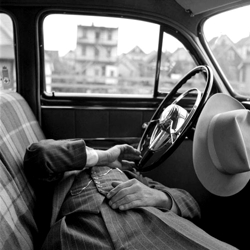 When Chicago historian John Maloof bought a box of unknown contents at an auction in his own northwest Chicago neighborhood in 2007, he accidentally stumbled upon the huge photographic cache of Vivian Mayer, who'd fallen upon hard times and lost the contents of her storage locker when she fell behind on payments. Little did Maloof know, the discovery would change his life. It came too late to change Maier's. By 2009, when Maloof realized the treasure he'd discovered and Google-searched the photographer's name, he learned that the 83-year-old Maier's obituary had been posted just one day earlier.
What Maloof found was a cache of 100,000 negatives and prints that no one had ever seen: Maier spent her adult life as a nanny, using her free time relentlessly exploring Chicago, New York City, and overseas destinations with her Rolleiflex camera in search of what has turned out to be among the best street photography ever made. She never shared it with anyone, apparently unaware of its merit.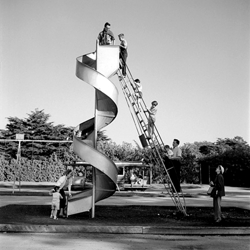 The work is simply astonishing. Maloof and his team have painstakingly processed images and now a book is available, sort of: the third printing of Vivian Maier: Street Photographer has sold out, the fourth printing due out in May. I ordered mine from Amazon in December and received it three months later, from the third printing. Meantime, shows are opening around the country. I saw "Vivian Maier: Discovered" at Santa Fe's Monroe Gallery of Photography, hanging until April 22. If you can get there, don't miss it. Need further convincing? Check that link, to the show's website, and look over the images.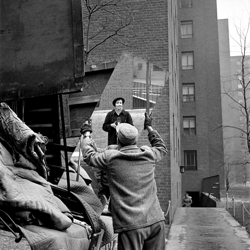 Or better, go straight the official website of Maloof's treasure trove of Maier's images. You'll get lost there and like it. Maier had an (extraordinary) artist's eye for light and composition, with an empath's eye for subject matter. The intimacy she achieved is breathtaking. Always poor, she appears to have been unassuming and unthreatening to her subjects. Surely it helped that she looked down, into the 2.25"-square image in the Rollei which hung from her neck, unlike today's big cameras that are sighted straight ahead like a gun, blocking the photographer's face, more obtrusive and threatening.
The first and last images here are from Maier's wonderful series of self-portraits, which I find fascinating, delightful, and endearing. Hers is an endlessly engaging story, currently being developed into a documentary film. John Maloof, who had never engaged in photography himself, has now become a street photographer under Vivian Maier's influence. It's a story, and a trove of art, that keeps on giving, all the more compelling for the fact that Maier herself just missed ever knowing that anyone would see any of her extraordinary photographs at all.
---
March 11, 2012     CameraBag

I've barely used the camera in my iPod Touch 4G until discovering this week an app called CameraBag, which is so much fun that I've been using it on my daily hikes -- to the extent that my 90-minute hikes have been running closer to two hours. For one thing, I've had to teach Django to sit and stay: until now, he thought "sit" meant that he was about to receive his morning dog biscuit. He aims to please, and he's a fast learner, but it took a little time.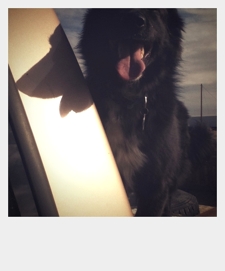 With the CameraBag app, I take a shot the same as with the regular camera. I've set its Options to automatically save the original, untreated shot. Then I can try a dozen different treatments, saving any that I like. When I plug in the iPod to the computer back home, all of my selections appear in my Nikon TransferNX 2 the same as if they were coming from my Nikon. (Of course, your photos will go wherever you've set your own computer to receive them, such as iPhoto.) From there I move them to Nikon ViewNX 2 for sorting and storage, then the best shots are processed in Nikon CaptureNX 2. The final step is often Adobe Photoshop CS5, although I rarely use that for anything beyond adding file data (title, copyright, names, tags) and sometimes a discreet copyright notice watermarked on the image itself, to further protect images that I think might get away from me. (Click on the B&W "High Plains" image below for an example.)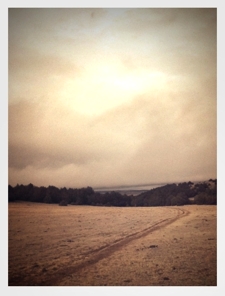 The advantages are portability and fun. I think it might work well for candid portraits of strangers in public, too: holding the big Nikon to my face is pretty imposing and unmistakable, but I can shoot from the iPod without being noticed. CameraBag is available at the iTunes App Store for $1.99, although it happened to be free on the day I downloaded it.
I learned of CameraBag from David duChemin's wonderful Photographically Speaking: A Deeper Look at Creating Stronger Images, which I finished this week. At the end he shares a page of nine CameraBag shots he's taken...and they're gorgeous! I highly recommend both CameraBag and David's book, which is something beyond an advanced treatise on composition and related aspects of making effective images. Serious and experienced photographers will savor it.
---
March 8, 2012     High Plains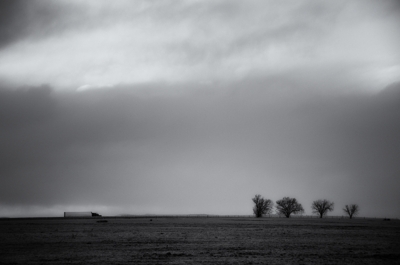 On the 200-mile drive home yesterday afternoon, I was frustrated at having spent two days in and around Santa Fe and Albuquerque without having taken a single photograph. I'd been to the Monroe Gallery for the Vivian Maier show, and that added to my desire to make a good photograph. As we sped north past Wagon Mound, Christina commented on my looking back over my left shoulder to the southwest. I was measuring the sun's distance from the horizon against the time we'd reach the long-abandoned village of Colmor on the Colfax-Mora county line. A storm was moving in and the light and the clouds were enticing.
As soon I started walking into Colmor, I spotted these trees back along the highway and saw my shot. Setting a tripod over an old barbed wire fence, I framed the shot and awaited a passing semi truck, knowing there would be plenty. I shot a few but this one gave me just the right balance for a composition that pleases me, the truck on the left perfectly balancing the trees on the right. (As always, click the image to enlarge it.) I turned my attention to the village (see a photo at today's arts blog), but I was right in thinking I'd already gotten what I was hoping for.
---
March 4, 2012     Sharing What You've Got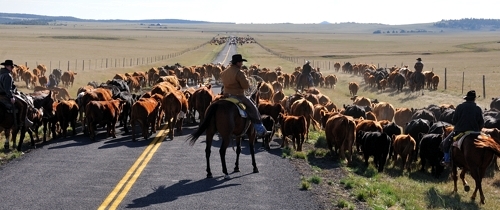 Western Horseman's 2013 calendar submissions are due this week and, as always, they're begging for winter shots, which means snow. I'm not the only photographer who finds it difficult after a snowstorm to drive to where horsemen are riding across attractive snow-covered vistas; year after year, the magazine is hard-pressed to get enough good shots for the calendar's winter months.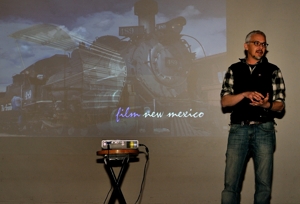 The New Mexico Film Office gave a town hall presentation at Raton's Shuler Theater Wednesday evening. Photographer and locations coordinator Don Gray, left, told how film productions use the film office website to scout locations. He urged everyone to read the instructions at List Your Property, then upload photos of their properties and communities. Check what's already available by selecting Locations Dept: Search Locations. I found it interesting to look up several places I'm familiar with, including Raton, Capulin, Folsom, Johnson Mesa, and Clayton. There were only two photos available for Des Moines, and one of those was actually from Hagerman, 365 miles to the south. (Don asked that we notify him of such discrepancies.) I posted five shots to augment the Des Moines view.
While I'm waiting for spring to turn the land and trees green so I can shoot the exteriors of my "Destination: Raton" feature for the September issue of New Mexico Magazine, I have this week free for an early spring break and I'm looking forward to taking the camera on some travels. Good road...
---