---
February 26, 2012     Getting My Feet Wet in a New Project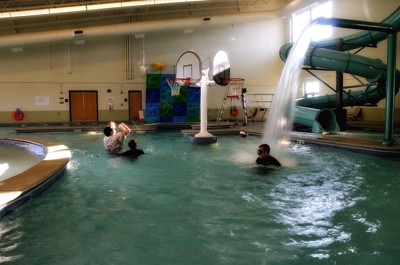 I started last week on the "Destination: Raton" project for the September issue of New Mexico Magazine, first with a comprehensive listing of possible destinations (and, thus, photographs), then with indoor photography while I wait for spring and the leaves to grow back on the trees before I begin outdoor photography. (For that reason, the magazine has given me all the way until April 30 to finish the work.)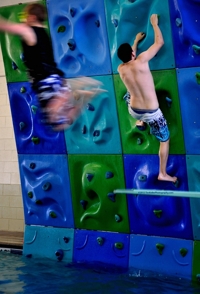 I had never been to the relatively new Raton Regional Aquatic Center, but that's where I began, and I went twice this week, getting these images on different days. Although I may already have the image(s) I'll eventually submit, I see enough potential for great photography here that I plan to keep going back for a while. The low light requires a relatively slow shutter speed anyway, but for the top image I purposely slowed it to 1/6 second to soften the waterfall and pool surface. I tried slower speeds, too, which made the water look even better but made the basketball - and even fast-moving kids - disappear. To get 1/6 second, I manually set the aperture to f/16, which also gave great depth of field, an asset in this case. I locked the ISO at 200 and set the camera on a tripod, unlike the lower photo which was handheld as I dodged to avoid a big splash!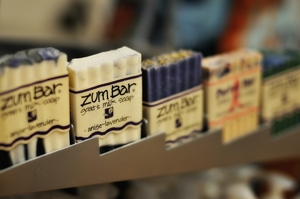 From the pool I went downtown and took some images inside two cool shops. Dorothy Best's kitchen & bath boutique, Chicorica Lane, had several photographic possibilities. For this shot of her goat's milk soaps, I used a wide f/2 aperture to get very low depth of field, and I put the camera on the tripod placed to accentuate the angles, which gives a sense of diagonal (always good in imagery) while also making the focal point so narrow that only the one bar of soap is in focus. At first I focused on the blue bar, but I found that moving the focus point closer worked better.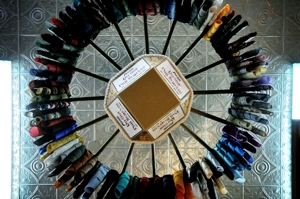 At Solano's Boot & Western Wear, I got some great shots of row upon row of boots and hats, but I couldn't resist lying on the floor and taking this shot of the collection of scarves hanging from the ceiling. Called "wild rags" by cowboys and other horsemen, Solano's has an extensive collection. Using flash would have brought out the bright colorful fabrics (making this a more likely prospect for the magazine), but I avoid using flash whenever I can; besides, I like the weirdness of the white flourescent light coming from the sides. At least one person snickered, enjoying the sight of me lying on my back on the floor. Point of view is everything in photography, and shooting from a standing position is rarely the best choice. Besides, I like lying on my back on the floor!
---
February 19, 2012     A Busy Valentine's Day Evening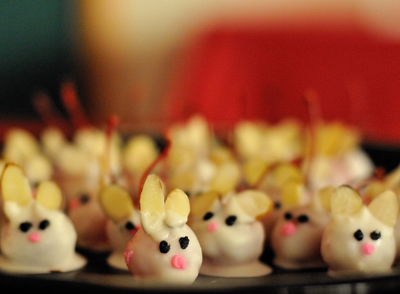 After an early-winter doldrums, it's felt good to have a lot of work since almost the start of this year. On the evening of Valentine's Day, I skipped around Raton taking photographs for four different stories in three different publications, then arrived home to discover a quick fifth project to do before bedtime.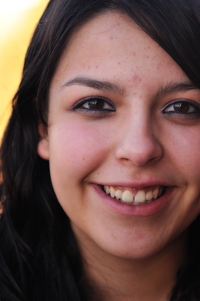 I started by shooting Raton's 2nd annual Chocolate Factory event (above) for The Chronicle-News, then went outside to get a portrait of Kristin Vance (right) to accompany Christina Boyce's feature this week on KRTN's website about Kristin's B.A.R.K. event at the Raton Animal Shelter. From there it was over to a partial-dress rehearsal at the Shuler Theater to get a photo of next weekend's children's theater production of "Pandora's Box" for a preview the Chronicle will run this week. (Irresistibly, I featured the always-effervescent Zoe Gomez in my photo.)
From there it was over to the The Sands Restaurant to photograph a mariachi band serenading diners for a project I'm just beginning, a six-page "Destination: Raton" feature in the September 2012 issue of New Mexico Magazine. Christina and I joined the fun, and just beat the long lines, to have dinner and be serenaded en español.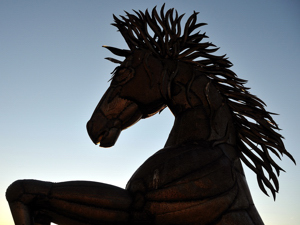 After the 40-mile drive through the dark to home, I found a late afternoon e-mail from New Mexico Magazine's art director who hoped I could send her either of photo of a plate of food or a silhouetted photo of a Clayton horse sculpture, as a final image to pull together the others I'd sent last month to illustrate my "Road Trip - Heart of the Hi Lo" travel feature in the upcoming May issue. I hadn't photographed the food at any of the dining places I'd featured, but I did have this silhouette of a welded metal horse sculpture by Albuquerque artist Bennie Duran, which I shot at sunset where a yard of Duran's sculptures is on display just west of Clayton. (See more of Duran's sculptures at January 15 below.) That worked, and I got to bed well ahead of my 5 a.m. alarm, pleased to have had such an exciting and productive evening of photography!
---
February 4, 2012     Something for Nothing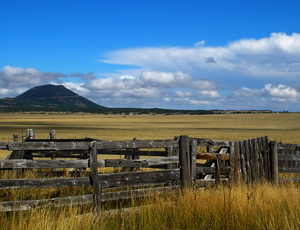 It didn't take long last year for New Mexico's incoming Republican governor to shake up New Mexico Arts and the Tourism Department, including the latter's flagship publication, New Mexico Magazine, which also publishes the state's annual Vacation Guide, distributed free throughout the state at visitor centers and hotels as well as online. Although tourism and the arts are famously major contributors to the state's economy, the governor wasn't comfortable seeing the state lose (i.e., spend) money to promote them. Heads rolled; at New Mexico Magazine, surgery was performed not with a scalpel but with an ax.
Now the New Mexico 2012 Vacation Guide is out, the first to have the new governor's portrait inside. It's lost 60 pages, one-third, leaving little more than advertisements. But that's not where the biggest savings were gained. Like all professional publications, including New Mexico Magazine, the annual vacation guides have always paid professional licensing fees for the images they've used. This year those are the exception: tucked into the bottom of page 10, in tiny 4-point font, is this note: "All photographs Courtesy Day of Enchantment Photo Contest unless otherwise noted."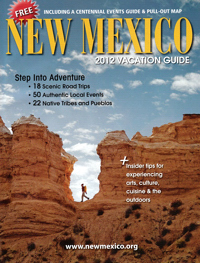 That is, the Tourism Department filled the guide with photos they didn't have to pay for. Ironically, the images they used were gained from a two-month contest the previous administration sponsored in 2010. The first place photograph won its creator a generous prize, but the other 14,829 entries earned not a cent. And now many of them are being used professionally but without payment. (The governor's effort to improve the state's economy cost dozens of its best photographers tens of thousands of dollars in income.)
This practice is increasingly commonplace. The digital revolution has spawned an explosion of photography and photographers. Many have become very good, and most are quite happy to display their work for free at sites such as Facebook and Flickr. But when they let their work be used by others for professional purposes without payment, they undercut the very possibility of ever being able to be paid for their work.
News Photographer, the monthly journal of the National Press Photographers Association, devotes two pages of each issue to such predatory practices -- publications and advertisers who grab photographers' rights and use their images without payment. Amateur photographers are so excited to see their work published that companies are increasingly taking advantage and using content without paying for it. The practice is leaving dramatically fewer opportunities for professional photographers. Taken to its logical conclusion, photographers will not be able to gain payment for their work, and those talented amateurs who would like to turn professional will not have that option. They're already sealing their own fate.
Each of the last three years, I've received a call from New Mexico Magazine for images it could consider for the Vacation Guide. I've been well-paid for the many images they've selected and published. This year I received no call. After doing all they could with the free images, the editors had to fill some gaps in their content: they re-used my 2007 image of Capulin Volcano (top), and I was paid (again) for its use. That made me one of the few photographers in this year's guide who was paid, and that's not good.

P.S. See today's TKA Blog for a broader discussion of the effects of the recession on several of the magazines that I contribute to.
---
January 28, 2012     The Ghost of John Belushi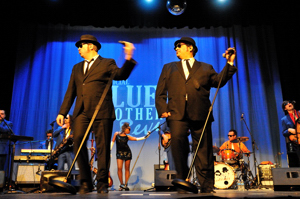 Once again the Shuler Theater has provided a chance to enjoy entertainment of a calibre and frequency not expected when living in the sparsely populated hinterlands where livestock outnumber people. Of all things, The Blues Brothers came to Raton this week. Not surprisingly, they drew a big crowd -- more men than women -- and brought a welcome dose of black rhythm & blues to our brown and white corner of the world.
The two stars reincarnated the Blues Brothers spirits of Dan Aykroyd and the late John Belushi, right down to the expressions and choreographed dance moves. It was a hoot to watch, and better up close (left) than from farther back (above) -- doing photography for The Chronicle-News and KRTN, I moved around. But ultimately I felt that the two stars had been following the same set list for too long: they seemed a little road weary, a little tired of the show, and seemed to phone in their performances.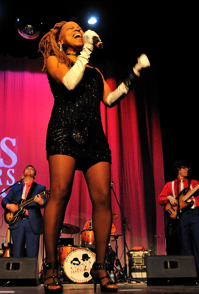 The fabulous songs and crack band could have carried the night just fine by themselves, sending The Blues Brothers down the street for a drink. Singer Arnae Batson (right and here) sang Aretha Franklin's "Think" with "Respect" in the first set, then added James Brown's "It's a Man's World" in the second, and it was obvious that she hasn't grown tired of this music! Young electric guitarist Kory Montgomery was repeatedly unleashed, prowling the stage as though he were trying to batten down his incendiary guitar. He and Batson were both exhilarating.
Of course the Blues Brothers characters were created by a pair of fine comics and paired with some of the world's best music, so the show couldn't go wrong, and it didn't. The crowd was often standing, singing, and laughing with nary a complaint in the house.
KRTN will post my review and photos today; The Chronicle-News will get its own set of my photos with my Monday review. With that, I've got the Blues Brothers off my plate, but I can't seem to stop playing Otis and Aretha on my iTunes.
---
January 21, 2012     Dueling Volcanoes
For my "Road Trip: Heart of the Hi Lo" feature in the upcoming May issue of New Mexico Magazine, I wanted to contribute some new photos of Capulin Volcano but I had only a brief window to catch great light and sky. A dawn/sunrise shot would be my best bet, on my morning commute to school, but in mid-January I'm passing the volcano about 20 minutes too early. Instead, I shot it on two days this week on my way home at day's end.
Although the two photographs look like they're taken from the same spot, if you look closer you'll see that I was actually about a mile apart between these two shots. (You can tell by the foregrounds; as always, click either image to enlarge it.) The first was shot just after the sun had gone down, the second when the sun was still up a couple days later. Neither had optimal light or sky and I took them only because I had only this week to get something -- or not get something. It does show how beautiful the land and skies are here, that even on ordinary days it's beautiful.
For stronger light and sky with the same subject, compare these to Capulin Winter and Rhapsody in Blue, or to an older shot, taken with an Olympus point-and-shoot before I bought my Nikon D300, just published on page 36 of the 2012 New Mexico Vacation Guide. These are all better photographs than this week's, and all three have earned income. An advantage of the new ones is that I framed them vertically for the art director, making her job easier as she places images on the vertical magazine pages and increasing the chance that one of these might be used to fill a page by itself. We'll know around April 15 when the May issue arrives.
---
January 15, 2012     Wild Life in Heavy Metal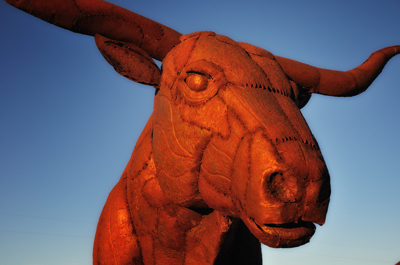 I spent yesterday afternoon on a photographic tour of Clayton for New Mexico Magazine, shooting all of the town's standard attractions and then some. I couldn't resist shooting some of the many metal sculptures, as well. Albuquerque metal sculptor Bennie Duran trucks his creations to Clayton, where he has an open showplace just west of Clayton on the north side of Highway 64/87, where I shot this longhorn steer in the setting sunlight.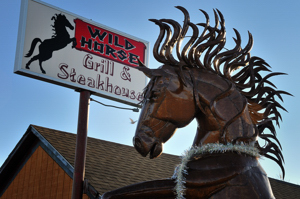 The work is also showing up around town, purchased by local businesses. Perhaps none is put to better use than the prancing horse in front of Wild Horse Grill & Steakhouse, where it's brought a marked increase in business. The horse is hard to miss. I caught it with backlighting from the low afternoon sun, giving attractive highlights to the flaring mane. What I didn't notice until I got home was that a bird flew into the frame while I shot. That's a little bonus. So is the tinsel necklace.
I've posted more photos and news of the project over on my arts blog. Next weekend I expect to post photos of Springer that I'll be taking for the same magazine travel piece. It feels great to be engaged in a project!
---
January 8, 2012     Feather, Cap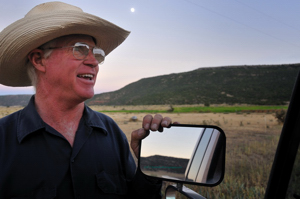 New Mexico Magazine has just posted its "Best Images of 2011." My portrait of Darien Brown is the sixth image in a slideshow of 21, and it's in impressive company. Thank you to art director Fabian West: I'm honored.
Click on "captions" to see notes and photographer credits. While you're there, you can scroll down and still see my two Photo Tour features -- on the Brown Ranch and Max Evans's New Mexico -- before they slide off the page with the passing of the months. Also, watch for the arrival this month of the magazine's 2012 New Mexico Vacation Guide, which will include one of my photographs. Living in New Mexico, there's no better place to be published than in New Mexico Magazine.
---
January 7, 2012     An Exceptional Photographer
  
"It is the photographer, not the camera, that is the instrument."
-- Eve Arnold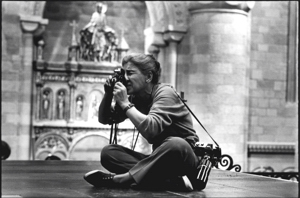 Photographer Eve Arnold died Wednesday, about 100 days shy of her 100th birthday. Most of the world's major newspapers ran lengthy obituaries the next morning; the New York Times headline proclaimed Arnold "A Photographer of Bold and Illuminating Images." Although she began her career in New York City, she was born and raised in Philadelphia and lived the second half of her life in London.
Young and single in NYC, she received a Rolleicord camera from a boyfriend. She later married someone else and had a son, but her interest in photography led her to take a six-week class at The New School. She was 36. The photographs she took for that class opened her professional career. By 1951 she was freelancing for the famed Magnum Photos agency, founded by Henri Cartier-Bresson and Robert Capa; in 1957, she became a full member of the group. "I began to haunt the files at Magnum," she recalled. She studied the other photographers' contact sheets, learning how each approached an assignment. Cartier-Bresson's contact sheets, she said, taught her to try to tell an entire story in a single image.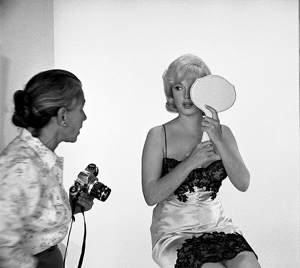 Arnold became one of the world's first successful female photojournalists and a leading photographer of the genre's post-war golden age when the magazines Look and Life arrived in millions of American homes with featured photo essays. Arnold proceeded to travel the world, taking pictures in a South African shantytown, a Havana brothel, a harem in Dubai, a factory in China, and a psychiatric hospital in Moscow, to name a few. But in the mid-1950s she also began photographing backstage life on Hollywood movie sets, finding her greatest commercial successes with pioneering candid shots of stars taken in a photojournalistic style. Her intimate and revealing photographs of Marilyn Monroe earned Arnold widespread fame.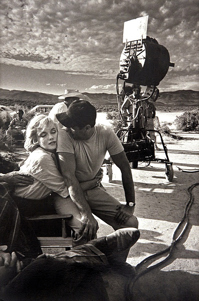 The Los Angeles Times obituary focused on Arnold's Hollywood career, noting under its headline, "She was known for the naturalness of her images and for her photos of Mariyn Monroe." Most of the obituaries offered slideshows of Arnold's work. Magnum Photos has hundreds of her images available for licensing on its Eve Arnold page. Anthony Luke has a gallery with a rich collection of Arnold's photographs rendered large and accompanied by videos and Arnold's own words. Wherever one looks, time spent perusing Eve Arnold's photographs will be as valuable as any class a photographer might take.
 
"What drove me and kept me going over the decades? If I had to use a single word, it would be 'curiosity.'" -- Eve Arnold
---
Want to see November/December?