Words & photos © Tim Keller
---
April 26, 2019    Fun To Be 1
Happy Birthday to Joni, her first! We enjoyed a weeklong road trip to Austin to join Joni's birthday party last weekend. In my photo, she's patiently indulging a phalanx of cameras as they get the key shot before she dives into her "smash cake," a new term to me, Joni's grandpa. Inside was a carrot cake, not very smashable. Plus, Joni remained far more interested in the 30 or so people in her back yard than in the cake. !Feliz cumpleaños, nieta!
 

---
April 1, 2019    Brothers in Barns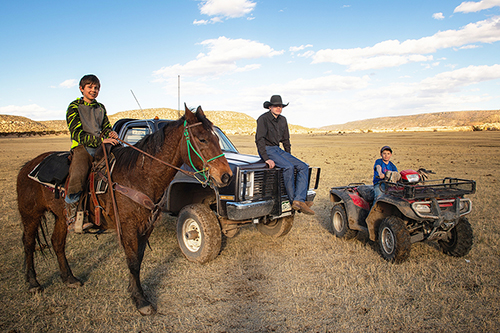 With Kade and Kyle running around Brown Ranch as we photographed Jace last week, it was irresistable to gather the three for a group portrait of the Brown brothers to join the several that I've taken over the years. I think it was Christina's idea, one of the many benefits of having a good photo assistant along. I love the new portrait with Kade horseback, Jace on his beloved truck, and Kyle on a ranch ATV.
Nine years earlier, in 2010, the boys posed for me from inside one of the ranch's 150-year-old barns built by Mike Devoy in the late 1860s. Those slots cut into the logs are for rifle placements during Indian attacks. (The Indians had long been here when Devoy and others started settling in after the close of the Civil War.) That's Jace in the center pointing his finger gun at me, with Kyle on the left and Kade up high on the right.
The Brown Ranch is rich material for a writer and photographer. I hope my blessings continue and I'll be photographing this family for many years to come.

---
March 29, 2019    Brown Ranch Revisited
I've spent the past few days finishing the photo processing from a fun photo shoot, then posting commentaries with 15 photos here at my photography blog. I've been photographing Jace Brown, his brothers, his parents, and his grandparents since 2010, featuring them with my stories in newspapers and magazines. As the sixth generation of Brown ranchers on a 150-year-old ranch along the Dry Cimarron in the Hi Lo Country of far northeastern New Mexico, Jace represents rich history and tradition, even as he graduates from high school this spring and moves forward into a new world.

---
March 16, 2019    Mora County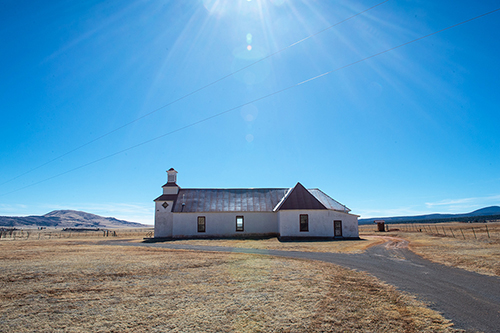 When our house was commandeered for the better part of 24 hours for a big women's club meeting last weekend, I got out of Dodge and treated myself to an overnight road trip, staying at the historic Plaza Hotel in Las Vegas, 100 miles down the interstate from home, and winding my way back the next day via backroads. I'm posting Plaza Hotel photos on my photography blog, but here I want to feature the rural enclaves of Ocate and La Cueva, both of which are on maps but have only one retail establishment, a small store, between them.
When I programmed my car's GPS to take me to Ocate, I got to an open valley of scattered ranch houses but the map program kept directing me down little two-track driveways, each of which led to a house. As it turns out, in Ocate, there is no there there. There is no town or business.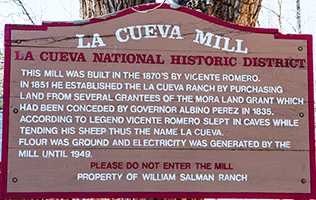 But there is the church, above. Google maps here in my computer tells me it's called Guadalupe Church, though it wasn't named or identified there in Ocate. I walked the perimeter--that gravel driveway circles the church--and looked through church windows, but only got this one photo that I'm excited about. In addition to the sun flares above and the one-seater outhouse to the right beyond the church, I love that center window that sees through to the opposite window all the way to the far horizon. (Click to enlarge.) Magical.
La Cueva Mill is located near Mora, between Las Vegas and Ocate. You can read the sign above for the basic story. (Or a Google search...I like this one.) The canal is still there, full of water ready to power the huge turning wheel...which turns no more. There's a board across the canal upsteam a ways. I carefully balanced my way across it, and back, imagining a fall into the canal with my expensive Nikon D5 camera and 24-70mm lens. All is well though: We continued onward dry and still happy, a great afternoon drive.

---
February 16, 2019    Ol' Max Evans: The First Thousand Years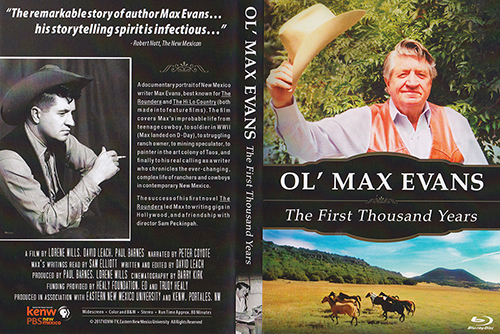 My friendship with legendary New Mexico writer and raconteur Max Evans has been one of the great joys of my life. Beginning with my magazine features on Max--first "Max Evans's New Mexico" in the February 2011 issue of New Mexico Magazine, then "The Horse Who Made Max Evans a Writer" in the June 2011 issue of Western Horseman, we've exchanged letters and phone calls, with visits at Max's Albuquerque home where Christina and I especially enjoyed a great visit with Max and his wife, Pat. They'll celebrate their 70th wedding anniversary in August, three weeks before Max's 95th birthday.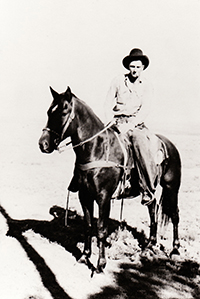 Max let me go through his boxes of old photographs going all the way back to his childhood, then he entrusted me with a dozen or so that I selected to take home and scan for use in my magazine features. Our agreement was that I would continue to make those photos available to the world, in the public domain. Many of them are now featured in a new documentary film, Ol' Max Evans: The First Thousand Years. Also appearing in the film is "Big Boy's Hat" (below right), my photo made in collaboration with Max. (He had to get the hat out of the Lea County Museum for it.) Christina and I enjoyed the film's PBS premiere last week on KNME-TV out of Albuquerque, then ordered the DVD online and it quickly arrived in our mailbox. Looming large in Max's story is Wylie "Big Boy" Hittson, shown here (left) on Blackie, "the horse who made Max Evans a writer." The Hittsons were our neighbors during the 13 years Christina and I lived in Des Moines, New Mexico, the namesake town called "Hi Lo" in Max's novel, The Hi Lo Country.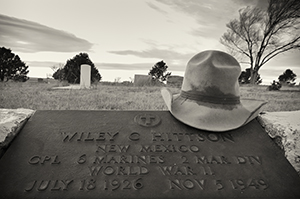 Narrated by Peter Coyote, with Max's writings read by Sam Elliott, the new documentary works hard to squeeze all of Max's sweeping life into 80 minutes. (Here's a contact sheet of the photos I made available to the filmmakers--the public domain photos plus a few of mine.) The film is a good place to start if you're unfamiliar with Max and his extraordinary life and legacy and art. Another is The Hi Lo Country and its companion The Rounders, both also made into prominent film versions. Don't stop there, though, as Max has written more than two dozen novels and other books, including non-fiction and short stories. Approaching 95, he's still writing. Max is a character and a half. Make that two and a half. Hell, make it a thousand. That ought to cover the first thousand years.

---
February 13, 2019    Heroes in the Night
In some idle moments as I prepared to leave public school teaching to launch, in my mid 30s, a second career as a touring and recording singer/songwriter, I typed up a list of my musical influences. John Stewart's 1969 album, California Bloodlines, was huge, and still a "desert island disk" for me. (If you were stranded on a desert island and could have only ten albums with you, what would you choose?) I'm surprised to see Steve Gillette's name missing from my 1986 list: In 1981 my daughter, Darcy Day Keller, got her name from Steve's classic song, "Darcy Farrow." His 1979 solo recording, Alone...Direct, included a dozen of his already-classic songs, including "Darcy Farrow."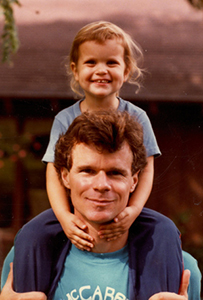 A conversation last weekend led me to reminisce about the magical night Darcy and I got to spend, just 18 months later in May 1988, with John Stewart and Steve Gillette. As the evening concerts ended around midnight at the Kerrville Folk Festival, everyone repaired to the campsites and songwriter circles around the campfires that would continue to dawn. I had become acquainted with Steve whose RV was in the camper area. Steve gave me and Darcy a tour of his camper home, including the first computer I'd ever seen with extensive royalty lists and bookings. Steve later let Darcy go to sleep on his bed but first we headed outside to start a song circle, me and Steve and some others. Dozens of people were arriving to listen around what promised to be a great circle. Darcy was atop my shoulders when Steve introduced me to a tall man I could barely see in the darkness away from the fire. It was John Stewart. I was starstruck. But when he heard my name, John lit up and and excitedly said he'd just driven across England with Peter O'Brien, who'd played him my entire No Stranger to Wishes album as they drove. He loved it. It was a highlight of my musical life as we proceeded to sing our songs around the circle the rest of the night.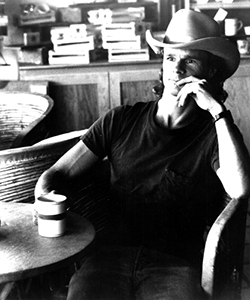 Publisher of British music magazine Omaha Rainbow, named after a California Bloodlines song, Peter O'Brien, in the Autumn 1988 15th Anniversary issue, topped his "Lomax Gold" list of favorite songs with my "Across the Borderline" from No Stranger to Wishes. Listed below it were songs by Lyle Lovett, Rodney Crowell, John Hiatt, Tracy Chapman, the Byrds, Leonard Cohen, Bob Dylan, Buffalo Springfield, Guy Clark, Emmylou Harris...amazing company, and the only time I made Number One on any chart, that's for sure!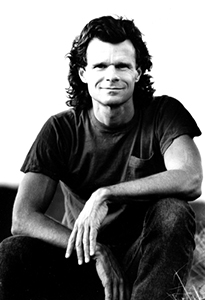 I had made it into the 1987 New Folk songwriting contest at the Kerrville Folk Festival, which went a long way in launching my touring career and first album. Judges included Ian Tyson and producer Jim Rooney (Townes Van Zandt, Bonnie Raitt, John Prine, Iris DeMent...). I became longtime friends with fellow contestants Bernice Lewis and Dennis Daugherty. None of the three of us won; nor did Austin's Jimmy LaFave (!). James McMurtry and Buddy Mondlock were winners. Novelist Larry McMurtry's son, James's career is still going strong; he played the nearby Red River Folk Festival last year. In the midst of a four-month tour, I shared a songwriters night with Buddy Mondlock at Nashville's Douglas Corner Cafe (August 14, 1989). I didn't know his friend playing second guitar but by the time I got home from that long tour, that red-ball-cap-wearing guitar player had released his own first album and it had shot to the top of the country charts. His name was Garth Brooks, and I joined everyone else in knowing who he was.
Garth Brooks was never my cup of tea. Give me Steve Gillette and John Stewart.

---
February 11, 2019    Chasing Billy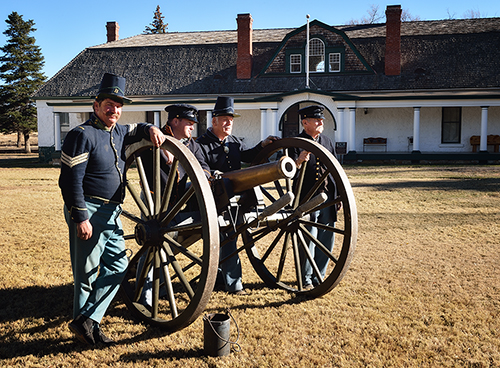 The annual New Mexico True Adventure Guide just arrived, my ninth consecutive year to have photographs in the big travel and vacation guide. They usually use my photos from home in northeastern New Mexico but this time I have photos showcasing three regions of our state, including Gallup in the northwest and, above, Fort Stanton in Lincoln County to the southeast. When I was teaching fulltime, my travels were limited; I thought of northeast New Mexico, especially the Hi Lo Country, as my turf. Freed by retirement, I started traveling the whole state, and beyond, finally resulting in broader coverage in our state's annual travel guide--available free at all of the state's visitor centers, at many hotels and restaurants around the state, and online from New Mexico Tourism Division.

I shot those infantry re-enactors at Fort Stanton for my three-part "Chasing Billy the Kid" travelog for The Chronicle-News out of Trinidad, Colorado. When Billy found himself in the middle of the Lincoln County War, in July 1878, the troops from Fort Stanton rode over to nearby Lincoln to intervene, and not on Billy's side.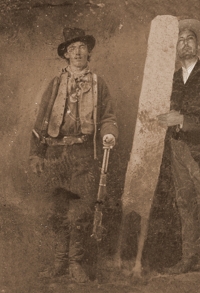 Billy got away, more than once, but time and progress and economics and politics and some bad deeds all caught up with him in the end. I retraced Billy's steps in two trips of my own across southern New Mexico. I visited the saloon in White Oaks where Billy spent a lot of time, and the building in Mesilla where he was sentenced to death...before escaping. I explored Fort Sumner, where Billy had his one photograph taken, a tintype. The man holding the reflector is cropped out in most editions. The tintype prints a reverse image, so people long assumed, mistakenly, that Billy was left handed; the image here has been reversed to reflect the true view that the photographer saw. Another fascinating Fort Sumner fact: when the railroad came through some years later, it bypassed town to the north three miles, so the town relocated, even moving and reconstructing some of the buildings. The original town site is now a state monument south of today's Fort Sumner. A few miles east of the townsites and south of today's Highway 60, I found Stinking Spring where Sheriff Pat Garrett caught up with Billy after one of his escapes. Stinking Spring is unmarked down long dirt roads, but I found it on a Google map. (Here's a map for you.)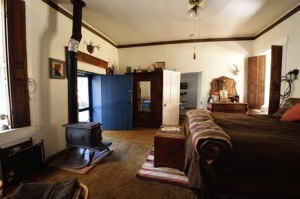 For a home base on my second trip while I explored Lincoln and Fort Stanton, I stayed in the Billy the Kid Room (left) at Ellis Store Country Inn, now a lovely bed and breakfast, where Billy and his friends hunkered down during the height of the Lincoln County War. It was a lot more comfortable for me than it was for them, and highly recommended! Everything in Lincoln is within walking distance but it takes a whole day to explore it all, especially in summer--some of the historic buildings are closed in winter. Even in winter, though, you can stand where Billy was jailed and walk the staircase where he escaped after shooting his guards. Use my feature as a history and travel guide, along with the New Mexico True Adventure Guide, and be sure to plan a half day for Fort Stanton, too. It's a great little mini-vacation. Good road!

---
January 26, 2019    From Hawaii to the Pool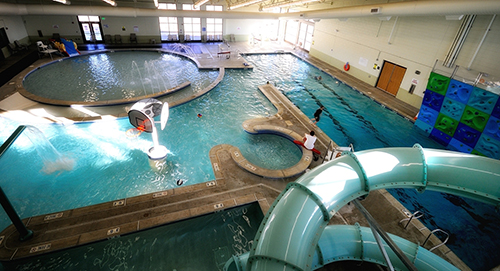 For twenty northern New Mexico winters, I've continued my regular hiking regimen without interruption, generally averaging 25 miles each week even when temperatures dip to the teens and wind chills take them close to zero. Django, our border collie, loves every mile but it's physically hard on me and Jett, our Jack Russell Terrier. Since Thanksgiving, I've been lap swimming more than a mile, three mornings each week, allowing me to choose only the moderate and sunny days for hiking. Luckily, in Raton we have the amazing $7 million Raton Regional Aquatic Center. (Who woulda thunk it?)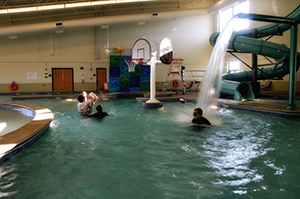 Originally my only intention was to get my arms and breathing in shape for Hawaii, in hopes of surfing (see blogs below), so I accompanied Christina six mornings when she went for her regular swims. By the time we returned from Hawaii, I'd decided that I love the lap swimming. I've joined the pool and plan to continue throughout the year, hiking just one or two days a week in deepest winter and then back to much more hiking the rest of the year. Morning swims, afternoon hikes. When I do both in the same day, I have little time for reading books so I'm really enjoying these wintry afternoons when I'm reading for hours in front of the fireplace and constantly receiving new book shipments from Amazon.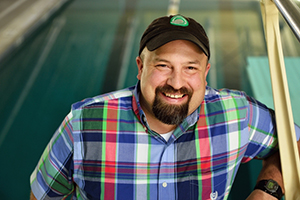 The photos here are from my magazine and newspaper work. Jared Chatterley is our Director of Parks & Recreation, running the pool and many impressive facilities and events. With his wife Lori, a great webmaster, he's also done an impressive job of using my photography to promote events such as the annual Master of the Mountains ("M.O.M.") Adventure Race (explore the various tabs here to see how they've effectively used my photos). Unlike some of the other local agencies, Jared and Lori have always gotten my permission first, then given photo credit and linked directly to my website. Good people. Good programs. Good pool.

---