Words & photos © Tim Keller
---
December 31, 2018    Aloha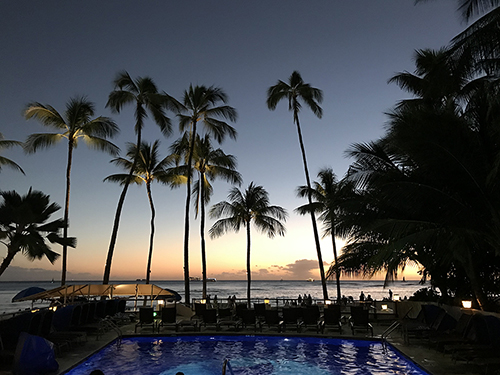 Let's close out 2018 with an aloha to Hawaii and a little more aloha spirit everywhere else for the new year. Love, compassion, sympathy, unity, humility, patience, kindness, grace: Aloha spirit suffuses the Hawaiian people and the Hawaiian experience. We felt it every day in the form of kindness and "no worries." We liked it! And we've tried to bring it home with us.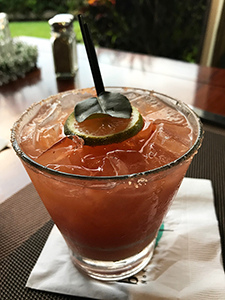 One of the fun aspects of being on the North Shore for the annual Pipe Masters contest this month was how many people were visiting from countless other countries and cultures. We heard nearly a dozen languages. Hawaii has a rich diversity in its own population. Adding all these international visitors made it a rainbow of diversity and immensely enjoyable, underscoring the wrongheadedness (and racism) of the "nationalism" that has emerged in the United States and around the world. That fear is the opposite of the aloha spirit, and it's painful for all of us, for everyone everywhere. Let's get past it in the new year.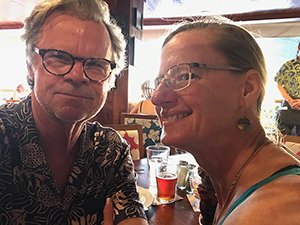 We're looking back fondly on our two weeks in Hawaii. With our rented bikes along the North Shore bike path, we enjoyed daily acai bowls from the Crispy Grindz food truck and dinners from Panda's Thai food truck near our Airbnb apartment at Rocky Point. The Lono's Ono Potion (above right), a craft margarita at Haleiwa Beach House, was the perfect start for another seafood dinner--I ate fish and other seafood every day for two weeks! Seafood is so fresh and plentiful on an island where they're catching it right offshore every day. We also loved Haleiwa Joe's and (surprise) Cholo's Homestyle Mexican (grilled ahi enchiladas!) in Haleiwa. In addition to Ted's Bakery and other great North Shore spots, we enjoyed one dinner (yes seafood) at Duke's on the beach in Waikiki, seen in the other two photos above.
Home now in northern New Mexico, a New Year's Eve snowstorm outside with the mid-afternoon temperature a single digit, sitting together by a toasty warm fireplace, we're still feeling the aloha spirit, celebrating the beauty and diversity of all life and all places and all people. We are blessed. All of us, we are blessed. Let's have a great new year.

---
December 29, 2018    Memory Lane: Surfing Photography
I thought I'd give you a taste of the surfing photography that I've been posting on my photography blog. My first serious photography was surfing, with a Pentax 35mm camera and 400mm lens atop a tripod at Will Rogers State Beach at the bottom of Santa Monica Canyon. I was 14 years old. More than a half-century later, this month's two-week Hawaiian vacation gave me a chance to photograph the best surfers in the world, at some of the world's most storied surfing breaks.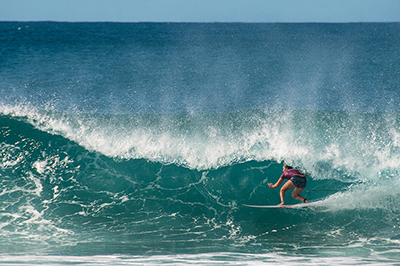 These two photos were taken midday December 17 at the Women's Pipe Invitational at Banzai Pipeline on Oahu's North Shore. Coco Ho, doing a slashing cutback at Backdoor, top, won the event, edging out three-time world champion Carissa Moore, shown ducking under a long lip at the same break. I'm focusing on other aspects of our trip here on the arts blog, but if you like this surfing sampler you can find a lot more here at my photography blog.

---
December 28, 2018    It's a Jungle Out There
We put our hiking boots to good use on Oahu's North Shore, and some of the mud (and sand) is still clinging to the boots even after new hikes back home in New Mexico. We rode our bikes to nearby Sunset Elementary School and hiked from there up into the Pūpūkea-Paumala Forest Reserve and its 15 miles of hiking trails--which are almost entirely unmarked. There are few trail signs. We slogged through mud down low--it's a tropical rain forest--but we reached long lovely trails above, complete with ocean views.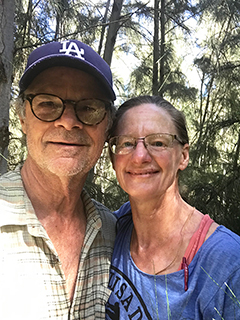 We thought we'd hike two or three miles, a short jaunt with some mud and steep hills but, going up, we decided to hike all the way to the ridge so we could see the mountains to the south and the Pacific to the north. We estimated that would extend the hike to six miles but we took a wrong turn on the way down. By the time we got back to the bikes, our Fitbits confirmed that we'd hiked eight miles.
For a couple miles we were more or less lost in a tropical rain forest. It was fantastic! We smiled a lot that day and night, and then we slept very deeply.

---
December 23, 2018    Beached
Wow. While the Pipe Masters contest was amazing and I got to do a lot of exciting surfing photography (which I'm posting at my photography blog), the non-contest days weren't half bad either. Our Airbnb was 100 steps from the beach at Rocky Point and right along the North Shore bike path. Every day we rode our bikes--to famed surf breaks Sunset Beach and Waimea Bay, to the hiking trails above Sunset Beach Elementary School, and to the many food trucks for lunches and dinners. On contest days we carried beach chairs on our bikes a half mile down to Banzai Pipeline early in the morning, where we stayed planted in those chairs for eight hours of the best surfing and surfers in the world.
The rest of the time, we explored. We drove around the island one day, to Waikiki another, and often to nearby Haleiwa for restaurants and shopping, but mostly we used our bikes to explore and enjoy beaches--wearing shorts, short sleeves and flip flops as it snowed at home in New Mexico. The first pair of photos above show Christina taking a photo at Banzai Pipeline and a surfer entering the water there at sunset. The second pair were both taken from the beach at Rocky Point by our apartment. The sunset photo looks left, west toward Pipeline, Waimea Bay, and Haleiwa.(I photographed a lot of great surfing at that famous point there.) The final photo shows a rainbow over famed Sunset Beach, as seen from the same spot as the sunset photo but looking right, to the east from Rocky Point.
It's always great to get home after any travel, but it'll be hard to shake Hawaii from our minds. We have too many other travels in mind to go back often, but I'll be surprised if we don't do a repeat Oahu North Shore/Pipe Masters vacation in two or three years.

---
December 9, 2018    Over the Waves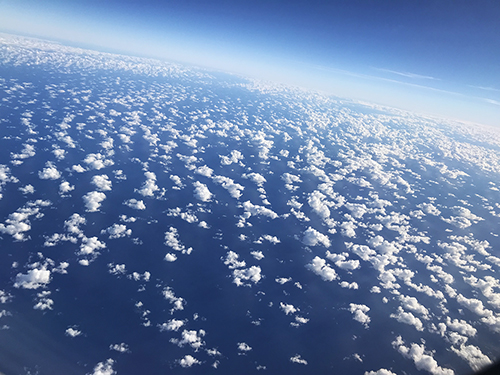 When I did a skateboarding exhibition at the Outrigger Canoe Club on the shores of Diamond Head in 1965, a reef break on Oahu's fabled North Shore called Banzai Pipeline was already legendary enough that I enjoyed sitting on its beach just to imagine the huge steep tubes that would break there every winter but not when I was there that summer. The Pipe Masters contest began a few years later, culminating the annual WSL World Championship Tour. I've followed it throughout its 43 years but never seen it in person. I've never been back to Hawaii.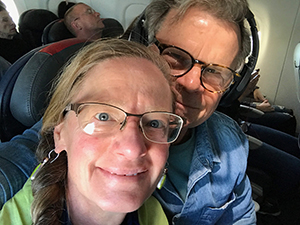 In the decade since they started live streaming the Pipe Masters online, Christina has often watched the competition with me. Last year she said that I should satisfy my lifelong pipedream and actually go watch Pipe Masters in person. I said the contest runs 4-5 days but there's a two-week window to choose the best days of surf: We'd have to spend the whole two weeks on the North Shore. Pause. Then we both thought, how hard can that be. We booked our flights and an Airbnb on Rocky Point, just up the beach from Pipeline. A year later, we've now flown to Hawaii and rented bikes for two weeks, tooling up and down the North Shore bike path between Sunset and Waimea Bay as we await the start of the contest at Pipeline. Thank you, Christina! My pipedream is coming true.

---
Card Tricks
The way my mom tells it, Uncle Matt was always a card short of a full deck but made up for it with creativity. He could fill a gray afternoon with jubilation. More often than not he had friends around. Alone wasn't his strong suit.
He could write you a song on his guitar or draw your portrait on his napkin. If you were a girl, he'd add his phone number to the napkin. In the picture I have, beneath the straw cowboy hat his lip is split but he's got a mischievous smile, like you know what he did but you both know he'll never get caught.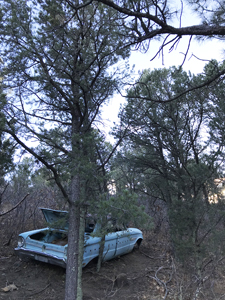 Of course it was alcohol that did him in. He'd been in town drinking with friends. Grandpa had taught him how to drive on the north forty but from then on it was these roads out here, treacherous even when you're sober. Mom says these roads didn't phase him, that he'd drive his truck through the canyon like Mario Andretti was breathing on his rear bumper. Matt's charms led him to believe he led a charmed life. People liked him. Of course no amount of charm is going to straighten a road. Mom says each can of beer adds three miles per hour to your speed around the curves.

His truck was on jack stands that night, in the garage for one fix or another, but Grandma let him drive her blue Ford Falcon Futura to town. It was probably a football game on TV, his friends gathered on a Sunday in December. It wasn't a girl or she'd have been with him. Good thing.
They found him ten yards down the hill from the car. A seat belt would have saved him but he led a charmed life. He would have smiled. Seat belts? We don't need no stinkin' seat belts. And he drove off, bat out of hell. Call him the joker, or the jack of hearts. Mom says he was a card.
Sketch fiction, December 2, 2018
---
If You Sit Still Long Enough
The best thing about winter is that the flies are mostly gone. You keep your windows closed, and the flies have flown to wherever flies spend the winter. Maybe New Zealand.
The land goes dormant. This year's harvest dies. Have you ever seen a year-old weed? No, you haven't. Some things you just run out of time and can't get them done. Weeds.
Regardless, the earth keeps flying around the sun. The dead cornstalks out there remind me every day that winter's coming, and I didn't get the job done. I tried.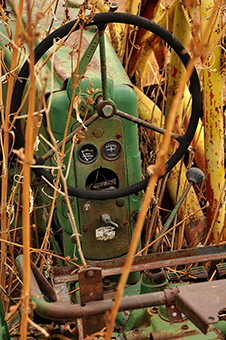 It was Roger's job but we were a team. With him gone, I've tried to do it myself. The door's coming apart and letting the cold inside. The wind is flapping at a panel on the shed. The tub drain is slowed up. There'll be more.
In the morning I open my eyes once just to sense the day. Is the sun out. Then I close them back up to consider. What am I going to do today. I try to line it up and feel good about it.
That goes well and I'm up. Or it doesn't and I adjust the plan. Autumn is a time of adjustments. The darkness comes so early. The time is so short. You can't get everything done.
Come May I'll be dancing a jig and planting corn and the days will lengthen to meet my stride. I'll throw off my sweater and wear a hat to shield the sun from my eyes.
You've got to be an optimist to believe in May.
Sketch fiction, November 30, 2018
---
November 26, 2018    Thanks
Okay, so Thanksgiving was kinda fun. Peter Burg came down from Rye, Colorado, on Wednesday and helped us in the kitchen Thursday. (I met Peter when I recruited him to the Palisades Skateboard Team 54 years ago--see my Nov 16 post just below. He and I and Christina have been best friends as long as Christina and I have been together--32 years! Peter played lead guitar throughout my Little Miracles album, and we co-wrote several of those songs.) Peter was our house and pet sitter last month for our Austin trip (pics and story Nov 4 below), so he knows his way around. Christina's mom and brother joined us, too, though they managed to escape the escapades in the kitchen. I always roast a huge turkey--this one was 26 pounds--so we can enjoy a week of turkey leftovers in pasta dishes, Mexican dishes, omelettes...in pretty much everything. And I buy two extra turkeys at Thanksgiving sale prices, freezing them for a couple more big turkey weeks up the road. Turkey, travel, friends, family: Lots to give thanks for these days!

---
November 16, 2018    The Birth of Skateboarding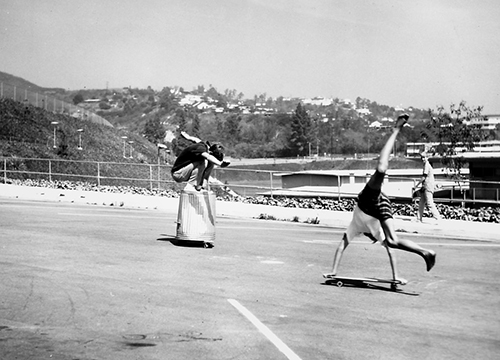 I've just posted Braden Walker's "The Palisades: Birthplace of Skateboarding" at Skateboarding's First Wave, my clearinghouse for everything published about the Palisades Skateboard Team and its place in the birth of skateboarding in the mid-1960s.

Braden reached me in Santa Fe last summer and we did a long interview by telephone. I sent him to Don Burgess for a copy of Don's documentary film. Braden's resulting article wove together information from our phone interview, my original article, Don's film, and Braden's own background knowledge as a longtime avid skateboarder. The Palisades News published the feature September 12. Since then, neither Braden nor I have been able to get a response from the editor or publisher to our request for a PDF digital copy of the newspaper feature for posting at the webpage. Finally, I created my own layout and republished Braden's feature.
We were forming a skateboard team in 1964 when I photographed my brother Terry Keller speeding down the bowl section of Kenter Canyon Elementary School on the nose of his homemade skateboard, above left. (Click any photo to enlarge it.) One year later store-bought skateboards were suddenly everywhere. Top manufacturers Hobie and Makaha were joined by our sponsor, Palisades Skateboards, and as team captain I was holding a new Palisades Skateboard (and Brownie camera) when I arrived at Honolulu airport for a month of Hawaiian surfing in August 1965. I gave a skateboarding demonstration at Outrigger Canoe Club where I saw Duke Kahanamoku.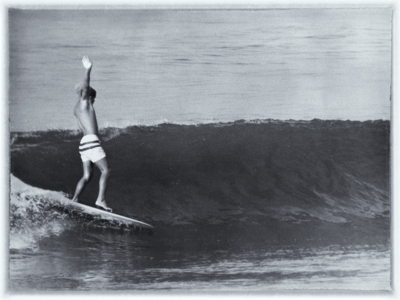 Coincidentally, fifty years after my last surfing session, I've just bought my first pair of board shorts and we're flying to Hawaii. Christina convinced me to fulfill my "pipedream" of someday being on Oahu's North Shore in December to watch the annual Pipe Masters surfing contest, the final contest in the professional world tour every year. The contest window is two weeks long, with competition being held across several days of optimal surf. On the off days, we plan to rent surfboards (yes, that's me above, surfing 53 years ago--and atop the trash can in the top picture, around the same time), and on another day we'll rent masks, snorkels, and fins for snorkeling. We're also taking boots for hiking. On contest days, I'll have my Nikon D5 with telephoto lens--the break at Pipeline is close to the beach--in hopes of getting some photos as good as these. No doubt I'll be blogging about the trip here and on my photography blog; meantime, enjoy Braden Walker's fine feature on the birth of skateboarding in the mid-1960s in Southern California.

---
November 4, 2018    Joni Lou
Christina and I flew into Austin last weekend for a quick but fabulous three-night two-day visit, the second visit with our now six-month-old granddaughter Joni Louise Lambo and her parents, my daughter Darcy Day Keller and her husband Jarrett Lambo. They're all travelers, too: Joni is already a veteran of New York City subways, and this weekend she's in Los Angeles and Ojai, smiling in the picture I've seen from LAX, enjoying the airways and roadways with her parents. Christina and I were home from our 15-day western road trip for ten days before zipping down to Austin. Because we live 240 miles from the closest airports (Albuquerque, Denver, and Amarillo are equidistant from home in Raton, New Mexico), it was another road trip as we drove to and from the Amarillo airport.
Joni's our first grandchild and being a grandparent is all it's cracked up to be. When Darcy told us last year that Joni was on the way, she said she wanted Joni to have summer camp with us up here in New Mexico, where we'd be responsible, she said, for teaching Joni "to do her chores and eat her zucchini," apparently a reflection on Darcy's summers with us 30 years ago. Joni's chores will include weeding and harvesting the zucchini, and we're crazed with anticipation of the first summer we get to have her here.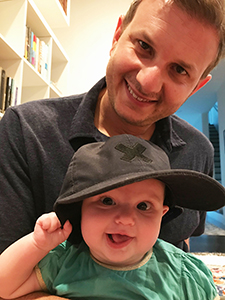 Meantime we'll continue visits to Austin, twice a year at this point. The last couple years we've been enjoying spring road trips to the Texas Hill Country and San Marcos, where I taught at the high school for eight years while living there and nearby Wimberley. I earned my masters degree there at what's now called Texas State University, often seeing fellow student George Strait in the hallways. We prefer the small-town pace of San Marcos to the big-city traffic of Austin 30 miles away so we'll still stay in our little San Marcos Airbnb casita sometimes, but Joni's Crestview neighborhood in northwest Austin is tranquil and relaxing once we reach it. Good thing, 'cause we'll be spending a lot of time there in the foreseeable future! We're looking forward to it.

---
November 1, 2018    Santa Monica Pier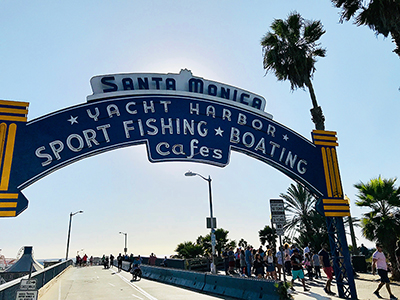 Almost without exception over the decades, every visit I've made home to Pacific Palisades has included slow-walking the length of Santa Monica Pier, often taking pictures and often enjoying a seafood lunch. The pier is a great Southern California landmark about five miles down the beach from where I grew up. Route 66 swept around the curve through the Santa Monica tunnel and emerged at Santa Monica Pier on Pacific Coast Highway--PCH--headed north up the coast to Pacific Palisades, Topanga, Malibu, Ventura, Santa Barbara and points beyond. Now it's Interstate 10 from Florida to the Santa Monica Pier--the Atlantic Ocean to the Pacific. If you want to revel in the beauty of American diversity, take a slow walk out on Santa Monica Pier.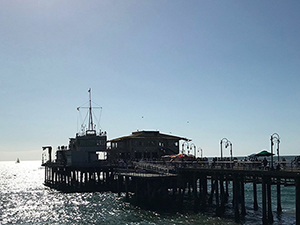 I jumped off the end of the pier at age 11 as a requirement of my Junior Lifesaving course, swimming through the pilings back to the sand. I've bodysurfed beside it, rollerbladed beneath it, and once as a boy on the sand in midday I saw a group of thugs beat a man and dump his inert body from the pier onto the sand far below; I've no idea whether the man survived. Since then I've seen countless movie scenes and full-page photo spreads and advertisements photographed near the same spot. When I posted that top picture to Instagram, Don Burgess commented that he's made the same photo several times, the first of which was during his filming of Forrest Gump. To this day you can dine on the pier at Bubba Gump Shrimp Co., on the pier's north side a few feet from where a boy named Tim once saw a man tossed off the pier.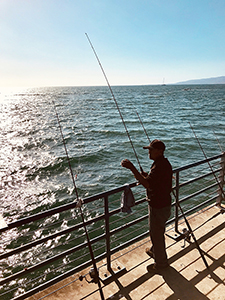 In the second row of my Places Gallery, you can see earlier photos of the pier--in predawn light, at an information booth, and at the ferris wheel, all beautiful photos--the place is immensely photogenic. Three rows further down is a darker take on the ferris wheel. Click on each of those four photos to enlarge them. I took these new photos, posted here, a couple weeks ago near the end of our October road trip. The daytime temperature was 80. A few days later, back home at the foot of the Rocky Mountains, at 6800 feet elevation, we had snow and an overnight low in the teens. That's one of the marvels of travel. Marvel as in marvelous.

---
October 24, 2018    Pacific Palisades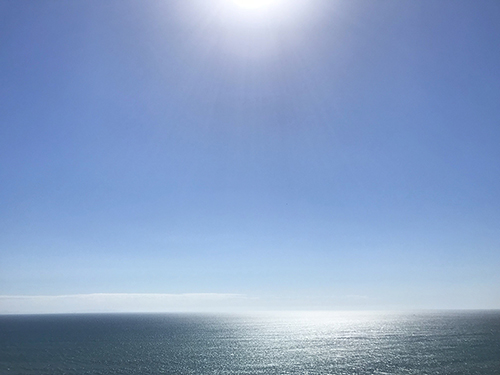 I grew up with this view. Our house at 530 Muskingum Avenue was three blocks from the Asilomar cliffs, amidst two miles of cliffs that gave Pacific Palisades its name. Located between Santa Monica and Malibu, my family moved to the Palisades in January 1956, the month after I turned five years old, as construction began on the new Santa Monica Freeway (The end of Route 66! Interstate 10 from the Atlantic to the Pacific!) within a block of the 34th Street house my parents had bought in Santa Monica as newlyweds. We lived at 666 Palmera Avenue, purchased for $18,000, until 1963 when we moved across the canyon to the Muskingum house, purchased for $38,500. I began skateboarding at Palmera and we lived at Muskingum when we started the Palisades Skateboard Team. The film Skateboarding's First Wave documents the team's birth at the house, and half the contemporary interviews were filmed in the house in 2014. With our parents gone, my brother and I sold the Muskingum house last year and he moved to Asheville, North Carolina, ending our immediate family's West Los Angeles presence that went back to our grandparents on both sides all moving there in the 1920s.
The house looked about the same when we sold it as when we bought it, as pictured above left. The new owners have painted it light blue and added a short fence to keep their twin toddlers close. We walked by earlier this month to see and enjoy the changes.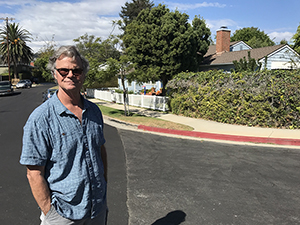 I moved away to college at 17, came back the next summer to work as a lifeguard at Mar Vista Pool, then never lived here again, but my family never left. In the end, my brother was living in the house, my dad living on Ranch Lane in nearby Rustic Canyon. Across the decades, I averaged one or two visits per year as I moved on to Sonoma County in northern California, then southern West Virginia, then the Texas Hill Country, then Santa Fe and rural northern New Mexico, then to Dallas, and finally, nearly 20 years ago, to the rural northeastern corner of New Mexico just below the Colorado border. My family lived in the Muskingum house for 54 years, far longer than any of the newcomer music and movie stars and screenwriters and executives that live in the Palisades today.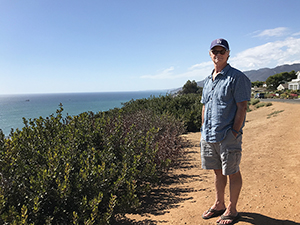 Though I was never tempted to move back, it's always been a lovely idyllic place to visit, and every visit has included group (and solo) walks three blocks to the Asilomar bluffs--sometimes more than once a day. It's a photogenic spot so cameras often come out. More than a year after my family is finally entirely gone from the Palisades, Christina and I enjoyed revisiting the neighborhood this month and walking the bluffs above the Pacific Coast Highway ("PCH") and the Pacific Ocean. They'll always be there. We feel more gone than ever, but this won't be the last time we return to enjoy a visit.

---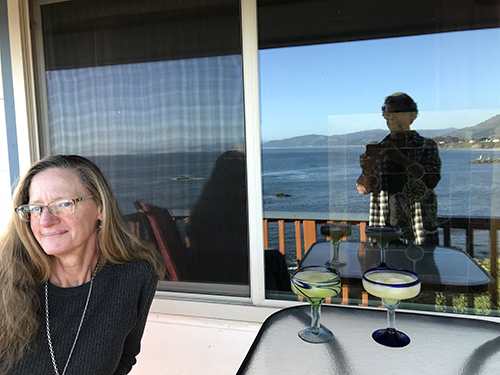 For the second consecutive October, Christina and I made a 15-day, 4000-mile Porsche road trip from New Mexico through Colorado, Utah, Nevada, Oregon, California, Arizona, and back home to northeastern New Mexico. Although a road trip doesn't require purpose, we had three in mind: exploring the redwood coast, touring and tasting in Napa Valley wineries, and the road itself. We took different routes this year, to different destinations in the same regions, enjoying new roads and new sights. Last year we drove west through a heavy blizzard crossing the Rockies near Vail; this year we drove west through hurricane-driven rains for two days across Utah and northern Nevada. When we finally reached the Pacific Ocean, it was at our Airbnb on the edge of Brookings, Oregon, a few miles north of the California line, where our host offered to make us welcoming margaritas. We said Yes! And enjoyed the deck outside our window.
The view changed often during our three-night stay, from dramatic clouds to deep fogs to cloudless afternoons to pink sunsets bouncing colors between clouds and sea. I took all of these photos with my iPhone 7 except the top left photo of the bay, where I used my Nikon D4 with a wide-angle lens to better capture what we saw, including our private hot tub at the bottom of the stairs. (Click any photo to enlarge it.) Christina spent hours in the hot tub, day and night; I joined her only once but was impressed with the sense of an infinity pool in which the hot tub water seemed to extend right into the sea. Not bad. The hot tub was especially appreciated during the foggy mornings.
We explored the redwoods and the coastline. We ate seafood twice a day, a practice we continued as we proceeded south to Calistoga and St. Helena in northern Napa Valley and then in Santa Monica where we enjoyed Enterprise Fish Co., a block from where I once lived in Ocean Park, and our longtime favorite Santa Monica Seafood Company. Back home now where fresh seafood is hard to come by, we're still enjoying fresh memories of another great western road trip.

---