Words & photos © Tim Keller
---
Coming Later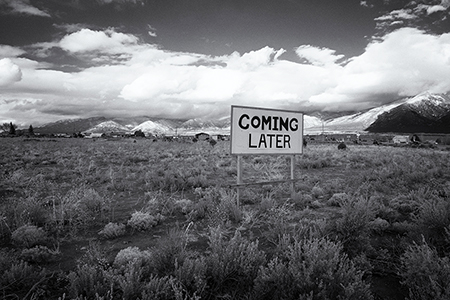 In the morning, Andy walked down the drive from his grandparents' two-bedroom house on the big ranch and snagged a ride within minutes, Ortega Highway good for that. By early afternoon he and his red Kelty backpack had progressed west to San Juan Capistrano, south on the 5 to San Diego, and east on the 8 all the way to El Centro where it was hot, already into the 90s, even now in the early spring.
He was new to hitchhiking and yet to learn that freeway onramps were not his thing. He'd once tried hitchhiking home five miles from junior high school just to be cool but three things happened that turned him, until now, from hitchhiking: his school bus passed him, his friends beating him home; it rained; and his mother happened to drive by and picked him up in the rain, sending him to his room when they got home until his father could deal with him after work.
At two o'clock, Andy propped his backpack on its side and started using it as a backrest. He'd been at the eastbound onramp along El Centro's east side for thirty minutes and standing with his thumb out didn't seem any more productive than sitting with his thumb out. The idea was to make it all the way to northern New Mexico where young people from all over the country had been migrating and gathering in communes and the like. Working on the ranch and camping at Joshua Tree had taught him to love the desert. New Mexico might be just right.
By three, this was getting old. It had taken him only seven rides and five hours to cross the entire congested bottom of California to El Centro. Now that he'd reached the edge, nobody would pick him up. In fact, not many cars were heading east. Nothing but desert all the way to Phoenix. Either way, whether it was something about Andy or something about the land, he was still there at four-thirty, now back to standing, three hours at the same spot. A hundred cars and trucks had accelerated up the onramp, every one of them passing him by.
This was when Andy learned to "go with the flow," later embracing a Rilke quote, "Life is right in any case." Almost despondent, he walked under the interstate and across the street to the westbound onramp, not sure what he would do but sticking out his thumb to give it a try. The first car picked him up. He made it back to his grandparents' before they'd even gone to bed that night, tail tucked between his legs but secretly damned happy to be there.
He'd get to northern New Mexico but he was coming later. By then he'd be driving his own car.
Sketch fiction, July 28, 2018
---
July 24, 2018    San Marcos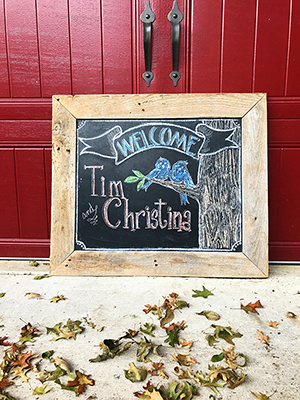 Our welcome at Casita de Milagros was one for the ages. We'd driven two full days from home in New Mexico, 750 miles, and it was good to arrive back in my onetime hometown along the eastern edge of the Texas Hill Country. As we neared the end of West San Antonio Street eight blocks out from the downtown courthouse square, in the historic district of beautifully maintained houses under high arching trees, we turned onto a side street and into the driveway of the Airbnb guesthouse that we'd booked. We knew immediately that we'd found the right place as we pulled into the driveway pictured above. Pretty sweet.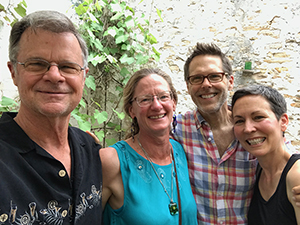 Our hosts Diane and Carl Furry promptly emerged from the back yard to further welcome us. Then they gave us our privacy and quiet for our four-day stay, but we'd liked them so much that we asked them to join us for a happy hour on our (their) patio. That was last September. (I blogged here about that trip.) We returned last month for another stay and by now it was clear that we've become friends. We've enjoyed following each other's Instagram feeds. In June, we went out for brunch at Blue Dahlia Bistro on the courthouse square and took some fun selfies.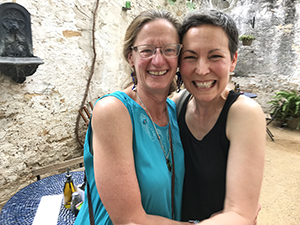 After two San Marcos stays within the past year, we're now planning to make it an annual visit, each April before the summer heat arrives in Texas. April is our new granddaughter Joni's birth month, so we'll hope to see her at home in Austin on or near her birthday each spring. Austin is 30 miles north of San Marcos, a quick hop on I-35. Staying down the quiet tree-shaded lanes of San Marcos, where we can walk to the small downtown for dinner, is more our speed than staying near Joni and her parents in a traffic-ridden Austin that has grown exponentially since I moved away from the area in 1984.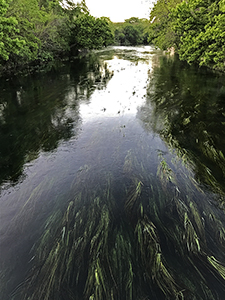 I wrote below (July 9) about the vibrant music scene I enjoyed in San Marcos back then. The downtown area is anchored by Texas State University, where I earned my master's degree, and the San Marcos River literally bubbles up on the college campus via a million springs, beginning its trek toward the Gulf of Mexico, merging first with the Blanco River that comes out of the Texas Hill Country after passing my onetime home down Flite Acres Road in Wimberley. The San Marcos runs right through downtown: I took this photo (right) with my iPhone one evening from a footbridge in the city park as Christina and I enjoyed one of our many long evening walks together.
By this summer's end we'll need to ask Diane and Carl to reserve some dates for us next April at their lovely Casita de Milagros. As you can see, we're already looking forward to our next return to San Marcos.

---
July 16, 2018    The Grandparents Visit Austin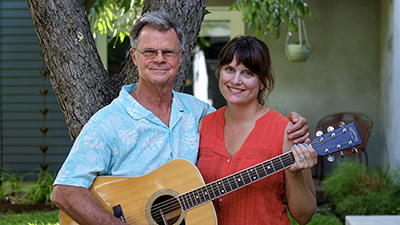 Christina and I became grandparents April 20 when Joni Louise Lambo was born in Austin to my daughter Darcy Day Keller and her husband Jarrett Lambo. Joni's high-flying, world-traveling parents moved to Darcy's hometown of Austin last fall from their Brooklyn home, ready to settle down and raise a family. (Well, maybe not so much settle down: Here's a great new pic of Darcy and Joni on the NYC subway a couple days ago. This picture and the one above were taken by Jarrett, a filmmaker and great photographer.)
Christina and I took a weeklong road trip last month to meet Joni and see her new home in the Crestview neighborhood of north Austin, near our longtime favorite Austin restaurant, Fonda San Miguel. Darcy and I posed with her guitar, which my family gave to Darcy's mom as a Christmas present forty years ago. A Martin D28 copy by Takamine, my brother Terry was able to try dozens in the warehouse, a benefit of his job in a Los Angeles music store, and pick this one, which was and is pure magic. It sounds better than most Martin D28s. Darcy's mom, still in Austin all these years later, gave the guitar to Darcy a few years ago. I had not seen or played it for 34 years. I sent this picture to Terry in Asheville, NC, and he was thrilled just to see the photo and get a report on the guitar's remarkable like-new condition and amazing tone.
Darcy was always super close to my mother, whose name was Joan Day Keller; she was often affectionately known as JoJo. Darcy's name is Darcy Day Keller. Darcy and Jarrett chose Joni's name partly in tribute to Darcy's Nana, Joan/JoJo, drawing a circle through generations. Christina photographed me meeting Joni, above left, and Jarrett photographed me and Christina getting a little grandparent time together. (Darcy met her Nana at the same age, in California, December 1981.)
We took a side trip to visit our nephew and niece, Killian and Brooke Keller, my brother Terry's son and Darcy's cousins, at their new home south of Austin in Buda, Texas. When I lived in San Marcos and Wimberley from 1976 to 1984, Buda had just one offramp from I-35 and was almost literally a one-horse town. I bought a custom cowboy hat (seen here and here in my early singer-songwriter promo pictures) from Manny Gammage at Texas Hatters just off the interstate in Buda. Now, the town has sprawled and has two or three high-traffic offramps. The drive from Darcy's in north Austin took three times longer than it would have back in my day. Alas.
Here at home in New Mexico, Raton has four stoplights spread over a mile of Main Street, no traffic whatsoever, and we're an equidistant 240 miles from the three closest airports--Albuquerque, Denver, and Amarillo. Our location suits us perfectly. We'll be driving to Amarillo in October to catch an American Airlines hop to Austin, via DFW, for a quick weekend visit to see in person how fast Joni is growing. Starting next summer, we'll be hoping Joni comes for an annual Raton summer camp with us. Darcy says she wants us to teach Joni to do chores and eat zucchini. We're ready.

---
July 9, 2018    Beacon City Band  :  Texas Summer Nights
When I told my brother, Terry Keller, that I'd just bought a turntable to play my collection of 1400 LP albums and convert some of them to digital files to play in my iTunes, Terry asked me for just one thing: Would I please send him the Beacon City Band music.
Terry had followed me to San Marcos, Texas, arriving shortly after my 1984 departure for Santa Fe, after eight years living in and around the Texas Hill Country college town crossed by two rivers, the Blanco and the San Marcos. Terry got to know Doug Hudson and Joey Geaccone, and like so many, he fell in love with the music of the Beacon City Band.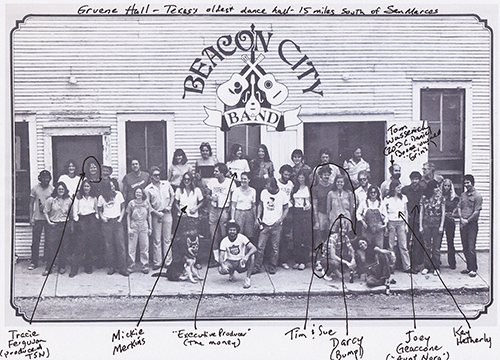 The band recorded only one album, in 1981. The back cover photo was taken outside nearby Gruene Hall, the oldest dance hall in Texas, with the extended Beacon City Bunch of friends. I'm there in my shorts and running shoes (I was running 50 miles a week that summer) beside my first wife, Susan, who's about six months pregnant with our daughter, Darcy--the baby bump is visible.
Two years later, the Beacon City Band anchored a compilation album of San Marcos singer-songwriter music called" Texas Summer Nights," produced by BCB fan Tracie Ferguson.
When I prepared a CD with the BCB music for Terry, I made a second one for my friend Kate Rosa in Truckee, California. Kate and I co-wrote "Come and Go" thirty years ago in Sonoma County, and I wrote "More" and "Waiting for the Apple Trees" for her. (All three are available here and from digital music sources including iTunes, Amazon, CD Baby, Spotify, and the rest.) Kate continues to sing and play in the high Sierras, and I was confident that she'd enjoy the Beacon City Band.
She loved it. She wrote and wanted to learn more. I copied the album covers and labels and wrote her a long letter with details about the Beacon City Band. I also referred her to Ameripass: Aimless in America, my online memoir that includes extensive stories of the Beacon City Band and my San Marcos days. I sent all of this to her and, eventually, to Terry. Probably manufactured in a pressing of only 500 copies, this music has mostly disappeared with little trace; that's all there is on the Web, traces. In sharing the music and recollections with Terry and Kate, and with you here, I hope somehow, someday, that this extraordinary music and these extraordinary recordings will be revived and made available for all to enjoy.
This may sound fanciful, but my features about the Palisades Skateboard Team have led to an award-winning film and avid interest in the pre-Dogtown "Skateboarding's First Wave" of the 1960s. Many dozens of the LPs in my record collection are recordings originally made on 78rpm discs in the 1920s and 1930s, long out of print and as obscure as today's Beacon City Band recordings. Collectors passed around those rare 78s, which led to the recordings being reissued on modern records and, for those bluesmen still alive, second careers. Most of those recordings are now easily available on CDs and through digital downloads. "Beacon City Band" and "Texas Summer Nights" should be, too.

---