Words & photos © Tim Keller
---
Lately I've been writing short fiction sketches, using some of my own photographs as prompts. Commentary blog posts begin with their dates, but the fiction begins only with a title, then the date of writing is posted below the story.

---
May 9, 2018    Poolside for Summer
Here along the Colorado border in northeastern New Mexico, May finally brought spring, and summer, both in the same day. We went from heating the house to leaving the windows open overnight. I went from afternoon hikes in three layers to afternoon hikes in shorts, carrying my t-shirt in my bag. I started using sun block.
At the same time, family matters took me to my childhood scrapbook where the first two pages held, with glue, these great photos of a summer day poolside in Southern California in the late 1950s. Thoughts of summer.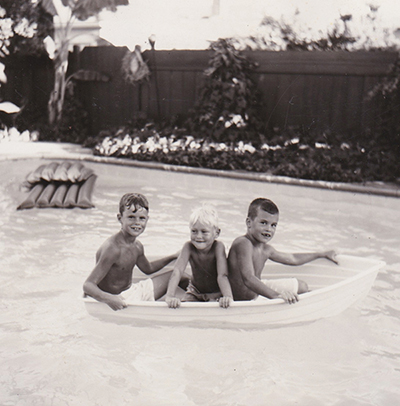 That's me on the left in the boat, next to cousin Gary Harker in the middle and brother Terry Keller in the front of the boat. Terry noted, in an email yesterday, how tan we all were. My dad, Jack Keller, in the folding chair above, took the photos with the Rolleiflex camera that now sits on the photography bookshelf next to me here in my studio. Gary, with his sister Debbie and parents Randy and Mickey Harker, moved into this house in Reseda in 1957. The pictures bring back rich memories of long days we spent enjoying the pool.
In another ritual of spring, and summer, today our lawns will get their first mowing of the year. Fitbit tells me that mowing the lawns gives me three miles of walking. The NOAA forecast says the temperature will reach 84 today, then 89 tomorrow. The possibility of an overnight freeze isn't past: Planting the garden still won't begin for another couple weeks. Still, spring and summer are my favorite seasons, and suddenly I'm there.

---
April 27, 2018    Original Surf Plaid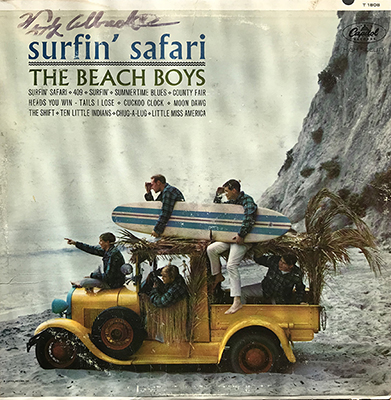 The Beach Boys released their first album, "Surfin' Safari," in November, 1962. It reached number 32 on Billboard Magazine's national chart of hits. I was in the seventh grade at Paul Revere Junior High School on the boundary between Pacific Palisades and Brentwood, California, a skateboarder and surfer in the heart of Beach Boys country.
I'd been feeling ready for some new shirts when I left the Apple store in Colorado Springs earlier this week. Christina had reminded me that I'd be right there among lots of stores. Sure enough, I looked around and found a Pendleton store, with all of its fabrics made of wool from sheep in its home state of Oregon. When I picked the blue plaid, the sales gal commented that this shirt was a new reproduction of the original Pendleton shirts worn by all five of the Beach Boys on their first album cover. We all wore Pendleton shirts back then, and I remembered the album cover.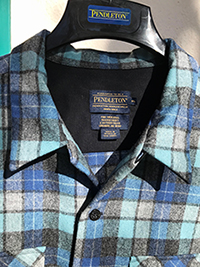 When I landed at home, I went downstairs to my recently created album cave, where I've been recording mp3 digital files from some of my 1400 LPs, and I pulled out that first Beach Boys album. It has my college girlfriend's name written across the top in Magic Marker. By the early 70s, the Beach Boys were decidly unhip and I was able to walk away from Wendy with her album. (She's an equine physical therapist in Sonoma County, California; she doesn't have the Beach Boys first album--sorry, Wendy.) I had worked at College Records in Northridge, buying and selling used LPs, and I was able to buy more than a dozen Beach Boys LPs in mint condition for one dime each. At the front of my collection, Wendy's "Surfin' Safari" album shows the band members wearing the same shirt I'd just brought home. Inside the shirt, a tag says "Original Surf Plaid" and another says "The Original Board Shirt."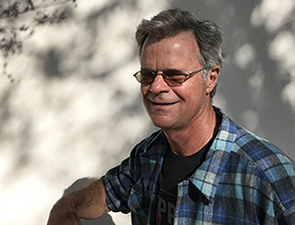 I still subscribe to Surfer Magazine. Later this year, we're going to Hawaii's North Shore for the Pipe Masters, the final contest of the world pro tour, something I've always wanted to do. Meantime, I'm enjoying the arrival of spring in northeast New Mexico, reading my way through stacks of books and hiking five miles with our two dogs most afternoons. I've already turned two years of compost--12 full wheelbarrow loads--into our garden soil and tilled it, ready for planting near the end of May. What I haven't been doing is photography and writing--a hiatus--which is why I've gone missing here at my blogs. Not to worry, I'll be back. Mark my words.

---
March 29, 2018    "The D is Silent"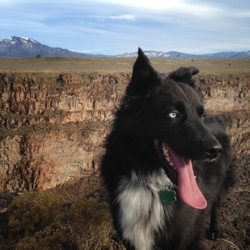 Django turns eight today. I brought him home from the animal shelter at Las Vegas, New Mexico, in early August 2010. Our vet estimated his age at five months so I gave him Grandma Keller's birthday, March 29. He got me started at New Mexico Magazine and has been a true companion. His birthday present today, in addition to an extra dog biscuit and singing Happy Birthday, is a five-mile hike across the open pastures of the Moore Ranch where, if it's a particularly good day, he'll see a herd of pronghorn antelope and chase them for a mile, coming home exhausted and entirely happy with his dog's life. Happy birthday, my friend.

---
As I photographed the 2018 New Mexico Poetry Out Loud competition at Santa Fe's historic St. Francis Auditorium this month, I thought there was only one returning contestant among the ten high school students on stage for the state finals. I recognized that Lizzy Enos of Albuquerque's Bosque School was back from when I photographed the event last year. What I failed to recognize was that Samantha A. Baca of Poqouaque Valley High School was back after previously making the finals in 2016, above. One of the other students even told me that he thought there was another student returning from an earlier year, but it was only when I processed pictures at home that I suddenly made the connection between the girl you see above and the girl you see below, two years later.
This is what I've loved about working with young people and, for 16 years, teaching in small-town high schools in Springer and Raton, New Mexico. Teaching in a small town, I taught the same kids for four years. I was blessed to get to know most of them well, and to see them grow and mature from the ages of 14 to18. Today some of my former students are local police officers, firemen, paramedics, business owners, and city workers. I love hearing their greetings of "Mr. Keller!" As the official photographer of New Mexico's annual Poetry Out Loud state finals competition, I had photographed Samantha Baca two years ago. Even with my strong visual orientation, I didn't recognize her transformation since then from gangly young teen to sophisticated young woman. It was a revelation, and among the reasons I love my work.

---
Happy Birthday to our friend Bill Fegan, who was born 91 years ago today. I've photographed and written about Bill countless times over the past decade. I stopped by his office at the Shuler Theater Monday morning to visit and offer early birthday congratulations. Bill was in great spirits, laughing at how unexpectedly great he feels as he turns 91.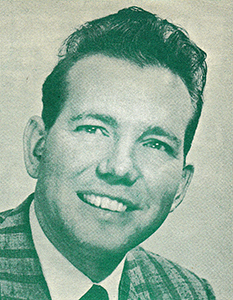 After earning his master's degree in theater at the University of Alabama, Bill founded his Kaleidoscope Players in 1960 and took them on the road in touring productions. Raton's Shuler Theater was 48 years old when Bill's troupe arrived in 1963 with "Androcles and the Lion"; Bill played Caesar.
"We drove in over the Raton Pass," Bill remembered, "and we were just blown away by the scenery, the vistas of all the mesas." Impressed by Bill, a group of city officials and businessmen courted him to come back and run the city's Shuler Theater, pretty much with carte blanche to do what he wanted with it. Bill said yes and moved to Raton. When the Shuler reached its centennial in 2015, New Mexico Magazine commissioned me to tell the whole story of Bill and the Shuler in a feature I titled "The Centennial Rose" and they changed to the more pedestrian "On with the Show." (In 2010 the magazine had published "Shining Through," my shorter introduction to Bill and the Shuler.)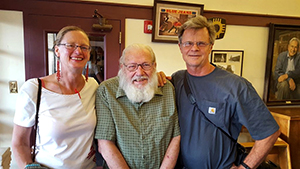 I first told the story of Bill and the Shuler in "Lost Treasures Returned to Shuler Theater After 30 Years" in The Chronicle-News in May, 2009. Since 1963, Bill has spent most of his days and evenings at the Shuler, where he books and promotes shows, sells tickets, gives tours, hosts performances and holds court. Until recently he continued to act occasionally in plays (such as Arsenic and Old Lace) on the Shuler stage. Christina and I sometimes introduce Bill and the Shuler Theater to our visitors, including our dear and recently departed friend Tom Noe who photographed us with Bill in 2015.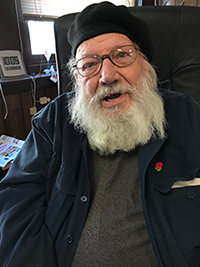 Visiting Bill in his office earlier this week (right), his Prius parked out front, I found him hale and hearty. He loves to swim and enjoys lap swimming three mornings every week at Raton's state-of-the-art aquatic center. I recalled the advice he offered for a 2014 feature: "Find your passion and follow where it leads. Celebrate diversity." Bill and I spoke this week of travel and change. He fancies a move to the Pacific coast of Central America for the beaches, or Australia for watching tennis. Because he owns his Raton home and can live here inexpensively, we also talked of the wisdom of keeping Raton as home base but vacationing at beaches and tennis matches around the world. (The word "retirement" never came up.) Bill is a man of many passions; I expect he'll follow them where they lead.
At 103 years old, Raton's Shuler Theater is a New Mexico landmark. At 91, so is Bill Fegan. Happy 91st birthday today, Bill.

---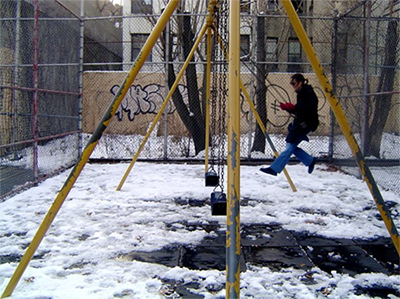 The coffee started it again. She's still not doing it right. No way to start a morning but that's the way they've been starting, whether it's the window shades or the heater or the coffee. It's her apartment but after six months it might as well be his. Too small for the two of them, or at least too small for her with him. She needs her space back. What to do.
It seems to work at night. Maybe it was last night's dinner at L'Artusi, or the wine, but she thought she could make it work. They held hands on the walk home and he held the gate for her. Maybe it's just the apartment, too small for two people.
But the coffee and the heater and the window shades, they'd be the same in a bigger place but even more of them. She thought it'd be better to have a guy she didn't need extra space to get away from. For now though she just needed a time out. It's only three blocks to the school and the walk will do her good. There's nothing like a swing for a good time out.
March 4, 2018
---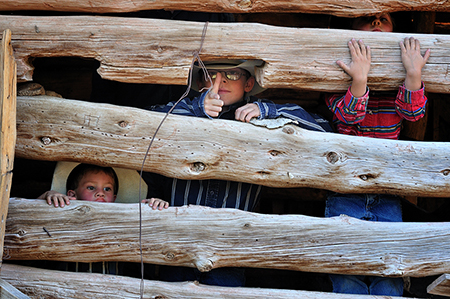 You can be Sundance and I'm Butch. The cows can be the posse. They look this way once in a while but they won't see us. Lay low.
How do I know how long we have to stay in here. If you quit you'll get shot as soon as you step outside.
Dad doesn't care. He's busy and anyway they're not looking for him so he won't get shot. You only get shot if you play.
This is better than mucking around the stalls. The posse spotted us, let's shoot our way out. Don't step in the cow shit.
Dad started the truck. Let's go. He promised I could drive across the big pasture today. Leave the guns here for tomorrow.
March 3, 2018
---