All images © Tim Keller unless otherwise noted
---
July 16, 2017    Where Mud Is Welcome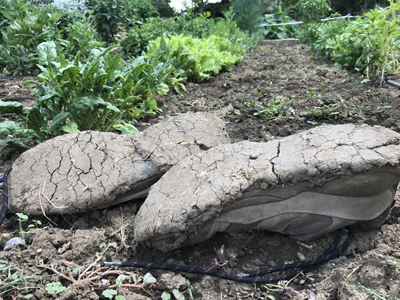 Here's something I've been doing besides hiking: gardening. We've had rain every day for a good spell--most welcome here in northeastern New Mexico--and yesterday morning I took advantage of the soft moist soil to go out and uproot all the weeds. I wore an old pair of shoes because I assumed they'd get caked with mud. They did.

---
July 14, 2017    Discovering a Sugarite Canyon Gusher
Throughout much of June my hikes up and down the Lake to Lake Trail in Sugarite Canyon State Park took me right past this loud burbling water between the trail and Chicorica Creek that runs alongside and near the trail. Only last week did I finally stop to photograph it, concerned that my dogs might fall into it: The water hole is about eight feet across and I didn't know whether it might suck a dog into the swirl. The steady gurgle in the left picture above was punctuated every ten seconds or so with a big eruption of additional water from below, when the water shot several feet into the air (top right).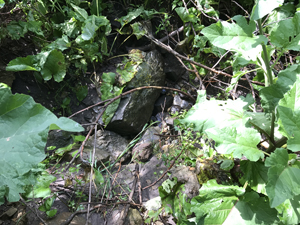 I intended to stop at the park office to ask about this but there were so many cars parked outside--more than a dozen--that I passed it by. Next day was crowded there on my way in, too, but when I reached the trail above the footbridge I saw a ranger at the geyser. It was park superintendent Robert "Mac" MacIvor and he'd marked the location. He surmised that it was likely a Raton city water main broken eight-feet below the ground where it runs under the creek on its way from Lake Maloya to the city water plant. Sure enough, by the time my hike brought me back that way, the water had turned off and I could see rocks where the water had been (third photo). The next day, a backhoe was there at work. (P.S. - I hiked back a couple hours after writing this and took the same photo, but after the heavy machinery finished it looked like this.)
Yes, I should have reported this a month earlier! I guess I was lost in my hiking bliss and figured it was some natural phenomenon--there are so many cool things that happen out there in nature! Like the nest of mom, dad, and five blue heron chicks living high atop a dead tree along Lake Maloya's western shore.
I've also been neglectful of my blogs and website. My semi-retirement from professional writing and photography work has made them more intermittent as I've been enjoying so many other pursuits that I've let the website languish, alas. I'll keep it all alive--most of the gigs and income that now comes my way comes via the website--but like the work itself, the activity here is probably going to remain intermittent as I'm out hiking or traveling or cooking or...

---