All images © Tim Keller unless otherwise noted.
---
July 16, 2017    Rope Tricks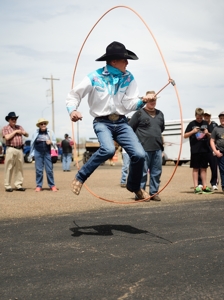 While I've been off neglecting my website and generally not working at photography, writing, or much else--I'm enjoying summer as a retired man!--my website continues to work on its own, most recently bringing a deal for the National Folk Festival to use my image of Texas trick roper Brice Chapman from last year's inaugural Tucumcari Rawhide Days. Brice and his daughter Grace will travel from Lubbock to Greensboro, North Carolina, to perform at this year's National Folk Festival September 8-10, 2017. The huge annual three-day festival is entirely free to the public and a great show of American folklife. I'm proud to have my photo on the festival website this summer.