All images © Tim Keller unless otherwise noted
---
October 31, 2016    Walks in the Woods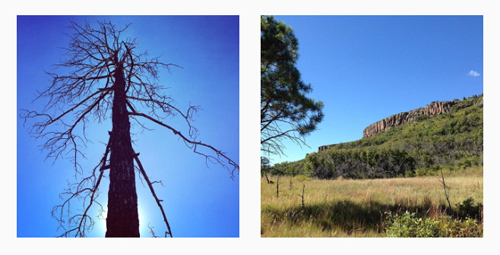 I created TimKellerPhotography.com at the end of 2008 to showcase my photography, which, one year after purchasing my first Nikon camera, had started appearing in magazines and newspapers. Almost immediately, the publications started asking me for articles to accompany my photo projects and I quickly found myself a published writer. No sooner did I launch my photography website than I started this adjunct arts website, TimKellerArts.com, to include my writings, my music, and anything else creative that didn't fit well in the photography website. The two websites are nested together and interlinked (navigating via the left menu), and for almost eight years I've posted regular blogs on both sides, photography and arts, averaging once a week on each side.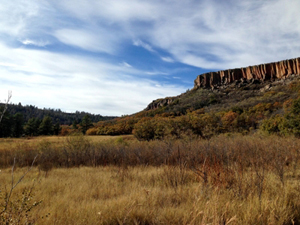 The two websites have grown at a relatively even pace, mainly because I've kept up a feverish writing pace across all those years. Lately, though, I've let up on the throttle to enjoy my newfound "retirement mentality." As a result, the writing has slacked off--it requires a lot of hustle and hassle with editors and footwork--while the photography has continued to be active, mainly because the photography website brings in steady work all by itself, no hustle or hassle. Thus, my photography blog has been as busy as ever these past two months, whereas this, my arts blog, has been relatively thin.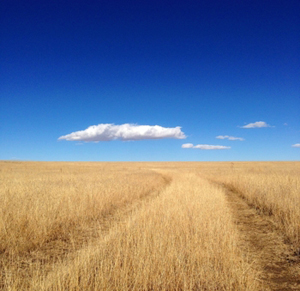 What have I been doing instead? Well, playing music, growing and harvesting the best garden of my life, reading several books each month, and hiking five miles almost every afternoon. The photo pair at the top is grabbed from my Instagram account, where I posted the two iPhone photos from a hike in Sugarite Canyon this month. Below those is another phone photo of the same view taken exactly a year ago, and at left my phone photo of a hike across the top of Bartlett Mesa, which stands immediately behind our house at the northeast town limits of Raton. (Last week Christina and I traded in our four-year-old iPhone 5's for the new iPhone 7, and I'm looking forward to seeing whether my new hiking camera is improved as markedly as the phone's impressive screen display.) With winter's arrival imminent, mountain hiking will yield to ranch roads and a gym, while time gained may turn back to writing. We'll just have to see what my retirement mentality yields over the approaching months.

---
October 2, 2016    Austin City Limits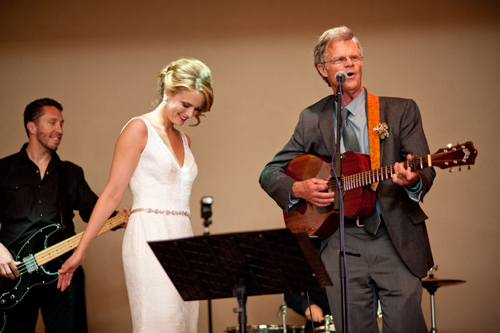 We were at the outer reaches of Austin's city limits, out in the country at the Barr Mansion, when I sang 30-year-old "Darcy's Song" with my daughter, Darcy Day Keller, to open the after-dinner music-and-dancing portion of the reception following the wedding of Darcy and her new husband, New York filmmaker Jarrett Lambo. Cued up to play for the dance, popular Austin alt-country band Rosie and the Ramblers had learned "Darcy's Song" to back us and sounded great.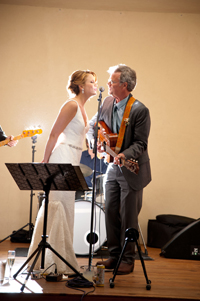 I finally got a set of photos from the magnificent Austin photographer, Carli Rene, who does business as Inked Fingers. I'm talking about Carli's work alongside some wedding photos (and my photo of Carli) at my photography blog today, but here I want to highlight her music photos and masterful use of flash to add exciting dynamics to the photos. Look just to the right of Darcy's waist in the top photo above: See the flash unit atop a stand? You can see it firing light behind Darcy in the left photo, and you can see its light providing backlit highlights in both photos, left and below right, where we're singing together. Carli's Nikon is remotely firing the back flash, simultaneously with one she's holding from the front. The effect is a halo around us. Even the peghead of the bass guitar (at left) is glowing in the backlight, lending it added electricity and the picture added dynamics and excitement. (Click any photo to enlarge it.)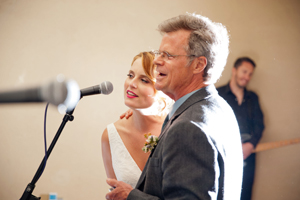 In this third shot, I've put the guitar down while we sing "The Bumpity Road of Love" as we sang it in the car on long road trips when I was touring and Darcy would sing with me on stages throughout the southwest--back in the days of LPs and cassette tapes. Nowadays both "Darcy's Song" and "The Bumpity Road of Love" are available online for streaming and downloads via iTunes, Amazon, Spotify and the other music sources. When Carli sent me these photos, she indicated that, like many of the New Yorkers and Londoners at the wedding, she'd downloaded my songs. "Emiliana and I's current favorite song to sing is 'Bumpily Road' AND she makes sure I say 'I do' and she says 'I don't'.  :)  ... Thanks for the inspiration!"
Thanks for the inspired photography, Carli!

---
September 30, 2016    Over the Pass
The Chronicle-News posted this nice promotion on its Facebook page yesterday. I may be the last holdout without a Facebook page, but it didn't take long for me to hear about the post and go find it on my wife's FB feed. Thanks, TCN. My popular "Over the Pass" feature (a.k.a. OTP) has been going strong for 32 months now, filling the top half of the Chronicle's back page every Tuesday. Many readers say they eagerly await the Tuesday editions and turn immediately to the back page. Features editor Cathy Moser always does a great job of making the feature pop off the page with a great look.
In each edition, I ask a question of the week of four people, usually strangers randomly approached on the streets of bustling downtown Trinidad, Colorado. Recent questions have included What's on your bucket list? What were you good at in high school? What advice would you offer to a teenager today? What was your first job? I enjoy posing questions designed to bring out unique responses, and prompting my respondents until I get several lines of interesting response. As a photographer, I also enjoy the challenge of getting great "stranger portraits" right there on the street.
Above and below are some of my favorite portraits from September's "Over the Pass" features, which this year gained an alternate or sub title, "Tim Keller's Connections." At top left is Raton community volunteer Anita Moffett. Beside her is Rosella Stephens, Trinidad's first woman police officer and now the administrative assistant at the A.R. Mitchell Museum of Western Art. Below them is "multiple-dimensional being" Noah Simpson (left), and retired petroleum engineer Edwin Horan.
It's not a coincidence that I have equal numbers of male and female respondents: Though not always successful, I try to include two of each every Tuesday, for balance. Above left is Marilyn Cambron, owner of an oilfield services company in Ness City, Kansas. I photographed Christopher Simpleman wearing his State Farm Insurance shirt just inside the east door of the Trinidad post office, one of my favorite spots for rich portraits with window light. I found Cae Saxon, a rancher and hemp farmer from Aguilar, Colorado, playing his octave mandolin on the sidewalk, and accountant Lynn McCreight of Boncarbo, CO, upstairs at the Mitchell Museum.
All of my OTP features are available right here. Enjoy!

---
September 21, 2016    Where There's Smoke
-- Caution: Gratuitous Kitten Photos --
Two weeks ago, we caught this feral kitten that had spent at least two days fending for herself around our property. As an inch of rain fell overnight, I took a four-cell flashlight outside at 4 a.m. to try to find the forlorn mewing. We found her in the light of morning but she escaped us. Two days later my border collie Django found her under a woodpile, and that afternoon in the garage. When Christina got home, we cornered the kitten in the garage and caught her. With my first kitten eye contact, I said the name "Smoke" and it stuck. The vet says Smoke is about two months old; we've given her Christina's dad's birthday, July 24. She weighed 1.5 pounds when we got her and is now over 2 pounds.
We've always had two or three cats--Smoke makes three now--and we've always started with a feral kitten, finding them in barns or under buildings. They take weeks to tame. Not Smoke. She was so needy that I had her purring on my chest at the end of the second day. You can see the sequence above, taken with my iPhone over a span of just a few days. In the first photo, she's caged and unapproachable. By the last photo, I'm petting her face while taking her picture on our bed. Both dogs immediately adopted her, too: You can see Smoke with Django on his bed in the bottom left photo. (Click any image to enlarge it.) Jett is a Jack Russell Terrier whose breeding is to rid properties of small animals including cats, but he's infatuated with Smoke. Smoke is fearless, nuzzling with both dogs. The other two cats, J.R. and Sonrisa, aren't as happy but they're coming along. We're a five-pet household again.

---
September 1, 2016    Small Towns, Big Pleasures
Here are two of the many reasons that I love living in small-town rural northeastern New Mexico: world-class chamber music and professional rodeo in the same weekend! Tonight's annual Music from Angel Fire free concert at Raton's storied Shuler Theater brings four great classical music performances in my favored format of trios, quartets and quintets. Then the Labor Day weekend brings the 106th annual Trinidad Round-up Rodeo just over the hill on the Colorado side. (Raton throws its pro rodeo every June.) I enjoy photographing and often writing about both, but mostly it's just great culture and fun to enjoy these events. Click the small images above to see the Wissahickon Quartet in last year's concert, and Oklahoma rodeo cowboy Shade Etbauer on his way up--before coming all the way down--in last year's Trinidad rodeo.

---