All images © Tim Keller unless otherwise noted
---
August 21, 2016    Poetry Out Loud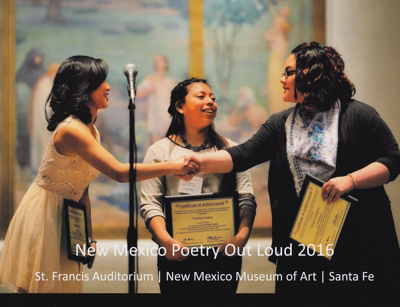 Poetry Out Loud is an exciting program sponsored by National Endowment for the Arts and Poetry Foundation in which high school students in all 50 states choose great poems to learn and then recite in front of an audience and judges. New Mexico Arts (NMA) sponsors the New Mexico contests, culminating in March each year with the state finals at St. Francis Auditorium on the Santa Fe Plaza.
I was the official photographer for this year's state finals, with 24 of my photos used for this year's impressive photo book designed by program director Phyllis Kennedy to promote the event and the program. My five years as a program director and coach informed my photography. During my final year of teaching, my student, Rachel Patty, won state and represented New Mexico at the finals in Washington, D.C. My work in the program led NMA to hire me this year not only as official photographer but also as a consultant and trainer to help enlist more northeastern New Mexico high schools in the program. Later this week I'll present a workshop at Maxwell School for English and drama teachers starting the program for the first time at their schools.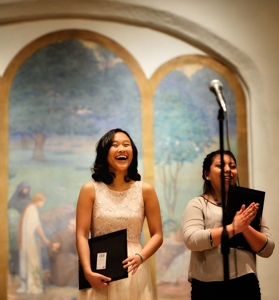 After giving the teachers an overview of the program and sharing the materials I used and developed while running Raton's program, I'll talk about the judging criteria and how it applies to coaching students. Each student recitation is judged on physical presence, voice and articulation, dramatic appropriateness, evidence of understanding, overall performance, and accuracy. Students typically perform two poems in the local contest, with the winners performing three at the state and national contests.
Before electronic entertainments came along, recitation was standard fare in American schools and living rooms. Poetry Out Loud revives the tradition. Seeing and hearing the students recite their poems in the contests is often emotional and sometimes cathartic, underscoring how much we gave up when we lost the tradition of recitation.

P.S. - This year's New Mexico winners, on the book cover at top, from left to right, were first place Michelle Zhou, third place Verona Gomez, and second place Oceana Vasquez. Using the Search feature in the left menu above, a wealth of news and photos is available here from Poetry Out Loud in Raton and Santa Fe over the past several years.
---
August 7, 2016    A Hiking Club That Doesn't Hike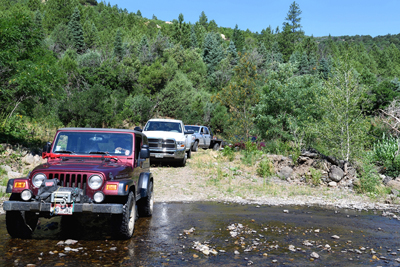 At midday Thursday I received a phone call requesting that I accompany the Branson Hiking Club on its monthly outing Saturday morning, for the purpose of adding the experience to my travel feature series in The Chronicle-News. Among the questions I asked was how far we'd be hiking.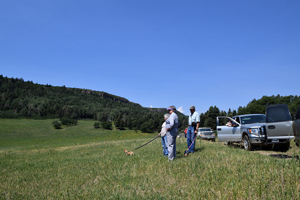 As organizer Mac McKnight later told me, "We're now more of a history club than a hiking club." They don't hike. They drive. They get out and walk around, but mostly they drive. That's because their average age is about 70. Of 36 on Saturday's trip, perhaps two were around the age of 40, but most were in their 60s, 70s, and 80s. My host and driver was Carlos Sandoval, age 79. My host for a picnic lunch was Chandler Caldwell, who was celebrating his 92nd birthday.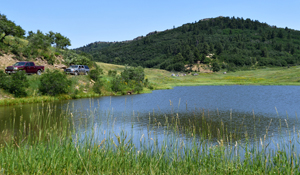 Carlos turned out to be a regular reader of my features ("I read some of them twice") and it was he that thought of inviting me. That's his red Jeep Wrangler leading the pack up a rough Jeep trail that took us from Colorado's Front Range to the mesa tops along the New Mexico border. He did the drive with a friend days earlier to clear the trail of a downed tree and rocks as big a watermelons.
Like my mother-in-law, who's 82, Carlos (right) has at least as much energy at 79 as I do, and probably more. He and my mother-in-law have something else in common: both exaggerate their ages upward rather than the more-common downward. The minute she turned 82, she started saying she's 83. Carlos likes to tell everyone that he's 86, because he then enjoys hearing everyone exclaim how remarkably young he looks. He likes to laugh and he laughs often.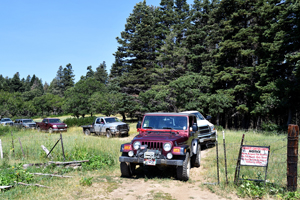 Six days after the phone call inviting me on this outing, my feature ran on the front page of the Chronicle, and it's one of my favorites. I hope you'll click here and read it. I've joined the mailing list of the Branson Hiking Club, so there's a good chance I'll find more stories this good down the road.

---
August 6, 2016    Marcia Hefker Fan Club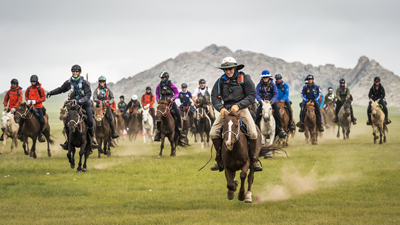 I'm watching for Day 3 results from the Mongol Derby after yesterday's thrill at seeing New Mexico's own Marcia Hefker in fifth place out of 41 with some riders having already dropped out of the grueling 620-mile rce across the Mongolian Steppe. (See my post from three days ago, immediately below.) Some riders have been thrown from their rough horses as many as three times in a single day, with several thrown before the race even started. (Just in, a dramatic photo of Marcia being thrown on Day 3; neither horse nor rider were injured.)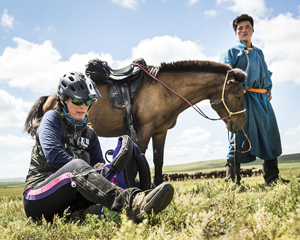 In these magnificent photos by Richard Dunwoody for Mongol Derby (available this month for press use), Marcia is seen at right repacking her backpack, which makes me think she's in the pink/fuscia sleeves ahead of the center of the starting pack in the photo above. (Click either to enlarge it.) I can tell that Marcia has been charging: her three time penalties in the first two days included one for her first horse's pulse being too high at station one, plus penalties both days for riding past the nightly deadline to stop for darkness. Daily photos, live updates, and standings are available at Mongol Derby's website and its Facebook page.

P.S. August 11:
    And on the seventh day...Marcia won!!!
        Click here to read my front-page Chronicle-News feature.
---
August 3, 2016    Marcia's Mongol Derby
It's hard to contain my excitement that my friend--and doctor--Marcia Hefker will set out tomorrow morning on what the Guinness Book of World Records has named "the world's longest and toughest horse race." Forty-four riders from 13 countries--11 riders from the U.S.--will ride 620 miles across the rugged unmarked Mongolian Steppe, retracing a mail route established by Genghis Khan. Evenly split between men and women, the endurance-racing competitors will each ride six or seven very long days, starting at dawn and dismounting at dark to sleep on the ground wherever they find themselves.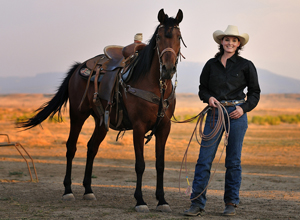 Marcia arrived in Uzbekistan last week to acclimate herself for the race, for which she's been training all year after running--and often winning--races up to 100 miles throughout the U.S. and in France. She's only allowed to carry 11 pounds in the Mongol Derby--including her saddle!--so some of her preparation has been crafting a strategy to travel that light. She's pored over gear catalogs. Last week's feature in the Santa Fe New Mexican gives a good overview of her process.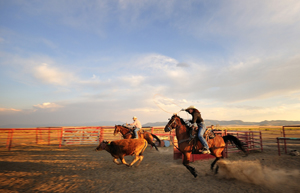 The racers choose from remudas of small tough Mongolian horses, stopping at stations every 40 miles to change horses. Upon arrival, each horse is checked and if pulse is too high--the horse judged to be overworked--a time penalty is added to the rider's race. Food and drink are available from native villagers that have been hired to staff these stations, and a rider can sleep overnight in a shelter there, although most riders keep going and sleep alone with a horse out on the steppe.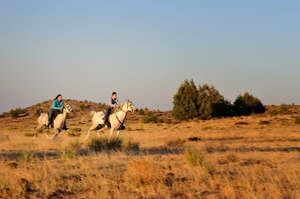 The photos here have been published in my features on Marcia in Western Horseman, Ranch & Reata, and The Chronicle-News. The photo at left of Marcia racing her son Cy Brower was featured in New Mexico True Adventure Guide, and the roping photo above was also used in this New Mexico True magazine ad. (Marcia and I were both fascinated how they cropped and reversed the image, making her a left-handed heeler, which she loved.) Using my Search feature, you can find many more photos and writings about Marcia here in my website. I'll be watching The Mongol Derby website over the next seven days, hoping for race updates and news, helping me to imagine my friend Marcia racing all day alone across the Mongolian Steppe. Go, Marcia, go!

---
July 23, 2016    Fingerpickin' Good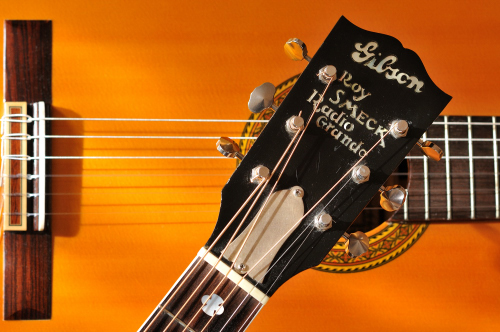 These guitars came out of the closet a few months ago and they've been seeing action ever since, including fresh strings earlier this month followed by several small gatherings of friends sharing songs around a circle like old times.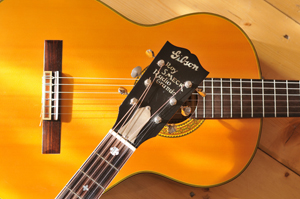 For 25 years I played guitars every day. When I returned to remote rural New Mexico in 1999, I put them away, bringing them out rarely. Eventually I turned my time and attention to photography and writing features for magazines and newspapers. My daughter's request that she and I perform at her April wedding apparently found me finally ripe for a return to playing music: I've been at it ever since. Once summer arrived, I was able to get my best friend and former musical partner Peter Burg to come down often from his home in Rye, Colorado, to revisit our old material, especially from my Little Miracles album where Peter played all of the lead guitars and co-wrote some of the songs.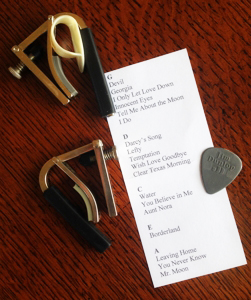 I've just updated my working songlist with three more titles from Little Miracles, including two of my collaborations with Peter. I'm not playing daily but I've moved my guitars from my studio to stands in the living room where they're easy to pick up and hard to avoid.
Just as I always assumed that I'd someday return to my songs and guitars, I assume that I'll eventually write new songs. I look forward to that while feeling no hurry, happy for now to enjoy my old songs with new and old friends and Christina, who's been on my case for years to get those guitars out and put them to use. She'd often remind me, "I married a songwriter," as though to ask, Where'd he go? He and the songs are back.

---
July 14, 2016    Climax Canyon Promontory
I never cease to be impressed and grateful that my home town of Raton, New Mexico, has a three-mile hiking trail right in the city limits. Climax Canyon Nature Trail climbs the canyon walls on the west side of town where the Sangre de Cristo Mountains come to the end of Raton's westside streets. I've previously posted blogs and photos of the canyon and trail. Now the city has installed redwood benches at three lookout points along the trail, including this bench (above) at the top promontory overlooking all of Climax Canyon, Raton, Johnson Mesa, and the volcano fields of the Hi Lo Country stretching east from the Rocky Mountains. The trail offers two-mile and three-mile options; by retracing the upper loop, my pups and I often enjoy our own five-mile option. More afternoons than not, we're there, a great reason to live in Raton.

---
July 9, 2016    Oh Hail No!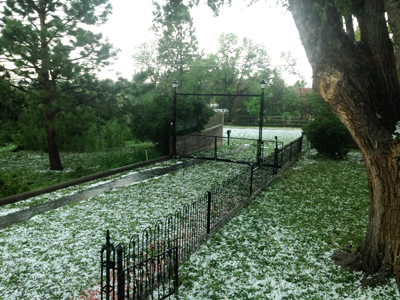 Yesterday afternoon's violent hailstorm suddenly dropped the outside temperature from 90 to 54, where it stayed for the rest of the day, while tearing so much debris from the trees that I have a full afternoon's work ahead today just clearing it.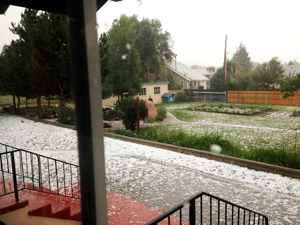 Down the left side of the driveway above, you can see the rain runoff that's cleared a path through all the debris; everywhere else is covered with twigs, branches and leaves, mostly from 60-foot-tall elm trees. I took these photos with my iPhone from our sunroom at the front of the house. In the distance here at left you can see one of my two garden plots where just days ago I harvested the basil shown below. I've had one more basil harvest since, for a second pasta al pesto dinner.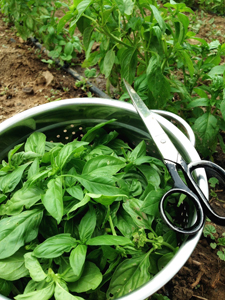 The hail was football-shaped and ranged from 3/4- to 1-inch long, ripping to shreds all of the broadleaf crops and breaking branches of tomato and squash plants. The crop will be decimated, no doubt, and only time will tell how much food we'll get from this year's garden. My friend Pam told me that her husband Wayne stopped planting gardens after hailstorms took too many of them for him to tolerate. At this point, I feel like an American farmer, ready to trust my luck and nature again next year. In my case, my livelihood isn't dependent on the outcome...but I'll be watching to see how much of my garden recovers and what food manages to overcome the hardship and reach a hard-won harvest. Combining teaching with professional writing and photography forced me to abandon gardening for six years: I just couldn't find the time. Now that I'm retired from teaching, it feels great to have a garden again. Yesterday's hailstorm didn't diminish that feeling at all.

---
July 4, 2016    America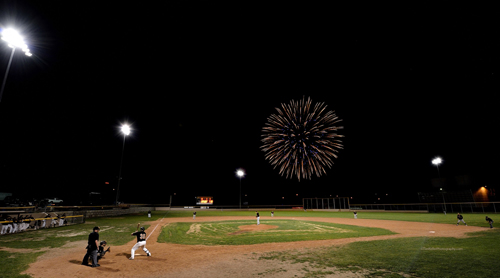 On the Fourth of July, I celebrate what independence and America mean to me. Freedom is self-determination. Hard work is productivity. Creativity is creation is art. I celebrate the beauty and holiness of the land, and of the people. All of them. All of us. I celebrate summer's harvest and barbeque and baseball and fireworks. Let us come together and cheer.

---
July 1, 2016    Jumping Into July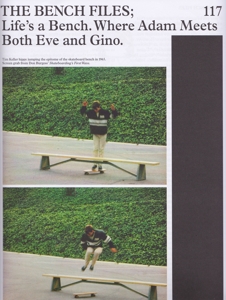 July 1 means it's time for me to start a new blog page: Each page encompasses two months both here and at my photography blog. What better way to jump into July than with this two-photo sequence of me doing a "hippy jump" on my Palisades Skateboard 51 years ago, as featured in the newly arrived A Skateboarding Annual 2, an impressive 208-page coffee table book that examines skate culture throughout the world. CarharttWIP threw book release parties in Lille, France, May 27; Copenhagen, Denmark, June 6; and New York City June 23. The book is available online for $25 as long as the 3500 copies last. The editor contacted me months ago to gain rights to the images, which are frames from Don Burgess's film, Skateboarding's First Wave, based on my newspaper feature with the same title. The oversized book doesn't even fit on my scanner so it was a challenge to get these images to share.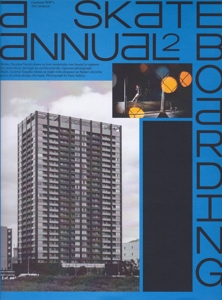 I'm featured in a 12-page pictorial about jumping over benches while riding a skateboard, apparently called a "hippy jump," a term that emerged after I'd abandoned skateboarding shortly after the period immortalized in the film. The caption says, "Tim Keller hippy jumping the epitome of the skateboard bench in 1965." Skateboarding's First Wave continues to do well on the world film festival circuit, including a big showing in April at New York City's TriBeCa Film Festival. Don's plan is to release the 22-minute documentary short on DVD and/or streaming after it completes its run of film festivals. Meantime, I have a copy that I've enjoyed sharing with people, including the TrindieFest film festival just over Raton Pass in Trinidad, Colorado. It's big fun, and sharing it here is a great way to jump into July!

P.S. A few hours later, I've learned that Skateboarding's First Wave has been added to the in-flight entertainment menu aboard all United Airlines flights through September 2016, part of a program titled "TriBeCa Shorts." I continue to post updates here as they come in.
---