---
February 29, 2016    Bent's Fort
I'm a little shocked to return to this blog and see how little I've posted during February. Despite a tenacious cold that kept me down part of the month, the weather's been generally good and I've been busy with some travel and travel writing for The Chronicle-News.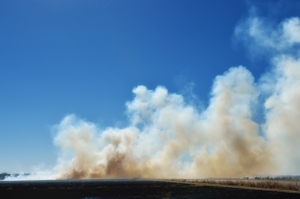 The success of my "Chasing Billy the Kid" series opened the door for a limitless series of travel writing. Although I'll continue to travel, photograph, and write throughout New Mexico, the newspaper and its readers are in southeast Colorado so in February I turned my attention to two day-trips out of Trinidad, both to places that I've never experienced. Highway 12 to Cuchara and La Veta is called the Highway of Legends. From all I've heard, and seen via maps and photographs, I expected plenty of great beauty. I wasn't disappointed. I'm posting that trip and some of its photos on my photography blog today, and The Chronicle-News will publish my story and photos Friday, March 11.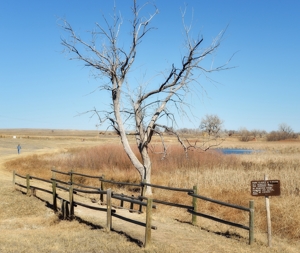 The other trip was to La Junta and Bent's Fort, resulting in a two-part Chronicle travel feature on consecutive Fridays, February 26 and March 4. I won't repeat that narrative here, but I'll comment on some of these photos. The fort itself, top, includes meticulously restored rooms that feel like you're stepping right into history. There aren't even the usual museum signs or labels to identify each room, so unless you use the guide book it just feels like you're walking around discovering the fort as people did in the 1830s and 1840s. A neighboring farmer was giving his land a controlled burn as we arrived, providing a dramatic initial image even before pulling into the parking lot of Bent's Old Fort National Historic Site. (As always, click any image to enlarge it.)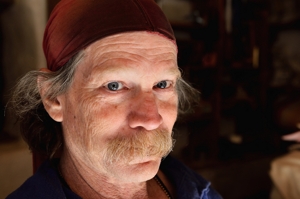 A one-mile hiking trail across marshes and along the Arkansas River provided the opportunity to approach Bent's Fort as travelers did when they arrived after 530 challenging miles along the Santa Fe Trail from Missouri. Once inside, a host and guide introduced himself as John. Because I didn't use the guidebook the way it was intended--I just wandered and explored--I went back to John repeatedly to ask questions. Eventually I asked his last name and discovered that he's John Carson, Kit Carson's great grandson. The two men share a physical resemblance--both small and wiry, fair-skinned with reddish hair--and they share a common workplace: Kit Carson worked as a hunter providing meat for the up-to-200 people living at Bent's Fort at any given time. I asked John how long he's been working at the fort. He replied, "Since 1841."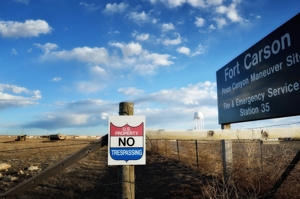 The road trip was sweetened with breakfast at the Copper Kitchen, a mid-afternoon espresso from the barista at The Barista, and exploring the sprawling treasures of 1st Street Emporium, all in downtown La Junta, eight miles from Bent's Fort. The way back retraced the Santa Fe Trail and also the trail of Martin Sheen's and Sissy Spacek's teenaged runaways in Terence Malick's 1973 film "Badlands," filmed in and around La Junta but also as far as Trinidad's Bloom Mansion. The sun was falling through clouds over the western mountains as I passed Pinon Canyon Manuever Site, an army training site unpopular among most of southeastern Colorado's ranchers, artists and other citizens. I enjoyed using the great light to feature the red, white and blue sign proclaiming "U.S. Property No Trespassing."
The gate is open for me to do as much travel writing as I can, so I expect to stay busy and excited with the arrival of spring and summer. I'm looking forward to lots of good road.

---
February 11, 2016    Keep Typing Until It Turns Into Writing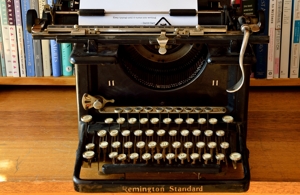 For the first time since I launched TimKellerPhotography.com at the end of 2008, and then immediately followed with the interlinked TimKellerArts.com, I recently changed the looks of the two home pages. The photography home page got a complete makeover: Instead of landing directly at the photo galleries, the viewer initially gets a choice of the photography in the galleries, or in various magazines and newspapers, or in either of my two regular blogs, including this one. When I started seven years ago, I had no idea how much of my photography was going to end up in publications, nor how many more photographs would end up in the blogs than in the galleries. It was time to adjust to what's happened since I launched the site.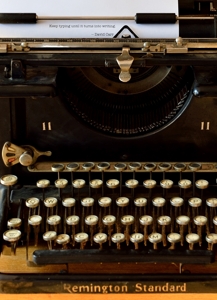 When I started building a website, I assumed it was only for photography. By the time I launched the site, my photographs had already landed my first magazine and newspaper writing gigs and I quickly set to work creating TimKellerArts.com, nested within the photo site, to archive my writing, poetry, and music. Although the mother page is TKP, I've long directed people to enter at TKA because it provides all the options including photography (which takes the viewer to the original site). The TKA page is the better overall home page, but I hadn't changed its images in seven years so now I've done that. I didn't like the options I had for the Writing tab so yesterday I staged some new shots with a typewriter against my bookcase. Typed on the paper is "Keep typing until it turns into writing - David Carr." That was David's reply when someone asked him how to deal with writer's block. Writing is often daunting and difficult--it makes photography feel like a walk in the park by contrast--but I keep David Carr's advice in mind. You sit down to the blank page. You type. Later, you've succeeded at producing a piece of writing. The more times I experience that process, the better the odds have become that the outcome will be satisfying and good.
Having just completed two major writing projects, and waiting as they move through editors to publication, I'm now turning my attention to upcoming projects, eager to get started. Meantime, it feels good to have taken a bit of a break and updated my two website home pages. If you haven't found them already, the left menu of each site includes a link to the sister site, so it's always easy to move back and forth. I appreciate your visit--thank you!

---
January 27, 2016    Bridging the Gap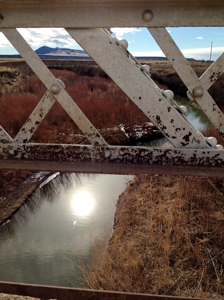 I try to go hiking, dogs in tow or dogs towing me, five or six afternoons every week throughout the year, but it's harder in the winter when the mountain trails are constantly in transition between snow and muck and mud. This winter, for the first time, I'm substituting some time in a gym, but I still like to take the dogs out for a long hike whenever the weather lets me enjoy it. Last winter I developed two mainstay hikes that I continue to use often this winter. Raton's Roundhouse Park has a couple miles of paved trails that are usually cleared immediately after new snows. They're close to home, flat and easy. And they're right in town, with no shortage of other people and dogs.
Then there's Blosser Gap Road about four miles south of Raton. A sign warns "Dead End" but the road actually goes forever and ever. It never ends. Unless you're a rancher or hunter, or you love endless dirt roads, I guess you might consider it a dead end. Before we moved up this way in 1999, Christina and I got lost out this road. It was way past dark when we emerged at Maxwell, which some people might argue is still being lost.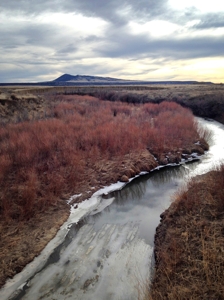 Blosser Gap Road has turned out to be a great winter hiking trail. It dries quickly after each snow and there's no one else out there walking. We hike from pavement's end to the decrepit one-lane Blosser Gap Bridge and back, a round trip just under eight miles with a gentle downhill slope going out, then uphill coming back. On average, one vehicle passes us every 30-40 minutes. It's usually a ranch pickup. The locals have started getting used to seeing us on the dirt road; in fact, my Chronicle-News feature last year on winter hiking prompted some of them to pull over and chat. They liked the article and were taken by the fact that someone wanted to walk their road, and to write about it.
Today was our fifth hike to the bridge in the past ten days or so. I've taken these photos from the bridge this winter. I don't carry my camera out there so these and the newspaper photos were all taken with my iPhone 5. These first two are essentially the same view south from the bridge, with Chicorica Creek running south from Sugarite Canyon down toward Eagle Tail Mountain on the southern horizon.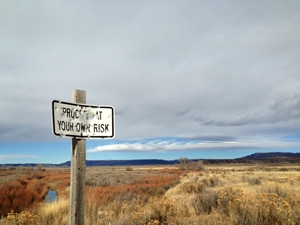 With some different photos, I blogged almost exactly a year ago about our Blosser Gap hikes in a posting called "Mutt and Jett" for my dogs, who were featured more in that blog and the newspaper feature than they are here today. While looking for those articles in the site to link them here, I found a March 2009 newspaper review of mine published on the same page as Laura Brewer's news article "County Commissioners Accept Blosser Gap Bridge Design Proposal" in which local engineer Scott Berry won approval to move forward toward rebuilding the bridge. Seven years later, the bridge is still ramshackle and one-lane, and it still carries the same warning sign to proceed at your own risk. One thing's changed: Scott Berry is now the city manager. And anyway, I kinda like that one-lane bridge.

---
January 18, 2016    Chasing Billy the Kid

My southern New Mexico road trips of October and November (see the preceding page of blog entries) prompted a 6000-word "personal travel essay" feature that The Chronicle-News published with 30 photos over the first three Fridays of 2016.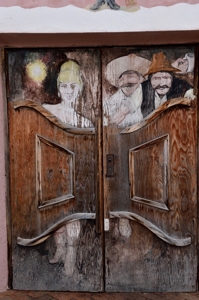 It's been a fun project. In a pair of 1000-mile trips I retraced the steps of America's original bad boy and his former friend, Pat Garrett, whose new job required him to take the kid down. I started in Mesilla where'd I'd gone simply to enjoy a famed restaurant, but that's where I caught the Billy the Kid bug. He was interesting: He made friends easily, had a great sense of humor, loved to dance, spoke fluent Spanish, was accepted by the Hispanic community as one of its own, and he loved and respected the ladies. He also killed cops. I followed the trails of Garrett and the kid from Mesilla to White Sands, Tularosa, White Oaks (complete with a visit to the No Scum Allowed Saloon), Lincoln, Fort Sumner, Stinking Spring, and Puerto de Luna. I'd planned both trips simply for stock photography, taking no notes and no establishing shots for a narrative, but my editor at The Chronicle-News requested a three-part saga and I enjoyed the challenges of creating that. Now I feel that "Chasing Billy the Kid" joins my award-winning "A Range of Possibility" as my best writing and (with photographs) storytelling. I'm shopping it around to other publications; meantime, I've posted it here on my website. I hope you'll enjoy it.

---
January 1, 2016    The Hardy and the Foolhardy
For the third consecutive New Year's Day, I enjoyed photographing the two-to-three-dozen people who jump into Lake Maloya for the annual Polar Bear Plunge, a benefit for the Raton Veterans Memorial. (People pay $20 to jump into 30º water.) Today's air temperature was 23º F., seven degrees colder than the water, which was covered with a five-inch layer of ice that had to be cut away. My wife, Christina, jumped in two years ago but I've never been tempted. I can use my camera as my excuse: I'm busy shooting the event for The Chronicle-News. Actually, there are always a couple hundred spectators that don't jump in, so no excuse is necessary. It's the ones who jump that should have some explaining to do!
Happy new year! We're off to a rousing start for what looks to me like a rousing year.

---