---
April 30, 2015    Escaping a Cruel Fate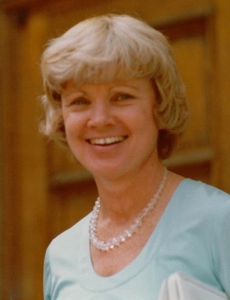 My mother, Joan Day Keller, finally escaped her cruel fate April 17 when she left this world after a decade more-or-less lost, in an Alzheimer's care facility on Ocean Avenue in Santa Monica. It had been many years since she knew me or my brother or my dad or anyone else. The last time Christina and I were able to take Mom outside, we wheeled her across the street to Palisades Park where Christina took the photograph below. With the help of my dad and brother, I wrote the following obituary that was published in the newspapers in our home town of Pacific Palisades, California. Rest in peace, Mom.
Joan Day Keller passed away April 17, 2015, after a long struggle with Alzheimer's disease. Born in Los Angeles November 13, 1927, to Canadians Robert Day and Frances Marion Cockburn Kerr Day, Joan graduated from University High School and attended Los Angeles City College. Introduced by his army buddy Jimmy Verghis, Joan married Jack Keller August 20, 1948; they remained married for 66 years.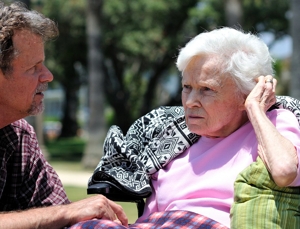 Joan discovered Pacific Palisades when her Rancho Park employer, Fairy Tale Pastries, sent her to open a bakery space in the Bay Market (now Pharmaca). With Jack and sons Tim and Terry, the family moved from Santa Monica to Pacific Palisades in January 1956, living on Palmera Avenue until they moved in 1963 to Muskingum Avenue, still the family home. A founding member of Las Doradas, the group held its first meeting in 1962 at Joan's home on Palmera.

In addition to her husband Jack Keller, Joan is survived by son Timothy Alan Keller, a teacher, writer, and photographer in Raton, NM, and his wife Christina Boyce; and son Terry Randall Keller, a teacher living in the family home on Muskingum. Granddaughter Darcy Day Keller lives in New York City; grandson Killian Caleb Keller lives in Austin, TX. Joan especially loved the company of family and countless friends: Her absence is felt by many.

Services for Joan Day Keller will be held on a boat north of Santa Monica Pier at a later date when they can be combined with those for her loving husband, Jack Keller.
 

---
April 11, 2015    Michael Hearne & New Mexico Music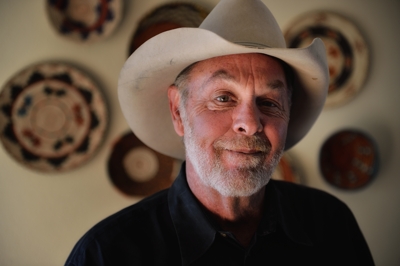 I'm just back from three days in Taos where I interviewed and photographed Michael Hearne (above), the final step in my preparations for a feature in the August issue of New Mexico Magazine that will profile Michael and promote September's 13th Annual Michael Hearne's Big Barndance Music Festival at Kit Carson Park in Taos.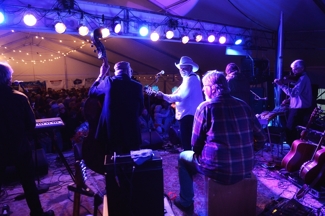 My photo of Michael (in white, right) closing last year's festival has already been featured in the 2015 New Mexico True Adventure Guide. I enjoyed interviewing Michael and, a week earlier in Santa Fe, his uncle Bill Hearne. Christina and I also got to join Michael at Sabroso near Arroyo Seco where he sat in with Jimmy Stadler for a short but great set of classic "northern New Mexico music." My article will include discussion of what that term means. I'm ready to write, first thing tomorrow morning with a clear head and a full cup of coffee.

---
April 7, 2015    Happy Trails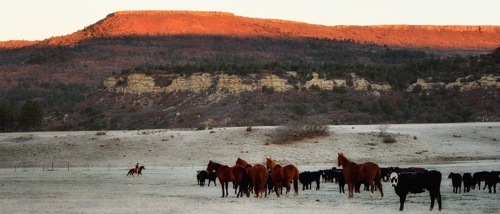 This morning I finally shipped off my Landon Berry feature (above) to Western Horseman, having started the project way back in mid-November. The article benefitted from following Landon across several months, although I prefer to work faster. I first shared photos from the project here on the TKA Blog on November 22, then I published a story in The Chronicle-News and Raton Comet while waiting for Landon, who was off in Texas during his slack season. The feature, weighing in at 1550 words, will appear in Western Horseman in late summer or fall.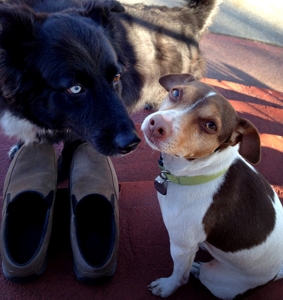 Meantime, this week I'll be finishing up another story that I started even further back -- New Mexico icon singer/songwriter Michael Hearne and his 14th annual Taos Big Barndance Music Festival, for New Mexico Magazine. Michael, too, has been off in Texas. The magazine sent me up to photograph last year's festival in preparation for this year's feature. I posted some photos on my TKP Blog September 28, and the magazine already used one for the 2015 New Mexico True Adventure Guide. I'm interviewing and photographing Michael in Taos tomorrow, then writing and submitting my feature to the magazine. That'll leave me more time for my daily hikes with hiking partners Django and Jett, above.

---
March 22, 2015    Latin Comedy Jam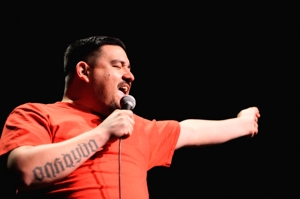 Last night's rollicking Latin Comedy Jam turns out to be the first time Raton's 100-year-old Shuler Theater has ever presented a show of stand-up comedy! How can that be? Well, it won't be the last.
The company draws on a stable of 21 comics to present shows of three comics that total 90 minutes of laughter. Touring throughout the southwest, the Shuler ensemble was in Pueblo, Colorado, the previous night, and it continued southward to Tucumcari and Clovis.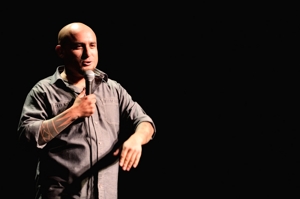 With featured closer Dillon Garcia a late scratch due to illness, Roberto Rodriguez (above right) moved into the 40-minute closing slot and had no trouble owning the night. The Tucson native tours the country from his home in LA, playing shows every Thursday through Sunday. "I go to work at 9 p.m. I work 40 minutes straight through without a lunch break. It's hard." His physicality and self-effacing (and sometimes self-celebratory) humor kept the audience in near-constant laughter.
Garcia's absence gave a big break to Iggy (above left), who came from El Paso to open the show, effectively his audition to join the company--and he passed with flying colors. His joke about replacing drug dogs with crack heads on leashes--they'll find drugs faster than any dog--was the best of countless laughs he gave me.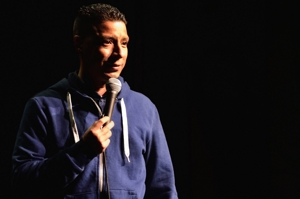 The night's middle act, Jerry Garcia, right, a single father of two, came from his adopted hometown of Pueblo for the show. "I thought I was a Mexican. Then I moved to Pueblo. Man, those are real Mexicans," he opened. Producer and host Mike G. said after the show that he was pleased enough with the result that he'll bring another trio to Raton in the fall. I'll expect another packed house for the Shuler Theater's second-ever night of stand-up comedy.

---
March 16, 2015    Blacktop Cobra Crew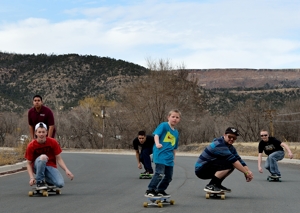 For a news feature (Chronicle-News / Raton Comet) this week I had the pleasure of photographing the only skateboarding organization left in Raton, New Mexico. That would be the Blacktop Cobra Crew, shown here skating past the intended Raton skate park that was never built--fundraising efforts never got close to getting the job done. There's a great skate park 22 miles over the Raton Pass in Trinidad, Colorado, but the Blacktop Cobras usually prefer to ride their longboards down fast hills.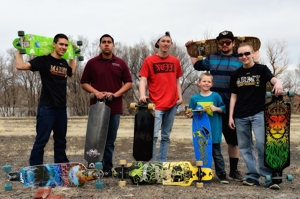 Here, standing directly on the skate park that never was, are (from left) Adan Garcia, Rudy Ortega, Tristan Urioste, Kyler Urioste, Thomas Esquibel, and Rochelle Jackson. Adan, Rudy, Thomas, and Rochelle are also students in my English classes at Raton High School. They were all good enough to show up for me when I needed a picture for my article, although they seemed to have at least as much fun doing it as I did...and I always have fun doing this.

---
March 8, 2015    Dash & Lil
Two of the last three weekly issues of Raton Comet have featured front pages consisting entirely of text and photos by husband-and-wife team Tim Keller and Christina Boyce. This is actually a first for us and no small amount of fun. Long ago we fancied ourselves "Dash and Lil" after the great American writers Dashiell Hammett and Lillian Hellman who simultaneously produced classic literature, presumably across the hall from each other.
Christina's upstairs studio across the hall from mine is actually stripped bare for a paint job she hasn't gotten around to; I miss her close proximity there. Temporarily--several months and running--she's moved her workspace to the basement, which I alternately term the dungeon and the tomb. We're working two floors apart.
The shared Comet front pages are another temporary situation. The Comet has struggled to find a good full-time reporter, then to keep him or her. Meantime, its done a pretty good job with local freelancers, lately led by me and Christina. While it lasts, we're having fun sharing front pages. I hope Christina's dungeon exile ends long before our Comet co-mingling does. It's fun playing Dash and Lil across the hall from each other.

---
March 4, 2015    Snow On Snow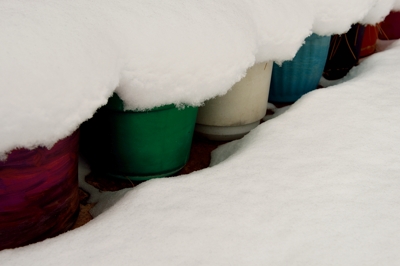 It's been snowing all morning, yet again. We've had more than a foot of snow over the past ten days or so. No complaints here--I love it! I just spent two or three hours writing on the photography blog about two masters with new books (and films) -- Lynsey Addario and Dorothea Lange.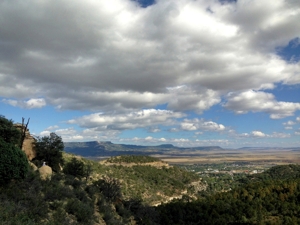 Ellen at Raton Comet--between reporters--was desperate Sunday afternoon for content for this week's edition. Just back from a hike, I wrote her a 900-word feature on winter hiking in and around Raton. The Comet edition will reach the street later today, but The Chronicle-News got its edition out yesterday. Unlike the Comet, the Chronicle-News generally uses most or all of the photos I send (in this case, four), and it makes whole pages of the paper available for posting here. If you're interested in hiking, or in Raton and northeastern New Mexico, give it a look.

---