---
April 28, 2013     I Am Curious, Yellow & Blue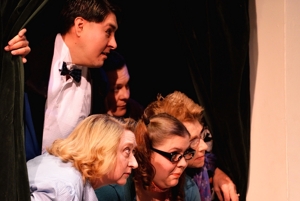 It's always fun to see friends and neighbors in community theater, especially in a small town and such a remarkable venue as Raton's Shuler Theater. This weekend's production of The Curious Savage broke a seemingly long hiatus and brought some good lines and good laughs. It's one of the better known comedies by Pulitzer Prize-winning playwright and screenwriter John Patrick, whose Cheating Cheaters was performed by the same Shuler company exactly one year ago.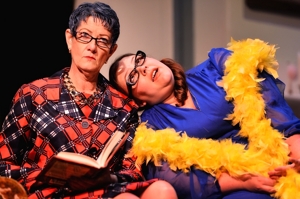 The cast included some new faces along with the company's regulars. Above, Chicky Lee Gomez, Janese Little, Tony Goens, Elizabeth Record, and Kathryn Engel spy on fellow residents of The Cloisters, a psychiatric home circa 1950. Here on the right are Adrianne Coleman in the lead role of Ethel Savage, providing a reluctant shoulder to resident Fairy Mae, played with gleeful abandon by Elizabeth Record. Fairy Mae's costumes, like the character and the acting performance, provided the play with some of its high points.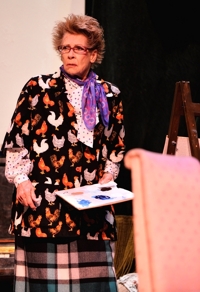 Oddly for a comedy of such pedigree, with such a proven cast under the reliable direction of Gail Dixon-Willden, Saturday night's performance won a few big audience laughs but otherwise was conspicuously laugh-free. It felt longer than it was. Some of Patrick's plot points came off as farfetched, and the central mystery -- where is $10 million in negotiable bonds hidden? -- wasn't hard to figure out by the middle of Act I.
Highlights for me were the performances of Elizabeth Record and, as Mrs. Paddy, left, Kathryn Engel. Both had great characters in great costumes and both took their characters over the top in ways that carried the play. Engel made the most of a small part while Record's performance provided a constant comic centerpoint as the plot plodded along. The play's setting provided rich doses of quirkiness which Record and Engel took further than anyone else, to the benefit of all.

---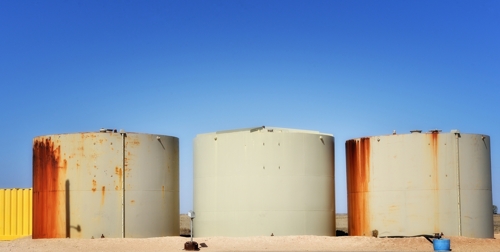 Two birds, one stone. Since I was going down to Clovis and Portales for New Mexico Magazine, I decided to double the trip and start at Hobbs to shoot all over Lea County in hopes of getting images for my photography show that opens in Lovington August 9. Both halves of my trip were successful, producing a wealth of images and stories to spin off into multiple projects.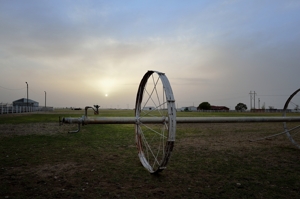 My host in Hobbs, Jim Harris, plied me with books from the Lea County Museum, and by the time I drove north on my way out of the county I told him he may have "set the hook" on my interest in the area, which has two impressive museums devoted to one seemingly unlikely county. The photo of the tanks was taken just before I departed Lea County, below the little crossroads that passes as the village of Crossroads, New Mexico. The irrigation pipe at sunset is on the western edge of Hobbs, one of few shots I got from three hours of driving around the county in late afternoon, hindered by an ugly gray dust storm that killed the light...until the sun set and I was able to snag this image.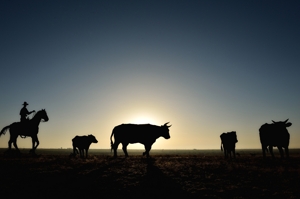 The cattle drive image is deceptive: it's actually part of Brian Norwood's 400-foot-long steel sculpture called "The Trail's End," installed on the hills above Jal, New Mexico, in 2000, and now a renowned tourist attraction and work of art. The cowboy hat is 20 feet off the ground; the horse is 21 feet long. You can find photos of "The Trail's End" through an online search, but I don't know of anyone who's hiked up behind the sculpture to shoot a sunrise silhouette. For four consecutive mornings of my working vacation, I was up and driving through the predawn darkness to take advantage of the unequaled light of dawn and sunrise. (See another morning's result on today's photography blog.) Without fail, each morning produced at least one "keeper" image that more than justified the 5 a.m. alarm. In fact, the trip was so productive and fun that I'm already eager to do another.

---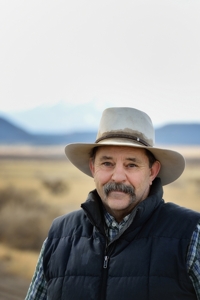 Three weeks flew by without my getting to a blog post. I try to blog weekly, sometimes more, but this time I got swept up and away.
A lot of my arts time (as opposed to teaching time) was spent finishing the Roy Sanders story, making a second trip out to take these photographs, then writing and submitting the manuscipt. The editor is pleased with the work and has it in production for Ranch & Reata's June/July issue, which is scheduled for publication in late June.
At 1500 words, my profile draws a moving portrait of a peripatetic rodeo and ranch cowboy who settled down outside Trinidad, Colorado, only to find himself in the business of raising boys. Good boys. He has a gift for it, and a life that uniquely prepared him for it. Roy would take issue with my use of the word business; he would substitute life.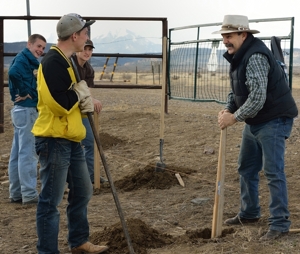 Next up for Ranch & Reata will be a profile of 90-year-old Dry Cimarron Valley rancher Sadie Renfro, a former Albuquerque bank president who returned to her family's Long Canyon homestead to run cattle. She moonlights as the bookkeeper at Ropes Western Wear in Clayton, commuting thirty miles of so of dirt road. I won't start on this project until May, but I'm already excited about it.
Between now and then I'll be immersed in Raton High School projects -- the annual Poets in the Schools program for National Poetry Month, with April 26's 7th Annual Poetry Marathon and 3rd Annual Poetry Rocks! show at the Shuler -- and a spring break road trip for New Mexico Magazine. I'll be doing a city feature on Clovis and Portales. While I'm down that way, I'll take a couple extra days to photograph Lea County in New Mexico's lower right corner, where a show of my photography will open in Lovington August 9. Watch for my next blog posts for new tales and photos from southeastern New Mexico.

---
March 16, 2013     Most Cowboys Raise Cattle. Roy Raises Boys.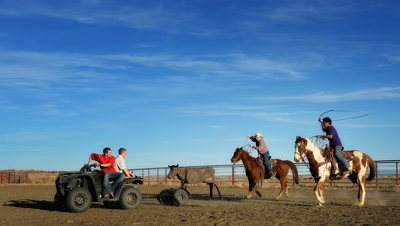 I met Roy Sanders a couple years ago when I photographed him and his roping partner Marcia Hefker, resulting in my photograph "Breakaway" that's been published in two magazines and still has legs. Now I'm at work on a profile of Roy for Ranch & Reata. I'm headed back to his place again this weekend to get a second photography session, then I'll be ready to write.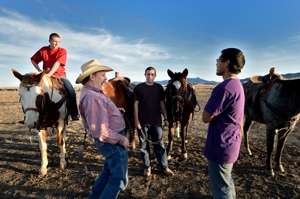 The longtime roving ranch cowboy and rodeo rider nowadays raises a family of several teenage boys at his place down three miles of dirt road near Hoehne, Colorado. Placed with Roy by juvenile services from throughout the state, the boys have no horse experience before arriving, and most have little experience with work or responsibility. That's where the growing comes. It's been a joy spending time with them and I'm looking forward to telling the story of Roy and the boys.

---
March 10, 2013     Keeping the Past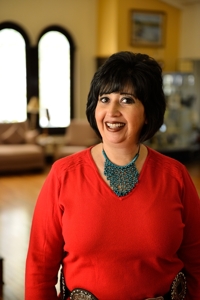 For the July 2013 New Mexico Magazine feature on three of northeastern New Mexico's small-town museums, I've been visiting and photographing the museums of Clayton, Raton, and Folsom. Now that I've finished processing the photography, the next step is to turn my attention to the long notes I took while interviewing the directors of each museum; from there I'll write the manuscript.
Victoria Baker has been Executive Director of Clayton's Herzstein Memorial Museum for five years, guiding a showplace that positively sparkles: the magazine's art director is going to be pleased to see the photographs, they're such colorful and arresting images. It's easy to spend two or more hours at the Herzstein without feeling ready to leave, and under Victoria's leadership the museum continues an exciting evolution.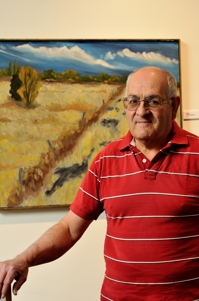 Roger Sanchez is the longtime curator of the Raton Museum. Almost as sprawling and diverse as the Herzstein, the Raton Museum combines a variety of local history displays with an impressive collection of paintings by renowned artists of Albuquerque, Santa Fe, Taos, and Raton. (The Herzstein's art collection includes a wonderful WPA dust bowl painting by Hal West, father of my friends Archie and Jerry West and grandfather of Joe West.) An upstairs gallery hosts revolving shows and many of Raton's community events, including the annual Spring for Hops & Vine beer and wine tasting event coming up March 30. Exhibits on local ranching, mining, railroads, and home life provide a fascinating picture of the people that have made Raton a regional hub for more than 130 years. It's surprising and impressive that both Raton and Clayton have such large and dynamic museums to showcase the stories of such relatively small towns.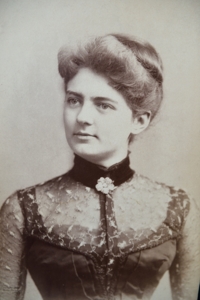 The Folsom Museum in tiny Folsom (population 50) doesn't have a curator or Executive Director; instead, it's run by a committee of local volunteers. My friend (and software guru) Mike Schoonover showed me around as I took pictures. He asked me to take a picture of a picture, this vintage photograph of 21-year-old Frances Folsom, who was then engaged to marry 49-year-old president of the United States Grover Cleveland when she made a stopover at what was then called Ragtown. The townspeople were enchanted with her, and apparently not entirely happy with the name Ragtown, so they renamed their town Folsom, a name that has stuck. Even now, 127 years later, Mike himself seems to fancy young Frances, and since he was my guide to the Folsom Museum (and doesn't like having his own picture taken), it seems only fitting to include Frances Folsom here in my little gallery of the guides to local museums.

---
March 2, 2013     Dr. Seuss Can Read, Can You?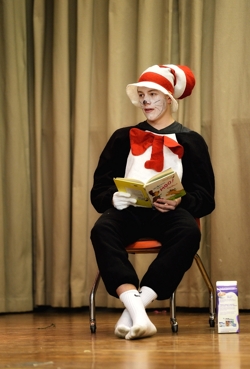 Raton's Longfellow Elementary School last month asked whether I might get some of my high school students together to perform a skit for the school's annual Literacy Night. I wasn't optimistic and tried to pass it off on the drama club, but then I was delighted, and eventually enchanted, when ten of my honors freshmen students volunteered and spent many of their lunch hours in my classroom developing their skit which became the featured entertainment for Thursday night's program in the Longfellow gym.
For an audience of small children in pre-kindergarten through second grade, they chose to dramatize Dr. Seuss's book Mr. Brown Can Moo, Can You? Moss Saccamano played Dr. Seuss reading the book aloud while his classmates, led by Keanu Barela as Mr. Brown, acted out the story. Just as Mr. Brown can make a sound and moo, each character walked across the stage making various sounds which, in a surprise, the audience took up as a chorus and made the sounds along with the characters on stage. It was delightful and there was much laughter from the small children.
The other students performing included Rochelle Jackson, Alyssa Aragon, Dawn Rae Arguello, DJ Bird, Alee Bird, Nayelli Acosta, Jami Lopez, and Julia Rael. Alee made most of the props and costume elements, then the others pitched in to add more. (See additional photos here: Bee, Clock, Curtain Call.) They got a free meal out of it, catered by K-Bob's Steakhouse, and their picture in the town newspaper. Best of all, I'll bet, was all the smiling and laughing and applause from the appreciative audience of teachers, parents, and dozens of children. Finally, as I told Longfellow principal Andy Ortiz, my students are each getting "a boatload of extra credit" in my class for a job that far exceeded my best hopes. Well done!

---