---
April 28, 2013     Old Glory, Young Glory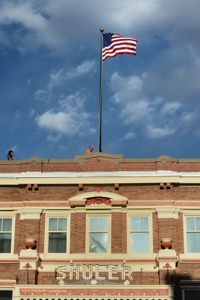 Ironically, the past three weeks have been so rich with photography that I've been too busy processing photos to have time for blogging. I'll be carrying a backlog into May, although May promises to be at least as busy with magazine projects mounting and preparations for my photography show in Lovington approaching the printing and framing stage. Crazy busy, but I ain't complainin'! That this coincides with the arrival of spring makes it all doubly fun.
Yesterday we celebrated the 98th anniversary of the first show performed at Raton's Shuler Theater. Through a generous grant from Raton's Laird Foundation, the theater has new windows and the highest-reaching flagpole in town. My photo here shows yesterday's flagpole dedication. Unseen on the street are a hundred celebrants saying the Pledge of Allegiance for the first flag raising. (As always here, click any image to enlarge it.)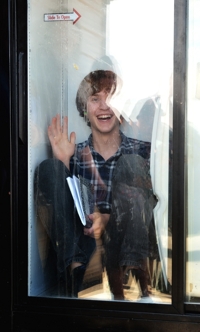 What's kept me the most busy these past two weeks is all the activity involved in our annual Poets in the Schools program. Exciting and gifted poet-educators Esmé Rodgriguez Vaandrager, Danny Solis, and Manuel Gonzalez have given their hearts and souls to Raton High School's students while the latter have responded in kind by producing a variety of poems alternately humorous and profound, insightful and sometimes heartbreaking. The process of creating individual and group poems has been fun for us all, as portrayed here by Cole Kuchan from inside the Dasani cooler outside the cafeteria where we'd gone to rehearse the students' poetry performances for the Poetry Rocks! program at the Shuler Theater. I'll be posting more photos at my arts blog and in forthcoming weeks; meantime, dozens of photos are being added as fast as we can to the Raton Poetry page at Facebook. Soon we'll be posting video and student poems there, as well.
As if that's not all enough, the outdoors is celebrating spring by bursting forth in green!
---
April 20, 2013     Rags to Riches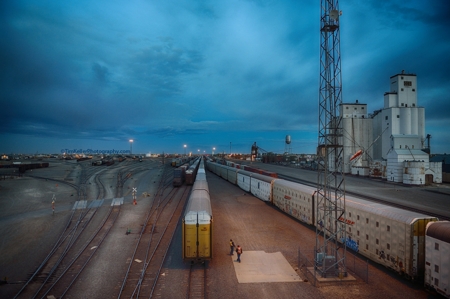 My five-day road trip to the three counties in the southeastern quadrant of New Mexico proved something: when your photographic output starts dwindling in quantity or quality, leave your home grounds and go elsewhere looking for images. Going alone and for no other purpose than hunting photographs, my mind and eye were set on photography from the moment I pulled out of my driveway to the final turn back into the driveway. I drove 1271 miles, shot about 800 images, brought 500 home (the others culled each night in the camera), and sorted down to 100 images strong enough to process -- about double my usual 10% average.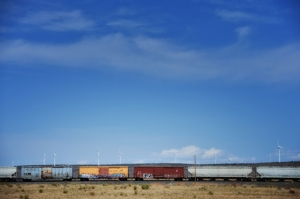 I planned the shot above for eleven months, since the last time I was in Clovis. It involved leaving my B&B in the predawn darkness, as I did every morning, in order to catch the gorgeous light of dawn and sunrise. Shooting from the downtown Prince Street overpass on the final morning of the trip, I got everything I'd imagined and hoped for. The train beneath the wind turbines and clouds, at right, was taken on the first morning out, just south of Pastura on my way to Hobbs where I focused the first two days on gathering Lea County images for my upcoming Lovington show.
Several projects have grown out of the trip. Ironically, they'll give me a wealth of material to blog about even while they take dozens of hours and make it difficult to make the time to blog. I'm posting some Lea County photos today on my arts blog, and more photos will follow soon enough in both locations. Meantime, I'm diving back into the images and projects, rags to riches.
---
April 6, 2013     A Photographer's Solo Road Trip
I've been remiss in not blogging for three weeks but I'll start making up for it next week. I'm headed south for a five-day dual-purpose photography road trip, shooting Clovis and Portales for New Mexico Magazine and, while I'm that far south, I'll continue to New Mexico's southeast corner for two days of shooting throughout Lea County. My hopes for Lea County are to produce images for my show that opens August 9 in Lovington and to build up my stock photography images, which increasingly draw income as various publications and companies find them here on the website through online image searches such as Google Images. Traveling new ground for five days of photography: I'm thrilled!
---
March 16, 2013     Over the Hill Gang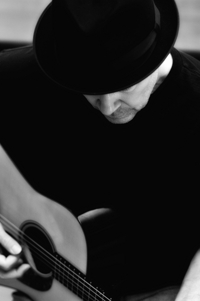 Happy birthday to my brother, Terry Keller, who reaches 60 today. As I said in an e-card to him this morning, he's now "old enough to be rediscovered." Indeed, in recent years he's rekindled his passion for guitars and songwriting while his tastes have swerved toward the various nooks and crannies of Americana, territory I've enjoyed traversing all my adult life. Terry sold his guitars when he reached 30, convinced he was too old to make it. A quarter century later he dove in again, this time just for the joy of a fine guitar and a great song. He lives in the house where we grew up, on Muskingum Avenue in Pacific Palisades, California, where I took this portrait three years ago. Happy Birthday, Lil Bro.
---
March 10, 2013     Spring Snow
As the lawn begins to green and daylight savings time moves in, a spring snow storm also moved in yesterday and continues blowing and snowing twenty hours later. A gorgeous sunny morning yesterday, punctuated by dramatic individual clouds, yielded by noon to snow that hasn't stopped since then, although we haven't gotten more than a few inches overall. The winds blow the snow into drifts so it's more than a foot deep in some places but almost bare in others.
If we still lived in Des Moines we'd be stuck as Highway 64/87 is closed between Raton and Clayton due to zero visibility, a condition I know too well; thus my happiness to be here in Raton where driving around is easy and where I can take photos of our front yard from up here in my studio window. Christina worked at her Studio C in Des Moines Friday and Saturday, waiting until after the snow arrived before driving home, but she made it home 2-3 hours before the highway was closed as darkness fell.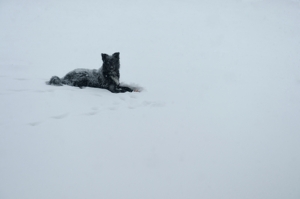 The overnight arrival of daylight savings time signals that the snow won't stay on the ground long, and that my border collie Django and I will have more time to go on late afternoon hikes. A couple hours after taking the yard photo above in the first snow yesterday afternoon, I took this shot of Django enjoying play in the snow outside the sunroom window. He's out in it again this morning, wondering where I am, why I'm not out frollicking or hiking with him in the fresh spring snow.
---
March 2, 2013     Rhythm of the Dance
The National Dance Company of Ireland brought its Rhythm of the Dance extravaganza to the Shuler Theater Thursday night for a show that packed the house like I've never seen. There were even some folding chairs set up along the back and the balcony appeared to be full when I was up there shooting the action from above. The Shuler was able to get the show because the tour had an open night and was traveling through Raton on its way to tonight's show at Albuquerque's Popejoy Hall, where ticket prices were two to three times higher than the Shuler charged.
 
Here's the blurb from the Popejoy's website: Performed by The National Dance Company of Ireland, Rhythm of the Dance brings an Irish music and dance extravaganza to the stage. The performance recreates the journey of the Irish Celts throughout history. Blending the ancient and the contemporary, Rhythm of the Dance brings step dancing to a new level, while preserving the traditions of Ireland and incorporating modern dance forms. The show features a live band, three tenors and more than 20 dancers.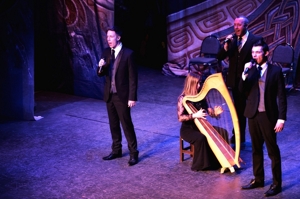 In a small remote town such as Raton, finding a cultural gem like the Shuler Theater is simply improbable; adding the National Dance Company of Ireland and a show of this size is doubly improbable. I was impressed not only by the full house but also by how many people I knew who drove in 40 miles or more for the show. And to get good seats, they were all there when the doors opened a half hour before the show.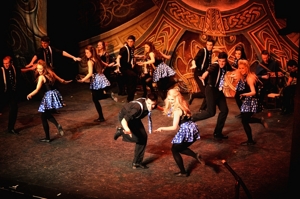 I particularly enjoyed the six musicians and the three Irish tenors, though it was obviously the troupe of dancers that thrilled the audience most. I found that the dancers, though highly skilled, generally lacked chemistry with each other and with the audience. The one exception was this bop-inspired performance (right) in which the dancers seemed to pop with electricity, connecting exuberantly with each other and with the audience.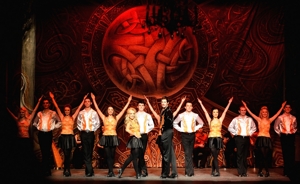 No one else appeared to have the least complaint: the troupe earned thunderous applause throughout the evening and a standing ovation (top photo) at the end of the two-act show. I appreciate being able to live in a small town far from big cities and still be able to enjoy shows as this one, thanks to our treasure, the Shuler Theater.
 
---