---
February 26, 2011      Playing Pirates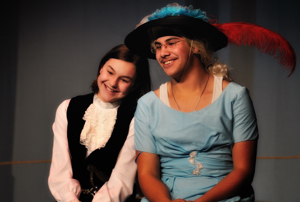 My parents took me and my brother Terry to see "Annie Get Your Gun" in the round in West Covina when we were kids. It's the only play I remember seeing until college, when I saw a lot of them because I had a housemate who was an actress in the drama department.
Another fifteen years passed free of plays until I met Christina, who was a costumer for various theatre productions around Santa Fe, Hollywood, New York City, and Dallas. That put me in the midst of theatre for a spell, but I didn't pay particularly close attention.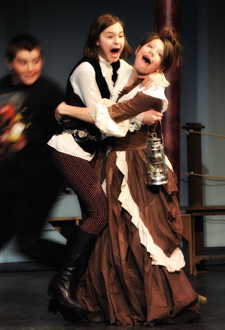 So it's somewhat surprising to find myself frequently attending rehearsals and performances as part of my "work" (it's too much fun for that word) photographing and writing features for The Chronicle-News. I enjoy both previewing and reviewing the shows that come to Raton's Shuler Theater, including preview features for all the local community theatre productions.
This morning I submitted a preview of next weekend's Raton Youth Theater production of a swashbuckling pirate comedy, "Captain Bree, Scourge of the Sea". As my photos show, there's more than a little fun involved.
And, nowadays, in order to tell the story, I pay particularly close attention.
Still, it's more fun than work.

---
February 19, 2011      Snowstorms for Summer Vacation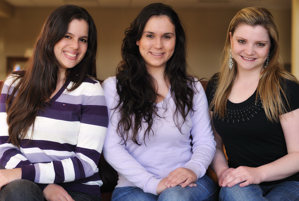 My friend and web guru Mike Schoonover tipped me off that these three young Brazilian engineering students are spending their summer vacation working at the Best Western Raton Hotel, leaving behind the hot Brazilian summer for the first snow any of them has ever seen.
I interviewed them Thursday and just submitted a 1200-word feature to The Chronicle-News; look for it next week.
They're on foot in Raton, a town without busses or taxis. They walk to their favorite restaurants, all of which are chains familiar throughout Brazil: Subway, Sonic, McDonald's, and Pizza Hut. In Brazil, though, the gals buy pizza by the slice to take advantage of the more than 100 toppings offered. Pizza toppings include corn, stroganoff, chocolate, and ice cream!
The women -- Ilana Mota de Almeida, Angela Rossetto Rathier, and Ithiara Dalponte (from left) -- will be waittressing at Mulligan's, along with other chores at the Raton Hotel, until March 15, when they scatter for the coasts -- Los Angeles and New York City -- to see more of America before returning in early April to their final year of engineering studies back home in Brazil.
If you stop by to enjoy the restaurant and get one of the Brazilian women as your waitress, tell them Mike and Tim sent you. They'll appreciate the opportunity to practice their English.

---
February 13, 2011      Stirring Up the Gods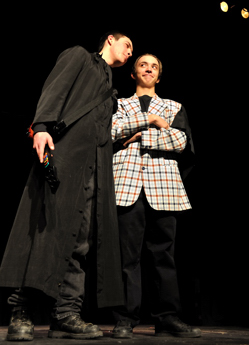 I drove into Raton last night to photograph and review, for The Chronicle-News, a zany student comedy at the Shuler Theater.
"The Greek Mythology Olympiaganza" takes all those Greeks gods and goddesses you've heard of -- Zeus, Hercules, Hades, Pandora -- and throws them into a high-speed blender. It was fun.
I just wrote and submitted my review along with five photographs for the editor to choose from, including this scene in which Orpheus (James Neary in black) negotiates with Hades, played by Lucas Jansen in a sportcoat I found hilarious for the part. Watch for my Chronicle piece this week.

---
February 5, 2011      Illustrating Stories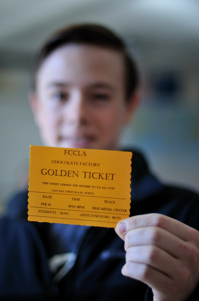 I've submitted a pair of stories this morning to The Chronicle-News for publication next week. Both promote upcoming events presented by Raton High School students. It's a good opportunity for me to show how I work in illustrating my stories with my photographs.
The local FCCLA chapter is creating a Valentine's Day "Chocolate Factory" to raise funds for the trip to their annual state conference next month. 26 students are each making 5 batches of a chocolate recipe, resulting in 130+ platters of chocolate desserts -- fudge, brownies, cakes, truffles, cheesecake, nut bars, cookies, and so on. A $6 ticket gets an "all you can eat" chocolate feast and helps the club. I wanted my story to promote ticket sales so I created this photo of FCCLA public relations honcho Tucker Berry holding a ticket, with the emphasis on the latter.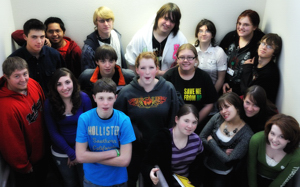 The school's theatre group, The Mask & Wig Club, is producing a zany madcap comedy at The Shuler Theater next weekend. My goal in the story is to get people off their couches and down to the Shuler for the show. I put the young actors on a landing in a school stairwell and shot them from above. (Click photo to enlarge.) To underscore the show's hilarity, I worded the caption, "Members of Raton High School's Mask & Wig Club will be released from this box to perform at the Shuler Theater this weekend in the comedy, 'The Greek Mythology Olympiaganza'."
The photo does indeed suggest that the students are kept in a box until showtimes, and that I shined a flashlight in and took their picture. It's fun working with students: their energy is infectious. I'm just as conscious of telling their stories through my photo illustrations as I am in my writings about their adventures. In fact, I get my own share of fun combining the two forms of storytelling.

---
January 30, 2011      Growing Writers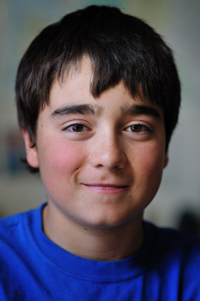 When I posted the photo and notes on Riley Wilson (immediately below), I hadn't finished gathering information for the story. When I called the leader of Raton's VFW chapter, I discovered that another Raton youth, twelve-year-old Dante Sparaco, had reached even higher than Riley had in the annual national VFW essay contests.
Dante's entry in the middle-school level Patriot's Pen contest rose to 1st Place in the state; he and his essay will now represent New Mexico at the VFW's annual convention in San Antonio, Texas, in June, where it will compete for big national awards.
I arranged an interview with Dante but when I arrived, Bob Morris of the Raton Range was there, too. The Chronicle-News has a healthy competitive spirit toward the Range, and I was displeased doing a co-interview. (It was my interview: I'd arranged it! I never did determine how Bob got there.) The interview provides the content of the story. I try to make my stories better than Bob's, and that begins with the interview.
I managed to lure Dante and his dad to join me after Dante spoke with Bob, so I got my own interview and then my own portrait of Dante, purposely made to match Riley's because I've asked the Chronicle to run the two stories as a matched pair. It will be fun to see my stories and Bob's, to see how we did, and how we're different.
By the way, Dante's mother is Jennifer Sparaco, who I mentioned in an earlier blog. Dante's had lifelong experience in front of a camera: he was a great photographer's model for me, and a great interview, too, by the way. His mother Jennifer is a fine photographer with a good website. Check her out.
One last note: both Dante and Riley are products of the Raton Public Schools. I've taught in six schools in five districts in four states; the Raton schools are the best I've experienced, and they're very good indeed.

---
January 22, 2011      Writing for Fun and Profit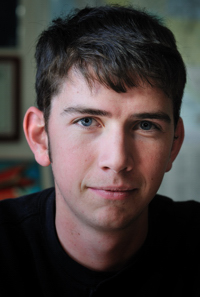 Seventeen-year-old Riley Wilson started entering essay contests when his seventh grade English teacher, Kathy Honeyfield, required it of every student. I'll bet the others didn't stick with it, but Riley did.
Riley got a phone call last week inviting him and his family to Albuquerque February 12 to receive an award for 3rd Place in the state of New Mexico for the annual VFW Voice of Democracy national essay contest. This year's topic was "Does My Generation Have a Role in America's Future?" Riley's response was, essentially, that every generation has its role in America and his generation will be no exception. Obviously, he did a good job of supporting his thesis.
"I'm not sure if writing is my favorite thing," Riley comments, "but I know that writing eloquently will help me in my future. I like, too, that successes in competition reflect well on our school and community." He allows, as well, that he enjoys winning the prizes of cash and scholarships.
Riley is one of the select few able to consistently earn A's in my honors senior writing course at Raton High School. I'm proud of his VFW award: I'll be running a feature on it in The Chronicle-News in the days preceding his February 12 award. In preparing for that, I put Riley in my own classroom desk chair this week and took his portrait. Congratulations, Riley: you're right, you do us all proud.

---
January 13, 2011      Six Pack and a Beat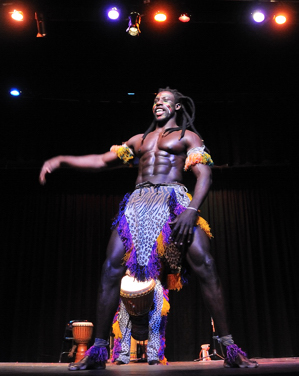 I sat in my usual front and center seat at the Shuler last night to photograph and review "The African Dance and Drum Troupe", touring the US out of Senegal in West Africa. The biggest problem with my photos was that the dancers moved so constantly and so fast that most of my dance photos were too blurred. This is one of the few times I was able to get this dancer standing still.
When they asked for questions, a man shouted from the center of the theater, "What's African for 'six-pack'?" They replied, "No fast food." They pulled nine volunteers from the audience to learn a dance: click here and see Cimarron photographer Yvonne O'Brien, Raton actors Toby and Clint Henson, and others...including my wife Christina Boyce, braver than I. My review and photos will be in The Chronicle-News Monday.
I'm off to Santa Fe for a couple days, enjoying the buzz and feedback from my "Max Evans's New Mexico", now arriving on newstands in the February issue of New Mexico Magazine. The six-page feature has an opening two-page spread that's simply gorgeous: a tip of the hat to art director Fabian West, who done me proud.

---
January 9, 2011      Sheepish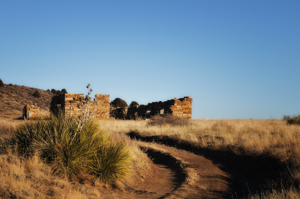 Poking around out far dirt lanes, as I'm wont to do, I explored this old rock ruin just south of Blind Gap. It's large, more than 2000 square feet, with five south-facing double windows spaced at room widths so it appears to be five rooms deep and two rooms wide.
I checked in with Tom Pryor, who has lived out that way for 63 years. He says the ruin was a sheep barn and believes the owner was one F.A. Rogers. With such a large and elaborate handmade rock building and so many south-facing windows, old F.A. must have really loved his sheep!
The T.O. Ranch has bought up a lot of the land out that way. They clear off all the old ruins, leaving the land the way it was before the sheepherders and homesteaders arrived. While I can almost understand the value in that, it seems a real shame to eradicate the ruins that, with a little investigation and poking around, yield stories upon stories of people who gave this land their best shot and came up short.
Some of the ruins already plowed under can be seen in a beautiful 2004 photography book by Jan Haley titled Max Evans' Hi Lo Country: Under the One-Eyed Sky. Jan spent three years, in every season and weather, tirelessly exploring all these old backroads to document the expanses and remains, creating art in the process. It's a beautiful country, one which takes a big four-wheel-drive pickup to see it. Or you could just get Jan's book.

---
January 8, 2011      Benched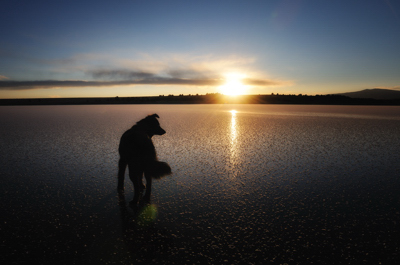 I've been blogging, both here and at TKP, for a little over two years now and, except for a couple times where ten days passed, I've never gone more than a week without posting words and photos to both blogs.
My last blog was three weeks ago! My 5-month-old Mac Pro went into a Santa Fe repair shop for warranty service to solve a rare hardware glitch and didn't come home until yesterday, an unanticipated-- and frustrating -- hiatus.
But I'm back in action, catching up and belatedly moving everything forward into the new year. Next week the February New Mexico Magazine will arrive with my six-page feature "Max Evans's New Mexico" -- I'm excited about that. There's always a delicious anticipation for a major feature in a good magazine, wondering whether they'll edit my words, which photographs they'll select, and how their layout will look. This is my first full-length feature for New Mexico Magazine; they're top quality and my expectations are high.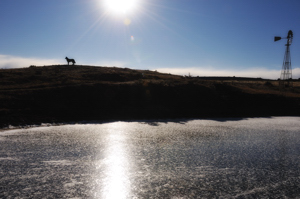 They'll be featuring me on their Contributors page, too, with a portrait Christina took of me with Django the day after we brought him home from the shelter, a 5-month-old border collie, last August. Last weekend he "walked on water", across frozen Weatherly Lake, at sunset (above; click photos to enlarge).
An hour earlier we were visiting Max Evans's old ranch at Blind Gap when I took the photo at right with Django standing above Max's old water tank. Django had fun trying to romp on the ice, slipping and sliding, at both frozen ponds.
And now that I have my computer back, I feel the same way, romping and slipping and sliding and smiling.

Want to see November/December?