---
October 31, 2010      Every Picture Tells a Story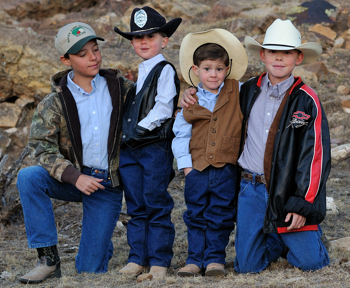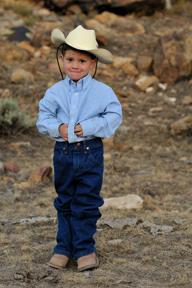 Emerging from a sweet little break after a flurry of writing and photography, I was over at the Brown Ranch this morning, shooting portraits of Darien and Dianne's grandsons before sunrise. I've given some details on today's photography blog.
enchantment magazine hired me this week to create another Nos Vecinos page for them, this time featuring Clayton auctioneer Walter C. Hall for the March issue, which comes out in late February.
That allows me to expand the statement I made last week: from October through February, I'll have seven features in five months in four magazines -- one in Western Horseman and two each in enchantment, New Mexico Magazine, and RANGE.
Yesterday I made some requested revisions in my "Max Evans's New Mexico" feature for New Mexico Magazine. (See October 16, below.) The editors willl be working with my manuscript and photos this week as they begin preparing their February issue, which will reach readers in mid-January. I'll be excited to see it. If my momentum keeps building, I may have another half-dozen features under my belt by the time it comes out! I won't mind at all: I'm having a blast. It's all great fun, and satisfying.

---
October 24, 2010      Kicking Back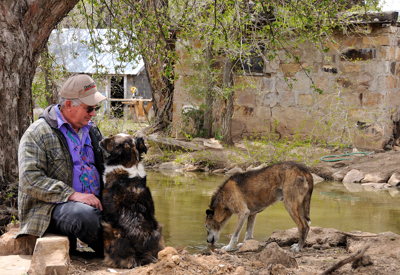 I've been taking it easy for two weeks, not pursuing any stories after a six-week flurry of busyness and productivity that coincided with the always-busy first weeks of a new school year. I've been focusing on school, reading and grading student essays, and taking the pups for 90-minute hikes up the mountain every Saturday and Sunday. (When I mentioned to Christina in an e-mail that I was going to "kick back", she replied, "Ha!"; she sees me as a workaholic :-> )
But I can sit back and enjoy the fruits of my labors: within the five-month period of October to February, I'll have six features published in magazines. In October, my Mary Lou Kern feature was in RANGE while my Jan Pryor feature was in enchantment. In November, my Heart's Desire Inn feature is in New Mexico Magazine while my Tom Pryor feature (photo above) will appear in RANGE.
Western Horseman magazine will run my Linda Jackson feature in its December or January issue, then New Mexico Magazine will run my six-page "Max Evans's New Mexico" feature in its February issue, out in mid-January.
Looking ahead, my longest feature yet, a 1700-word look at The Brown Ranch on the Dry Cimarron River, will run in the May issue of New Mexico Magazine to coincide with the Folsom Museum's annual Dry Cimarron Tour. This feature explores the generational saga of one family's six generations in one ranching life and location, with the changes in ranching in the digital 21st Century. The magazine is considering a 40-photo slideshow on its website, as well.
All of that work, everything mentioned above, is finished and in the hands of the publishers. Call it kicking back, or just call it a break, I'm enjoying it.

---
October 16, 2010      Ol' Max Evans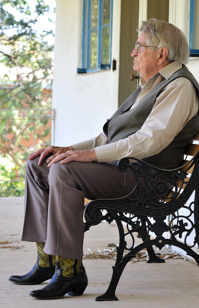 Two weeks ago today, I spent five hours with Max Evans at his home in Albuquerque and at a nearby restaurant where he took me for a New Mexican brunch. (We both had red.) We had a great visit while I interviewed and photographed him for a February 2011 feature in New Mexico Magazine entitled "Max Evans's New Mexico".
One week ago today (notice how, during the school year, all these things tend to happen on Saturdays), I wrote my 1250-word story, along with a 525-word sidebar taking readers on a little tour of Max's New Mexico. I packaged it all up and mailed it off along with the Brown Ranch feature (for May 2011), which I'll write about on my photography blog today.
The way my blogs have developed, I usually write about the work I've been doing each week. There's been so much of it, and it's been so constantly varied, that I never run out of material, and there's the hope that you might find it at least half as interesting as I do each week. Most of my work has involved fascinating people and subjects.
But I have a problem, or challenge, that may grow: if New Mexico Magazine likes my work on these features as much as I think they will, I'll be hoping for a steady string of feature assignments from them...but their contract is very protective of the material they buy. I have to be careful not to share any of it with you here on my blogs. What to do?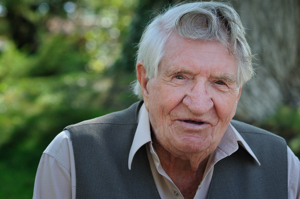 I think it only helps the magazine for me to blog about my stories: you'll be more likely to go out and buy the magazine whenever they run a story you've read about here. I can't share any of my text, but what I can do is share photographic outtakes. That's its own dilemma: I send the magazine the best photographs, leaving for the blog only the shots that didn't make the cut! Frustrating.
It's not just New Mexico Magazine, either. All magazines buy exclusive first rights, meaning the story is theirs until the issue finishes its run, or later. Then the rights revert to me, sometimes with certain conditions. This means that I can eventually post all my stories here online, but not until after each issue finishes its run. The hope -- theirs and mine -- is that you'll buy a copy of the magazine to get my feature!
So, above is a pair of photos of Max Evans, beloved New Mexico author of the The Hi Lo Country, The Rounders, and two dozen other wonderful books. A former cowboy, then fine arts painter, who once had a ranch here outside Des Moines ("Hi Lo"), NM, Max and his wife Pat lived in Taos for 20 years before settling in a spacious old two-story house in the Nob Hill area of Albuquerque in 1968. I hope you'll set aside a $5 bill and buy New Mexico Magazine when Max and I have our feature there, available in mid-January.

---
October 12, 2010      Unwinding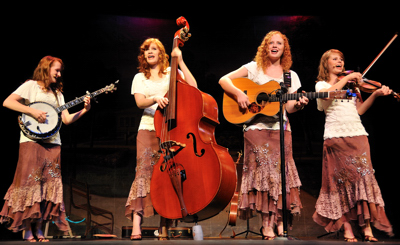 Hey, stranger. Yeah, it's been 13 days since I last blogged. My previous longest lapse was 7 or 8 days. It ain't that I haven't been working! (My high school students will recognize this as a double negative.) One day, I drove to Albuquerque and interviewed New Mexico novelist Max Evans for 5 hours, then drove to Taos to photograph some of his old haunts, then drove home, a 568-mile loop. Then I wrote New Mexico Magazine a 1250-word feature called "Max Evans's New Mexico" and added a 550-word sidebar; I sent those off this morning with two dozen new photographs. Look for the feature in the February issue.
I made six trips to the Brown Ranch in the Dry Cimarron Valley for another New Mexico Magazine feature, due in the May issue to coincide with the Folsom Museum's annual Dry Cimarron Tour. And I've got three classes of honors English students (75 of them) producing 500- to 800-word typed essays every two weeks. (Grading the essays takes 20+ minutes each.)
And I reviewed a bluegrass concert at the Shuler Theater that was so much fun! Redhead Express, above (click to enlarge), came through from Alaska on their never-ending tour. The whole family is involved, nine people including mom and dad and seven kids. Cute? Yeah.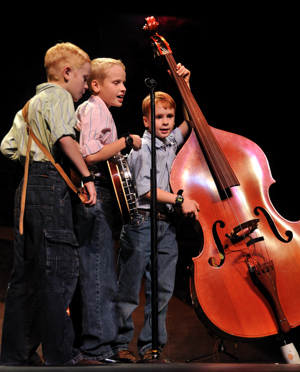 These parents, Brett and Apryll Walker, managed to have four attractive redhead girls who grew up to sing and play all the bluegrass instruments...
And then Brett and Apryll set about producing three boys and getting them started down the same path! That's the brothers, called The Walker Boys, on our left.
Because they've been on an endless string of one-nighters for three years, they're incredibly good. They tour all together in a 38-foot RV which, I said in my Chronicle-News review, gives each family member about the same amount of floor space as a solitary confinement prisoner at the SuperMax prison in Florence, Colorado. Somehow they manage to smile the whole time they're on stage, and it looks real. It must be the music.

---
September 29, 2010      The Sands of Time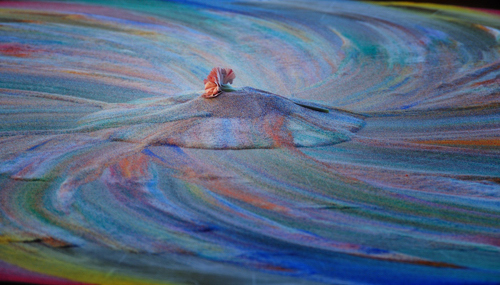 My life has lately felt a little like this extraordinary sand mandala, shown above after it was sensitively and artfully erased: innumerable colors and directions, all of which are beautiful and joyful. I covered all four days of the International Day of Peace activities at The Mandala Center, filing a feature with photographs for The Chronicle-News (Page 1, Page 2).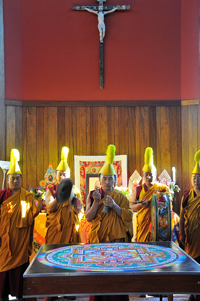 It was an extraordinary event, led by the meticulous creation of the mandala sand painting, then it's destruction. Below is the creation; at left, the monks are about to undo their work. Some in the audience cried. (See TKP September 19 blog for more photos.)
I've also been over to Darien Brown's ranch on the Dry Cimarron five times for photography and reporting my full-length feature for New Mexico Magazine, which will run in the May issue to coincide with the annual Dry Cimarron Tour, sponsored by the Folsom Museum and featuring Darien's 145-year-old ranch.
As I wrap up that project and prepare to send it off, I'm driving south after school Friday to meet with New Mexico novelist Max Evans (The Rounders, The Hi Lo Country) at his home in Albuquerque Saturday. I'll interview and photograph Max for a February feature in New Mexico Magazine; the working title is "Max Evans's New Mexico". Since he's lived extensively in Albuquerque, Taos, and here in Des Moines, I'll be photographing iconic Max Evans locations in Albuquerque and probably Taos before I return.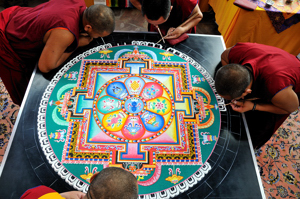 In the past eight days, I've contributed eight features, with photographs, to The Chronicle-News, with most of them making the front page.
If that's not enough, I've also been teaching full-time, now teaching mostly honors students, mostly writing and literature. It's a pleasure.
It's all a pleasure. (There's just so much of it!)

---
September 17, 2010      Getting Rowdy-O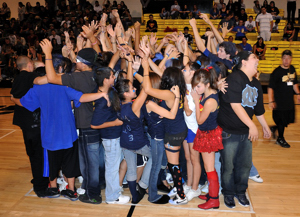 Aleena asked me to post some of my photos of Wednesday's annual Raton High School Homecoming kick-off event, the Rowdy-O. Since I want her to be my T.A. when she's a senior next year, she's gonna get what she wants today.
Taking pictures was a last-minute decision. I decided I'd have more fun taking pictures than sitting in the stands, so I went out to my car and brought my camera.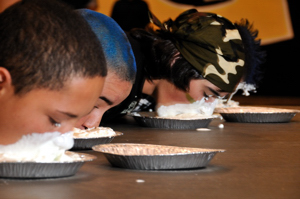 When I walked through the gym doors, I discovered that Bob Morris was there to photograph the event for the Raton Range. That made me resolve to get some great photos! And have fun doing it! The Raton Range is the competitor to the paper I write for: my little feature on the Rowdy-O is in today's Chronicle-News -- with four of my photos.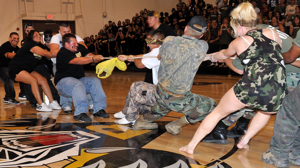 Reluctantly, I used flash for all the photos. Regular readers of my TKP blog know how much I love using flash. (Not.)
In the top photo, the sophomore class is winning this event by fitting 62 students into a taped off space about 6' by 10', or about one student per square foot. In the second photo, one representative of each class is getting pie-faced trying to get a piece of gum from a plate of whipped cream.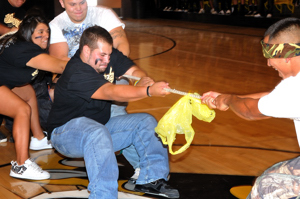 The highlight was the tug-of-war final championship match between the seniors, on the left, and the juniors. Three boys and three girls on each team held the contest to a stand-off for almost two minutes: it was the best tug-of-war I've ever seen. Those first three seniors -- Justin, Matt, and Demi -- are students in my classes. They look strong here: I'm going to have be nice to them. And, finally, they won!
Ain't high school fun! There you go, Aleena!

P.S. Bob Morris didn't stay, leaving after the second event. The Raton Range ran one photo, of the pie faces...in black-and-white.  :->
---
September 11, 2010      The Return of the Hi Lo Country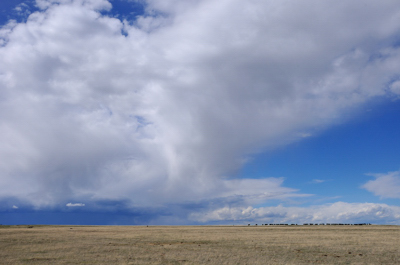 Two weeks ago, I had nothing scheduled in New Mexico Magazine. It's been a busy couple of weeks! They've scheduled my Heart's Desire B&B featurette for page 15 of the November issue, which has just gone to the printers for release in mid-October. I spent last weekend starting my first full-length feature for the magazine, a family saga of the Brown Ranch, established on the Dry Cimarron River in 1864, scheduled for the May 2011 issue.
The magazine asked me this week to develop a profile/travelog piece tentatively entitled "Max Evans's New Mexico" for the February 2011 issue -- around the time Western Horseman will publish my Linda Jackson piece. New Mexico Magazine already paid me for a featurette traveling the real-life locations in Max's wonderful novel The Hi Lo Country, set here around Des Moines, NM; after reading it, the editors decided they wanted that piece expanded to a full-length feature.
Although I have several of Max's books that contain extensive autobiographical writings, I'm going to take advantage of this opportunity to meet him. At 86, he doesn't do e-mail; we just chatted on the phone and I'm excited to be meeting with him soon at his home in Albuquerque.
Then I'll go through what pictures I have, including the one above of Tom Pryor's pasture, taken a couple miles from Max's old Vine Gap ranch; I'll submit photos of key places in Max's life and books -- from Albuquerque, from Taos, and from out here in the Hi Lo Country. It doesn't look like my busyness is going to let up anytime soon. As I said to Christina last night, I've got too much of too many good things!

---
September 6, 2010      A Woman of the West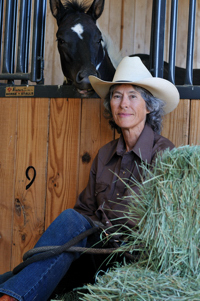 I'm in the midst of a fun project for Western Horseman magazine, a Women of the West feature on Raton horsewoman Linda Jackson, who owns and runs her Jackson Stables, a popular "horse motel". I've spent about five hours over there, in two trips, interviewing and photographing Linda.
The work is a real pleasure because Linda's such a great gal. It's hard to wrap my head around two basic facts: 1) Linda taught English for 26 years in the room two doors down from mine at Raton High School, from 1964 to 1990; and 2) she's 68 years old.
Take a closer look at this picture (click on it): Can you see 68 years there? I can't. I think her secret is a contentedness that appears to be based on a love of both horses and people. My two hours of interview recordings are frequently punctuated by laughter. Linda's full of great stories from a fascinating life.
I'm expecting to finish the piece and submit it next weekend; it's slated for publication in early 2011.

---