---
August 28, 2010      Going Viral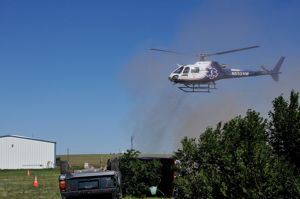 Two weeks ago I photographed and reported a fascinating event for The Chronicle-News. Four area communities each sent volunteer EMS and fire units to a Multiple Casualty Incident here in Des Moines, New Mexico. Fortunately, it was all a drill -- but still a great story.
One of the responders photocopied the article's two pages and made a pdf file to e-mail to others. That pdf file has now been so widely disseminated that I decided to create a better way for people to view the article and photos, right here on the website. It's easier to read and has a lot more pictures, all of which can be enlarged. Hopefully this version will replace the pdf going around. Meanwhile, I'm preparing some of the images for possible publication in JEMS (Journal of Emergency Medical Services).
I'm swamped right now, working on a story for Western Horseman and spring feature for New Mexico Magazine, while working overtime for my new school classes. Tonight I'll be photographing and reviewing the Juan Siddi Flamenco Company's performance at Shuler Theater, which I expect to be fabulous.
It's crazy, and crazed -- but good.

---
August 22, 2010      Raising the Writing Bar Through Reading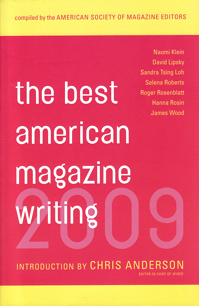 My magazine writing and photography pay 10 to 20 times what my newspaper writing does. It's more carefully considered, edited, laid out, and read. It lasts longer.
I've given my magazine writing the best of my abilities, while I've had a lower standard for the more hurried and frequent newspaper stories. That has seemed logical, and reasonable enough.
In Santa Fe back at the first of the month, I had time to finish off The Best American Magazine Writing 2008, which I been reading off and on for months. The writing is so bold and original, sometimes electrifying, that it led me to an epiphany:
Why not use my newspaper work to practice writing my best, to develop and improve my writing with an aim to becoming as good as the people in this book? Why not raise the bar?
The reason I make as much writing for the newspaper as the magazines is that I write 10 to 20 times more stories for it, which gives me a lot of practice! Why lower the bar for those stories? Well, in practical terms, those stories are often fast, usually reported, written, and submitted within a 24-hour period, and sometimes there's simply not material for great writing. Some pieces are, by their very nature, little more than press releases.
But most of what I write for The Chronicle-News can be written better, I decided. Read the lead -- the opening -- of my last two stories, for example, and see if they draw you in. (MCI1 and MCI2 and HCP1 and HCP2.) Do they rise to a higher standard than you'd expect to find in articles on these topics in newspapers generally? That's what I'm trying to do.
I find some great writing in The New York Times, The Washington Post, Los Angeles Times, and other newspapers online, too: it's not restricted to magazines. And I've given my best to some of my previous newspaper work, especially to profiles and this year's Shuler Theater reviews. I've always put an asterisk next to my stories whose writing I was particularly pleased with, to distinguish them from the press release type of article.
I bought The Best American Magazine Writing 2009 and started reading it last night. The bar is already higher, and my intention is to keep raising it.

---
August 15, 2010      Writers and Copy Editors, on the Same Team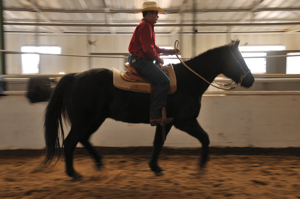 I blogged last winter, on November 14, about some of my experience with copy editing -- where magazine editors make changes to my manuscripts before they publish them. This is standard practice and editors are expected to edit writers' work: that's why the position is called "editor".
But I'm sure it's also standard for writers to gripe a little about some of the editing. Most of the editing I've received has harmless or helpful. Occasionally, as noted in November, it's changed my meaning.
Yesterday I posted Western Horseman's "Rescued Horses, Rescued People" feature; as usual, I also posted my original manuscript below the magazine's pages. I hadn't noticed any changes when the I read the published article a month ago; it had been six months since I last read my manuscript. But yesterday I noticed some differences and looked more closely. There are lots of harmless little changes, ones the English teacher in me could argue but won't.
The one that caught my eye was right there in the opening phrase. I knew when I wrote it that it was vulnerable to change. I wrote, "The big black gelding stands tentative...", using tentative as an adjective, like using "stands ready", or "stands tall", or "stands alone". I thought about it a lot and decided I liked that better than the adverb form, "stands tentatively", which is more immediately or easily seen as correct.
Sure enough, the editor changed it to "tentatively", and I can't blame him, even though I like mine better. Of course, only we writers, editors, and English teachers could care less about such matters. If you're still reading, by God, you must be one of us! In that case, you might enjoy comparing the "Rescued Horses" manuscript to the edited, published article. Everyone else has already moved on to other things.

---
August 8, 2010      ChiliGumbo Music Reaches Folsom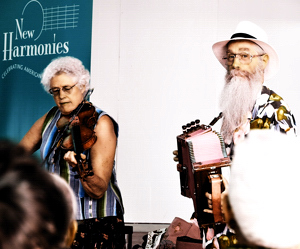 I spent the better part of yesterday over at Folsom for the grand opening of the Smithsonian's travelling "New Harmonies" American roots music exhibit. It couldn't have been a more perfect day. (Well, okay, some beers to accompany the music under the trees would have been nice.)
Jeanie McLerie and Ken Keppeler -- who have played as Bayou Seco for more than three decades throughout New Mexico, Louisiana, and Europe -- spent the day exchanging violins, accordians, and guitars to regale us all with songs in Cajun French, Spanish, and English. I booked Bayou Seco to perform at Santa Fe's Sweet Inspiration Coffeehouse three times in 1986-87, and they were already legendary around the state then. They used to frequent our neighborhood around Bernal, NM, while collecting tunes from revered old-time fiddler Cleofes Ortiz.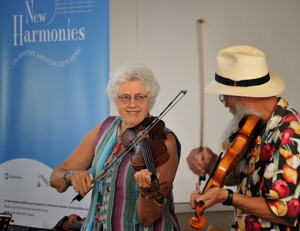 I took photographs both under the trees of the Folsom Museum and at Bayou Seco's concert in the old Folsom Schoolhouse gym. I like the one at the top: I rarely cheat like this and add effects in processing, but this one didn't quite make it on its own, yet I couldn't escape Ken's gaze and wanted the picture to work. Christina thinks it looks like a poster. The lower photo, obviously, is the same scene, taken moments apart from the top photo, but it's straightforward and works great as it is.
My article and photos will appear this week in The Chronicle-News; I'll be out camping and will post them to the website when I get home. It's my final week of summer vacation and I plan to savor it.

---
August 1, 2010      Celebrating Diversity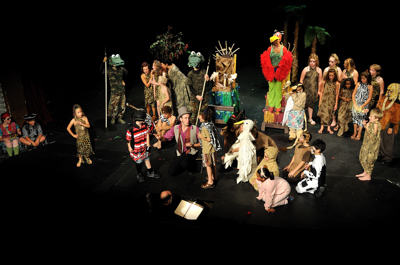 The diversity I'm referring to in the title today is the balancing act I'm doing right now with music, writing, photography, and teaching: I feel like a talented circus juggler wowing audiences in some small American town. Once the new school year begins, I may feel the tiger bite my butt, but for now all the plates are beautifully spinning in the air.
We had a good turnout at Studio C for my house concert last night, and we all sang Happy Birthday to a radiant Christina, who turned 47 at exactly midnight. In an uncanny moment, we discovered that Chris Neary, who came from Raton and shared his wonderful flatpicking talents, graduated from Santa Fe High School, Class of 1981 -- same as Christina! And they didn't know each other.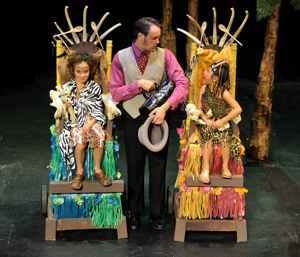 I have four articles spread across the next few days in The Chronicle-News, including my review of Raton Youth Theater's fabulous production of the musical comedy "The Adventures of Dr. Dolittle". I sent five photos with my review, including the pair here, though I never know how many the editor will choose to fit in. We'll see. Meantime, my "Rescued Horses, Rescued People" feature is still on newstands for two more weeks in the August issue of Western Horseman (after which I'll post it here on the website).
A couple weeks ago, I wrote a feature on a pair of New Jersey guys that walked through here on their way across the country. I'd hoped to place this one, a variation of my Chronicle feature (1, 2), with a national magazine but I've had no bites. Now I've posted it here on TKA, titled Jersey Boys Go for a Walk. When I did this a year ago with an article about horsemen that had gone through on their way from Mexico to Canada, I did eventually land it with a magazine: it ran in the February 2010 issue of Western Horseman.
I'm taking a photograph to Santa Fe this week for some specialized fine arts printing. (See today's TKP blog.) I'll be working with Orion Studios and Frontier Frames for top-quality work, preparing for next month's 34th Annual International Art Show in Raton and the bi-annual New Mexico Arts call for the New Mexico Only Purchase Initiative, so I'm immersed in photography at the moment.
All that and I'm preparing for the new school year, too, with an added course I haven't taught before -- honors freshman English -- as well as new material for the talented & gifted program. A pair of my students were at last night's music concert, which kinda brought the circle around and joined the ends. All the plates are balanced and spinning very nicely.

---
July 25, 2010      Singin' for My Supper, and Brunch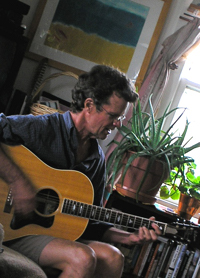 The amount of homemade music around our house increases dramatically every July as my annual house concert at Studio C approaches, the last Saturday evening of the month. I've had my guitars out on their stands and now I'm playing daily, usually singing for Christina as she works in the mornings.
That's why she insists that I do this annual concert, so she can hear me ("I fell in love with a songwriter" is her refrain) and so I won't forget the songs.
Little chance of that now. It's true that many of them would take some practice and relearning, but there are well over a dozen "standards" that I don't think I'll ever forget. They come right back to me each summer, usually on the first camping trip right after school closes. Saturday I'll be doing songs from all four of my albums, doing some fingerpicking on my nylon-string classical guitar and strummimg on my Gibson Roy Smeck Radio Grande.
As I wrote below, I've had requests and some singalongs this summer that fueled me early. I've pulled some of my songs out of semi-retirement in response to the requests. Heck, I've even been playing my own albums on iTunes this week. You can hear your own samples at each of my album pages. Or better yet, come over to Studio C, here in greater downtown Des Moines, New Mexico, Saturday evening, July 31 -- open mike starts at 5:30 and I'll sing a little later. Come join us: it'd be great to see you there!

---
July 20, 2010      Jersey Boys Go for a Walk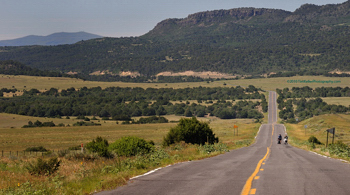 At the Folsom Museum's Western Night Under the Stars ten days ago, Branson Colorado's Rachel Snyder gave me a good lead. A pair of young New Jersey guys were walking across America raising money and awareness for breast cancer. She helped coordinate a reception in Branson, including my getting an interview and photos.
Friday morning I left early so I could get photos of the guys hiking through the hills. I followed them for about three miles, getting different pictures, then I got my interview as Anthony Greco and Rob Bonora relaxed on a couch and happily accepted breakfast burritos inside Branson's community center. (See more pictures and discussion on today's TKP blog.)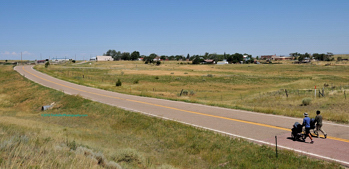 I spent all day Saturday writing. For my usual Chronicle-News submission, I would have spent an hour or less. Instead, I more carefully crafted a prototype story, then adapted it for each of several outlets. I sent stories to Denver, Wichita, St Louis, and New York, plus a walking magazine and a general interest weekly magazine. If anything comes of those, I'll let you know here: so far, I haven't heard from them. Editors are so harried juggling pages and deadlines and stories from their regular contributors that it's no wonder they don't have time to look closely at unsolicited outside contributions. That I'm able to contribute regularly to three magazines and a newspaper has been a combination of patient persistence, hard work, and a lot of luck. I keep up all three: I intend to get more and more magazines and newspapers under my belt.
What I like about journalism is that it's storytelling: I interview people, then find a way to tell their story. The story of Anthony and Rob is a good one...so good that I'm still enjoying reading about it on blogs by Rachel and Anthony. You wouldn't think, out here in the great and beautiful unpopulated outback, there'd be so many great stories. But there are.

---
July 15, 2010     Summer R&R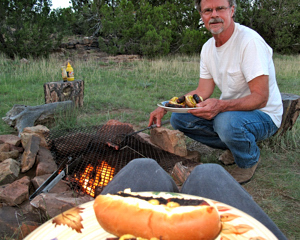 For many years, I camped on our land 20 nights every summer -- generally five 4-night stays. Last summer was my first as a professional writer and photographer, and I didn't go camping at all! This year I'm trying for some balance -- lots of writing and photography, but I've camped twice, too.
Christina and I camped together this week. She took this photo at dinnertime with her Canon G10. I wish she'd shot the previous night instead, when we grilled New York Strip steaks. Oh well, hot dogs are perfect for camp or baseball games.
My July invoice just went to The Chronicle-News: in the two weeks since we got back from California, I sent the Chronicle 12 stories accompanied by 35 photographs. (I actually sent more photographs, but that's how many they've used.) I also got some shocking news this morning, that longtime Chronicle-News publisher Aileen Hood was fired by the Louisiana owners Monday morning. I'm so sorry: Aileen has been a pleasure to work for.
I've got more stories lined up, and I'm singing and playing guitar with an eye on my July 31 house concert at Studio C -- but these can wait for a later blog.

---
July 11, 2010      How To Keep Plates Spinning in the Air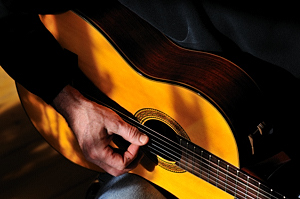 Christina speaks of trying to keep so many plates aloft, spinning in the air, and how hard it is to hold that many sticks and keep the plates going around.
Such is modern life; so it has become.
I've found that I naturally focus on one plate at a time; well, one genre at a time, anyway. For a big chunk of my life, that was music and my songwriting, "stoking the star-making machinery behind the popular song". For the past 2 1/2 years it's been photography, joined a year later by writing. Now the two, in combination, fill me. They fill my time, too.
But once a year, Christina books me to do a little house concert at her gallery, Studio C (where she photographed me, above). It's been the last Saturday in July, which is coming up soon, on the 31st. Typically, as soon as the school year ends, I start going camping a lot on our land, and I take a guitar, or two. By the end of July, I'm ready.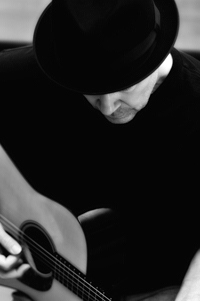 But this summer a couple new things happened. One, I discovered that I still remember the songs, finally, and I've needed very little refresher. Two, when we visited my family in California last month, we found my brother Terry immersed in his own music (right) after two decades away from it, and my daughter Darcy recalling her early years of accompanying me on stage: she was suddenly requesting lots of the old songs. We all sang together every night.
Christina books me to play an annual concert as her way of making sure I don't forget how to do it. This year I'm feeling excited by it (even as I remain immersed in writing and photography, balancing many spinning plates), and I invite you to come share with us. Check out my music pages, scroll your way through my past touring schedules, listen to some song samples...
Then come join us Saturday evening, July 31, for the monthly Live at Studio C, here in Des Moines, New Mexico. Open mike starts early, at 5:30 p.m. -- bring a poem or song or story -- and I'll play my songs after awhile. I'll be honored if you can join us.

---
July 9, 2010      On Work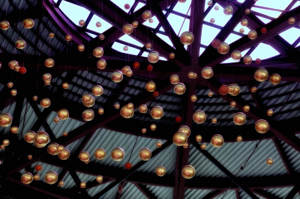 With three interviews lined up this afternoon, I'd like to say I'm getting back to work. But I guess there are different kinds of work. Having spent the past couple days making the transition to a new computer and software, I'm glad to be getting back to work that I enjoy.
I'll be interviewing more professional repertory actors, at the Shuler Theater this summer from out of state, to follow this week's profile of Ian McCabe (see July 2, below), whose wonderful work gave me the idea in the first place.
Along with each one-hour interview, I'll photograph each subject so The Chronicle-News and I can show them in street clothes, next to photos of each in character on stage. I'll write the profiles over the weekend. This is the kind of work I love.
For a blog photo today, I went through what I shot in California a couple weeks ago. These are precious metal orbs hanging like mobiles at the entrance to the California Science Center near downtown Los Angeles. We were down there to see the Tahiti 3D surfing movie at LA's largest IMAX screen, 7 stories high -- amazing.
It's good to be home, and good to be back at work. I still have more technical tasks to overcome, but I think I'm out of the woods and ready to produce more writing and photography.

---
July 3, 2010      Cousins and Other Connections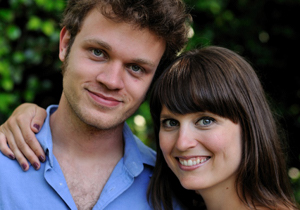 This week while attending and reviewing three plays; reporting, photographing, and writing five other newspaper features; dealing with computer crashes; and ordering the new computer (which didn't arrive yesterday because FedEx in Santa Fe put it on the wrong delivery truck, so it'll have to wait until July 6, after the holiday) -- I also spent a day processing family reunion photos and sending disks out to everyone, including these two, my daughter Darcy and her only cousin on my side, my brother's son Killian.
Yes, I know that was one sentence, and an unwieldy one at that. I hope my English students don't read this and hold it up against their graded papers.
Killian lives in Austin, Darcy in New York City, so I seldom see either of them. We've all resolved to meet in my hometown of Pacific Palisades every summer. I don't write about it, but we do play lots of music together and we take lots of photographs, so there are lots of arts. And good food. And the beach. And beloved family we see too seldom. It's pretty much been that way since I left home at 17 and didn't look back for a long time. These pictures, and the 4th of July holiday weekend, have me in a family way.

---
July 2, 2010      On discovering an actor (and chameleon)
Seven days ago, I'd never heard of Ian McCabe. Since then, I've seen him star in three plays at Raton's Shuler Theater. In his 3rd year with the Kaleidoscope Players professional summer repertory theater, the 22-year-old Indianan has been acting onstage all over the US. In the fall he moves to Chicago with hopes of joining The Second City comedy company. After that? He has in mind Saturday Night Live.
One week into being an Ian McCabe fan, I think he'll make it.
This morning I wrote and submitted a profile of Ian to run next week in The Chronicle-News, accompanied by these photos. Check it out...and if you're in the Raton region, don't miss the opportunity to see Ian at work. It's big-time fun.

---
July 1, 2010      Bring the Family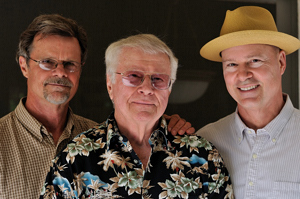 By tomorrow morning, seven days after returning from our California family reunion, I will have driven 500 miles and produced eight new features, with photographs, for The Chronicle-News. It's been fun.
I was drafted as staff photographer when my family convened in Rustic Canyon, Pacific Palisades, for the reunion. My dad, whose early photography career indirectly led to my own, had prepared a typed list of portrait groupings he wanted! I added some of my own, then asked my wife Christina and daughter Darcy to assist me.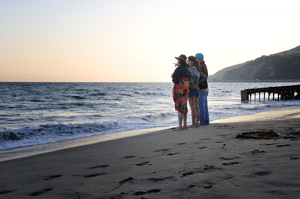 I took so many shots that I had to promise to send everyone CDs with the images. I spent the whole day yesterday going through 300 shots, selecting 48 to process and share. That's me, up above on the left, with my dad Jack Keller and brother Terry Keller...on Father's Day, no less!
That evening, I went to the nearby beach with Christina, Darcy, and Terry, whom I photographed as the sun set over Malibu. Then I turned my attention downward. There's a genre among (amateur) photographers of photographing their own feet. It's so overused that I've avoided it. I made an exception for the shot below, which I enjoy calling "The Ocean Arrives."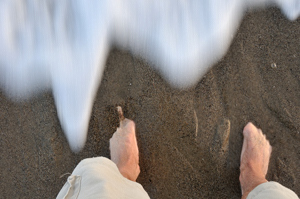 It makes me smile, these thousand miles away, in northeastern New Mexico, 6620 feet above sea level.

---