All images © Tim Keller unless otherwise noted.
---
September 1, 2018    Train Time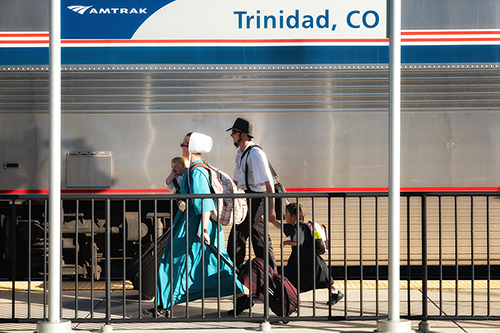 I followed Amtrak's Southwest Chief this week from Raton, New Mexico, over the Raton Pass 22 miles to Trinidad, Colorado, acting as support crew for a joyride by my wife and her mom and friend. (See more photos and the whole story here at my arts blog. As always, click any photo to enlarge it.) As they climbed down off the train and I walked toward them, this Mennonite family (above) rushed by to board the train. Perfectly framed under the depot sign, I managed to instantly grab one photo--and got lucky, it worked! Every photographer laments the ones that got away, the ones we saw but just missed catching. This one I caught, in an unforeseen instant, grateful for my good luck this time.
Clockwise from top left above, the train left Raton, climbed Raton Pass toward the tunnel up at the top, descended around a curve high on the Colorado side of the pass, and finally pulled into the depot at Trinidad. These were all a test of my new 16-55mm zoom lens on my almost-as-new Fujifilm X-T2 mirrorless camera. Shooting a fast-moving target requires practice and experience with the camera. With this camera, I'm getting there. And getting there is more than half the fun.
August 26, 2018    Chiles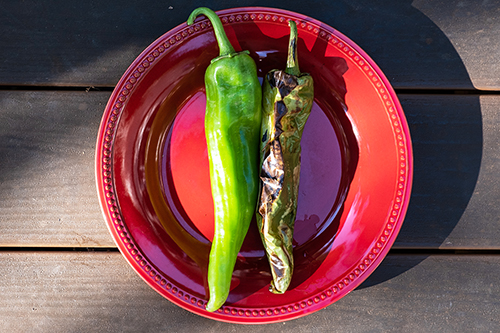 When each of my green chile plants was bending to the weight of more than two dozen full-grown chiles, I knew it was time to harvest. The fact that all the annual late-summer chile selling and roasting spots in town had fired up was a second signal. As I carried the harvest, in a large box, to our deck to begin the process of roasting the chiles on our grill, I realized that I had a perfect first project for my new Fujifilm X-T2 mirrorless camera and its even newer 16-55mm zoom lens that I'd just added after trying street photography in Denver with only the prime 35mm lens I'd bought with the camera last month.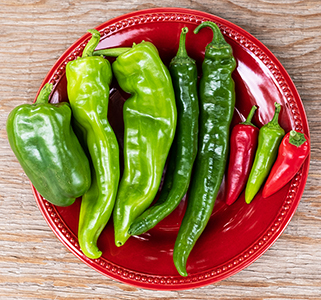 Coincidentally, Nikon just last week announced the unveiling of its own mirrorless cameras, full-frame editions that will cost twice the X-T2 (about $3600 vs. $1800) and presumably be twice as big and heavy than the crop-sensor X-T2. As much as I love my Nikons and would like to stick with the brand, I added the Fujifilm camera for its size, compactness, lightness, and unobtrusiveness. Adding a battery pack grip and the zoom lens doubles its size, but that's still half the size of my full-frame Nikon D4 and D5 rigs with their 24-70mm and 70-200mm full-frame lenses. Plus, I can easily remove the battery pack and use the 35mm prime lens when I want to walk among a group of people without looking like a photographer.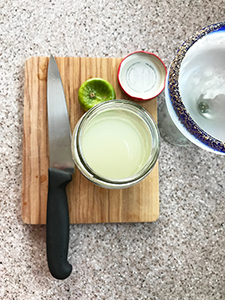 The rest of the time, though, I'll keep the 16-55mm zoom on the X-T2. Its equivalent full-frame range is 24-83mm, so it's slightly longer than the Nikon 24-70mm lens with which I take about 90% of my shots. And the Fujifilm zoom lens did a great job on my chile photos, as you can see above. Click here for more photos and details on the whole chile project. Meantime, we combined chile roasting with an evening happy hour on the deck ahead of grilling green chile cheddar cheeseburgers. As I mixed up the mezcal margaritas on the kitchen counter, I pulled out my iPhone 7 to take this little mezcal still-life photo. My Nikon kits are my best cameras by far, but the mirrorless Fujifilm camera is nearly as good by most measures and brings many advantages of its own, especially size and WiFi connectivity. (Every camera is a trade-off: No single camera has every advantage.) The iPhone 7, too, is extraordinary for its image quality and for the fact that it's always with me wherever I go, carried along in my pocket. In fact, the iPhone is miraculous. With the X-T2, I have the missing link, a camera midway between the iPhone and the big Nikons, combining some of the best advantages (small size with interchangeable lenses and adjustable exposure) of each.
August 25, 2018    Tussle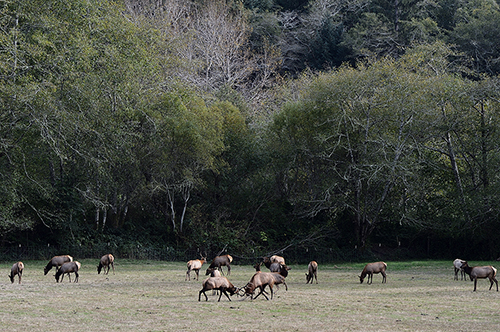 Here's what I mean by "semi-retirement" from professional photography: I'm no longer hustling and pitching work to magazines and newspapers, but I'm still taking lots of photographs and they're still going out into the world, initially now through my blog posts and my Instagram account. I'm doing it on my own schedule, avoiding any sense of "work," but enjoying inquiries and licensing my images as I've long done. Publication of my photos nowadays usually starts with a Google Images search by an editor, producer, art director or advertising director, anywhere in the world. They type in a topic; if my image jumps out at them, they'll contact me and we make a deal.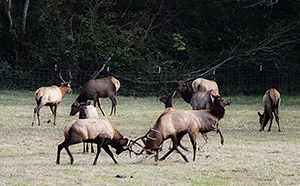 I used to get a lot of inquiries via my Flickr photostream but that platform has gone largely dormant, replaced by Instagram. Yesterday, for the first time, I received a licensing request for an image via my Instagram account. KCET television in Los Angeles is going to use my image "Elk Tussle" in an upcoming episode exploring the California redwoods for its documentary series California Coastal Trail. I spent some time yesterday processing and sending (free via WeTransfer) a hi-res TIFF image for them. As always, I'll look forward to seeing my photograph when it's published--perhaps when we're back in California in October: We had such a great time in the redwoods last fall that we're going back for more this fall. Watch out elk, here we come.
August 20, 2018    Childhood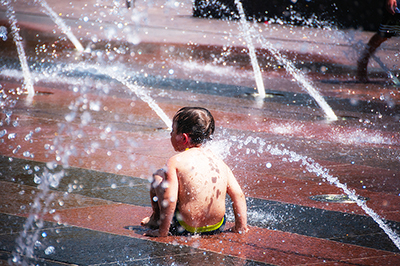 This boy was entranced by the fountains outside Denver's Union Station, oblivious to me and the rest of his surroundings. It was a Friday and low key. The next day, Saturday, was crowded with people and there were lots of kids playing together in the fountains. As I tried to get a winning image of the kids playing in the fountains, an image to evoke Americana, a security guard asked me to stop, saying she was saving me being questioned by the Denver police who were patrolling across the way. It's become harder to photograph children anymore. We've lost our innocence.
August 18, 2018    Denver Day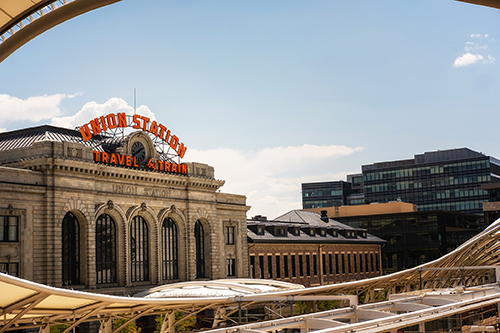 Staying at an Airbnb in Denver's ballpark neighborhood for three nights and a fourth day of baseball games, Dodgers vs. Rockies, I carried my Nikon D5 with 24-70mm lens on an early afternoon walk to Union Station and the surrounding LoDo neighborhood.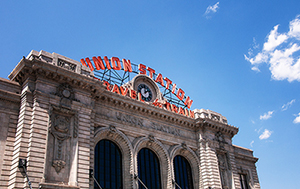 I photographed Union Station's exterior from both the west (above) and east, plus some less successful shots inside the bustling station that's been converted to an expensive hotel and several restaurants and shops. Because it was midday, I wasn't optimistic for outdoor shots, yet hunting shots indoors at Union Station and the Dairy Block proved unsatisfying. Luckily there were some midday clouds over LoDo and I was able to get a few images worth sharing.
All of these were taken with the Nikon but I also carried my new Fujifilm X-T2 (see July 18 below). Carrying them both around my neck worked fine, but the X-T2's 35mm f/2 prime lens didn't work for me doing street photography. I needed the reach and flexibility of the zoom.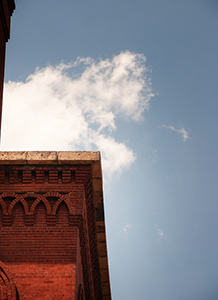 I was drawn to the X-T2 for its compact size, especially with the little 35mm prime lens, perfect for walking unobtrusively around a gathering, for example, without looking like a pro photographer. A way to better blend in. And the image quality is amazing.
But my walk around Denver convinced me to order the Fujifilm XF 16-55mm f/2.8 lens. Reviews suggest that it's as good as the great 35mm lens, and its 16-55mm span is equivalent to 24-83mm on the full-frame Nikon, so it's actually slightly longer than the Nikon 24-70mm lens that's accounted for 90% of my images over the past several years. In other words, next time I can walk around LoDo with just the X-T2 if I want and have the same flexibility and range that I've enjoyed for so many years with the short zoom on the Nikon D4 and D5. Even switching the 35mm lens for the larger zoom lens, the X-T2 will weigh only a quarter of the Nikon set-up (about 2 pounds vs. 8 pounds) while being less obtrusive and much smaller and lighter to carry. Between the great but heavy Nikon pro rigs and the remarkable pocket-size iPhone 7 camera, the X-T2 is proving the perfect missing link for my kit.
August 16, 2018    Denver Night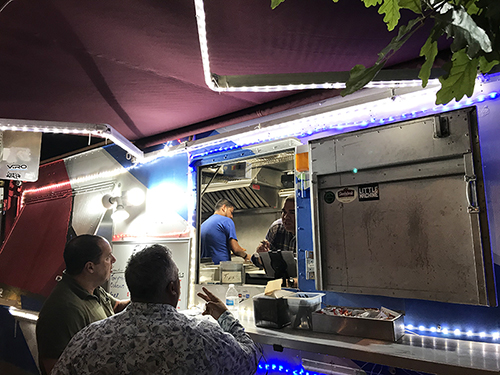 "Two shrimp tacos and a Tony Montana."
After a Dodgers-Rockies game at Coors Field last weekend, we were hungry but it was too late for a full restaurant meal. Luckily, the surrounding LoDo neighborhood was hopping with nightlife, including plenty of food trucks. This Cuban food truck offered a variety of tacos and sandwiches, including the Tony Montana. (Surely you know Al Pacino's Scarface character.) I had a plate of three small chicken tacos, perfection in the night.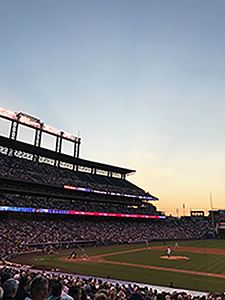 Although I recently added a Fujifilm X-T2 to my camera arsenal for the purpose of having something lighter and more unobtrusive than my big Nikons (see July 18 below), there are times where even the mirrorless X-T2 is more than I want to carry. The iPhone 7 camera is remarkable, and it's always in my pocket--on hikes, on errands, at ball games, or at food trucks after midnight. I used it for both of these photos.
How they get a camera of this quality inside a tiny case like the iPhone is a mystery to me. (And one of many little miracles from Apple. I'm just finishing Walter Isaacson's wonderful Steve Jobs biography, highly recommended and a great read.) The bigger cameras have advantages like interchangeable lenses and adjustable apertures and shutter speeds but, ounce for ounce and inch for inch, there's nothing like the iPhone.
August 8, 2018    Serious Cereus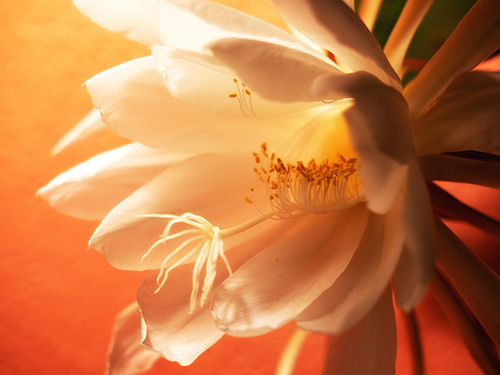 This night-blooming cereus blossom appeared in our sunroom one night last week when my wife was away. She usually monitors our two cereus plants and watches for their blooms. In my case, I went in to turn off the light before going to bed and noticed an intense scent that had to be a flower. This bloom hung just below our lamp. I first photographed it with my iPhone 7 and immediately posted that straight to Instragram. Luckily I thought, then, of photographing it again with my new Fujifilm X-T2 (see July 18 below). Among the advantages over the iPhone for this shot, the X-T2 produces big RAW images and allows me to determine depth of field--so I could make the bloom's center sharp but the outer edges fall away into soft focus. The RAW file allowed me to take it through my computer software (Lightroom, Photoshop, and I even took it through Nikon NX2 for a pair of filters that I like), producing a dramatically better photograph than what I originally posted from the iPhone.
I appreciate flowers as much as the next guy--I grow them each summer in our garden and enjoy having them in bouquets around the house--but I'm rarely interested in them as photographs. This one is so rich that I couldn't resist making it an exception. Unlike the iPhone image file, the X-T2 produced a file so big that I can easily print it huge--three feet by four feet wouldn't be a problem--if I ever decide to show this photograph, or if anyone ever requests a big framed print. Meantime, it's made me pretty happy with the X-T2: adding that to my arsenal was a good decision.
July 27, 2018    Swingtime!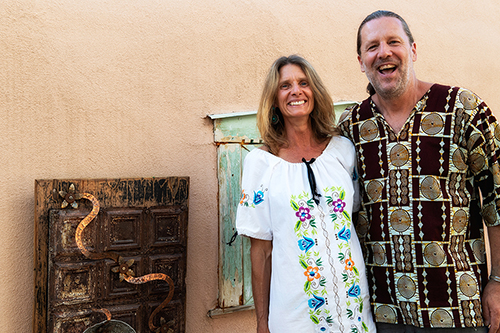 Every portrait photographer knows that some people simply freeze up whenever a camera comes near their face. It's a self-fulfilling prophecy: They don't like the pictures they've seen of themselves so they freeze up, which guarantees that they'll continue to never see a photo of themselves that they like. This has been the case with my sister-in-law Karyna--my wife Christina's sister--for the 31 years that I've known her. Especially for the last ten years that I've pursued photography professionally, I've tried many times to overcome this hurdle and get a great portrait of my sister.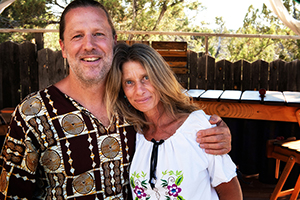 This month, I finally succeeded: in these two portraits, Karyna looks relaxed, confident, and fabulous. She's with her husband and musical partner, Peter Swing, and we had just finished a photo shoot (see July 26, immediately below) for their band Polyphony Marimba ahead of the summer tour that's underway. Credit the band shoot, and my photo assistant Christina's suggestion that we try to take advantage of the moment to get some portraits of Karyna and Peter.
An indespensible portrait photography trick: Tell your subject that the session is successful and finished, but don't put the camera away yet. Your subject relaxes, happy to have finished. Right now is when you often get the best portraits, when your subject is suddenly unguarded and relaxed.
It worked here, a pair of great portraits of the Swings, and my first-ever great portraits of my sister Karyna. I couldn't be more thrilled. Thanks, Sis!
July 26, 2018    Polyphony Marimba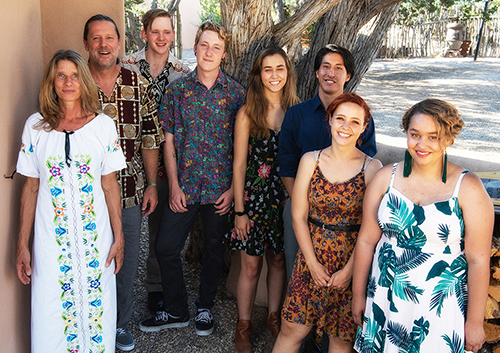 Earlier this month I again had the pleasure of photographing Polyphony Marimba at its headquarters along the Turquoise Trail south of Santa Fe before they set out on another national summer performance tour. With help from my wife and photo assistant, Christina, we laid down one ground rule at the outset: This had to be fun. That's a good rule in general, but here I knew that these promotional photos wouldn't look good if the musicians looked serious. They're young and dressed in bright colors, and there are nine of them, and they all play marimbas! To draw people to their shows, this had to look fun. So it had to be fun.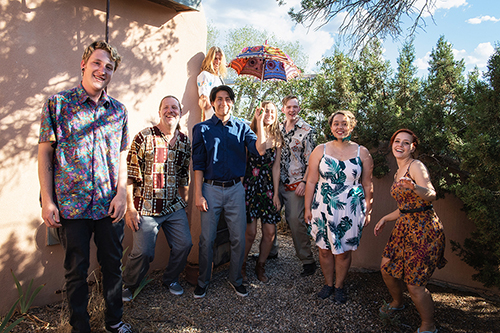 The band has been together in evolving incarnations and varying degrees since 2010, led by Karyna and Peter Swing, standing at the far left in the top photo. I did earlier photo shoots for the band in April 2011 and on the Santa Fe Plaza in July 2015. Besides Karyna and Peter, the only musician who's been in the band for all three sessions is Raven Swing, Peter's son, who's at the far left in the second photo, immediately above.
The Swings, and this month's photo location, are all most familiar for me. Kayna is Christina's sister, so I've known her well for 31 years, and the location is the Boyce family homestead on 20 acres about 20 miles south of the Santa Fe Plaza, so I know well every step of that property, too.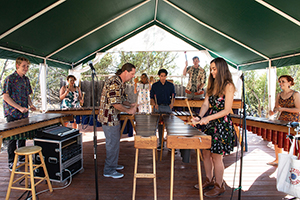 Polyphony Marimba is now well along on its 2018 summer tour that started in Santa Fe and Albuquerque before taking off for Texas shows and then up through Missouri to Michigan, Indiana, and Kentucky before swinging back westward to St. Louis, Minneapolis and Montana. On August 5 they play a concert in Spokane, Washington, then swing southward to Portland, Eugene, Monmouth, and Ashland, Oregon. (Coincidentally, Christina and I will be in Ashland not long after the band is there.) Their tour dates, and some of my photos, are posted at their website and their Facebook page, which they use more than their website. Traveling between shows, they often stop in a bustling area to busk--street singing for tips--which they did in downtown Chicago last night.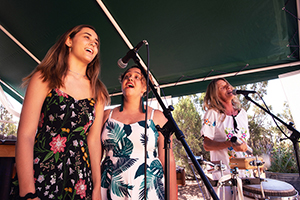 This is the band's fifth tour since 2011. At least one tour included several New York City dates along with others along the eastern seaboard. Each tour, they need good new photos to help promote their shows. That's where I've enjoyed stepping in. This month, Karyna and Peter chose the top photo above as their primary tour and poster photo, using it atop their website and Facebook page as well as tour posters. I agree with their choice, although I also like the playfulness of the second shot. As always, any of these photos can be enlarged here by simply clicking on it. Also, as I usually do for professional clients, I made a PDF proof sheet to assemble all of the resulting photos on a single document.
Big fun, Polyphony Marimba, and good road!
July 18, 2018    The Missing Link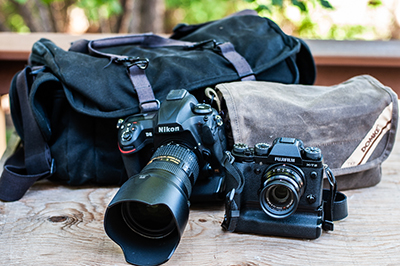 As I've backed away from regular professional work, I've increasingly found my big Nikon kits (D5, D4, and D300, each with an assortment of heavy lenses) and their image-processing regimens (Lightroom and Photoshop) too unwieldy, cumbersome, and time-consuming for quick, short-term daily use. I've gotten lazy. Most often I'm just snapping a few photos, so I've found myself using the impressive iPhone 7 camera instead of the Nikons. The iPhone is always in my pocket, and its images are quick and easy to save in my phone or post to Instagram.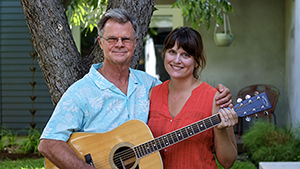 Last month in Austin, my son-in-law Jarrett took lots of great pictures--of Christina and me and my daughter Darcy Day Keller (right), and our new granddaughter Joni--with a small Fujifilm X-Pro2 mirrorless camera. Within minutes he'd processed his photos in-camera, exported them to his iPhone and used Apple AirDrop to wirelessly transfer them into the rest of our iPhones. Voila! Quick and easy, yet with an interchangeable lens and the ability to control depth of field and focus point, among other SLR capabilities not available in the iPhone.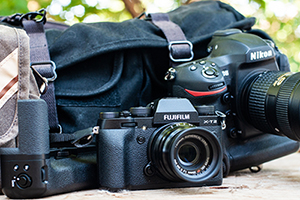 I don't keep up with technology the way Jarrett does. I thought his camera might provide the perfect link, a middle ground, between my Nikons and my iPhone. I dug into online research, reading many reviews, and shopping the options at B&H, my go-to source for all camera gear. I decided that Fujifilm's X-T2 better suits me than it's cousin X-Pro2. I bought the X-T2 with the same 35mm lens as Jarrett's, and got a small Domke bag to carry it. At the top, you can see the new brown bag next to the big black Domke that carries my Nikon D5 and D4. (I now have four Domke bags.) The X-T2 is half the size and a quarter the weight of my big Nikon D5 with its 24-70mm lens. I've added the X-T2's vertical grip that holds a pair of extra batteries; when I detach the grip, at left, the X-T2 gets much smaller. That compactness attracted me as the X-Pro2 hung around Jarrett's neck: I'll remove the grip when I want to really blend in and not attract attention as a photographer. It looks like a tourist's camera then, a little point-and-shoot, though it's actually so much more.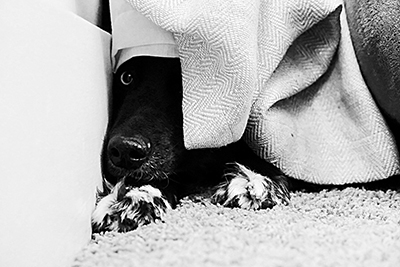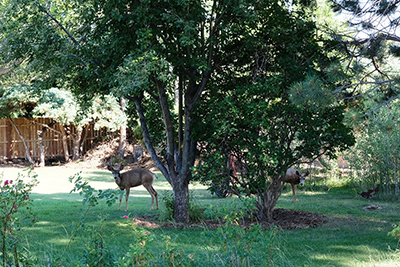 Here above are a couple of the first pictures I've taken with my new Fujifilm X-T2. That's my eight-year-old border collie Django tucked into his favorite spot between the couch and wall when I'm watching the Dodgers play baseball on TV. The second photo shows a pair of deer grazing on fallen apples in our side yard, as photographed from our front sunroom window. This shows the limitation of having only the one 35mm prime lens on the X-T2. I could add a zoom lens, or a whole bag of lenses, but much of the attraction for me has been to have a camera that's small, simple, and unobtrusive. If I want a long lens, I can go for the Nikon.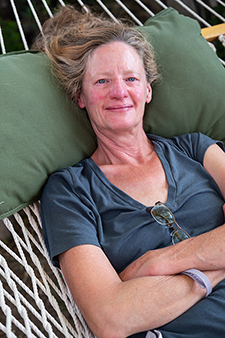 This lovely photo of my wife Christina wouldn't have happened without the compact portability of the X-T2. I might have taken it with my iPhone, but here the X-T2 was small enough to grab and walk out to visit with Christina and take her picture. I took only the one shot, whereas I rarely take out the heavy Nikons for just a few shots.
I like the diagonal lines of the hammock and Christina's complete relaxation on this languid summer day. The photo evokes paradise: It's truly been an idyllic summer around here and the photo suggests that. I've been hiking and gardening and cooking and reading book after book on the sunroom couch and the hammock, which this summer has a solar fountain just a few feet away. I've been taking fewer photographs, but the cool little X-T2 is already changing that. It combines the portability and easy digital transfers of the iPhone with the important SLR controls of the big Nikon pro cameras--a (previously) missing link in my arsenal. I'm excited to put this new little camera into regular use.
July 12, 2018    An Elevated Point of View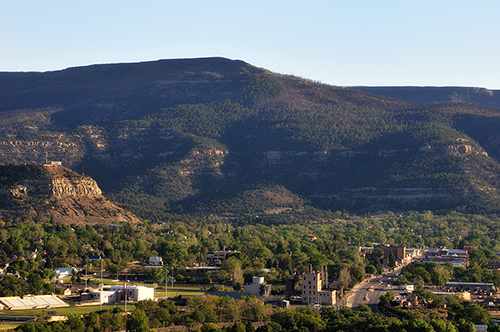 One of the big framed works that I have available (see July 8 below) is this aerial view of downtown Raton, shot with a long lens from a hot-air balloon that steered me around town to get photos to promote the town's annual July balloon festival. (Type "balloon" into the Search window to find all of my photos and magazine and newspaper features.)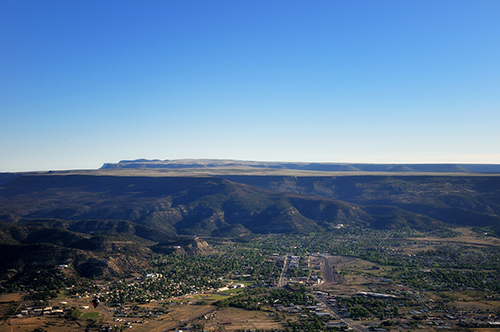 This second shot, from much higher, had escaped my notice and recently caught my eye. I love how it rises higher and shows Raton in the context of the mesas to its north. The Rocky Mountains come right down into the west town limits on the left, and the Raton-Clayton Volcano Field stretches east for 80 miles to the right. Trinidad, Colorado, is just north, 22 miles, over those mesas via Raton Pass. (Click either photo to see it enlarged.) In the top photo, you can't even see the mesas because the near mountains are too high and block the view. Our house is under big trees on Raton's north side, right at the base of those mountains and mesas, at right center in both photos. I've lived in two parts of California (north and south), two parts of Texas (Dallas and the Texas Hill Country), West Virginia, and several parts of New Mexico (Santa Fe, Cañoncito at Apache Canyon, Des Moines, and now Raton). That place you see in the pictures above: I finally found my home.
July 8, 2018    Framed Artworks -- A Catalog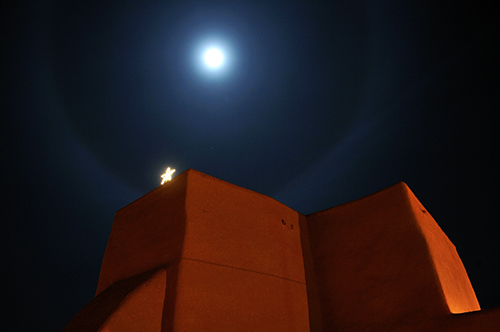 Since I first started having my photography professionally matted and framed ten years ago, I've framed more than 80 pieces and sold 30 of those, mostly in shows and galleries around New Mexico and into Colorado. Five are on permanent display around New Mexico, purchased by New Mexico Arts' innovative Art in Public Places program. That leaves what turns out to be 52 framed pieces that I still have, with many on display around our house and others stored in my wife/manager Christina's basement studio. (Dozens more have been printed for buyers who had their own framing done.)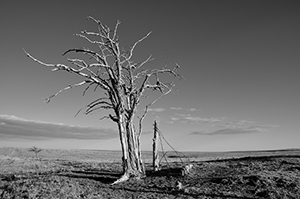 At best, I've broken even creating these framed pieces. I always have them made to "museum standard," which is expensive, using the best acid-free papers, UV-protected glass, and high-quality wood frames, all custom printed and framed by Orion Studios and Frontier Frames in Santa Fe, and sometimes by Frank Images in Trinidad, Colorado. Especially when a gallery commission is added, the resulting prices are appropriate for rich art markets like Santa Fe but too high for brisk sales in the rural area where I live and display my work. Instead, I found newspaper and magazine work to be both creative and lucrative, so I focused on that over the years. I rarely frame my photographs anymore.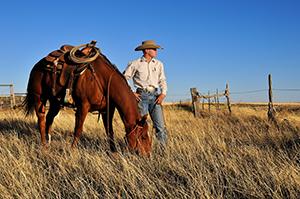 I also haven't been out looking for shows, but occasionally we're asked to show and sell my work. When that happened last month, we sold two pieces and I ended up organizing and cataloging all the framed works that I still have, so it'll be easier next time. Christina represents my work so I made a catalog/list for her, titled Framed Artworks, and an accompanying proof sheet showing the images themselves. They range from very large (frames 48" long) to quite small (frames about 17" long), and some images are framed in both large and small editions. The three images displayed above--"Ranchos Church, Christmas," "History," and "The Long Gaze West"-- are all large, and all among the ones on our own walls here at home. Most of the 52 remaining framed images are among those displayed here in the TKP Photo Galleries.
It's easy to contact me if anyone's interested in considering these framed pieces. We're happy to show them off and find them good homes where they'll be as loved as the framed images we have all around our own home here.