All images © Tim Keller unless otherwise noted.
---
May 8, 2018    Announcing the Grad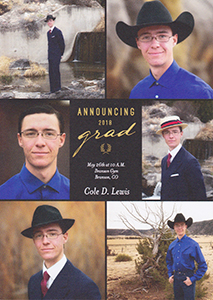 The weekend mail brought this great graduation announcement from Cole Lewis with dynamic use of photos we created together in March at his family's Brown Ranch along the Dry Cimarron River northeast of Folsom, New Mexico. Five of the six announcement images were taken at sites Cole had selected ahead of time, and two made good use of the river as a backdrop. I also loved his varied outfits and three hats. The outfits and the ranch combined to make Cole's graduation announcement unique. In ten years I've only been hired to shoot graduation photos a half dozen times and it's always great fun. I like the variety that students always build into the project, and it's invigorating to work with young people at such a pinnacle passage in their lives. Congratulations, Cole, and good road ahead.
April 30, 2018    Spring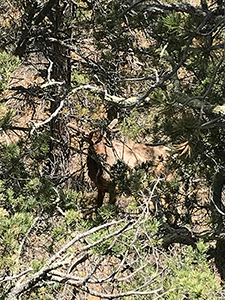 I've let April go by without a blog post or even photography, but for the occasional iPhone image such as this elk bull I photographed along Raton's Climax Canyon hiking trail today. (Click to enlarge.) Chalk it up to retirement and spring and a life rich with choices. I've planned a solo photo trip along the High Road to Taos, spending two nights at Espanola, but there's been too much competition for my days and I haven't yet gone. Instead of distant photography at 7 a.m. this morning I was out running sprinklers to green up our lawns after winter. Instead of distant photography at 7 p.m. tonight I'll be grilling a chicken breast and some shrimp on the deck, then combining them over spinach fettuccini in a garlic butter sauce, served with fresh yellow squash, garlic bread, and red wine. So much for today's golden hours of magic photography light. In between, the pups and I will be hiking at 8000 feet, high up in Sugarite Canyon. I didn't want to let April get by without a blog post...but not to worry, I'll be back with plenty of new photography down the road.
March 29, 2018    Senior Pictures
Every graduating high school student gets a series of senior pictures for graduation announcements and the school yearbook. Around here in rural northeastern New Mexico, it's usually a DIY affair, a friend or family member shooting the pictures with a camera or, these days, a phone. Sports paraphernalia is often included; cowboy gear and horses are common here, too. In ten years, I've been hired only a half dozen times to take portraits for a student's senior pictures. Laekyn Reust and Shayla Martin both included their horses and made good use of my photos for their graduation announcements. Cole Lewis went a different direction.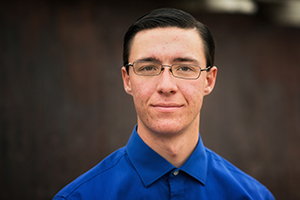 I've featured Cole's family--his parents are Laura and Brian Brown, his grandparents Dianne and Darien Brown--in many newspaper and magazine features, including this big Chronicle-News feature on a ranch branding and this New Mexico Magazine feature on the trials of modern ranching. I've used the ranch as a location to photograph Brittany Rouse for Western Horseman and a Ranch & Reata Magazine feature that also included the Browns. Eight years ago the Brown parents and grandparents hired me to make portraits of all the kids. You can see that this is a ranching family through and through. Cole can rock a cowboy hat with the best of them, but for many of his senior pictures he opted instead to wear two of his other hats, and a great suit from his Granddad Darien. His brother Kyle told us that Cole even wears the suit to classes at Branson High School in tiny Branson, Colorado, just across the state line from Brown Ranch where we took all of these pictures.
I chose the locations for the three photos immediately above, but Cole had already decided on the fabulous locations where we took the four photos at top--sites on the ranch that I'll now keep in mind for future portrait shoots. Christina helped me as photo assistant and took a picture of me photographing Cole down the river bank. I admired Cole's clothing choices and it was great to be back on the Brown Ranch where I've always enjoyed finding stories and photographs. Thanks, Cole.
March 28, 2018    Outdoor Portraits
The position of official photographer for New Mexico Poetry Out Loud comes with a shot list that starts with a portrait of each student competitor for publication online, in print media, and in the annual photo book documenting the state finals. The courtyard of the New Mexico Museum of Art offers rich backgrounds with murals, trees, a variety of great natural light from direct sunlight to open shade, and white adobe walls hundreds of years old. This year, for a more varied look in the book, I tried my first portrait, of Hannah Binder from Albuquerque's Sandia Prep, on the St. Francis Auditorium stage. I thought I'd do the first five portraits there, each using a different background, then use the same approach in the courtyard for the last five portraits. As rich as the stage has been for performance photography, I was surprised to immediately see that Hannah's portrait wasn't going to cut it. Close up, at one corner of the stage, the light wasn't up to the task. Hannah and I went to my old standby, the courtyard, and quickly got what you see above. Stepping just out of the direct sunlight into open shade, I framed her against a mural with super-low depth of field and voila! a pair of portraits that I love. The first, at left, is shot with the Nikon D5 using the 24-70mm lens at 70mm and f/2.8; the second is shot with the Nikon D300 using the 85mm portrait lens at f/2. Getting much tighter for the second shot further blurred the background and emphasized Hannah's face.
Shooting all ten portraits in the courtyard wasn't much of a limitation. I use shallow depth of field (a small f-stop number like f/2.8) to isolate the subject by bluring the background, and in the courtyard I used a different mural to frame each student, being careful to avoid strong lines going right into a student's head. The same is true in the performance pictures: When the subject is stationary at a microphone, the photographer moves left or right to frame the subject against a background element like a mural, or to its side, but never having a strong background line disappear directly into a subject's head. The second pair of portraits above shows Albuquerque students Samantha Delap, left, of La Cueva High School, and Delia Bradley of Public Academy for Performing Arts framed against different courtyard murals.
Portraits are most often shot with a vertical aspect ratio, but I love horizontal portraits too and always shoot some of each. Here, Arin Meis of Albuquerque's Highland High School and Zoe Sloan Callan of Albuquerque's Native American Community Academy both fare well against the wider background expanse provided by the horizontal frame. Mixing aspect ratios can be harder on graphic designers doing page layouts as Phyllis Kennedy will do for this year's photo book, or as I'm doing right here. Putting the two horizontal photos together makes them smaller than two verticals together. You can click on any image here to see it full size. I haven't posted all ten students (I do have some extras, of Poqoaque Valley High School's Samantha A. Baca, here in my arts blog), but Phyllis has all of them right here in the 2018 photo album online at New Mexico Arts Poetry Out Loud, where a click opens each thumbnail to a full-frame image--and eight of ten are vertical.
I sent Phyllis my favorite single portrait of each student, leaning toward verticals for consistency, but I sent her both vertical and horizontal portraits of Zoe because Zoe became the state champion, and I sent the extra super-close image of Hannah just because I like it so much.
March 27, 2018    When Performance Is Subtle
Poetry Out Loud is a national recitation competition that actually penalizes performances judged overly demonstrative. Acting skills are essential but they're subtle, not overt. Movement is kept to a minimum. The emphasis is on the words and what they convey. Each student chooses three poems, memorizes them, and learns how to deliver each in a manner that successfully conveys, in a single recitation, the entire meaning and feeling of that poem so that audience members (including judges) "get" it in that one listening. It's communication, and a real challenge.
The photography challenge is to convey the emotion in still images when each performer is essentially just standing there. I look for posture, gesture, and expression, trying to time my audible shutter clicks to key moments--but never in the midst of a line or delicate passage. I wait for pauses, or for passages that are relatively loud and charged. The two shots at top--Arin Meis and Lizzy Enos, from left--show performers communicating with their hands. The photos in the second row--Delia Bradley and Hannah Binder--take advantage of moments when students introduce their poems, or when they finish and accept applause from the audience.
Lizzy and Hannah are shown in Round 1, which I shot entirely from down stage right, while Delia and Hannah were shot during Round 2, which I spent down stage left, where I also shot the two profile pictures at the bottom of yesterday's post below. In trying to escape the audience's notice and attention, I wear dark clothing and limit my movements as much as possible. Even my cameras are set for no light or monitor display while I'm working: I learned that the hard way years ago when a Shuler Theater patron complained to the manager about the distracting light displays on the back of my camera. They're been turned off ever since.
Finally, to make each image as dynamic as possible, I'm able to take advantage of the beautiful murals and lush interiors of St. Francis Auditorium, with simple stage lighting that's excellent for photography (neutral, without colored gels), always conscious of framing the student effectively against the background and using shallow depth of field, usually f/2.8, to be sure that the performer remains the star of the photo.
As always here at my blogs, you can click any image to enlarge it. Similar blog posts and photos from past years are available via the Search feature in the side bar at left above. New Mexico Arts also has photo albums posted from the past four years, including many images that don't appear in my blogs--give those a look, too.
March 26, 2018    You're on Candid Camera!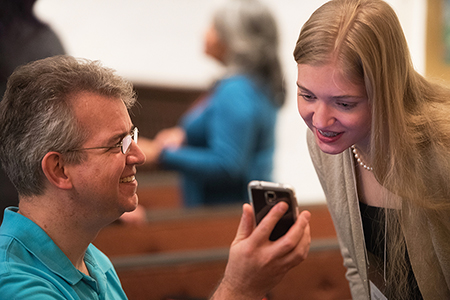 New Mexico Poetry Out Loud coordinator Phyllis Kennedy posts my photos to social media, distributes them to print media, and uses them to make the annual photo book documenting each year's program. A longtime photographer herself, Phyllis likes to include candid photos. The nature of the program and the assignment has made candids a challenge.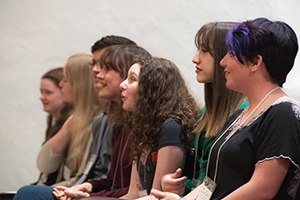 I'm slammed getting portraits and group shots throughout the hour preceding the competition. After the competition, many linger at a crowded lobby reception while others quickly leave. In my first two years, I relied on candids of the contestants in their front-row seats during the performances, such as this year's shot here at the right. But those shots had limitations. I've needed something more, something different, something better. This year, I found it.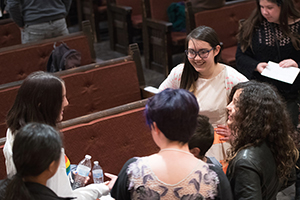 Between Rounds 2 and 3, there's a ten-minute intermission. I resolved to spend that break working the room, getting as many candids as possible. It worked. At top, Lizzy Enos enjoys a phone picture with her father, while at left, shot downward from the stage, Arin Meis enjoys the break with her fellow contestants. With two rounds done and only one to go, the ice has been broken and the students are finally able to relax. From now on--I hope to continue as the event's official photographer for years to come--I'll make optimal use of the intermission!
During the student performances, I'm the only person in the auditorium allowed to shoot pictures and I work carefully to be as unobtrusive as possible. My five years as a Poetry Out Loud teacher/coach have helped me develop strategies so my camera clicks don't interrupt or distract the performances. I shoot from the auditorium's left wall throughout Round 1, down by the stage to the right for Round 2--where I include profile photos such as those above of Lizzy Enos, left, and Samantha Delap, right--and then in Round 3 I shoot from the balcony and roaming a little downstairs. Beautiful St. Francis Auditorium and its effective neutral (no colored gels) stage lighting help create lush, dynamic images, aided by fast Nikon D4 and D5 pro cameras and lenses --- 24-70mm for portraits (at f/2.8) and candids, 70-200mm for performances; I also used an 85mm lens at f/2 on a D300 for some portraits.
What a fun annual gig! Christina and I leave Raton at sunrise and get home at dark. I shoot about 500 frames in 4-5 hours, from 11 a.m. to 3 or 4 p.m., then spend three long mornings at home processing the images before mailing a flash drive to Phyllis. Then I spend some mornings posting images here at my TKP Blog and to Instagram, while Phyllis is posting to the NMA Poetry Out Loud web page and Instagram. Attractive students, attractive auditorium, and compelling event all make for great images and a fun photography project.
March 25, 2018    Poetry Out Loud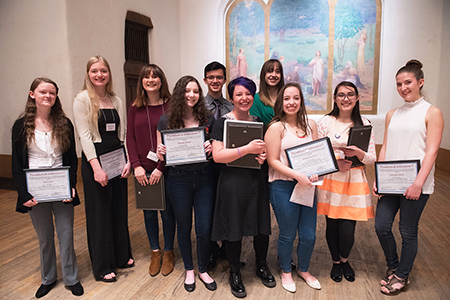 It's been two weeks today since light snow fell outside the historic St. Francis Auditorium on the Santa Fe Plaza as ten New Mexico high school students competed inside at the state's 13th annual Poetry Out Loud state finals. Although I've been calling myself a semi-retired professional photographer, I've been deep in work full-time for the past two weeks, and thus the delay in posting a rich new trove of Poetry Out Loud photos.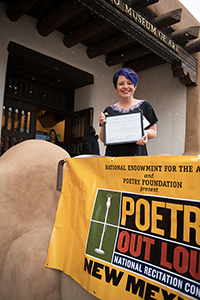 I'll be rectifying that situation over the next few days with several multiple-photo posts here. This was my third consecutive year as the event's official photographer--the only person allowed to shoot during the competition (because photographers and camera clicks can distract from the recitation performances). We've increasingly formalized the role of my wife Christina Boyce as my photo assistant: Without her help, especially as "wrangler" of all the people I needed to put in front of my lens, we'd be far less successful in creating an excitng visual record of the event. This will be the fourth year that program coordinator Phyllis Kennedy will create a beautiful photo album to be distributed as a book for future contestants, sponsors, other schools, and the sponsoring organizations New Mexico Arts (NMA), The Poetry Foundation, and National Endowment for the Arts (NEA). Meantime, Phyllis and her NMA team have posted their favorites of the 68 photos I sent them, here at the NMA Poetry Out Loud page, where you can click on my photos for 2018, 2017, and 2016 (and 2015 to see the work of my predecessor).
Freshman Zoe Sloan Callan, 15, above, from Albuquerque's Native American Community Academy, is this year's state champion; she will represent New Mexico at the national competition in Washington, D.C., April 23-25. Each student selects and performs three poems, with four judges scoring physical presence, voice & articulation, dramatic appropriateness, evidence of understanding, accuracy, and overall performance. Zoe performed Abecedarian Requiring Further Examination of Anglikan Serphym Subjugation of a Wild Indian Rezervation by Natalie Diaz, The New Colossus by Emma Lazarus, and Famous by Naomi Shihab Nye. Winning as a freshman, Zoe has set a high standard: Experience in this event is invaluable for returning students, so Zoe is already an odds-on favorite for the next three years. I hope to be the official photographer for all three of those events.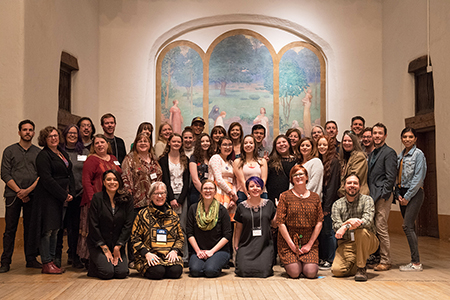 The whole-group photo above is Christina's crowning achievement. The hour before the competition, everyone is busy and focused, yet that's when I need to get portraits of students and group shots. Christina worked a shot list to make sure I got every portrait and every group. The shot above is the whole kit and kaboodle: New Mexico Arts staff, judges, volunteers, teachers, workshop leaders, and student competitors. No one was left to work the official lobby table, so Christina got everyone to the stage, then took over the table until we finished the group shots.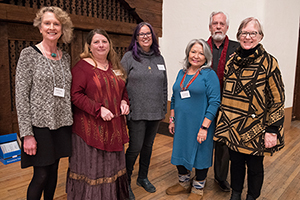 Located in the magnificent New Mexico Museum of Art, St. Francis Auditorium is a rich backdrop for stunning photography. For five years before becoming (upon my retirement from teaching) the official event photographer, my own students did well here, with my fifth student, Rachel Patty, winning and representing New Mexico at nationals in 2015. My experiences add to both my enjoyment and effectiveness in collaborating with Phyllis Kennedy to produce the event photography and annual photo book. That's Phyllis, a seasoned photography pro herself, at right on stage with the judges. From left are prompter Gene Case and judges Debbi Brody, Lisa D. Chavez, Luci Tapahonso, and Tom Maguire.
In the coming days, I'll be posting three more series of photographs--of candids, performances, and portraits. Stay tuned.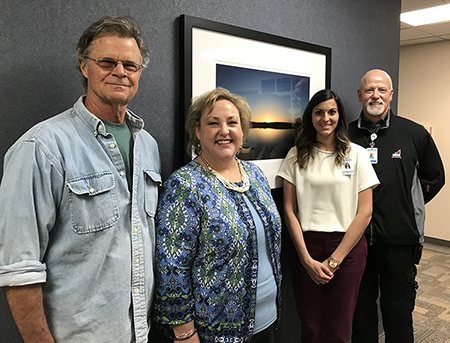 Friday was a fun day as I installed my "Oasis State Park at Sunrise" in a front waiting area at Roosevelt General Hospital in Portales, New Mexico, assisted by hospital CEO Kaye Green, Director of Public Relations Haylee Spence, and Chief of Ancillary and Support Services (and paramedic) John Bridges. John was especially helpful in the actual physical part of installing the piece, a guy thing perhaps, although my wife Christina was with me to help and she helped as much as John. Public displays require security mountings, which are tricky to install.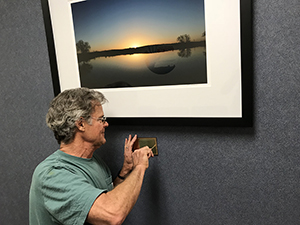 This was my fifth installation under New Mexico Arts' innovative Art in Public Places (AIPP) program, but this one got tangled in administrative mazes and took nearly four years from acceptance to installation. The hospital changed administrations before the contracts were signed. The new administration didn't like image that had been selected, "Tanks, Crossroads, NM." We learned Friday from Kaye that they didn't feel rust was a good subject in a hospital waiting room--agreed! They asked if they could have some other choices and I sent eight. They selected "Oasis," photographed at sunrise in Oasis State Park just a few miles west of Portales, so I like to think that the sun is actually rising from the hospital itself.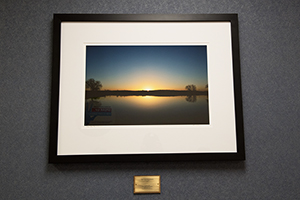 Kaye and Haylee each sent nice emails today. Haylee said, "Thank you guys for making the process so easy!  We absolutely love the photograph and are proud to have it displayed in our facility.  We have already received several positive comments from both employees and patients!" Christina and I had a great two-day road trip, made new friends at RGH, and drove home with pride in having my work look so good in the hospital waiting room.
My four previous AIPP installations are at UNM Hospital in Albuquerque, Luna County Sheriff's Department in Deming, Cabezon Recreation Center in Rio Rancho, and Belen Public Library. By setting aside one percent of state-funded construction and renovation budgets for art, New Mexico's unique AIPP program supports the state's artists while providing their work for the enjoyment of the public throughout the state. As if there weren't already enough reasons to love New Mexico.
March 10, 2018    Our Town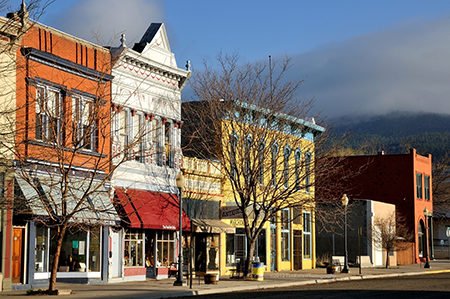 Sensitive to small-town talk and reverberation, my wife Christina expressed concern this week that some of our townspeople might think my black-and-white photo essay of a decaying Raton (below) portrayed our town in a negative light--and they might hold it against me. I invoked the current TIME Magazine devoted entirely to our national opioid crisis, shot in black and white by one of my photographer heroes, James Nachtwey, saying nobody thinks he's being negative, but she replied that he doesn't live in a small town. Touché.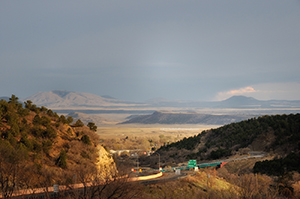 Because my blogs, and thus the series below, put newer posts above older posts, Christina thought some readers would the series openIng on March 2:
"I've devoted eight years to promoting Raton in New Mexico Magazine, Western Horseman, The Chronicle-News, Raton Comet, and here throughout my website, including a dedicated Raton Photo Gallery."
You don't have to look far or long in this website to see how much I love Raton and the entire area where we're blessed to live. Like Christina, I've lived all over the United States, in several states from coast to coast: After all of that, we chose Raton. We've been in the area almost 20 years and expect to be here the rest of our lives. A huge percentage of my magazine and newspaper work has been set here, celebrating our people and landmarks. The majority of my photography has also been made here.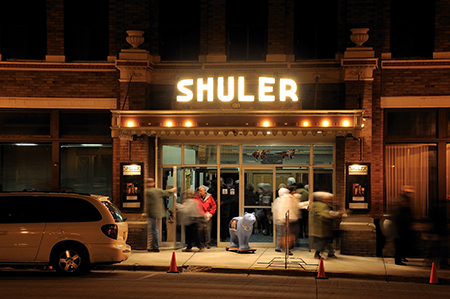 The first and last photos above--Raton's Historic First Street, and our magnificent Shuler Theater (see yesterday's feature)--have each been published a dozen or more times throughout New Mexico and the United States, in newspapers, magazines, New Mexico True national advertisements, promotions by Raton community groups, community guides, and even on the cover of the local telephone directory. (Remember phone books?) Each of these yellow text links goes to just one prominent example, but there are countless others. Most of them are available by scrolling down the TKP News page, often a veritable celebration of Raton.
None of us can deny that Raton, like most small towns in the rural American West, has been in decline for many years. Documentary photography has a long proud history of illustrating and exposing problems, often with such power that it has helped spur change. That's my intention with the series of 14 black-and-white photos below and the commentaries that accompany them. The same rich location and history that drew me to live here will, I have no doubt, bring thousands of others in a Raton Renaissance. I don't know how soon that will be here, but I continue to do what I can to get us there sooner rather than later. We already have some exciting new businesses and people that are wholeheartedly embracing the community and its future--the people who have bought and renovated Raton Pass Motor Inn immediately come to mind. I hope everyone can see my photo series as a celebration of Raton's rich past and suggestion of its rich future.
March 6, 2018    Abandon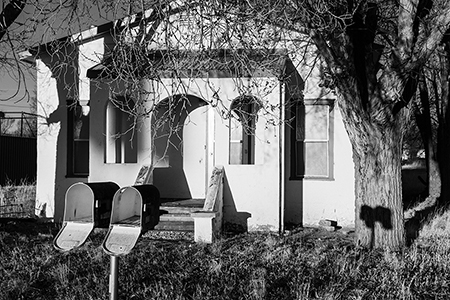 The photo below, of Romero Welding, is the image that spurred this entire series of black-and-white Raton decay photos. I saw Romero's in balanced light one overcast morning and decided I'd return one morning and try to get what I saw. I picked a morning when clouds were forecast but, alas, the sun rose earlier than I'd expected (Johnson Mesa delays the sunrise at our house) and unsoftened by clouds. I did all a photographer can do at that moment: I made the best of what I had. Some of the images were better for the sunlight; Romer's and some others were worse.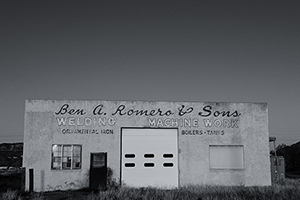 Next door, just to the right (north) of Romero's here, the Romero house and its open mailboxes gave me an unexpected delight, with the hard sunlight providing contrast that adds to the photo. I'm pretty sure the house is as abandoned as the welding business. What makes the photo for me is the open mailboxes. There's a sense of anticipation that something is coming, and the bright sunlight on the entry porch gives the same sense. Coincidentally, a man walked by and told me that the house belongs to his mother, Elaine Romero, though, as he continued on, I couldn't tell whether Elaine is still alive, and I didn't get a sense that anyone is coming home to this house. It's among my favorite images of this Raton series, which is finished for now, until I get a cloudy evening to make a pass along the east (west-facing, to pick up the evening sunlight) side of South 2nd Street.
March 4, 2018    Outskirts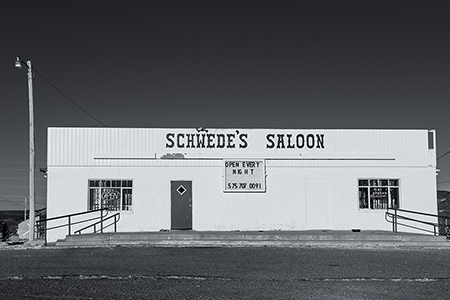 Raton's far south end is less than three miles from our house along the north boundary but my experience with far South 2nd Street is mostly limited to the hospital and doctors' offices, our veterinary doctor, and Tractor Supply Company. I've never seen Schwede's Saloon jumping with cars or people, for example, although for the almost 20 years we've been here, the sign says it's open every night.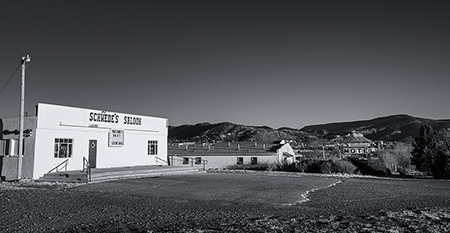 Despite being an aficionado of beers, wines, and margaritas, I'm the last person you're going to find in a bar. I just don't get it: I'd rather have a drink with a friend in our sunroom, on our deck, or at a good restaurant. Schwede's has drawn my attention, though, all these years. How has it kept going so long? Who keeps it going? It has an attraction, but not enough to draw me in.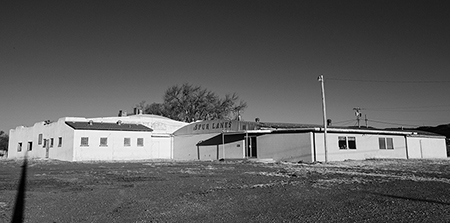 Set back a block west of South 2nd Street and one block south of Schwede's is another business I've never seen in action. Spur Lanes is Raton's bowling alley. As with Schwede's, it's my impression that it's still open, though I could be wrong. Come to think of it, I remember seeing a tiny roller rink nearby on State or Brilliant Street but, like Spur Lanes, I can't tell you whether it's open. I've never personally known or heard from anyone who's told me that they've been inside Schwede's or Spur Lanes or the roller rink.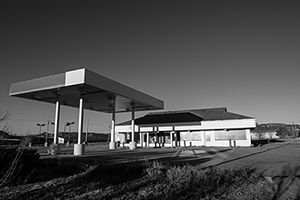 The Shamrock gas station on the same block as Spur Lanes was a going concern for many years after we arrived. We were members of a bi-monthly natural-foods buying co-op and would meet behind the Shamrock station to divy up our orders as they came off the back of a semi trailer that continued its route north from Tucson to Denver. Although it was the only gas station near the south exit from Interstate 25, the Shamrock joined others in closing.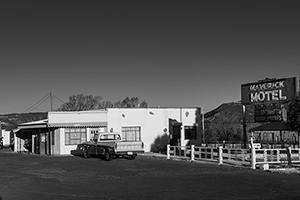 Given the decline and decay surrounding it at Raton's far south end, Maverick Motel is impressive for still being open and well-maintained. It's a good looking little country motel. At the far opposite north end of town, also far from Motel Row, Raton Pass Motor Inn has done an impressive job of resurrection and promotion with new owners who appear to be doing really well. (Kudos!) If it's possible there, it's possible on the far south end, too. For now, though, there's a sign out front that's more prominent than the Vacancy sign. It says, "Motel For Sale By Owners."
March 3, 2018    Restaurant Slow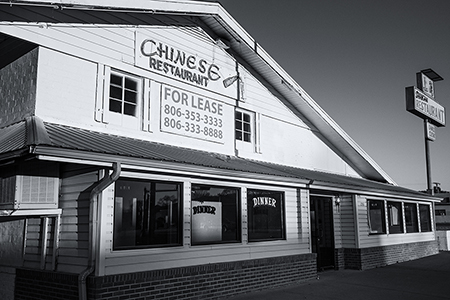 Just as Santa Fe's businesses and restaurants have sprawled southward down Cerrillos Road, Raton spread southward down South 2nd Street. Unlike Santa Fe's booming southern extension, Raton's has been in decline for years. K-Bob's Steakhouse and Asian Buffet continue to do good business--they don't have much viable competition in Raton--but many other restaurants, along with motels and other businesses, have faltered. The latest is K-Mart, which is currently selling its shelves ahead of closing for good--or bad.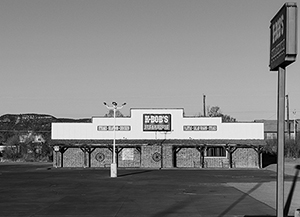 The K-Bob's parking lot fills at dinnertime but I shot my photos at sunrise for the dramatic light, adding dynamic contrast for the black-and-white photography. The other restaurants here, in today's post, are either limping along--El Matador--or closed and abandoned--Shanghai Restaurant and the once venerable Crystal Cafe. Most of the parking lots in these photos would be just as empty at lunch or dinner. For full parking lots you'd have to go out the Clayton Road to Motel Row, a.k.a. Fast Food Alley, for McDonald's, Sonic, Arby's, Domino's, Dairy Queen and rest.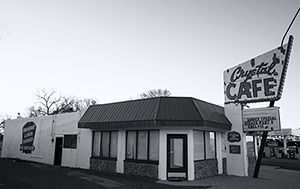 Christina and I are foodies so living in Raton has increasingly become a challenge. Luckily I love to cook so we do well at home. We eat out in Trinidad, Colorado, 22 miles over the Raton Pass and better than Raton for restaurants, but mostly we savor our travels for the great restaurants out there in the world. Taos and Santa Fe are our mainstays. Christina's mom knows that when we're visiting Santa Fe, we'll have brunch with her at home but for dinner I always want to go out to Santa Fe's wonderful restaurants.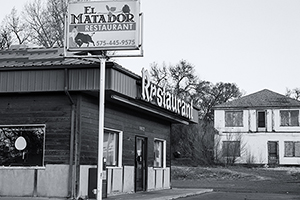 Since the last coal mine closed in 2002, Raton has lost a quarter of its population--now down to 6600, the same as the elevation--and more than a quarter of its income and businesses. These are trying times for rural communities throughout the American West as young people leave for opportunities and action in the bigger cities. Even those who stay behind in the small towns, they drive to the cities for shopping and restaurants. Raton has a huge advantage in its gorgeous and opportune location. Someday there will be a Raton Renaissance. In the meantime, Raton limps along.
March 2, 2018    Downhill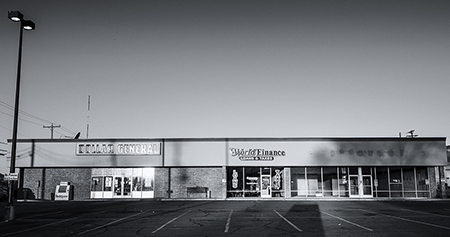 I've devoted eight years to promoting Raton in New Mexico Magazine, Western Horseman, The Chronicle-News, Raton Comet, and here throughout my website, including a dedicated Raton Photo Gallery. There were times when I was tempted to present to the City Commission and other local governing/promoting entities a photo essay of the decay that's been gobbling up Raton since at least 2002 when the last coal mine closed, leading to the closing of the local rail economy and gradually many of our town's shops. Raton had four grocery stores and a K-Mart; it's now down to one grocery store.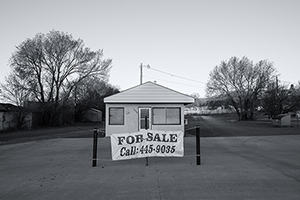 Yesterday morning I went out for an hour around sunrise to begin such a documentary project, photographing along the west side of South 2nd Street as the sun reached it; later I'll do the same along the east side of the street at sundown. (I'm waiting for an evening with clouds in the east.) The worst of Raton's decay is downtown, though that's a different look because the shops and buildings are all wall to wall and block to block. I may get to that later. This decay is certainly not unique to Raton; in fact, it's pretty standard in small towns throughout the rural American West. But Raton's location gives it immense advantages that, so far, it has failed to take advantage of: Too many closed minds, not enough forward vision, although as more new people arrive and more old-timers move out of the way, a Raton Renaissance is inevitable. It's just a question of when.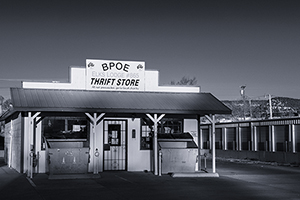 The first photo above shows one of our little strip malls with Dollar General, World Finance ("Loans & Taxes"), and the empty space vacated by SNAP Fitness. (Next to almost every dollar store is a payday loan store. I love this one's name, "World Finance.") Dollar General and Family Dollar are 21st Century American success stories; Raton has one of each--and a half dozen payday loan stores. As I travel, the poorer the rural town I see, the more likely it is to have a big spanking new dollar store.
Raton sits at the intersection of the Rocky Mountains, the Raton-Clayton Volcano Field, and the Great Plains: Few places are so beautiful. Raton also sits at the intersection of Interstate 25 and the Ports-to-Plains route, Highway 87 from the Gulf Coast to Denver and beyond: We're at a major transportation crossroads. The costs of living, land, and real estate are astonishingly low. Until new people bring new dreams and economies, though, Raton remains mired in decay. Documentary photography has a long and storied history of addressing such issues. In the coming days and weeks, I'll be contributing some of my own local takes from here at home in Raton.