All images © Tim Keller unless otherwise noted.
---
March 10, 2018    Our Town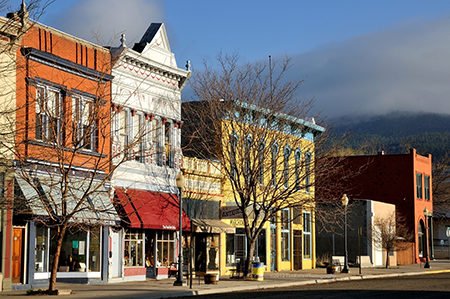 Sensitive to small-town talk and reverberation, my wife Christina expressed concern this week that some of our townspeople might think my black-and-white photo essay of a decaying Raton (below) portrayed our town in a negative light--and they might hold it against me. I invoked the current TIME Magazine devoted entirely to our national opioid crisis, shot in black and white by one of my photographer heroes, James Nachtwey, saying nobody thinks he's being negative, but she replied that he doesn't live in a small town. Touché.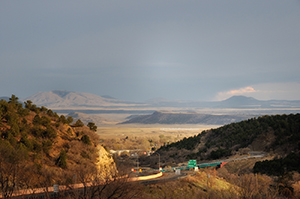 Because my blogs, and thus the series below, put newer posts above older posts, Christina thought some readers would the series openIng on March 2:
"I've devoted eight years to promoting Raton in New Mexico Magazine, Western Horseman, The Chronicle-News, Raton Comet, and here throughout my website, including a dedicated Raton Photo Gallery."
You don't have to look far or long in this website to see how much I love Raton and the entire area where we're blessed to live. Like Christina, I've lived all over the United States, in several states from coast to coast: After all of that, we chose Raton. We've been in the area almost 20 years and expect to be here the rest of our lives. A huge percentage of my magazine and newspaper work has been set here, celebrating our people and landmarks. The majority of my photography has also been made here.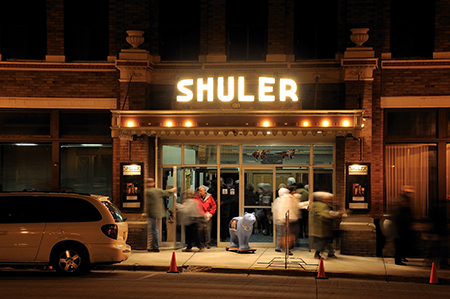 The first and last photos above--Raton's Historic First Street, and our magnificent Shuler Theater (see yesterday's feature)--have each been published a dozen or more times throughout New Mexico and the United States, in newspapers, magazines, New Mexico True national advertisements, promotions by Raton community groups, community guides, and even on the cover of the local telephone directory. (Remember phone books?) Each of these yellow text links goes to just one prominent example, but there are countless others. Most of them are available by scrolling down the TKP News page, often a veritable celebration of Raton.
None of us can deny that Raton, like most small towns in the rural American West, has been in decline for many years. Documentary photography has a long proud history of illustrating and exposing problems, often with such power that it has helped spur change. That's my intention with the series of 14 black-and-white photos below and the commentaries that accompany them. The same rich location and history that drew me to live here will, I have no doubt, bring thousands of others in a Raton Renaissance. I don't know how soon that will be here, but I continue to do what I can to get us there sooner rather than later. We already have some exciting new businesses and people that are wholeheartedly embracing the community and its future--the people who have bought and renovated Raton Pass Motor Inn immediately come to mind. I hope everyone can see my photo series as a celebration of Raton's rich past and suggestion of its rich future.
March 6, 2018    Abandon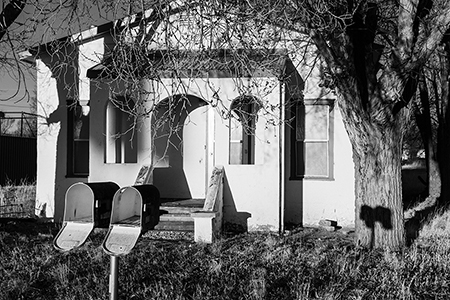 The photo below, of Romero Welding, is the image that spurred this entire series of black-and-white Raton decay photos. I saw Romero's in balanced light one overcast morning and decided I'd return one morning and try to get what I saw. I picked a morning when clouds were forecast but, alas, the sun rose earlier than I'd expected (Johnson Mesa delays the sunrise at our house) and unsoftened by clouds. I did all a photographer can do at that moment: I made the best of what I had. Some of the images were better for the sunlight; Romer's and some others were worse.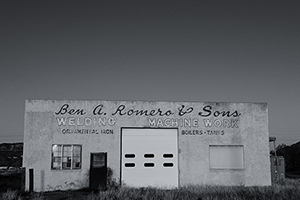 Next door, just to the right (north) of Romero's here, the Romero house and its open mailboxes gave me an unexpected delight, with the hard sunlight providing contrast that adds to the photo. I'm pretty sure the house is as abandoned as the welding business. What makes the photo for me is the open mailboxes. There's a sense of anticipation that something is coming, and the bright sunlight on the entry porch gives the same sense. Coincidentally, a man walked by and told me that the house belongs to his mother, Elaine Romero, though, as he continued on, I couldn't tell whether Elaine is still alive, and I didn't get a sense that anyone is coming home to this house. It's among my favorite images of this Raton series, which is finished for now, until I get a cloudy evening to make a pass along the east (west-facing, to pick up the evening sunlight) side of South 2nd Street.
March 4, 2018    Outskirts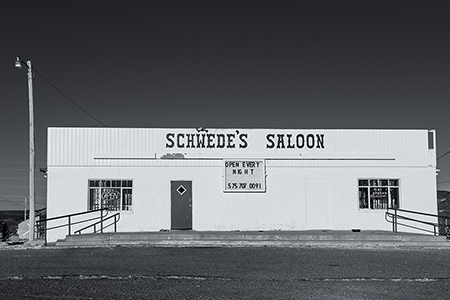 Raton's far south end is less than three miles from our house along the north boundary but my experience with far South 2nd Street is mostly limited to the hospital and doctors' offices, our veterinary doctor, and Tractor Supply Company. I've never seen Schwede's Saloon jumping with cars or people, for example, although for the almost 20 years we've been here, the sign says it's open every night.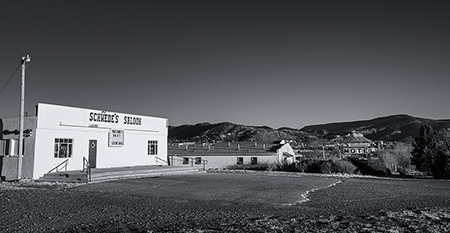 Despite being an aficionado of beers, wines, and margaritas, I'm the last person you're going to find in a bar. I just don't get it: I'd rather have a drink with a friend in our sunroom, on our deck, or at a good restaurant. Schwede's has drawn my attention, though, all these years. How has it kept going so long? Who keeps it going? It has an attraction, but not enough to draw me in.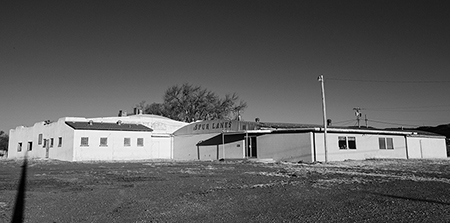 Set back a block west of South 2nd Street and one block south of Schwede's is another business I've never seen in action. Spur Lanes is Raton's bowling alley. As with Schwede's, it's my impression that it's still open, though I could be wrong. Come to think of it, I remember seeing a tiny roller rink nearby on State or Brilliant Street but, like Spur Lanes, I can't tell you whether it's open. I've never personally known or heard from anyone who's told me that they've been inside Schwede's or Spur Lanes or the roller rink.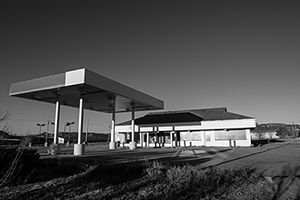 The Shamrock gas station on the same block as Spur Lanes was a going concern for many years after we arrived. We were members of a bi-monthly natural-foods buying co-op and would meet behind the Shamrock station to divy up our orders as they came off the back of a semi trailer that continued its route north from Tucson to Denver. Although it was the only gas station near the south exit from Interstate 25, the Shamrock joined others in closing.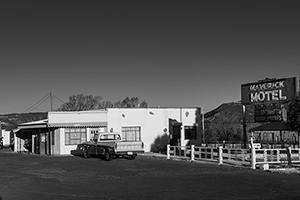 Given the decline and decay surrounding it at Raton's far south end, Maverick Motel is impressive for still being open and well-maintained. It's a good looking little country motel. At the far opposite north end of town, also far from Motel Row, Raton Pass Motor Inn has done an impressive job of resurrection and promotion with new owners who appear to be doing really well. (Kudos!) If it's possible there, it's possible on the far south end, too. For now, though, there's a sign out front that's more prominent than the Vacancy sign. It says, "Motel For Sale By Owners."
March 3, 2018    Restaurant Slow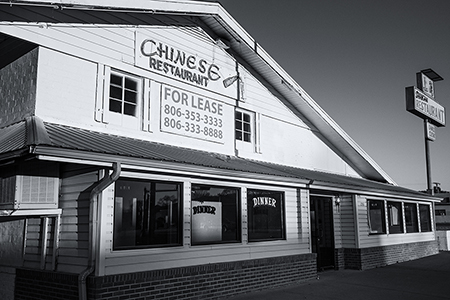 Just as Santa Fe's businesses and restaurants have sprawled southward down Cerrillos Road, Raton spread southward down South 2nd Street. Unlike Santa Fe's booming southern extension, Raton's has been in decline for years. K-Bob's Steakhouse and Asian Buffet continue to do good business--they don't have much viable competition in Raton--but many other restaurants, along with motels and other businesses, have faltered. The latest is K-Mart, which is currently selling its shelves ahead of closing for good--or bad.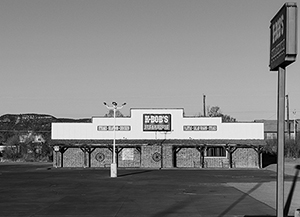 The K-Bob's parking lot fills at dinnertime but I shot my photos at sunrise for the dramatic light, adding dynamic contrast for the black-and-white photography. The other restaurants here, in today's post, are either limping along--El Matador--or closed and abandoned--Shanghai Restaurant and the once venerable Crystal Cafe. Most of the parking lots in these photos would be just as empty at lunch or dinner. For full parking lots you'd have to go out the Clayton Road to Motel Row, a.k.a. Fast Food Alley, for McDonald's, Sonic, Arby's, Domino's, Dairy Queen and rest.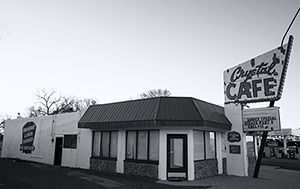 Christina and I are foodies so living in Raton has increasingly become a challenge. Luckily I love to cook so we do well at home. We eat out in Trinidad, Colorado, 22 miles over the Raton Pass and better than Raton for restaurants, but mostly we savor our travels for the great restaurants out there in the world. Taos and Santa Fe are our mainstays. Christina's mom knows that when we're visiting Santa Fe, we'll have brunch with her at home but for dinner I always want to go out to Santa Fe's wonderful restaurants.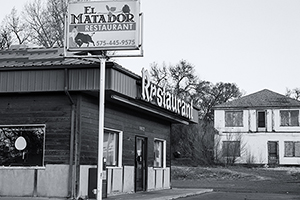 Since the last coal mine closed in 2002, Raton has lost a quarter of its population--now down to 6600, the same as the elevation--and more than a quarter of its income and businesses. These are trying times for rural communities throughout the American West as young people leave for opportunities and action in the bigger cities. Even those who stay behind in the small towns, they drive to the cities for shopping and restaurants. Raton has a huge advantage in its gorgeous and opportune location. Someday there will be a Raton Renaissance. In the meantime, Raton limps along.
March 2, 2018    Downhill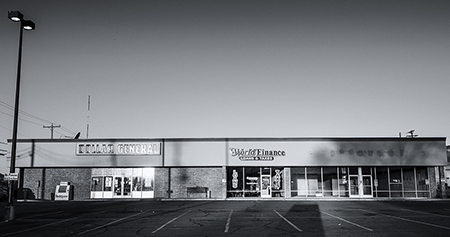 I've devoted eight years to promoting Raton in New Mexico Magazine, Western Horseman, The Chronicle-News, Raton Comet, and here throughout my website, including a dedicated Raton Photo Gallery. There were times when I was tempted to present to the City Commission and other local governing/promoting entities a photo essay of the decay that's been gobbling up Raton since at least 2002 when the last coal mine closed, leading to the closing of the local rail economy and gradually many of our town's shops. Raton had four grocery stores and a K-Mart; it's now down to one grocery store.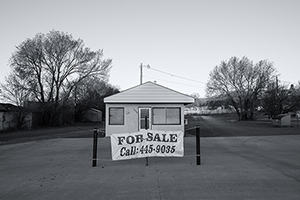 Yesterday morning I went out for an hour around sunrise to begin such a documentary project, photographing along the west side of South 2nd Street as the sun reached it; later I'll do the same along the east side of the street at sundown. (I'm waiting for an evening with clouds in the east.) The worst of Raton's decay is downtown, though that's a different look because the shops and buildings are all wall to wall and block to block. I may get to that later. This decay is certainly not unique to Raton; in fact, it's pretty standard in small towns throughout the rural American West. But Raton's location gives it immense advantages that, so far, it has failed to take advantage of: Too many closed minds, not enough forward vision, although as more new people arrive and more old-timers move out of the way, a Raton Renaissance is inevitable. It's just a question of when.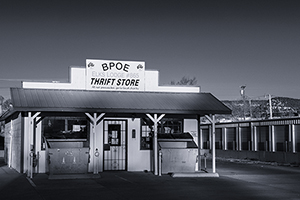 The first photo above shows one of our little strip malls with Dollar General, World Finance ("Loans & Taxes"), and the empty space vacated by SNAP Fitness. (Next to almost every dollar store is a payday loan store. I love this one's name, "World Finance.") Dollar General and Family Dollar are 21st Century American success stories; Raton has one of each--and a half dozen payday loan stores. As I travel, the poorer the rural town I see, the more likely it is to have a big spanking new dollar store.
Raton sits at the intersection of the Rocky Mountains, the Raton-Clayton Volcano Field, and the Great Plains: Few places are so beautiful. Raton also sits at the intersection of Interstate 25 and the Ports-to-Plains route, Highway 87 from the Gulf Coast to Denver and beyond: We're at a major transportation crossroads. The costs of living, land, and real estate are astonishingly low. Until new people bring new dreams and economies, though, Raton remains mired in decay. Documentary photography has a long and storied history of addressing such issues. In the coming days and weeks, I'll be contributing some of my own local takes from here at home in Raton.