All images © Tim Keller unless otherwise noted.
---
December 22, 2017    Winter Solstice Hiking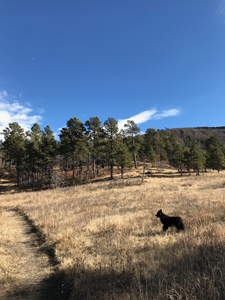 The hiking trails in Sugarite Canyon State Park should have been snowed in before yesterday's winter solstice but they're still open and I'm still hiking them most afternoons with my border collie Django--and usually our Jack Russell Terrier, Jett, too, but he's nursing a sore foot this week, the result of a run-in with our oldest cat, J.R.
At 8000 feet, Sugarite gets enough snow to drive me to outlying ranches, at 6600 feet, for our winter hiking. Two days ago, on the 20th, Django and I enjoyed the long noon shadows (right) on the upper Lake to Lake Trail, just below Lake Maloya. We did get a little dusting of snow last night, but it's clear and sunny again today and the canyon trails and mesa tops remain open for hiking. Last year they closed in by December 15, but this year it looks like they may remain open into the new year.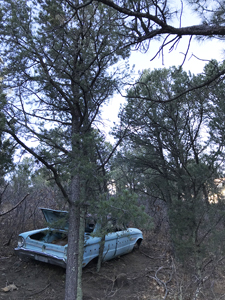 Hiking up Raton's Climax Canyon trails earlier this week, I photographed this Ford Falcon Futura (left), circa 1963 and apparently abandoned there decades ago from the fire trail along the ridgetop. I've long been fascinated by it, even spending several weeks early this year thinking of ways to weave it into a novel I was considering. I abandoned the novel, but not the car.
Both photos were taken with my iPhone 7, always along on hikes even though there's no cell reception up in Sugarite Canyon. Its portability makes it a much better camera for hiking than my big heavy Nikons with their big heavy lenses. The iPhone is always in my pocket ready for anything, and always impressive--ounce for ounce, it's an amazing camera.
As we head into a new year--I turned 67 yesterday and life is good!--I'm looking forward to new adventures and new hikes and new photos. All best wishes to you, too. Thanks for visiting...I appreciate it.
Good road,
December 4, 2017    Poetry Out Loud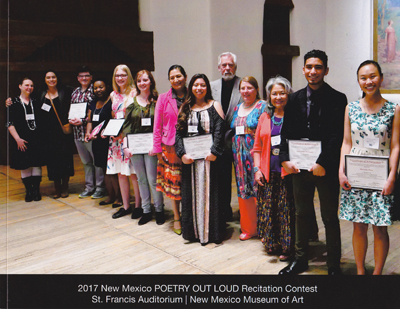 Throughout the United States this week, hundreds of high schools are presenting their annual Poetry Out Loud recitation competitions, with each school sending a winner to its state finals, and each state sending its winner to the national finals in Washington, D.C., sponsored by National Endowment for the Arts and the Poetry Foundation. This is the week we held our school contest at Raton High School, for five years. Although Raton did not continue the program after I retired two years ago, the program is growing statewide--Maxwell Schools have taken it up bigtime in our area--and I'm proud to have been the official photographer of the New Mexico finals for the past two years. I'm hoping New Mexico Arts will continue hiring me for years to come: I get to be the only photographer allowed to shoot during the competition in St. Francis Auditorium on the Santa Fe Plaza, and the subject matter is dramatic and photogenic.
New Mexico Arts recently published its annual photo book (above, top center) documenting the 2017 competition, featuring 27 of my photos of the competing students and the event. The book is beautifully designed by Phyllis Kennedy and distributed to high schools throughout New Mexico and to national contest organizers around the country. New Mexico Department of Cultural Affairs also recently published its Guide to New Mexico's Museums & Historic Sites, Winter 2017-2018, with my photo (lower right) of the winners of the 2016 Poetry Out Loud competition. I'm proud to combine my passions for poetry and young people and photography. It's a great fit that I hope to continue far into the future.
November 7, 2017    Del Norte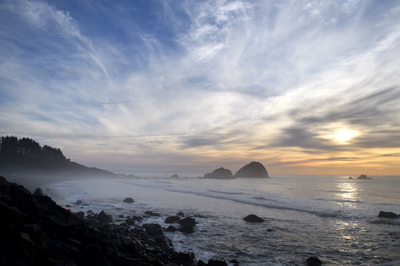 The entire California coastline from the San Francisco Bay northward is rugged and remote, but the farther north you go, the more remote it gets. Here at home in Raton, New Mexico, we're an equidistant 240 miles to the nearest airports--at Denver, Albuquerque, and Amarillo. Crescent City, in California's northwesternmost county, Del Norte, is 328 miles from the airport at Portland, Oregon, and 355 miles from San Francisco's airport. That's getting remote. There are scattered small connecting airports closer: I know, because I put my brother Terry on a little plane in Bend, Oregon, in 1972 (see TKA blog, Nov 1), and that's 273 miles from Crescent City. We had to wait about 20 hours, camping outside town, for the one daily flight to California.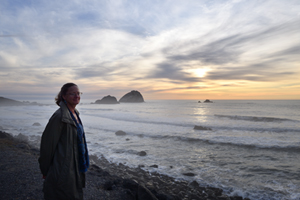 I like remote. It's no coincidence that Christina (left) and I live in the northeastern corner of New Mexico, at the foot of Raton Pass along the Colorado border. So we liked the northern California coastline, traveling Highway 1 from Sonoma County at Bodega Bay through Mendocino County to Fort Bragg then Humboldt County, where we reached the biggest redwood forests, to Del Norte County where the huge redwood forests continued and we also encountered seals! Our Crescent City Quality Inn room had a balcony facing the harbor from just yards away and we could hear seals barking as we fell asleep at night and woke in the morning. Christina liked that almost as much as she loved being immersed in the redwood forest. She walked out to find the seals in the morning but they'd all gone to sea, gone for a swim.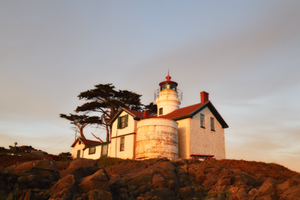 At the far point of the harbor, Battery Point Lighthouse (right, click to enlarge) has stood sentry over the rocky bay since 1856 and is still manned by a lighthouse keeper who lives on site. I hiked out to the seaward side to photograph the gorgeous lighthouse in the light of the sun setting over the Pacific horizon, the beacon light flashing from the turret as waves crashed into the huge rocks under my feet and seals barked nearby. Some kind of wonderful.
Then our time was up. The next morning we followed the Google Maps suggestion for the fastest way home, taking us north into Oregon before turning back south and east for the four-day drive home (see TKA blog, Nov 8), ending our 15-day road-trip vacation. The road was as good as the stops, but the stops were good enough for us to already be planning a return trip next fall. Yesterday I found an Airbnb right on the harbor at Brooks, Oregon, population 400 and 20 miles north of Crescent City. It has seals. We're going.
November 5, 2017    The Mendocino Coast
At Fort Bragg along California's Mendocino coast, we stayed three nights in an Airbnb up in the redwoods, enjoyed restaurants and a fabulous jazz club (!), and discovered the wonderful ales of the remarkable North Coast Brewing Company--but all I have to show for it here is this pair of photos from a long walk we enjoyed at the town's famous Glass Beach. The two-string kite on the left appears in the right photo, too, as a tiny white spot in the upper left (click to enlarge), above Christina who is again perched above the sea pondering life.
Fort Bragg is a great little town: I could easily live out my later years there if our big New Mexico house ever gets to be too much for us. For me, it would be a return to the sea, my beginnings.
November 3, 2017    Point Arena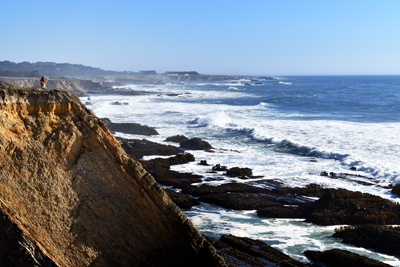 Northward from San Francisco Bay, the west coast looks like this all the way to Canada and beyond, rough and rocky, wild and free. Drawn by the iconic lighthouse on the point, many travelers visit Point Arena where Christina, on the cliff at top left above (click to enlarge), sat over the sea taking photos and pondering eternity.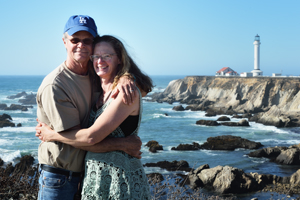 As I photographed the point with the big Nikon 70-200mm telephoto zoom lens (second image below), a young man with a Nikon asked to take our photo using my camera. Weighing almost ten pounds mounted on the D4, he was initially taken aback by the sheer heft compared to his much smaller consumer Nikon, so I was surprised to discover that he did pretty well! Thank you, stranger. By the way, my daughter gave me that Dodgers hat a couple years ago and I lost it a few days after Point Arena, just before the Dodgers played the Astros in the World Series. I think it fell to the ground when I switched to a ski cap at Fort Bragg's Glass Beach. Anyway, I've replaced it with a spanking new one that arrived just in time for the Dodgers to lose game 7. Sorry, Dodgers. My new hat and I are ready for next year; meantime, we're hiking in the New Mexico mountains most afternoons, the new hat looking too new and flashy for mountain hikes. By next season it'll look just right.
November 2, 2017    Point Arena Lighthouse - Two Views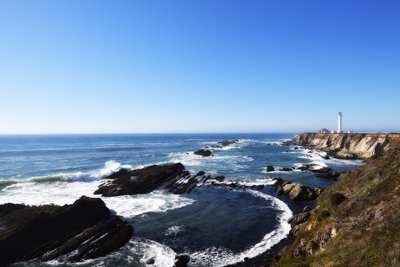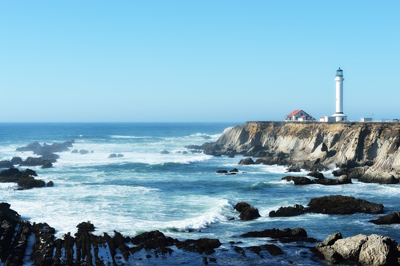 These two photos of northern California's Point Arena Lighthouse were taken a few minutes apart yet look quite different from each other. Same cloudless sky, same viewpoint, same basic lens and camera settings (f/16). The differences are in the lenses and the post processing.
The first image was taken with a Nikon D5 and 24-70mm lens open wide at 24mm and processed without added effect. The second image was taken with a Nikon D4 and 70-200mm lens open to its widest at 70mm--so it's a telephoto view compared to the first image--but processed with a NIK filter called "Glamour Glow," though I think some of the damp misty look was in the original capture, perhaps a result of the lens putting the view closer to the water?
NIK filters were in Nikon's Capture NX and NX2 software but Adobe bought them and put them into Photoshop, legally requiring Nikon to remove them from its software a couple years ago. The revamped Nikon NX-D software hasn't been nearly as good, and the NIK filters in Photoshop are more unwieldy. I've kept my old Mac Pro set up exclusively to keep using the old Nikon Capture NX2 software. (It can't coexist in a computer with the new Nikon software.) I run most images through there, then into my newer Mac Pro where I use Photoshop to embed EXIF data, tweak brightness/contrast, add a watermark copyright notice (for larger views going online), and resize (the small images above, versus the larger watermarked images you see when you click on them).
Glamour Glow begins at a default 50% setting. I immediately reduce that to 15% (and keep the other two sliders at zero), then sometimes adjust up to 25, down to 10, or turn it off entirely, depending on the image. This second image above was set to 25%, accentuating the wet mistly look. Glamour Glow also looks good for people's faces. It's a good tool.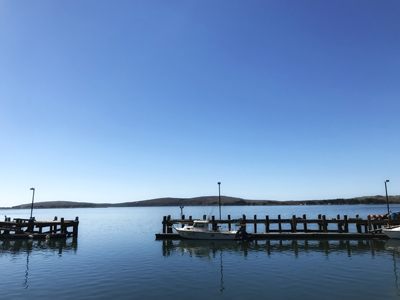 Bodega Bay was a scenic 12-mile drive from our Airbnb outside Sebastopol and it was our first stop as we headed up the coast from our wine country stay. In my two years living outside Sebastopol, four decades ago, I enjoyed Bodega Bay as a sleepy and idyllic fishing and farming village.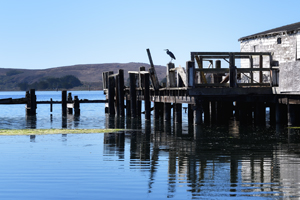 In recent months I'd mentioned to Christina that, should our New Mexico home's three levels and sprawling size ever prove too much for me to manage in my old age, I might like to move to Bodega Bay and finish out my years in a simple cabin by the sea. After spending several days along the coast, I'd update that fantasy to Fort Bragg rather than Bodega Bay--I'll post photos and comments from there in the coming days--but we enjoyed exploring and photographing Bodega Bay. It certainly has a more musical name than Fort Bragg, but otherwise we found Bodega Bay better for a visit than a residence.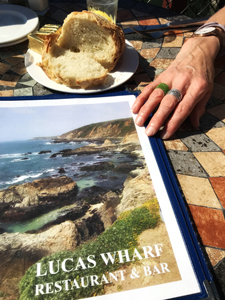 We did have a magical experience at lunch in Bodega Bay. As we enjoyed clam chowder and fish & chips with a local brewpub ale outdoors over the water, a group walked in and I instantly recognized Martha Flannery from Santa Fe, whom I had not seen in almost 30 years. She, too, was flabbergasted to see me here, so far from our homes in New Mexico. The song "Martha" from my 1987 album "No Stranger to Wishes" is about our true love back when I was new to Santa Fe circa 1984-1985. That's about how long we lasted, a year, before life took us different directions. We'd remained friends, and Christina had met her with me a couple times later in the 1980s, but then we'd not seen each other for decades. She and her husband and twin sister and sister-in-law were visiting Sonoma County for a niece's wedding and drove out to Bodega Bay for a Friday afternoon lunch on the wharf. I'm not surprised to add another magical Martha experience, though the last place I'd expect it to happen is Bodega Bay.
October 24, 2017    California's Wine Country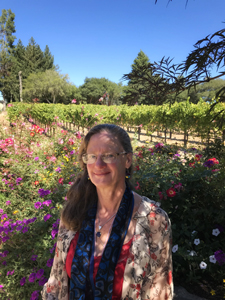 After graduating from college, while fending with the military draft and Viet Nam War, I lived for two years in a two-room cabin amidst the apple trees along western Sonoma County's Gravenstein Highway between Sebastopol and the Russian River. Back then, Sonoma and Napa counties were California's "wine country," a distinction now somewhat diluted as vineyards and wineries have successfully spread throughout much of the state.
Christina and I spent one day touring and tasting wines in Napa County, then the next day tasting at three wineries immediately surrounding my old cabin at Graton, an unknown little wide-spot back then but now a famous wine destination that has eliminated the apple trees and my cabin in favor of grapes and wineries. I love this photo I got of Christina in the dappled shadows between the vineyard (behind her) and tasting room at Merry Edwards Winery. It's an iPhone 7 photo that succeeds in blending Christina and her clothing with the colorful flowers and shadows--she almost becomes part of the landscape, or the landscape accepts her into it.
Merry Edwards neighbors my old cabin on its southern boundary; we also enjoyed Dutton-Goldfield Winery across the highway on the Graton side. Then we drove back roads a mile or two to Iron Horse Winery across the dirt lane from where I often stayed with my cousin Merriall while I was touring, playing music gigs, in the late 1980s. Everywhere we went, we deferred the tasting fees by buying our favorite wines from each winery, bringing them home to enjoy over the coming year. (In Napa County we got our favored cabernets, while Graton's climate closer to the coastline favors pinot noirs so we acquiesced and enjoyed great pinots...and this "pinotphile" sign board at Dutton-Goldfield.)
On the third day, we drove out to Bodega Bay and up the coast to Fort Bragg where Christina finally got to see redwood forests. Three days later, the Napa and Sonoma wine country caught fire, fueled by high winds, killing dozens and destroying thousands of homes and businesses. My cousins had to evacuate their homes in Santa Rosa for more than a week. The smoke chased us homeward. We'd been lucky to enjoy such an idyllic visit to the wine country and left ahead of the storm. We're glad to see recovery efforts underway, our cousins back home, and our plans for a return next October already forming in our minds and conversations.
October 22, 2017    Lake Tahoe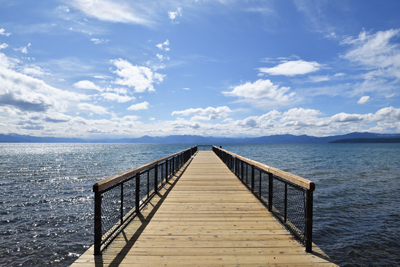 After crossing the Rockies from Denver to Grand Junction, following the Colorado River from its Rocky Mountain headwaters down into Utah on its way to the Grand Canyon, we crossed countless lower mountain passes in Utah and Nevada before finally cresting the Sierra Nevada mountains at Lake Tahoe along the Nevada-California border.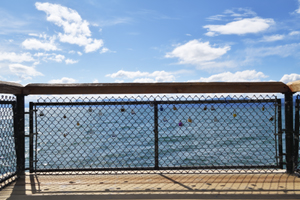 We stayed in nearby Truckee and had dinner with a friend who recommended a great breakfast place for brunch along the lake at Kings Beach. It was late morning by the time we walked the shore with our cameras so we had no right to good light--we'd prioritized a fun, relaxing vacation together over photography--but we got lucky with great clouds that filtered the high-altitude mountain light over the lake, giving us some gems.
We used our iPhones to post to Instagram (@hilocountry) along the way, and I took these shots with the Nikon D5 and 24-70mm lens. Sometimes the iPhone 7 does well enough to compete with the Nikon, which is amazing, but here at the lake the Nikon triumphed, giving me a much greater range of tools and a better rendering of the high-contrast light. I loved this long dock into the lake. The top shot looks like the dock is a bridge all the way to the opposite shore of Lake Tahoe, many miles away. The gate at the end holds padlocks--from young lovers? Christina took an iPhone photo from the end of the dock, standing against the padlocks. Barely into California, the state was already giving us photographic riches.
October 21, 2017    Road Trip!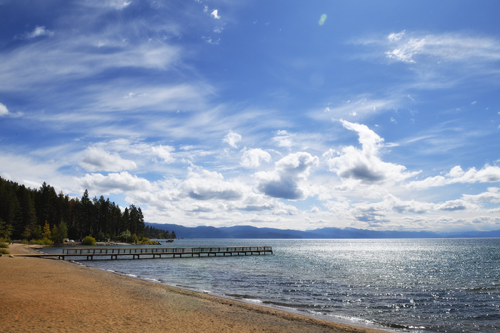 I've been processing Nikon photos from a road trip that Christina and I completed last week--15 days, 14 nights, 4000 miles, six states--New Mexico, Colorado, Utah, Nevada, California, and Oregon. Along the way, I took iPhone 7 photos and posted them to Instagram (@hilocountry), but I'll be posting mostly Nikon photos here on my two blogs over the coming days and weeks.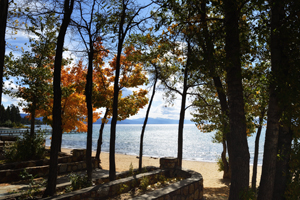 I'll focus on photography here, with personal notes and photos on the TKA arts blog--but they'll be a nice companion set to what I post here, including some cool shots from Nevada's Highway 50, "The Loneliest Highway in America." Christina and I both love spare landscapes: Utah and Nevada provided some great photography that I'll be posting on the arts blog, so check there. Meantime, let's start here at Lake Tahoe, on Kings Beach just yards into California from the Nevada border. We shouldn't have had such great light so late in the morning but the clouds saved us and gave us beautiful light to work with. Thank you Sierra Nevada clouds!