---
April 27, 2014     ¡Mexico Vive!
Having both the benefits and burdens of being piled high with a backlog of work, I'd planned to skip last night's "Mexico Vive" Pre-Cinco de Mayo Celebration at the Shuler Theater. One of my morning projects, though, led me to the evening's program and that convinced me that the concert might be a visual feast that a photographer would be a fool to pass up. I was right.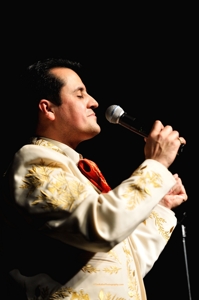 I didn't bother taking a seat in the crowded theater, working the entire auditorium from left front to back center to right front, from the balcony to the lighting booth above the balcony. I wore all black to be as invisible as possible, minimizing distraction to the audience, which was especially important when I shot from the wings stage right. That was the highlight for me, producing the second row of shots above. Down at front left, I literally laid on the floor to shoot up at featured singer Antonio Reyna (top right) so I could give a sense of the Shuler Theater, my mind on a centennial feature for New Mexico Magazine when the theater turns 100 next April. I worked to include an image showing the "Shuler" embroidery at the front of the stage last night, visible at top left in front of the Ballet Folklorico Paso del Norte dancers. (As always, click any image to enlarge it.)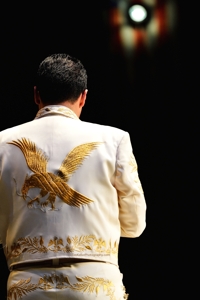 Antonio Reyna is a peacock of a performer who playfully punctures that image both on and off stage. He joined the fabulous nine-piece band, Mariachi Raices de America, in making jokes at his expense. I enjoyed him.
The band consisted of three violins, three horns, and three guitars, all in various sizes. Half the players took turns soloing and/or singing at the front, and all took part in humorous banter, usually directed at each other. Two of the guitarists are still El Paso high school students, one a sophomore and one a senior. All three horn players are music professors at Western New Mexico University in Silver City. The collaboration by the three groups was not to be missed, although I almost did. I won't make that mistake again. With any luck they'll be back next year.
---
April 26, 2014     Breakaway Breaks Away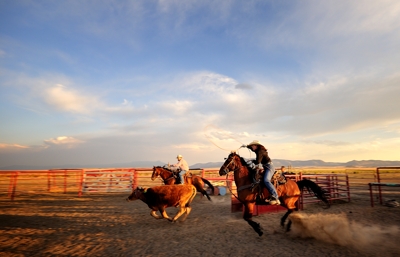 "Breakaway" has joined a small group of my photographs that have gathered multiple successes, either several framed prints sold in shows or several magazine appearances or both.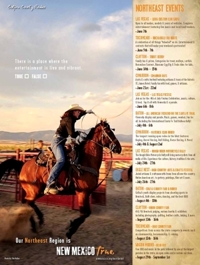 Two 24-inch framed prints of "Breakaway" have sold and the image has been published full-page by Ranch & Reata and in a two-page spread by Western Horseman. This month New Mexico Magazine was about to become the third magazine to feature the image when an interesting wrinkle occurred. The New Mexico True national advertising campaign licensed "Breakaway" for use in a full-page ad scheduled for, among other places, the same issue of New Mexico Magazine. The art director thanked me for my forethought in alerting her to the duplication before she discovered it late in the production process. Having the same image twice in the same issue of the same magazine wouldn't look good. It has me smiling, though, seeing the conflict as yet another sign that this is shaping up to be a pivotal year for my work.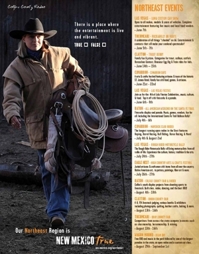 For about an hour late one afternoon last week, the advertising agency worked to find an alternate image, choosing my sunrise shot of colt trainer Brittany Rouse going to work. I call it "Brittany Begins." Then the magazine art director and I decided to let the agency have its choice and they went back to "Breakaway," though in an unanticipated vertical crop that flips the image, changing rider Marcia Hefker from a right-handed header to a left-handed heeler. Marcia loved that when I gave her a look. The tight crop loses much but works in this context by bursting with pent-up energy. The agency says there's a good chance they'll use "Brittany Begins" for a later ad; meantime, the ad with "Breakaway" (both of these ad pages are mock-ups subject to textual changes) will appear in the July issue of New Mexico Magazine, due out in mid-June.
---
April 13, 2014     Love & Western Swing
Shooting the annual Cowboy Ball fundraiser for Raton Chamber of Commerce last night presented as many photographic challenges as I've ever faced. Despite my initial skepticism--I said, "If I shoot 600 frames I'll be lucky to get 2 keepers"--I warmed to the challenge, enjoyed it, and succeeded. I love these images...of love! Who woulda thunk it.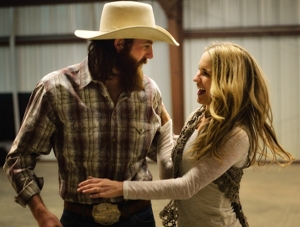 Among the challenges: A sheet-metal cavern and concrete floor, both relatively unattractive for photographs. No lighting except flourescents high above. (Flourescents generally range from troubling to horrible for photography, especially on skin tones.) For the goal of a poster image for next year's event, I felt that cowboy hats were required, but hats entirely blocked the high overhead light from faces. Finally, the dance floor was so crowded that it was difficult to get a photo of an individual couple, which I decided was necessary despite last year's successful line dance photo. (Note the friendlier lighting last year, with no flourescents.)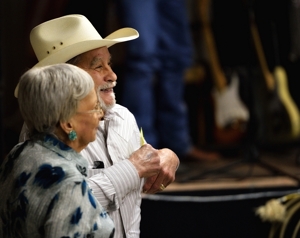 I brought the wider 24-70mm lens on the Nikon D4 but, after watching the early dancers, went back to the car and switched to the 70-200mm to get up close to the dancers from the only vantage I could take, along the wall. I shot everything wide open at f/2.8 both for light speed and to blur the other dancers and the cavern walls and floor. Getting light under the cowboy hats required either a head tilted up toward the light, as Andy Solano here on the left, or some of my most careful tricks in processing. Adjusting tones to offset the flourescent lights required careful tweaking of light balance in processing. Finally, I solved the overcrowded dance floor issue by shooting only during the first half minute of each song, before the floor filled. I fired off continuous shots (up to several per second) when I saw what I was after--two happy faces enjoying each other--then spent the rest of the song deleting images that obviously didn't work. I got home with fewer than 200 images, narrowed a first sort to 80, a second to 32, and then a final sort to the 16 best images for the Chamber of Commerce. (As always, click any image to enlarge it.)
This year's poster featured a wonderful close portrait of Dawn & Stan Lark taken at an earlier event by this year's Cowboy Ball chairman, Ruth Luksich. It inspired me to shoot close in on the dancers and their faces this year; as a result, I was more successful than last year. Thanks, Ruth. I took the challenge all the way to being sure to get my own great shot of Dawn & Stan. That's them at the top left. Success!
---
Saturday evening's opening reception for my show, Unfiltered, at the Raton Museum Gallery was great fun. Because it coincided with the annual beer-and-wine quaffing fundraiser, Hops & Vine, the gallery stayed busy as new people filtered through every few minutes for the entire four-hour event.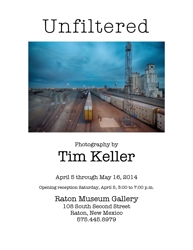 The newly renovated gallery looks fabulous and promises to be a great boon to Raton's arts community. Local artist and museum board member Terry Bumpass hung my show and he shares the credit for its visual impact. I loved watching people move slowly from image to image, pointing at details, discussing and questioning. I told people that I would gladly pay $20 an hour to be invisible and follow people through the show, listening to their comments. Many people took a long time to examine all 44 framed photographs, and then I fielded lots of questions. Steve Block of The Chronicle-News wrote a great profile and show preview that was posted at the show's entrance, giving viewers some helpful background information. The show's brochure, or "one-sheet," was also available as people entered. The small glasses of beer and wine added to the convivial mood of the opening reception. The show itself remains in place through May 16.
---
April 8, 2014     The Abrams Brothers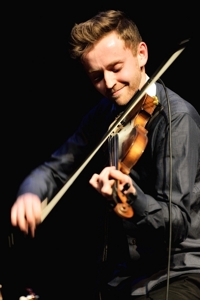 John and James Abrams grew up in Canada playing music, nurtured by weekend get-togethers of the extended family for supper and song. The family still includes four generations of professional musicians, so the boys had some great mentors. Although they're only 22 and 19 years old, respectively, they've been on the road playing concerts for ten years. A mix of bluegrass, country, Americana, and other roots music, their music landed them on Nashville's Grand Ole Opry early in their career. More recently they've been writing their own songs. The originals held up just fine against the chestnuts in the duo's Shuler Theater concert last week. Both brothers are strong players on their instruments--guitar and violin--but my favorite aspect of their music is the majestic, close brother harmony singing, influenced by the Louvin Brothers and other early country music brother acts. When siblings harmonize well, its something no one else can equal.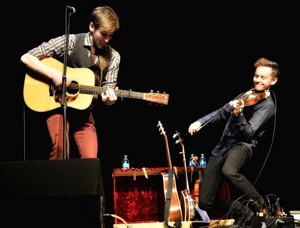 My preview in The Chronicle-News gives much of the group's story. I had expected them to bring their cousin to play electric bass and I initially felt that the show lacked for his absence; gradually, though, the brothers did just fine at filling the hall with gorgeous and engaging sounds. Teenage fiddler James was as talented and confident as anyone twice his age, and John's guitar skills--both lead and rhthym, the latter propelled by a great right hand--anchored his own songs and singing as he led the show. It was their interplay, especially the harmony singing, that was most sublime and they had no trouble capturing the hearts of their listeners in the Shuler Theater audience.
---
March 30, 2014     Rampart Winds
There was a spell over the winter when I had few writing jobs and I used my camera little. That left me plenty of time to blog and nothing to blog about or with. Now I'm in a better state: lots of writing jobs, lots of photography...but little time to blog. Alas. That's why I missed last week: I just couldn't make the time. I try to blog weekly and sometimes more.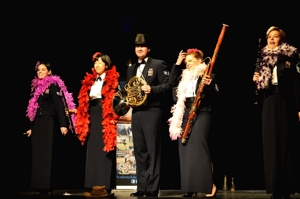 Monday night's free concert by the US Air Force Academy Band, Rampart Winds, at the Shuler Theater, was great fun and, a little to my surprise and the band's credit, produced some great photos. Master woodwind musicians, the band has performed throughout the world for all ages, including small children. As I learned during my own years of touring the U.S. as a singer/songwriter, you adapt and adjust your performances until they're successful with your audiences. For Rampart Winds, that means they insert personality, playfulness, and comedy alongside their fine musicianship. They were a big hit with a big audience.
---
March 16, 2014     Channeling Youthful Exuberance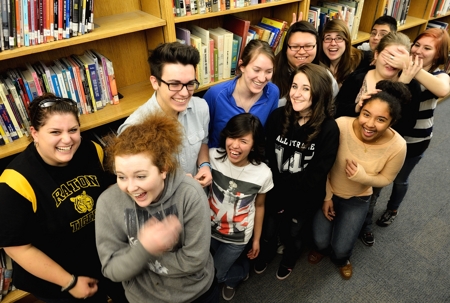 This was fun. I had two shots to get at Raton High School this week, each to accompany a Shuler Theater preview feature to run in next week's The Chronicle-News. The theater group, the Mask & Wig Club, is staging a comedy next weekend called "Murder by the Book." They weren't ready with costumes or sets on the stage itself, so I staged this photo in the school library. (Murder by books...get it?) I put a chair atop a table next to the stacks, then I climbed up to shoot down on the cast and crew in the next row of books. I instructed them that, on the count of three, they were to tickle each other, then look at the camera. I got what I wanted.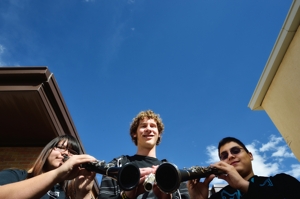 When I discovered that three RHS band students are going to perform with the United States Air Force Academy Band--Rampart Winds--I quickly conceived this shot, using a wide-angle lens with the instruments pointed close, right at the camera. I ended up using the 24mm end of the zoom rather than the wider 14mm end, a result of framing decisions during the shoot, but now I wish I'd figured out a way to use the wider end to increase the distortion, making the instruments bigger and longer while putting the musicians even farther into the background.
Only after planning the shot did I actually hook up with the band and find out who I'd be shooting. From left to right are Collette Village Center, Forrest McConnell, and Juan Prieto-Archuleta. (Collette and Juan are also in the drama club photo, taken the previous day. Busy beavers.) I like both shots well enough to submit them and let the editor choose which one to run alongside the Rampart Winds photo later this week in my preview of the show, which comes to the Shuler Monday night, March 24.
---
March 16, 2014     Brainstorming and Snowstorming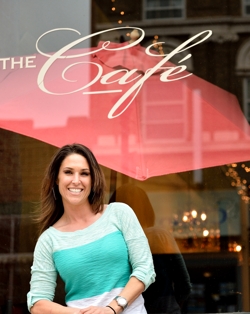 Magazines and newspapers struggle with the Sisyphean task of "feeding the beast"--endlessly generating content. Someone has to come up with all of those story ideas. Editors are busy with myriad other tasks; more often than not, it's the reporters (and photographers) who come up with the ideas. Brainstorming is a critical part of the job.
Having started back up with The Chronicle-News, I've been working to reverse my inertia from no work resulting in no ideas to lots of ideas resulting in lots of work. It's like getting a large ship to depart the dock and build up speed. One of my new pitches, or queries, to the editor has succeeded in opening an entirely new door, a weekly feature that will include six portraits with extended captions resulting from brief "man on the street" interviews in Trinidad and Raton, posing a different question each week.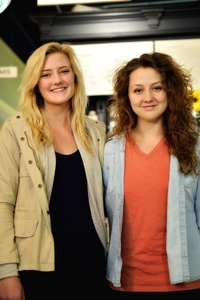 Yesterday afternoon's successful foray into The Cafe on Main Street just ahead of a snowstorm produced "women in the cafe" interviews and some good portraits. I asked owner Jodie Van Buskirk, above, What's the best-kept secret in Trinidad? After some thought, she said that the summer's evening art walks are lovely, with musicians playing and stores staying open, but they're underpublicized and underattended. Jodie's customers, sisters Ellie and Katie Hillhouse, suggested the mountain west of town, Simpson's Rest, as a neglected asset or best-kept secret of Trinidad. It's known for the Trinidad sign, but the Hillhouse sisters extolled its virtues as a site for viewing sunrises and sunsets. They said you can drive up there, but it's also a great hike. And me, as much as I like taking portraits, I'm thinking about how this new brainstorming idea will spur me to produce six new published portraits every week. This is a great example of making sure that your "work" is something that you love. I drove home over the pass, through the snowstorm, excited and happy as could be.
---
Late yesterday afternoon, the rainfall outside set to turn to snowfall, I was processing some of the Trinidad photos immediately below when suddenly my studio filled with sunlight. I got up and looked out the windows to the west where I discovered blue sky, a hole in the storm just as the sun approached the western horizon.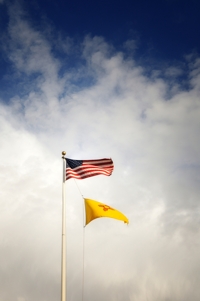 Shooting always takes precedence over processing: you can always process photos, but shooting is dependent on opportunity and light, both of which can be elusive. I'd planned to get some downtown Raton images to harmonize with my new downtown Trinidad images: here was my chance.
I only had thirty minutes downtown before the sun set but it was enough to walk a few blocks hunting for great photographs, which in this case always meant following the nearly horizontal beams of sunlight to find where they were applying their magic. Only then did subject matter and composition enter consideration: first light, then subject matter, then composition. My obligatory Goat Hill photo didn't turn out as well as these five, which I'm happy to display with the best of the Trinidad images.
Then came the snow. You can see it approaching Solano's Boot & Western Wear in the lower left quadrant of the four top images; the snow started with the night. At nine the next morning, it's still snowing. And I'm back to processing photographs.
---
March 7, 2014     Let There Be Light
 
Having done my best to photograph downtown Trinidad, Colorado, with an unanticipated lack of late afternoon sunlight (see March 2 immediately below), I returned to try again and this time had better luck. In the four days between the two sessions, Chronicle-News editor Bruce Leonard sent me a note saying that he prefers vertical images for the paper's front page "Thousand Words" photo feature. I told him that I'd hold the camera sideways for him, and I did.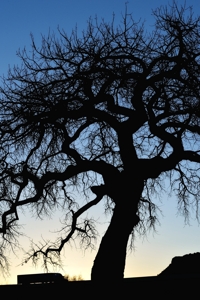 These five were shot within 20 minutes and 200 feet along the riverwalk, just south of Commercial Street along the Purgatoire River on the edge of downtown Trinidad. The setting sun is behind me in the first four, then I turned to shoot into it as it set over the Rocky Mountains. The silhouetted truck is on a northbound haul up Interstate 25 toward Denver. Contrasting these with the images below, you can see how much difference a day makes. It's all about the light.
---
March 2, 2014     Dinner with the Bear
I drove over the Raton Pass to Trinidad, Colorado, Thursday to spend an hour downtown shooting photos to submit to The Chronicle-News for its daily front page "1000 Words" captionless photo feature. I started just over an hour before sunset but I'd barely begun when the all-important sun dropped behind an opaque cloudbank tall along the western horizon. The clouds never broke and I never got the light back. In the words of Sam Elliott's "Stranger" in The Big Lebowski, "Sometimes you eat the bear, sometimes the bear eats you."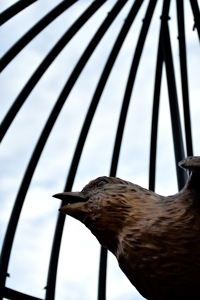 Photography means, and is, writing with light. The light had been gorgeous but once the sun was hidden by the opaque cloudbank, the light turned flat and monotone. The light was dark, if you'll permit me an oxymoron. I kept shooting anyway, seeing what I might accomplish in the challenging conditions. I got several that I submitted to the editor, including the three here, but for the two above I resorted to the trick of converting to black & white, which makes them far more interesting than they were in color. That's the corner of the Chronicle-News building at top right. Here at the right is a section of the huge downtown sculpture created for Trinidad by Raton artist Susan Norris.
I'm posting today at my TKA Blog some of the successful images I got just before the sun disappeared Thursday. Check them out (and always click any image to enlarge it). Despite the loss of sunlight, I liked what I saw--I did far better than I did on a Trinidad photo excursion years ago--so I'm planning to go back this week to try again. This time I'm hoping for great light during the hour before sunset. This time I'm hoping to eat the bear.
---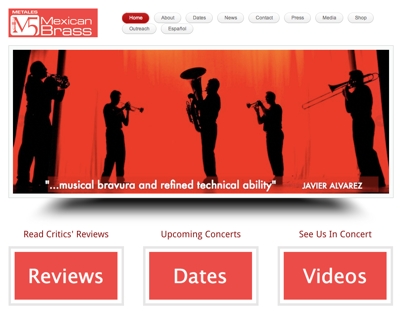 Metales M5 Mexican Brass is a wonderful touring band, musically masterful and comically entertaining. The five musicians hail from Morelia, Mexico, a city I've enjoyed many times as I've traveled the state of Michoacan. After the band performed at Raton's Shuler Theater in October, 2011, I sent them some photos that they used on their Facebook page. They asked permission and they gave credit. Trumpeter Alex Freund wrote to me, "We are always very eager to have good performance photos and yours are by far the best we saw in a looooong time!!!!" (Click here to see my original notes.)
Now I've discovered that Metales M5 is using my red silhouette photo as a banner across the top of its website's home page, but this time the photographer credit is nowhere to be found. This is a constant risk in the digital age, losing possession of one's own work. Nowadays I always embed credit information in any image's data before it leaves my computer, and for an application like sending photos to a band, I always watermark the image with ©TimKellerPhotography.com. But it's easy to clone out a watermark and the embedded data is often lost when converted to a use like the banner above.
I'm happy to contribute my photo to the Metales M5 website, on the assumption that they make as little money as most artists, but posting the photographer credit is always part of the deal. ¡Qué vergüenza, Metales!

 P.S. - I sent a note to Metales today via their website and within hours received this charming reply:

Dear Tim
Thanks for following our activities and being up to date, even more as we are. Our website is new and still in process of corrections, of course we will add the credits ASAP :)
Thanks for the new post in your blog
Big hug
Metales M5
Enviado desde mi iPhone
I say, "¡Viva Metales M5!" - Gracias muchachos, Tim.
---