---
June 29, 2011      Breaking Away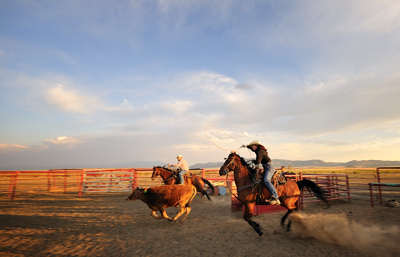 Since I turned the bulk of my photographic attention to storytelling almost three years ago, the exciting images tend to come in surges, lots of great images in a short spell. That's certainly been the case with the photos I've taken of Marcia Hefker for my upcoming Western Horseman feature on the Hindi Arabian horses of New Mexico -- and I seem to have saved the best for last.
Marcia drove all the way down to the Hindi Ranch in Duran to bring Aziz, her roping horse, 250 miles up to Trinidad, Colorado, for me to photograph them roping with Roy Sanders in his home practice ring north of town. The theme of my article is that the Hindi Arabians are not "elegant, flighty" animals unsuited to ranch work; in fact, the Hindi horses do it all: 100-mile endurance racing, high-mountain hunting trips, and cattle ranching.
The photo above was taken as the sun set last night. I'd started far back with a telephoto zoom lens. By the time I took this, one of my last shots, I'd moved in close and changed to a 10mm wide angle lens. Click to blow it up: Marcia's loop is in motion but Aziz seems to have stopped for a moment to put himself at just the right place: he's left a dust trail but now his feet look like he's waiting suspended in mid air.
Can you tell that I'm excited about this one?
---
June 28, 2011      Fading Light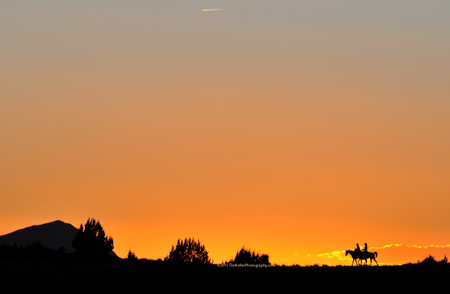 After the sun set on Friday evening's photo shoot of Marcia and Cy and their half-sibling Arabians, I turned my attention to taking portraits of them in the soft light that immediately follows the sunset. I had them facing the light, so my back was to the light. Cy finally said, "Too bad you can't get a picture of us riding along that ridge against the sunset." I turned to look, quietly kicked myself for not thinking of it earlier, and said, "We can still get it if you can ride a half mile up there in one minute." They did, and we did. Thanks Cy: you get co-credit for the iconic image.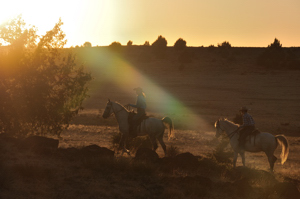 Maybe I stopped thinking of silhouettes because I'd already spent a half hour taking them. These were tricky, requiring careful work in processing to bring up the highlights in the shadows and tone down the blinding light of the sun. I like this one on the right for the magic diagonal shaft of light that they're riding through. Diagonals and light are both important contributors in composition: here the sun gave me both simultaneously.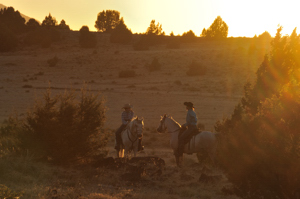 This one on the left, "Mother and Son", is also a favorite for the relaxed moment it captures between the two of them. These may be too dark to work well as photographs (alas), but they reward a close look. (Click on any photo to enlarge.)
The problem is that I was trying to show my subjects and silhouette them simultaneously: too many trade-offs. There's a way I could have accomplished that if I was inclined: set a pair of radio-triggered strobes at angles toward the subjects to provide front fill-flash. I have the equipment and experience to do that, but I don't enjoy it and I'm not much good at it. I prefer to work with available light.
One reason the top photograph works so well is that it doesn't try to be anything more than a pure silhouette. As usual, simplicity wins out.
---
June 27, 2011      Hoofbeats Accelerating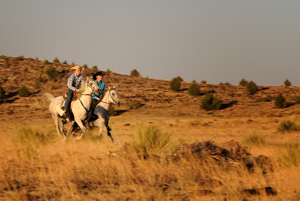 As an adjunct to the Western Horseman feature I'm developing on the Hindi Arabian horses, I photographed Marcia Hefker and her son Cy Brower on their Hindi horses Friday evening behind Des Moines where I regularly hike. I got a lot of keepers that I'm excited about: it was a productive and successful session. I'll be posting some to my galleries, and some to the blog here over the coming days. They include action shots, moody silhouettes, and wonderful portraits.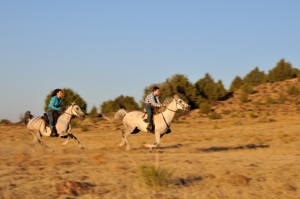 In this pair of images I wanted to show the cameraderie between mother and son, the fun they have when they're riding, and the beauty of their horses. The horses were born just days apart, half-siblings sired by the same (busy) stallion at the Hindi Ranch. Marcia broke them as 3-year-olds; they're now 10-year-olds ridden in 100-mile endurance races, where they do very well. They cover 100 miles in 13 hours of riding time, plus 3 hours of required vet checks and rest stops.
The smoke of countless western fires made the skies gray, which is especially apparent in the top photo here. I used it to our advantage, though, as the sun set and I shot silhouettes...but that's another blog.
---
June 23, 2011      Hindi Horses, Hindi Saddles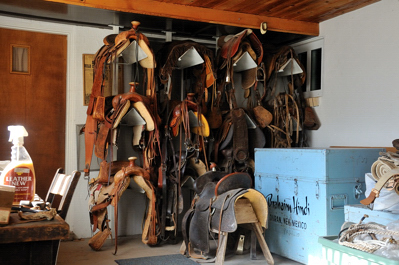 I've spent much of the past week on my next Western Horseman feature and still have a little left to do, including one or two more photo sessions. I shot late one day and early the next morning at the Hindi Ranch in Duran, New Mexico, where they've been breeding and training great Arabian horses for 60 years.
I drafted the manuscript yesterday and will revise it over the next few days. Friday evening I'll photograph Cy Brower and his mom Marcia Hefker on their Hindi Arabians, out back of Des Moines here at the base of Sierra Grande. I'll also shoot Marcia team roping on another Hindi Arabian north of Trinidad Tuesday evening.
Then I'll wrap up all the images and the manuscript and send them off Wednesday on a disc to editor for publication in the fall...probably the November issue, give or take. Meantime, I've also been loading recent photos into my galleries, including a portrait of Jamil Hindi and this one, above, of some of the prize saddles won over the years by Hindi horses. I still have the Migas and Shuler Theater galleries to update. If you haven't scanned the galleries lately, check them out.
---
June 15, 2011      Horses, Fires, and Radio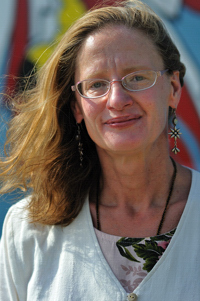 I had a Western Horseman photo shoot scheduled for first light Monday at Lake Maloya in New Mexico's lovely Sugarite Canyon State Park. I was meeting a pair of Arabian horses and their endurance-racing mother & son owners.
Except the huge Raton Track Fire broke out Sunday afternoon. By Monday morning, the very spot where we were going to shoot was burned down, charred and treeless. The horses had to be evacuated from their stables and we're looking for an alternate date and location for shooting.
Meantime, I'm heading down to the Hindi Ranch at Duran, New Mexico, where those Arabian horses were bred and raised. I'll be staying almost 24 hours to get the full tour and interviews, but especially to get great photographs in the golden-hour light of both evening and early morning. This will all produce a feature in Western Horseman in the fall.
My wife, Christina Boyce, has been developing web content for a new website for KRTN -- which I call the heartbeat of Raton -- so she's been doing lots of writing and photography, including portraits of each staff member posed outside in front of the radio station's mural. She asked me to take her portrait. I wanted to minimize the distraction of the mural behind her and the effects of the bright sun on her. Using my 85mm portrait lens at f/2.8 for low depth of field, I stood close to Christina but kept her distant from the wall because I wanted that blurred. The result, above, will be her portrait on the new website, scheduled to go live on the 4th of July.
---
June 8, 2011      Evolving Landscapes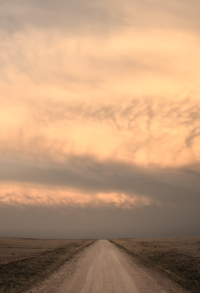 The photo trip Christina and I made last Friday north of Highway 64/87 between Clayton and Des Moines, New Mexico, occurred just before the area started getting lots of haze and some smoke from huge fires far to the west, mostly in Arizona. The clouds in the photos are the normal June evening thunderstorms forming -- great for photography.
Days later, the skies are hazy and smell of smoke. There's no end in sight. I have a photo shoot Monday for Western Horseman up on Bartlett Mesa and it's increasingly looking like we'll have a hazy, smoky sky. For that matter, the shoot moves to a 24-hour ranch stay and extensive photography south of Encino, New Mexico, later next week and the skies are likely to be hazy down there, too. It may be weeks before they clear. Photography is always about adapting to circumstances: for now, smoke will be one of the circumstances.
Meantime, I've launched my now annual project of adding the past year's best images into the galleries here at TKP. I've gone through the past year's files and selected the images I'll prepare. I'll be posting between three and four dozen.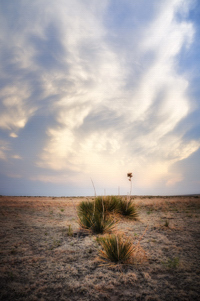 It will take almost that many hours! I create each image in four sizes, post them into the software, then create lots of code so a viewer can click a thumbnail and go to a larger image, then to an even larger image, and finally, order a print. Then I have to make room on the gallery page itself, set the thumbnail there, and title it.
I've heard the suggestion that I should change the galleries more often. I understand. But it's just too big a job, and I don't find it efficient to do it in smaller bits each month or quarter. Instead, I hope to provide dynamic, frequently-updated content through the Blogs, News, and Writing sections of the website. Here's where viewers can find all the photos that will go into the galleries when they're updated each summer.
---
June 4, 2011      The Hi Lo Country

For the first couple of years I immersed myself in photography, I'd often be out along the long lone dirt backroads of the Hi Lo Country finding wonderful images. Driving our 1995 Ford F-250 4WD pickup through the dawn or the sunset, I often left our dogs at home so they wouldn't run unwanted into the photographs.
But eventually I came to feel that I'd captured most of what I could by that approach, so I turned my attention to storytelling, through photojournalism and magazine features. Lately, though, I've felt a need to get back out into our landscapes. Fortunately, Christina is about three years behind me in immersing herself in taking every photo she can find; going out with her adds to the fun. That's her photographing a raptor's nest in the sole remnant of life on a long-abandoned homestead just west of Rabbit Ear Mountain outside Clayton, New Mexico.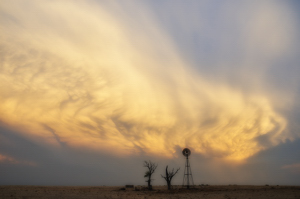 The sun was getting low so we rushed along trying to get as much as we could of the golden hour of light from the sinking sun. We'd enjoyed dinner at the Rabbit Ear Cafe in Clayton and now were speeding north on Royce Road, a typically desolate dirt track that sees perhaps a half dozen trucks in a day, if that.
Shortly after turning west on Campbell Road, we had our last burst of light as the sun set so we stopped and rapidly shot in all directions. We chose a spot with lots of subject matter and compositions available, where the road crossed a cattle guard next to another abandoned homestead, Sierra Grande and the setting sun in the far distance. I call this second shot "Remains of the Day", looking back east toward Clayton and the thunderstorm we'd left behind us. The windmill and dead trees are all that still stand from someone's long-ago dashed dreams.
---
May 30, 2011      Another Dip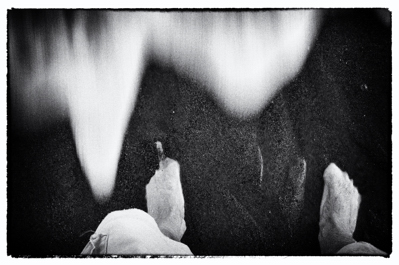 Just shy of a year since we spent a week with my family at home along the southern California coastline in Pacific Palisades, and the day after my father returned home from a week-long hospitalization, I've revisited this image of my feet about to be reconnected with the Pacific Ocean after a long absence. The more I've seen the original color image in the Places Gallery, the more I've thought it should be black & white.
Nik Software recently introduced its Silver Efex Pro 2 upgraded plug-in filter for black & white processing within Photoshop, and last week they offered 20% off. I've used the original Silver Efex Pro for two years but been frustrated that it hasn't offered non-destructive processing; that is, it doesn't store my adjustments, so I can't retrace them or retweak them. Thus, when I want to match Tess's portrait below to her brother's, made months earlier in SEP, I have to rely entirely on my eye and make my best guesses.
I do most of my processing in Nikon's Capture NX2 software, whose non-destructive feature is invaluable: I often revisit and adjust an image. Nik Software's color processing plug-in filter, Color Efex Pro, is available for Capture NX2, and I use it often, but the Silver Efex Pro is available only through Photoshop, which I generally use for only limited tools such as watermarking, embedding file data, and sometimes cloning out a blemish. For a couple years, since seeing the wonderful B&W work Marc Guitierrez does in SEP, I've used it for most of my black & white conversions.
"Pacific Ocean Arrives", above, is my first foray into the upgraded SEP 2 and I haven't had a chance to play with the history and make adjustments, but I'm looking forward to the new improved tools.
---
May 22, 2011      Tess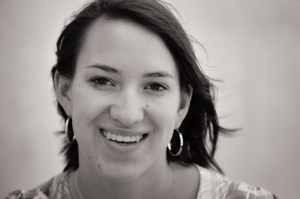 It's been a special pleasure to get to know the Neary family over the past year, and to have James and Tess in my classes. Since creating a portrait of James last year, I've wanted to get a matching image of Tess, hoping the set might spend decades in frames on a family wall, just as a similar matched pair (now a half-century old) of me and my brother still hangs back home in Pacific Palisades, California.
Tess and I gave it a try last fall but struck out. I didn't notice until I processed the images that an errant strand of hair crossed her face in every shot. (Part of the photographer's process of learning.) She had braces then, though I think Tess tends to pose for photos with her mouth closed anyway, resulting in a look somewhat stern. When we tried again this week, her braces were gone and I watched for stray hair in the light wind. Most important, I coaxed a smile from her, perhaps by promising extra credit in my college placement freshman English class. Whatever I said, it worked.
---
May 15, 2011      Broadway West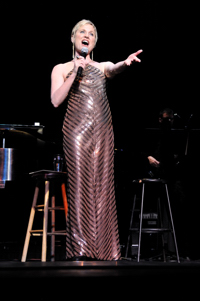 Longtime Broadway star Jeri Sager brought her one-woman show "Broadway by Jeri" to Raton's storied Shuler Theater Thursday night. Many in the audience seemed to know all 17 songs in the two-hour show, a veritable greatest hits of Broadway.
I was in my usual front row center seat photographing and reviewing for The Chronicle-News. Impresario Bill Fegan was nice enough to anticipate my presence and get Sager's clearance for me to photograph her show, sometimes an issue with nationally-touring acts. Bill said that Sager replied, "He can shoot pictures as long as I get to see what he gets." Well, Ms. Sager, here's what I got (click image to enlarge). I enjoyed the show, too. Thanks.
---
May 14, 2011      The Working Photographer's Dream

---
May 8, 2011      The Birth of an Icon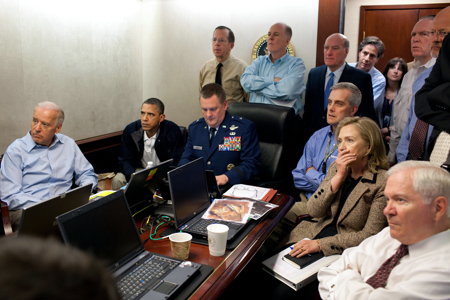 When Time-Life, in about 90 years, publishes the next Our Century in Pictures, this photograph will be near the coffee table book's front cover. Taken exactly one week ago today, it has already been viewed and studied by countless hundreds of millions of people around the world. Google "situation room photo" and you will find 4.4 million listings, including extensive analyses in most of the world's major newspapers -- close examinations and commentaries on the people, body language, expressions, clothing, hands, seating arrangements, computers, documents, food (from Costco), and even composition. Photoshop artists have playfully added TV bimbo Mike "The Situation" Sorrentino, or gone the Sgt. Pepper route, or myriad other playful adaptations. The original image took about a week to become the most viewed photo in Flickr history, surpassing (at 3 million views) a rather ordinary photo that inexplicably reached that distinction over four years.
All this in less than a week from White House photographer Pete Souza's shutter click as U.S. security chiefs sat helplessly watching their special operations team drop by ropes from stealth helicopters in the middle of a moonless night halfway around the world in Pakistan to take out a man whom they prayed would be Osama bin Laden. Part of the photo's fascination is that we have no way of knowing exactly what they're watching on an unseen screen, although we've since learned that the soldiers wore night vision cameras on their helmets which fed live video all the way to the White House. Fictional shows like Mission Impossible and 24 will now seem tame by comparison.
Souza shot this with his Canon EOS 5D Mark II through an EF35mm f/1.4L USM lens. Standing, backed up into a corner of the small room with a moderate wide-angle lens and shooting without flash, he manually set his exposure to 1/100 second at f/3.5 and ISO 1600. His staff didn't process the image until 25 hours later, through Photoshop in an Apple Macintosh computer. Then they posted it on the White House Flickr photostream, leaving all of the above data (and much more) available under Actions: View Exif info. This is an invaluable Flickr resource which I often use to study how great photos were made. The same data is available for the photos that I post to Flickr, too.
Small-town newspapers with low standards for photography sometimes publish photos of large groups of people meeting in a room. There is no focal point -- a single element that initially draws the eye -- and no composition. The "little miracle" of Souza's image is that he was able to get a focal point and composition in this small crowded room. (This took equal portions of luck and skill, which is often the case in photography.)
The composition is grounded in a strong V reinforced by the lines of the people, the table edge, the computers, and the wood molding of the back wall. Even the hard stares of the people -- the sight lines to the unseen monitor seem almost visible -- reinforce the lines of the V. The focal point and emotional center is Hillary Clinton, whose hand over her mouth doesn't hide the high stakes of the tense moment. Only President Obama's face is as fascinating (view large) and he's the second resting point for the eye, shrunken down in a small corner chair. If the operation had turned out disastrously, the White House would have never let this image out: it's a sign of confidence -- theirs and his -- that they let Obama be portrayed so small and seemingly-peripheral.
They were called in on a Sunday afternoon, Obama from a round of golf. I'm guessing that Obama was in the big chair and gave it up to General Webb so he could manage and direct the video feed -- he's the only one whose eyes are not riveted to the big screen. The Chairman of the Joint Chiefs of Staff, Admiral Mike Mullen, stands behind them in a brown shirt and tie. The white notebook on Clinton's lap reads "Top Secret...Situation Room Only" with some code words. Vice President Biden is said to be fingering rosary beads.
Obama ordered the operation with just "60 to 80% certainty" that Bin Laden was in the building. Failure would turn this into Obama's Jimmy Carter moment, forever changing Obama's reputation and legacy. Whichever way it went in that darkened 3-story house in Abbottabad, Pakistan, the moment would change history forever.
All of that is written on the faces in this fascinating and iconic photograph.
---
May 1, 2011      Two Sides of One Talent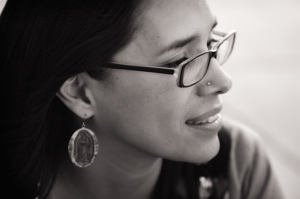 As hoped last week (below), Albuquerque performance poet extraordinaire Jessica Helen Lopez did a brief portrait sitting for me after a long day of working with my students. Working in the same open afternoon shade where I've taken so many portraits -- I'm now calling the spot my outdoor studio -- I shot up close with my 85mm portrait lens at f/2.8 for shallow depth of field.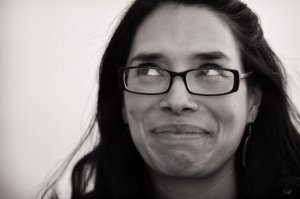 I'd planned to get a single horizontal frame in black & white with Jessica looking at the camera, to match those of Danny and Manuel (below) in a new top row of my B&W Portraits Gallery. Instead, I've chosen a matched pair. Now I'll have to figure out what to do about fitting her into a row of three with the guys.
The beauty of the spot where I shoot is that the background consists of a long outdoor passageway with a blank light-colored wall on one side and a darker plain brick wall on the other. I shoot at an angle to get either a light or dark background, neither of which has any detail to cause distraction: I get a plain field which I blur further by using a wide aperture and a relatively long lens.
Jessica Helen Lopez was a wonderful subject to photograph. Her talents -- as a poet, a performer, and a teacher -- are extraordinary; the best portraits are always more about what's inside than outside.
---
April 23, 2011      Through the Eyes of a Poet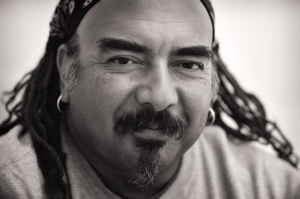 Albuquerque's much-traveled and much-awarded performance poet Danny Solis was kind enough to do a quick portrait sitting for me this week. The best portraits communicate -- express -- giving the viewer a rare and intimate glimpse of (I want to say into) the subject. The elusive goal here, then, is to catch a glimpse into the soul of a poet.
And why not: poets are all about expression. They do it with words. Here, I try it with an image. It's still communication of the subject, the poet; the photographer is hidden.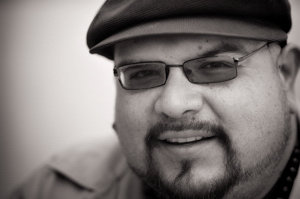 Danny's colleague, peer, and Albuquerque neighbor Manuel Gonzalez also gave me a shot. Both men were in Raton, and in my classroom, as poets-in-the-schools, part of a two-week residency provided by New Mexico CultureNet and supported by the Whited Foundation. (See them in action at today's TKA Blog.) Next week, Belen poet Jessica Helen Lopez will join Manuel here and I'm hoping to add her portrait to these of Danny and Manuel in a new row of three across the top of my Black & White Portraits gallery.
---