---
August 29, 2010      China, Spain, Raton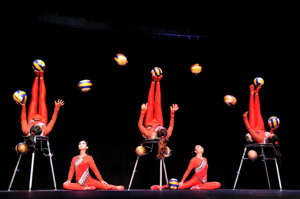 What a week it's been at Raton's Shuler Theater! I photographed and reviewed two of their three shows, missing the annual free chamber music concert Tuesday night by Music from Angel Fire.
What I did experience were extraordinary performances by professional troupes with roots in China and Spain.
The Golden Dragon Acrobats amazed, often seeming to defy physics. In the photo above, three young Chinese women kept up to 12 soccer balls simultaneously airborne -- that was one ball for each hand and foot, all in constant motion. Another highlight was a young man who climbed chairs all the way up to the proscenium arch, then did handstands and the like. I was on the balcony for that, giving me a unique vantage for the photographs.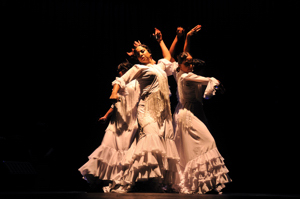 Last night, the Juan Siddi Flamenco Company took the stage and delivered a night of passion, propelled by Chuscales, the extraordinary Spanish guitarist Christina and I used to enjoy hearing in Santa Fe. (Her oft-performed poem Mi Fantasia de Amor was inspired by Chuscales.)
We enjoyed a reunion with Chuscales after the show, and we agreed on the long drive home that it was one fabulous wedding anniversary night for us. (Together 23+ years, we married 11 years ago: it took us 12 years to be sure.)
The Chronicle-News has already published my review and photos of the Chinese acrobats; my flamenco coverage will appear this week. What visual feasts both shows provided for a happy photographer!
---
August 22, 2010      Qualities That Escape Notice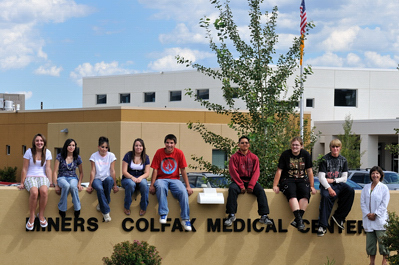 Like most of my stories for The Chronicle-News, this one came up quickly. Within two days of first learning about Raton's new Health Careers Pathway program, I'd interviewed the two key players, written and submitted my feature, and seen it published (1, 2) on the third day. It was accompanied by this photo, which I particularly enjoyed but did not think anyone else would pay much attention to.
Then I received an e-mail from Richard Sitts, who is editing the Chronicle. He wrote, "That was a good story and I really liked the way you set up that photo, too. Good work!" (Editors are busy people: it's not common to get direct compliments from them. Their compliments are that they keep using your work, and when they give it a great layout and location.)
Why would this photo please me? School hadn't even started and another reporter might have run the piece without a photo, but I find photos important in drawing readers to articles. Another photographer would have put one or both of the interviewed key players at a desk, maybe the two of them pretending to be planning the program. Boring (and common).
I was able to get them to gather 8 of the 10 new students from the last day of their summer vacation. They came to school, but the unique part of the program will occur at the hospital. I asked them to drive 2 miles to the hospital. We met at the main entrance, where I discovered there is no sign identifying the building. I had them all walk back 150 yards to the street, where I asked them to sit on the wall over the sign.
If I'd stood close and shot them with a wide angle lens, the hospital itself would look very far away and be blurred. Instead, I walked another 40 yards and used a telephoto lens, with everything focused on infinity and the aperture at f/16. As a result, not only is the building as sharply focused as the kids, but the building looks to be within arm's reach behind them. The telephoto lens compresses depth, which was the effect I wanted. There are four rows of parking between the kids and the hospital, yet the hospital appears to be very close.
I smiled as I processed the shot that night, pleased that I'd gotten what I wanted. These are not qualities, though, which I expect others to notice, so Richard made me smile a second time when he sent an unexpected and much appreciated compliment.
---
August 15, 2010      A Little Excitement for a Saturday Morning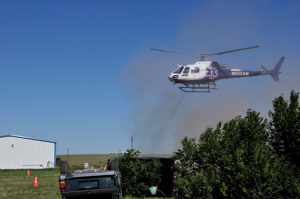 Late Friday afternoon I was settling in for a final quiet weekend before the maelstorm of the new school year begins Monday. Or so it seemed...until my friend Paul Briesh stopped by to ask whether I might photograph and write about a big Mass Casualty Incident being enacted here in Des Moines Saturday morning as a training exercise for all the emergency agencies and responders in our half of the county.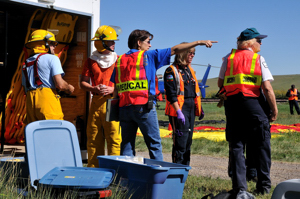 As much as I could use the peace and quiet, I was thrilled to be asked and thrilled for the opportunity. Having participated in these as an EMT, I knew it would be a great story, with great photo opportunities.
I devoted Saturday to photographing the event and gathering information and impressions for an article. When it was over, I sorted through more than 300 images (I went onto a second 4GB memory card for the RAW images), selecting 48 for processing. I'll give those, in 1/2 MB image files, to the EMS for use in their training, fundraising, and scrapbooks.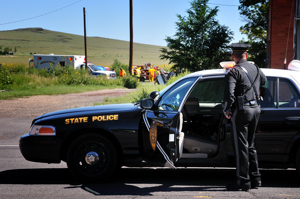 I processed seven images into larger (2MB) files to submit to The Chronicle-News with my article, which I wrote this morning -- it took a real effort at economy to hold it to 1400 words.
Paul later asked whether I'd contribute some photos for the Union County Leader newspaper in Clayton -- they'd failed to show up. I selected four images for them -- different ones than I'm sending to the Chronicle -- and I processed 2MB files for those. (For comparison, I submit 70MB TIFF files for magazine publication.)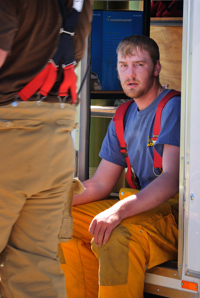 I always use my photographs to lead my writing. Though I begin to form a story in my head as I report and photograph, I always select and process the photos before I write. Then I use the photos to lead me into the story. One advantage of this approach is that I can tune the story to the actual photo content I'm submitting. It's working backwards: you'd think the photos are illustrating the article, but actually I'm building the article to accompany the photos.
Of course this means I'm also looking for images at the scene that convey the story I'm imagining. I shoot the story, then I write it.
Yesterday's story was a big and exciting one -- I'm already looking forward to seeing it in The Chronicle-News later this week. And I thank Paul and all the others for letting me participate.
---
August 8, 2010      Converting Miles into Photographs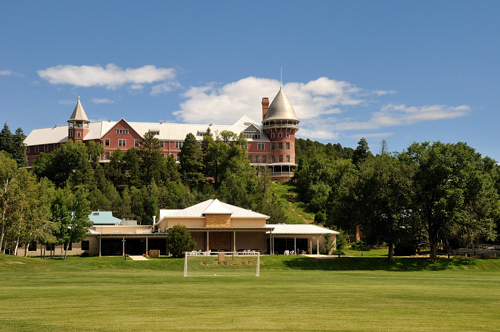 After sending off photographs for the 2011 New Mexico Vacation Guide, I've developed the mindset off taking advantage of every opportunity to get pictures of scenes throughout the state, so I'll have new images for each future edition. Wednesday, when I had three hours to kill while Christina took a class at Luna Community College in Las Vegas on our way home from Santa Fe, instead of reading a book under a tree I set off to take pictures of LCC, New Mexico Highlands University, the Plaza Hotel on the downtown plaza, Bridge Street, and The Armand Hammer United World College of the American West in nearby Montezuma, pictured above.
I have New Mexico Magazine's shot list for the vacation guides posted in my office, with its lists of locations and attractions that they're particularly interested in for the vacation guides. It will help motivate me to get beyond our beautiful northeastern corner of the state, and to put my camera to use wherever we go.
---
August 1, 2010      The Fine Art of Printing Photographs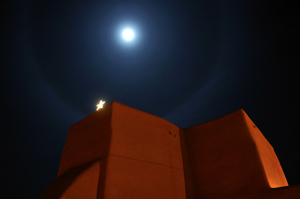 I've run into a problem getting a high-quality print of this image. My usual printer, who's done good work for me for two years, has not been able to get the ethereal halo light and the warm orange tones of the walls. It raises the point that, just as there are variations in viewing any image on any two monitors, so too will any print look somewhat different than the same image on a monitor.
I've been planning to enter a framed 10"x15" print of "Ranchos Church, Night" in next month's 34th Annual International Art Show in Raton. That's how I discovered the problem. It's serious for two reasons: 1) I love the photograph -- a 12-second exposure at f/16 on a tripod with timed release -- and I'll be crestfallen if I can't get its subtle qualities in a print; and 2) I've already entered the image as one of my three entries in New Mexico Arts' "New Mexico Only Purchase Initiative" program which places artworks in public buildings for permanent installations. I've offered the program a large framed 20"x30" print of "Ranchos Church, Christmas".
What to do? Well, you seek out the best. Orion Studios in Santa Fe works with big-name photographers in preparing their work for shows and museums. Susan and Thomas have done great work for me in the past, including the two prints that now hang in Belen and Rio Rancho (see July 25 immediately below). They've agreed to work on my image tomorrow morning. If we get a good artist's proof, I'll go ahead and have them strike a 20x30 image right away, and I'll enter that in the International Art Show instead of the smaller print my Trinidad printer attempted.
If the large framed piece (33"x42" matted and framed) doesn't sell at Raton, it'll be ready for installation next summer in the NMA program. I'm optimistic.
Meantime, I expect to get some lessons in the intricacies of fine arts printing from Susan and Thomas at Orion Studios tomorrow. I'm excited about it.
     (P.S. August 5 -- Success! We went 20x30.)
---
July 25, 2010      Sorta Like Money in the Bank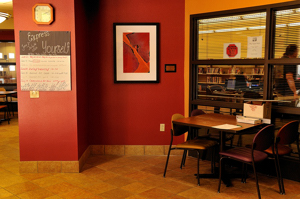 I've been working for days on two projects which, with some luck, should put money in the bank...six months and one year from now.
Last year I submitted 16 images to New Mexico Magazine for their 2010 New Mexico Vacation Guide; they selected and published seven. Friday I mailed my submissions for 2011, a DVD carrying 38 big tiff files, processed through Photoshop CS5 to the magazine's specifications. I'll learn late this year how many they've selected, then I'll receive a check and a vacation guide early in 2011. (All the images are tagged for location and subject matter: they remain in the magazine's photo database for use as needed in upcoming issues of the magazine.)
Then I turned my attention to New Mexico Arts' wonderful New Mexico Only Purchase Initiative, which is held ever other year. Two years ago I entered the alloted three images, had two of them selected by the judges, then both of those were purchased at the very first of the many viewings scheduled throughout the state. The Belen Public Library purchased my abstract "Raton Junkyard 18" (above) and the City of Rio Rancho bought my landscape photo "Distance" for their Cabezon Recreation Center (below.)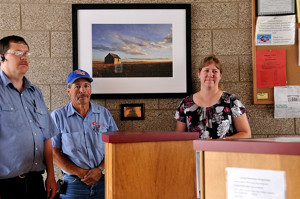 This morning I finished preparing my application and images, then electronically submitted them with hopes that "Ranchos Church, Night, Christmas", "Soft Yellow (East of Raton)", and "Fore & Aft" will find homes in public places around our wonderfully arts-oriented state of New Mexico. I'll learn in autumn which images make the cut, then at year's end I'll learn which are purchased. Those, matted and framed, will be permanently installed next summer.
The NMA program launched my career when I was starting out two years ago. The path from there has been exhilarating, but nothing can be more exciting than finding success in this public arts program.
---
July 22, 2010      Combing the Archives for Missed Nuggets
A week ago (July 15, below) I said I was looking through my photos for images to submit to New Mexico Magazine for possible inclusion in their 2011 New Mexico Vacation Guide. I had found one image, an alternate take of the Rancho de Taos Church at night, which I think is among my best images of the past year. I was amazed that I'd neglected it back around New Year's.
I took the lesson to heart and looked deeper, and further back. My favorite of the new discoveries is almost exactly two years old, a shot of the Kimo Auditorium on Central Avenue (the old Route 66) in downtown Albuquerque, shot on a walking group photo outing with Christina and much of the Albuquerque Flickr group.
Here's what happens. When I process a card of photos, I use process of elimination to sort my images in Nikon View NX. If a photo somehow misses the initial sort, failing to catch my eye then, it's likely I'll never see it again. There's just not enough time: I'm already on to the next photoshoot. But the pair of photos I've posted above, and July 15 below, teach me to not be so fast.
---
July 20, 2010      Working within Limitations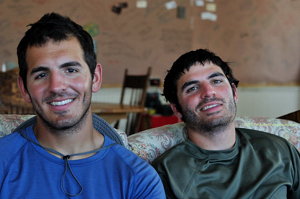 After following New Jersey coast-to-coast walkers Anthony Greco and Rob Bonora three miles across the hills straddling the New Mexico-Colorado border Friday morning, I needed to get a good portrait so readers could have a good look at them. Outdoors the sun was straight overhead, white and harsh. I opted to shoot them in Branson, Colorado's community center with just window light, no flash.
I encountered other limitations. The guys planted themselves on a deep comfortable couch -- understandable! And almost immediately they accepted breakfast burritos. There were no good backgrounds for a portrait: the busy clutter that works great for this big community room did not work well for a portrait. I used a wide aperture for two reasons: it gathered plenty of light for the indoor shot, and it reduced the depth of field to blur the busy background.
In order to get both Anthony and Rob in focus, I should have had each equidistant from the lens. The problem was that the background directly behind the couch was even more distracting than the area you see. (As always, click the photo to enlarge.) As it was, I removed book racks to clear the area immediately behind their heads. Then I shot at this angle which, with the shallow depth of field, meant that I could get either Anthony or Rob in focus, but not both.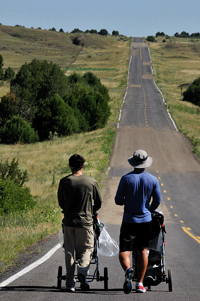 I shot some at f/2.8, then to give more leeway closed further to f/3.5; I should have gone much further, even to f/8, to get them both in focus. The camera could have gathered plenty of light. It was my mistake. I like portraits to have shallow depth of field and often use f/2.8, but with two subjects you have a lot more to get into focus and it's always wise to give yourself more depth of field. If I'd shot straight on, so both were the same distance, f/4 would've worked.
The room was full of eager well-wishers and the guys were spent and hungry. I worked fast and got what I could: we learn from experience, and this was one. I chose the shot with the best balance of focus between the two that I could find (ideally you'd want to choose solely for their expressions), then sharpened the heck out of it in processing. I squeaked by, but barely.
(If you're interested, there are more photos and story on the guys and their walk on today's TKA blog. The Chronicle-News will publish my story later this week and I've sent related stories to several other publications, as well.)
---
July 15, 2010      A Closer Look and Neglected Treasure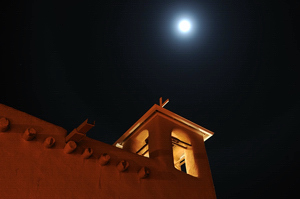 In the mail I picked up on the way home from camping was New Mexico Magazine's request to submit images for consideration for the 2011 New Mexico Vacation Guide. A year ago I submitted 16 images; seven were included in the 2010 Vacation Guide.
I spent this morning selecting 32 images and saving them as TIFF files, which I'll have to process through Photoshop to the magazine's specifications, including captions and photographer identification. It'll be the first work I do in my new CS5 Photoshop. As I worked this morning, two thoughts came to mind.
One, I need to get out around the state more each year and consciously shoot for this annual photo call. Fortunately Christina and I spent several days around Taos last winter; I need to do more of that. I can consider such trips a business expense since, invariably, I do manage to sell some of these images and, frankly, I'll be out of the loop if I don't do it.
Secondly, after my first pass and processing of photos from any given photo shoot, I need to revisit the shots later to consider whether I missed any "keepers" -- such as the image above of the San Francisco de Asis Church at Ranchos de Taos. Because another shot caught all my attention, I missed the image above -- and I think it's a worthy equal of the first one; in fact, I'll be choosing between the two when I select three images to submit to New Mexico Arts' bi-annual call for three images in their Art in Public Places program. (In the last call, the cities of Belen and Rio Rancho each purchased large framed photos of mine for permanent installation.)
In looking for Vacation Guide shots, this new church image wasn't the only one selected and processed for the first time this morning. I need to be more careful and eventually revisit each photoshoot for neglected treasure. If the shot above is any indication, it's an exciting prospect.
---
July 9, 2010      Content Versus Process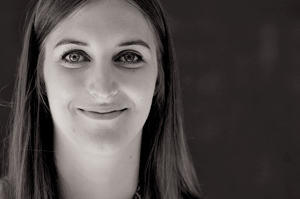 Although you're unlikely to see any difference here on the website or in my photography, I'm in transition to a much more efficient and professional workflow here at the home workstation. I've replaced my 5-year-old Power Mac G5 with a new Mac Pro with blaziing speed and huge memory. Processing photos (such as Brooke, above) is dramatically faster. Another benefit: I have a new 24" Apple LED monitor which gives me a lot of real estate on which to work while providing wonderfully bright, crisp images.
When you click on a photo here in the blog, I give you an enlargement 650 pixels high, which nearly filled my 20" Apple screen and was compressed by the 15" PC screen in my classroom; on my new monitor, it takes barely over half the screen height. I've already used the new computer speed to quickly process 50 favorite photos into desktop and screensaver images 1200 pixels high -- the height of the new screen.
But it hasn't been all gravy, by a long shot. I've spent a couple of 12-hour days managing the transition and working out bugs. I'm not very patient or technically oriented when it comes to troubleshooting. It's been taxing. Two problems remain unsolved at this moment. One, I can't download my pages from The Chronicle-News in order to archive them here on TimKellerArts.com; I'm downloading them on my wife's MacBook Pro and sending them to my computer until The Chronicle's web guy and I figure it out.
The second problem is more serious. My Nikon ViewNX software has not successfully made the transition, so I'm unable to upload my photos and sort them the way I'm used to. It appears to be an issue for Apple, rather than Nikon; in the meantime, it looks like I'll be learning how to sort in iPhoto this weekend, then moving to Nikon's Capture NX2 from there. In the long run, I'm considering a switch away from Nikon's software to either Apple's Aperture or Adobe's Lightroom -- I'm leaning toward the latter since I've just installed Adobe CS5 with the brand new Photoshop, and with Dreamweaver, which I'm now using to manage this website.
In spending more time than I like troubleshooting, I found another photographer -- David Monnerat outside Denver -- who encountered the same problem with Nikon's software last year and has since not only worked his way to a long-term solution, but blogged about it. I'm studying his notes to help guide my decisions on where to go from here. He has a great website, lots of gorgeous photos, and knows his stuff.
All this points up an important distinction: I'm in this for the content, not the technical processes. Lots of people get swept up in the technical, and technological, but I learn those solely as a means to process and share the content -- my writing and photography. They're the payoff for me. So this week, forced to wear a techie's hat, has been frustrating. It's good to be blogging again -- in new software, yes -- and this afternoon I have interview appointments with actors at 1 pm, 2 pm, and 3 pm. I'll be photographing each, and I'll write profiles of each this weekend for The Chronicle News. It's good to be back to work, the work that suits me.
---
July 8, 2010      Staying Sane Through Times of Change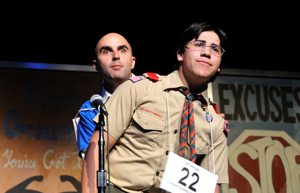 I've been working just over 12 hours, most recently moving the website onto a new computer and into new software, connecting it all through the mysterious process that takes it up into the "cloud" and down into your computer.
I have to stop now, and will return in the morning to add more here. This is just a quick test. See you here again soon.
---
July 3, 2010      Thanks for everything, Johnny Cash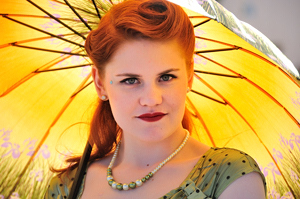 Two weeks ago today, the Johnny Cash Festival in Ventura brought out thousands of people; many of them were great characters for portraits. It put me in a position of having to approach strangers and simply ask whether I might take a picture. All said yes; some even thanked me!
When I started pursuing photography seriously 2 1/2 years ago, I quickly discovered that I had to be less shy while the camera was around my neck: shy shutterbugs miss too many great photographs. I was specifically after shots to add to my new Black & White Portraits gallery, and I got some. (I hope to add them next week.)
But this shot screamed for color, this redhead with the sun backlighting her yellow umbrella. There are photos for which black & white doesn't cut it. The nice thing with digital photography is that I don't have to make that decision until later, in processing. The digital camera, especially when shooting in RAW mode as I do, captures all the information, and the photographer later decides which information to use, and how to use it.
A little fill flash for our gal's face would have been nice in this case but, for me, flash adds its own set of challenges. I use flash when I have to, but this day I chose to carry only my 85mm portrait lens and no flash.
Most of the people I shot at the festival were gnarly tattooed guys (well suited to B&W); our redhead here was easily the prettiest of my subjects that day, and this photograph one of my favorites.
July 2, 2010      Improving on Reality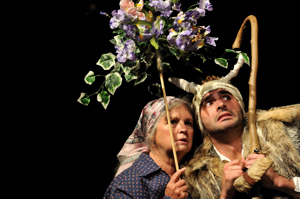 Here's a photo I took last night -- what fun! (Click photo to enlarge.) Christina, who was sitting beside me front and center at the Shuler Theater, commented this morning that the photo looks better than the reality. And you know what? I think that's often the case!
Photography is not generally about pure documentation. It's an art form, created from images taken from reality, but the photograph becomes its own reality. When we view the photographs of Henri Cartier-Bresson, to give one famous example, we're fascinated by the content -- usually taken from everyday life -- but we admire the photograph for its own sake.
Reality is all around; the photograph sees, selects, and frames, creating its own interpretation or statement.
I have no interest in changing an image into something else, through Photoshop or other manipulation, but I do accentuate the attributes of an image to bring out all that I can, without fundamentally changing the image. In my case, this rarely involves anything more than adding a bit of contrast and sharpening.
Last night onstage, in Neil Simon's farce Fools, the actors were flying around so frenetically that I had to shoot quickly, grabbing whatever I might in hopes of finding a few keepers when I got home. (I shot 123 frames, getting Act I from below, Act II from the balcony, always with stage light only, never flash.) I got lucky with this one: the colors, costumes, and expressions are great, but my favorite aspect is the framing: the characters are cramped into the lower right corner, cowering in fear. It's the opposite side of the frame from where I would have put them if I'd had time to plan it, but I love the way it works. I left it full frame, just as captured.
Shortly after submitting this and two other photos with my review for The Chronicle-News, the publisher sent a note saying, simply, "Awesome pictures!" How 'bout that.
July 1, 2010      Seeing the Family in Black & White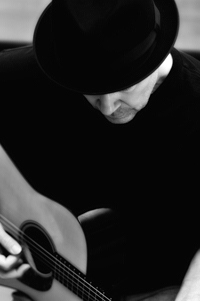 In California last week, I worked on two projects simultaneously, and they overlapped.
I documented our family reunion with portraits of all the individuals and groupings available for our Fathers Day gathering, and I looked all week for opportunities to add to my new Black & White Portraits gallery. The two projects overlapped.
Here's a photo of my brother, Terry Keller, playing in a guitar circle we had at his house -- the home in which I grew up -- the night before the reunion. I like the shot. Much of the detail is lost in the black: I'm trying to approach a duotone, reduced almost to pure design. My wife Christina suggests it might work well as a poster for Terry, setting the text in the black areas.
There's so little of Terry's face showing that I'm not sure whether this will go in the portraits gallery or in another, such as Migas. I'm so busy photographing and writing eight Chronicle-News features in seven days that I won't get to the gallery additions until next week...by which time I'll have a new computer, one fast enough to do all my photography processing without wasted time.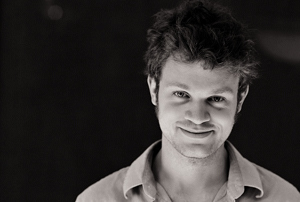 This second photo should be a nice addition to the B&W Portraits gallery. (As always, click on any photo to enlarge it.) There's not enough of Terry's face above to see the resemblance: this is Terry's 22-year-old son, Killian Keller, of Austin, Texas, my only nephew (and no nieces).
Over the coming days I'll be sharing more of the new photos here in the blogs, even as I work to add them to the galleries. I shipped prints this week fulfilling two online orders...it all feels like a working summer vacation, but I ain't complainin'! Life is good.
---