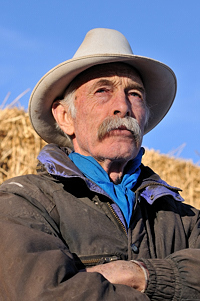 PROFILES: NEW MEXICANS YOU SHOULD KNOW
TURNING THE PAGE
Story and Photography by Tim Keller
ARCHIE WEST:
The Last Stockman on the Turquoise Trail
ARCHIE WEST HAS LIVED IN THE SAME HOUSE since 1943. Before leaving the family at the ranch to move full-time into his artist studio on Canyon Road in Santa Fe, Archie's father, painter Hal West, married an Ohio schoolteacher and raised a family at Lone Butte, on the Turquoise Trail 20 miles south of the Santa Fe Plaza. While brother Jerry followed their father's footsteps to become a renowned painter, Archie became the family's lone cattleman.
            At nineteen, Archie befriended a new neighbor over the hill: eastern newspaperman Jack Schaeffer had moved his family west after reaping a windfall when his novel Shane was turned into a movie. At Lone Butte, Schaeffer started a new series of magazine stories which grew into another novel, in 1963, called Monte Walsh. In the preface to the 1980 edition, Schaeffer wrote, "...fresh in my mind was the fact that among our nearest New Mexican neighbors was a young man named Archie West who to my mind was (and still is) in many respects, certainly in appearance and temperament and cattle-country capability and simple human decency, precisely my Monte Walsh." The novel has been made into a film twice, with Monte portrayed by both Lee Marvin and Tom Sellack.
            Turning 72 in 2009, Archie West is well-known around Santa Fe. Playing his Martin 0-15 mahogany guitar, bought in 1955, he sings old cowboy songs onstage as a guest of such beloved local acts as Bill Hearne, the Santa Fe All-Stars and Archie's own nephew, Joe West. When he climbs off the stage, you'll find Archie on the dance floor. Down Highway 14 in Madrid, Michael Roedel recognized a photograph of Archie on a website and posted this comment: "Archie's an icon here and loved by all the women. I wish my girlfriend would want to dance with me as much as she wants to dance with him."
Q: What did you do prior to entering the cattle business?
A: I graduated from Santa Fe High School in 1956. I was a couple years at the university (UNM) and a couple of years of freedom, then comes the notice and two years active service in the Army.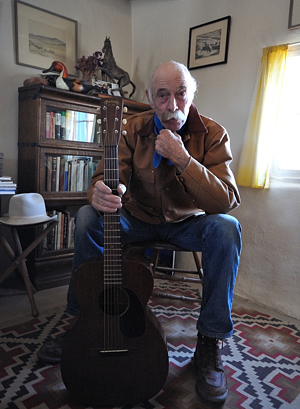 How did you get started in cattle?
When I got out of the Army at the end of 1962, I'd saved my money and the first thing I did to get back, I bought me some heifers from my Uncle Gene. A couple years later I took out an FHA loan to buy out my cousin's stock when he moved to Wyoming. That took me close to 150 head of cattle. I never had ambition for more.  I haven't bought another since then.
When you started, did you lease land?
Oh yeah, absolutely. I couldn't have afforded to buy land for cattle in the 1960s. Probably would have been possible for my dad, say 1940s, to pay for land because there was still land available for a dollar-and-a-half an acre.
The amount of land you leased, were you chasing your cattle around on horseback?
Oh, in the beginning it was certainly horseback. What we see around us today didn't exist. I don't ride from here anymore, but back then my cows were over here in the Cerrillos hills and it was all open country. It was easy to ride from here to Cerrillos. There was a pretty good spread in those times because I wasn't feeding cows until I got them paid for. I haven't ridden to Cerrillos in years.
How did you make a living on fewer than 150 cows?
Well, before I married, the cows were paying their way and I was able to make what money I needed, which wasn't a heck of a lot. And I broke horses and worked on ranches, day work. I wasn't a full-time employee, but a lot of that work went on for months. Eldorado, that was a ranch back then. And Jarrett's. I worked some on the San Cristóbal. I didn't get very far from home.
Do you own a 4-wheeler (ATV) now?
Well, a 4-wheel-drive pickup. (Archie drives a 1982 Chevy pickup.) No, no, this country may be 4-wheelable, but there's a lot of it you just couldn't get through, deep long arroyos. I see no advantage to it. Then there's the smell and the noise. No, it just wouldn't work.
You were approached to be the subject of a magazine article in the early 1960s but said no; why the change now?
Well, forty years can kind of change your attitude, maybe, a feeling you had at an embryonic stage, too tender to have that billed. It matters less to me now than it did then. Everything was so idyllic. First of all, at that age, 24! Everything was so right, and sacred, you didn't want to harp about it, or show it off, or even have attention brought to it.
What's changed?
An awful lot of the country that I have run cows on, I am the last stockman. This land has been grazed for hundreds of years. To be the last one grazing on this piece of earth, it's a melancholy subject. Most of the country I've run cows on, it's all houses now and will never be what it was again. There may be somebody with a horse in their back yard, but it will never be open grazing land again.
 ©2009, 2018 Tim Keller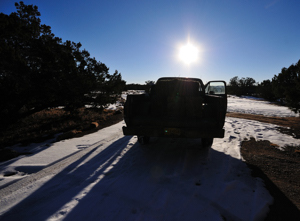 Archie starting out in the morning
---