Words & photos © Tim Keller
---
January 21, 2020 Chasing Billy...Again

The Chronicle-News this month has been reprinting my three-part travelogue, "Chasing Billy the Kid," first published there exactly four years earlier. The final installment is in today's paper, with all three parts also available here online:
      Part 1: On the Road to Mesilla
      Part 2: Big Killing in Lincoln
      Part 3: Fort Sumner--Trail's End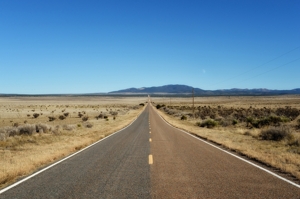 I've enjoyed revisiting these features, the product of two 1000-mile photography road trips and the beginning of a rich series of travel features that I produced for the Chronicle in 2016 with talented features editor Cathy Moser, who this month got an enthusiastic Yes from the new owners to reprint "Chasing Billy." Along the way, Cathy and I met for lunch and talked about the project.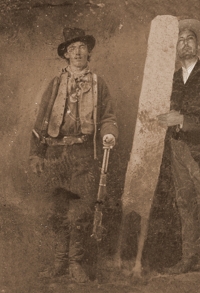 It's a good read, with extensive photography. Over the intervening four years I've received many inquiries and compliments. (Google searches still bring Billy enthusiasts my way.) One reader was curious about the tintype of Billy, the only one that survived from four that were taken. Because tintypes produce reverse images, Billy was long assumed to be a "left-handed gun," so in later years the photo has been flipped to show the truth, that he was right handed. The full frame, at right, also includes the photographer's assistant holding a full-length reflector: Most images from this tintype have cropped out the assistant and reflector but they're in the original.
Because the newspaper's formatting has changed, Cathy had to lay out this month's feature from scratch to replicate our original series. Back then I also laid out the feature in a single webpage, with many of the photographs included, which remains available here, the easiest way to read the three-part feature in its entirety. Filled with fascinating discoveries--when he was shot dead at 21, he'd escaped capture multiple times and only lived with the nickname Billy the Kid for his final few months--"Chasing Billy the Kid" is a super fun read. I hope you'll enjoy it, whether for the first or the second time.

---
January 9, 2020 News from the Front

As a writer, journalist, M Ed. reading specialist, and longtime teacher of high school and college literature and composition, I commisserate with Mr. Richards in acknowledging defeat. It's been a long time coming. (I love the humorous treatment by The Week on page 6 of its December 13 issue. Great weekly news magazine.)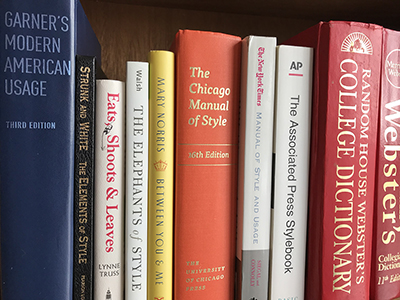 I keep these books by my writing desk. Garner is the bible for word junkies, everything you never even knew to ask about words, e.g., the difference between flaunt and flout, or flail and flay, to randomly pick just two entries from one page. (Or the difference between e.g. and i.e.) New York Times writers are bound by its stylebook, most other newspaper writers by the AP stylebook--and most other publishers go by one or the other. (I never agreed with capitalization of the Internet, yet there it was in the guidebooks. In recent years, I've enjoyed seeing it change and now the more logical internet is standard. As a proper noun, World Wide Web is indisputably capitalized.) The Chicago Manual lies somewhere between Garner and the NYT and AP stylebooks. Between those and a couple good dictionaries, the way our language works is available to all. Without them, without rules, the language works less and less well.
A newspaper feature this week featured a photo of a middle school English teacher whose t-shirt says:
    The cat ate Grandma
    The cat ate, Grandma
    Commas save lives!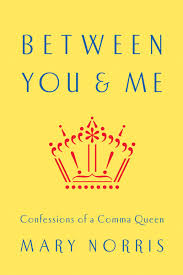 If you've read this far and you don't think I'm a nut, then you'd enjoy Mary Norris's delightful Between You & Me: Confessions of a Comma Queen, published to acclaim in 2016. (It was named as a Best Book of the Year by Wall Street Journal, NPR, Publisher's Weekly, Library Journal, Kirkus Reviews, and Amazon.) With a new bachelor's degree in English, young Norris walked into the offices of The New Yorker asking for a job. Across more than three decades since, she's become legendary as a colorful and revered copy editor, working with some of the world's greatest writers. Her book is entertaining and often hilarious.
If you're the kind of person that would read Mary Norris's memoir, you'll undoubtedly join me and 96-year-old John Richards in bemoaning the tragic fate of our poor apostrophe's.

---
January 7, 2020 Art to Art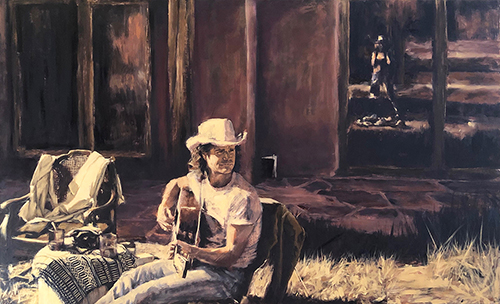 Our newest artwork came home last week when Colorado Springs painter Lindsay Hand drove up our slick icy driveway to deliver "Serafina, 1988", her 28"x46" oil on canvas in her own custom made antiqued black wood frame.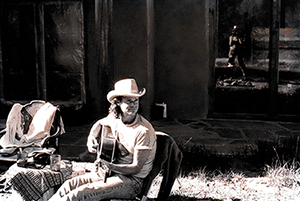 The source was this six-inch black and white photo taken by Christina after we'd enjoyed a late brunch in the front yard of our remote rental house along a dirt road by Starvation Peak 18 miles southwest of Las Vegas, New Mexico. We'd shed our jackets in the winter sun as Christina framed her reflection in the big picture window of the old adobe house.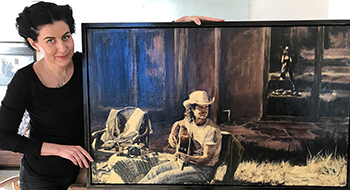 Thirty-two years later, here's Lindsay showing off her new painting. It's closer to photo realism than her usual abstraction. We've been awed by her work since encountering the huge paintings (72" and more) of her Ludlow Massacre show in Trinidad, Colorado, several years ago.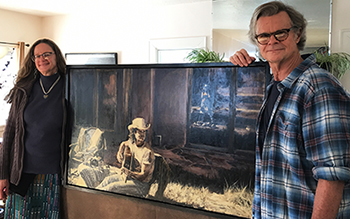 Last year we commissioned Lindsay to create "The Valley, 1945" from a tiny B&W snapshot of my dad with his parents and sister (my grandparents and aunt) at home in the rural San Fernando Valley when he was 17 years old. Lindsay and I so enjoyed the collaborative process of creating that painting, and Christina and I so enjoyed the result--I blogged at length about it here, with photos--that we all decided to do another from the Serafina photo. The new painting now hangs over our bed, reflecting our life together when we were still new and the artistic life of music, photography, painting and more that remains a hallmark of our marriage.

---