---
June 30, 2014    Raton's Rockin' Wings & Wheels Takes Off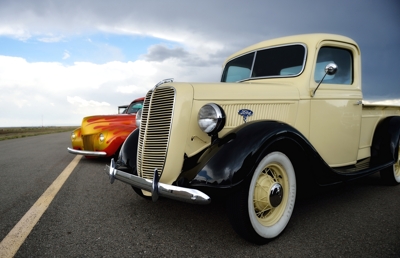 Raton's Rockin' Wings & Wheels festival was such a sprawling success last week that organizers are talking about making it an annual event, with a move to the weekend likely. Some came for the cars, some for the planes. Many came for The Fireballs. Everyone looked pretty happy and the parking areas remained impressively full all afternoon. Today's Chronicle-News front page feature includes only one of the ten photos I submitted so I'm going to share some of the others below.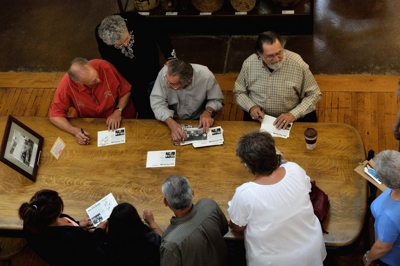 Jimmy Gilmer, George Tomsco, and Stan Lark--The Fireballs--started the day signing autographs for a couple hundred fans at Raton Museum.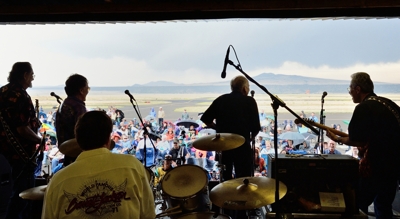 At the other end of the day, they performed in concert for hundreds of new and old fans gathered at Raton Municipal Airport.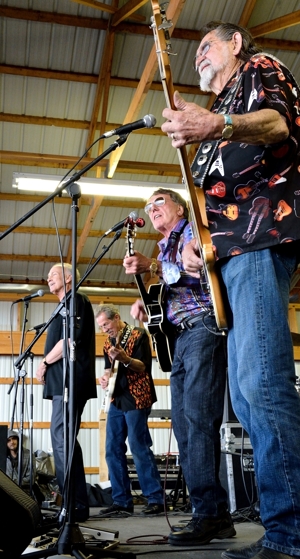 I love this long tall one. From left are Jimmy Gilmer, George Tomsco, Pat Carter, and long tall Stan Lark. Behind them are Jerry MacNeish and Mike Lang on drums and keyboards. This is the shot the Chronicle used.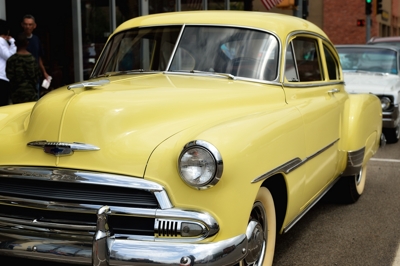 Parked directly outside the Raton Museum during the Fireballs' morning autograph session.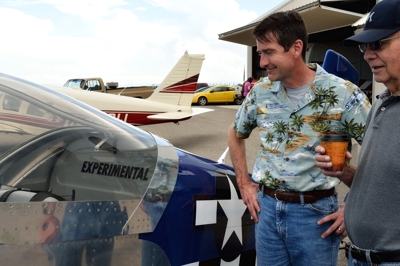 Troy Wilson (left) took pride in showing George Whitman the plane he and his family built from a kit. Wilson was the first to try flying it. Clearly, it worked.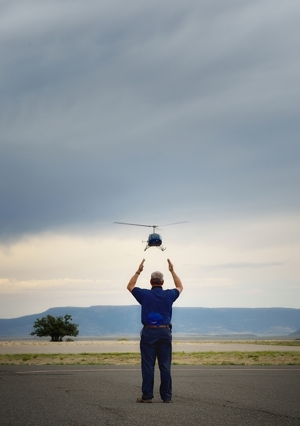 Raton Municipal Airport manager Ty Clinesmith signals an approaching helicopter to a safe landing.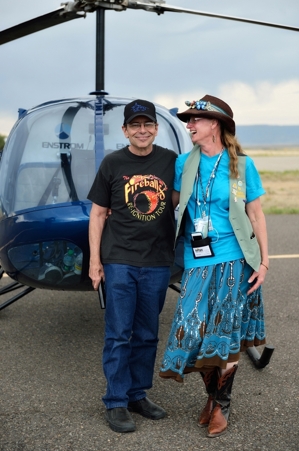 Neither KRTN's Billy D nor Raton's tourism coordinator Christina Boyce could resist a photo opportunity in front of the helicopter.
* * * 

As always, click any image to enlarge it. Congratulations to Raton MainStreet and all of the event's organizers for a job well done. Let's do it again, and again.

---
June 22, 2014    Jesus: The Musical Comedy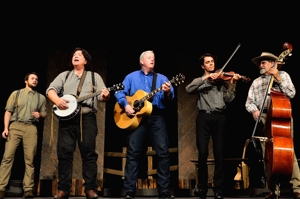 This afternoon's matinee marks the close of the first weekend's four performances of "The Cotton Patch Gospel" at Raton's Shuler Theater. The musical comedy continues with three final performances next Thursday through Saturday nights at 7:30 p.m. It's a great show, both funny and moving. It's fun to see a play with a live band and Ian McCabe's "one-man show" performance is, well, a revelation.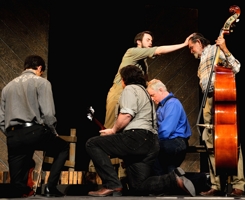 Improbably, "The Cotton Patch Gospel" is a retelling of the Jesus Christ story set in the rural American South during contemporary times. The play is based on a series of books by a southern minister who sought a New Testament in his parishioners own language and culture. Adding humor increased the sales--and besides, how could you not find these situations funny. The child Jesus has a lemonade stand, for example, that never runs out of lemonade. His dad, Joe Davidson, sets him up to help his neighbor who has run out of wine.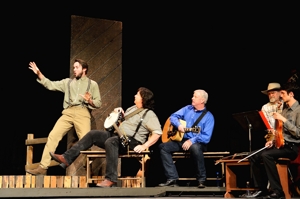 McCabe, 26 and returning to Raton after a 4-year absence, plays countless roles. The transitions are a tribute to great writing and to McCabe's immense skills. The show's worth seeing just to watch McCabe--I enjoyed saying in my Chronicle review that it'd be worth $15 to watch him read the Raton phone book--although there's much more to enjoy, as well, including the four-piece band of Rick Trice, John Ward, Tom Fitzgerald, and Stan Lark.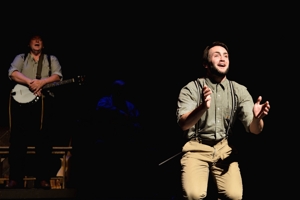 Ultimately it's a highly-entertaining comedy with much to say about politics and religion. Southern culture is the source of much humor, but it's stirred into Matthew's life story of Jesus. Not all of the tears shed are the result of laughter. If you can see it, do. Need more convincing? Check my Chronicle preview, last week's TKP Blog (with a good rehearsal photo), or my Chronicle review due Tuesday.

---
June 16, 2014    Raton Is New Mexico True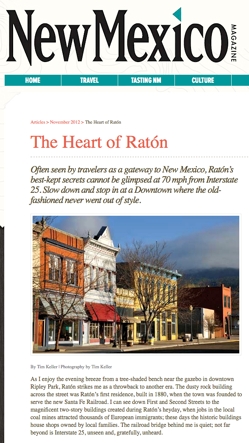 NewMexico.org has a new online page for the New Mexico True Television series, which premiered in much of New Mexico yesterday morning on NBC's KOB-TV 4. The first 30-minute episode visits northeastern New Mexico with a great tour of Raton based on my November 2012 New Mexico Magazine feature, "The Heart of Raton" (click image at right). The NM True Television website includes links to Raton Museum, Old Pass Gallery, Solano's Boot & Westen Wear, and the original web-edition article. Best of all, the entire program is available right there for viewing. Check it out and spread it around. Great stuff!

---
June 13, 2014    Summer Portraits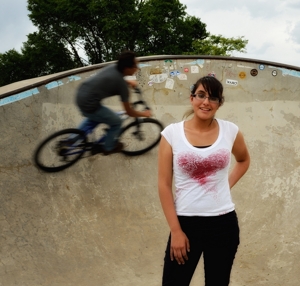 The skateboarding jump shot in the last blog post (immediately below) was a last-minute addition to what was intended as a portrait shoot for my weekly Chronicle-News Over the Pass features. My favorite of the portraits is this one of Kay Lynn Espinosa, a GED student at TSJC. First I picked this spot down in the bowl, then I thought of asking the boy to swoop by on his bike high on the wall. We did 3-4 takes and voila! Success. The image will be among six in next Tuesday's Chronicle-News.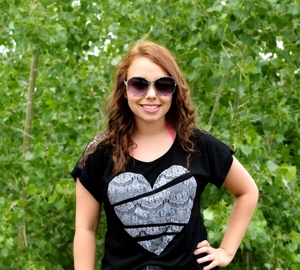 Here's another one that I like, separated by the other by thirty minutes and one hundred yards. Alissa Samora was on her way to the pool at Trinidad Aquatic Center. I'd already photographed two other girls and I always want to make each background different from the others. I don't want them to look like they were all shot at the same time and place. Putting Alissa here in front of an aspen grove worked out beautifully, assisted by the sun and clouds which joined my team and gave me and Alissa this perfect light, rare in midday. Alissa's photo will appear in Over the Pass on Tuesday, June 24.

---
June 11, 2014    Flight School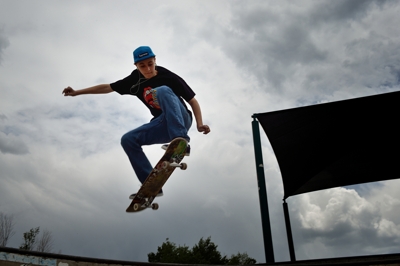 For my Over the Pass interviews and portraits that run every Tuesday in The Chronicle-News, I interview and photograph six people in Trinidad every two weeks. It's sometimes a challenge to find people open to spending the bit of time I need from them. Today I did well by walking around Trinidad's aquatic center and adjacent skatepark. Today's responses and photos will run in my Chronicle features on the next two Tuesdays.
As I was leaving today, the skate kids called me back. They said this kid that had just shown up is the best in town, that I should photograph him. I said okay. He jumped and I shot. That's it. (Click any image to enlarge it. Click the Chronicle link to see my weekly OTP features.) He's Frisco Duran. He'll be a sophomore at Trinidad High School in the fall. This summer, he's majoring in flight.

 
P.S. Two days later this photo went big on the front page of The Chronicle-News weekend edition. Check it out!
---
June 8, 2014    Cat Nap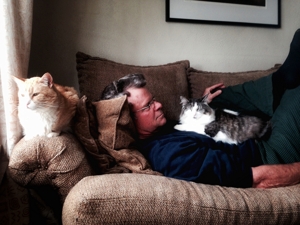 I was concerned about summer temperatures when we reached 90 degrees before May ended, but early June has been overcast and cool with lots of thunderstorms and good rain. Yesterday Christina got a good photo with her iPhone, me and the cats on the couch in mid-afternoon. These aren't the dog days of summer, they're the cat days. Actually, both dogs are lying below us on the floor. These are good days. But I'm glad I don't live in London or Seattle: I'm ready for the sun's return tomorrow.

---
June 7, 2014    Flying with the Eagles
In a flurry of last-minute activity, my Red River music feature, "Nine Nights a Week," was finished this week with revisions, emails, and phone calls between Michael Martin Murphey, me, and New Mexico Magazine's editor, Dave Herndon. It goes to the printer early in the week, due out in the August issue coming in mid-July. I submitted the 2200-word manuscript almost a year ago but the furious editing never takes place until right before press time. Meantime, the June issue included a pair of sweet letters to the editor praising my two February features, one on Lea County and one on sister cities Portales & Clovis. Next up is "Flight of the Phoenix," my two-page spread celebrating Raton's 4th of July balloon rally, due in about a week in the July issue.
Summer got off to a slow start physically as I was still dealing with a back injury I'd gotten while loading my photography show--44 large matted and framed works--into the upstairs gallery at Raton Museum. The turning point was finally starting physical therapy two weeks ago. Now I'm back to hiking in Sugarite Canyon State Park, where the bald eagle above graced me with a fly-over and then posed for this iPhone photo. It's good to be back to the mountains and hiking and summer.

---
June 2, 2014     Over the Pass: Humans of Trinidad & Raton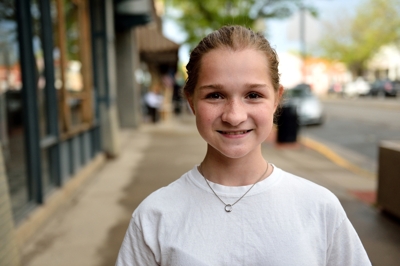 "When are you happiest?"
"When I'm singing! I started singing when I had cancer when I was four. I'm a ten-year cancer survivor. I sing all the time."
          -- Tatiana Medina, student, Primero High School (Trinidad)
Tatiana's one of the six people included in tomorrow's "Over the Pass" feature in The Chronicle-News, the 12th weekly installment since I started the series March 17. I ask a "Question of the Week" of three people in Trinidad and three in Raton, then post the replies under quick portraits. Increasingly, when I approach strangers for responses, they turn out to be "Over the Pass" fans. It's a great project for me on many levels, not the least of which is having a deadline to publish six portraits per week.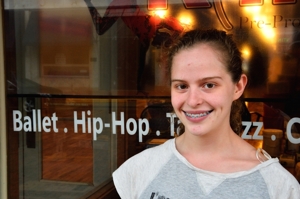 I've also enjoyed my brief conversations with strangers, something I've done little in the past. Their responses to my questions are often lovely and moving. Last week I asked Annelore Trujillo, the young dance instructor at right, and John Sanchez, the store manager below, to define success. Annelore said dancers don't make much money so her success is measured by "having fun and being happy with whatever you decide to do." John said success is achieving any goal of any size but that his biggest success "has been achieving custody of my daughter."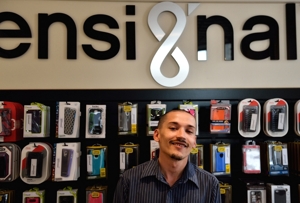 I include a mix of male and female in each town. Often, such as in Tatiana's case, the key to great responses is to ask follow-up questions and to listen. My inspiration is Brandon Stanton, the thirty-year-old genius behind Humans of New York. If you're not already a daily follower, I suggest you start. I follow on the web and Instagram; it's also posted to Facebook and Tumbler. Brandon spends 10-20 minutes with each subject. Pay close attention and you'll see that his "money" responses come not from his initial question(s) but from his follow-up questions. He's posted a fascinating and delightful 15-minute video ("On How to Approach Strangers in the Street") in which he demonstrates his methods to a large group of students in Ireland.
"Over the Pass" is a different project in many ways, designed partly to underscore the connections and over-the-pass sister-city closeness between Trinidad, Colorado, and Raton, New Mexico. HONY's inspiration helps make it--and me--all the better. "Over the Pass" is published every Tuesday and available that day, along with archived past installments, at both The Chronicle-News free online edition and (easier) here at Tim Keller Arts.

---
May 25, 2014     An Odd Couple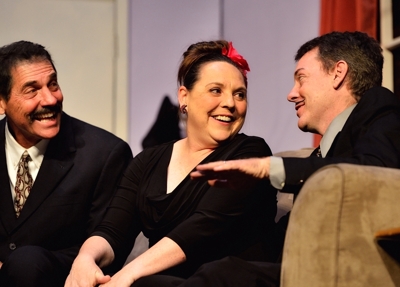 It's already been two weeks since The Santa Fe Trail School for the Performing Arts presented Neil Simon's female version of The Odd Couple at the Shuler Theater. April and May have overwhelmed me with busyness, some great and some not so much, but one result has been falling way behind in keeping up my blogs here and at TKP. I'm not going to travel backward as far as the RHS Poetry Marathon and Poets in the Schools program, but before I start forward with the more generous time of summer, I wanted to post this photo from The Odd Couple. Rick Trice directed the comedy with Brenda Ferri and Adrianne Coleman in the lead roles and six other Shuler mainstays in support. Mark Jansen and Clint Henson (above, with Ferri, from left) appeared for only about 20 minutes as English-challenged brothers Jesus and Manolo Costenzuela, but they stole the show in one of the most memorable comic performances of my seven years seeing most shows at the Shuler. Drop dead hilarious. If only someone would build a new play around them!

---
May 3, 2014     New Mexico True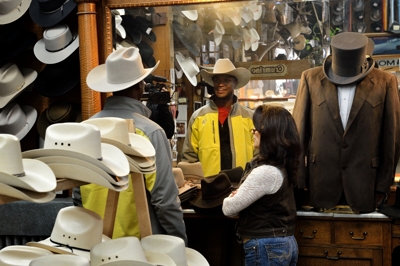 New Mexico True Television came to Raton Wednesday to film the town for the entire day, using my "The Heart of Raton" feature to guide its shooting script. As usual, I learned of the visit via email. I was able to help producer/director Melinda Frame make specific plans and line up subjects in advance.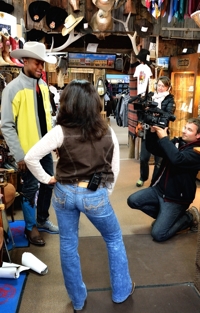 Then I followed the crew all day, taking pictures for a full-page feature in the Chronicle-News, "Raton's the Star as TV Crew Spends Day Filming." We spent the first two hours along historic First Street, starting at the depot, photographing up and down the street in the great sunlight of early morning, then interviewing the local shopkeepers. Michael Newman, in the cowboy hat in these photos, serves as on-camera "host" for viewers of the TV show, which will be seen on a Sunday morning at 8:30 a.m. on KOB-TV Albuquerque and other network stations around the state. He interviewed Brenda Ferri at Old Pass Gallery, then visited the antique shops across the street. From 10 to 12 the crew toured, filmed, and interviewed Bill Fegan at the Shuler Theater and Roger Sanchez at Raton Museum. That left them rushing to fit in a quick shoot inside The Sands Restaurant before backtracking to rendezvous with Frank Ferri and his family and dozens of friends gathered at his "The Station" for a barbeque and showing of restored classic cars. That was one of the day's planned highlights; the crew stayed more than two hours.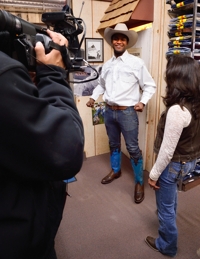 The other preplanned highlight of the day's narrative was another two-hour stop, this time at Solano's Boot & Western Wear downtown where Sandy Solano gave Michael an on-camera tutorial on the various elements of western wear. By the time she'd finished, Michael had experienced a cowboy makeover. Then the crew moved down to patriarch Andy Solano's boot shop, where he's been fixing leather goods for 58 years, since beginning the business right there in 1956. During the interview, Andy said he's hoping to have ten more years working in the shop. He recently made a concession to longevity when he switched to five-day work weeks: he'd always worked six.
Watch my News page (top left menu above) or local TV listings for the New Mexico True Television show between mid-June and mid-August; meantime, read my Chronicle feature for six photos and the full-page narrative of the film crew's day touring Raton.

---