---
December 20, 2011      White Out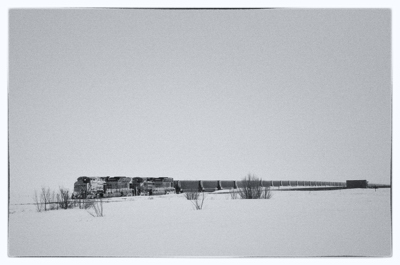 We enjoyed being snowed in yesterday as a blizzard stranded motorists and created otherworldly snow drifts to shovel through this morning. I had my first mug of coffee by the woodstove over Annie Leibovitz's new book, Pilgrimage, before venturing out to take some morning photographs around Des Moines.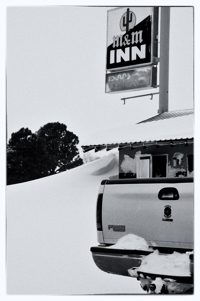 The way it's drifted, it's impossible to tell how much snow fell. I counted 40 steps from our back porch to the chicken coop, and I filled three big snow shovelfuls for each step, the snow ranging from knee-deep to thigh-deep. (See photo at TKP blog here. As always, click any photo to enlarge.) But on unimpeded north-south roadways, there was very little snow. I'll agree with our neighbor Ron Rigoni, who was headed 20 miles out to feed his cattle and horses, and say we'd have a foot of snow if it'd fallen and stayed in one place.
As I framed a shot of the M&M Inn, I looked up and realized that a snow plow was about to get me. It was reminiscent of my surfing days: here came a tall curling wave...of snow! I covered my lens as my border collie, Django, and I turned and ducked against the imminent wave of snow. We got smacked good! I couldn't help but laugh. The driver didn't swerve even an inch from us, no doubt feeling that we had no business out there in his path. I suspect that he's recalling it as vividly as I am, and that we're both smiling.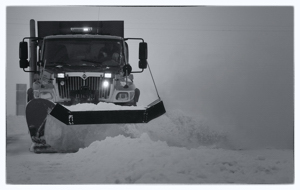 I got in his way one more time to get this shot of him coming back. I miss being able to produce a newspaper feature with these photos, the Chronicle-News having shut the door on its New Mexico news coverage. Back in the good old days of 2009, I posted a pair of features on Des Moines in another blizzard. That's what I'd be doing now if I could. Instead, I'm heading back to Annie Leibovitz's new book -- actually, I started three new books yesterday, at the start of my two-week vacation -- so it's me and my sweetheart and the woodstove and the Christmas tree and the stack of books for the rest of the day. Except when I'm out shoveling more snow.

---
December 11, 2011      A Merry Christmas Carol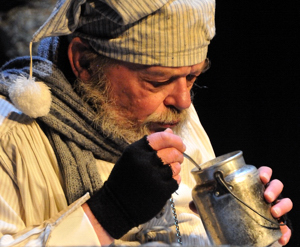 This first photo notwithstanding, the 2011 production of Charles Dickens's iconic "A Christmas Carol" at Raton's Shuler Theater was characterized by its generous humor. In her fourth time around with this material, director Gail Dixon-Willden gave most of her actors, even in minor roles, their own scenes, often with some great comic bits. Whether through witty line readings or well-executed physical comedy, the audience got plenty of laughter mixed with the pathos of the well-known story.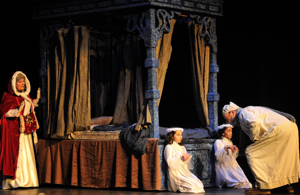 Joe Zink returned for his fifth turn in star billing as Ebenezer Scrooge, and by now it's hard to imagine another Scrooge this good. He's taken ownership of the role. Above, he eats his Christmas dinner, a reluctantly-accepted gift from his nephew Fred, well played by Raton stage veteran (and local veterinarian) Mark Jansen. Below that, he's checking his eyesight after finding a pair of Snow Sprites (Autumn Archuleta and Asia Gentry) at the foot of his bed, brought by the Ghost of Christmas Past, played by Carol Crary.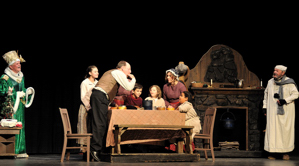 Matt Fleming finally returned to the stage after a 17-year absence. His experience showed. He has a wonderful face for theater, all elastic as it shifts easily from despair to a big wide smile. Apparently his daughter Mariah Fleming convinced him to take the part, so she gets double credit: she was the stage manager of this huge production, managing three assistants and four crew chiefs to keep more than 60 actors where -- and when -- they were supposed to be.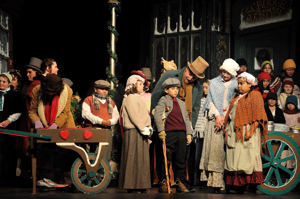 That's Matt above as Bob Cratchit at the family's Christmas dinner table, observed by Michael Porter's Ghost of Christmas Present and, on the far right, Scrooge. In the street scene here, Bob Cratchit comforts his young son, Tiny Tim, played again by Zebediah Medina. (As always, click any image to see it enlarged.) The street scene gives a hint of the attractive and effective set design.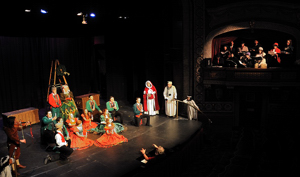 The production was better looking than ever, most especially because of the great attention to detail this year by the costume crew led by Misty Gomez and Ursula Garcia. Mike Higgins was the music director this time around, directing recorded tracks and conducting the dozens of singers in this big musical. Two musical moments stood out for me: the "Box Carolers" took a featured solo that was simply sublime, and Mike Higgins turned around in his conducting pit to face the audience and add his deep voice to those of Bill Crary and John Martin in a wonderful mix of male harmony.
Watch for my long review (with many more names) early this week in both The Chronicle-News (it'll be available here) and at KRTNRadio.com, which is also planning to offer a 10-photo album of my shots from this weekend's wonderful 10th annual production. Congratulations to all involved, and thanks for another wonderful entertainment.

---
December 3, 2011      Poetry...Out Loud!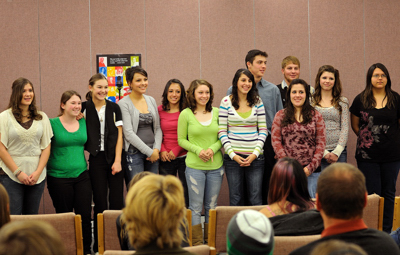 Thursday's first annual Poetry Out Loud competition at Raton High School came off flawlessly, the best performances provoking tears and laughter as thirteen Raton teens each brought to life their choice of two poems for an audience of 100 classmates, teachers, parents, and community members.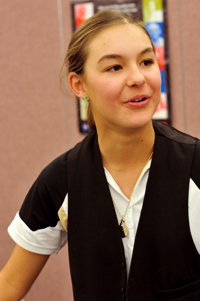 Freshman Clair Willden (left) won by a handy margin and will go on to represent Raton February 12, 2012, in the New Mexico championship at St. Francis Auditorium on the Santa Fe Plaza. The winner there will travel to Washington, D.C., to represent New Mexico in the national championship May 13-15, 2012.
Clair's exuberant rendering of Delmore Schwartz's "The True-Blue American" not only closed the show, but was also the biggest point winner by a large margin, according to performance judges Bill Fegan and Brenda Ferri and accuracy judge Christina Boyce. The second highest score went to Marisa Rose McCarty's performance of Edward Thomas's "The Brook." James Neary's evocation of Matthew Arnold's "Dover Beach" won the third-highest score.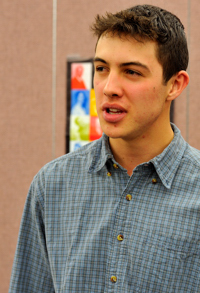 Not coincidentally, McCarty and Neary followed Willden on the winners' stand, with Neary (right) earning 2nd place and McCarty 3rd. The next five finishers, in order, were Mariah Fleming, Kristina Jansen, Dominique Zamora, Caleb Stolarczyk, and Sarah Caruana. The remaining competitors were Makayla Mondragon, Moriah Daniel, Kelli Ortiz, Colette Village Center, and Taylor Hull.
In fact, the event was so successful that the school is suddenly planning a pizza party to congratulate and thank all of the participants. A dessert of ice cream cake will honor Willden's final poem. Meantime, my news item and photos should go up at KRTNRadio.com Monday, hopefully with audio recordings of the three aforementioned top performances. Listening to those will give a good idea of what this event was about, and you'll understand why there's already so much talk about next year's competition.

Competitors in top photo, from left: Marisa Rose McCarty, Mariah Fleming, Clair Willden, Makayla Mondragon, Dominique Zamora, Kelli Ortiz, Sarah Caruana, James Neary, Caleb Stolarczyk, Moriah Daniel, Kristina Jansen, and Colette Village Center. (Not pictured: Taylor Hull.)
---
November 26, 2011      All That (Gypsy) Jazz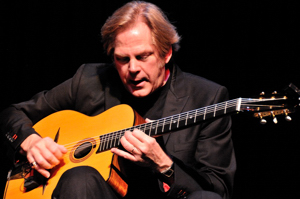 The John Jorgenson Quintet came through Raton Sunday night with a Shuler Theater concert that will long stick in the memory. I came home and ordered a 5-CD set by the band's inspiration, the hot Paris gypsy jazz of guitarist Django Reinhardt and violinist Stephane Grappelli. Later, the music still vivid in my mind, I decided that I need to order the Jorgenson band's current album, too.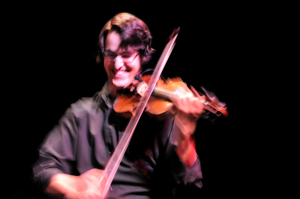 Backed by a three-piece rhythm section, guitarist Jorgenson traded leads all night with phenomenal young violinist Jason Anick, who was a joy to watch and try to photograph -- he moved so much that it was almost impossible to get a photo that wasn't blurred.
After the show, Jason asked about the photos and I took his e-mail address to send him some. If you click on the photos here, you'll see my watermark on the enlarged images; they also have my copyright and other data embedded. I'm doing that nowadays whenever I send images out into the world, having seen that they invariably end up on people's Facebook pages, and elsewhere, often without identifying the photographer or linking them to my site. So I embed the data and watermark the image.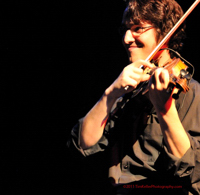 Because of the Sunday night concert, I didn't get enough sleep before working hard all day Monday. Then I had to come home and process the photos and write my review for The Chronicle-News. As I began to write, I was exhausted and hungry and knew I'd have to write this one quickly. Sometimes that works: I love my review, reminding me that when I was a songwriter, the best songs sometimes seemed to just drop out of the sky and write themselves. They come so quickly and naturally that it feels odd to take credit for them. My John Jorgenson Quintet review is like that, short and fast and good.
It leaves me hoping John and Jason and mates will return to Raton for an encore performance. Their Sunday night standing ovation leads me to be hopeful that we'll get to see them again.

---
November 20, 2011      All the News That Fits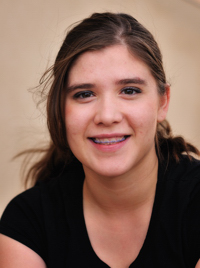 Although The Chronicle-News has asked me to resume previewing and reviewing Raton arts events for its audience, which it now sees as being exclusively in Trinidad, the daily newspaper has no interest in running any other stories from the New Mexico side of the Raton Pass or from Trinidad's adjacent sister city of Raton. The Raton Range is a paltry twice-weekly alternative, appreciated for what little it does but inadequate to Raton's needs.
KRTNRadio.com is developing the potential to step into the breach and become Raton's primary news source. I've already added it to my News bookmarks. I've also begun contributing some reviews and news stories, including one today about the local VFW's announcement of winners in its annual patriotism essay contests, led by Marisa McCarty (above) in the high school division and Cy Brower (below) in the middle school division.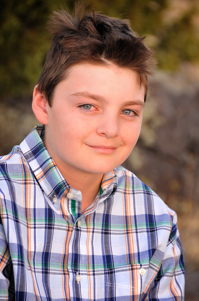 The only obstacle is economics. KRTN has already launched its website and its pages for news, sports, and other community information. But feeding the pages regular updates costs money to add hours for the station's webmaster (KRisTiNa!) and to pay the writers and photographers to get out and provide the content.
KRTN's advertising director/wizard Alan Kenny is "monetizing" the website by selling ads on its pages. The more the site adds timely local content, the more eyes that will flock to the pages, and thus the more ads that Alan can sell. The ad revenue pays for the labors that provide the online content. Everyone wins: readers get a steady news source at no cost, KRTN adds employment hours to the local workforce, the writers and photographers get more work in covering more local stories, and advertisers get increased business from all those loyal readers.
There's just one glitch. It turns out that, with the economy so stagnant, many of KRTN's advertisers have just enough promotion budget for either on-air advertising or online advertising, but not both. For KRTN, that's a zero sum equation. For KRTN's listeners and now readers, it appears to be the single greatest obstacle to gaining a daily news source to take up the slack left by The Raton Range and The Chronicle-News. Keep your eyes on KRTNRadio.com and we'll see how this develops.
Coming soon to the news is Raton High School's first annual participation in the national Poetry Out Loud recitation competition co-sponsored by The National Endowment for the Arts and Poetry Foundation. Fourteen RHS students will vie Thursday, December 1, at 10 a.m., to be the school's representative at the New Mexico state championship at St. Francis Auditorium on the Santa Fe Plaza. The winner there will go on to represent New Mexico at the national championship in Washington, D.C., May 13-15, 2012. I've been watching Raton's students prepare: I predict a moving and memorable experience December 1. Judges will be Bill Fegan and Brenda Ferri. It's in the school library and open to the public. Check it out!

---
November 12, 2011      Whodunit?

Snowed in last Tuesday, I received an e-mail from the owner/publisher of Shearman Newspapers and American Press in Louisiana saying, "I've been reviewing The Chronicle-News and have missed your byline on the arts in Raton. Are you still writing for the paper?" No, I replied, the paper ceased its Raton distribution and coverage months ago. He replied, "We miss your work...If you would like to continue to report on the [Raton] arts for Trinidad, we would welcome your submissions. Let me know." Well, I've missed my work, too: I said yes, of course.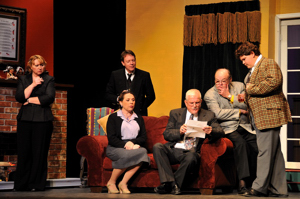 I've just submitted my first theater review in months, having rushed a preview for the paper's Friday edition. The preview is already posted here at my TKA Chronicle-News archive; the new review will join it there Monday.
Raton Community Theater this weekend presents Agatha Christie's "And Then There Were None" (aka "Ten Little Indians") at the Shuler Theater. I reviewed the opening night show; there will be additional performances tonight and tomorrow. It's a fun change of pace for the community theater -- a two-hour whodunit murder mystery, with more than a few laughs thrown in on the sly. Director Gail Dixon-Willden and Raton's local actors have by now developed plenty of skills to be able to pull this off with aplomb.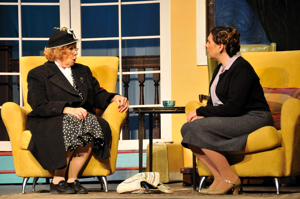 Brenda Ferri's was my favorite performance: she was good early on when she was blending into the ensemble; the closer she got to the suspenseful climax, the more exciting became her performance, standing up well against Michael Porter's dominant part. Also enjoyable was watching her play opposite Clint Henson (I loved them together in "Man of La Mancha" two years ago), especially as they played out their fates late in the play.
Two other gals were delightful. My friend Kathryn Engel, in the left yellow chair above with Brenda, again came out of semi-retirement to impress with a wonderful characterization. And Janese Little landed right in the top echelon of Raton's impressive acting community with her first role since high school 25 years ago. Neither her husband nor daughter -- both of whom I've known for some time -- had ever seen her act. Here's hoping both Janese and Kathryn stick around!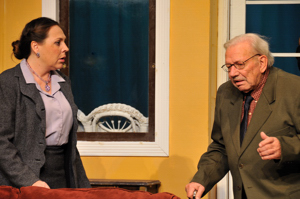 Young Josh Alcorn was a hoot playing older, as a cocktail-drinking young sports car driver. And as someone who once taught "Moby Dick" to Jeffery Redlick when he was a high school junior, I particularly enjoyed hearing his character claim to have helped hunt that famous white whale.
Finally, this production features what Bill Fegan (above, with Brenda) says will be his final stage role. His first Shuler Theater performance was in 1963 -- 48 years ago! What an amazing run, Bill. Of course he seems to me as active as ever, but he says he's not going to try to memorize all the lines of character parts anymore. You and most of the rest of us non-actor mortals, Bill.

---
November 6, 2011      Trying to Earn My Spurs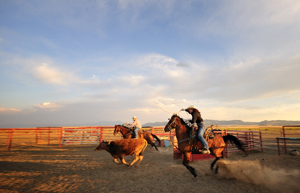 Just as Ranch & Reata re-publishes my Brown Ranch "Home on the Range" feature, I'm making color photocopies of the original New Mexico magazine feature for submission to Western Writers of America to be considered for this year's Spur Award for Best Western Short Nonfiction of 2011. The Spur Awards, given annually since 1953, are among the country's highest writing honors. The illustrious list of past Spur Award winners includes Larry McMurtry and Tony Hillerman.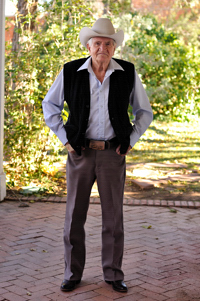 It was Max Evans (left), winner of the WWA's Owen Wister Award and currently ranked 11th most popular Western writer of all time, who urged me to submit my work to the Spur Awards. He thinks my June Western Horseman feature "The Horse Who Made Max Evans a Writer" has a good shot, so I'm entering that, too, as well as "Arabian Wind" (above) from the September issue of WH. Three entries! Well, I promised Max I'd enter the one he suggested, but I feel that the other two are my best writing of the year, so I'm entering those, too. That way if I win an award and it's not for Max's horse article, at least I can tell him I did enter it.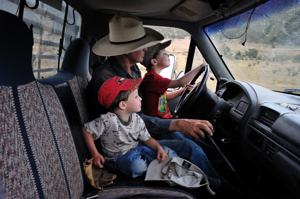 The Brown Ranch story is my first written feature to be published in two different magazines. (I've had photographs appear in more than one.) I'm proud of it. Like my other two Spur entries, it was time-consuming, required travel, and challenged my abilities. In the end, those three magazine features became the best work of what's turned out to be a busy and productive year of writing and photography.

---
Want to see September/October?