---
August 28, 2011      Christina's Magic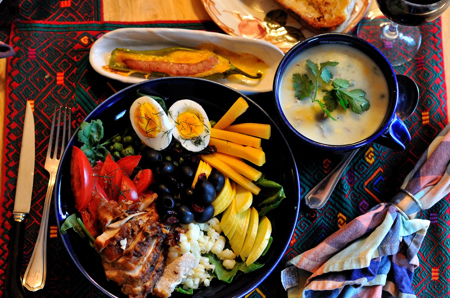 Last week the vegetables coming from the garden competed with leftovers for refrigerator space, so Christina said it was her turn to cook dinner. Here's what she produced -- a colorful chef salad, corn chowder garnished with fresh cilantro, a green-chile popper, garlic bread and burgundy wine -- on a weeknight! I contributed the photograph.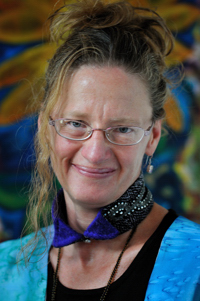 And now, days later, it's our 12-year wedding anniversary. (We've been together 24 years: it took us 12 years to be sure.) By Christina's request, I'm making Frankies' Meatballs for dinner, over linguini, in the rich tomato sauce I've had simmering since yesterday. We learned this and other great recipes last month when my daughter Darcy introduced us to her favorite neighborhood restaurant, Frankies' Spuntino, in Brooklyn Heights. (And yes, the apostrophe is in the right place: there are two Frankies.)
My portrait of Christina was taken three weeks ago in her mother's kitchen as Christina and her friend Juli prepared to go into town for their 30-year Santa Fe High School reunion. When we met, Christina was less than six years out of high school. The years since have been fast, and good. Happy anniversary, Christina.

---
August 14, 2011      A Person's a Person, No Matter How Small
The photographs shout that Gail Dixon-Willden's Shuler Theater production this weekend of the musical comedy "Seussical Jr." was a vivid Technicolor children's playtime fantasy of fun and frolic. But that sentence should be rhymed and metered...if only I were Dr. Seuss, Jr.
The simple and effective set, the bright colorful lightning design, and the fabulous costumes gave 49 child actors, singers, and dancers a splashy palette on which to play and pretend and act out. It was fun, and I haven't been a kid for several decades now.
But I grew up, as did everyone born after me, with the inspired and inspiring silliness of Dr. Suess's stories: Horton Hears a Who! came out in 1950, the year I was born. It's unimaginable that anyone is too old to enjoy this musical romp.
Cast and crew spent most of the kids' summer vacation working on it, working every weekday morning to build costumes and sets while rehearsing the songs and dances -- imagine blocking and choreographing the movements of four dozen children together on one smallish stage!
It all came together gloriously, a tribute to stage director Dixon-Willden, but also to the depth of talent Raton's youth theater scene has developed over the past few years. (Any parent with school-age kids should be marking their calendars now to go sign up their kids for next summer's production.)
Almost every rhymed and metered line of this musical is delivered in song, so music director Bill Crary deserves as much credit as the stage director for how well it all came together. He obviously spent immense amounts of time teaching and coaching his young singers in the requirements of musical theater, and the kids came through for him, and for the audience. Carol Simmons drove it all with her piano playing...from under the stage: she never got to see the play!
The cast and crew were too big to single out many, but a few of the older kids earned praise in the leading roles. Joshua Alcorn was the central character of Horton the Elephant -- the play combines ten of Dr. Suess's books but is built around Horton Hears a Who! It's a condensation of the full Broadway musical "Seussical", which opened at the end of 2000.
Toby Henson was perfectly cast as The Cat in the Hat, a mischievous narrator figure. Ila Raine Medina took her role as Mayzie LaBird way over the top -- in costume, makeup, acting, and singing: she had so much fun that the audience couldn't help but join her. Clair Willden, too, played a bird -- Gertrude McFuzz -- and was touching as a character whose one tail feather left her feeling inadequate.
Zach Salazar and Haley James were the mayor and his wife, Holly Wood their daughter JoJo in a central part. Kristina Jansen was a kangaroo. The rest of the cast jumped, danced, and circled around the lead characters, providing layers of fun. There was even a group of three "Bird Girls" -- Jacque Alcorn, Kylie Fleming, and Laura Robertson -- who evoked a 1960's girls' go-go group.
The final performance will be today's matinee, so by the time most of you read this, it will be history. Too bad...but we can look forward to next summer's production: the Shuler has by now established a tradition of excellence and high expectations. With 49 young actors seasoned by "Seussical Jr.", next year's go-round is bound to be sensational.

Photos at top, clockwise from top left: Haley James, Holly Wood, and Zach Salazar as Mrs. Mayor, JoJo, and Mr. Mayor; Holly Wood and Toby Henson as JoJo and The Cat in the Hat, with Bird Girls; Clair Willden and Ila Raine Medina as Gertrude McFuzz and Mayzie LaBird; Toby Henson and partial cast; Toby Henson and Ila Raine Medina. Click any photo to enlarge.
---
August 13, 2011      Reunion Island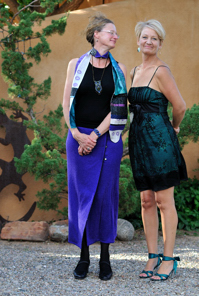 One reason nine days passed between blogs is that Christina and I (and our pups Pearl and Django) spent half that time in the loft house at Christina's family home outside Santa Fe, beyond the reach of the Internet. The occasion was Christina's 30-year Santa Fe High School reunion, for which her best school friend Juli Stephenson came up from Las Cruces and stayed in another outbuilding on the rural Boyce property.
The gals had a ball every day, gallivanting in Santa Fe with old friends and acquaintances. I spent most of the time luxuriating in the reading of a stack of books. I also took the dogs on regular hikes, and I spent one afternoon visiting Santa Fe photography galleries. As always, we managed to get in some great restaurant meals, though with the wife gallivanting, I enjoyed some of the meals out either alone or with Helen, wife's wonderful mom.
 
Christina and Juli didn't want to get all dolled up and not have me immortalize them through photography, so we had some good photo and portrait sessions, of which I'm particularly fond of this little 2-image series. They're about to join their classmates in a night of revelry at the Inn of Loretto. The photos were taken in the driveway of the home where Christina (on the left in the photos) was raised...she was one of only ten Santa Fe natives at the reunion; their Class of 1981 numbered 750 graduates. By the way, Christina and Juli were born only a few hours apart -- though Juli was born afar -- and they'd celebrated their birthdays a few days before the reunion.
A couple other quick notes. My feature on the Hindi Arabian horses of New Mexico is due to arrive early next week in the September issue of Western Horseman; I'll post it here in about a month when it finishes its newsstand run. Meantime, I just yesterday wrote a new feature for Ranch & Reata, which is featuring my photography in its new issue, which you can view here: look for my photos on the cover and pages 3, 4, 5, and 70-82. Jump straight to 70-82 by clicking on my feature in the Table of Contents. It's a beautiful new art-quality publication available both online and in limited-edition print runs of only 1000 copies per issue (at $14.95). I'm excited to be a contributor, and they've done me proud in Issue 1.3, just out. Thanks to A.J. Mangum and Ross Hecox for giving me a great gig as a ranchlands photographer and writer!

---
August 4, 2011      Up a Creek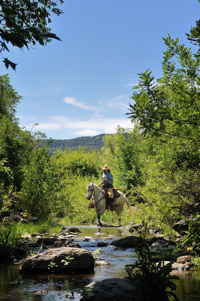 I was invited to guest yesterday morning on KRTN-FM's "Superstars of Business" program, a daily half-hour feature on a business in or around Raton, New Mexico. As always, it was fun visiting on the air with Billy D; I assume that my business is unique compared to the others that have been featured.
We talked about music, writing, the website, and a lot about photography. I'd hoped we'd have a chance to talk about some of the stories I've written -- I love the stories -- but we didn't. I might have mentioned the story I'll write next week, a profile of horsewoman Marcia Hefker, who is also a skilled nurse practitioner who has been primary care provider for me and my wife Christina ever since we all arrived in the area back in 1999.
Marcia is prominently featured in my story of the Hindi Arabian horses of New Mexico, which appears in the September 2011 issue of Western Horseman, due out in about ten days. The past editor of Western Horseman, A.J. Mangum, has a sumptuous new magazine endeavor called Ranch & Reata, for which he's asked me to prepare a profile of Marcia. I needed to get some new pictures.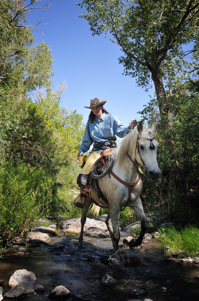 Luckily, Marcia loves nothing more than spending a day on a horse. She was happy to join Kyle Bell and his family Sunday in moving a hundred Texas Longhorns up Trinchera Canyon. As luck would have it, I spotted this creek crossing in the early morning but didn't get a chance to photograph Marcia anywhere near it. At midday we returned for an enjoyable photo shoot, Marcia riding up and down the creek for me on her Hindi Arabian, "Goose".
The location is behind Abbie Reaves's home at the bottom of the canyon, and these are a couple of my favorite images from the creek (see more at my TKP Blog; click images to enlarge); I'll probably send three of the creek shots to A.J., from which he's likely to include one in the illustrations accompanying my written feature.
I was so intent on the photography here that I didn't notice when my camera knocked my hat back onto the rocks along the creek. I noticed that it was missing when I got back into the sun. Marcia and I retraced our steps and she was the one who found my hat on a rock next to the water. It would have been worth losing the hat, but it's nice to have both the hat and the photos.

---
August 2, 2011      Kyle

Kyle Bell called recently with some great story ideas for prospective magazine features, one of which was to follow him and his family as they moved about 100 Texas Longhorn cattle through Trinchera Canyon, which is the historic Goodnight-Loving Trail that carried cattle drives from Texas to Wyoming via northeastern New Mexico and Denver, Colorado.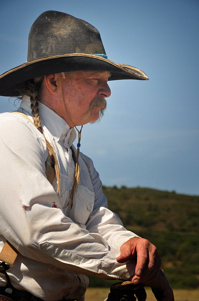 For a writer and photographer, living in a region rich with great characters is a boon, and Kyle is a standout character even around here. With his wife LeVonne and son Ben, Kyle runs Folsom Outfitters from their home on the shoulder of Johnson Mesa west of Folsom, New Mexico. Kyle will take you out with rifle or bow, any time of year including hard winter, on foot or on horseback, to find wild game such as bear, antelope, turkey, deer, elk, or even bison.
I got some great photographs Sunday, following Kyle and his longhorns as they walked up to the top of Trinchera Canyon from down behind my friend Abbie Reaves's house at the bottom of the canyon. I was able to do double duty, too: I needed new photos of Marcia Hefker working cattle for a feature I'm developing for Ranch & Reata, and Kyle was happy to have Marcia join the group helping to push the longhorns up the canyon.
I'll be posting more photos in the coming days, both here and over on my photography blog. Thanks to characters such as Kyle, I haven't come close to running out of good subject matter for writing and photography. I look forward to having more to write about Kyle and his stories in the future.

---
August 1, 2011      Traffic Report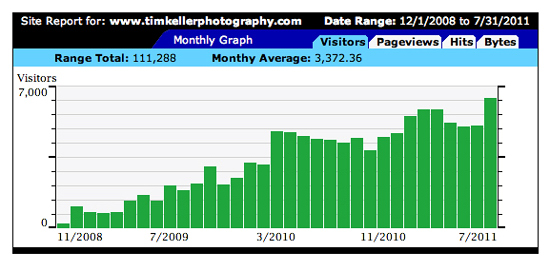 I live so far from traffic that I never have to hear a traffic report. In fact, Union County has only one traffic light (in Clayton) despite being larger than the states of Delaware and Rhode Island combined. The 4000 Union County residents don't produce any traffic.
But I like to look at the traffic reports occasionally for this website, which includes both TimKellerArts.com and TimKellerPhotography.com. I can't tell who is visiting, but I can tell where their Internet service provider is, what site they came from or what search term they used, which pages they visit, how long they stay, and so on.
I see that traffic dropped in April, May, and June, but bounced back higher than ever in July. I assume the drop-off was due to The Chronicle-News discontinuing its New Mexico coverage, with the resulting drop in the number of stories and photos I have there. The July spike is probably due to my new New York City Gallery, which benefitted from several people linking to it on Twitter and Facebook.
Earthlink has notified me that it's about to upgrade its services which might result in a brief interruption of service until Mike or I switch over some numbers and other data to the new settings. If I disappear this week or next, it'll be brief: I hope you'll be sure to come back -- you and the other 200 visitors I get each day. Thank you!

---
July 28, 2011      DUMBO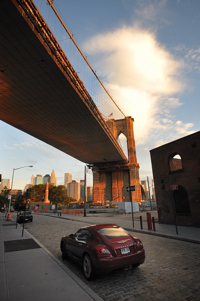 After arriving in Brooklyn Heights just in time for dinner on a Saturday night, my daughter, Darcy, agreed to take me on a walking photography tour at dawn Sunday morning. We set our alarms for 4:30 a.m. and hit the empty streets, so I was able to shoot the Manhattan skyline from Brooklyn Bridge Park at sunrise. Then we walked a couple blocks to nearby DUMBO -- "Down Under the Manhattan Bridge Overpass".
Which is where I found this gorgeous view. That's Lower Manhattan in the far distant sunlight, a big beautiful cloud towering over the island and the American flag atop the bridge. (Click image to enlarge.) The car in the foreground is actually occupied, a man asleep in the driver's seat, sleeping off Saturday night, apparently. I like the whole tableau though I decided that it needs its deep rich colors: I didn't include it in my new black & white NYC gallery. (I'm going to share a pair of Manhattan skylines in color -- sunrise and evening -- in the TKP blog tomorrow.)
As I listen to Christina, Sherry, and Billy D on KRTN's This, That & the Other this morning, I'm getting ready for a series of Raton errands this afternoon that will culminate in an interview and photography for my next magazine feature...but more on that in the future, when it amounts to something.

---
July 24, 2011      Love, Sex, and the I.R.S.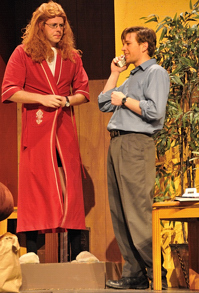 Raton's venerable Shuler Theater last night continued its successful and laugh-filled summer repertoire season with the opening of a three-week run for "Love, Sex, and the I.R.S.," a popular 1979 farce that's been produced -- with good reason -- by more than 10,000 theaters.
I enjoyed my front center seat to photograph and review the show for The Chronicle-News. Three other prominent news photographers were there -- Trinidad's Debbie Gumlich and Raton's Franky Mahannah and Marty Mayfield, although only Marty brought his camera. There was also a full tour bus down from Denver, and the Raton Lions Club had a night out in force, so it was a crowded house, perfect for a laugh-filled comedy.
Of the summer's visiting professional repertoire actors, only David Trudeau (above, in red) had a lot to do, forced against character into cross-dressing, to hilarious effect. (Returning Raton product T.J. Mendez directed.) The rest of the fun was mostly produced by a few of Raton's own able cadre of actors, who gave a hundred percent and easily held their own with the pros.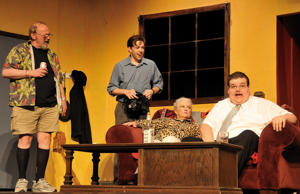 That's Cian Hazan at right, in the lower photo, a revelation as I.R.S. Inspector Floyd Spinner. Joe Zink at left is crude, beer-swilling landlord Mr. Jansen. Trinidad's Vinnie Gumlich is Jon, center, whose tax cheating initiates much of the action; Sara Kowalski gives my favorite of her performances so far as Jon's mother. Brenda Ferri and Clint Henson give brief but fun performances; Billy Donati will trade off with Henson in a role as justice of the peace. Colorado's Kyra Koelling has a central role as Jon's fiance, Kate.
Local readers can catch this show at the Shuler over the next couple weeks; readers more distant should keep their eyes open for when the play inevitably arrives in their area. It's popular and widely produced because it's a guaranteed laugh fest.

---
July 23, 2011      Finding Narrative in a Single Image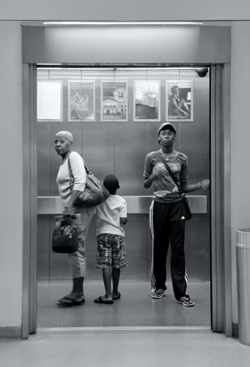 I carried a pair of small books with me to New York City, classic collections of black & white documentary photography which transcended that genre through composition and magic to become art photography.
The books were The Americans by Robert Frank and the British Thames & Hudson Photofile collection Henri Cartier-Bresson. Both men were pioneers of photojournalism who also regularly achieved images of insight and elegance -- they made art.
Street photography is all about selection, finding among the busyness a singular image. I took the books to inspire me and help focus my eye, to not miss the magic images hidden in plain view among the clang and clatter.
Cartier-Bresson coined the term "the decisive moment" to describe the objective: there is a split moment when an image provides insight and suggests story, rendering that image rich and alive. A moment before or after, it's not there. I can't tell you how many times I've seen such a moment but not been fast enough to catch it with the camera.
If you have time to look individually at some of the photographs in my just-launched New York City Gallery, I hope you'll discover just such decisive moments captured in the best of the images.

P.S. If you do find some, I'd love to hear which ones you think succeeded. That's what this comment button is for. Thank you!
---
July 19, 2011      East Meets West in Brooklyn Heights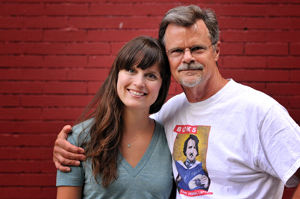 Christina and I are back from a week visiting my daughter, Darcy, around her neighborhood in Brooklyn Heights and across the water where she works in Manhattan.
While a week is about my limit in NYC, we certainly put it to good use, enjoying photographic opportunities, a wonderful afternoon at the Brooklyn Museum where Judy Chicago's "The Dinner Table" makes its home, and some classic Brooklyn restaurants like Grimaldi's and Frankie's. We walked so much that the rich calories were no problem.
Other highlights included visiting and photographing Darcy's team at Financial Times, dinner (and rooftop dessert) with friends Julia & Bill & Sam at their Upper East Side home, walking through Central Park, visiting B&H Photo, and frequent walks at dawn and sunset along the Brooklyn Heights Promenade and Brooklyn Bridge Park. Now I'm busy processing photographs which will show up here -- mostly on the photography side of the website -- over the coming days and weeks. It was a great trip...and it's good to be home.

---
July 8, 2011      Horse Play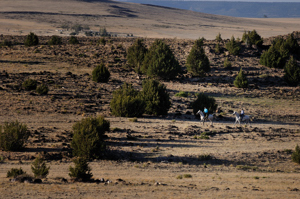 My next feature for Western Horseman is finished and has been fast-tracked to the September issue, reaching readers by August 15. "The Hindi Horses of New Mexico" (my working title) demonstrates that Arabian horses can be great for ranch work, and introduces Brahaim and Jamil Hindi of Duran, NM, and Marcia Hefker and her son Cy Brower, of Raton, NM, who ride their Hindi horses in 100-mile endurance races. Marcia also team ropes on another Hindi horse. That's Marcia and Cy above, riding across the Hi Lo Country, and below near the same spot. Just visible at the top left above is the Des Moines Cemetery, where Wiley "Big Boy" Hittson rests; the town itself is out of view, tucked between the two hills between the riders and the cemetery. (As always, click the image to view large. See my photography blog for much more, including of course many photographs.)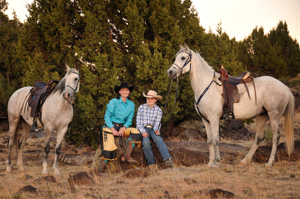 Meantime, two bits of news. First, for the foreseeable future, The Chronicle-News has indeed decided to forsake Raton and northeastern New Mexico, so I'll be doing very little work for them. I'll miss it: I enjoy the quick turnaround -- do the work one day, see it in print the next -- and the ability to spotlight deserving individuals and programs. Alas.
Second, for the first time in the 2 1/2 years this website has been online, it went down for a few hours yesterday. Coincidentally, I'd had a long phone conversation with Marty Mayfield the previous day, mostly about the changes at the Chronicle, but he'd run out of room for his website on Baca Valley Telephone's servers and asked who I use. I praised Earthlink and said I'd never had the slightest trouble. The next day, yesterday, it went down. I contacted Earthlink and they put their engineers on it; it was back up a couple hours later. Here's hoping for at least another 2 1/2 years before the next glitch.

---
July 3, 2011      2 Actors, 3 Dressers, 20 Characters, 200 Laughs
Opening night of "Red, White and Tuna" at the Shuler Theater last night was way worth the 75-mile round trip...through a welcome rain! Two actors -- Vinnie Gumlich (left in all photos) and David Trudeau -- each portray ten characters on the 4th of July in Tuna, the third-smallest town in Texas. The production requires three dressers to help the two actors through their often-hilarious costume changes. It's great fun to watch.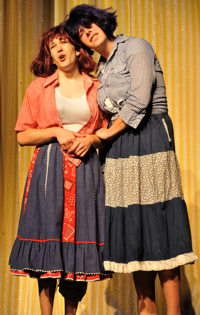 Because of all the different characters and costumes worn by the same two actors, I submitted five photos to The Chronicle-News with my review, although recent practice suggests the Trinidad paper will publish only one. As you can see in the four images here, much of the fun is in the costume changes. And in seeing these guys play such funny women!
Trudeau shaved his legs for the play but, hilariously, not his chest hair. The play opens with him -- as Bernice -- driving from Boulder to Tuna, BFF Fern at her side (above right). They've taken on Boulder names -- Star Birdfeather and Amber Windchime -- and will continue from Tuna to Santa Fe as soon as they get directions: they only know it's "somewhere to the left."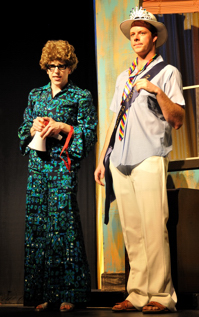 Vera Carp (left) calls all of her maids Lupe: "I can't keep learning a new name every time the Border Patrol gets lucky."
Didi Snavely, owner of Didi's Used Weapons, tells a depressed neighbor that suicide is unnecessary; she suggests wearing a Bill Clinton button or blowing a kiss at the wrong cowboy: "If you can't get yourself killed in a small town in Texas, you're not trying."
Bertha Bumiller exclaims, "Nothing makes me madder than a so-called Christian that don't believe in war." Her son graduated from spray-painting stop signs, and from reform school, to spray-painting roadkill and selling it for high prices as "neo-taxidermy art" in, of course, Santa Fe.
 
It's a no-brainer hoot -- running through August 4 at the Shuler. Check it out.

---
June 26, 2011      Less Horror, More Fun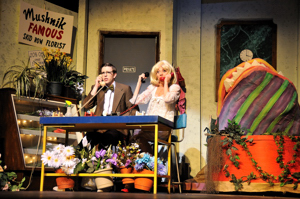 I reviewed the Shuler Theater's "Little Shop of Horrors" last night for The Chronicle-News, where prospects are looking a little better for Raton readers than they were three days ago. Marty Mayfield and I are double-teaming, working on the Louisiana boss and his new editor to honor the paper's banner statement, "Proudly Serving Southeastern Colorado and Northeastern New Mexico." The paper has shifted its focus this year to seeing its audience solely as the people of Trinidad; Marty and I are hoping it'll return to serving Trinidad's sister community of Raton, increasing its market by two thirds, based on population.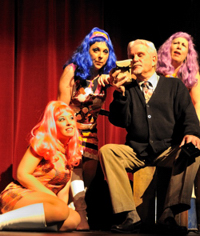 Of course it'll have a big impact on me and my work either way: my territory is Raton and northeastern New Mexico. But, over the past 2 1/2 years, I've heard from a lot of people on both sides of the mountain and state line who have taken to looking specifically for my work, saying they enjoy my writing and photography. I'm hoping that the paper's leadership hears the same comments.
Meantime, because "Little Shop of Horrors" runs through July 10, the editor gave the green light to a review, "since it might interest Trinidad readers enough to drive over the hill for it."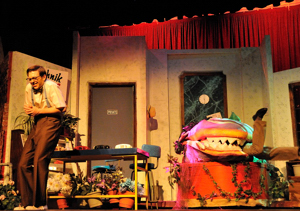 To help the cause, I put the show's star -- Vinnie Gumlich of...Trinidad! -- right at the top. Of course, he earned it anyway with a great performance as Seymour. That's him at both top and bottom, concerned that his plant, at back right, has eaten his boss, portrayed by Michael Porter (center photo -- as always, click any image to enlarge it). Seymour had hoped to win the girl (Kyra Koelling, top) but nothing goes right in this science-fiction horror musical comedy. There's even a Greek chorus in the form of a 1960s girl group -- Crystal, Ronnette, and Chiffon, played respectively by Beki Henson, Brenda Ferri, and Sue Martin. And a sadistic Harley-riding nitrous-huffing dentist played by T.J. Mendez -- yes, the comedy has dentist jokes.
Photographing and writing features like this is just too much fun to think about doing it less.

---