Tim's Blog -- September/October 2009
Tim Keller Arts
Find Tim's Blogs by Date -- Archive
---
October 31, 2009    The Long Riders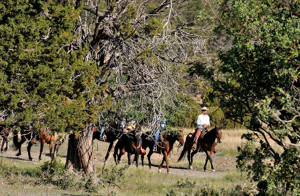 It took three weeks but I finally heard back from editor A.J. Mangum at Western Horseman with not one, but two pieces of good news. He's planning to run my 2000-word feature, "The Long Riders -- Crossing America from Mexico to Canada on Horseback", probably in the February 2010 issue, which has a travel theme. That will successfully continue my streak of having a feature in Western Horseman every 3-4 months since my cattle drive article ran in the January 2009 issue.
While awaiting word, I pitched a new story to A.J. and he responded in the affirmative. I'll be writing and photographing a feature on the Ride to Pride program in Las Vegas, New Mexico. This program provides equine-assisted therapies to youth and their families, promoting recovery and resiliency by actively addressing substance abuse, violence, child abuse, behavioral/emotional problems, and communication issues. I'm hoping to be busy with this story over the next few weeks, with publication scheduled for spring.
I learned of Ride to Pride from my accountant, Bob Goldstein, who spent the weekend here recently to help me set up an accounting system. On the way here, Bob had played a benefit dance for Ride to Pride with our friend Bill Hearne. Bob brought a brochure and I thought Ride to Pride looked just right for Western Horseman. A.J. agreed.
I'm still awaiting word from senior editor Ross Hecox on my "Women of the West" feature on Brittany Rouse. Ross writes and photographs all over the West, so I'm assuming he's in his pickup truck, out on the open road. I'm also awaiting my assignment from New Mexico magazine; last word from them was that I'll get it next week.
I did follow through on last week's pledge to start filing stories and photos again with the Chronicle. I sent them a feature yesterday and others are in the works.
So much for work and news! After our third or fourth snowstorm of the early season, the sun is out and the temperature is heading toward 60 degrees. After hanging some laundry, I'm taking the dogs on a long hike up the mountain. We're ready!

---
October 24, 2009    Feeling the Need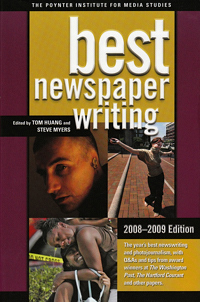 I saw Marty Mayfield in Raton yesterday. He asked why I haven't been writing for the Chronicle-News.
I squeezed the long answer into a short space, as I'll do here. This is an intensive year of teaching at school with many exciting new projects -- including a school newspaper and a talented-and-gifted program -- so I've been plenty busy.
The Chronicle dropped its New Mexico page last summer and hasn't restored it. With Laura Brewer immersed in running Raton Arts & Humanities Council this fall, she hasn't been reporting for the Chronicle, either, so the paper has had precious little mention of New Mexico. (Yes, I do see that this is partly my own fault.) And the paper's management has shown no sign of caring one way or the other.
I've been working steadily, producing magazine articles and photos. But I do miss the newspaper work. I've been reading Best Newspaper Writing and generally studying reportage daily in many online newspapers. (My daily regulars include the New York Times, Los Angeles Times, and Washington Post.)
Some of it is inertia. When I'm reporting a lot, I find lots of stories. I haven't been reporting, and I don't see any stories.
Someday I hope to be able to contribute to a more ambitious paper -- maybe the Denver Post, Albuquerque Journal North, or even one of the three above that I read daily -- but, meantime, I've resolved to get back to work for the Chronicle, Marty. Thanks for asking.

---
October 17, 2009    Feeling the Love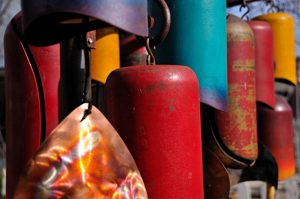 What a red letter day, and a Saturday, to boot! The website, thanks in part to you, exceeded for the first time 100 visitors per day on a weekly-average basis. Page views have ranged from 3000 to 7000 per week. The website is still six weeks shy of its first birthday.
While most of my visitors are Americans, from throughout the US, many are international. In the past two weeks, for example, I've had 70 visitors from Israel, 38 from Latvia, 25 from Luxembourg, 23 from Russia. The long list includes Brazil, Switzerland, South Korea, Greece, France, Germany, Ukraine, Moldavia...hey, a big shout-out to everyone in Moldavia!
(By the way, I can tell countries, domains, times, and so on...but I can't tell who has visited. For that, I especially appreciate when you leave me a note or comment in the guestbook, as it's the only way I know who has visited.)
Besides thanking you, my visitor, I need to thank Mike Schoonover, who not only created the underlying technical work, but who taught me strategies and practices for creating a dynamic website that people would want to visit regularly. Thanks to all.
When it rains, it pours...in this case, more nice feedback in the form of kudos from two local organizations, both of which arrived in today's mail. The Rural Revitalization Initiative Newletter says, "Thanks to Tim Keller for interesting and positive school/community articles in the Trinidad Chronicle and his recently published article in the periodical, Western Horseman. His story and photos about kids who grow up with horses/rodeo and successes of the Sierra Grande Horse Association was a special look at families and a lifestyle in our communities."
Another local economic development group, Vital Roads, sent a nice art card featuring a drawing by a local elementary school student. Inside, the card reads, "Dear Tim, All of us in Vital Roads would like to express our gratitude for your photographical and lyrical writing skills that supported us in such a visible way. We feel that your support will be key to improving the turn-out for our next street fair." It's signed by nine local community activists.
Thank you, all.

---
October 17, 2009    It All Adds Up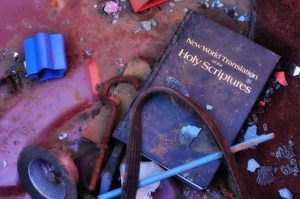 While awaiting word from Western Horseman, I'm about to descend into a weekend of...accounting. I'm about as excited about it as I am going into a faculty meeting.
Albuquerque guitarist/multi-instrumentalist/accountant Bob Goldstein has done my taxes since 1987, the year he played in my band at Club West for the Santa Fe album release party for "No Stranger to Wishes". He specializes in the taxes of artists, musicians, and other unconventional/creative types. He's been doing Christina's taxes almost as long as mine; some years they've been combined but now it's gotten so complex that he does taxes for my business (writing and photography), Christina's business (Studio C), and our household taxes.
We've reached the point where Bob says we need, between us, two days of instruction in accounting and setting up all our accounts in QuickBooks. The biggest benefit I see is that from now on we can gather all our tax data with a few keystrokes.
After a gig last night in Las Vegas, Bob drove into greater Des Moines late last night and should be awaking now in Suite B, the apartment over Studio C. The accounting should start within this hour. I hope it's more fun than it sounds.
But let's not close on a down note. I took the photo above earlier this month, and I like it. (I'd tell you what it is, but that would be a down note.)

---
October 11, 2009    Making One Shot Count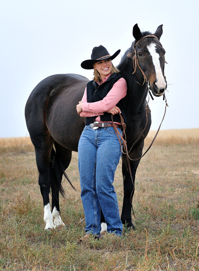 Senior Editor Ross Hecox told me he'd run my Brittany Rouse story as a "Women of the West" spread in Western Horseman if I could come up with one strong vertical shot, which I didn't have.
Brittany was going to be in Clayton yesterday working Walter C. Hall's monthly auction. I arranged to meet her afterward and shoot her with one of Walter's mares.
Our luck, it was 28 degrees, gray with freezing rain getting started. We gave it our best anyway, and I think we got it.
The article and three photo choices are going out to Ross in tomorrow's mail. I hope to hear back by the end of the week. At the same time, my 2000-word feature "The Long Riders: Crossing America from Mexico to Canada on Horseback" is in the mail to Editor A.J. Mangum. I'll be happy to land either of my submissions, though of course I'm hoping for a double. I'll keep you posted.

---
October 2, 2009    (P)Raising Creativity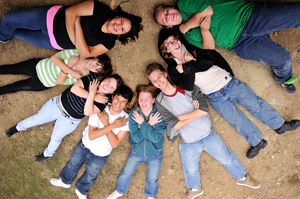 The Raton Junior Arts Council, creative types that they are, cooked up a project to make Christmas cards with their own pictures on them, to visit residents of local "old folks homes" in December and give each a cheery card. They asked me to take the pictures.
What a pleasure it was. The arts are in good hands.
We spent an hour concocting shots around Raton High School Tuesday afternoon. My favorite is above but there are others (1, 2, 3...) almost as good.
It was a busy week. Check photography news, arts news, or my photography blog for more. Thanks!

---
September 26, 2009    Old Friends
Since the first week I started as a contributor to The Chronicle-News, back in January, I've had an idea for a matched pair of profiles on Mary Ann and Willard Louden as artists. Mary Ann proved to be a hard sell, but she finally relented and I was able to interview and photograph them both last weekend for a double feature that ran this week.
The process illustrates something I've seen over and over: you can't push the river, and for some stories you simply have to be patient and wait until all the elements fall into place.
I'm particularly pleased with my portrait of Willard. I set him in his south-facing living room window, moving his chair and some other furniture to eliminate distracting elements and provide a clean background. I used window-light alone, no flash. Sometimes I directed him to look out the window, other times to look at Mary Ann. This (right) is one of the latter: each time he looked at his wife, he broke out into a smile. For me, this one captures the man, and reveals elements that go beyond a more prosaic picture. That's what makes a true "portrait". It reveals something of its subject.
If you go to the articles, I should say that I think an editorial intern probably did the flawed layout. I gave specific direction -- something I rarely do -- for a side-by-side layout of the two features; my request was ignored. Willard's text is small and compressed, hard to read. Mary Ann lost her headline and it's hard to see that hers is a separate feature. My headlines and captions were changed. Finally, the online digital file wasn't reduced in size, so the page is a 4MB download, about ten times larger than usual, and slow. (I've put them in a separate window so you can keep reading here while they download.)
Oh well...I just work here!
But I like doing it. It's a special joy when I get to feature something that means a lot to me. Mary Ann and Willard Louden are in that category.

---
September 20, 2009    An Exciting Week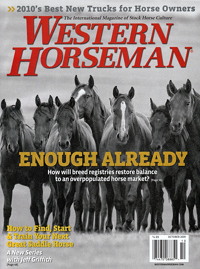 What a week! Western Horseman's October issue arrived, with my six-page feature "Growing Up Rodeo". I didn't discover it until 10 o'clock Tuesday night when I was climbing into bed late. I didn't get to sleep until midnight.
Thursday, I got an e-mail I'd been hoping for, from the Editor-in-Chief of New Mexico Magazine, Tricia Ware. We've begun narrowing down a list of pieces I will do for her, to begin appearing early in 2010.
I hadn't submitted anything to The Chronicle-News for the past two weeks, too busy with school. I rectified that, sending them four articles, with a fifth on tap this afternoon. The week ahead should be a good one for me and the Chronicle as they publish these stories.
Top all that with fabulous fall weather. Christina and I are grilling dinners outside this weekend, putting the hammock to good use. We'll be firing up the woodstove soon enough, but for now we're making the most of September.

---
September 12, 2009    Subtle, Like a Tingle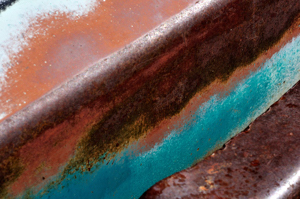 I haven't been writing, for the Chronicle or magazines. It's a couple things. The Chronicle has been cutting back, what they call "tightening": running fewer and smaller pictures, asking for shorter articles, holding articles for several days; they even eliminated their New Mexico page. They've run most of what I've sent, but I've found it harder to be interested.
I've been working so hard for school that I don't know where I would have found the time anyway. I'm teaching writing to a large class (30) of the brightest, most ambitious seniors in the school. I'm working really hard for them, creating the course. After this first year I'll have everything built and it won't demand so much time again.
I'm also starting up with a new school newspaper group of kids -- they asked -- as well as creating a talented-and-gifted program with Leo Linsky. So it's going to remain a busy year through May.
But I'm starting to get a familiar tingle. I used to get it when I was about to write a batch of new songs: I could feel them coming. I've got some photography ideas emerging in my head, and I'm getting the bug to make some time to write and photograph some newspaper articles.
I'm waiting on Western Horseman and New Mexico Magazine at the moment: like booking gigs back in the day, some things can't be rushed. You have to wait till they're ready. Meantime, I'm looking forward to Western Horseman's October issue arriving next week. It's always a thrill to see how they've handled my story and photographs. I never know which photographs they've chosen until I see the layout. Their graphic design people are tops, so it always looks great.
And now there's the tingle. I'm filing a preview of the Capulin Volcano Run with the Chronicle tomorrow, and I'm planning to report, photograph, write, and submit a matched pair of features next weekend, on a husband-wife artist team. My eyes and mind are working on some new photos, too: we'll get the camera involved soon. It feels good, the tingle.

---
September 7, 2009    Marking Time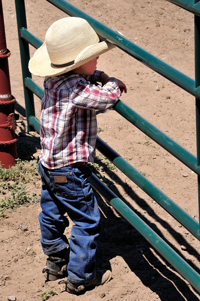 For the third consecutive weekend, I've thrown twelve or more hours into preparations for my high school English classes, especially the honors senior English course I'm teaching for the first time, giving dual credit for the high school course as well as freshman college composition. Like photography and writing, teaching is a creative enterprise.
My rodeo story in the October issue of Western Horseman should hit the streets in two weeks, and I have five photographs in the 33rd Annual International Art Exhibit and Sale in Raton, with the awards ceremony coming up Friday night. (See today's photography blog.)
The school work will remain demanding all this year, building some new courses. This week I suddenly found myself sponsoring a new school newspaper (students came and asked me) -- another good thing that will eat up more time. But I'll be writing for the Chronicle soon, and hopefully adding projects for Western Horseman and New Mexico Magazine as well. To quote from the new Bob Dylan album
, "It's all good."