All images © Tim Keller unless otherwise noted.
---
November 12, 2019 Beyond Here Lie Serpents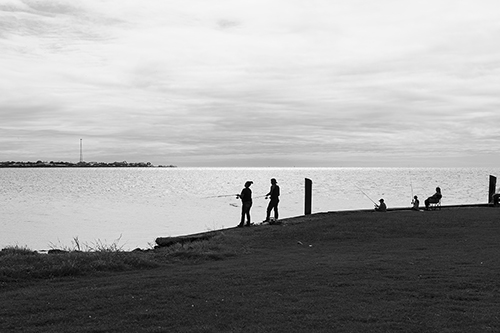 To look at the map, Louisiana south and west of New Orleans looks like it's all water, judging by the lack of roads. I was glad to go far down some of the few roads to discover that there's plenty of land, but it's so low, so close to sea level, that I assume roads are ill-advised in most places.
We reached the end of one at Cypremort (French for "dead cypress") Point in Vermilion Bay, where we found an isolated state park and a small community, with all the houses built so high that the first "floor" consisted only of posts, or pilings, holding the house up high above sea level (above left). The first four photos above were all taken with the Nikon D5 with 24-70mm lens. The fifth photo, the pair of palm trees and shelter, is the iPhone 7 and I've left it in full color, such as it was. The coast was so close to black and white anyway that I went ahead and processed the Nikon images into B&W.
From there we used the map to pick Houma as the next visit, because it's a small town at the intersection of two bayous, which you can see above right where the highway crosses high above the bayou intersection.
Besides richly fascinating destinations, the food alone is worth the visit to Louisiana. (I've twice cooked Paul Prudhomme's 1983 chicken and sausage gumbo recipe since we came home.) We'd planned to return to Guatemala next spring but, after finding that one week wasn't nearly enough in Louisiana last month, we've already booked our flights and lodgings for a road trip next spring--flying into Memphis, getting a rental car, spending two days touring the Mississippi Delta blues heartland (using Blues Traveling: The Holy Sites of Delta Blues as our guidebook) and then returning to Louisiana for nine days. Guatemala will wait till the following spring, but gumbo and jambalaya and red beans & rice and beignets and all that seafood won't wait--Louisiana, we'll be back soon!
November 9, 2019 Whitney Plantation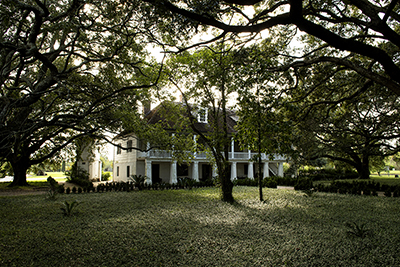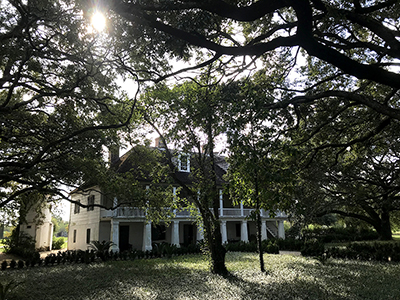 From New Orleans we drove up along the Mississippi River through a long succession of big historic plantations, interested in the history of slavery after enjoying Colson Whitehead's Pulitzer Prize and National Book Award winning novel The Underground Railroad. Our Airbnb host said the Whitney Plantation was the place for us, the only publicly available plantation and museum in the region devoted to the history of slavery. We loved the ninety minute guided plantation tour that ran to two hours because our group had so many questions and our guide, a local black woman, was so fabulous.
Yesterday I posted commentary and a variety of photos from the Whitney Plantation on my arts blog--check it out. Here, instead, I'm showing a couple images each from my Nikon D5 (with 24-70mm lens) and iPhone 7 camera. At the top is the big house, where the owner's family lived, and below is the church. In each pairing, the upper photo is the Nikon, the second image the iPhone.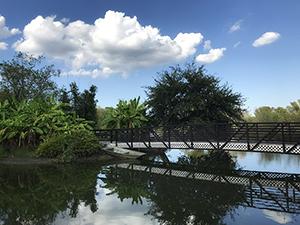 In processing, I didn't put them side by side and try to make them as close to identical as possible, so there are some differences in light and color tone, but overall I think you'll have to join me in continuing to be impressed with the abilities of the iPhone cameras. I plan to hold onto the iPhone 7 until next year's transformational iPhone--the 12?--is released in the fall. In the meantime, the quality of the iPhone 7 photography goes a long way toward explaining why I've been using my Nikons less, especially in travel photography where it's so much harder to carry and shoot the big heavy cameras and lenses.
Want to guess which camera's bridge photo I've selected to post?
It's the iPhone.
October 18, 2019 The Mighty Mississippi
When our connecting American Airlines flight at DFW was late last week, we tried to grin and bear it. So much for getting our rental car and driving to our New Orleans Airbnb before dark. Two hours later, on our approach to NOLA as I used my iPhone 7 to photograph Lake Ponchartrain and the Mississippi River, I knew that these two photos wouldn't exist without that delay. In photography, light is everything. Thank you, American Airlines.
September 28, 2019    Art in Public Places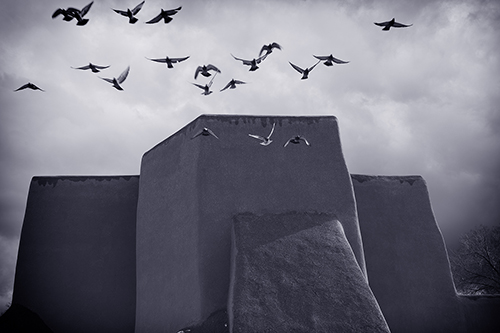 Good news arrived yesterday via carrier pigeon. Well, actually it was by the newfangled email method. New Mexico Arts has accepted all three of my entries in this year's Art in Public Places (AIPP) program, which implements New Mexico's innovative 1% for Art law in which all state construction grants set aside one percent for public art in the newly funded construction.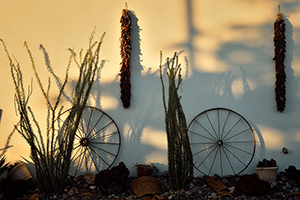 I sold my first two photographs ever through this program in 2009, launching my photography into business and now accounting for five of my photographs on permanent display in large framed prints throughout the state. The program allows artists in all media to submit three images for consideration by a jury panel in Santa Fe. The call goes out every two years. Two of my three photos were accepted that first year--and both sold at the first presentation--then all three have been accepted in each of the subsequent years.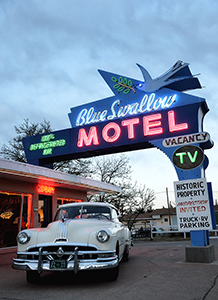 New Mexico Arts (NMA) staff tours the state for two years presenting a slide show of the accepted images to approved public programs. Using alloted state monies for art, each program selects art for their buildings. My photos add life and art at UNM Hospital in Albuquerque, Roosevelt General Hospital in Portales, the Luna County Sheriff's Office in Deming, Cabezon Recreation Center in Rio Rancho, and the Belen Public Library.
If I wasn't presently typing, my fingers would be crossed for the three images here, that they be purchased and bring my total to six, seven, or eight images on permanent display across the state. At top is "Alight," photographed at San Francisco de Asis church in Ranchos de Taos. Second is "Old Mesilla," photographed in a winter sunrise in Mesilla. Finally, "Blue Swallow" is my favorite image from my photo forays along Route 66 in Tucumcari. (Click each image to enlarge it.)
Artists have countless reasons to love living in New Mexico. NMA's innovative Art in Public Places program is one of them, and I'm honored that they've included me and paid me well to display my work throughout our state. Thank you, New Mexico!