---
December 31, 2014     California Skatin'
Peter Burg, my wife Christina Boyce, and I left Raton's snowstorms and single-digit temperatures to spend eight days along the sunny southern California coastline, hiking daily in shorts and t-shirts. My daughter Darcy Day Keller and her partner Jarrett Lambo met us there from Brooklyn. For Christmas, Darcy gave me and Christina Fitbit Flex wristbands that clock our steps, miles, and even our sleep. Checking the readouts on our iPhones and comparing to each others' totals has done the trick, spurring us all to increased activity--a perfect gift to start the new year. Some of our extra steps took us to the famed and fabulous Venice Skatepark to photograph state-of-the-art aerial skateboarding.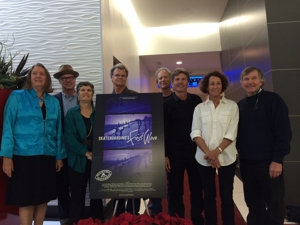 We went to Los Angeles for the premiere screening of Skateboarding's First Wave, the documentary short film made by our teammate Don Burgess sharing the story of the Palisades Skateboard Team and the birth of skateboarding in Pacific Palisades, California, circa 1963-1967. After the invitation-only screening, original PST members posed around the movie's poster: from left are Colleen Boyd Turner, my brother Terry Keller, Wendy Bearer Bull, me, Peter Burg, Don Burgess, Suzanne (Suzi Rowland) Levin, and Ric Burgess, in a photo by Colleen's daughter, Kim Turner.
The film appears to have a great future; Don's about to hire a publicist to shepherd it through the international film festival circuit. Palisades High School is essentially a character in the film; Don's presenting a free public screening there in Mercer Hall, capacity 400, early in 2015. I plan to return to enjoy that, and I hope to attend some of the film festival screenings as well. With my teacher retirement around the corner in late May, freeing me for more writing and photography and travel, the upcoming year looks exciting. Happy New Year!
---
December 13, 2014     Taos Gorge
Feeling the need for a getaway, we spent three days and nights in Taos, mostly just relaxing by the big fireplace in our room at El Pueblo Lodge, reading books and enjoying the quiet. We enjoyed meals at Orlando's, Taos Cow, Taos Diner, and Doc Martin's; on our last night, we enjoyed Taos Outback Pizza take-out with a bottle of merlot by the fireplace. On a four-mile afternoon hike along the Taos Gorge south from the bridge, we took iPhone photos (above) and decided to return for a repeat hike the next day with our Nikons (below).
Afternoon hikes were for us as much as for Django, who loved chasing rabbits but worried us when the savvy rabbits tried to run him straight over the abyss, racing to a nook just under the edge of the gorge. The good news is that Django is still with us, still happy and waiting patiently for today's hike (just ahead of a snowstorm expected to move in tonight). Completely focused on photography for a good spell, Christina and I drifted apart as much as a half mile as we each found our own shots. Here, Christina shoots Taos Mountain in the distance beyond the gorge.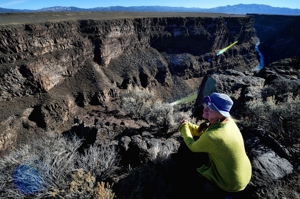 We both love lens flare so Christina flipped when she saw a pair I took of her on the ledge with a lens flare like a satellite coming her way along the gorge, exactly the color of her sweater. It's shorter in the first one (with its flaming red tail!), then streaks long like it's building speed and intensity (right--as always here, click any image to enlarge it). There's a less attractive lens aberration in the lower left corner causing a bluish discoloration of the brush. We shot in midday because we wanted the sunlight lighting the Rio Grande river at the bottom of the steep gorge, but there were few clouds and the intense light tossed lens flares every which way.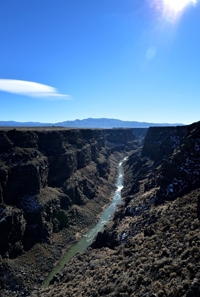 I'm always hoping for stock photos that I can license to magazines, especially New Mexico Magazine and its annual vacation guides, but the cloudless skies lowered my expectations. With dramatic clouds, the shot at left could have been stronger.
We loved our stay at El Pueblo Lodge so much that not only will we always stay there when we go to Taos (we've enjoyed three other places in the past), but we'll go to Taos more often now that we've discovered El Pueblo. It's just blocks north of the plaza, on the left before the road bends left, directly across the road from Kachina Lodge. Sprawling lawns are dotted with trees, lawn chairs, and horseshoe pits. Several areas have barbeque grills and tables. Django had other dogs to keep his stay interesting. Our room was huge with a kitchenette, king-size bed and fireplace, with sitting porches out both front and sliding-glass back doors. Brunch and evening snacks surprised us with how delicious they were, and every employee seemed to love working there. We especially enjoyed our morning deliveries of fresh firewood. We're already planning our next stay. Hopefully there will be clouds over the gorge.
---
December 7, 2014     Land of Enchantment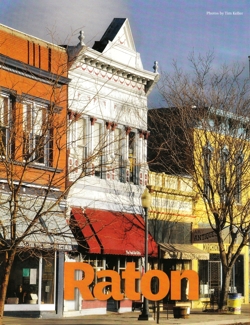 This week's editions of Raton Comet and Sangre de Cristo Chronicle all contained the Winter 2014-15 edition of Enchantment: Visitors Guide to Northern New Mexico with three pages of Raton coverage focused on the Shuler Theater, Old Pass Gallery, and the National Rifle Association's nearby Whittington Center. Three of my photos are included--the Shuler Theater, Johnson Mesa, and (right) Historic First Street.
I didn't know that I'd be in this issue of Enchantment. The editors had talked to me about using my Red River feature but ultimately they ran out of budget and decided to produce all of the content with staff writers. They're currently planning to include my Red River feature in the magazine's summer edition, a better choice anyway since it was written to spotlight the mountain town's summer music scene.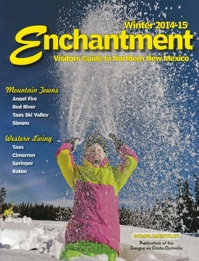 The editors didn't have anything, or anyone, for Raton coverage so they used an article they commissioned from me last summer, an overview of Raton for a still-forthcoming Raton Visitor Guide. The Raton overview was accompanied by seven additional articles on Raton's most noteworthy attractions, all to appear in the new visitor guide. Enchantment, though, included only the Raton overview. This upset a friend who sent me a Friday night email scolding me for not including his important institution. I had to explain that his place wasn't in the article because it had its own dedicated feature--which will be in the Raton Visitor Guide but wasn't used by the editors in Enchantment. My friend also wished I'd included last night's special event in the magazine's Don't Miss calendar section, but I didn't write that section or even know it was coming. All of my content was created to order in early July.
As a freelancer, my work is always submitted to editors who have the right to do whatever they want with it. It usually works out pretty well. One of the benefits of writing positive features that promote New Mexico's myriad wonders is that the feedback I receive is almost always positive. That's the way I like it and I work hard to keep it that way.
---
November 23, 2014     Angel Light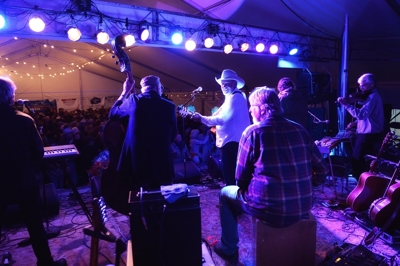 Thursday afternoon I received a most welcome email from Edie Dillman, the art director at New Mexico Magazine:
"You are not going to believe this – but I poached one of my favorite shots from Barn Dance for the performance section of the Vacation Guide. Bonus – you get paid for it too!"
She'd already paid me for shooting 12 hours in September at Michael Hearne's Big Barndance Music Festival for a profile on Michael that I'll be writing for the August 2015 issue. She was essentially stealing from her own August stash, and paying me.
I'd sent 40 photos, but she didn't say which one she'd selected for inclusion in the 2015 New Mexico True Adventure Guide. I asked and heard back the next day. It's the photo above (click to enlarge), of Michael looking back at me during the triumphant closing set of the three-day festival, the big room behind him filled with happy dancers. Edie added, "I LOVE this shot!" That's a special compliment coming from her. She even sent me a copy of the page from the upcoming vacation guide. All in all, pretty great news for a Thursday.

---
November 20, 2014     A Swingin' Sinatra That Rocks the Piano
Billed as "a lean baby Sinatra with burning brown eyes and flashing teeth" (and that quote from the New York Times, no less), Tony DeSare proved that he's got the goods when he gave a 100-minute concert at Raton's Shuler Theater Wednesday night, one of 25 shows in a 30-day span on his fast-moving road trip.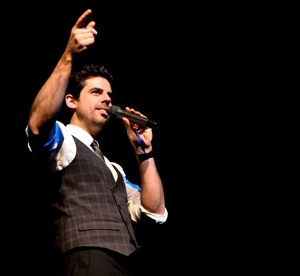 Travelling with drummer Mike Klopp and bassist Steve Doyle, all attention remained on DeSare as he went through 17 songs of a program he bills as "My Generation: The Contemporary American Songbook." With songs as old as Irving Berlin's "I Love a Piano"--written 100 years ago just as the Shuler Theater itself presented its first show--and as new as DeSare's own two-year-old "New Orleans Tango," the biggest revelation was just what a rockin' good piano player he is. To make room for the rhythm section, the Steinway grand was positioned where hardly anyone could see his hands--a disappointment for me--but the performances were a huge hit with the large midweek audience. If he came back next week, I'd join everyone else and show up for more.
---
November 1, 2014     Diary of a Fat Mann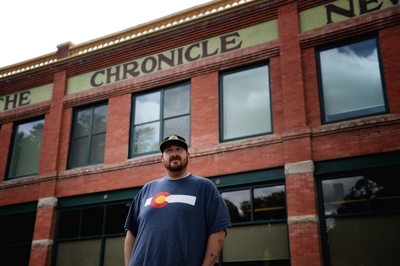 Adam Sperandio does double duty at The Chronicle-News where he's both sports reporter and advertising sales manager. Lately, though, he's been writing a wonderful weekly front-page feature called "Diary of a Fat Man" in which he fearlessly chronicles his struggles to control his weight and live a healthy lifestyle. It's a great read as the challenges aren't so much weight struggles as human struggles with which anyone will identify.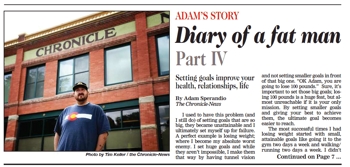 I've been billing the paper for each use of my portrait of Adam but it just reached the amount that I charge for a permanent license so there will be no more charges. Hopefully Adam will keep this feature, and others like it, going for a long time. You can follow Adam's work in the archives of The Chronicle-News, available free online.
---