---
October 27, 2013     Old Cars, Old Houses, Old Photographs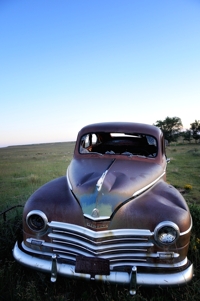 I often have to search through long-distant computer files to locate a specific image, or search to find images that will fulfill a specific need or call. Years of photo folders are filed chronologically -- 131027 for today, then a keyword or two for subject matter. That's half the reason I post many of my photos at Flickr, because they're tagged with keywords, arranged chronologically, and displayed with a dozen per screen. I can quickly locate a photo there and that gives me the date it was taken, guiding me directly to the correct computer file. (The other reason I'm still on Flickr is that corporations and magazines search for images there, like a stock photography agency: I'm still receiving royalties for two such images that National Geographic Traveler keeps on its website, having published them in its magazine two years ago.)
Sometimes when I dig way back through old files, I spot an image that didn't make the cut but should have. The old Plymouth abandoned along with an old homestead near Grenville, New Mexico, above, was such a case. I spotted the image a couple weeks ago in a file dated September 13, 2008 ("080913 Campbell Rd"). I remember the day well.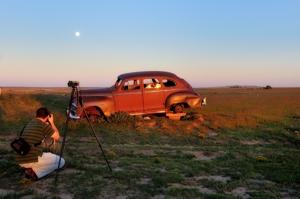 Mark Phillips, from Denton, Texas, had made contact via Flickr and stopped in at our home in Des Moines so he and I could go out and shoot photos together. We drove my pickup down long dirt back roads. We knew we'd found treasure at this one location. With the cool little pano camera on the tripod at left, he took this shot, which you can compare to mine. From Mark's shot on Flickr, click the arrows at the far left and right to scroll through other great shots that he took on our outing that day, including several more around this homestead. I see that his Flickr pages show later dates, October 6 and 7, which tells me that his software registered the day they were processed or posted rather than the day they were shot. Either way, the day produced some great shots. Mark's still at it; his Flickr photostream is always worth a long visit.
---
October 20, 2013     Country Ain't What It Used to Be
The Texaco Country Showdown pits aspiring performers throughout the U.S. in front of audiences and judges for prize money and the chance to advance to the national finals in Nashville, where rewards include a $100,000 first prize.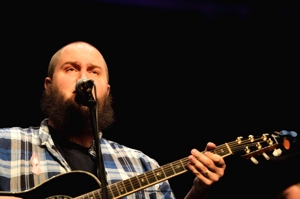 Local winners proceed to state championships. State champions proceed to one of five regional championships, and those five winners go to Nashville in January for the big shebang at the Ryman Auditorium. Kirk Baxley, top left, and his guitarist and band came from Dallas, while Michael Butter Thompson and his band, StateLine, drove in a caravan with family and fans from Clovis, New Mexico, to the southwest regional finals held last night at the magnificent century-old Shuler Theater in downtown Raton, New Mexico.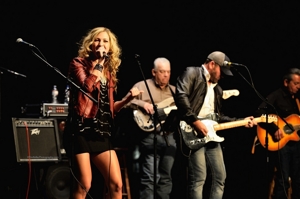 Morgan Leigh and her guitarist Paul Coughlin (right) drove in from San Diego, having won the championship in Arizona; like many acts, they were accompanied by house band Colfax Reunion, who did an impressive job of it. The packed house included people from 16 states and a traveling couple from Manchester, England. The lobby chatter after the show included lots of the locals exclaiming how fabulous this event is for Raton. Ditto that. This was the third year the event's been held in Raton; hopefully that run will continue for many years to come.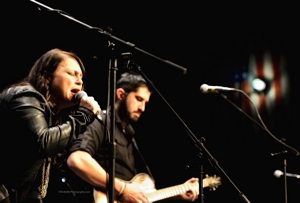 The other lobby chatter, of course, was squabbling over the result. Crystal Yates, left, was declared the winner. Her original songs about bad love, her passionate singing, and the rock-solid guitar playing of her husband and sole accompanist Will Yates, clearly won over the four music-professional judges. I didn't hear from anyone who agreed. That's the fun of such events. Christina picked StateLine. I picked Morgan Leigh. Kirk Baxley was strong, too, but he reminded me of our days in Deep Ellum where he plays regularly, and that ain't country. (Naomi's and Sons of Herrman Hall were where we went for country, uphill a little from Deep Ellum.) But obviously I'm left in the jet stream of change. If last night's acts are country music, then what are we left to call Hank Williams, Merle Haggard, or such modern practitioners as Kieran Kane or The SteelDrivers? I minged about this after last year's show, too.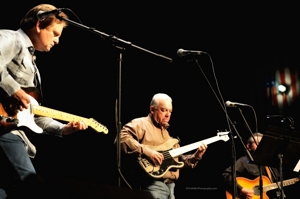 Much improved this year was Colfax Reunion, at right. Their performances before, during, and after the competition had a pop and energy that was lacking last year. In fact, their self-effacing comments upon following the competition acts weren't necessary: they done good and had every right to be confident. They played more actual country music than the other acts, too. (See my problem? Today the music of the other acts is called country, so what can I call this other stuff, like Colfax Reunion's Merle Haggard covers?)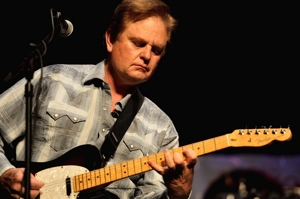 I enjoyed hearing Dino Cornay play (left), my first time since writing his feature for Western Horseman magazine. Dino enjoyed playing dueling Telecasters with Robert Walton, the band's secret weapon. His playing propelled the band and the audience, adding energy and excitement to a wide variety of songs and making Colfax Reunion one of the better acts on the Shuler stage last night.
---
October 19, 2013     "The Best NM Photographer You've Never Heard Of"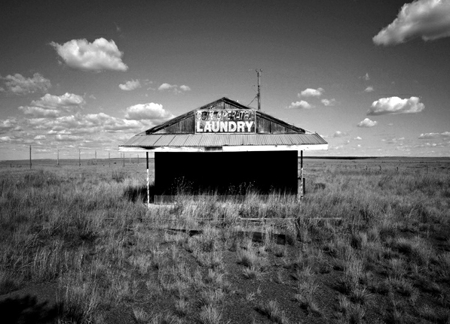 Bob Christensen's individual portraits of abandoned buildings are fabulous, but when you see them collected together they're simply stunning. Apparently he had the same experience himself: only when a museum photo-archivist friend prompted him to assemble a collection of his prints did he see that his friend was right, that he had a collection that compared well with the iconic work of Walker Evans.
I don't know what took him so long: his work's been assembled on his own site at Flickr for many years, where he goes by the handle Shadowbomb and where I've followed his work since 2007. It's not to be missed -- click here to see it. I met Bob and his wife Debra more than five years ago when Christina and I met up with a bunch of Albuquerque Flickr photographers for dinner and a wandering group photo shoot down Central Avenue.
Now New Mexico Magazine has trumpeted Bob's work to the world. The new November issue cover headline reads THE BEST NM PHOTOGRAPHER YOU'VE NEVER HEARD OF. Inside, "Robert Christensen's Diamonds in the Rough" by Kate Nelson tells Bob's compelling story, accompanied by six pages of beautiful layouts of breathtaking black and white photographs taken along New Mexico's back roads over a period of almost 40 years.
The feature is timed to coincide with the opening of "Vernacular Architecture of New Mexico: Photographs of Robert Christensen" at The Albuquerque Museum, on display until March 16, 2014. I look forward to making my way to Albuquerque this winter to see Bob's prints in person.
---
October 13, 2013     The Joy of Making Portraits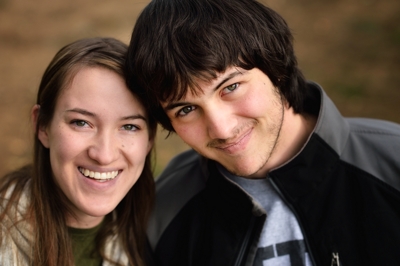 During a visit Thursday, our friend Barbara Neary mentioned that her son, James Neary, was in town on a fall break from his studies at UNM. When she said he looked great, and "shaggy," with longish hair and what I imagined as a Bob Dylan beard, I suggested that he and his sister Tess might stop by over the weekend for a portrait session.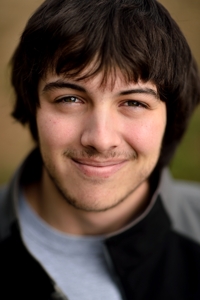 Along with storytelling, making portraits is among my favorite pursuits with a camera. It had been too long -- few around here want to pay for a portrait session -- and the idea of updating my three-and-a-half-year-old portrait of James was tantalizing. I'd made a companion portrait of Tess more than two years ago, so I could update that, too.
Tess called Saturday morning as I was processing some photos. They came right over as I set up both my D4 and D300 with their respective 85mm portrait lenses. It was early enough to take advantage of the scattered cloud cover and low morning sunlight. We started inside with window light against great wall colors in two rooms -- the temperature outside was in the 40s -- then we moved to four set-ups outside. I used only the D4, always the widest apertures I could get away with (shot at f/2.8, Tess's face is in soft focus above because she's ever so slightly farther back from James) in order to blur the backgrounds and get these great bokehs.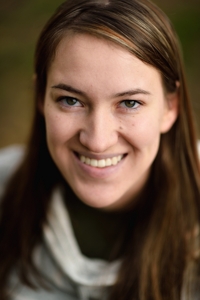 I sorted through the shots and processed nine -- three of brother and sister together, and three solo shots of each. There was great variety of colors and looks so I'm surprised to discover that the three I chose to share here were all from the same vantage point, all having the same look. James is now so tall, perhaps 6'4", that I usually found myself shooting up at him. I like to change point of view anyway, and shooting portraits downward is generally better than shooting them upward, so I moved James and Tess over to where I could stand on a tree stump about 18" above the ground, allowing me to shoot downward at them. As much as I like the other six shots I processed, I have to say that this one set-up was the big success of the morning, giving me -- and the Nearys -- what I suppose are my three favorite portraits of the day.
By the way, if you use the search feature at the left above, you can find lots more pictures of Tess and James, including images of them acting on stage at the Shuler Theater.
---
October 5, 2013     Instagram
I tried Instagram last year, thinking it was limited to smartphone photography. I quit after finding people uploading shots from Hasselblads and other pro cameras. I'd also come to see that it's more a social networking site than a photography site: you only get people to comment on your images when you do the same for them. The more you give to others, the more you'll get yourself. It can get addictive: you comment on more and more work in order to get some attention for yourself. You can get lost in it. That happened to me initially with my Flickr account, which I now maintain as a catalog of annotated work and which draws me paid licenses from such clients as National Geographic Traveler, which is paying me annual royalties for two images they found on Flickr two years ago.
I rejoined Instagram recently with a different approach: the photographers I'm "following" are almost entirely top professionals doing amazing work throughout the world. I find it exciting to follow their assignments and imagery. I'm also posting my own photos from my Nikons mostly, rather than from my iPhone 5; however, I was viewing Instagram in bed last night just before turning out the light and decided to try for some images without getting up. I turned my phone on my surroundings and got the three shots displayed above. (Click any to enlarge it.) They're the red bedspread, the brown room corner above the bed, and a detail from the book I'm again reading in bed, Deadline Artists. I'm pleased enough to have posted them on my Instagram account, where I'm registered as "hilocountry," and here. For three images in the three minutes before sleep, I'm pleased with them.
---
October 4, 2013     Charlie Albright
Charlie Albright's concert at Raton's Shuler Theater Thursday night was more fun than you'd imagine for what was mostly a classical music concert. His skills are extraordinary, his musicianship world class, but what was perhaps most fun was his youthful joy, playfulness, and exuberance.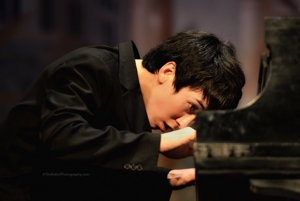 Before and after each piece, he stood at the mike and talked to the audience. After the intermission, he began by saying a little uncertainly, "I hope you're enjoying this format," and the audience immediately gave its reply in loud applause. We liked it. The old liked it, and the many young people in the audience liked it at least as much. I always find it inspiring to experience someone who's developed such amazing talent. There was no missing it, and the music itself was exciting and moving.
There was one disturbance for me as a photographer, and apparently for at least one patron. A woman complained to the sponsors about my camera -- not about the audible camera clicks, which I'm always self-conscious about in such a setting, but about the light the camera emitted. There's a dark green LED light atop the camera, about 3/4" by 2", that displays exposure settings. She was three rows behind me and I chatted with her about it at intermission. Ironically, she'd come from Trinidad as a result of my article, and I mentioned that photography is required to accompany such articles. She wasn't assuaged. I'm not sure why her eyes were drawn down to my camera rather than up to the piano, but I've studied the manual and learned how to turn off the light, setting it so I can turn it on briefly with my thumb when I need it. I'm always aware of the potential for irritating other patrons with my camera clicks -- although they're no louder than the incessant clicking of the oxygen tank of a former smoker, now emphysema patient, seated many rows behind me Thursday night -- but the only alternative to camera clicks is no pictures at all. I can only hope that most patrons would feel that the photos above justify the distraction of camera clicks...and light. (Speaking of clicks, click any image above to see it enlarged. The two close-ups, especially, look better bigger!) While being as sensitive as possible, I'll continue to photograph the Shuler's great shows.
---
October 2, 2013     Selfie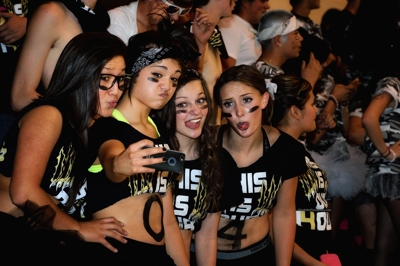 The future is in good hands. A glimpse inside the world of high school, in this case today's Raton High School Rowdeo during Homecoming week.
---
September 21, 2013     Hero Worship (Tyler Hicks again)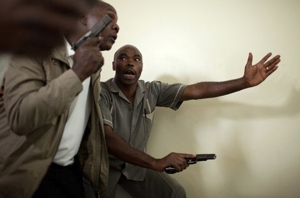 After writing the blog below, a life-affirming (and photography-affirming) story from the New York Times Lens blog, I looked at today's New York Times front page online. A luxury mall in Nairobi, Kenya, was under seige by Islamist terrorists with grenades and AK-47s, shooing away Muslims and aiming for non-Muslims. They were still in the building, with hostages. That's as close as I would have looked, but the front page photograph had a photographer credit I couldn't ignore. Tyler Hicks.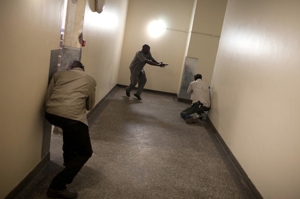 I looked at the other major papers to see what their photographers were getting. I found four photographer credits, all working outside the mall. Only Hicks had gotten inside the building, and he appeared to be sending his photos directly to the Times from inside while still under the gun. The shot at right was obviously taken quickly: look at how tilted the camera is. Hicks has followed plainclothes cops right to the terrorists. In the first image, he's literally in the police line, shooting inches from one of their guns. F-ing Tyler Hicks!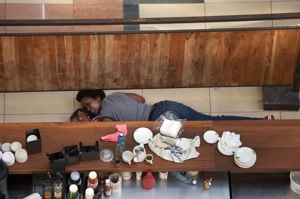 Elsewhere he's photographing shoppers still cowering under fire. I've written about Hicks before, when he was captured by the Libyan army. His derring-do has continued since then, including the carrying of his dying partner, Anthony Shadid, out of Syria last year. He has his own index page at NYT Lens, although that's a tiny portion of his work for the Times and others. The Times maintains a more comprehensive index page here. Only 44 years old, Hicks has an extraordinary career behind him, including a Pulitzer Prize. He makes it his business to be where the trouble is. Though he's a very Anglo-looking American (the terrorists won't wonder whether he's Muslim), he lives in Nairobi. He was married two weeks ago in New York's Hudson Valley to fellow photojournalist Nichole Sobecki, who brought his cameras and joined him inside the Westgate today.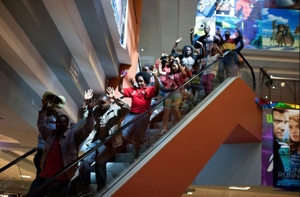 Tyler Hicks always makes me want to be a war photographer. Then my sanity returns and I remember that, no, I do not want to be a war photographer. I enjoy books and movies like The Bang Bang Club and War Photographer, and I love studying work by astonishing war photographers such as James Nachtwey, Lynsey Addario, and Tyler Hicks. I aspire to have such dramatic photo opportunities. But I also appreciate life in America, far from fast flying bullets. Shooting last weekend's M.O.M. adventure race provided as much adrenaline as photography generally gives me. Except maybe when I look at Tyler Hicks's photographs from such action zones at the Westgate Mall today in Nairobi. F-ing Tyler Hicks!

P.S. Hours later, NYT posted an interview with Hicks about his day.
---
September 21, 2013     Photography's Future Is In Good Hands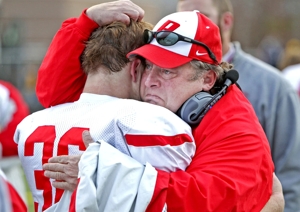 Lens, The New York Times photography blog, is one of the world's most important photography venues. Two days ago it posted a wonderful project, "My Hometown," in which more than 3000 teenagers in 45 states submitted photographs to portray their hometowns. The Alliance for Young Artists and Writers Foundation helped spread the word to high school photography programs. (Maybe it's time to start such a program at Raton High School?) The results are inspiring, and they make me feel excited for the future of photography.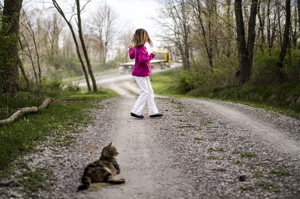 There's plenty to worry about. The digital revolution has led to the elimination of many professional photography departments and jobs as newspapers and magazines opt to use "citizen photographers," most of whom are thrilled to be published -- without pay. Publishers do a simple Google Image search for what they need, then ask talented amateur photographers for the free use of photos found on Flickr, Instagram, Facebook, and throughout the Web. The Chicago Sun-Times is only the latest of a long line of newspapers eliminating their photography departments. How will photographers be supported in the future if the best work is published without payment?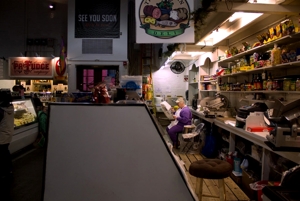 What's not at risk is the future of photographic talent and artistry. These three images from the Lens blog are among my many favorites. From top to bottom, these were shot by 18-year-old Ben Queen of Bridgeport, West Virginia, 18-year-old Rachel Clarke of St. Clairsville, Ohio, and 17-year-old Liddy Rennor of Lancaster, Pennsylvania. Take a look at these and the other 145 posted at Lens.
To give an idea of the reach and influence of the Lens blog, consider this: After viewing the teen portfolio on Lens during my lunch break Thursday, I emailed the link to myself so I could finish viewing the wonderful photos at home and post this blog. Seven minutes after I emailed the link to myself, I received an email from my daughter 5000 miles away in London: she asked whether I had seen the day's "My Hometown" Lens blog and included the same link I'd sent myself.
---
September 21, 2013     Protecting Your Work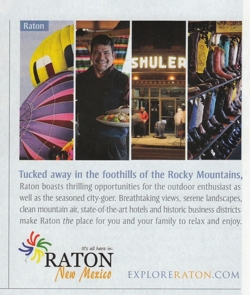 This ad in the October 2013 issue of New Mexico Magazine is the latest in a long series, about three years, that uses my photography to promote Raton. The balloon image is someone else's, but the other three are mine. I'm honored that my work was selected and happy to help promote Raton. Problem is, I was never asked, never paid, and never credited. None of the tens of thousands of the magazine's readers will know who took these shots.
The individual who continued to take my work without permission or credit left town some months ago and this ad will probably be the last he did. He and I had a lively discussion over this issue about a year ago in the Shuler Theater in front of Bill Fegan. Bill told him that I was right: the work is mine and he needs my permission to use it.
In recent years I've not let any image out of my computer without first posting my copyright and other data in the image's EXIF data via Photoshop's File: FileInfo. That information is automatically transmitted to websites such as Facebook and Flickr. I also watermark images that I think are likely to be reproduced and distributed. But both measures are easy enough for someone to circumvent.
I've now arranged to donate licenses to my images for this and other uses in exchange for membership dues in the Raton Chamber of Commerce. (It doesn't hurt that my wife is the new tourism coordinator! The last guy to make these ads, by the way, was the director of Raton Arts & Humanities Council.) Receiving a photographer credit is important, allowing viewers to find me, but the most important thing is permission. It's important to ask. Most people do.
---
September 15, 2013     The Toughest M.O.M. of All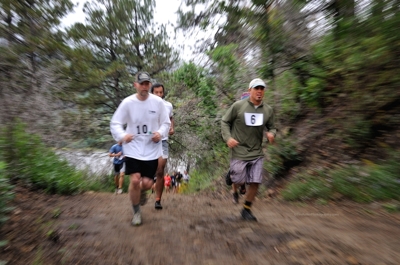 Yesterday's inaugural (and first of many annuals, no doubt) Master of the Mountains adventure race and relay was a phenomenal success by any measure. I chased it for more than four hours, taking about 800 photos which I've culled down to 32 to tell the story visually.
I enjoyed chasing the Capulin Volcano Run for the past five years. That and hiking M.O.M.'s high-mountain running route all summer prepared me well for photographing this race, catching it at many different locations, a fun challenge. The first two stages -- a six-mile mountain run and 3-mile lake paddle -- took place around Lake Maloya in Sugarite Canyon State Park. The bike stage raced down Sugarite Canyon all the way through downtown Raton and on to the NRA Whittington Center for a six-station timed shotgun challenge.
John Winkley of Aztec, New Mexico, won the coveted winner-take-all "Master of the Mountain" prize, but at 2 hours 45 minutes Santiago Gamboa of Roswell, New Mexico, was only 2 minutes behind John. Santiago had the second best shotgun performance all day, but it wasn't quite enough to overcome John. I loved Santiago's attitude, all smiles all the way. I'm glad he'll be back next year.
Results are posted at the event website, and I predict a huge turnout next September, filling lots of Raton hotel rooms and restaurants. Lots of great stories, and I may add them here later, but for now I'm spent, having devoted about 12 hours to processing photos since the race ended less than 24 hours ago. The Chronicle-News will publish some Tuesday, and Raton Tourism will have many of them on its website and Facebook page.
View all 32 images here. Click on any one of them to see it enlarged.
---
September 12, 2013     School Days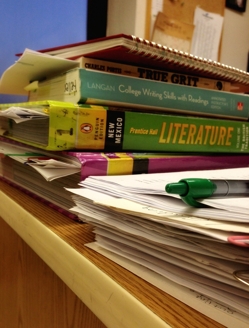 Four weeks into the new school year and I've been predictably slammed, enough to dramatically cut into my photo shoots as I get my new classes rolling. Those are student essays at lower right, awaiting my grading. Behind them are class sets of student assignments from textbooks. During the first month I stay 100% engaged with the students, not trying to fit in any grading as they work, so it piles up. The height of the piles varies throughout the school year, but generally it gets better after the first month or two.
Saturday I'll be out shooting from sunrise to sunset as Raton fills up with the exciting Master of the Mountains (M.O.M.) adventure race, an all-day street fair, farmer's market, and street dance. The Chronicle-News is planning to run my photo essay early next week and I'm shooting to get a full page, hoping for Monday's paper.
My photography work hasn't been idle, though. A lot of my work is right here at the computer doing correspondence and processing photos both recent and past. Since school started I've submitted two DVD discs containing 88 hi-res images to the art director of the 2014 New Mexico Vacation Guide, distributed free throughout the state beginning in December, and the allowed three images to New Mexico Arts - Art in Public Places (AIPP) program. I've been successful with both programs in the past. This will (hopefully!) be my 5th consecutive New Mexico Vacation Guide. Four years ago AIPP selected two of my three entries; the two framed photos were, in turn, purchased and now hang in the lobby of Rio Rancho's Cabezon Recreation Center and the cafe area of Belen Public Library.
I enjoy the desk work/studio/office aspects of photography, but they don't happen unless I get out in the field and get photographs. I'm excited about Saturday's full slate of events and photo opportunities. I expect to be back here Sunday sharing some of the results.
---